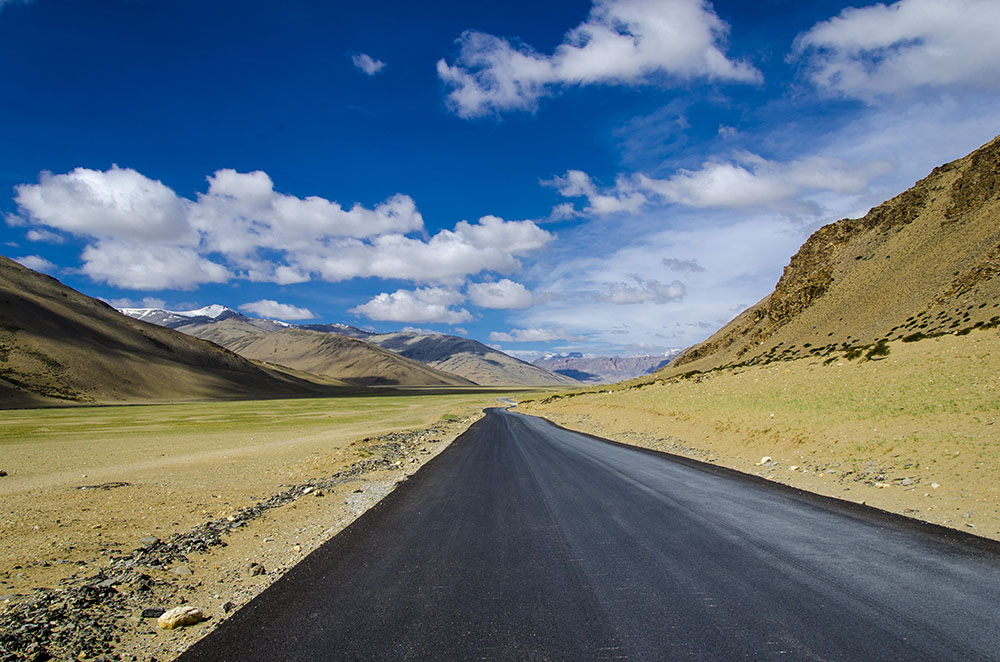 When I first visited Ladakh, there was hardly any information available about visiting Ladakh anywhere. How to reach Ladakh, where to stay, and what to see were questions that I got answers to as we traveled. Twice in my initial trips to Ladakh, I ended up taking a wrong turn and spent the night on the road because of a lack of information.
Fortunately, such is not the situation anymore. The landscape of tourism in Ladakh has rapidly evolved in the last few years and is still progressing. Now Ladakh caters to thousands of tourists each year and from every group.
Accommodation choices are growing, connectivity is getting better and the availability of public amenities is also improving. So yes, reaching Ladakh too now has gotten a lot convenient than it was a few years ago.
If you were planning a trip soon and were wondering about the best way to reach Ladakh, then listed below in this article are several choices that you currently have available. For any other details on visiting Ladakh like the best time to visit, where to stay, and what to see, please take a look at How to Plan a Trip to Leh Ladakh – A Complete Travel Guide.
How to reach Leh Ladakh
I will explain first in terms of the route, then the mode of travel, followed by the point of origin, and then convenience in the end. Below is a quick navigation menu of the information covered in the post below. You can click on the link in the box to directly jump to any particular section.
How to reach Ladakh by Road
By road, there are only 2 routes connecting Ladakh to the rest of the country.  The first one is via Srinagar, known as Srinagar Leh Highway, and the second one via Manali, known as Manali Leh Highway.
Both these roads are almost the same in distance and travel time. From Srinagar, Leh is about 420 kilometers away and from Manali, the distance increases to 470 kilometers.
The journey can easily be completed in 2 days from both sides; with a night halt at Kargil if going via Srinagar, and at either Keylong or Sarchu if going via Manali. The travel time, to be precise is about 18 to 20 hours. So if you wanted to complete the journey in a single day, you will have to start by 4 in the morning.
To better understand the route, I will recommend that you take a look at the Road Map of the Entire Ladakh Region. I have shown in this map the routes you can take to get to Ladakh.
How to reach Ladakh from Srinagar
The route from Srinagar remains open for a longer duration, from April to November. A safe travel window, however, is from May to October. This road travels through the scenic towns of Kargil, Sonamarg, and Drass, and 3 high-altitude passes of Zoji La, Namika La, and Fotu La.
This route is considered to be more scenic and less adventurous and best for traveling with family or children. The increase in altitude, while going to Ladakh via Srinagar, is a bit gradual and helps in better acclimatization. This further helps in reducing the chances of acute mountain sickness in Ladakh.
The best time to travel from Srinagar to Leh is the months of late May, June, September, and early October. July and August are best avoided due to the monsoon season and Amarnath Yatra.
An ideal time to complete the journey via Srinagar is 2 days. You will travel from Srinagar to Kargil on Day 1 and then to Leh on Day 2. Travel time on both days will be about 8 hours depending upon your speed and break.
For better acclimatization during your Ladakh Trip, it is recommended that you reach Ladakh via Srinagar and take the Manali route for the return journey. To read about this route in more detail, please take a look at How to Plan a Journey from Srinagar to Leh.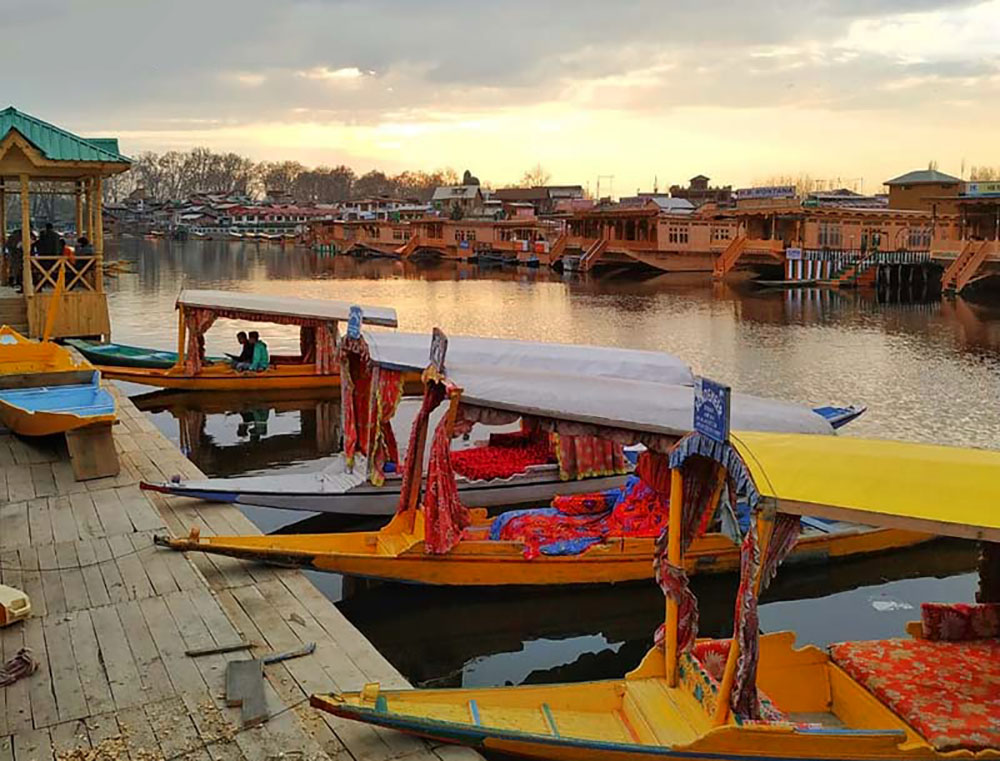 How to reach Ladakh from Manali
The route from Manali to Leh is considered to be more challenging because it has 5 high altitude passes on the way and at a greater altitude. This route has always been favored by adventure enthusiasts, bikers, and people wanting to experience the challenging terrain that Ladakh is famous for.
Travelers always prefer to reach Ladakh via Manali and return via Srinagar but the chances of suffering from Acute Mountain Sickness are far greater on this road because the gain in altitude is too much and too sudden for the human body to handle. This road remains open from May to October but a safe travel window is from June to September only.
There are a total of 5 high-altitude passes on this route as you travel through the valleys of Manali and Lahaul before entering Ladakh. The maximum elevation of the highway is 5,328 meters (17,480 ft) at Tanglang La Pass.
An ideal travel time to complete the journey is 2 days with a night halt at either Keylong, Jispa, or Sarchu. But you can complete the journey in a single day as well.
HRTC actually runs a one-day Bus service on this route, details of which I have provided in this article further. To read about this road in more detail, please take a look at How to Plan a Journey from Manali to Leh.
Dalhousie to Leh Ladakh
There is another way to complete the journey in which, rather than starting from Srinagar or Manali, you will start your journey from Dalhousie.
The total distance in traveling this way is about 680 kilometers and the travel time from Dalhousie to Leh will be at least 4 days if rushed, and 5 days if done in a relaxed and enjoyable manner.
From Dalhousie, you will travel to Bairagarh and reach Killar after crossing the notorious Sach Pass. You will then travel to Udaipur and exit on Manali Leh highway just near Keylong. From there, it is a straight run to Leh following the Manali Leh route.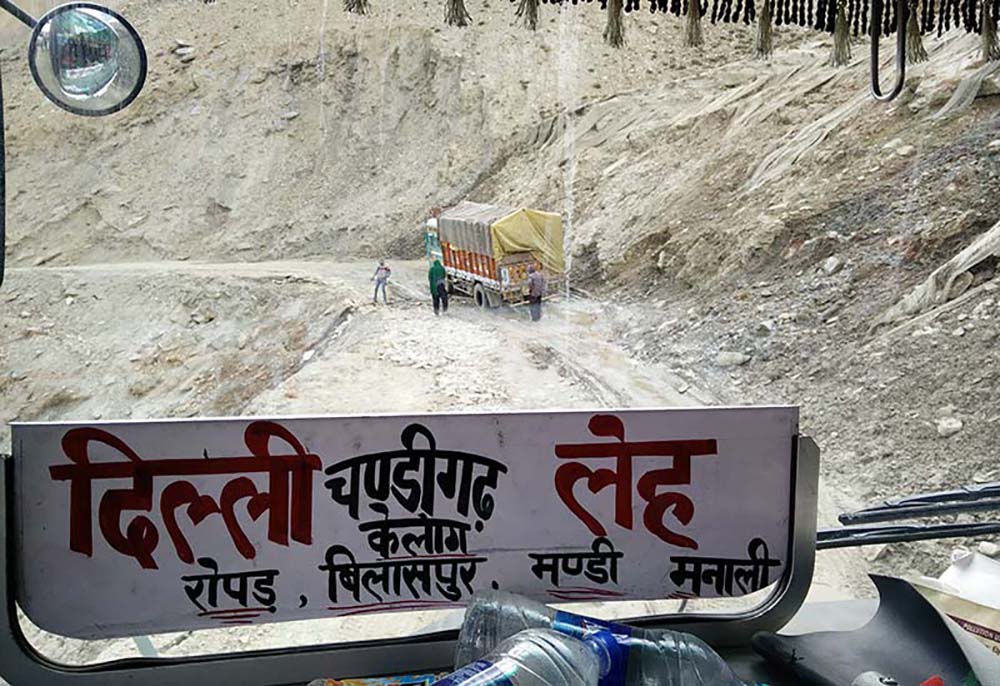 How to reach Ladakh by Bus
The details I provided above were for someone traveling by their own vehicle, either a car or motorcycle. Now let us take a look at how you can reach Ladakh by public transport.
In terms of route, you will again be traveling via Manali or Srinagar and both these please are well connected to Ladakh by regular Bus service.
How to reach Ladakh from Srinagar by Bus
The bus for Leh starts from Srinagar at around 7 am, arrives at Sonamarg around 11 am, Drass at around 2 pm, and finally reaches Kargil between 4 to 5 pm.
It halts overnight at Kargil. The coach will start at 7.30 am the next morning from Kargil and reach Leh around 3 pm. This is a daily bus from Srinagar. Usually, it is just one bus every morning but depending on the bookings, JKSRTC may run a second bus on the same day.
The total fare is about Rs. 700 per person. The bus completely operates on the number of tickets sold. To book your seat, you will need to arrive at TRC and buy a ticket for your date of travel at least a day in advance.
There is no online booking portal available for JKSRTC Buses yet. The only way to get a ticket is to buy one in person. For more details, please read Srinagar to Leh Bus Service – A Complete Guide
How to reach Ladakh from Manali by Bus
If traveling via Manali, you can select between traveling by an ordinary HRTC Bus or a luxury Bus by HPTDC. The HRTC Bus is a daily service and is a 2 days journey from Manali to Leh.
First, you will have to board a Bus from Manali to Keylong. There are a few HRTC buses from Manali for Keylong with the first one starting at 5 AM and the last one at 1 PM. Once you arrive at Keylong, find a hotel close to the Bus stand and check-in for the night.
For the next leg of your journey to Leh, you will board the morning Bus from Keylong for Leh at 5 in the morning. This is just one Bus in the day and if you miss it, you will have to stay in Keylong for another day.
Manali to Keylong Bus ticket will be for about Rs. 175 and then Keylong to Leh will be for about Rs. 550. Hence the complete journey will cost you slightly over Rs. 700. For more information and schedule, please read Manali to Leh Bus Service Travel Guide.
Manali Leh HPTDC Bus
Your second option is the HPTDC Bus which is an all luxury and direct bus from Manali to Leh. This also is a 2 days journey with a night halt at Keylong.
The bus starts from Manali Bus stand early in the morning and reaches Leh by evening the next day. Accommodation at Keylong is at Hotel Chandrabhaga.
There is a lawn in front of the hotel Chandrabhaga and HPTDC sets up tents on that lawn. Yes, you will not be staying at a hotel but in tents. If you do not like it, you always have the option to check in to the hotel. But then you will have to pay for your room charges on your own.
Fare per person is Rs. 2900 which includes your accommodation at Keylong and meals (dinner, breakfast, and tea). You can either book a ticket for this bus in advance from HPTDC office Manali or you can do so online.
For booking online, you will need to visit the  HPTDC Booking Page. This bus entirely operates on the booking system. It will only travel if there are a minimum of 10 passengers and will get canceled for the day if tickets booked are less than 10.
How to reach Leh Ladakh from Delhi by Bus
The third option to reach Ladakh by Bus is to board a bus directly from Delhi. You will first catch a Bus from Delhi AT 2.30 pm for Keylong from ISBT. It reaches Chandigarh late evening and then you have dinner there.
The Bus starts from Chandigarh again at 8.30 PM and arrives at Manali the next day at 6 AM. From Manali, it starts at about 7.30 and reaches Keylong between 3-4 PM. You will get down at Keylong and look for a place to stay.
There are several budget hotels there where you can stay for the night but make sure that you find a place closer to Bus stand. HRTC arranges tented accommodation for its passengers near the Bus stand. If you like, you could stay there as well.
The next day, you will wake up at 4.00 AM in the morning and reach the Bus stand in pitch black dark. From the Keylong counter, you will buy a ticket which will come with a seat number allocated. You will be seated and the Bus will start for Leh in a freezing cold early morning at 5 AM.
It will then climb up and down the hills, take you across 4 more passes, and reach Leh Bus stand by 7 PM. The entire journey from Delhi to Leh will cost you a total of Rs. 1353.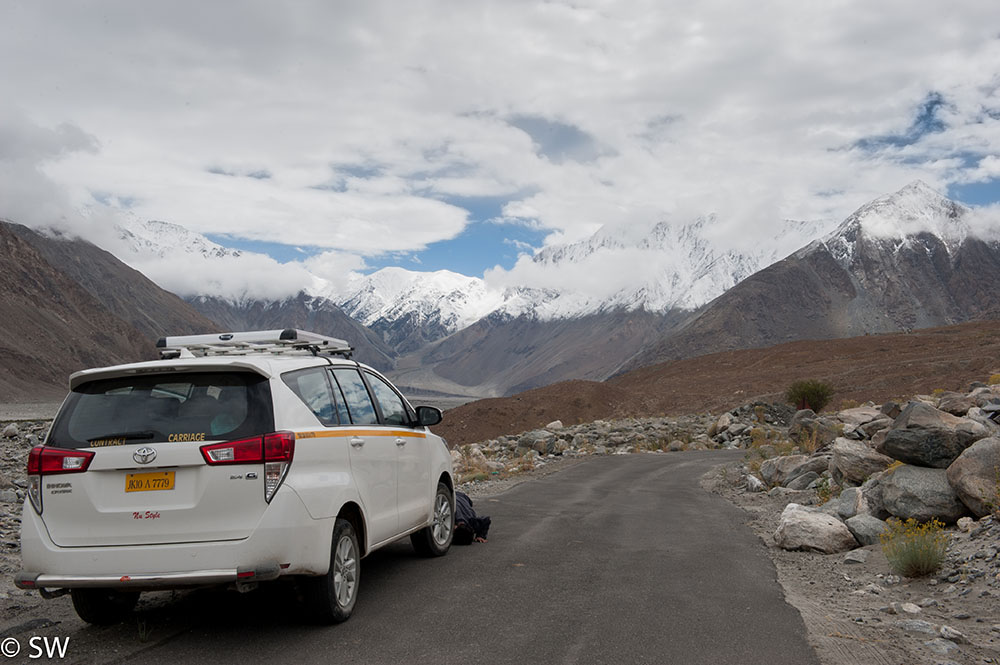 How to reach Ladakh by Train
Ladakh does not have its own train station yet so reaching Ladakh by train alone is not possible. You will have to break your journey into multiple parts.
The nearest railway station to Ladakh, in this case, will either be Chandigarh or Jammu.  Depending on where you were coming from and your itinerary, you will have to book a train ticket to either Jammu or Chandigarh first, and then continue to Ladakh by road as explained below.
How to reach Ladakh from Jammu
Once you reach Jammu by train, I will advise that you stay in Jammu itself for that day. The next morning, you have three choices for your journey to Srinagar. You can either by a Bus, shared taxi or train.
For a bus from Jammu to Srinagar, you would either have to get it from Main Bus stand Jammu; or else go to a place called Raghunath temple somewhere near there. Buses from railway station only ply to intercity like Katra, Banihal, etc so you won't get a bus for Srinagar from there.
From the General bus stand, shared cabs leave for Srinagar during the first half of the day. The fare would be around Rs. 700 to Rs. 1000 per person and it is the best way to travel.
Luxury buses always leave at night, making the entire travel to Srinagar a night journey. For this, you will have to book your ticket with the private bus operators near the General bus stand. There is also a JKSRTC Bus from Jammu to Srinagar from the same bus stand that you can board.
Another way to travel is to go to Banihal Railway station from Jammu. From Banihal, you can get a DMU to Srinagar for around Rs. 50 per person. The fare for a shared taxi from Jammu to Banihal is around 400-500 per person.
So you can either pay Rs. 750 for a shared cab all the way to Srinagar. Or you can get a shared cab for Rs. 400 – Rs. 500 till Banihal Railway Station and from there board a train for Srinagar for Rs. 50 per person.
From Srinagar, you will continue to Ladakh by Bus as explained above; or get a shared cab from TRC Srinagar or Bus stand.
How to reach Ladakh from Chandigarh
Reaching Ladakh from Chandigarh is much easier than Jammu. Chandigarh is a major railway station and is well connected to almost all major cities.
From Chandigarh railway station, take a cab to the Bus stand. There are several overnight buses from Chandigarh to Manali by both Punjab Roadways and HRTC. Board a bus and reach Manali early in the morning.
From Manali, catch either the HRTC Bus or the HPTDC one for your journey to Ladakh as I explained above. You can also get shared cabs from Manali Bus stand for Leh which I will provide details on further in the article.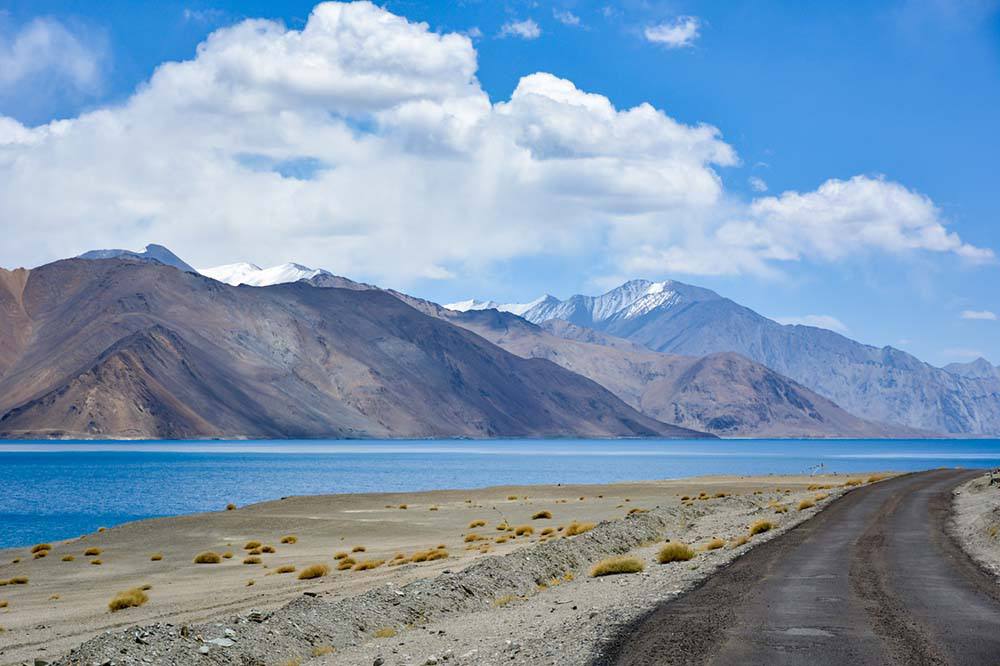 How to reach Ladakh by Flight
Leh has its own airport that remains operational for all 12 months. Several major airlines like Air India, Vistara, Spicejet, and GoAir have regular flights in and out of Leh.
This is one of the highest commercial airports in the world and is directly connected to Mumbai and Delhi. For people coming from other cities, you can search if there is a direct flight available. If not, you will have to first fly to Delhi and then to Leh. After you land in Leh, you can easily get a taxi from the airport to drop you at your hotel.
If you are thinking about how to reach Leh Ladakh by Air then getting there is not a problem. You can easily book a flight but your biggest concern would be Altitude sickness. People flying directly to Leh are prone to AMS the most because you suddenly bring your body to an altitude that it has never been to before.
At least on your first day of the journey, you are bound to feel some symptoms of AMS. The severity will be different for each person. To know more on how can handle it in a better way, please read How to Handle Acute Mountain Sickness in Ladakh.
How to reach Ladakh by Car
Can you reach Ladakh by Car? The answer is yes you can but there are a few things that you must keep in mind. First and foremost is the type of car that you chose. Your vehicle does not have to be a 4X4 but good ground clearance is beneficial. This would be helpful in handling bad stretches of road and crossing water streams.
Ideal ground clearance would be at least 200MM or above, but you can do away with 180MM as well as long as you drive carefully. Anything less than 180MM and you will run a risk of your vehicle getting stuck at places and its underbelly hitting the ground.
You will have to be really good at the wheel if you are planning to visit Ladakh in cars like Maruti Swift. Planning a journey in Sedans like Honda City, Amaze or other similar cars is a complete no.
The best car for Ladakh without any doubt would be an SUV but even those like Innova or Ertiga may not fare well at some places. Your itinerary planning would then come into the picture and you will have to keep stretches like Marsimik La, Kakasang La, Wari La, or the road towards Chumur out of your plans.
You must get your vehicle ready and well serviced at least 2-3 weeks before the trip. You will also have to carry some essential spares along. For complete details on this topic, please read How to Prepare your Car for Ladakh Trip.
In terms of the route, it will be the same as I explained previously in the article, either via Srinagar or Manali.
How to reach Ladakh from Delhi by car
For example, if you were planning a journey to Ladakh by Car from Delhi, you will first reach Manali on Day 1 which will eat up your entire day.
On Day 2, you will cross Rohtang Pass and break the journey at Sarchu. On Day 3, you will finally reach Leh City. If you had more time, then break the journey between Manali and Leh in three days. Stay at Jispa on Day 2, Pang on Day 3, and reach Leh on Day 4.
If you went via Srinagar, then you will drive to Jammu from Delhi on Day 1, Srinagar on Day 2, Kargil on Day 3, and Leh on Day 4. Please read Manali to Ladakh Itinerary for more details.
You will need at least 3 days to reach Leh from Delhi by Car. An ideal time for this journey is 4-5 days.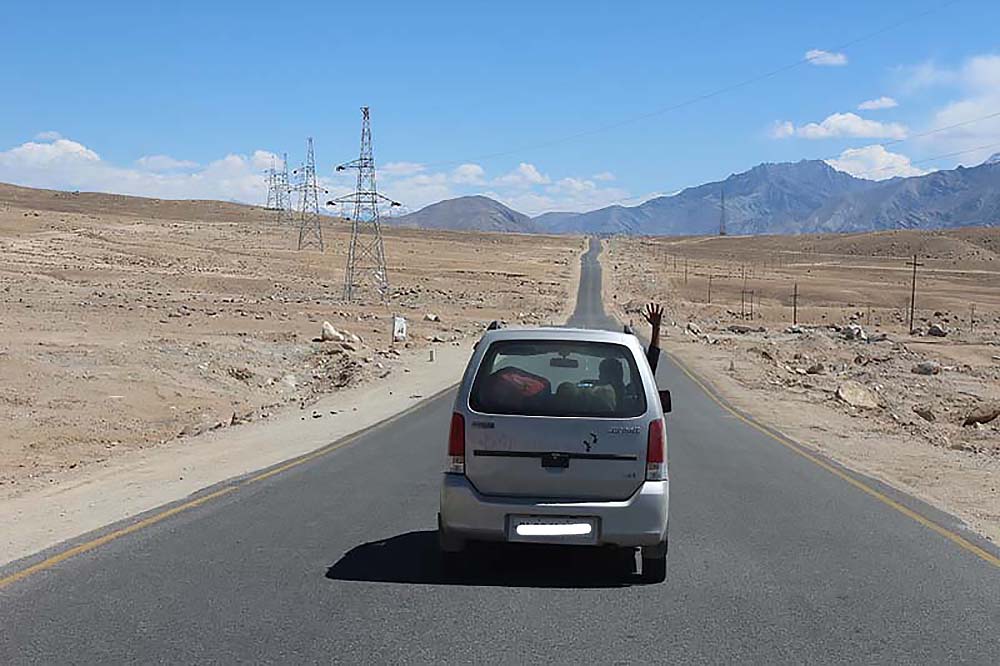 How to reach Ladakh by Bike
By Bike, you can reach Ladakh via Manali or Srinagar between May and October. The roads remain closed from November to April hence a road trip is not possible at this time.
But before you plan to go to Ladakh by Bike, there are a few things you must be prepared for. First is the challenging terrain and the hilly roads. You must have decent enough experience in handling a bike, especially in the hills.
The second is to get your bike ready for the tough journey ahead. Get it serviced and prepared at least 2 weeks in advance and then ride around in the city to ensure that everything was working fine. Read How to Prepare your Bike for Ladakh for more details.
A Royal Enfield would be the best bike for Ladakh but people have completed the trip even on scooters. Once again, your riding skills would again decide whether or not you are ready to ride to Ladakh.
As a ground rule tough, if you are bringing a smaller engine bike like Pulsar 150CC, it would be best to ride solo and as light as possible.
The route will be the same as that I explained above. If you were planning a bike trip to Ladakh from Delhi, you will first reach either Srinagar or Manali and then continue to Leh.
Driving Skills
It does not matter whether you travel by Bike or Car, the most important thing would be how good you are at the wheel. You must have at least a couple of years of driving experience before you bring your vehicle to Ladakh.
If you have never driven or ridden in the hills before, you must take the journey slow and extremely carefully. There will be a lot of water streams in between which will become your biggest challenge.
If you were unsure of any particular section, wait for another vehicle to arrive and follow their lead. For more tips on how to drive/ride to Ladakh, please read  Ladakh Driving Tips: How to Handle Tough Roads.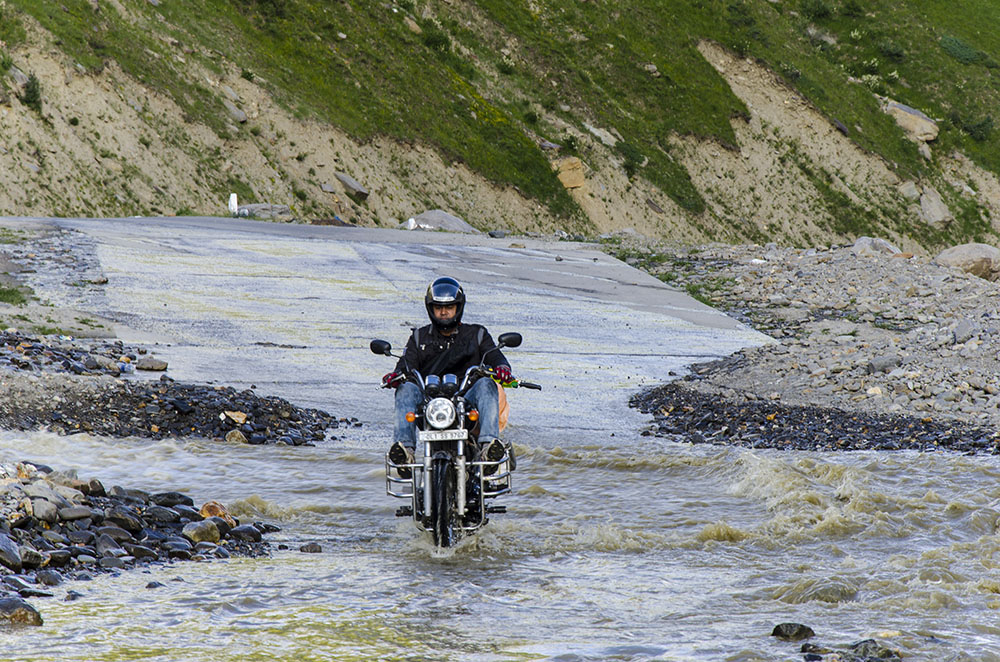 How to reach Ladakh in Winter
The only way to reach Ladakh in winter is by flight. Manali Leh highway gets closed sometime in October followed by Srinagar Leh Highway in November. Both of the roads remain closed well until May which means that a trip to Ladakh during this time can only be by Air.
On the brighter side though, tourism in Ladakh has started to have its effect in the winter months as well. Earlier, a winter trip to Ladakh was considered impossible and the entire Leh town used to get almost deserted.
Recently, however, a lot of people have started to visit here even in January and February to witness a white Ladakh buried under a sheet of snow. What it means is that you can easily get accommodation, a taxi, and even motorcycles here for a winter trip. For more details, please read How to Plan a Trip to Ladakh in January and February.
Best Way to Reach Ladakh
The best way to travel to Leh Ladakh would definitely be by your own vehicle. When you visit a place like Ladakh, it is not the destination that matters. Rather, it is the entire journey that turns into a destination.
Every turn of the road here will present you with a sight that will leave you spell-bound. The best way to enjoy that is when you are traveling by your own car or motorcycle.
You can take as many breaks as required and wherever you want. You will truly enjoy the journey in every way, witnessing the slow and magical transformation from the lush green valley of Kashmir and Himachal to the majestically brown of Ladakh.
If you cannot bring your own vehicle for any reason, you should still opt for a journey by road. You can either chose to rent a private taxi for the journey or opt for public transport.
Easiest Way to Reach Ladakh
The easiest way to travel to Leh Ladakh would definitely be by flight. You can book a plane ticket to arrive in Leh and rent a private taxi for local sightseeing. This will save you from driving in the harsh and challenging terrain yourself.
Reaching by flight will also allow you to manage the trip in a shorter time frame as well since this is the quickest way to get to Ladakh.
Cheapest way to reach Ladakh
The cheapest way to travel to Leh Ladakh is by Bus. If you were traveling between the months of June and September, you can actually manage the entire trip by local buses. And I am not talking about only reaching Ladakh but also for local sightseeing as well. Please read How to Plan a Budget trip to Ladakh by Bus for complete details.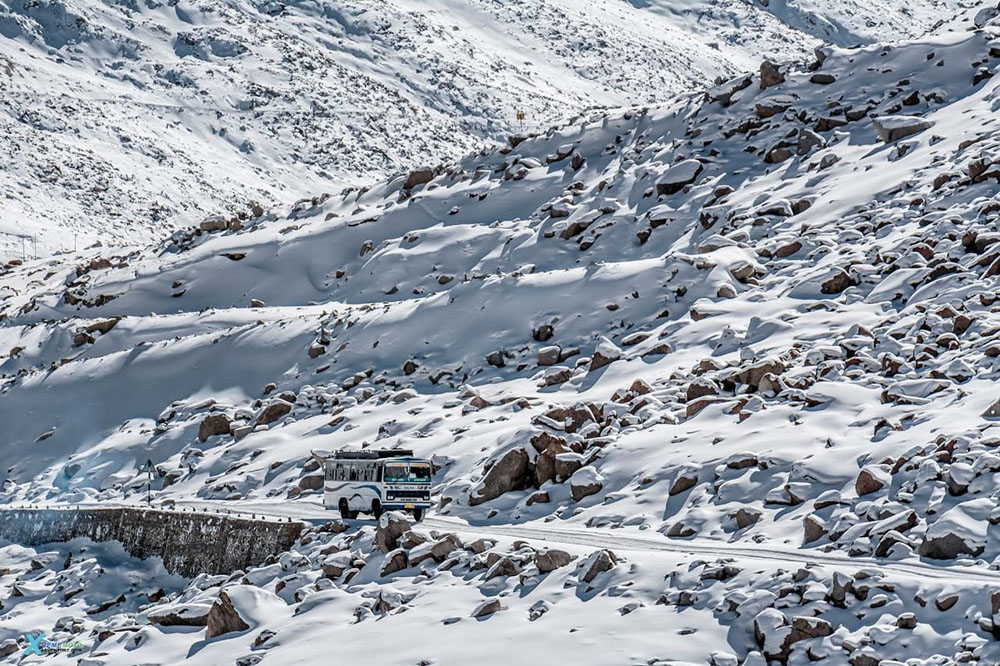 By Point of Origin
The best, cheapest, and most convenient way to travel to Ladakh, however, would also depend on where you were coming from.
For example, if you were traveling to Ladakh from a city in Punjab like Amritsar, Chandigarh, or Jalandhar, then you can easily plan the entire trip by road and by your own vehicle. All these cities are in close proximity to both Manali and Chandigarh and give you easy access to enjoy a journey to Ladakh by road.
If you were coming from cities in Uttar Pradesh like Allahabad, Varanasi, Agra, or Lucknow, even then I would recommend traveling to Ladakh by road if you can. The same applies to Rajasthan as well if you were coming to Ladakh from Jaipur or Jodhpur.
But if you were coming from a little distance like Madhya Pradesh or Gujarat; or cities like Indore, Gwalior, Kanpur, Vadodara, Jabalpur, Bhopal, Bhubaneswar, then you should think twice about whether it would be better to go by road or catch a flight.
Some Other Cities
A road trip to Ladakh from any other part of India would mean that you must spend at least 5-6 days for your journey in the plains and cover a great distance. For example, if you were traveling from Hyderabad, you would need at least 3-4 days to get to Manali or Srinagar. Then you will need the same amount of time for your way back.
The same applies to a few other cities like Chennai, Visakhapatnam, Pune, Raipur, Nagpur, Ahmadabad, Mumbai, Patna, Kolkata, Coimbatore, or Bangalore. It will take you even longer if you were coming from Kochi or any other city in Kerala which would literally become the other end of India.
For all these places, plan a road trip only if you have good drivers in your group experienced in driving for long hours; and at least 3 weeks to spend. If not, then best book a flight to Ladakh, and rent a private cab there.
If you were coming from somewhere in the Northeast, like Guwahati, it would make sense to book a flight rather than making the entire journey by road. The only problem is that you will have to take a connecting flight but it will save you a lot of time.
If you booked your ticket a little in advance, flight cost would almost come out to be equal to what you will spend on fuel if went by road. If a flight is completely out of budget, take a look at available trains for Delhi or Chandigarh or other nearby cities.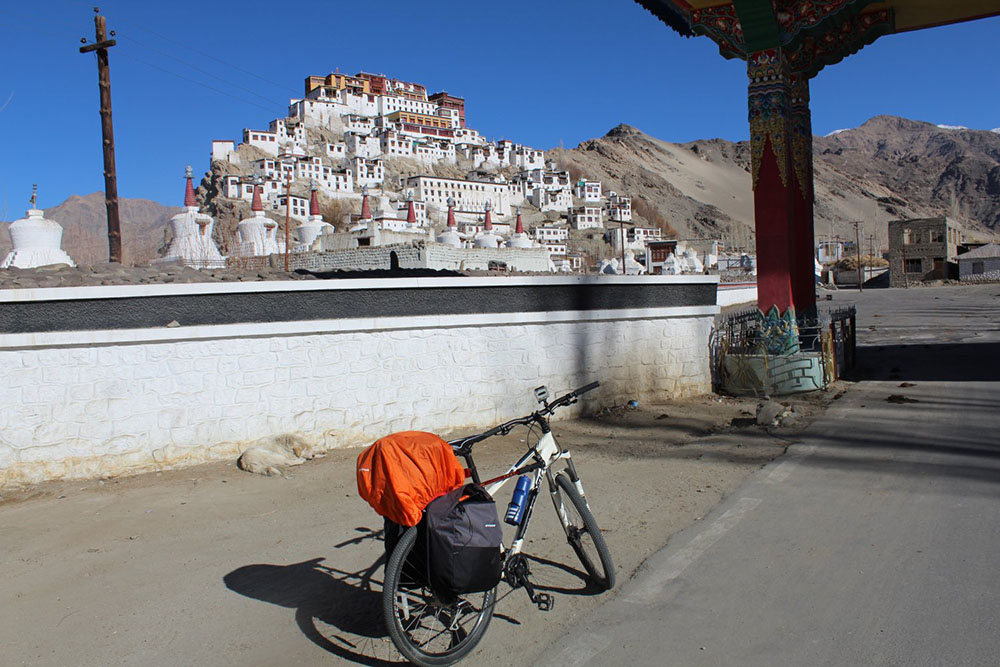 FAQs about Reaching Leh Ladakh
Now let me answer a few questions that I most often receive about reaching Ladakh.
1. How to reach Ladakh from Leh?
Ladakh is an entire district and Leh is the headquarters of it. So when you are in Leh, you are actually in Ladakh itself. Ladakh is not different from Leh. They are both connected. Leh is a part of Ladakh. A lot of people ask me this so I thought to include it in the post here.
2. How far is Ladakh from Leh?
Leh is part of Ladakh so it is not far at all. They are both one and the same place.
3. How to reach Ladakh from Leh Airport?
You just need to board a taxi from your airport in Leh to your hotel in Leh and voila, you are in Ladakh already. I know it sounds funny but I do receive these queries a lot.
4. How to reach Ladakh from Shimla?
If you were coming from Shimla, then it would be better to reach Ladakh via Manali, taking the Keylong Sarchu route.
5. How to reach Ladakh from Jammu?
From Jammu, you will have to reach Srinagar first and then travel to Ladakh via Kargil by other Bus or your own vehicle.
6. How to reach Leh Ladakh from Kashmir?
From anywhere in Kashmir, you can exit on the Srinagar Leh Highway at either Srinagar, Ganderbal, Kangan, or Sonamarg and continue to Ladakh via Kargil.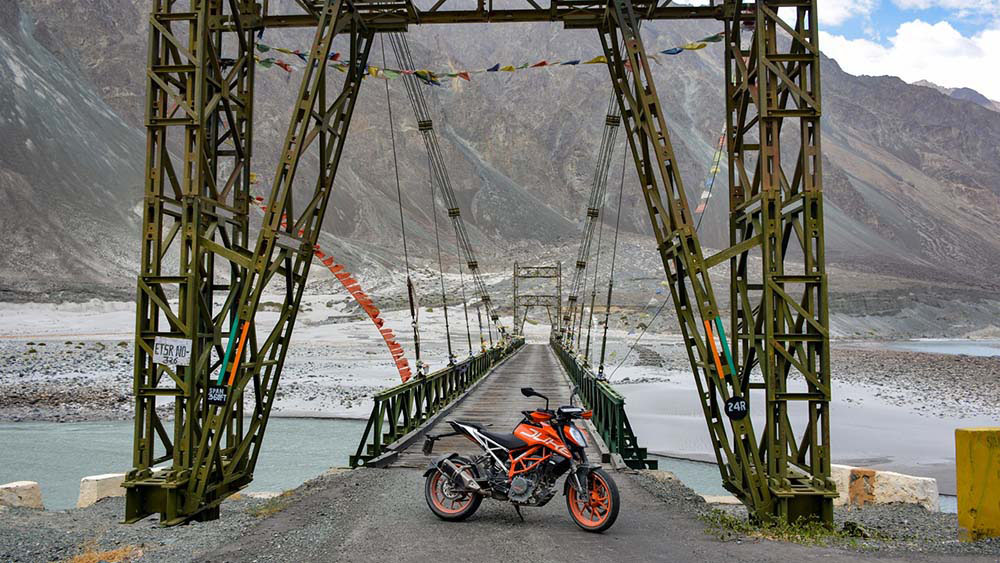 Conclusion
I hope the information above on how to reach Ladakh was of help. If you have any questions, please feel free to ask in the comments section below or at our Community Forum, and I will be glad to answer.