In this article, I will talk about Manali to Leh Bus service, detailing information like frequency, schedule, fare, and how to book a seat. If you are planning a trip to Ladakh anytime this year and intend on traveling by public transport, you can plan your trip according to the details below.
Also read: How to Plan a Trip to Ladakh – Complete Travel Guide
Is it really worth traveling to Ladakh by Bus? This question comes up quite often and in my opinion, the answer is a definite yes. Several people chose to travel to Ladakh using public transport services like buses, private taxis, shared taxis, and even hitchhiking. It has its own advantages and disadvantages but the experience, in the end, is different altogether. Fortunately, as tourism in Ladakh increases each year, the availability of public transport is also getting better.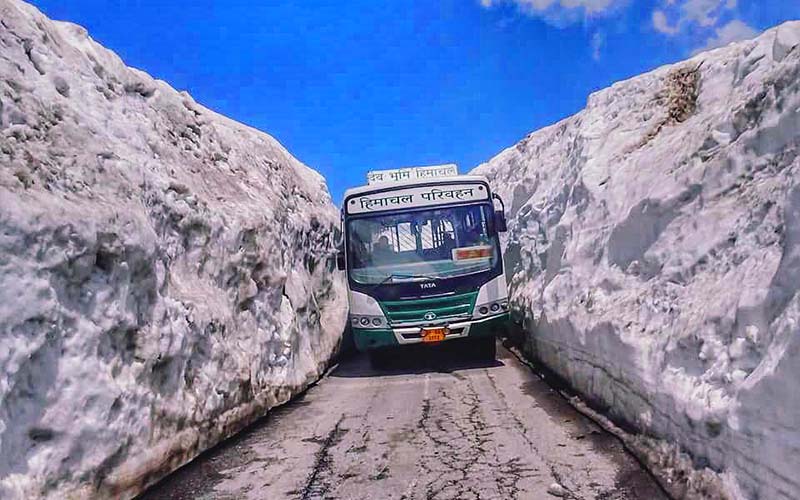 Image Credit: HRTC
Manali to Leh Bus Service
There are two types of Buses plying on the Manali to Leh route. One Bus service is by Himachal Road Transport Corporation, HRTC, and another one by Himachal Pradesh Tourist Development Corporation, HPTDC. The HRTC bus is cheaper and an ordinary bus; the one provided by HPTDC however is a luxury bus; the fare for which also is higher.
Also read: Delhi to Leh Bus Service
Manali to Leh Bus HRTC
This is a good cost-effective option if you want to travel to Ladakh within budget. It is an ordinary bus that locals use to commute. Contrary to common belief, this is not actually a direct bus all the way to Leh.
From Manali, you will first have to board a bus for Keylong and from there, catch a connecting bus to Leh. This bus service starts 2-3 weeks after Manali Leh highway is declared open by BRO and usually ends by early October. From the Manali bus stand, you will catch a bus early in the morning, will get down at Keylong, and look for accommodation for the night.
The next day morning, you will have to reach the Keylong bus stand early morning and catch the bus going towards Leh. Please note that from Keylong, it will not be the same bus that you came to Keylong on from Manali but a different one. This bus does not stop for sightseeing and breaks are pretty much limited to at a few Dhabas for meals and bio breaks.
Keylong to Leh Bus
There are several HRTC buses from Manali to Keylong throughout the day, at regular intervals. The first one is at 4 AM and the last one is at 1 PM. So in case you miss one bus, you always have the option to catch the next one on the same day. However, from Keylong, it is just one bus at 5 AM which if you miss, you will either have to look for some other mode of travel or spend another day at Keylong.
Also read: Manali to Leh – Available Modes of Transport
From Keylong to Leh, there is a seat allocated with your ticket but from Manali to Keylong, there is no seat allocation. Another important factor here is that in case there is any problem like if the bus breaks down, or there is a roadblock or the bus is not running per its schedule, then this journey from Keylong to Leh will turn into two days. The bus will halt for the night at Pang and then go to Leh the next day; thus making the entire travel time from Manali to Leh 3 days.
 Manali to Leh Bus HPTDC
This one is an all luxury and direct bus from Manali to Leh. It usually starts in July 1st week and gets withdrawn towards the end of September; usually by the 15th of the month. This bus too starts early from the Manali bus stand and reaches Keylong via Rohtang La by late afternoon.
The difference however is that with this Bus, your stay at Keylong is already decided and included in the total fare you will pay per person. This bus stops at all major stops on the route for sightseeing.
Accommodation at Keylong is at Hotel Chandrabhaga. There is a lawn in front of the hotel Chandrabhaga and HPTDC sets up tents on that lawn. Yes, you will not be staying at a hotel but in the tents.
If you do not like it, you always have the option to check in to the hotel but then you will have to pay for your room charges on your own. HPTDC will not refund any money from your fare if you do not use the tents.
Also read: Accommodation on Manali Leh Highway
Please also note that this is not a daily service. The bus runs from Manali to Leh on alternate days.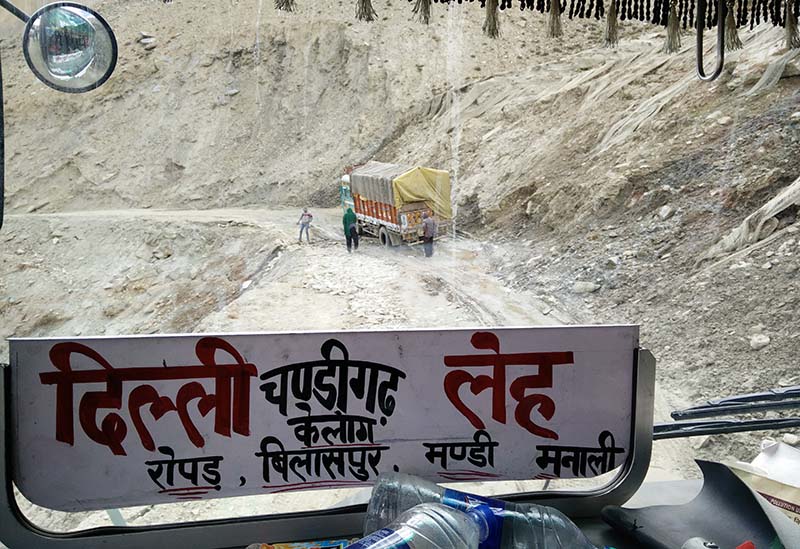 Manali to Leh Bus Ticket
For HRTC buses, it is an on the spot deal. You reach the bus stand, look for the bus going towards Keylong, board it, and pay the conductor for your ticket. In the case of the HPTDC bus, however, it is entirely based on the booking system; details of which are provided further in the article.
Manali to Leh Bus Fare
Fares for both the HRTC and HPTDC buses are different. HRTC bus being the ordinary one and used commonly by locals is cheap to travel in. HPTDC bus, being a luxury one, designed for tourists, is a bit expensive.
Manali to Leh HRTC Bus Fare: The fare for this bus is actually broken into two parts. You will first have to buy a ticket for Keylong and then for Leh from Keylong but expect the total cost of the journey to somewhere close to Rs.700. You pay about Rs. 150 for Manali to Keylong and then close to Rs. 500 for Keylong to Leh.
Manali to Leh HPTDC Bus Fare: For HPTDC Bus, you will pay at once as you book your seat. The fare per person is Rs. 2900 which includes your accommodation at Keylong and meals (dinner, breakfast, and tea).
Also read: What to See on Manali Leh Highway
Manali to Leh Bus Timings
For the HRTC bus, as mentioned previously in the post, there are several buses from Manali to Keylong. The first one is at 4 AM and the last one for the day at 1 PM. From Keylong, it is just one bus for Leh at 5 AM.
For HPTDC, the bus starts from Manali at  10 AM, arrives at Keylong between 4 to 5 PM (or even later depending on the traffic, road condition, and speed). From Keylong, it starts early in the morning between 4 to 5 PM and arrives at Leh by 5 PM.
Manali to Leh Bus Booking
This will differ on which bus you chose to travel in. I will explain for both.
Manali to Leh HRTC Bus Booking: There is no booking system available for this bus. Just reach the Manali Leh bus stand in the morning, find the bus, and board it. You will pay for your fare on the spot.
The same is the deal with the bus you will board the next day from Keylong. Your seat is not guaranteed from Manali so if you reach the bus stand to find the bus full and crowded, best to let it go and wait for the next one after one hour. From Keylong however, you will be allocated a seat along with your ticket.
Manali to Leh HPTDC Bus Booking: This bus entirely operates on the booking system. This bus will only travel if there are a minimum of 10 passengers. It will be canceled for the day if the tickets booked are less than 10.
If this happens, HPTDC will make alternative arrangements in form of private taxis and you will have to pay the difference between bus and taxi fare. You will have to report at the HPTDC office 30 minutes before the departure of the coach. You can either book a ticket for this bus in advance from HPTDC office Manali or you can do so online.
Also read: Best Time to Travel from Manali to Leh
Manali to Leh Bus Online Booking
Online booking is only available for HPTDC Buses. In order to book a seat, visit HPTDC Online Portal. Once at the page, enter the from location as Manali and To location as Leh. Hit search buses.
It is possible that the date you entered yields no results. It is so because this bus starts from July 1st forward only and only until September 15 so your date of travel must be between this time frame.
Secondly, this bus runs on alternate days so if the date you entered shows no bus, just try the next date or the day before. You also have the option of selecting the seat as per your own preference.
Just hit on the "Select seats" tab under Price on the right side of the page. Once you do so, it will show a seating arrangement of the bus from where you can select the seat you want to travel on.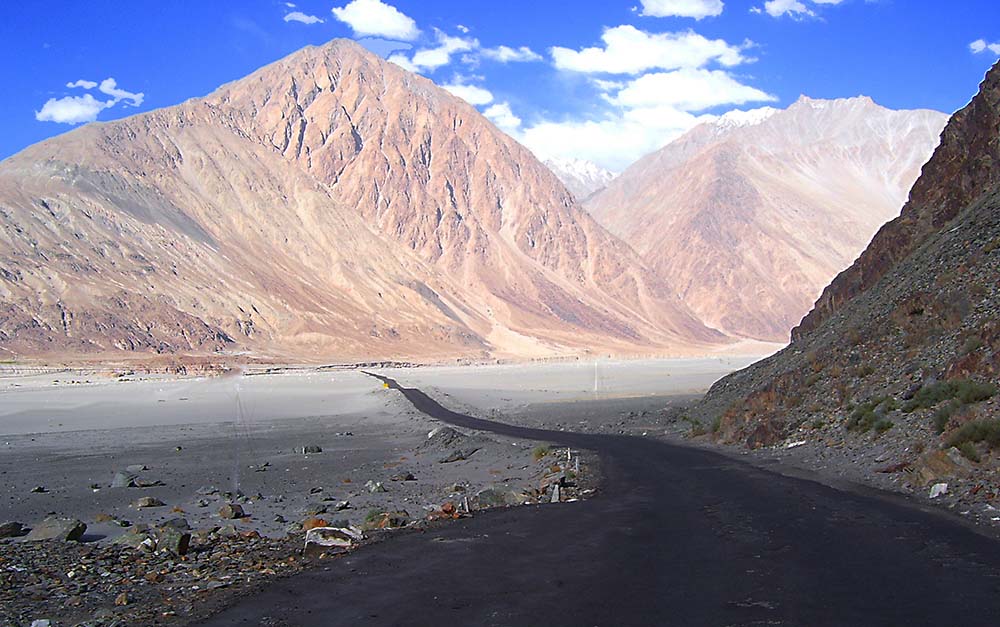 Manali to Leh Bus Schedule
The HRTC bus is a daily service but the HPTDC bus runs on an already decided schedule. What is means that the bus is available from Manali to Leh and vice versa on specific dates only.
To confirm if a bus is available on your date of travel or not, visit HPTDC Bus Schedule Page and hit on Manali to Leh or Leh to Manali to check the schedule of the bus.
Volvo Buses from Manali to Leh
There are no Volvo buses running on this route. The only available bus is the HRTC ordinary one and HPTDC luxury ones, but they are as good as a Volvo. Seats are quite comfortable and spacious with plenty of space for your luggage.
Also read: How to Handle Acute Mountain Sickness on Ladakh Trip
Manali to Leh Bus Distance
The total distance covered on the journey is 475 kilometers from Manali to Leh.
Manali to Leh Bus Route
Route of both these buses as mentioned below.
Manali – Rohtang Pass – Gramphoo – Tandi – Keylong – Jispa – Darcha – Patseo – Zingzing Bar – Baralacha La – Sarchu – Nakee La – Lachulung La – Pang – Tanglang La – Upshi – Karu – Leh
Manali to Leh Bus Travel Time
For both these buses, it is a 2 days journey. The total time that you spend traveling, depending on the traffic you may encounter at Rohtang, road conditions, breaks, etc is approximately between 18-20 hours.
Leh to Manali Bus Service
Now let us take a look at the buses that ply from Leh towards Manali. Options are once again the same as for the bus from Manali to Leh. You can either take an HRTC bus or book your seat with HPTDC Bus.
The journey will pretty much be the same but just the other way around. You will start early in the morning from Leh, arrive at Keylong and then go to Manali the next day. For HRTC, these will be two different buses and for HPTDC it will be the same bus.
There is also a Semi Deluxe bus that runs on this route provided by JKSRTC. It starts from Leh early in the morning at 4 AM, the fare per person is Rs. 740 and I think it arrives at Manali on the same day but I am not too sure about this one.
Leh to Manali Bus Timings
The bus from Leh to Manali starts from Fort road Leh at 5 AM. It arrives at Keylong by evening 5 PM. Bus from Keylong to Manali is again early in the morning at 5 AM and arrival at Manali is at around 4 PM.
Leh to Manali Bus Route & Fare

Route and fare for Leh to Manali is the same as I mentioned for Manali to Leh.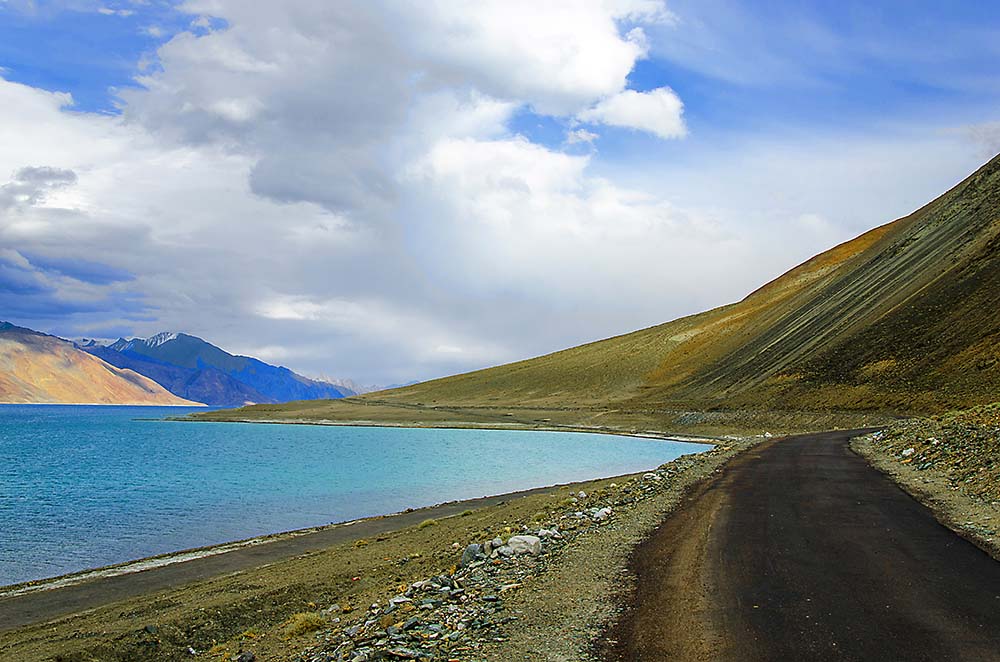 Contact Details:
For more information on the matter you can also contact:
Address of Leh Office :
Himachal Pradesh Tourism Dev. Corp. Ltd.,
Booking office, Fort Road,
Opposite Hotel Yak Tale,
Leh-Ladakh
Contact No. 09418691215
Address of Manali Office:
Himachal Pradesh Tourism Dev. Corp Ltd,
Marketing Office,
The Mall Manali
Contact No. 01902-252116 & 01902-253147
Other Tips
With the above details provided, let me also add a few general tips based on the queries I get.
The HPTDC bus overall is very comfortable. Seats are all push backs and nice suspension for minimum discomfort on bad roads.
Is it safe for a solo woman traveler? Absolutely. On your journey, you will find several other couples and families traveling on the bus. Drivers and conductors are well behaved and rather well caring knowing that you are a solo woman traveler. You will also not face any trouble during your accommodation at Keylong.
Also read: When is the Best time to visit Ladakh?
If you are interested in photography, then you will need to be careful about which seat you pick. If you sat on the wrong spot or on the wrong side, your photography window will be very limited.  From Manali to Leh, most of the time the valley is on the right side so grab a seat in the row behind the driver's seat. From Leh to Manali, grab a seat along with the door of the bus. If you sat on the wrong side, you will just be clicking photographs of a mountain wall.
Even though in a bus, you will still be traveling through a cold desert and crossing 5 high altitude passes on the way. Keep a light woolen jacket, windproof jacket, cap, and gloves handy for times when you will get down from the bus for sightseeing. Keep your socks on as well.
Meals
The HPTDC bus provides two vegetarian meals at Keylong; breakfast and dinner. For the rest of the journey, you will be eating at several dhabas en route and paying for your own food. At these Dhabas, you can expect some very basic food like Roti, Sabzi, Daal, Chawal, Parantha, Momos, Thukpa, Paratha, Biscuits, Snacks, Cold Drinks, Tea, and water.
The cost at all these dhabas will be higher than regular. A water bottle would cost about Rs. 40-50, double the price. A chips packet too will be for Rs. 40-50, which sells for Rs. 20 in the rest of the country. If you smoke, then the price of the cigarettes too will be double so carry your stock. There are no fruit stalls anywhere.
Also read: How to Plan a Trip to Ladakh by Public Transport Services?
The meal timings at Chandrabhaga hotel are at around 9 PM sharp. If you miss it, you may not have any dinner at all. The hotel kitchen will close after dinner and even if it's open, you will have to pay for the food out of your own pocket.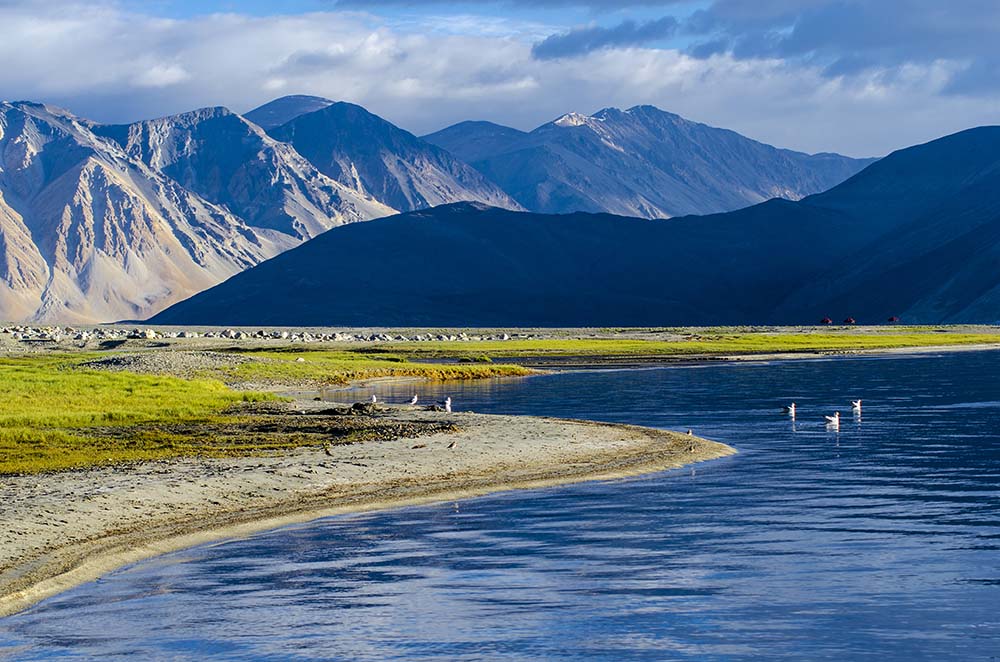 Accommodation
Accommodation at Keylong as I mentioned is in tents on the lawn of hotel Chandrabhaga. These are canvas tents and each gender-specific tent is shared by 5 guests. Washroom in the hotel complex too is common for all 30 passengers for the bus.
If you want to check in to Hotel Chandrabhaga, the cost is Rs. 1000 for a double bedroom.
You may suffer motion sickness at several places. In order to avoid that, drink plenty of water and eat small meals throughout the day. Do not go empty stomach and do not overeat either.
At all the places that this bus will stop, washroom facilities will be a challenge. The bus stops at Chadar tents where you will have to use shared washrooms that almost everyone uses who stops there.
Sightseeing
Do not expect this bus to stop at every tourist attraction you come across. HRTC bus does not stop anywhere at all but the HPTDC bus may stop at a couple of places. Sightseeing is limited to only a few places at the discretion of the driver and conductor.
As a matter of fact, on Day 1, the sightseeing break will only be limited to Rohtang top for 10 minutes. Then it is a straight run to Keylong with a brief stop at Tandi Petrol station for tank fill. On day 2 as well, the bus will stop at only the passes en route for 10 minutes each but not all of them.
Private tour operators also run buses for both Manali to Leh and Leh to Manali. For further details, you will need to contact the travel agents at Manali or Leh.
Conclusion
I hope this information on Manali to Leh Bus service was helpful. If you have any further questions, please feel free to ask in the comments section below, or at our Community Forum, and I would be glad to answer.