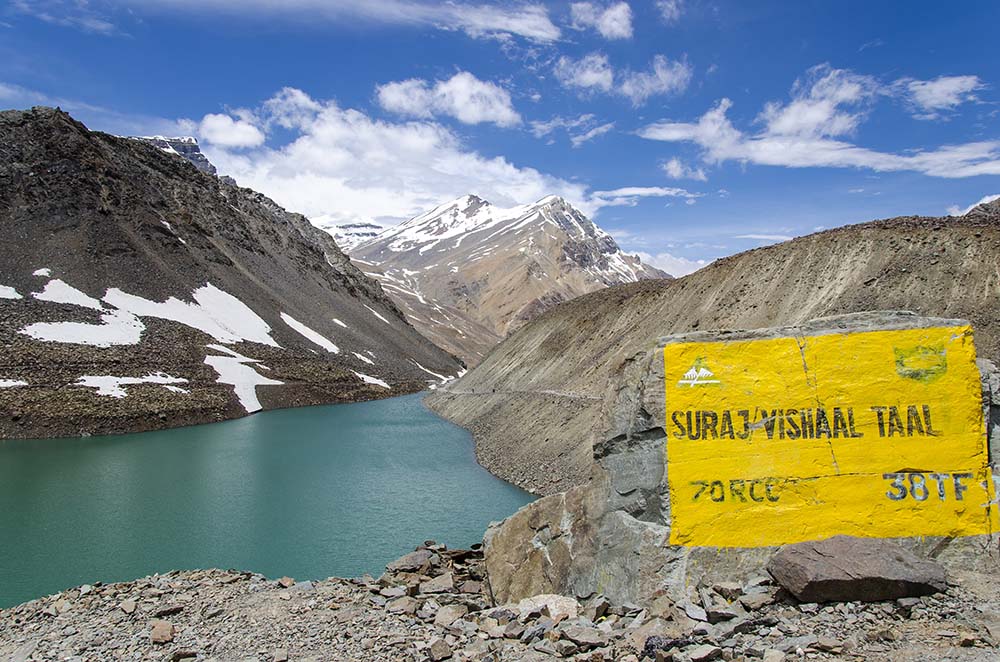 Suraj Tal or Suraj Tal Lake is a small lake located in Lahaul Valley of Himachal Pradesh. It lies right next to the top of the Baralacha La pass at an altitude of 4,890 meters (16,043 ft). The name literally means the Lake of the Sun God due to which it is considered. It is also known as Vishal Tal and is one of the two lakes that you will visit while traveling to Baralacha La, the other being Deepak Tal.
Suraj Tal Lake is the source of the Bhaga River which flows into the Lahaul valley and joins the Chandra River near Tandi to form the Chandrabhaga River. This river later gets renamed the Chenab River as it enters Kashmir and then Pakistan.
There is also a legend associated with Suraj Tal, a love story that I will further discuss in the article. The lake remains covered under snow for most of the year and only turns blue between June and September. It is one of the major attractions of Lahaul Valley and Manali Leh Highway.
About Suraj Tal
The first time I saw Suraj Tal, I wasn't even sure what I was looking at. It was early May and the entire Baralacha La Pass was still buried deep under snow. Suraj Tal was completely frozen and covered with a thick sheet of white. I did not even realize there was a lake there and just crossed the pass, moving on further to Leh.
Those were the times when Ladakh was yet to become the tourist attraction that it is today. There was little information available about the small lakes in this region anywhere anyway. My main focus was the Baralacha La Pass and I was unaware of the existence of a lake there.
Then someone told me about Suraj Tal after I returned. The next year when I rode to Leh, I kept an eye out for the lake and it surely did not disappoint.
The first picture above is of that ride. I went in the first week of July and the lake was still half frozen. There were huge snow walls on both sides of the road and it all just added to the overall beauty of the landscape.
So yes, Suraj Tal is a lake that is not to be missed. You do not necessarily have to be traveling to Ladakh to visit it. Even if you were in Manali for vacation, you can still plan a day-long excursion towards Lahaul Valley and visit Suraj Tal and Baralacha La pass both.
With the opening of the Atal Tunnel, the distance and travel time between Manali and Lahaul Vally has been reduced significantly and a day trip to Lahaul valley now can easily be planned.
Suraj Tal Altitude
Suraj Tal is located at an altitude of 4,890 meters (16,043 ft). For a while, it was rumored to be the third-highest lake in the country which is of course not true. There are numerous other lakes in India that are at a much higher elevation than Suraj Tal.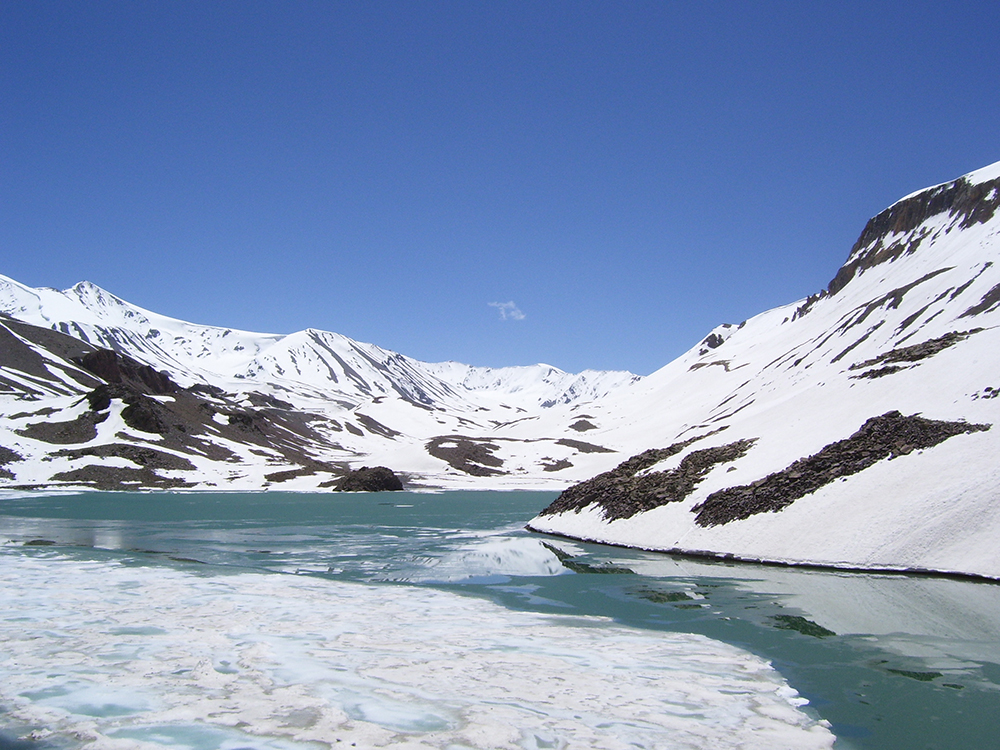 How to reach Suraj Tal Lake
Suraj Tal is located on the Manali Leh highway which means that to get here, you will first have to reach Manali. From Manali, you can go to the lake via either Rohtang Pass or Atal Tunnel. The route will be as mentioned below.
By Road
Route 1: Manali – Rohtang Pass – Kokhsar – Keylong – Jispa – Suraj Tal = 187 kilometers
Rote 2: Manali – Atal Tunnel – Keylong – Jispa – Suraj Tal = 142 kilometers
If you were going to Leh, then you will cross the lake on your way. But if you were in Manali and wish to go to Suraj Tal, you can pick either of these two routes.
If you go by Rohtang Pass, it is essentially a 2 days journey. You reach Jispa via Rohtang and stay there for the night. On Day 2, you can visit Suraj Tal and return to Manali via Atal Tunnel. For more details, please take a look at How to Plan a Trip to Jispa.
By Bus
There is, unfortunately, no direct bus available for Suraj Tal. There is a bus available for Leh from Manali and Keylong that passes Suraj Tal on the way but then your return journey will be a problem. This bus will drop you at the lake but there is no other bus that can bring you back to Manali or Keylong.
Hence, a better way would be to either hire a cab or rent a bike from Manali for your trip to Suraj Tal and Lahaul Valley. If you were traveling by Bus to Leh, then your bus will stop briefly at the top of the pass and you can view the lake.
What to see at Suraj Tal
Suraj Tal itself is an attraction of Manali Leh highway and Lahaul Valley. The lake is very scenically located and is slowly gaining popularity as a tourist destination. Some other places that you can visit are as mentioned below.
Deepak Tal
This is another small lake that you will visit while traveling to Suraj Tal. It is located about 28 kilometers before Suraj Tal while traveling from Manali. Both of these lakes are about the same in size and are often termed as the 'Twin Lakes of Baralacha La'.
Unlike Suraj Tal, Deepak Tal actually has a few dhabas located next to it and one can even camp near this lake. What is more, you can even go boating in Deepak Tal. Take a look at How to Plan a Trip to Deepak Taal for more details.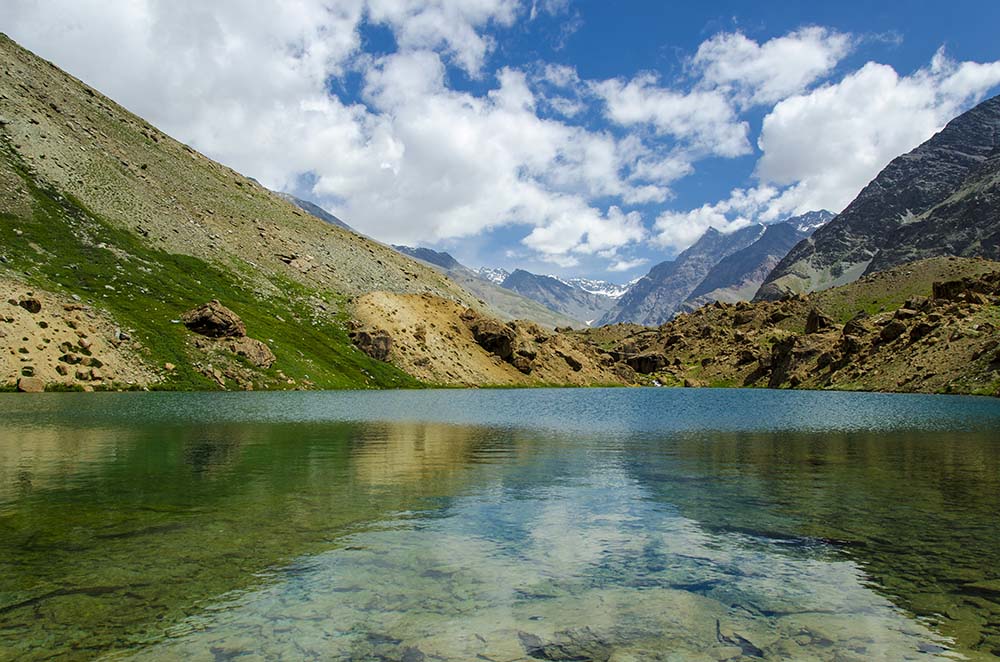 Baralacha La
After you cross Suraj Tal, the top of the Baralacha La pass is just around the corner, about 2 kilometers ahead. This is one of the most difficult passes on the Manali Leh route. It is the first pass in the region to close and the last one to open and receives heavy snow each year. There is also a ghost story related to this pass that I have talked about further in the article.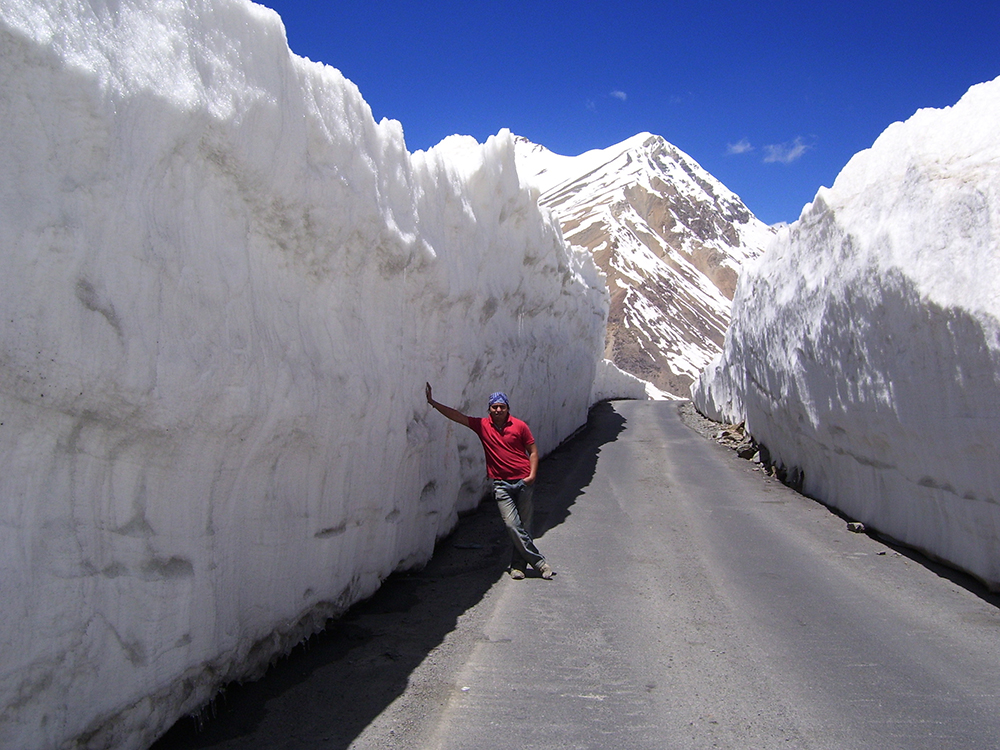 Jispa
Jispa is a small charming little village located on the banks of the Bhaga River. It is also a popular camping ground and also has a few small hotels. The whole setting and location of the village are very beautiful. If you had a day in hand, I will highly recommend staying here for the night.
The Confluence of Chandra and Bhaga River
The two rivers of Chandra and Bhaga merge into each other near Tandi Village to form the Chandrabhaga river. This is a great spot to take a break and click some pictures.
Sissu Lake and Waterfall
There is a small waterfall near the village of Sissu which is also a great place to visit. The water from the fall also forms a small lake and right next to it is an Army base. See the picture below.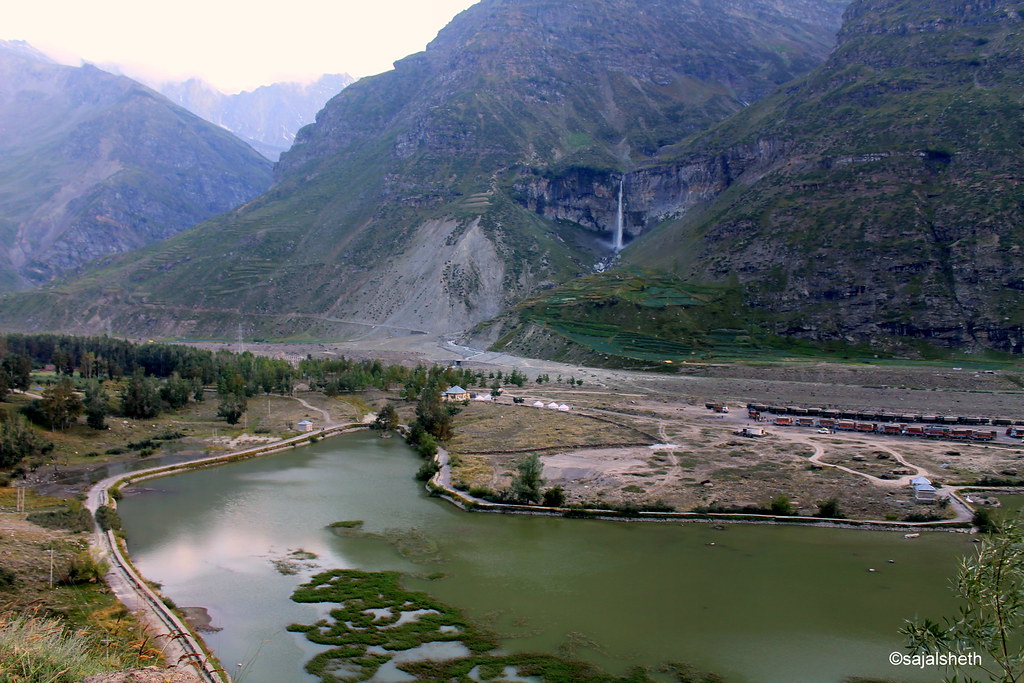 Rohtang Pass
Rohtang Pass needs no introduction. At an altitude of 3,978 meters (13,051 ft), it is probably the most famous high altitude pass of our country and is responsible for more than half of the tourists that Manali receives. A trip to Manali or Lahaul Valley is really incomplete unless you have included Rohtang in it.
The Legend of Suraj Tal
Let us also briefly talk about the folklore associated with Suraj Tal. It is said that a long time ago, Bhaga, the son of the Sun God (Suryadev), and Chandra, the daughter of the moon god, fell in love with each other. They wanted to get married but did not get the blessings of their parents.
Sun God wanted Bhaga to take his place and continue with the task of bringing light to the world. The Moon-god wanted to assign the job of lighting the nights in the world to his daughter Chandra.
When their parents did not agree, both the lovers eloped and decided to get married. The place where they agreed to meet was Baralacha La Pass. Chandara arrived a little ahead and the spot where she landed on earth is where Chandratal Lake near Kunzum Pass is located. Suraj Tal is the spot where Bhaga arrived.
They both started walking down looking for each other. Eventually, they met near Tandi and the celestial marriage was performed.
The path that Chandra walked on is the route that the route of Bhaga river in the present days. The route taken by Chandara is the one where Chandra River flows. The spot where they met is the confluence point of these rivers. For more details on this story, take a look at The Legend of Chandratal.
The Horror Story
The second story is of a ghost that haunts the Baralacha La. On top of the pass, there is what seems to be the remains of a building that was once used by the Indian Army. It goes by the name of Shaheed Sainik Bhawan.
Legend has it that one winter; a man killed three soldiers in this building and ate them. Yes, you read it right. He literally ate their remains. He was later killed by the Army but it is said that his spirit, as well as those of the dead soldiers, still haunt the road across the pass. To read more about this, please take a look at The Cannibal of Baralacha La.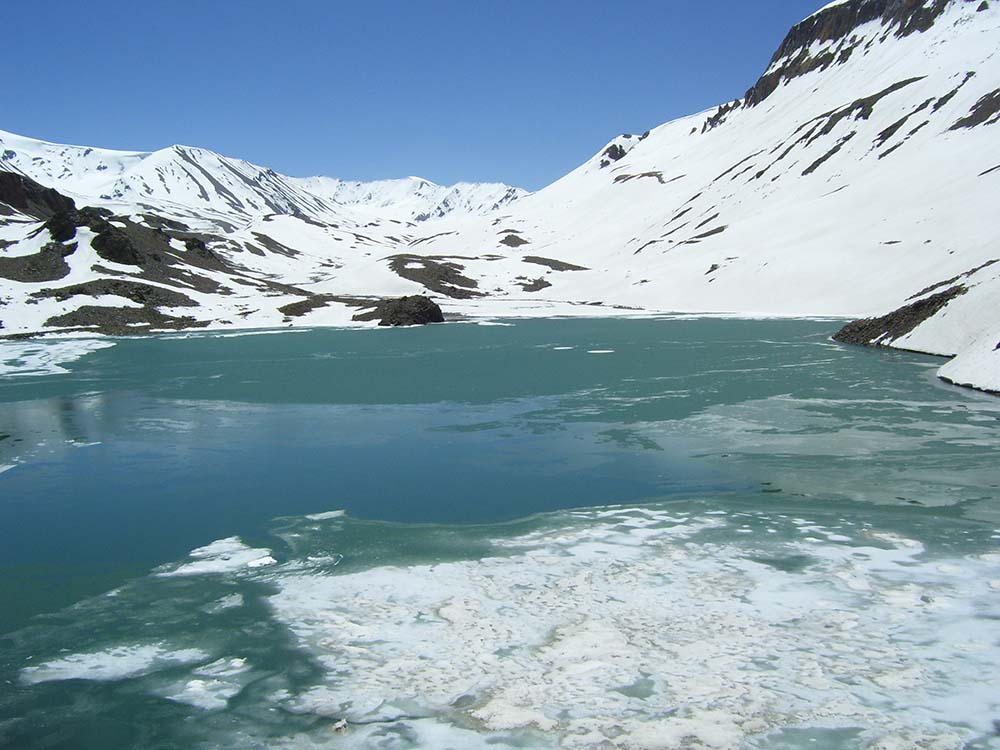 About Bhaga Valley
The narrow gorge that the Bhaga River forms from Suraj Tal to its confluence with Chandra River at Tandi is known as Bhaga Valley. It is 65 km kilometers long and mostly lacks any vegetation up to Darcha.
Between Darcha and Tandi, the slops of the valley are under cultivation by local farmers and have grasslands. Plantation of trees and shrubs to meet fuelwood and fodder requirements have been done on the hill slopes. The valley is also known as Tod or Stod Valley.
Accommodation and Food Options
The nearest place where you can find a hotel is the village of Jispa. There are a few small hotels and campsites in Jispa where you can spend the night.
The Dhabas near Deepak Tal is where you can get something to eat. As a matter of fact, these Dhabas also provide dormitory-type accommodation in the form of Chadar Tents.
If you continued ahead and crossed Baralacha La, there is a dhaba on the other side right after you crossed the pass. This Dhaba is also a Chadar tent where you can eat and even stay for the night.
Mobile Network

at Suraj Tal
There is no mobile network at Deepak Tal. BSNL, Airtel, and Jio users will lose reception a little after Keylong. Vodafone, Idea, and other network users will be off the network while traveling towards Rohtang from Manali.
Just assume that after you leave Keylong, you will not remain connected until you get closer to Leh. It will be wise to call back home and let your folks know about it so that they do not worry unnecessarily. During my first ride to Leh, the father of one of my friends filed a missing person report with the police because they could not reach their son for three days.
For more details, please take a look at Mobile Network on Manali Leh Highway.
Best Time to Visit Suraj Tal Lake
The best time to visit Suraj Tal Lake is between May and June. The weather at this time becomes extremely pleasant and will suit the majority of the travelers. The entire Lahaul Valley is open in these months which means that other than Suraj Tal, you will also be able to cover other tourist attractions in the valley.
During Winters: It starts to snow at Baralacha La in September and by October, the road across the pass gets completed blocked. This means that a trip to the lake cannot be planned between November to April.
If you asked me, a trip anytime before May does not even make sense. The lake will be completely frozen and buried under snow. All that you will see all around is just a sheet of white.
During Monsoon: You should also avoid visiting Suraj Tal in July and August due to the monsoon season. This entire region receives a lot of rain each year resulting in dangerous landslides. Even the road between Chandigarh and Manali or Manali to Rohtang can also get blocked due to bad weather.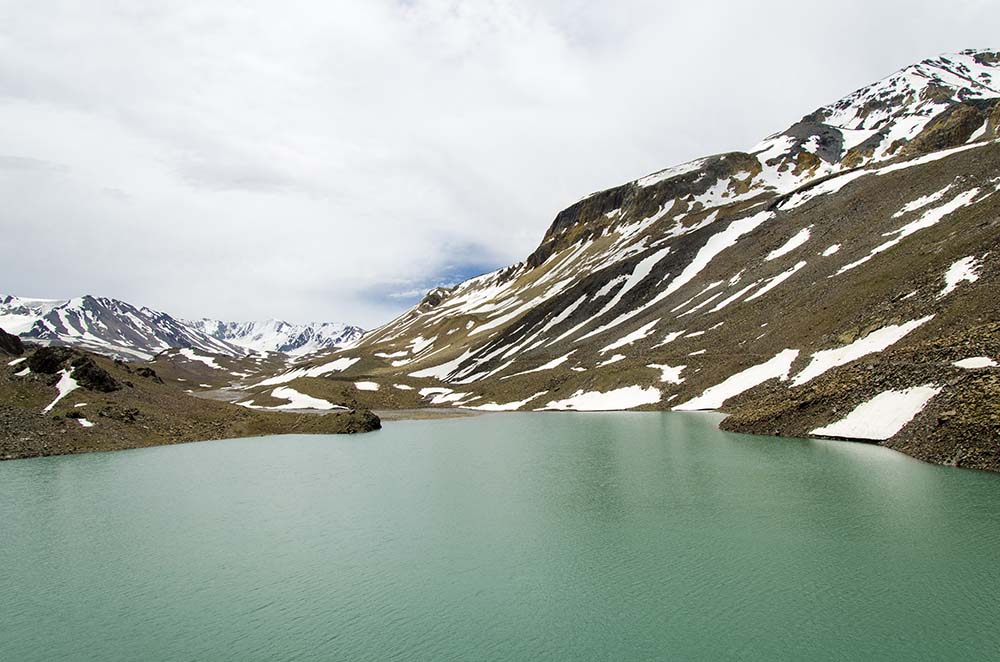 Road Conditions
The Condition of the road between Manali and Suraj Tal Lake is super smooth. There are a few bad stretches in between and you will also have to handle a couple of water crossings but for the most of it, the road remains to be in a good condition. You can easily complete the trip even in a hatchback or a Sedan.
Other Tips
The last petrol pump is in Tandi.
Keylong is the last place where you will find an ATM and a Hospital.
Pack woolen clothes and keep yourself warm and covered.
If you start to feel symptoms of altitude sickness, please descend to a lower altitude immediately.
Distance Chart
Manali to Suraj Tal: 140 kilometers via Atal Tunnel, 185 kilometers via Rohtang Pass
Keylong to Suraj Tal: 71 kilometers
Jispa to Suraj Tal: 49 kilometers
Deepak Tal to Suraj Tal: 28 kilometers
Chandratal to Suraj Tal: 200 kilometers by road
Conclusion
I hope the information above on Suraj Tal Lake was of help. If you have any questions or need any other details, please feel free to ask in the comments section below or at our Community Forum, and I will be glad to answer.