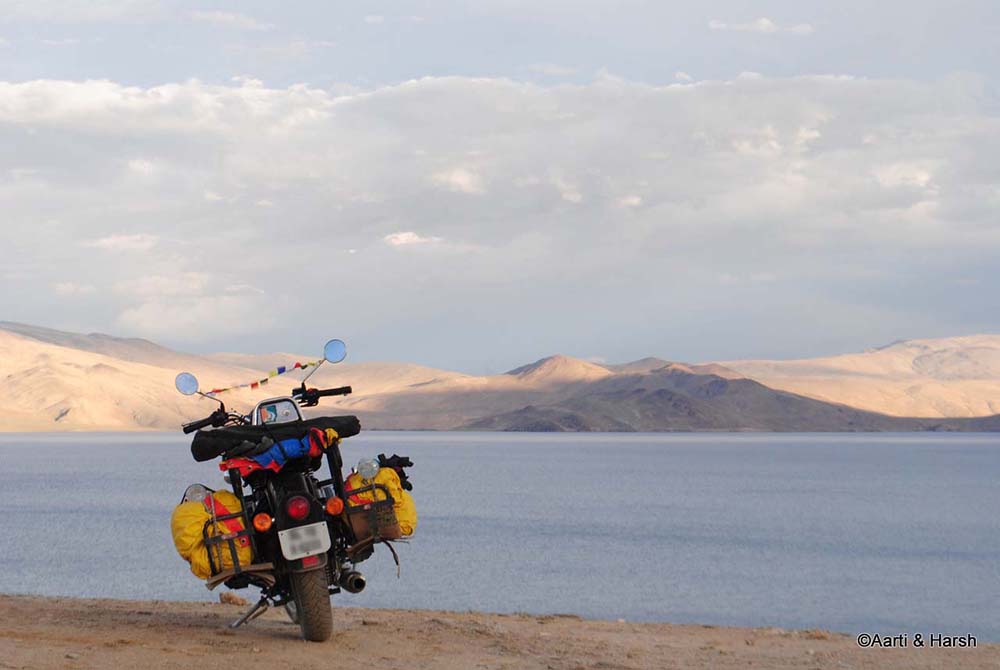 There are 2 things that we will talk about in this article about traveling from Manali to Tso Moriri Lake. The first is that why it is not really a good idea to do so. The second is if you indeed plan on doing it, then how can you do it. What route can you take to complete the journey and how will long it will take.
Though popular and equally beautiful, Tso Moriri in my opinion is still one of the lesser-visited areas of Ladakh because it lies a little off the route. It can get a little confusing on how to include it in your itinerary. Whether to visit it on the way, to dedicate two days just for Moriri, or try to complete it in one day from Leh.
Because of this, people often wonder if the lake can be covered on the way from Manali to Leh. Or can you just visit the lake from Manali without ever going to Leh Ladakh?
Itinerary for Tso Moriri
Let me first clarify that it is not at all a single-day journey, either from Leh or Manali. You must cover Tso Moriri in 2 days. Otherwise, you are just rushing through a long and tiring journey and will get hardly half an hour to spend at the lake.
The most common itinerary that gets followed during a trip to Ladakh is to reach Leh from Manali. You can then visit Nubra Valley and Pangong Lake, and take the Srinagar Leh highway for the journey back. Including Tso Moriri in the itinerary would mean that you will have to travel back on Manali Leh highway until Pang once again due to which people avoid it.
People who reached Leh via Srinagar and are returning via Manali would have pretty much exhausted their time in hand already. They could not afford to add one more day for Moriri on their return journey and hence skip it.
Due to reasons like this, a lot of people wonder if they can or should visit Tso Moriri while on their way to Leh from Manali. This would mean taking the deviation from Pang to Karzok, stay at Moriri, return to Pang and then continue to Leh. The question that arises is, how feasible is it? Does it make sense to visit Tso Moriri from Manali while going to Leh?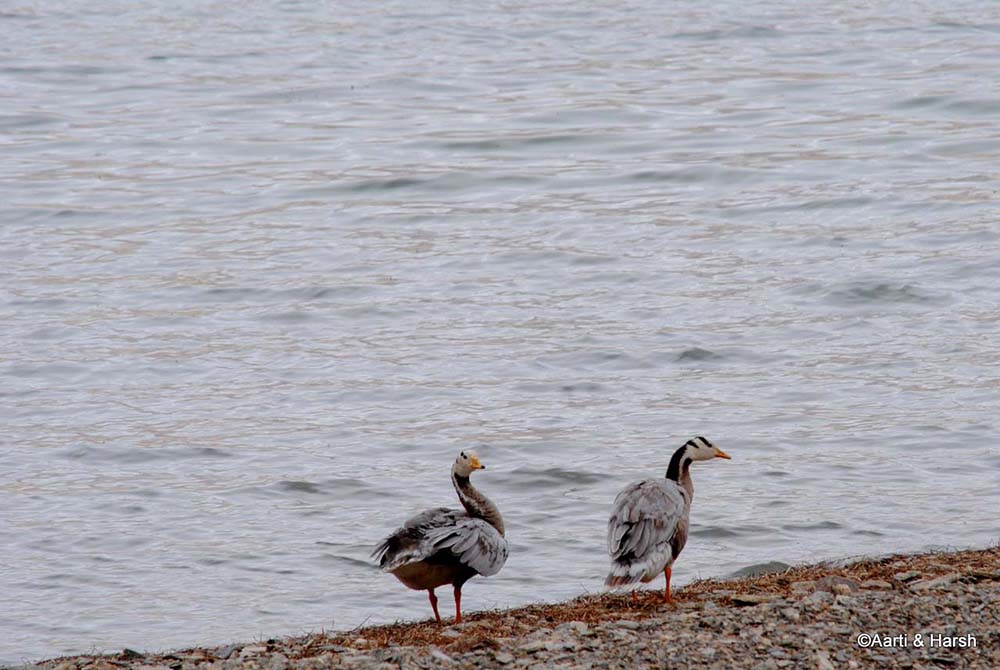 Can you Travel from Manali to Tso Moriri?
The answer to this question is that yes, you can. But it is highly advisable that you do not go to Tso Moriri from Manali directly.
Acute Mountain Sickness
The biggest reason behind this is AMS (acute mountain sickness), also known as high altitude sickness. On Day 1, you are in the plains when you start your journey. The next day you are at Manali which is at 2,050 meters (6,726 ft). Then in a couple of days more, you take your body to a height of 4,522 m (14,836 ft) that Tso Moriri is located at.
There is absolutely no time in between for acclimatization. You are bound to feel symptoms of AMS at Sarchu and Pang. For some people, these symptoms are very less while others suffer more. For a more detailed write-up on AMS, please take a look at How to Handle Altitude Sickness in Ladakh.
After AMS hits you at these places, the best thing to do is to descend down to Leh the very next day. This way, your body gets some time to adjust itself to high altitude. However, if you continue towards Tso Moriri from Pang, you are not allowing your body any time at all.
Karzok is pretty much at the same height as Sarchu or Pang. So you will continue to suffer from AMS throughout the journey. Is it a serious matter? The fact that several tourists have lost their lives in Ladakh due to AMS stands witness to how serious altitude sickness can get.
Road Conditions
What you must know about Ladakh is that travel time does not depend on distance but on road conditions. Some of the stretches, even though just a few kilometers, can take you hours to complete because of the terrible road conditions.
The route from Pang to Karzok is full of such stretches. From Sumdo to Karzok, the entire 50 kilometers is pretty much a dirt trail. What this means is that a journey from Sarchu or Pang to Moriri can take you an entire day easily.
Even the journey back from Karzok to Leh will be very long and rushed. You will have to start early and then you will be able to make it back to Leh by late evening the same day.
While staying on Manali Leh highway means that in case of severe symptoms of AMS you can rush directly towards Leh, going to Moriri will deprive you of this option even. Karzok is a small town with almost no medical facilities. So if AMS symptoms get severe, you will be in trouble as the journey back to Leh will take you several long hours.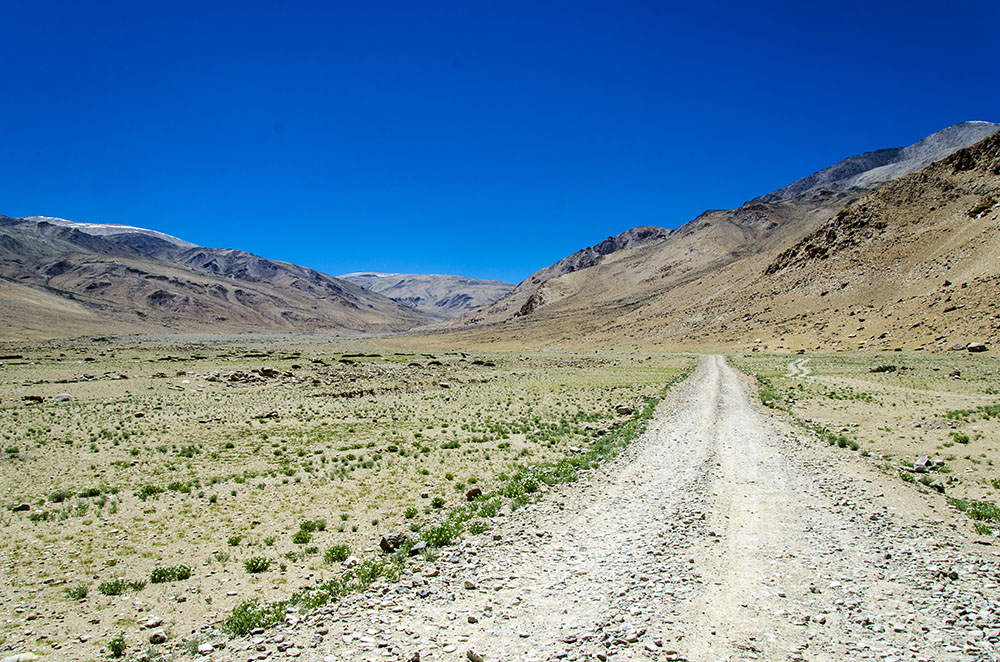 Petrol / Diesel
Fuel comes next in line. The last petrol pump on the Manali Leh highway is at Tandi. After that, there is no gas station for the next 360 odd kilometers until Leh. From Pang to Tso Moriri and return journey would add another 250 kilometers to the travel plan.
Taking a detour towards Karzok would mean that you will have to add more Jerry cans and carry double the fuel. There is no gas station on the route towards Moriri and no mechanic or puncture repair shop as well. So chances of getting some fuel from anywhere are next to none.
You can get both Petrol and Diesel at the Dhabas at an increased price but the quality of this fuel is highly questionable. For more details on this topic, please take a look at How to Manage Fuel while Traveling to Leh Ladakh.
Inner Line Permit
This will be your biggest problem. Tso Moriri is an Inner Line area which means that you need to get a permit to visit here. This permit is only issued in Leh City. It is true that you can get it online but even then you will first have to go to Leh to get it stamped.
Without the permit, the journey to Tso Moriri is just not possible. You will be stopped at the check post and sent back. The only other way around this is if you can get someone to get the permit on your behalf and fax or email it to you. For more detail, please take a look at How to get an Inner Line Permit in Leh Ladakh.
Rented Bikes / Non-Local Taxi
Another limitation comes into place if you are travelling on a rented vehicle. Only Ladakh rented motorcycles and cabs are allowed to ply on the route towards Karzok.
So if you are in a cab or on a motorcycle that you hired from Manali, please do not take the risk of taking it towards Karzok. There are several places where you may get stopped by locals and get sent back.
If things got worse, they may stop and ask you during your stay at Karzok. In which case you will get in trouble and may have to pay a hefty fine to get out of the situation.
For rented vehicles, you are required to reach Leh first. From there, you will have to rent another cab or motorcycle for visiting Tso Moriri.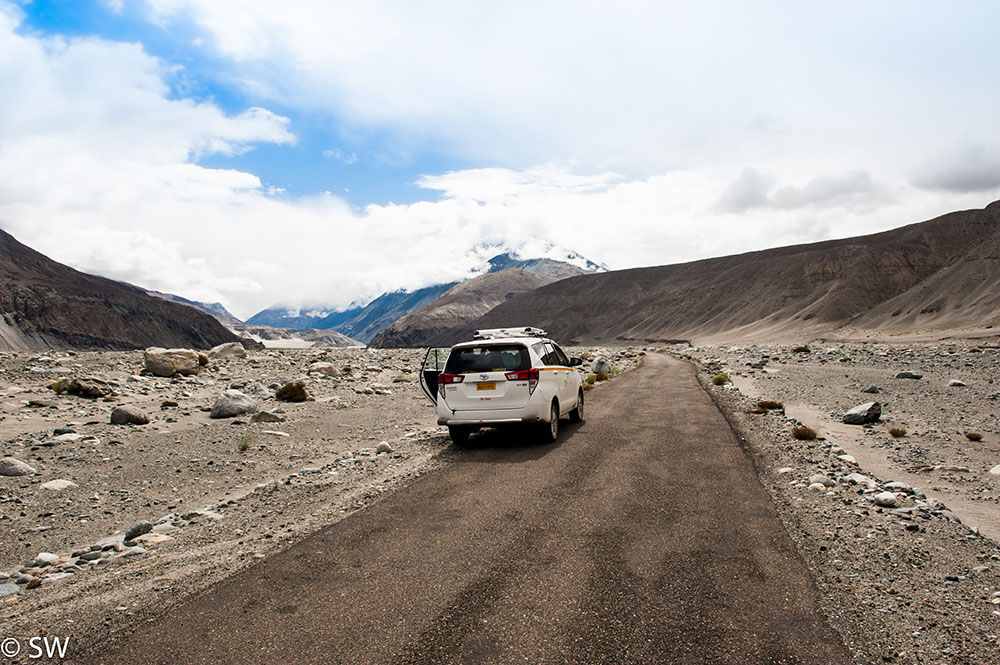 Travel Time
Another point to consider here is of time. If you want to visit Moriri while on your way to Leh because you are short on time, you will just end up traveling for long hours and tiring yourself. The only way you can save time here is that you travel from Manali to Sarchu on Day 1, Sarchu to Karzok on Day 2, and Karzok to Leh on Day 3.
On all these 3 days, you will end up traveling for long hours. The journey will be rushed and your body will continue to get beaten up by altitude sickness. You will neither enjoy the beauty of the lake, nor of the region that you will be traveling through.
Manali to Tso Moriri Route
After all said and done, if you still want to travel from Manali to Tso Moriri, the route of the journey will be as mentioned below.
Manali – Rohtang Pass – Keylong – Jispa – Baralacha La – Sarchu – Pang – Nakee La – Lachulung La – Pang – Debring – Tso Kar – Polokongka La – Sumdo – Namashang La – Karzok
This entire journey will be close to 400 kilometers. You will cross 6 high-altitude passes on the way. The minimum time needed for this journey is 2 days. On both days, you will end up traveling for 10-12 hours at least.
How to Plan a Trip to Tso Moriri
A better way to include Tso Moriri in your itinerary is to reach Leh from Srinagar. After sightseeing in Ladakh, you can return via Manali while visiting Moriri. You can reach Karzok from Leh on day 1, Karzok to Pang on day 2, and Pang to Manali on Day 3.
I know that it sounds pretty much the same in terms of travel time. But you would have gotten used to high altitude by now, you will be able to take the journey in a much better way. The only long travel will actually be on day 3.
If you started early from Leh on day 1, you can comfortably make it to Karzok by evening. On day 2 as well, you can start from Karzok easily by 9-10 AM and make it to Pang by 4-5 PM. Take the day at a slow and easy pace. Travel while enjoying the beauty of not only Moriri but also of Tso Kar on the way.
It is only on day 3 that you will have to start by early morning from Pang. But you can still make it to Manali by 4-5 PM. For more details on this topic, take a look at How to Plan a Trip to Tso Moriri from Leh.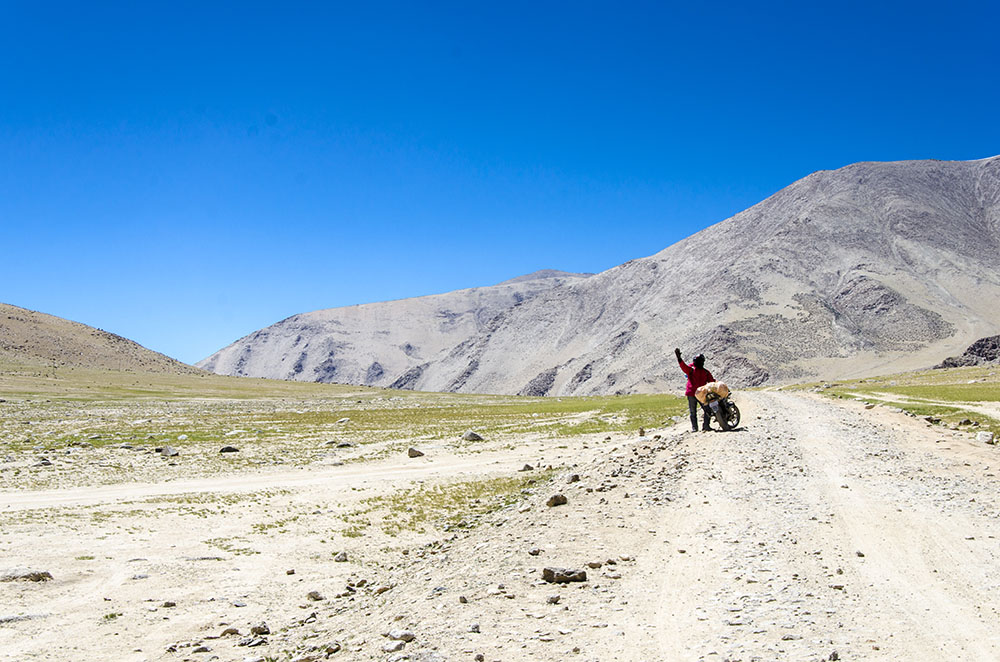 Manali to Tso Moriri – Conclusion
To conclude, is covering Tso Moriri from Manali doable? The answer is. But should you do it? The answer is a definite No. Either add a couple of days to your travel plan for Moriri or reach Leh from Srinagar and return via Manali.
I hope this information on traveling from Manali to Tso Moriri was of help. If you have any further questions, feel free to ask in the comments section below or at our Community Forum, and I will be glad to answer.