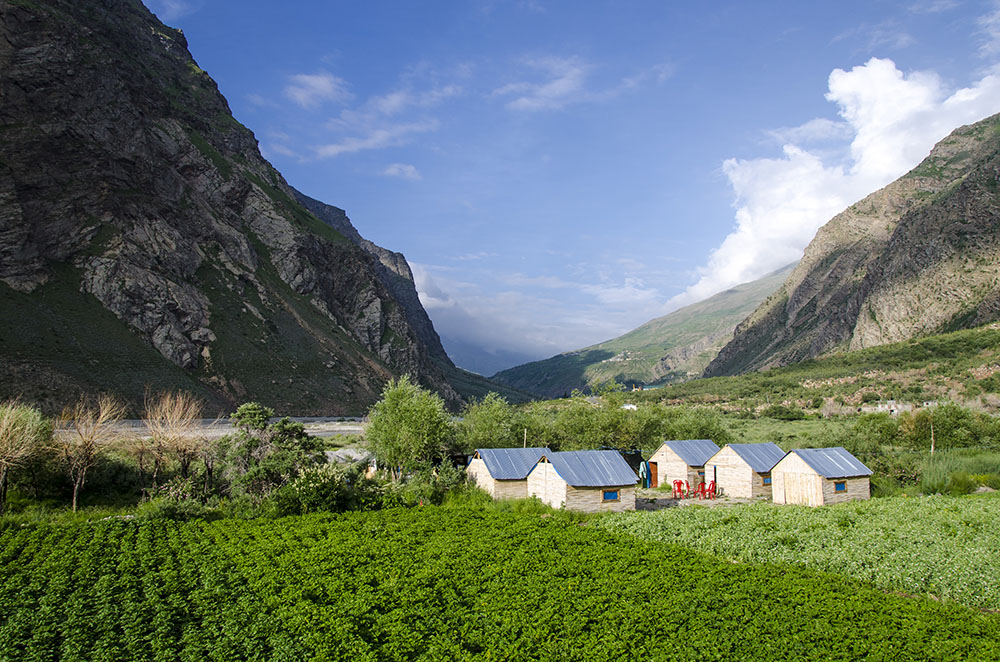 Accommodation on Manali Leh Highway is one of the most common questions that people ponder upon before embarking upon this adventurous journey. This of course is one of the foremost concerns that you need to pay attention to while preparing your itinerary for the Ladakh trip.
Without proper knowledge and planning, you may have trouble deciding on the place to stay. Or you may end up at a place where either there is no accommodation available or the ones available are not as per your taste.
The best place to break your journey for the day will really depend on the time you have in hand and your mode of travel Why do I say that? Because if you were traveling by Bus, then you have no other choice but to stay at Keylong. If you were traveling by your own car or bike, you can stay at any of the stops on the way but will have to consider acute mountain sickness, time in hand, and your overall itinerary.
With that being said, below is some information on where you can find hotels on Manali Leh Highway and other accommodation options available. For other details on traveling from Manali to Leh, please take a look at Manali Leh Highway Travel Guide.
Accommodation on Manali Leh Highway
Though Manali Leh highway is still a place where even some of the basic amenities can still be hard to find, the situation is improving with each passing year. Tourism in Ladakh has been on rising in the past few years and the effect can be seen on the Manali Leh highway as well.
These days, you can easily find a hotel or guesthouse in all the towns on the way. Even the number of campsites and Chadar tents has gotten way better. Every time I travel on this road now, I find a new Dhaba or chadar tent set up somewhere in the middle of nowhere.
Hotels on Manali Leh Highway
Yes, there are several hotels on this route between Manali and Jispa. You can find decent enough hotels and HPPWD guest houses at Sissu, Koksar, Keylong, and Jispa. But once you cross Jispa, there is no other hotel until you either reach Leh or get somewhere closer, i.e. Upshi or Karu.
All the hotels on the route are quite clean and comfortable, can accommodate up to two people, and are reasonably priced. Food depends on the hotel but it is never really that bad.
Also Read: Best Time to Travel from Manali to Leh
Camping on Manali Leh Highway
Like hotels, there are several campsites available on the route. Unlike Hotels though, campsites are spread throughout the route but the most common and popular ones are at Jispa, Sarchu, and Pang.
The cost will be different for each campsite but it ranges from Rs. 1000 per person to Rs. 1500 per person at an average. It may cost you less if you negotiate hard. The food is pretty basic at these campsites, nothing fancy but not too bad either.
All of them provide hot water but in buckets. The last I checked, there was no running hot water. Some of these campsites have attached washrooms and some have a common one.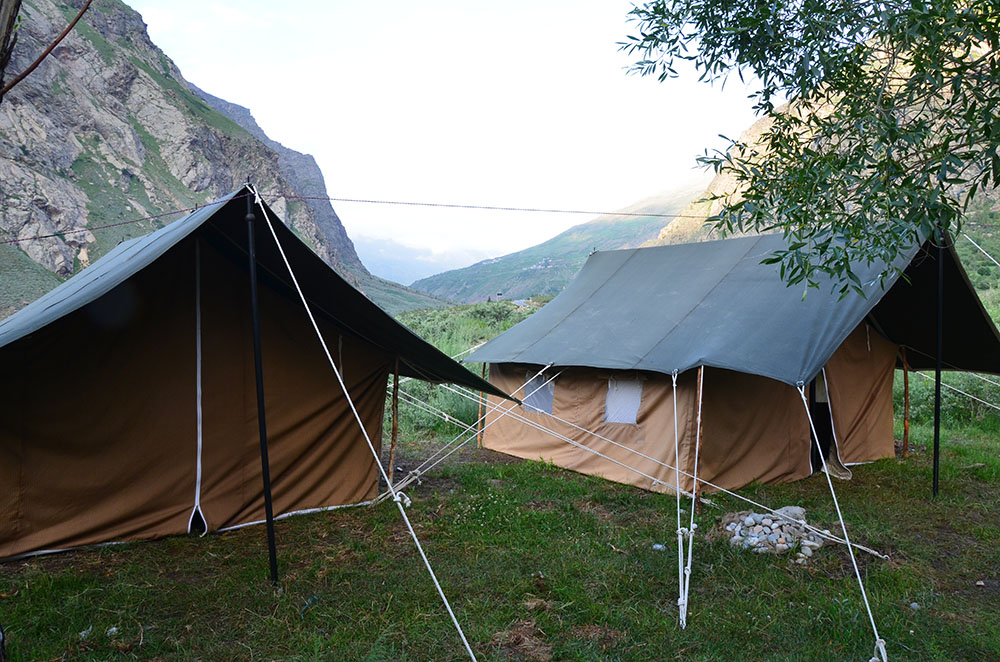 Self-Camping on Manali Leh Highway
Ladakh is a barren wasteland with not a living soul in sight for miles. So you can actually pitch your tent pretty much anywhere you like. However, it is highly advised that you do not do so just about anywhere.
The best place to camp would be somewhere closer to an existing campsite. You can pay them a small amount of money. In exchange, they will give you a spot to pitch your own tent and let you use their washroom facilities as well.
Please take a look at Camping In Ladakh – Self camping & Campsites for more information on self camping in Ladakh.
Guest Houses on Manali Leh highway
There are several guest houses, both private and government-run where you can stay for the night. These are however limited to the major towns on the route of course.
The private guesthouses are actually the same that I said about the hotels. They are more or less the same. However, the government-run guest houses or circuit houses are an entirely different story. These are maintained by HPPWD or HPTDC.
If you wanted to stay at a government guest house, it is better to book accommodation in advance to avoid any last-minute hassles. Getting a room here on the spot can be a little troublesome. Sometimes they may have a room available but the caretaker may just refuse to rent it out so always book in advance.
These rest/circuit houses are a great place to stay. Rooms are quite clean and comfortable and can easily accommodate up to three people. They are quite reasonably priced too. You can easily find a room at any of the circuit or rest houses on the highway anywhere between Rs. 350 to Rs. 1000.
The food however can be a problem at some of these rest or circuit houses and you may have to ask the caretaker to arrange dinner for you after you have checked in. For more details on this topic, please take a look at How to Book an HPPWD Guest House.
Chadar tents on Manali Leh highway
There are several places where you can find a chadar tent on Manali Leh highway. These are mostly just a small dhaba beneath a tent with a few beds laid out towards the back where you can crash for the night in exchange for a couple of hundred Rupees. These are the cheapest form of accommodation on Manali Leh Highway.
Best Accommodation on Manali Leh highway
If comfort is on your mind, HPPWD rest houses or circuit houses, privately run guesthouses, and hotels will be best for a trip on a moderate budget. If adventure is what you seek, then go for a tent in any of the camping sites.
However, staying at a campsite can be a little costly so if you are on a budget trip, better to skip those. If you are really not choosy and just need a bed to crash on while saving money, the best option to stay is at a Dhaba / Chadar tent. You can find a bed here for as little as Rs.200-300, depending on your negotiation skills.
These chadar tents however have shared washrooms which can be a problem. Another problem can be of privacy as you will just be sleeping on a bed in a large tent and there are several beds in a series. If you have a lady with you on the trip, best to skip the chadar tents completely.
Also Read: Manali to Leh Travel Time – Minimum Days Required
Hotels Between Manali to Leh
Below is a breakdown of destinations on Manali Leh highway and where can you expect to find a place to stay. The list of hotels, campsites, and their contact details are further in the article.
Hotels in Manali
Manali, of course, is one of the major tourist destinations in our country.  You should have no problem finding a place to stay here. There is really no hotel in particular that I recommend staying in.
Just do a Google search and book the hotel that you like the most. If you believe in on-the-spot booking, then arrive in town, take a walk around and you will have numerous hotels to choose from. Irrespective of what your budget is, you can easily find a hotel in Manali per your taste and liking.
The only thing that I will suggest here is that if you were traveling during the peak tourist season or with family, you may want to think about pre-booking.
Gramphoo
This is the place where a road towards Spiti valley splits from the Manali Leh highway. Right at the bifurcation, there is a dhaba that provides a bed to crash on for a minimal charge of a few hundred Rupees. This is not really a place where you should be breaking the journey but I added the details nonetheless.
Hotels in Kokhsar / Khoksar
There is an HP PWD rest house in Kokhsar and few Dhabas/Chadar tents where you can stay. In recent times, a couple of guesthouses have come up as well in Kokhsar. To be honest, it is not really a place I will recommend staying at unless it got late for you in the day and you could not proceed any further.
Hotels in Sissu
There is both a PWD rest house and a couple of guest houses in Sissu.  A few people in recent times have started to consider Sissu for a night stay and you can as well. There is also a man-made lake and a waterfall in Sissu.
If you want to spend a day in Lahaul valley to explore the nearby areas, Sissu can be a good place to stay. It is also at a lower altitude than Keylong or Jispa. So if you were suffering from acute mountain sickness, you can stop at Sissu to rest until you get better.
I have stayed in Triveni Guest House in Sissu once during my road trip to Lahaul Valley. You can contact them at  09459103575, 1900-263044, or 9418204944. It is a good place that offers great views of the valley and is reasonably priced. They will charge you anywhere between Rs. 800-Rs. 1200 for a single room that can accommodate 2 – 3 people.
A friend of mine who cycled on the Manali Leh highway also stayed here and shared great feedback about the hotel. The food however is nothing fancy, just basic but not bad either. In case you want to book in advance, you can call them at either of the three numbers I provided above.
Rest House in Gondla
There is only a PWD rest house available here. The place is located a few kilometers after Sissu.
Rest House in Tandi
This is where the last petrol pump on Manali Leh highway is. You can find a PWD rest house in Tandi as well.
Also Read: Manali to Leh – Available Modes of Transport
Stay Options in Keylong
One of the major towns on Manali Leh highway. There is a PWD rest house, a PWD circuit house, and several hotels in Keylong. You can easily find a hotel here within any price range.
Mentioned below are the two hotels that I have stayed at in Keylong and would definitely recommend.
The Chandrabhaga Hotel, Keylong
Opposite New Circuit House, Leh Manali Highway, 175132
Phone: 01900 222 393
The Chandrabhaga is an HPTDC run hotel and is a little bit on the expensive side. The price for a double bedroom, including meals, will be between Rs. 2,000 to Rs. 2,500. It includes the cost of two meals, either lunch or dinner, and breakfast.
For bookings, you can use the official HPTDC website to book your stay here Online. If budget is not a constraint, it is definitely a recommended place to stay. I did not like the food here so much though.
The New Gyespa Hotel Keylong
Near New Bus Stand, Keylong Town
Phone : 01900-222873, 9418136055
This hotel also has a good location and can be termed as a budget stay. I got a room here for Rs. 500 once but that was a few years ago. These days, they will charge you anywhere between Rs. 800 to Rs. 1200 for a night's stay.
Stay Options in Jispa
Three types of staying options here. A PWD rest house, campsites, and hotels. Jispa is my favorite place to find accommodation on Manali Leh Highway. I have stayed here numerous times and mentioned below are a few recommended places.
Jispa Journeys
Jispa Journeys is a campsite located about 2-3 kilometers before Jispa. They have an entire series of tents from luxury (swiss tents) to normal ones. The tents are all comfortable with metal beds and the location is quite scenic as well. Please visit their site at the link below for more information.
Jispa Journeys
Office Landline: + 91 1902-254055
Mobile: +91 9418660225, 9816662350, 9418954313
Email: [email protected], [email protected]
Website: www.jispajourneys.com
The charge (may have changed recently) was about Rs. 1000-1500 for a normal tent and between Rs. 2000 to Rs. 2500 for a swiss tent. These fares change depending on the time of your arrival and the tourist rush. They usually get booked in advance but you can try your luck and can negotiate an on-the-spot deal as well for a lower price.
Hotel Padma Lodge
Hotel Padma Lodge is located about a kilometer before Jispa. It is a basic guest house but decent enough and very comfortable. Mentioned below are their contact details.
Hotel Padma Lodge
Phone: +91 1900 233211
Mobile: +91 94 180 33211, +91 94 189 11164
Email: [email protected]
Website: http://www.padmalodgejispa.com/
The price of this hotel can be around Rs. 1000 for a night's stay but you can also try to negotiate for a lower deal.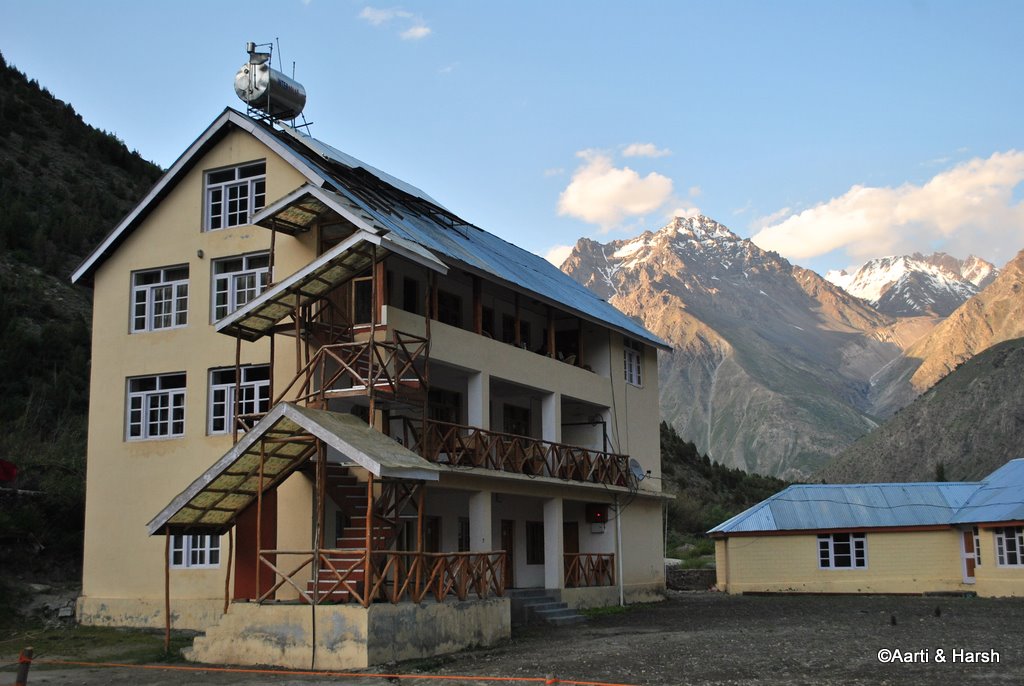 Hotel Ibex, Jispa
Also known as Hotel Jispa, it is more of a luxurious hotel and I think they have a bar as well. Prices are a bit steep though. I stayed here a long time ago, during my early trips to Ladakh, and at that time, I paid Rs. 3,000 for a double bedroom. I am sure their fares now have increased beyond this.
Hotel Ibex, Jispa
Phone: 094180 36860
I have never stayed here except for that one time and the feedback is also not that great either. The service they provide does not really justify the amount they charge, or so I have heard. It is right there on the highway, a large building that is hard to miss. Their restaurant and rooms are quite good but as I mentioned, prices are quite steep.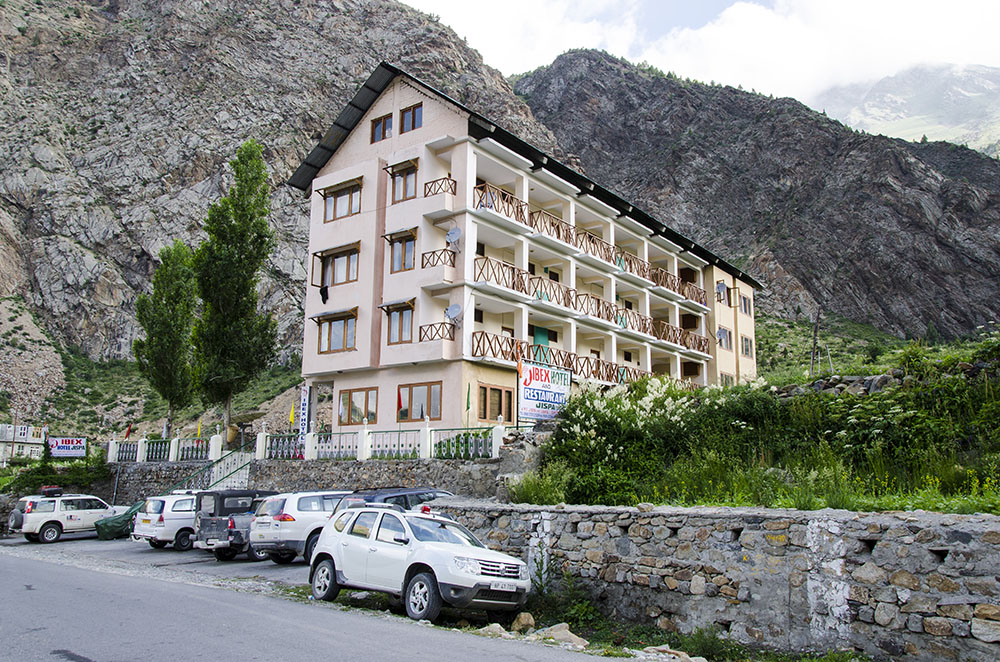 d hut – Rest Inn
This is a Bamboo huts site (first picture in this post) and the place I would recommend staying at in Jispa. Their huts are right next to the river and a great place to have a bonfire. It is located right in front of Hotel Jispa, on the other side of the road.
d hut – Rest Inn
Bamboo Huts
91-9418361559, 9418428009
Other than this, you will notice a few other campsites next to the river while crossing Jispa and that is where I always stay now while traveling from Manali to Leh. For some reason, I have never found the same person or the campsite though. They keep changing every couple of years. Just drive through the village, talk to the campsite owner and negotiate a deal.
Also Read: Manali to Leh Road Map With Distance
Camping in Darcha
Stay options are available in the form of Chadar Tents in Darcha. A campsite came up here a few years ago but it is no longer operational. It is still a good spot for self-camping though.
Deepak Taal
Deepak Taal is a beautiful small lake located a little after Darcha and just before the climb of Baralacha La Pass. Right next to the lake, there are a couple of Dhabas that also provide beds for a night's stay. It is also a good spot for self-camping.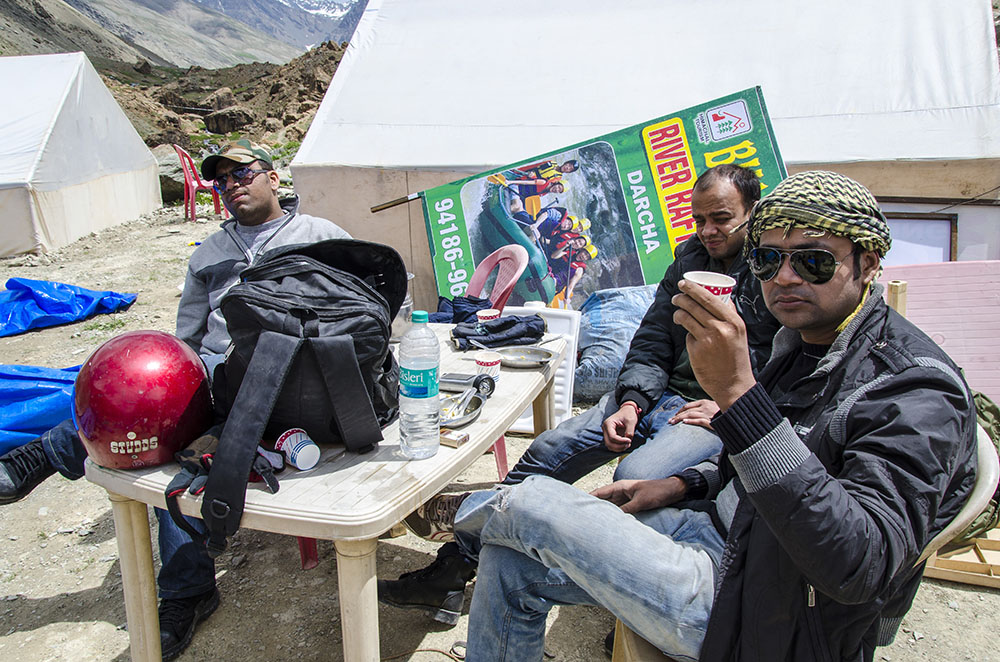 Patseo
There is a PWD rest house in Patseo.
Zingzing Bar
There are a few dormitory-style Dhabas / Chadar tents in Zingzing Bar that provide night accommodation on Manali Leh Highway.
Bharatpur
For some reason, it is also known as Bharatpur City, even though there is no actual city here. It is a place in the middle of almost nowhere that comes alive only during the Ladakh tourist season. There are a few campsites and Chadar tents that you will only find here between June to early October. After that, they wrap up for the winter and the place is deserted.
The camps here are a little cheaper than the ones in Sarchu and it is also a good spot for self-camping. Chadar tents of course are the cheapest option of stay that you can find in Bharatpur.
Baralacha Pass
Baralacha La is a high-altitude pass that remains covered in snow for most of the year. It will be your second pass on the route after Rohtang. There is obviously no place to stay at the pass but right after you cross it, you will find a few Dhabas where you can get a bed to sleep on for the night.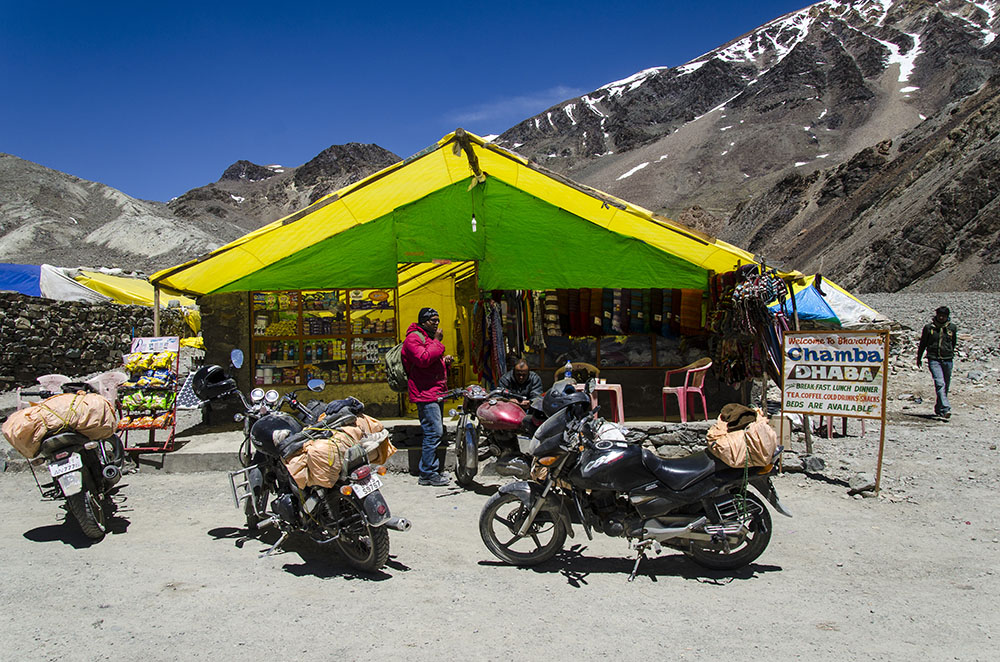 Sarchu Campsites
Sarchu is where the Himachal Pradesh ends and you cross over the border into Ladakh. Since the early days of Ladakh tourism, it has been a preferred spot for camping, and over the years, the options have increased several folds. It is almost the midpoint of the Manali Leh highway and being so, is a major stop where the majority of people break their journey for the day, especially the ones who are completing the highway in 2 days.
The campsites here are a bit costly though which discourages people from staying here. For budget travelers, a better option can be Dhabas/ Chadar tents. There are several of them in Sarchu and will greatly suit the budget travelers.
Sarchu is definitely a great spot to pitch your own tent as well.
I will provide the name and contact numbers of the campsites but wouldn't recommend booking in advance. Just reach there and negotiate a deal. If you book in advance, you will end up paying more than what you would if you just reach there and book on-site.
Himalayan Saga
They are probably among the oldest campsites here and the costliest too. They provide Swiss tents mostly and a good place to stay if within budget.
Phone: 01902 – 251848
Website: http://www.himalayansaga.com
Their website I believe is not working now so it is better to just call.
Adventure camp / Camps of Ladakh
Dorje Camps Sarchu
Antrek camps
Goldrop Camps, Sarchu
They also provide swiss tents. A friend of mine stayed here once and provided good feedback. Even they are a little on the costlier side though so may not fit well with budget travelers.
Planet Himalaya Camps, Sarchu
Blue Poppy Camps, Sarchu
Stay Options at Pang
Until a few years ago, Pang only had an entire series of Chadar tents and Dhabas. People with 3 days itinerary on the Manali Leh route would stop here for Day 2 of their journey. It was and still is a great option of accommodation for budget travelers.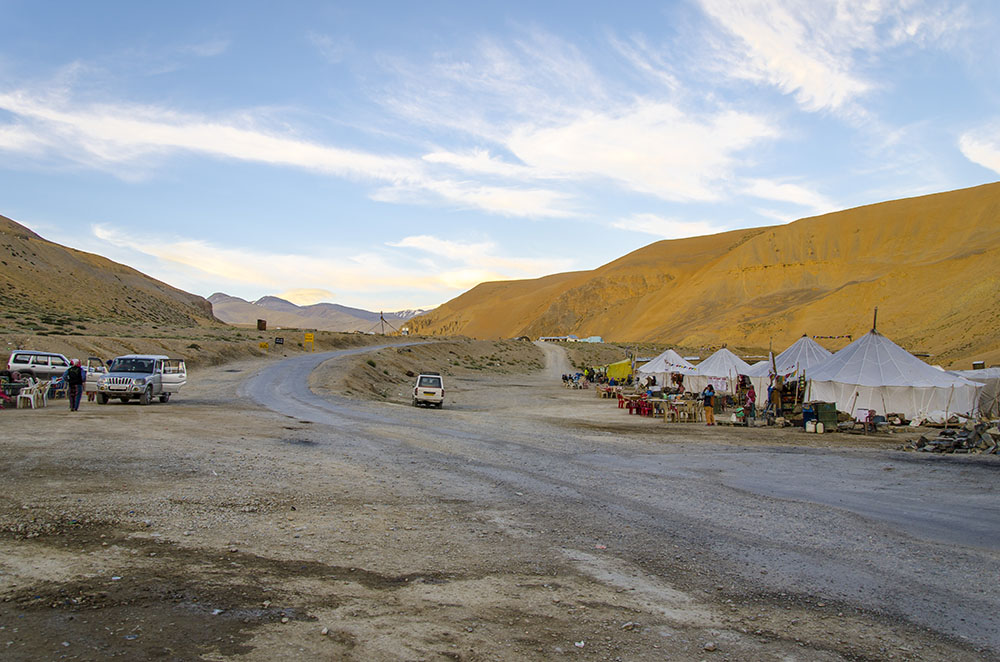 In the last few years, a few campsites have come up in Pang as well. The Dhaba owners also provide an option of pitching a separate tent for you if you do not want to stay in their shared ones.
Upshi
Upshi is about 47 kilometers before Leh so there is really no point in staying here unless you were coming back from Pangong and wanted to move straight to Manali without having to go back to Leh. Nonetheless, there are a few basic guesthouses in Upshi where you can spend the night if needed.
Also Read: Primary Attractions Of Manali Leh Highway
Hotels in Leh
Needless to say, finding a hotel in Leh within any price range is no big task. In recent years though, finding a hotel in Leh can become troublesome during the tourist season. I will strongly recommend that you book your stay here in advance or you may have to run around a little in the city. At an average, assume Rs. 1000 per day as your accommodation cost in Leh.
Accommodation on Manali Leh Highway – Conclusion
I hope this information about accommodation on Manali Leh highway was of help. If you have any questions or need any other details, please feel free to ask in the comments section below or at our Community Forum, and I will be glad to answer. If you have traveled on Manali Leh highway and have stayed at a hotel or camping site that you will like to recommend to others, your feedback is most welcome to help others.