Gata Loops is a name that is unknown to everyone except for a few who have traveled on the Manali Leh highway; or planning to do so. It is a series of twenty one hairpin bends that takes you to the top of the 3rd high altitude pass on this highway, Nakeela; at a height of 15,547 ft. As a matter of fact, this steep and winding section of the road is considered as one of the tourist attractions of Manali to Leh road. People who do know the name Gata Loops know it because of its stunning location, breath taking scenery around it; and the difficult ascent involved in order to reach the top. But that is not all; there is also the ghost that haunts these loops; that only a few people know about.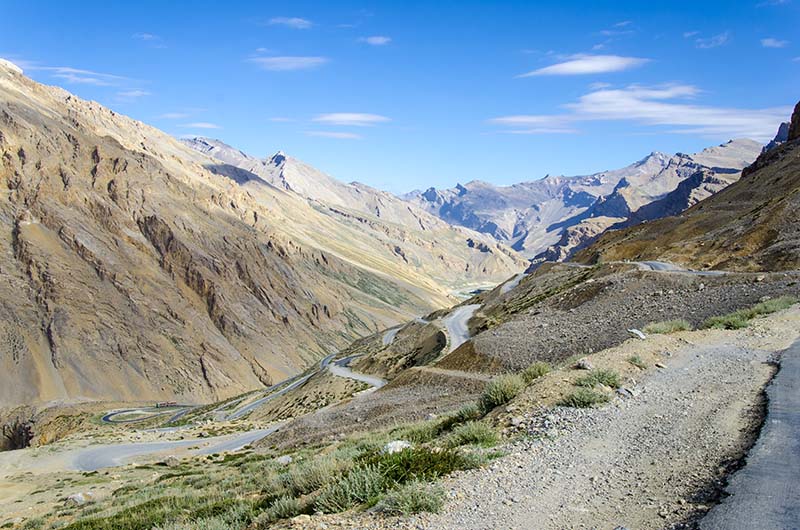 During my first trip to Ladakh, we were staying at a camp site in Jispa. It was 2005, a time when very few people, mostly motorcyclists and adventure enthusiasts, would dream of taking the arduous journey on Manali Leh highway. There were no other guests at the camp site; and all the other tents except for the one that we were occupying were empty.
It was slightly past 9 pm and my fellow traveler Shoaib had already gone to sleep after the day long journey from Manali to Jispa; but despite being tired, I just could not get myself to sleep. I was standing outside our tent, enjoying the pitch black and peace of the night and valley around; when I noticed that the kitchen light was still on. The kitchen set up too was actually inside a tent. I walked over and found the guy who was running the camp preparing a cup of tea for himself. He asked me if I would like to have some and my answer was an immediate yes.
After comfortably settling down on a chair in the kitchen itself with a cup of tea in my hand, I struck up a conversation with him just to kill some time. He proved to be quite a chatty fellow himself and pretty soon was telling me almost everything; about himself and the place, how cold it gets here, how he moves to Manali in winter and so many other things. I actually did not mind him talking because this was my first trip to Ladakh; and I was able to get a lot of information from him; stuff that could be of use while traveling.
After a while, just when I thought to go back to my tent and get some sleep,when he asked me a question that got me caught up in the conversation again.
"Do you know about Gata Loops?"
"Yes I do, we will be crossing it tomorrow" I replied.
"No not that", He started sounding mysterious, "Do you know about the ghost?"
"What ghost?"
"There is a ghost that lives there. The place is haunted"
"There is a building out there?" This was going to be my first time at Gata Loops but somehow I already knew the answer to this question; still I asked to clarify.
"No not a building. That entire section of the road is haunted" He replied.
"What?" I laughed, "Why would a ghost live there on the road, out in the cold"
"Its not his choice" He kept that serious tone and expression on his face, "He is bound to that place because his body is buried there"
"Really? Who was that poor fellow? Someone who thought that this place is scenic enough to die here, be buried and just be here forever?" My tone was still of a mocker.
"No, someone who was just unfortunate enough to get stuck on the road and ended up dead"
"Tell me about it", Now I sounded curious and he started telling me the tale of the trucker who died on the Gata loops.
Several years ago [he couldn't tell me exactly how many years ago], it was late October when a truck with its two travelers, the driver and a cleaner, crossed Rohtang and moved on its way towards Leh. It had already started to snow at a few places and the driver was warned but he had a time limit to reach Leh; which meant that it was too late for him to turn back and take the Srinagar Leh highway which was still comparatively safer.  It was the last truck to cross Rohtang as it snowed heavily the very same evening at the top and the pass closed. Kunzum Pass was already closed weeks ago and there were no vehicles coming from Kaza as well which means that it was the last truck plying on Manali Leh highway.
The driver managed to bring the truck safely all the way to Gata Loops but this is where disaster struck. On one of the loops, his truck broke down and came to a complete halt. After trying for hours, the driver couldn't fix whatever was wrong with the vehicle. They waited and waited but no one crossed them by because they were the last vehicle on the route. so the driver decided to walk to a nearby village and get some help. Cleaner however was ill and not in a condition to walk. He was so terribly ill that he could barely stand up but what was he suffering from our narrator couldn't tell.
To add to this, Truck was also loaded and could not be left abandoned with the cargo because of the risk of getting robbed hence the cleaner stayed back with the truck to guard it; and also because he was in no condition to walk. The driver walked and walked for miles until he found a tiny village but Alas, there was no mechanic there. He somehow managed to make a phone call to Manali to get someone to come and fix the truck but to his bad luck, while he was still waiting at the village, the weather closed in. It started to snow heavily and became impossible for the driver to get back to the truck.
It took several days for the weather to clear and all this time; he was stranded an the village. Finally help came from Manali and they all hurried back to Gata Loops; to the spot where the truck broke down only to find the cleaner dead. Poor chap was left alone on the road for several days; in freezing temperature, in poor health, with no water and nothing to eat and eventually died of thirst, hunger and cold. The truck was fixed but it was impossible to drive it either to Leh or Manali because passes on both sides were closed. So the driver drove the truck to the village he was stranded in; and waited there until it was possible to drive across Rohtang and return to Manali.
The body of the cleaner was buried at Gata Loops by the villagers, right at the spot where he died.  Next year when the highway reopened, people started noticing a strange thing. There was a beggar at Gata Loops who would waive at the passing vehicles to stop and begged them for water. Some people did not stop but the ones who did and offered the beggar some water saw the bottles drop right through his hands. The word spread and sure enough people were scared of the ghost who begged for water; thinking that it might harm them if they stopped or curse them if they didn't. In order to pacify the ghost; the locals set up a small temple at the spot where he was buried and made offerings of water.
Since then, whoever passes by and is aware of the story leaves some water at the temple, as an offering.
"Have you seen this ghost?" Was my question after the guy finished his story.
"No"
"Do you know anyone who has seen the ghost?"
"No but tomorrow when you cross Gata Loops, look out for a dump of water bottles. That is where the temple and the grave of the dead cleaner is."
And sure enough, the next day while we were ascending on Gata Loops; I noticed a dump of water bottles in front of a small temple made of stones with a red flag fluttering on top of it. It looked weird and quite an eyesore if middle of such a scenic place; but i also noticed that all the water bottles were full, seal packed.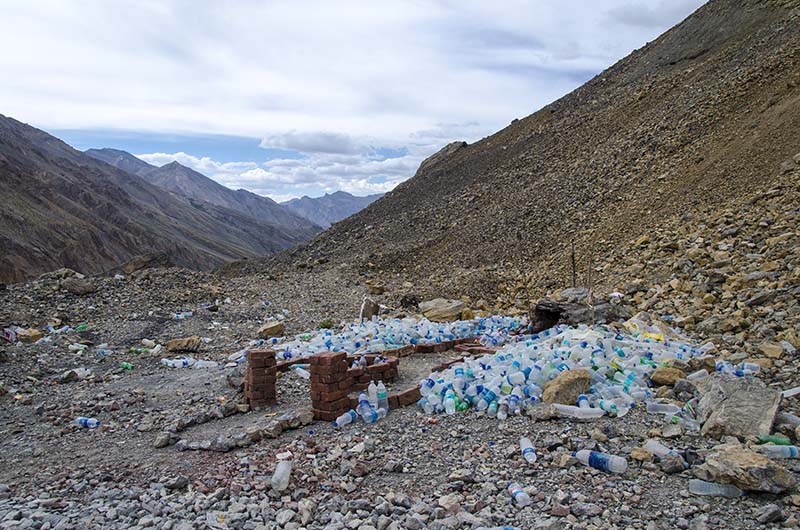 The Ghost of Gata Loops
So is the legend of the ghost of Gata loops where people still stop and make offerings of water. See the small enclosed cave like thing between the bottles, made by putting bricks together? There is a real human skull placed inside that. Next time you are on this highway, take a moment and check it out.
As it turned out, there is a different version of the story as well, as shared by a reader in the comments section below; which I will copy paste here.
"I heard a different story. There was a bus that broke down on that bend. So the conductor got down to place a stone behind its wheel to stop it from drifting. But the driver was not able manage the vehicle and ended up crushing the conductor by rear wheels. Conductor had some life left in him and was asking for water but driver fearing arrest left him there to die and fled the spot. Hence the demand for water"
Since then, I have been to Ladakh several times and climbed up the Gata Loops. I never left a water bottle there because it just looked like a waste and littering to me; but also I have never experienced anything supernatural. No one ever waived at me to stop or beg for water. If you however have been to Ladakh and have a tale to tell from Gata Loops; or know a different version of the ghost story; please certainly do so in the comments section below or at our Community Forum.