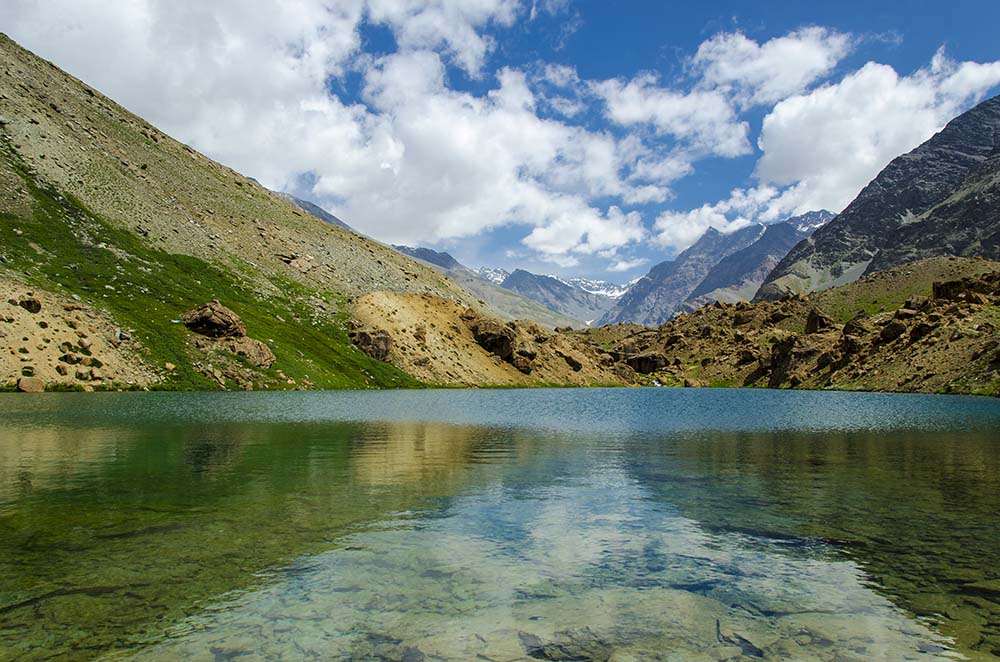 Deepak Tal is a small little lake located on Manali Leh Highway, at a distance of 20 kilometers from Jispa and 43 kilometers from Keylong. It is one of the two lakes that you will see while traveling towards Baralacha La Pass, the other being Suraj Tal. It is a small body of water but is very scenically located and acts as a stopover for people traveling from Manali to Leh or vice versa.
The lake is located at an altitude of 3750 meters. It is fed by glacial melts during the monsoon season and freezes completely in the winters. The calm waters of Deepak Tal act as a mirror, reflecting the calm surroundings of snow-capped peaks. There are a couple of dhabas near the lake where you can also grab something to eat. You can go even boating in this small lake.
For a complete list of places that you will see between Manali and Leh, please take a look at How to Plan a Journey on Manali Leh Highway.
How to reach Deepak Tal
In order to reach Deepak Tal, you will first have to get to Manali and then Keylong. It is not necessary that you have to be traveling to Leh for this, to be honest. With the opening of the Atal tunnel, the distance and travel time between Manali and Keylong has reduced significantly. If you were in Manali for a vacation, you can easily plan a trip to Deepak Tal and Baralacha La.
The route of your journey can either be of the two below.
Manali – Rohtang Pass – Gramphu – Kokhsar – Keylong – Jispa – Darcha – Deepak Tal = 160 Kilometers
Manali – Keylong – Jispa – Darcha – Deepak Tal = 115 Kilometers
There is, unfortunately, no direct bus available for Deepak Tal. You can board the Leh bound bus from Manali or Keylong but it will just leave you at Deepak Tal with no provision for the journey back.
So if you were traveling by public transport, a better option will be to either hire a private taxi or a motorcycle from Manali for your visit to Lahaul Valley.
If both of these were out of budget, you can board the bus for Deepak Tal and then hitchhike your way back. This will not be difficult in the tourist season as a lot of tourists and truckers travel on this route between June to September.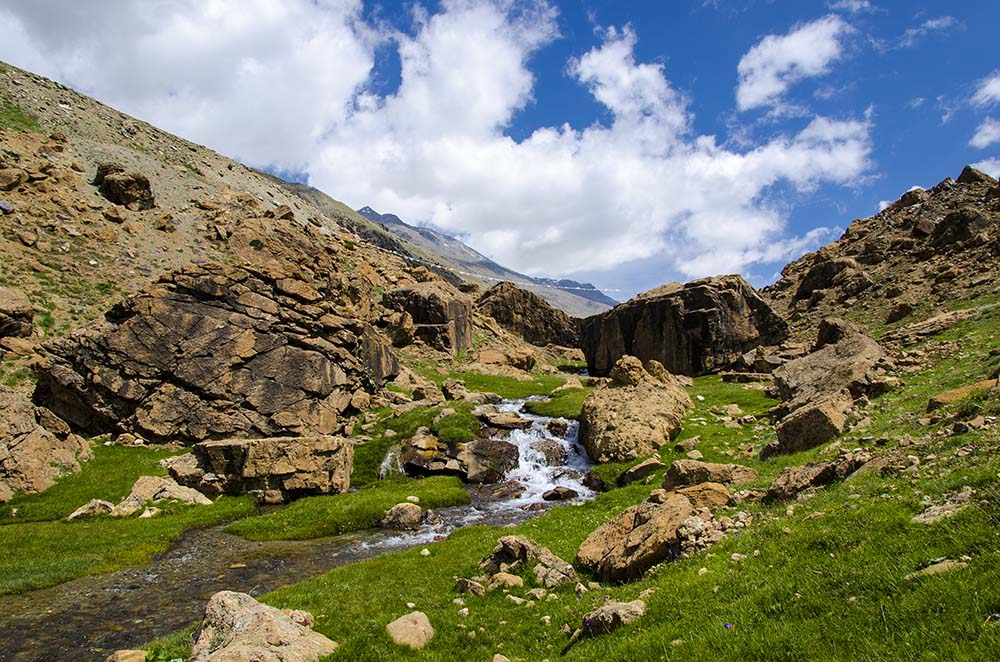 Best time to visit Deepak Tal
The best time to visit Deepak Tal is May, June, and September. The weather in these months will be very pleasant and the views heavenly.
May and June are when you will find a lot of snow still and can even see the famed snow walls at Rohtang and Bralacha La.
July and August should be avoided due to the monsoon season. The entire region around Manali receives heavy rainfall each year, enough to cause landslides and block roads. Sometimes even the highway between Chandigarh and Manali can get closed temporarily due to incessant rains.
Baralacha La starts receiving snow towards the end of September and is blocked completely by the end of October. The pass then remains closed until May of the next year.
Deepak Tal is located on the ascent for Baralacha La, about 31 kilometers before the top. So the chance is that even if you managed to reach Jispa via Atal Tunnel in the winters, you will probably not be able to drive to the lake after October. In my opinion, traveling in winter will not make sense anyway because the lake will be frozen.
Hence it would be best to plan your trip in either May, June, early July, or September. This applies not just to Deepaktal but also to Manali and all of Lahaul Valley.
What else to see at Deepak Tal
Below is a list of some other places that you will see while traveling to the lake.
Baralacha La Pass
Suraj Tal
Sissu Lake and Waterfall
Jispa
The confluence of Chandra and Bhaga Rivers
You can in fact even do boating in Deepak Tal. It is just a small lake so it will not be a long affair. But for a quick 10 – 15 minutes break. boating here can be fun. For more details on these places, please take a look at Sightseeing at Baralacha La Pass.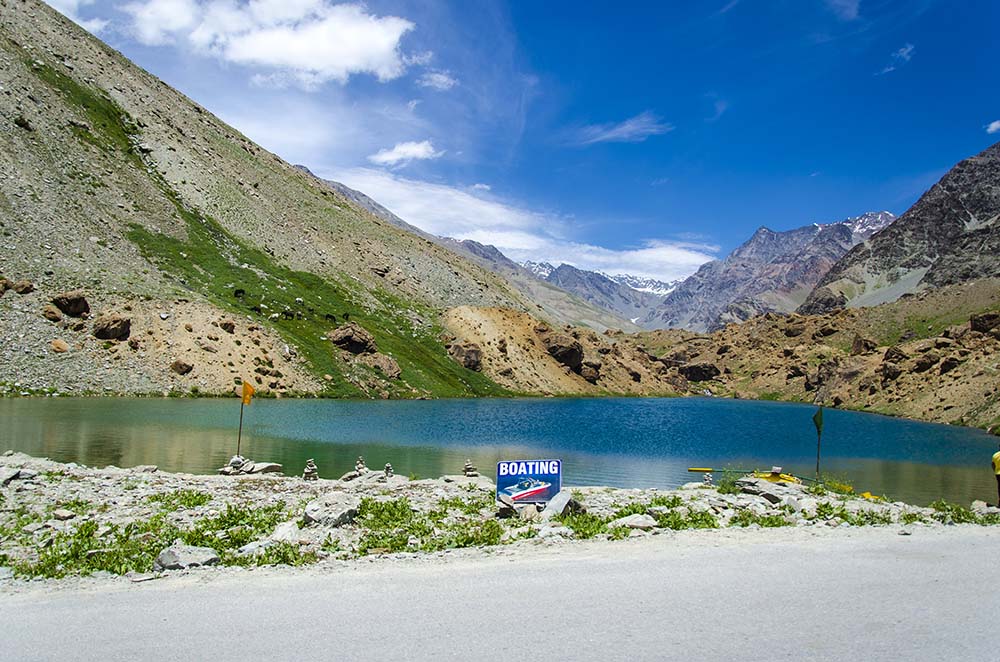 Deepak Tal Weather
The weather of Deepak Tal always remains cold, irrespective of when you arrive. Between May to September, the day temperature will range between a comfortable 10°C and 15°C. But during the night, it will drop down to 0°C or even below that.
In the winter season, this entire region experiences extremely harsh weather. Even some of the locals living in Darcha and Jispa move out for a few months to lower areas. The temperature in winter months here can drop down to as low as -25 ºC.
Distance Chart
Manali to Deepkal Tal: 115 kilometers (via Atal Tunnel); 160 kilometers via Rohtang Pass
Jispa to Deepak Tal: 21 kilometers
Keylong to Deepak Tal: 43 kilometers
Deepak Tal to Suraj Tal: 28 kilometers
Mobile Network
There is no mobile network at Deepak Tal. BSNL, Airtel, and Jio users will lose reception a little after Keylong. Vodafone, Idea, and other network users will be off the network while traveling towards Rohtang from Manali.
Just assume that after you leave Keylong, you will not remain connected until you get closer to Leh. It will be wise to call back home and let your folks know about it so that they do not worry unnecessarily. During my first ride to Leh, the father of one of my friends filed a missing person report with the police because they could not reach their son for three days.
For more details, please take a look at Mobile Network on Manali Leh Highway.
Other Tips
Mentioned below are some other tips that can be of help in planning a trip to Deepak Tal.
ATM: The nearest ATM is in Keylong, 43 km away.
Petrol Pump: The nearest petrol pump is in Tandi, at a distance of 52 kilometers.
Hospital: The nearest hospital is located in Keylong.
Always pack warm clothes and keep yourself well covered.
If you start to feel symptoms of altitude sickness, you should immediately get to a lower altitude and reach Keylong to seek medical assistance.
Conclusion
I hope the information above on visiting Deepak Tal was of help. If you have any questions or need any other details, please feel free to ask in the comments section below, or at our Community Forum, and I will be glad to answer.