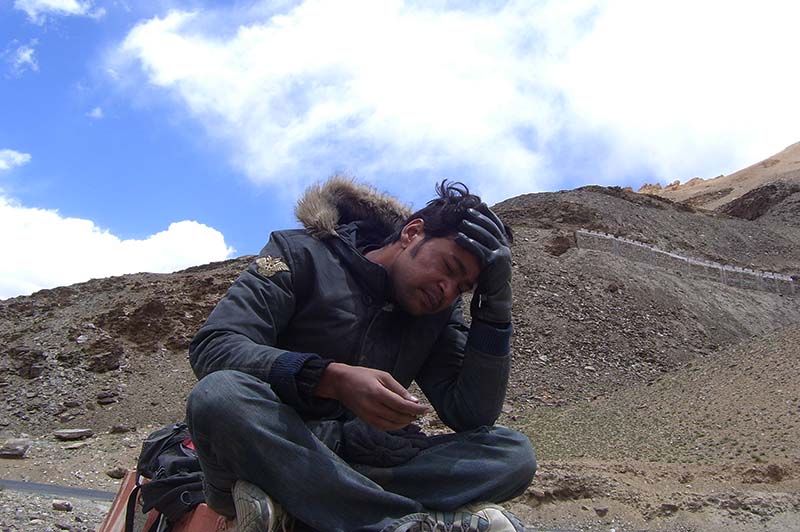 A trip to Ladakh is often categorized as an adventure because of the challenges it presents. Apart from the wonderful vistas that you get to see, there is also the excitement of driving through inhospitable terrains and dangerous roads. There are several things that you must prepare yourself for while planning your trip. Of these, one of the most important topics is acute mountain sickness in Ladakh.
A trip to Ladakh will take you to heights that you probably have never been to. You will be part of an atmosphere that you have never been in before. The overall change in the climate, the sudden gain in altitude, the low oxygen levels can sometimes cause our body to experience what is commonly known as high altitude sickness.
In this article, I will share a few tips on how you can prepare yourself for AMS in Ladakh to better enjoy your trip. For a complete guide on planning your trip, please take a look at How to Plan a Trip to Leh Ladakh.
High Altitude Sickness in Leh Ladakh
Before I go any further in this article, I would like to mention that I am not a doctor or a medical professional. I have no knowledge of medicine or any illnesses and have no experience in the field at all. What I am adding here is purely my own research and my own experience from my trips to Ladakh.
While the information below suffices for most travelers, I highly recommend a visit to a doctor if there is any medical condition involved. If you are an Asthma patient, a heart patient, have blood pressure issues, or any other medical history; please just do not go by my word and consult a doctor.
Is it something that you should take seriously? The answer is Yes. Several tourists have died in Ladakh because of altitude sickness and the inability to get medical help in time. One of them was a friend of mine who died on the banks of Pangong during his 10th trip to Ladakh.
My Own Experience of AMS in Ladakh
The first time I visited Leh, I knew what AMS or acute mountain sickness meant, and that I may feel symptoms of it. But I had absolutely no idea what those symptoms were. When I first suffered from acute mountain sickness in Ladakh, which was during our night stay at Pang, it took me quite some time to realize what It actually was.
Also read: A List Things to Carry for Ladakh Trip
My body temperature shot up, letting me believe that I was suffering from fever. I had a severe headache and could not get myself to eat or drink anything. My chest felt as if it was being crushed from both sides. The entire night at Pang was spent tossing and tumbling and even the next day was no better. Until we finally arrived in Leh, my entire body felt like it was hit by a train.
Why did it Happen?
It was quite surprising for me because I visit hill stations quite often and have never felt AMS before. What I didn't know back then that apart from the height, the reason I suffered from AMS that night was because of the sudden increase in altitude.
In just a couple of days, we gained from 227 meters in Delhi to over 4000 meters at Pang. It was for the first time in my life that I was at such a high altitude. The second reason was the fact that oxygen levels drop at heights. So there was no way that I was going to get away with it without suffering from AMS at all.
Also read: How Safe is Ladakh for Tourists?
An even more surprising fact is that I only felt AMS during my first trip to Ladakh. I have never felt any symptoms at all in any of my later trips.
I will start this article by explaining what AMS is, what its symptoms are, what causes it, where will you have the highest chance of suffering from it; followed by a few tips on how you can handle it better.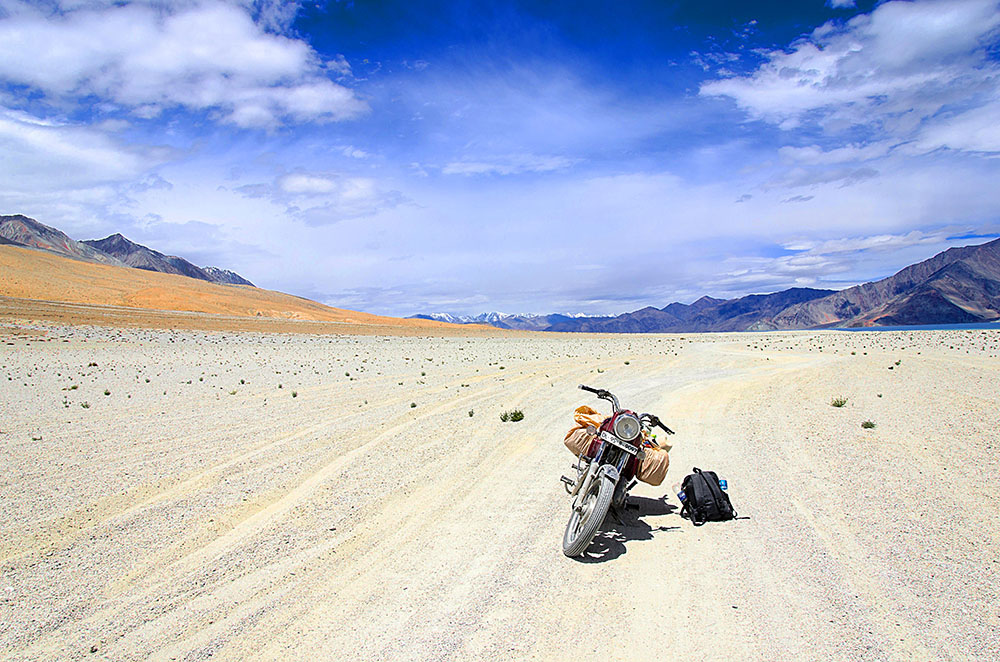 Acute Mountain Sickness or High Altitude Sickness
Depending on the symptoms, Altitude sickness can be of three types.
Acute Mountain Sickness (AMS): AMS is the mildest, most common type of altitude sickness. caused by reduced air pressure and lower oxygen levels. Symptoms include difficulty in sleeping, dizziness, fatigue, headache, loss of appetite, nausea or vomiting, rapid heart rate, and shortness of breath.
High-Altitude Pulmonary Edema (HAPE): HAPE is a more serious condition of altitude sickness, symptoms include shortness of breath (even while resting), persistent coughing, exercise intolerance, coughing up pink, frothy spit (indication of fluid in the lungs).
High-Altitude Cerebral Edema (HACE): HACE, another and even more serious condition of altitude sickness cause difficulty when walking, severe lethargy, and a loss of focus. HACE and HAPE are rare and if not treated on time can be even fatal.
Cause of Altitude Sickness in Ladakh
Acute Mountain Sickness is a direct result of exposure to a lower percentage of oxygen at high altitudes. As altitude increases, the level of Oxygen present in the air starts to get lower. In order to accommodate for low oxygen per breath, our body increases the breathing rate and this is the reason why we start to huff and puff so easily in mountains.
The process of a human body getting accustomed to low oxygen and adapting to the new environment is called acclimatization. When there is ample time for this process and our body is not undergoing stress, there will not be any symptoms at all.
However, as it happens in the case of a trip to Ladakh, the gain in altitude continues to happen over a period of 3-4 days and at a faster rate than our bodies can adapt to. This is what leads to acute mountain sickness in Ladakh.
Also read: What to See in Ladakh – A Comprehensive List
Symptoms of AMS in Ladakh
While AMS falls under the category of nonspecific symptoms, in most cases they are the same as that of high fever. Your body temperature will suddenly rise followed by severe headache, chest pain, vomiting, lack of sleep, fatigue, nausea, loss of appetite, and difficulty in breathing.
Most people will suffer AMS when the increase in altitude is in a matter of a few hours or a day, but some people may suffer it for the first few days even if the process is gradual.
At what height a person will suffer from mountain sickness or for how long differs for every individual. But it is safe to assume that if you have never been to a high-altitude place like Ladakh, you are bound to feel a few symptoms of altitude sickness in the first few days.
Also read: How to Plan a Trip to Ladakh with Children
These symptoms, ranging from mild to life-threatening, will also depend on the speed of your climb and how hard you exert yourself. If mild then they will gradually subside after a couple of days at a high altitude.
Sometimes, however, it can even lead to high altitude pulmonary edema. It is the worst condition of AMS and can be fatal. Some of the severe symptoms, affecting the nervous system, lungs, muscles, and heart are blue color to the skin, gray or pale complexion, chest tightness or congestion, confusion, coughing up blood, decreased consciousness, withdrawal from social interaction, shortness of breath even while resting or unable to walk at all.
Severe cases may result in death due to lung problems or brain swelling, called cerebral edema.
At what height will you suffer from Altitude sickness?
There is really no certain way of telling or predicting the altitude that will lead to AMS as it differs from person to person. I have known people who felt the symptoms even at Manali; and people who did not suffer from AMS at all anywhere during their trip to Ladakh.
Also read: How to Plan a Journey on Manali Leh Highway
It can however be assumed that for most people, it is the height of 10,000 ft or above that can lead to altitude sickness.  Where will you suffer from AMS  in Ladakh can be different for each person but the chances are highest at Pang, Tanglang La, Tso Moriri, Pangong Tso, and Changthang.
Please be advised that these places are located at the highest altitude in this region where most people feel the symptoms but you may suffer from AMS at other places too.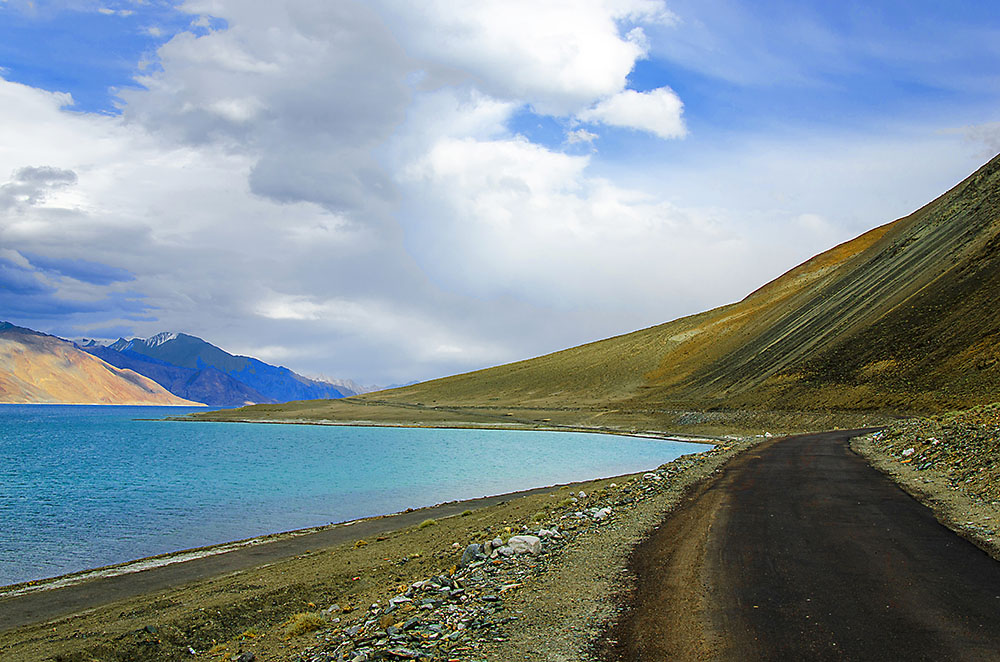 How to Handle Altitude Sickness in Ladakh
Once it happens, only two things will help. The first is to give your body ample time to adapt and for the symptoms to subside. If this however doesn't help, the only other way is to get to a lower altitude as fast as you can. Apart from these two, below are a few other tips that can help with altitude sickness in Ladakh.
Also read: Clothes for Ladakh Trip – What to Pack
Slow gain in altitude
Time is the key to altitude sickness, both before and after you start feeling the symptoms. As a rule of the thumb, stop for a day at every 2,000 feet (600 meters) of a climb above 8,000 feet (2,400 meters). You really got to give your body ample time to acclimatize and need to plan your journey in a way that the altitude gain happens gradually.
As compared to the Manali Leh highway, Srinagar to Leh route is at a lower altitude and the ascent is gradual. You slowly get to high altitude as you travel across the highway and your body adapts better.
The highest point of Srinagar to Leh highway is at Fotu La Pass at a height of 13,479 ft whereas Manali – Leh Highway's highest point is 17,585 ft at Tanglang La pass. Within a matter of 2 days, you reach from a height of 2000 meters at Manali to 5328 meters at Tanglang La, almost three times more.
Hence, It is advised that you reach Leh from Srinagar and return via Manali. If you have to take the Manali – Leh highway, then it is best to spend a night in Jispa and then start really early the next day to continue all the way to Leh without breaking the journey anywhere.
If you are experiencing symptoms of mild AMS, the first step is to rest at the same altitude. Usually, symptoms resolve with rest and painkillers within 24 hours. If symptoms do not resolve or if symptoms become worse, move down (descend).
It is common that even a short descent and rest will improve symptoms significantly. It may still be possible to climb up again (re-ascend) if you have recovered and your schedule allows for this.
Avoid Smoking & Alcohol consumption
I know, this is easier said than done but it definitely helps. Even at several of the high altitude passes, you will find boards put up by the Indian Army advising people not to smoke at such heights. Also, stay away from any sleeping pills or anti-depressant medicines.
Also read: How to Plan a Journey on Srinagar Leh Highway
Sleeping Habits
While you need to ensure that your body is getting proper sleep, there are several places that you need to avoid sleeping. First and foremost is to avoid spending a night at a place where you are already suffering from AMS. If you start feeling the symptoms, then break the journey immediately and do not continue to an even higher place.
Ensure that you are sleeping with your head on a pillow and not without it. Avoid sleeping during the day at all. If you are feeling symptoms of acute mountain sickness in Ladakh, try sleeping in an upright position, with your back against the wall.
Eating & Drinking Habits
Keep yourself hydrated. Drink plenty of water and ensure that your diet has a lot of carbohydrates in it. At the same time, you need to make sure that you are not over-hydrating yourself. Do not force yourself or someone else to drink water if they are not thirsty.
This can happen especially with children. Over hydrating or forced drinking can lead to vomit or worse; can trigger cerebral edema (symptoms being confusion, weakness, seizures, or coma). Avoid drinking too much coffee or tea and eating heavy, fatty, junk foods.  You should have small meals rather than heavy ones; inclusive of food that is easily digestible.
Also read: Important Things that you must carry on Ladakh Trip
Do not Exert Yourself
Keep your body relaxed, try to walk slowly, and do not exert any unnecessary activities that will leave you panting.
Avoid Turning the Heater On
If traveling in a Car, you will be tempted to turn on the car heater in the cold atmosphere of Ladakh. You should avoid doing so. Even if you did turn on the heater, do not keep it at full blower or full heat. In the closed atmosphere of a Car, using a heater at its full capacity may trigger the symptoms of AMS.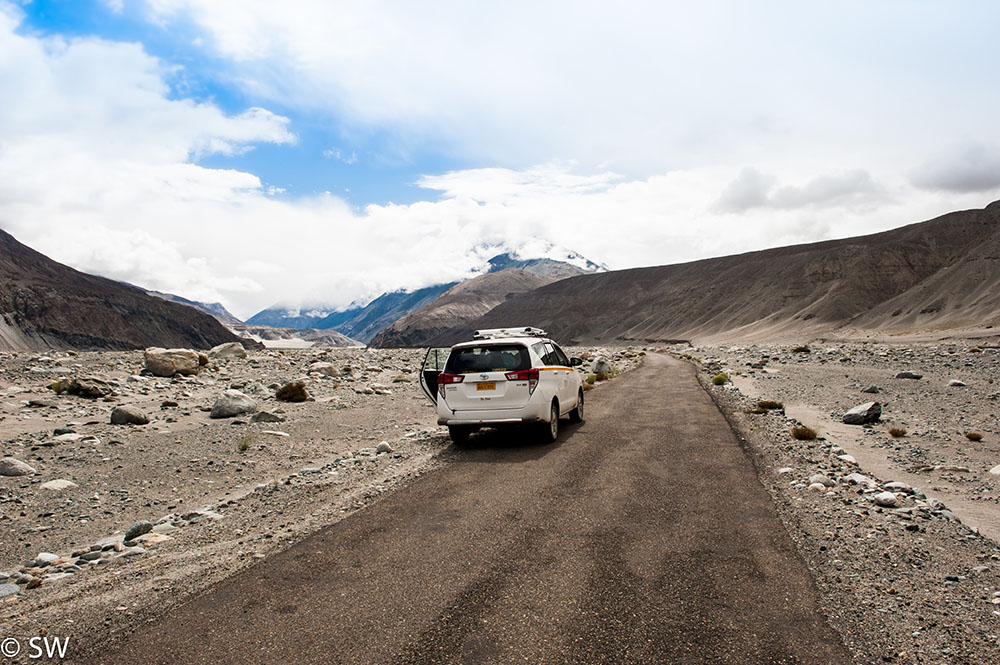 Medicines for Altitude Sickness in Ladakh
There are several medicines available in the market for high-altitude sickness. What they do is make your body breath faster than the usual rate and hence try to compensate for the low amount of oxygen.
However, even these medicines are a precautionary measure and not a cure. They become useless once you start feeling the symptoms. It should be taken as a precaution to avoid acute mountain sickness in Ladakh.
Acetazolamide, also known as Diamox, is the preferred medicine. It helps your body get used to higher altitudes more quickly and reduces minor symptoms. Take a dose of Diamox a day before you climb, and then for the next 1 to 2 days.
It is highly advised to consult your doctor before taking Diamox. It has several side effects like nausea, drowsiness, tingling sensation in the body, and frequent urination. PLEASE CONSULT YOUR DOCTOR BEFORE TAKING THE MEDICINE, especially if you are allergic to something.
Home Remedies for AMS in Leh Ladakh
Apart from Diamox, there are some natural home remedies known to help with mountain sickness. These are some general daily use things and I will recommend that you pack these a little as well.
Also read: When is the Best time to visit Ladakh?
Ginger / Ginger Water
Ginger can prove to be one of the best remedies for altitude sickness. Chewing on some raw ginger can also combat nausea, dizziness, and vomiting at high altitudes. What you can also do is to consume it mixed with water.
Peel the ginger, grind it to extract the juice, and mix it (1 tbsp) in 1 glass of water. Consume it in the morning before you start climbing up and then again midway if you begin feeling dizzy or nauseous.
Garlic / Clove
Garlic is known for two things, both of which can be helpful while experiencing acute mountain sickness. The first is that it thins the blood and enhances circulation.
The second is that it helps the body use oxygen more efficiently. This reduces breathlessness at a high altitude place like Ladakh. All you need to do is to peel off 2-3 garlic cloves and start chewing on them.
Clove is another natural home remedy that helps the body to be more efficient while using oxygen. It can be of help if you were suffering from acute mountain sickness in Ladakh.
Also read: How to Calculate Minimum Budget for Ladakh Trip?
Lavender Oil
Lavender Oil is known to contain sedative effects that can soothe the mind and decrease restlessness; help reduce headaches and stomach discomfort which are some of the symptoms of AMS. Just apply 2 to 4 drops of lavender oil on your head for a headache or inhale the lavender oil to reduce nausea and dizziness.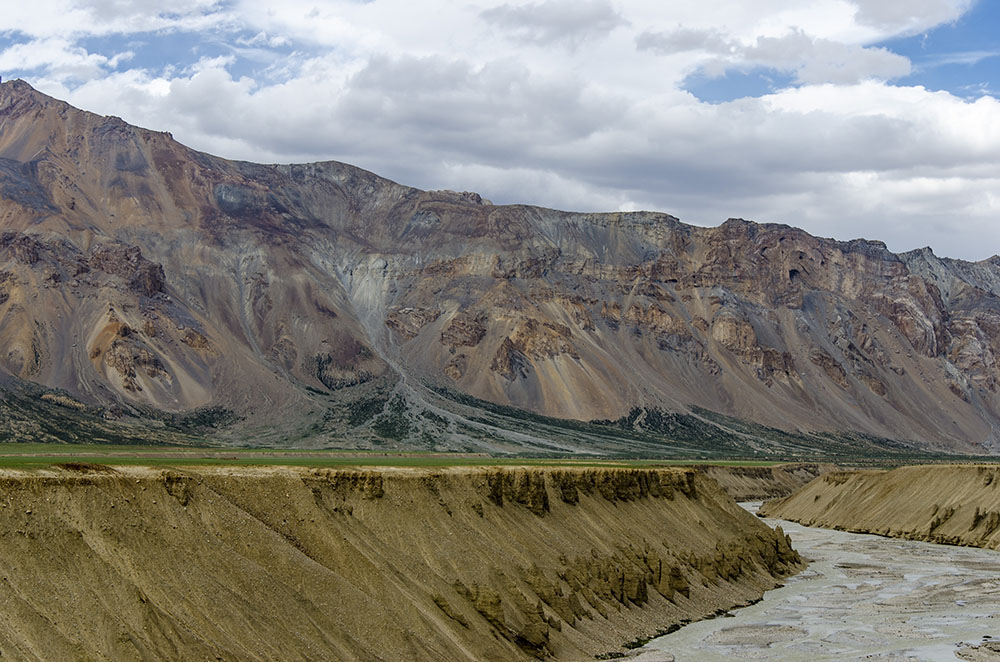 Places Prone to High Altitude Sickness in Ladakh
Last but not the least, I will list down a few places where you are most or least like to suffer from AMS.
Leh City
The town of Leh is one of the places where you are least likely to suffer from AMS; unless you traveled by Air. By road, you already would have spent time at higher altitudes than Leh. So, by the time you get here, your body would already have acclimatized.
If you came here by flight, the best thing to do is to spend a day in Leh. This will allow your body time to adjust and then travel to Nubra Valley or take a road trip towards Kargil.
Nubra Valley
Nubra Valley is actually at an even lower altitude than Leh city so very low chances of AMS here.
Pangong Tso & Tso Moriri
Both these lakes are at a high altitude.  Chances are that you will suffer some symptoms of AMS here if this is your first visit to Ladakh.
Also read: How to Plan a Trip to Tso Moriri from Leh
Srinagar Leh Highway
There is a very low chance of mountain sickness while traveling from Srinagar to Leh. An increase in altitude is gradual and your body gets plenty of time to adjust.
Altitude Sickness on Manali Leh Highway
There is a very high chance of suffering from mountain sickness at Sarchu, Pang, and Tanglang La. If you do not want to take the risk, then reach Keylong or Jispa from Manali on Day 1; start early on Day 2 and reach all the way to Leh by evening. Do not spend another night in between.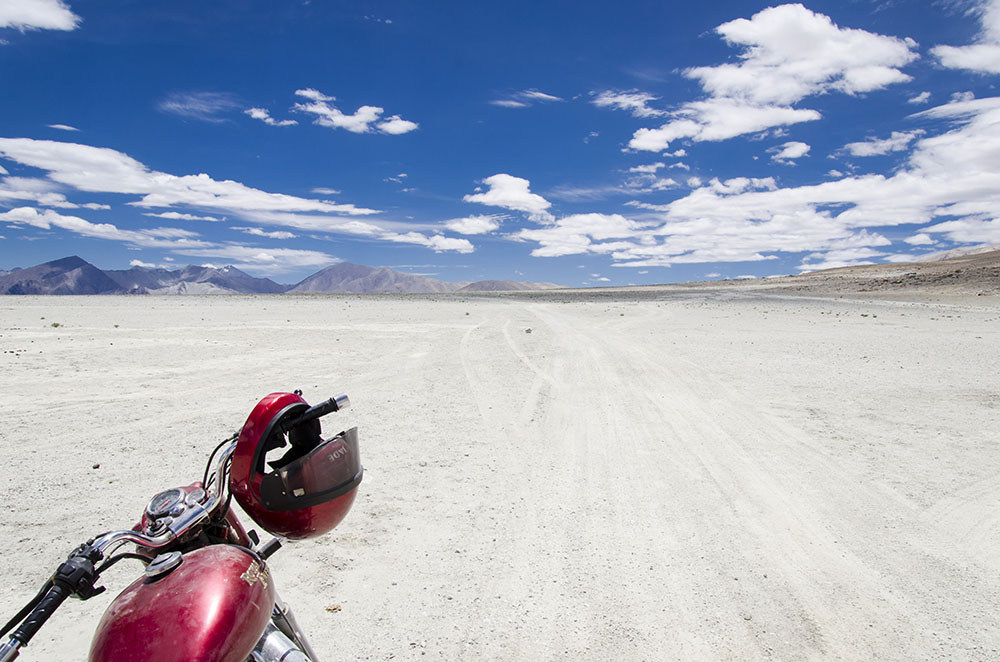 Traveling to Ladakh with children or Infants
Are you planning to take an infant or a young child to Ladakh? How an adult deals with Ladakh is an entirely different story than how a child will react or respond to it. Please take a look at How to Plan a Trip to Ladakh with Kids or Infants for more information on the precautions you must observe while traveling to Ladakh with children.
Acute Mountain Sickness in Ladakh – Conclusion
Once again, the only sure-shot cure of AMS is to get to a lower altitude. An oxygen tank can help as well if you continue to have breathing problems. If your condition worsens, please rush to a hospital. In the case of a heart patient, it is best to avoid this journey and not take the risk.
If you are flying to Leh, please spend a couple of days within the town before visiting Nubra Valley and Pangong Lake. Do not travel to Tso Moriri while on your way to Leh from Manali as the altitude gets even higher than Pang. Reach Leh, spend some time there, give your body time to adapt, and then you can go to visit Tso Moriri.
I hope the information above regarding Acute mountain sickness in Ladakh was of help. If you have any further questions, please feel free to ask in the comments section below or at our Community Forum, and I will be glad to answer.