Ladakh is a land of lakes, some really big and some quite small. One thing that is common among them however is that they are all equally beautiful. No matter the size, each lake here deserves a visit and is enough to inspire the awe out of anyone. A deep blue lake under a deep blue sky in the grey of deserts of Ladakh; surrounded by green in small patches with snow capped peaks rising in the background is a photographic opportunity not to be missed. In this article, I will provide details on one such lake, Tso Moriri; and how you can include it in your Ladakh itinerary.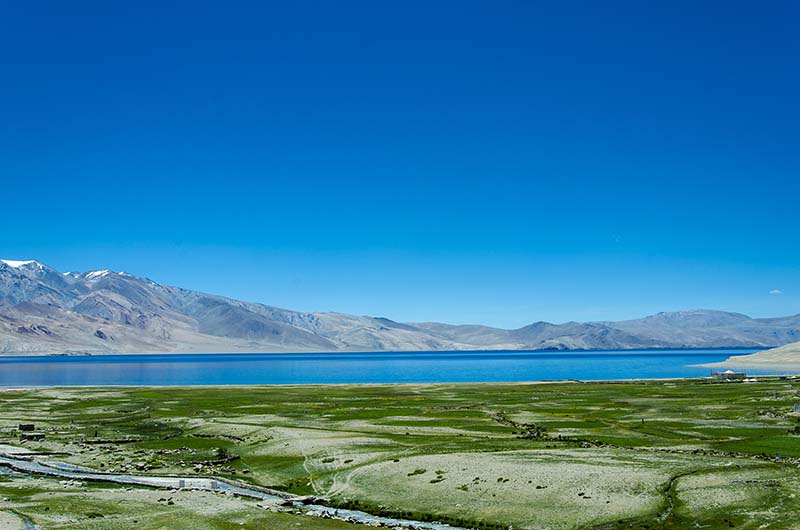 Also referred to as "Lake Moriri" or "Mountain Lake", Tso Moriri and its surrounding area is protected as a wetland reserve. It is located in Ladakhi part of Changthang Plateu at an altitude of 4,522 m (14,836 ft). Pangong Tso is bigger in size than Tso Moriri but is divided between India and China; which makes Tso Moriri the largest of the high altitude lakes entirely within India. The lake is about 26 kilometers in length and 3 to 5 kilometers in width.
Moriri is usually referred to as a freshwater lake which is not completely true. Its water is slightly salty but hard to notice while drinking due to which it is perceived as freshwater. The lake is fed by water from melting snow and springs and currently has no outlet. It is accessible by road only during summer when both the highways leading to Ladakh are open. Internal road from Leh to Karzok however remains open throughout the year; so if a person was catching a flight to Leh, they can visit Tso Moriri anytime during the year.
Also read: How to Plan a Trip to Leh Ladakh
Tso Moriri for long has been overshadowed by Pangong Tso but with recent boost in tourism in Ladakh; number of people traveling to this lake too has increased. If you are planning a trip to Ladakh and would like to visit Tso Moriri as well; then mentioned below in this articles are details related to the different routes you can take; accommodation choices available and some other important tips to be considered during the trip.
There are several ways that you can include Tso Moriri in your itinerary. You can either travel here from Leh and go back or include it while traveling to Pangong Tso. A lot of people take a deviation and visit the lake while traveling from Leh to Manali. No manner how you chose to reach here; a night stay here comes highly recommended. You can get accommodation here as a hotel, guest house or camp site; details of which are provided further in the article.
Tso Moriri Permit
Tso Moriri is considered a part of inner line, areas closer to border; hence an Inner line permit is required in order to visit here. For foreign nationals, a Protected Area permit has to be procured before they can travel from Leh to Tso Moriri. Inner line permit can either be applied for and obtained in person from DM office Leh or online. Protected area permit however needs to be obtained through a registered travel agent. Please read through the article below for more information on how to get these permits.
Also read:
How to obtain an Inner line permit for Ladakh?
Step by step guide to get an Inner line permit online?
How to obtain a protected area permit for Ladakh?
Leh to Tso Moriri Road Map
In order to explain the route better, I will post a map of roads connecting Tso Moriri to Leh. Please click on the map to view it in full size.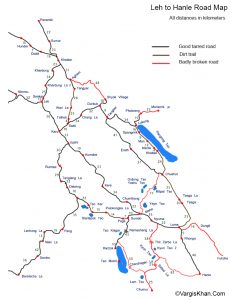 How to reach Tso Moriri from Leh
There are three different routes that you can take to reach Tso Moriri from Leh. First and the shortest route runs through Chumathang Valley. Second one goes through More plains; will have you cross Tanglang La and you can also visit Tso Kar while traveling on this route. Third and the longest route is via Pangong Tso and Changthang valley. Common thing about all three routes is that they will all have you exit at Sumdo from where, you will travel the last 50 kilometers to reach Karzok. I will explain all three routes in detail.
Route 1: Leh to Tso Moriri via Chumathang
This as I mentioned is the shortest and the most common route to reach Tso Moriri from Leh. Journey will be as mentioned below.
Leh – Shey – Karu – Upshi – Kumdok – Kere – Chumathang – Mahe – Sumdo – Namashang La – Karzok (Tso Moriri)
Leh to Tso Moriri distance
Total distance covered while traveling this way would be approximately 220 to 240 kilometers. Travel time can be anywhere between 6 – 7 hours depending upon your speed and breaks.
Also read: A Complete Road Map of Entire Ladakh
Leh – Upshi – Kumdok – Kere – Chumathang – Mahe:
It is highly advised that you start from Leh as early as possible. Take the Manali – Leh highway and continue till you reach Upshi. This should not take you more than an hour and a half at most. Take a break at Upshi If you are hungry as you wont find anything apart from Maggie and biscuits to eat till Karzok. Leave the Manali – Leh highway at Upshi and take the diversion towards Mahe. This road will be pretty hard to miss but ask the locals if you are unsure.
At Upshi market, you will come across a bifurcation. Road on your right goes towards Manali and the cut on your left is for Mahe. Turn on your left and from there it is pretty much a straight drive to Mahe. Road will be a mix of good bad and ugly. Chances are that you may not even find a road at some places between Kumdok and Chumathang and will be pretty much traveling on a dirt road.
Mahe – Sumdo – Namashang La – Karzok:
There is a check-post at Mahe where you need to register yourself. Right next to that check-post, there is a bridge. This is the road that you will have to turn on to reach Sumdo. Ask the locals if you are not sure.
Right after Sumdo, the ascent for Namashang La starts; which is not really that steep actually and the road is OK as well. However a few kilometers after you have crossed Namashang La, there will be no road at all and you will travel on dirt tracks until Karzok. These tracks will get confusing several times and you will have to stop and think which way to go. Best way to travel around here is to either follow a cab (Sumo or Bolero run by locals] or to follow the track which seems to be the most prominent and traveled on. The first lake you will come across to after Namashang La is Kiagar Tso.
Also read: A Comprehensive List of all Tourist Places in Leh Ladakh
Continue on the tracks and 10 kms before Karzok you will come across a bifurcation. The dirt track will continue to go straight and you will notice a tarred road going towards your left. Do not turn on this road as it goes towards Chumur. You may see a few boards reading that the road straight ahead is closed but keep heading straight on the dirt tracks to Karzok.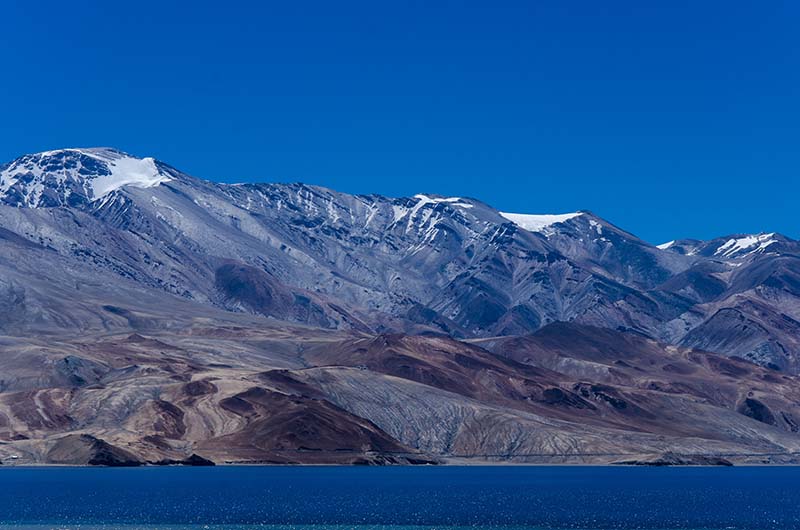 Route 2: Leh to Tso Moriri via Tso Kar and More Plains
This route is slightly longer than the first one in terms of both distance and travel time due to two high altitude passes in between and bad roads. Journey will be as mentioned below.
Leh – Shey – Karu – Upshi – Rumtse – Tanglang La – Debring – Tso Kar – Polo Kongka La – Puga – Sumdo – Namashang La – Karzok
Traveling by this route, total distance covered will be around 260 kilometers. Travel time will easily be around 7-8 hours.
Leh – Shey – Karu – Upshi – Rumtse – Tanglang La – Debring – Tso Kar:
The first part of this journey until Upshi will be the same that I explained above. However, upon reaching Upshi, continue on Manali Leh highway towards Rumtse rather than taking the turn towards Chumathang. The ascent for Tanglang La starts after Rumtse upon crossing which you will reach Debring. Continue heading towards Pang. Right where the More plains start, you will notice a road going towards your left. There are also a few dhabas there that should make it easy for you to spot the road. Leave the Manali Leh Highway here and take the road towards your left. The first lake on this route is Tso Kar which will be approximately 22 kms from this diversion.
Also Read: How Safe Ladakh is for Tourists?
Tso Kar – Polo Kongka La – Puga – Sumdo:
Second lake on this route is Startspuk Tso, a small lake which can easily be missed or confused as Tso Kar itself. Road too will vanish after Tso Kar and you will be traveling on dirt tracks. A few kilometers after Startspuk Tso is the ascent for Polo Kongka La. The climb is not very steep and you will barely notice it despite the bad road conditions. Continue on this road till you reach Sumdo. From Sumdo, take the turn towards Karzok. Journey will be the same as I explained previously in the article.
Route 3: Leh to Tso Moriri via Pangong Tso and Chushul
The third route that can be taken to reach Tso Moriri is the longest and also the least travelled on. This to be honest is not really the route from Leh to Tso Moriri; but rather from Pangong Tso to Tso Moriri. Lot of people who want to cover both lakes in their itinerary chose this road to reach Tso Moriri directly from Pangong, rather than coming back to Leh.
Route of the journey is as below.
Leh – Sakti – Chang La – Tangtse – Spangmik (Pangong Tso) – Man – Merak – Chushul – Tsaga La – Tsaga Village – Loma – Nyoma – Mahe – Sumdo – Karzok (Tso Moriri)
I have explained this entire route in details at this link. Please read Pangong Tso to Moriri Lake Direct Route
Important Tips
There are a few important things you need to know while traveling on this road. First of all, depending on what all places you covered; a round trip to Leh via this route will easily be around 650 to 700 kilometers. It means that you will have to make serious fuel arrangements as there is no other gas station available once you leave Leh. Second is that permits for this route are not issued to foreign nationals, only Indian citizens can be allowed here. Third is that this is a very remote region and you will hardly come by any other travelers. Roads for most of the part will be really bad. Until Chushul as a matter of fact will be no road at all and you will continue to ride on track marks made by other passing vehicles.
Ideally, the stretch between Pangong Tso to Tso Moriri should be done in two days with a night halt at Hanle; but if must do it in a single day; then please ensure that you leave Pangong Tso by as early as possible; by first light of the day.
Tso Moriri Altitude
Tso Moriri is located at a staggering altitude of 4,522 meters, 14836 feet.
Altitude Sickness at Tso Moriri
Due to its high altitude, Tso Moriri is one place in Leh where you are most like to suffer from altitude sickness hence it is strongly advised that you do not immediately after reaching Leh; or while on your way to Leh from Manali. It is always best to reach Leh first, then go to Nubra Valley, thus giving your body time to adjust to the high altitude. After you have spent a few days in Ladakh, then you should plan a visit to Tso Moriri. For more details in on what altitude sickness is, what its symptoms are and how to deal with it, please read Acute Mountain Sickness in Ladakh and How to deal with it.
Best Time to Visit Tso Moriri
The best time to visit Tso Moriri is between June and September, when tourist season is at its peak. While the road from Leh to To Moriri remains open throughout the year, except for times when heavy snow at Tanglang La may have blocked the road temporarily; going there in winter or non-tourist months may result in a fight for accommodation. Between June till September, all the hotels and guest houses are fully operational and you will easily find a place to stay in any budget. Second advantage in these months is that the public transport services too are available. So if you are not traveling by your own vehicle, then finding a bus or a shared taxi between June till September is not really that difficult.
Tso Moriri Birds
In a 1996 survey It was revealed that Thirty-four species of birds included 14 species of water birds of which 6 are the vulnerable species were found around this lake. So if bird watching or catching pictures of some rare species of birds is on your mind then Tso Moriri is the perfect place to do so. For this purpose as well, months between June to September are the best as the lake freezes completely in winter and there are almost no bird to see around it until it melts completely.
Accommodation at Tso Moriri
There are several hotels, guest houses and camp sites in Karzok where you may chose to stay. For names and phone numbers of some of the hotels at Tso Moriri, please read Guest Houses, Camp Sites and Hotels At Karzok. In case you are planning to camp on your own, please do not do so anywhere near the lake. Tso Moriri is considered as a protected wetland reserve and camping close to the lake is prohibited by Law. If you want to pitch your tent, please do so near a camp site or a local Dhaba. You may even pay off a little to the existing camp sites to give you a spot; in return they will also let you use their washroom facilities.
Tso Moriri Road Conditions
From Leh to Upshi is a smooth tarred road. Between Upshi and Mahe is a mix of good and bad, mostly good. From Mahe to Sumdo is bad and after Sumdo to Karzok is all dirt trail. If you are coming from Tso Kar side, then you will find good smooth road until Sumdo with the exception of Tanglang La and Polo Kongka La where the road usually remains broken. From Pangong Tso, it is a dirt trail all the way till Chushul. After Chushul till Loma is a good smooth road. From Loma till Sumdo is a mix of good and bad.
Best Vehicle for a Trip to Tso Moriri
If you have a hatchback or Sedan, you must travel only via Upshi or Tso Kar. The Chushul route is best done if you have an SUV with good ground clearance.
Leh to Tso Moriri Bus Service
Bus service between Leh and Tso Moriri is not really that frequent. A bus from Leh for Karzok leaves only 3 times a month, on 10th, 20th and 30th, at 6.30 in the morning. Fare per person is Rs. 370. However, if this does not match your itinerary, you can easily get a shared taxi from Leh Bus stand going towards Tso Moriri. Fare for shared taxi will be close to the Bus fare.
Also read: How to Plan a Trip to Ladakh with Children
Tso Moriri Weather
Day temperature during summer remains moderately warm though there could still be strong cold winds on some days. At night, the temperate drops close to zero degree Celsius. In Winter, the lake freezes completely and temperature remains several degrees below zero.
ATMs and Banking Services at Tso Moriri
There is no Bank or ATM at Karzok or on he way. Debit or credit cards too are not accepted here. Please ensure that you withdraw and carry enough cash before you leave Leh for Tso Moriri.
Petrol Pumps at Tso Moriri
Like ATM, there is no fuel station at Karzok or on the way. Please ensure that you make proper fuel arrangements before you leave Leh; depending on your itinerary. For more details, please read Spare Fuel in Ladakh, Where do you need it?
Mobile Connectivity at Tso Moriri
No matter which network you are on, your mobile phone will not work at Tso Moriri at all, and this also includes BSNL or MTNL networks. For more details on mobile reception in Ladakh, please read Mobile Phone Services in Leh and Other Areas of Ladakh
Manali to Tso Moriri
A lot of people plan their journey in a way that they want to cover Tso Moriri before reaching Leh. This however cannot and should not be done. Cannot because you need Inner line permit to get there for which you will first have to go to Leh. Should not because of Acute Mountain Sickness which I described above. Best way is to first reach Leh, get used to high altitude, arrange your permits and then return to Tso Moriri.
Conclusion
This I think pretty much covers most of the important factors related to planning a trip to Tso Moriri. If you have any further questions, please feel free to ask in the comments section below or at our Community Forum and I will be glad to answer.