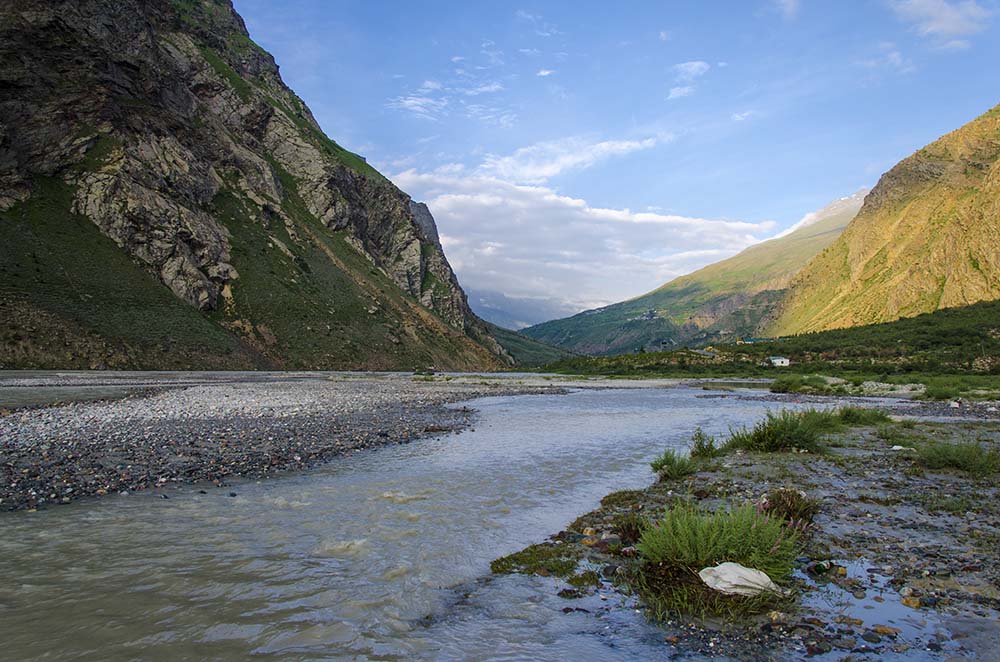 Jispa is a name that only a few would know of. It is a quiet little village located on the Manali Leh route and mostly acts as a stopover for people traveling to Ladakh. But that is not all that it is limited to. In and around Jispa Village are some of the best views that you can get on the Leh highway as well as in the Lahaul Valley.
I first stayed in Jispa over a decade ago during my first bike ride to Ladakh. In the entire village, my friend and I were the only tourists that day. Not much has changed still. It is still that quiet little village that remains invisible to hundreds of tourists that pass it by. It probably is one of the most underrated tourist attractions on Ladakh highway and Lahaul Valley.
So if you were wanting to visit an unexplored and offbeat destination for your trip, Jispa is a name that I will highly recommend. You do not even have to be going to Leh to visit Jispa as a matter of fact. Even if you were in Manali for a couple of days, you can still make a trip to Jispa and witness some of the best views of your trip. The recent opening of the Atal Tunnel has made things much easier and the distance shorter.
About Jispa
Jispa is a village in the Lahaul valley of Himachal Pradesh. It is located on the banks of the Bhaga River and at an altitude of 3200 meters or 10,500 ft. It is about 23 kilometers from Keylong and home to a population of about 400 people. The village has a helipad, a post office, and a monastery. (Source: Wikipedia)
But these are really the official and geographical details about the village. As a tourist, what will interest you are the amazing views that it offers. Between Keylong and Jispa, you will pass through a landscape that will leave you mesmerized.
The village is located on both sides of the Manali Leh Highway and right next to the Bhaga River. With the recent boost in tourism in Ladakh, the number of people traveling through the village has significantly gone up. But most of these tourists chose to stay at Keylong (or Sarchu) for the night and go to Ladakh the next day.
In my opinion, however, Jispa is a much better choice. It is far quieter than Keylong and definitely much more scenic than Sarchu. If you could afford to, I will even recommend staying at Jispa for a day. You can use this day to explore some other places in Lahaul Valley.
For people who were not traveling to Ladakh, you can easily manage to reach Jispa from Manali and explore the place for a day. Even if you were short on time, you can still make it a day excursion from Manali. Read on to find out more.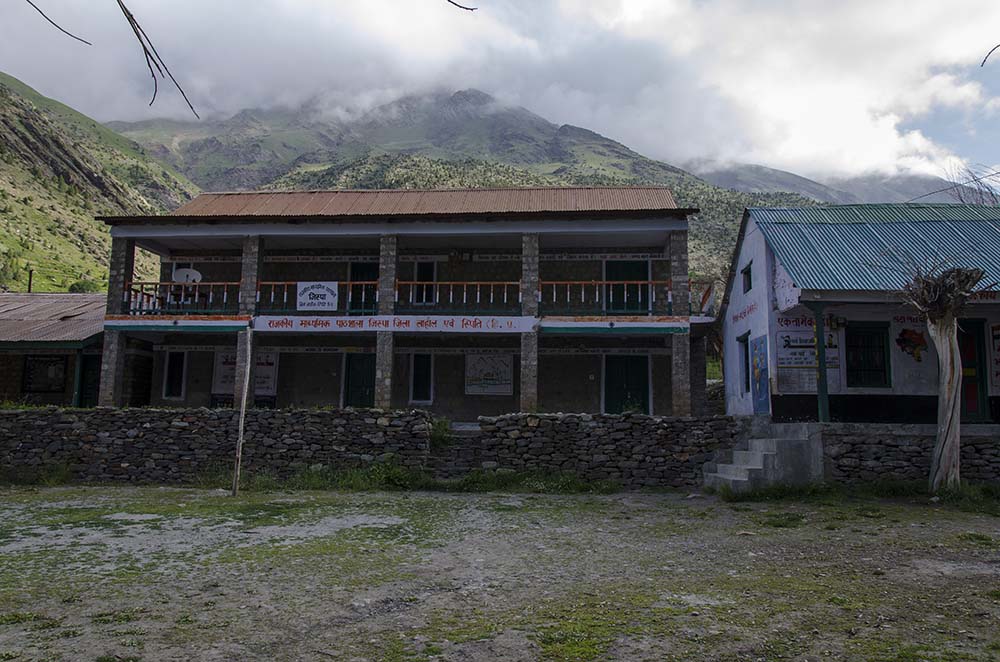 How to reach Jispa
There are two ways that you can reach Jispa, either driving over the Rohtang Pass or driving through the Rohtang Tunnel. Irrespective of how you decide to travel, your first destination will be Manali.
This in my opinion is probably the easiest part of the journey. Manali is among the most visited tourist destinations of our connected and remains connected to the rest of the journey for all 12 months. You can either drive by your own vehicle or use public transport.
By Road
Let us first talk about the journey if you were traveling by your privately owned vehicle. For this part, I will assume that you were starting your journey from Delhi, just to explain the route.
Delhi – Panipat – Karnal – Kurukshetra – Ambala – Chandigarh – Rupnagar – Bilaspur – Sundar Nagar – Mandi – Bhuntar – Naggar – Manali
The entire journey will be about 540 kilometers and will easily take you about 12-14 hours. An early start from Delhi is highly recommended so that you can make it to Manali before dark.
By Bus
There are regular buses operated by HRTC, both luxury and ordinary, to Manali from all major cities nearby. Other state transport services as well as private tour companies also have their own buses to and from Manali. You will also find luxury buses by HPTDC that you can board. Just do a simple google search and you will get hundreds of results for a Bus to Manali.
If you were coming from Delhi, you can find a Bus from ISBT. Private companies have different pick-up points for their buses that you will have to check at the time of booking a seat.
By Flight
Bhuntar is the nearest airport to Jispa, located at a distance of 50 kilometers from Manali. There are regular flights by Air India, IndiGo, and SpiceJet from both Delhi and Chandigarh to Bhuntar. Once you land here, you can book a taxi to drop you at Jispa. Or you can first reach Manali by either a taxi or a bus and then go to Jispa the next day.
The problem is that the flights to Bhuntar are less, expensive, and often canceled. Other than Bhuntar, the next nearest airport is at Chandigarh which will be a better choice if you were planning to travel by Air. Almost all major airlines have flights operating from Chandigarh to other cities.
By Train
If you want to travel by train, I will recommend booking a ticket for Chandigarh and then go to Jispa from there by road.
The nearest railway station to Manali is the one at Jogindernagar. But it is connected to Pathankot by a narrow-gauge track like the famous Shimla Kalka toy train. So you will have to first go to Pathankot, then Joginder Nagar, Manali, and finally Jispa. This will cost you both more time and money.
Hence it would be best that you book a train for Chandigarh. From the train station itself, you can book a taxi for Manali. Or you go to the ISBT Chandigarh and board a bus instead.
How to reach Jispa from Manali
Now that you are in Manali, let us talk about how you can get to Jispa. If you were traveling by your own car or motorcycle, you can either go via Rohtang Pass or the Atal Tunnel. Both are equally good. The route via Rohtang Pass will be more scenic and is the recommended one for tourists. But it is also the longer and more difficult of the two and will take you an entire day to get to Jispa. This means that you can return only the next day.
If you have done Rohtang before and were short on time, you can make a day-long trip to Jispa via the Atal Tunnel. Start early in the morning, drive up to Jispa, do a bit of sightseeing and return to Manali by evening.
There is a daily HRTC Bus that is available from Manali for Keylong in the morning. You can board this, get down at Keylong, and look for an alternate mode of travel for your final leg of the journey to Jispa. Finding a bus will be next to impossible so you will either have to look for a shared or a private cab.
You can also book a private taxi from Manali all the way to Jispa but this will be a very expensive affair. Expect the fare to be anywhere between Rs. 10000 to Rs. 25000 for a drop or return journey. This number will vary based on your negotiation skills and time of arrival. It will be cheaper if you went via Atal Tunnel and costlier if you went via Rohtang Pass.
Rohtang Permit
If you were driving on your own via Rohtang, do not forget to get the Rohtang Pass in advance. For more details, take a look at How to Obtain a Permit for Rohtang.
Local Commute
Jispa is just a small village. You can walk from it's one end to the other in 15 minutes. Hence, the place is best explored on foot. But if you were thinking of taking a drive to Baralacha La, Suraj Tal, Darcha, or Jispa, you will have to hire a local cab to take you there.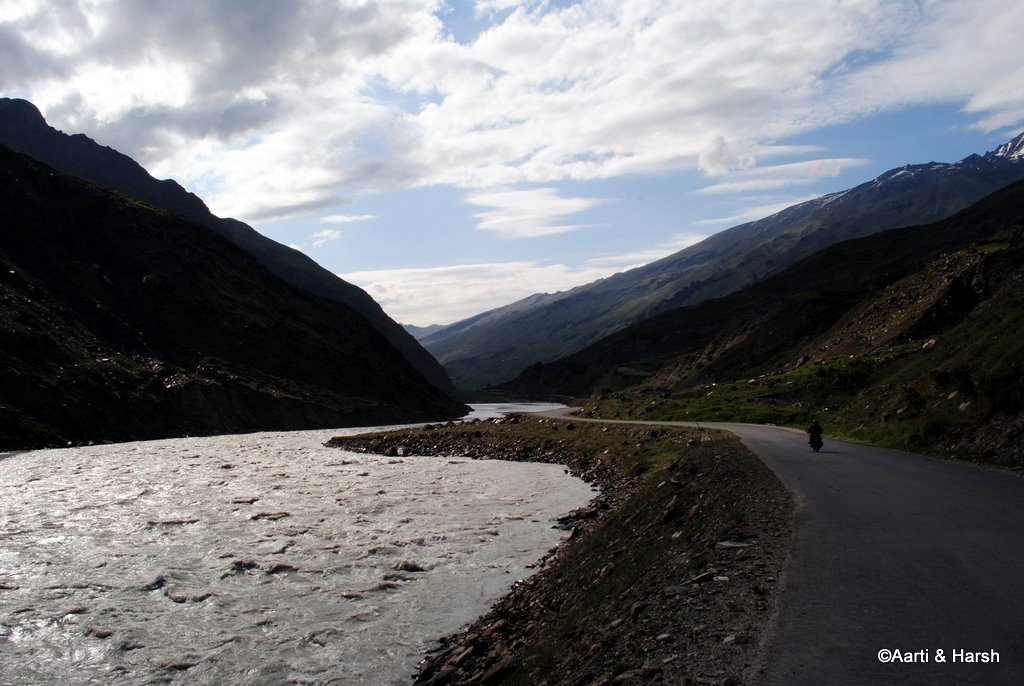 Weather of Jispa
Jispa is at an altitude of 3,200 meters (10,500 ft). So the weather here remains cold throughout the year. I think the only change it experiences is from freezing cold to pleasant cold.
In the months of December to March, this entire region remains buried under snow. It snows for all four months and can snow at any time of the day. The day temperature in these months remains close to 0 Degrees Celsius and the night temperature falls several degrees below zero.
Spring arrives in April and things start to warm up a little. Snow will start to melt and snow clearing operations will begin at Rohtang and Baralacha La. May marks the beginning of the summer as well as the tourist season in the valley. The weather in the months of both May and June is very agreeable. The days will be moderately warm and nights pleasantly cold.
By the end of June, Jispa and the rest of the Lahaul Valley starts receiving pre-monsoon showers. The next two months of July and August are ruled by the rain gods. It rains almost every day and for hours. Landslides caused by incessant rains are a common occurrence in the area around Manali and at Rohtang. Sometimes even the road between Manali and Chandigarh can get closed due to heavy showers.
Monsoon departs in September but leaves plenty of greenery behind. Autumn in October turns everything Orange and gives a magical touch to the valley. The weather in both these months is very pleasant and suitable for tourists.
Winter starts to settle in again by the end of October. Passes like Rohtang and Baralacha La would already have received the first spell of snow in October. Come November, it is winter once again and the temperatures start dropping drastically.
Best time to visit Jispa
Now based on the information above, I believe it is safe to say that the best time to visit Jispa is in April, May, June, and September. If you are ready to handle a bit of cold, October can also be a great time to visit. November is an overall bad month for the trip because the scenery at this time is very featureless. Even the first half of December is quite the same. It will be very dull and dry and the weather will be very cold.
I know the threat and risk of landslides remain during the monsoon season but it also is when the views are at their best. All the rains truly bring the valley to the life. Mountains will appear as if they have just been washed clean and covered with a carpet of green. If you were into photography, this is the best time for you to go. But please be ready to handle the wet and call ahead to inquire about the weather and road conditions.
Also Read: Manali to Jispa – Across the Mighty Rohtang La
For a budget trip as well, Monsoon can be a good time to visit. November is also another great month when a trip will not cost you as much.
If you wanted to see snow all around and hopefully a live snowfall as well, you will have to visit between January and March. But if you just wanted to see snow on the ground, you can come pretty much in any month and will find some at Rohtang and Baralacha La top.
For a family trip, I will recommend visiting from May to June. If you were on a bike, you should avoid riding during the monsoon.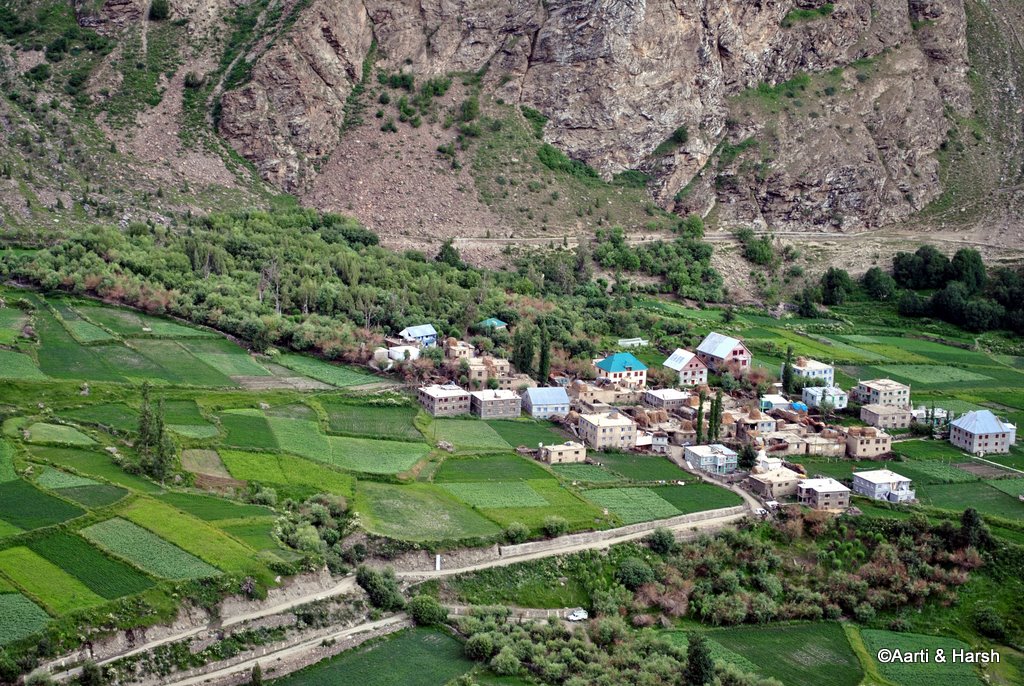 Where to Stay in Jispa
Until a few years ago, accommodation in Jispa was just Hotel Ibex and a campsite. Now there are a couple of other guesthouses as well that you can stay at.
Hotel Ibex – A grand big hotel and probably the oldest one in Jispa. It is located on the left side of the highway and hard to miss.
Campsite / Wooden Huts – These are located right opposite Hotel Ibex on the other side of the road, on the banks of the River Bhaga. Charges can be a little steep but you can negotiate down easily.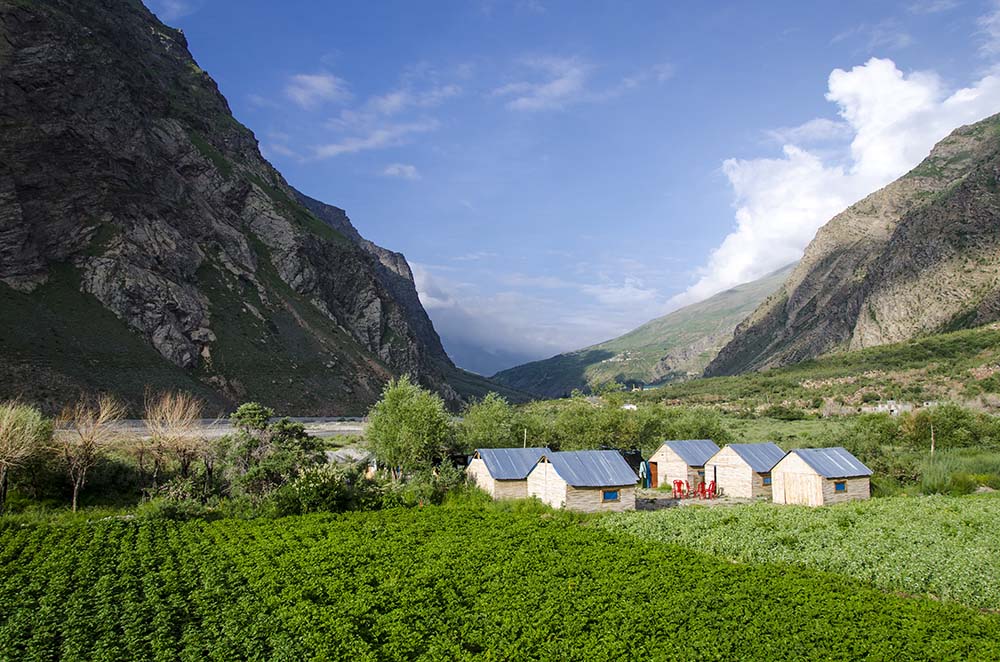 Padma Lodge – The Padma Lodge is a lovely place with nice and clean rooms and a charming dining room on the first floor. And guess what, it does serve beer for those who are interested. The Lodge has two buildings, and both are almost equally priced. Below is a picture of the hotel.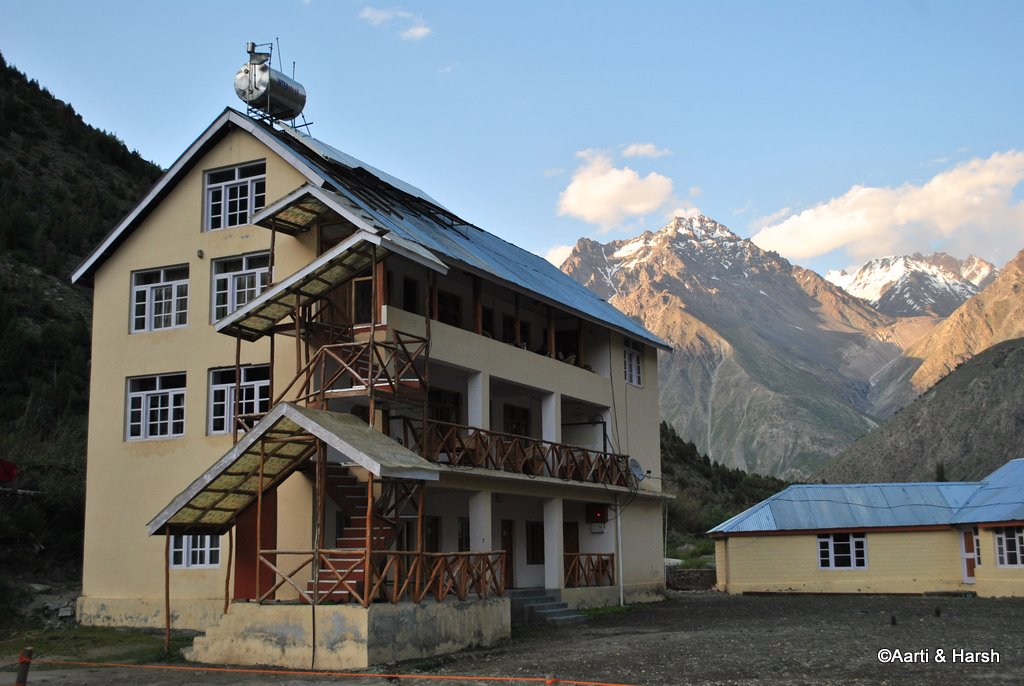 A couple of other hotels I noticed here were Hotel Yak and Jispa Guesthouse. Hotel Yak is located a little ahead of Hotel Ibex and is a decent enough place to stay. Just take a walk around, find a hotel per your liking, negotiate an on the spot deal, and check-in.
If I were to recommend a place, it will surely be the wooden huts right next to the river. If you want to stay at a cemented hotel, Padma Lodge is your best bet.
Places to Visit in Jispa
Jispa in itself is actually a tourist attraction of Manali Leh highway and Lahaul Valley. The natural beauty and the tranquility of the pace are its greatest attractions. With that being said, there are a couple of places around Jispa that you can include in your trip.
Rohtang Pass
Rohtang is Manali's crown jewel and is responsible for more than half of the tourism in the region. At an altitude of 13,054 ft, the top of the pass remains buried under snow for all 12 months and is a beauty in itself. Lush green mountains, beautiful valleys, snow-capped peaks, waterfall, natural springs, challenging roads, water crossings – you will cover all of it on your way to Rohtang Pass.
Also Read: Road Trip to Zanskar and Ladakh – Exploring Offbeat Ladakh
Atal Tunnel
This tunnel is really the prayers of the people of Lahaul valley that came true. Now they will remain connected with the rest of the country for all 12 months. Running for a total length of 9 kilometers, this tunnel greatly reduces the travel time and distance between Manali and Lahaul Valley.
An ideal way for the journey can be that you go via Rohtang Pass and return via the Atal Tunnel.
Sissu Waterfall and Lake
Sissu is about 50 kilometers before Jispa and you will cross it on your way shortly after you have driven down from Rohtang Pass. There is a waterfall here known by the name of 'Palden Lhamo Dhar'. You can view the waterfall across the river as you drive by. It is a good spot for a short break. Ask the locals if you were unable to spot the waterfall.
Right next to the waterfall is also a small lake and there is an Army base near it. See the picture below.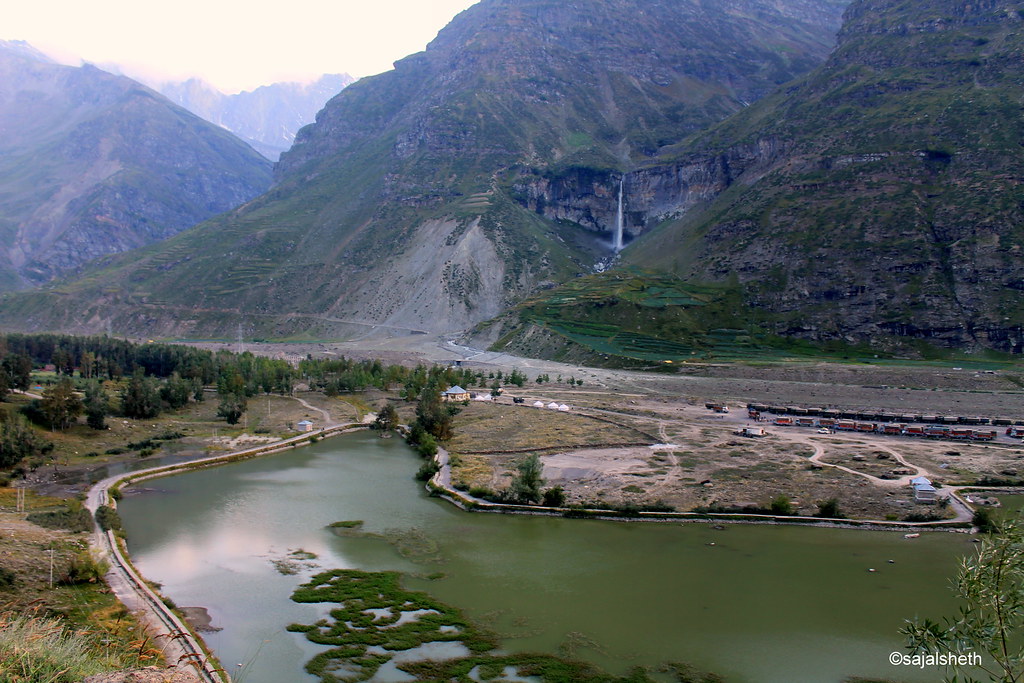 Bhaga River
Jispa is located on the banks of the Bhaga River. Your journey as well between Rohtang and Jispa will have you traveling right next to the river. In some places, it is really a magnificent sight, and will be hard to believe that you are not somewhere in Europe.
Also Read: How to Plan Your Trip to Rohtang Pass?
Confluence of Bhaga and Chandra Rivers
Bhaga River originates from Suraj Tal Lake, also known as Surya Taal Lake. It later merges with the Chandra River near Tandi to form the Chenab River. Chandra River originates from the famous Chandratal. Below is a picture of the spot where these rivers merge into each other.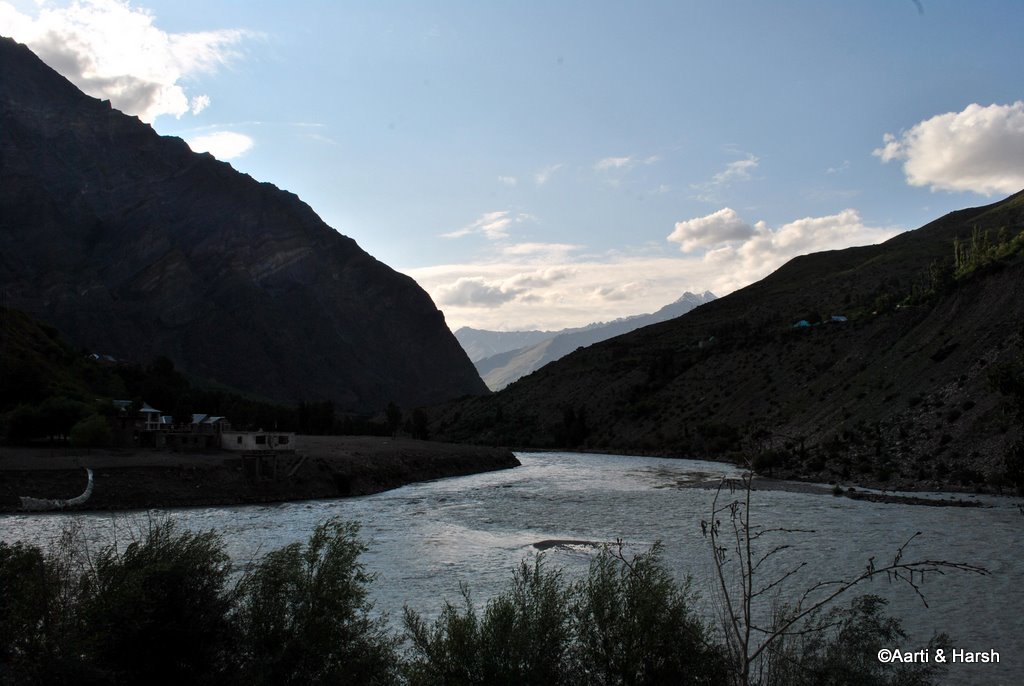 Baralacha La
In order to reach Baralacha La, you will actually have to drive another 52 kilometers ahead. At an altitude of 4890 meters (16,043 ft), this pass forever remains covered in snow. Take a look at the picture below. I clicked this picture at Baralacha in the first week of July. The drive is a pleasant one through a beautiful landscape and you will really enjoy the views.
There is also an interesting haunting story about this mountain pass. Please read The Haunting of Baralacha La for more details.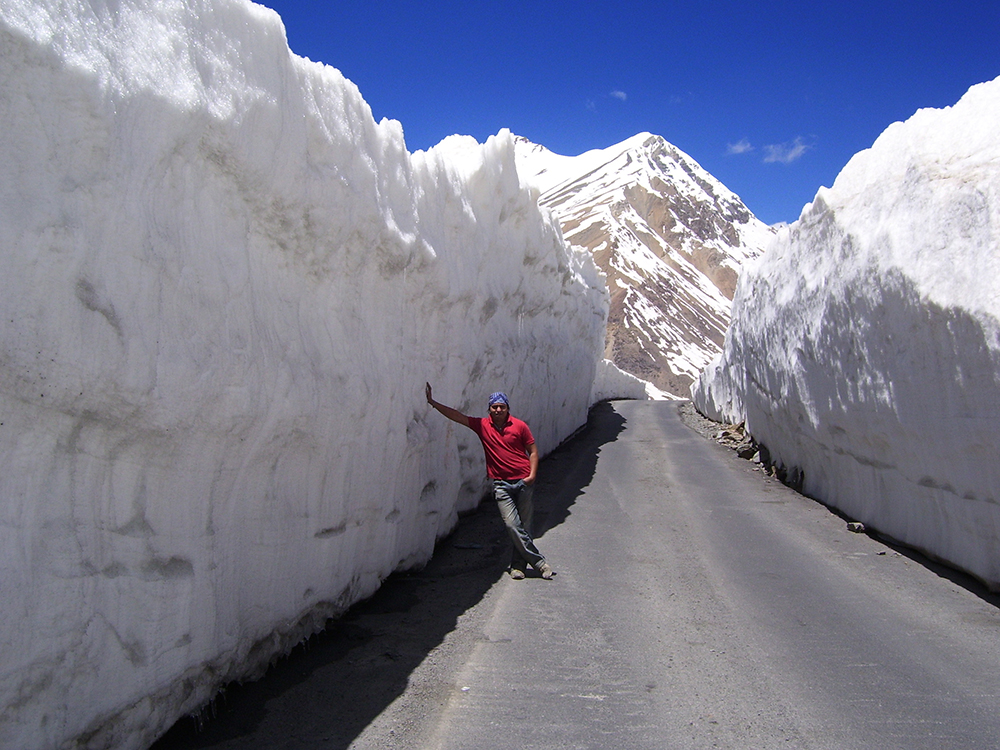 Deepak Tal
Deepak Tal is a small lake that you will cross while traveling from Jispa to Baralacha La. There are a couple of dhabas near the lake where you can take a break and get something to eat. It is also a good spot for camping if you were carrying your own tents and the rest of the gear.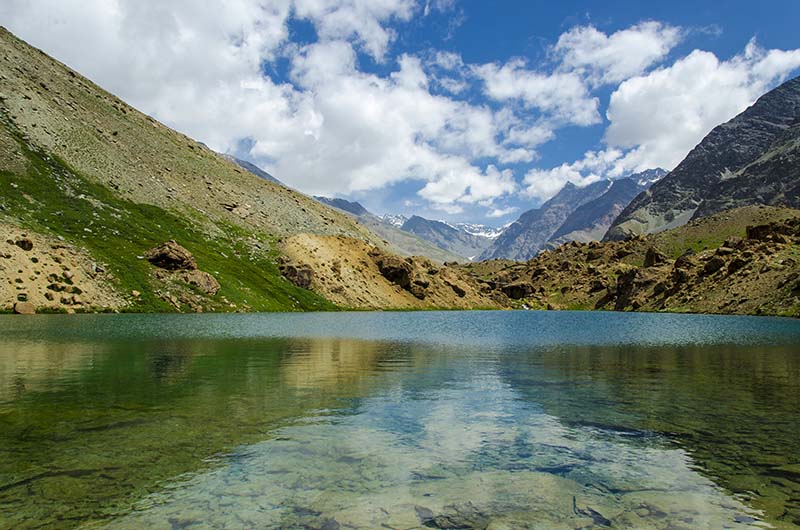 Suraj Tal
This is another small lake located at the top of the Baralacha La Pass. It is the source of the Bhaga River and remains frozen for most of the year. The picture of the lake below was taken in July. So if you take a drive towards Baralacha La, you will be able to visit the pass and the two above mentioned lakes on the same trip.
Things to do in Jispa
There is not much to do in Jispa, to be honest. Just relax for a day, visit the places I mentioned above and that will be your trip to this beautiful little village. Take a walk around the village, sit by the river, click tons of beautiful pictures, and rejuvenate yourself.
Also Read: Manali – How to Plan your Trip and Explore?
Camping in Jispa
Jispa is a great place to camp. There are several spots by the river where you can pitch your tent. Another great spot will be Deepak Tal towards Baralacha La. I will recommend the place near the wooden huts though. There is ample space there to go self-camping. Just talk to the owner of the huts, pay him a little, and camp there. It will also save you the hassle of cooking on your own and you can order food from him.
The last time I was in Jispa, there was also a campsite slightly before the Ibex hotel. If it was there at your time of the trip, you can stay there as well.
Where and What to Eat
You will have to eat at the hotel or campsite only. The food served will be very basic north-Indian food but will be good enough. There are a few other tea stalls in the village but I did not notice Dhaba. Maybe there will be one in the coming years.
Ibex Hotel also has a restaurant where you can eat even if you were not staying there. I had my breakfast there once because I just wanted to charge my cell phone. There was a blackout in the entire village and the only place that had power was Hotel Ibex. I went there, stay for an hour charging my phone and had breakfast there. It was a little expensive but was good.
Other Details
Mentioned below are some other helpful details about planning a trip to Jispa.
 Only BSNL has connectivity in Jispa but that too is not that good. The voice clarity will be bad but you will at least be able to send text messages. Until Keylong, Airtel and Jio will also work.
 Please carry some basic medicines along. Finding medical assistance in this small village will be tough.
 There is nothing specific that you would want to buy from Jispa.
 There is no ATM in the village. The nearest one is in Keylong, about 23 kilometers away.
 The nearest petrol pump is in Tandi, 31 kilometers from Jispa.
Also Read: What to see in Manali | Places to Visit in Manali
FAQs
1. Is Jispa Safe?
Yes, Jispa is a safe place to visit as long as you keep yourself safe. Drive carefully, do not drive at night, do not get into any altercations, avoid unnecessary risks, act responsibly and you will be OK.
2. Can I make a day trip to Jispa from Manali?
Yes, now you can easily make a day trip to Jispa but you may have to keep Rohtang out. Travel to Jispa via the Atal tunnel, explore the place and return by the same route.
Conclusion
That covers most of the details you need to know about visiting Jispa. I hope the information I provided above was of help. If you have any questions or need any other details, please feel free to ask in the comments section below, or at our Community Forum and I will be glad to answer.