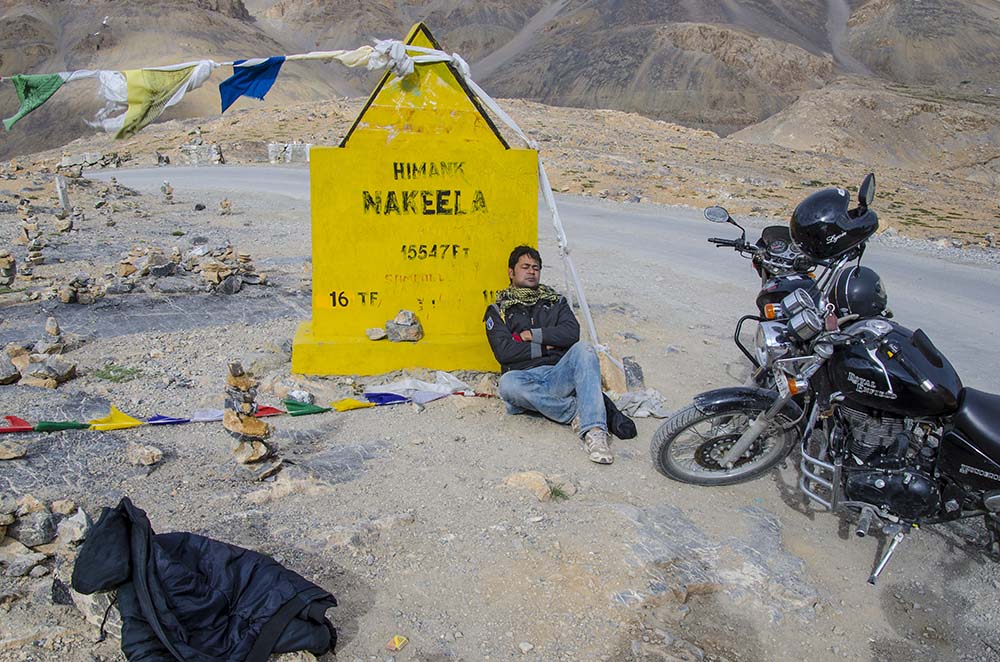 Nakee La is a high altitude mountain pass in the Indian union territory of Ladakh. It is located on the famous Manali Leh highway and is one of the 5 passes located on this route. Irrespective of whether you were traveling from Manali or Leh, Nakee La will be the third pass that you will cross on your journey.
Nakee La is one of the lesser-known passes of Ladakh. But at the same time, it is also among the most visited passes of Ladakh. Everyone who travels from Manali to Leh will cross Nakee La on the way but tourists are more excited about conquering other passes like Khardung La or Rohtang La than they are about Nakee La.
But that does not make it any less adventurous. The climb to the top of the pass is a steep one and takes you up a total of 21 hairpin bends, known as Gata Loops. What makes a journey to this pass even more interesting is the ghost story related to it. Intrigued? Read on to find out more.
Please note that in this post, I will only talk about the Nakee La Pass. For information on the rest of the route between Leh and Manali, I will recommend you to take a look at How to Plan a Journey on Manali Leh Highway.
About Nakee La
Also spelled as Nakeela, the pass is located at a distance of 213 kilometers from Manali (via Rohtang Tunnel) and 214 kilometers from Leh. So when you are standing at the top of the pass, you are actually right at the center of the Manali Leh Highway. But if you decide to include Rohtang Pass as well in your journey, the distance from Manali will increase to about 260 kilometers.
Starting from Manali, the passes on the route are in the following order.
Rohtang La
Baralacha La
Nakee La
Lachulung La
Tanglang La
So in every way, it is actually the center point of the highway. It does not matter if you were coming from Leh or Manali, Nakee La will be the third pass that you will cross.
Nakee La Pass Altitude
Nakee La is at an elevation of 4,739 meters (15,547 ft).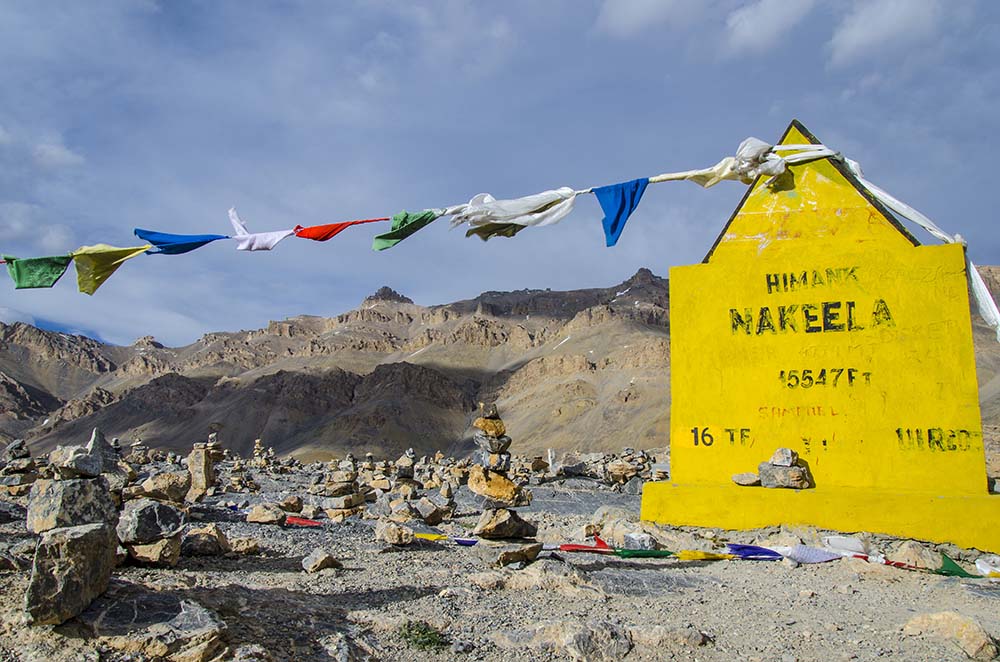 The Ghost Story
The climb to the Nakee La Pass is known as Gata Loops. It is a series of 21 hairpin bends and you gain quite a bit of altitude in a short distance. As per the legend, there is a ghost on these loops that stops travelers and asks them for water.
The ghost is said to be of a trucker who was stranded on the highway and died due to thirst and hunger. It is said that he was traveling late in the season and while driving up the loops, encountered a snowstorm. The storm was so fierce that it forced the highway to be closed and the poor trucker was left alone. He waited for days for help to arrive and eventually died just before Nakee La top.
What is in fact interesting that there is actually a small shrine dedicated to this trucker on one of the loops. See the picture below. Inside that small brick temple is an actual human skeleton. People who pass by stop and leave some water by the shrine for the ghost. I have covered this story in great detail in another article, The Ghost of Gata Loops, that I will urge you to read.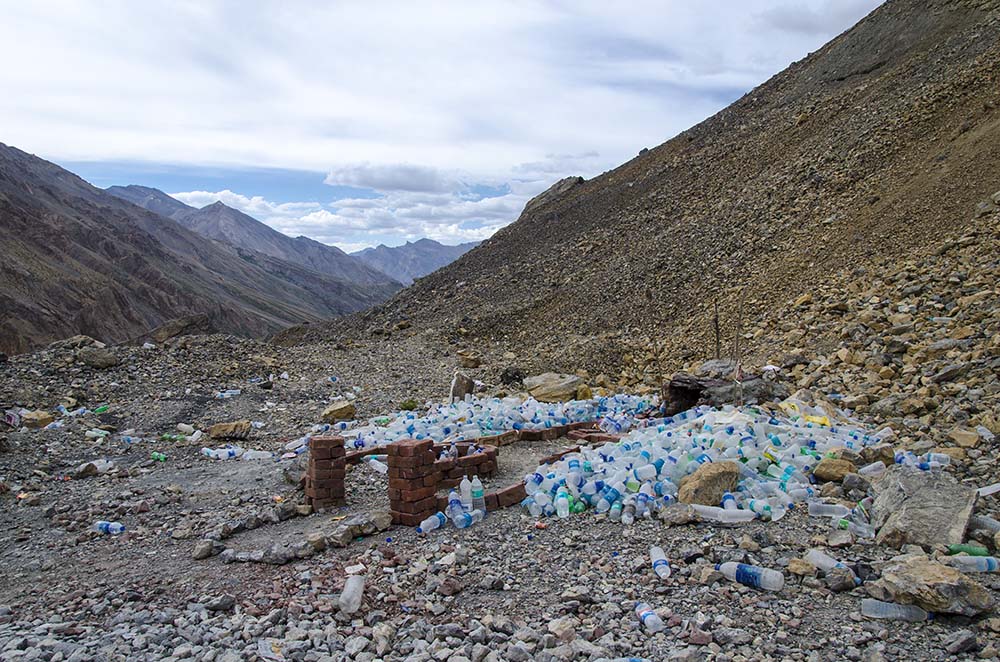 Is it True?
I do not know. I have been to Ladakh numerous times and have never experienced anything while driving up the Nakee La Pass. But what I can definitely tell you is that leaving plastic bottles like that will count as littering.
No one knows who started this ghost story or when. If one is to believe the claims, it is said that the ghost actually chased people who did not stop and gave him water. People who did stop saw the water bottle falling right through the hands of the person to the ground; as it would happen in the case of a spirit.
I do not believe in ghosts so my thought really is that someone must have died here either in an accident, or bad weather, or an animal attack. Whatever the reason was, his body remained unfound until someone noticed his skull. That person, out of respect, created that small temple around the skull, and the ghost story started.
You can stop at this stop out of curiosity but I will definitely not recommend leaving a water bottle. If you are the religious type, you can offer some water like you do to the Sun god but let it fall on the ground. Do not leave plastic and ruin the landscape.
What to see at Nakee La
Nakee La in itself is an attraction of the Manali Leh highway. Crossing the pass will surely count as an achievement and will add another feather to your hat. The view that you get from the top of the pass is really an amazing one. Gata Loops and the ghost shrine will be the second attraction. If you were lucky, you may even catch a glimpse of wildlife.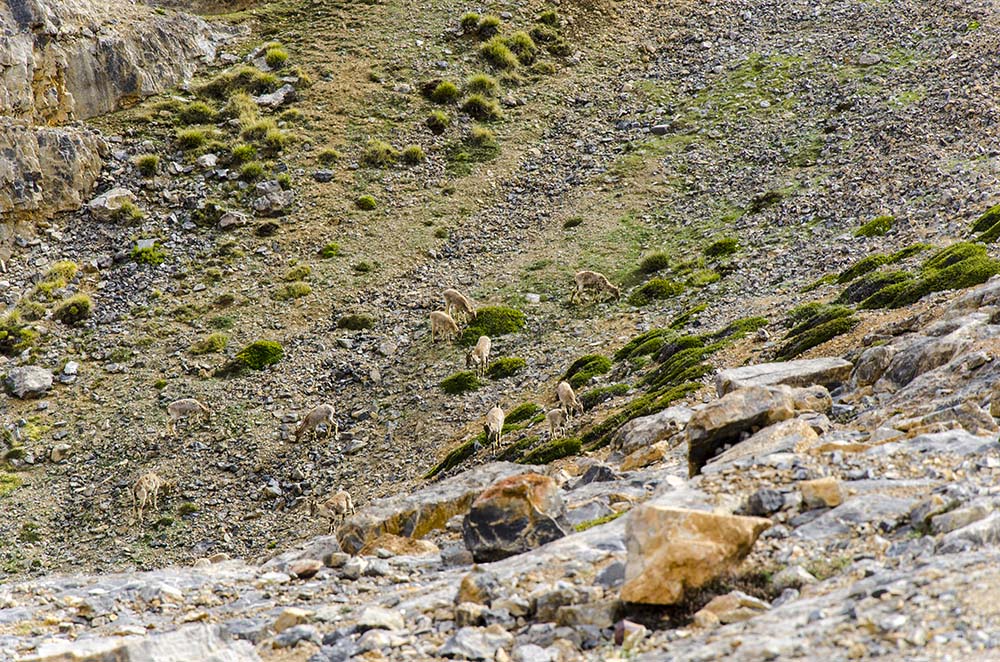 But other than this, there is really not much else to see. Just stop for a minute, click some pictures next to the board and enjoy an awesome view and be on your way.
Also Read: Complete List of Tourist Attractions on Manali Leh Highway
Best time to Visit Nakee La
Manali Leh route remains open only from late May to Mid October and this is when you will have to plan your visit. Even in these months, June and September will be the best time to. If possible, you should avoid July and August due to the monsoon season.
Nakee La is in a rain shadow area which means that it should not actually rain here but the weather in recent years has really turned unpredictable. In 2017, a cloudburst on the Manali Leh route left tourists stranded for days before the road could be cleared. Landslides in Manali and around Rohtang are common every year and can raise a safety concern while traveling in July and August.
You can travel in early October as well but can be a little risky. Nakee La starts receiving snow towards the end of September and so do the other 4 passes. Traveling in October means that there will be a high chance of the road getting blocked by snow, leaving you will be stranded. For more details, please take a look at When is the Best time to visit Ladakh.
Mobile Connectivity
There is no mobile reception at Nakee La. BSNL has the largest connectivity in Ladakh but even it does not work at Nakee La. For more details, please take a look at Mobile Connectivity in Ladakh.
Where to Stay
On the Leh side, the nearest you can find a place to stay are the tents and camps at Pang. On the Manali side, it will be the tens and camps at Sarchu.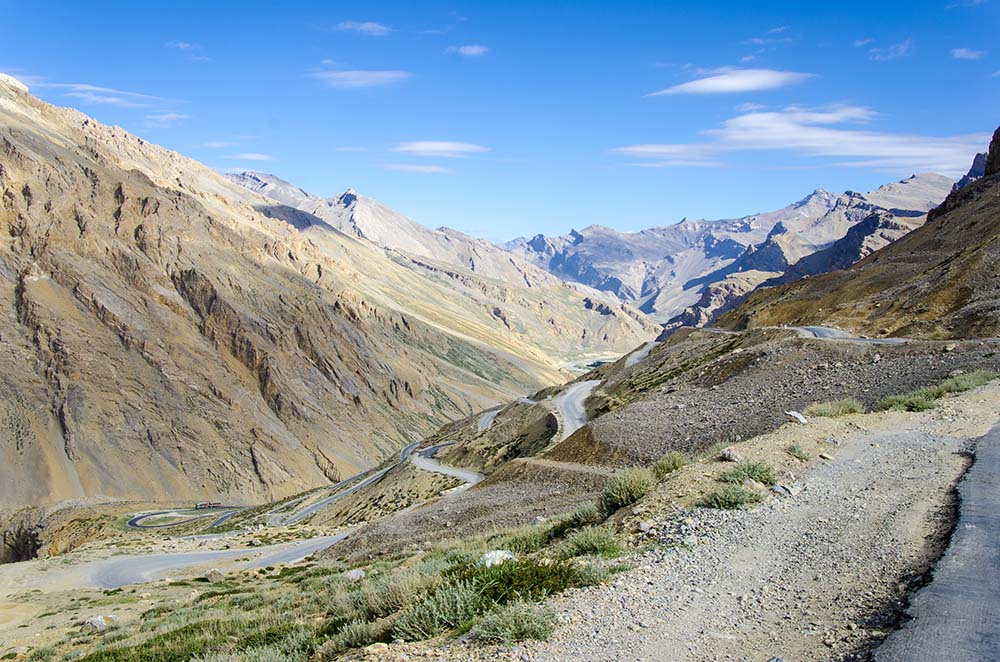 How to reach Nakee La
Nakee La can only be reached between late May and Mid October. For the rest of the time, the pass remains covered under several feet of snow and cannot be traveled to. You can start your journey from either Leh or Manali but it will have to be in these months only.
By Road
To better understand the route, I will recommend you to take a look at the Road Map of Manali Leh Highway.
Starting from Manali, the route of the journey will be as mentioned below.
Manali – Rohtang Pass – Keylong – Jispa – Baralacha La – Sarchu – Nakee La – Lachulung La – Pang – More Plains – Tanglang La – Upshi – Karu – Leh
From Leh, you can easily reach the pass in a single day but from Manali, the journey will take you two days at least. The distance on both sides is the same but the journey will be much longer if starting from Manali.
The only way you can get to Nakee La from Manali in a single day is if you removed Rohtang entirely from the plan and traveled via Atal Tunnel.
By Flight
The nearest airport to Nakee La is in Leh City, at a distance of 213 kilometers.
By Bus
Between June and September, HRTC and HPTDC operate a regular bus service between Manali and Leh. The bus covers the journey in a total of 2 days with a night halt at Keylong and will also cross Nakee La on its way. Please note though that while traveling by a Bus, you will only see the pass from its window as it will not stop at the pass for sightseeing.
HPTDC Bus may halt for a little while but the HRTC bus will most probably not unless you requested the driver and he agreed.
FAQs
1. Can you find snow at Nakee La Pass?
Yes, it snows heavily at Nakee La Pass. But between June and September, there is very little chance of finding snow here. There could be some at top of the pass but not much.
2. Will I suffer from Altitude Sickness?
Yes, due to its high altitude, you may suffer from altitude sickness at the top of the pass. If you were not feeling well, the best thing to do is to descend immediately and get to a lower altitude. For more details, please take a look at How to Handle Acute Mountain Sickness in Ladakh.
Conclusion
I hope the information above on traveling to Nakee La Pass was of help. If you have any questions or need any other details, please feel free to ask in the comments section below or at our Community Forum, and I will be glad to answer.