Are you planning a trip to Spiti Valley in May this year? If yes, then in this article, I will provide a complete travel guide on visiting Spiti in the month of May, covering details like how to reach, where to stay, what to see, things to do and some other safety tips that can be of great help.
Together with the months of June and September, May is considered among the best times to visit Spiti Valley. The weather will be excellent with moderately warm days and pleasantly cool nights. Almost the entire valley will be open and all routes accessible which means that you will be able to cover the majority of the tourist attractions. If you ask about the best time to visit Spiti with family then May will always come highly recommended.
Also Read: How to Plan a Trip to Spiti Valley – A Complete Travel Guide
The only downside to a trip at this time is that you may be forced to keep the Manali Kaza route and Chandratal out of your itinerary. This will entirely depend on the weather and the time of your journey though. If possible at all, I will suggest pushing your trip by a couple of weeks into June. But if May is the only time you can afford to go, then read on to find out how you can plan your itinerary and make the most out of your time.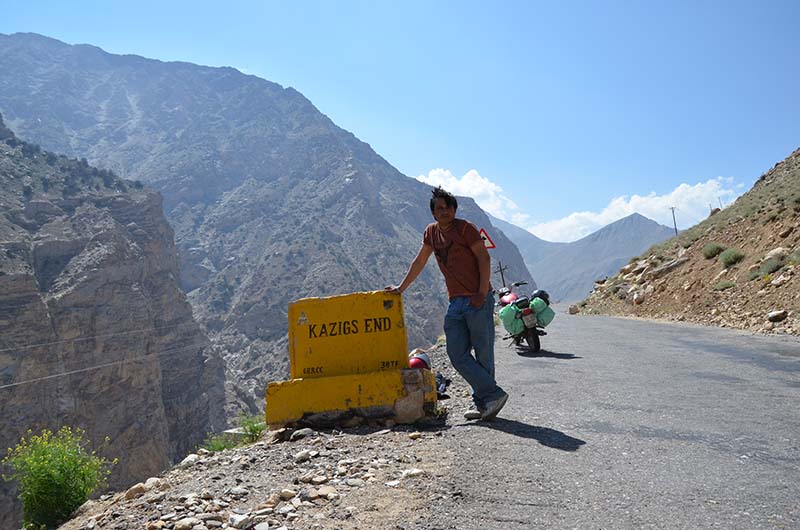 Is Spiti Valley Open in May
Yes, Spiti Valley remains open for tourists in May. Which road you will take to get there may differ on the basis of what time of the month you are traveling in but irrespective of it, you will still be able to make it to Kaza and explore the nearby areas.
How to reach Spiti Valley in May
Let us first talk about how you can get to Spiti Valley in May. There are two routes that can be taken to reach Spiti; via Shimla or via Manali. The road from Shimla to Kaza remains open for all 12 months; except for occasional roadblocks caused by melting snow. However, even if that happens, authorities clear the snow just as soon as they are able to restore connectivity.
The reason behind this is that from Shimla to Kaza, there is not even a single high altitude pass en route. The increase in altitude is gradual and you reach Kaza after a relaxed journey of 3 days from Shimla. Even if you rushed, it will still take you 2 days at least. This is longer but also an easier way to reach Spiti.
The second road, Manali to Kaza, however, remains open for only 4 to 5 months a year. Traveling this way, the journey is only about 200 kilometers and can be done in 8 – 9 hours. But within this short distance, there are two high altitude passes in between; and both of them are notorious for a high amount of snow they receive each winter. Yes, I am talking about Rohtang La and Kunzum La.
Shimla to Kaza in May
So the route from Shimla to Spiti Valley in May will be open for the entire month and you can easily plan your journey by either a car, motorcycle or by Bus. You will start from Shimla and travel to Kaza via Rampur, Jeori, Reckong Peo, Nako, Tabo and Dhankar. How many places you visit on the way will depend on the time you have in hand but I have suggested, further in the article, an example of an itinerary that you can follow.
Manali to Kaza in May
The route from Manali to Spiti Valley in May will definitely be closed in first half of the month; and may or may not open in second half. This entirely depends on the amount of the snow received in the winter months and how fast BRO is able to clear it. Historically though, they usually open the route only after May 15th.
So if you were traveling between May 1st to 20th, you will have to reach Kaza via Shimla and go back the same way. If you were traveling towards the end of the month, you can start from Shimla and end at Manali. To track the status of the road, you can follow Manali to Kaza Road Status and its Condition thread.
Should you start from Shimla or Manali?
If the road from Manali was closed at the time of your, you have no other option but to start from Shimla only. But even if it was open, I will still recommend that you start from Shimla only.
The first reason is that it will be beneficial in terms of acute mountain sickness. You gain in altitude will be gradual and you will be less prone to suffering from altitude sickness.
The second reason is that it will save you the hassle of obtaining the permit for Rohtang Pass which can be very difficult to get in May (because of the tourist rush in Manali as soon as Rohtang opens).
Last but not the least, it will also give you a better idea and handle on the tough roads of Spiti.
Availability of Public Transport
The daily HRTC bus from Shimla to Kaza remains operational all 12 months except for peak winter. Other buses from Shimla to places like Narkanda, Sarahan, Kalpa, and Chitkul as well will be available.
The Manali to Kaza bus, however, will not be operational in May; but you may get shared cabs from Manali after the road has been cleared.
Shared cabs, which mostly are either a Sumo or Bolero, will also be available between Shimla and Kaza.
For more details on how you can plan a trip to Spiti valley by public transport, please read How to Travel to Spiti by Bus and Shared Taxis and Frequency of Bus Service in Spiti Valley.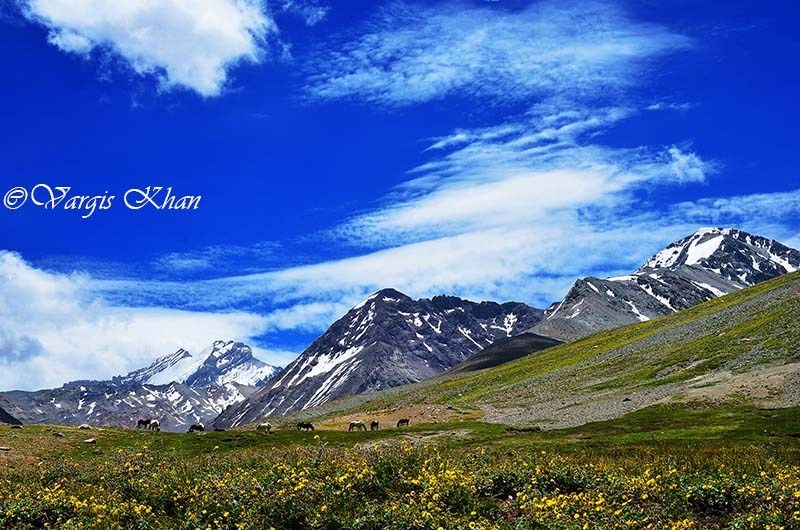 How to Plan your Itinerary

I will begin by first laying down a sample itinerary; followed by a brief explanation of the same and a few other trips. For the sake of this article, I will assume that you are traveling from Delhi. If your starting point was not Delhi, then only the first and last day of the trip will change. The rest will remain the same. The itinerary below is easily doable by public transport as well.
Delhi to Narkanda – Day 1
Narkanda to Chitkul – Day 2
Chitkul to Nako – Day 3
Nako to Mud Village (Pin Valley) – Day 4
Mud Village to Kaza – Day 5
Kaza to Kibber / Komik / Langza / Hikkim to Kaza – Day 6
Kaza to Kalpa – Day 7
Kalpa to Sarahan – Day 8
Sarahan to Shimla / Chail – Day 9
Shimla to Delhi – Day 10
I agree that not everyone will be able to follow this itinerary to the last detail. Your final travel plan will depend on several factors like how many days you have in hand, how you are traveling, if there is a budget constraint etc but the itinerary above should at least give you an idea on how you can draft your own.
Also read: Recommended Hotels on Spiti Circuit
Itinerary Details

Following the above-mentioned plan, your destination for Day 1 will be Narkanda which I find much better than staying at crowded Shimla. This journey can easily be completed in about 8-9 hours depending upon your speed. On Day 2, you will start really early from Narkanda and reach Chitkul. I say early because from here on, roads will mostly be bad; and travel time between Narkanda to Chitkul can easily be up to 8-9 hours.
From Chitkul, you will reach Nako on Day 3 which again is about 8 hours of travel. The destination for Day 4 will be Mud village for which you will have to take the diversion from the Attargo bridge after Dhankar.
You will reach Kaza on Day 5 and explore the nearby areas on Day 6. On Day 7, you will take the long drive back to the small town of Kalpa. This will easily be about 9-10 hours of a journey so ensure that you get an early start again. Sarahan will be the destination for the next day after Kalpa and then you will continue back to Delhi via Shimla on Day 10.
If you cannot afford all 10 days, then you can remove a few days from the itinerary to make it a short journey. Trip to Pin Valley can be removed and you can get to Kaza straight. Exploring villages of Kibber and Komik can be removed as well. From Kalpa, you can easily make it to Shimla in a day so Sarahan can also be removed while returning back.
Spiti Valley in May End
If you were keen on completing the entire Spiti circuit then you will have to choose your timings carefully. Plan your trip in a way that you are crossing the Kaza – Manali stretch in the very last few days of the month.
Your itinerary in that case will then change to something like this.
Delhi to Narkanda – Day 1
Narkanda to Sarahan – Day 2
Sarahan to Chitkul – Day 3
Chitkul to Kalpa – Day 4
Kalpa to Nako – Day 5
Nako to Mud Village (Pin Valley) – Day 6
Mud Village to Kaza – Day 7
Kaza to Kibber / Komik / Langza / Hikkim to Kaza – Day 8
Kaza to Chandratal – Day 9
Chandratal to Manali – Day 10
Manali to Delhi – Day 11
Whether or not you will be following this itinerary entirely depends on the weather; and how fast BRO is able to clear the road. In the 1st itinerary, from Kaza, you went back to Shimla but in the second one, you will continue traveling to Chandratal and stay there for the night. On Day 10, you will take the Manali Kaza route via Rohtang Pass and stay for the night in Manali. On Day 11, you will return home to Delhi.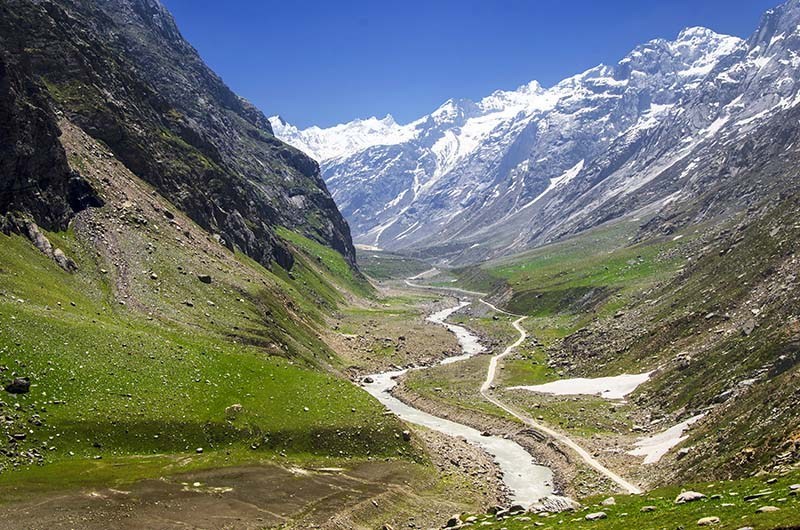 Spiti Valley Weather in May
Pleasant and warm are the two words that will describe the climate of Spiti valley in may the best. The days will even feel a little hot at noon but nights will still be very cold with temperature dropping drastically and close to 0 degrees. Even during the day, it will be warm but you will still feel the chill in the wind.
Spiti Valley Temperature in May
During day, the temperature will remain around 15 degrees Celsius. Temperature at nights will remain between 0 to 5 degrees Celsius. Please note that these are just the average numbers based on historical data. The actual temperature may go even further up or low depending on the weather conditions.
Also read: What to See in Spiti Valley
Clothes to Pack



The weather of Spiti Valley is both a little tricky and unpredictable. Mornings will be pleasantly cold, noon will get hot, evening again pleasant and nights terribly cold. Kaza will be warm but Chandratal will be extremely cold. Shimla and Kinnaur will be a little warmer overall than Spiti Valley. You will feet hot standing in the sun and will feel cold in the shade.
So when you pack your clothes for a Spiti trip, the trick is to pack them in layers. What I mean by this is to bring clothes that can easily be worn on top of one another; and are neither too heavy or warm, nor too light. The idea is to get clothes that you can adjust in layers according to the temperature. If you brought all heavy woolens then you will just be feeling hot all the time.
Your regular cottons, some light woolens, a heavy windproof and warm jacket and a pair of gloves would suffice for the trip really. If it makes you feel better, pack a pair of thermals as well but you wouldn't really need it unless you were riding a bike. Ensure that your jacket also has a hood to it that can cover your head, face, and neck. If not, then pack a warm cap and muffler as well.
This is what you should be packing.
A heavy windproof jacket
Cap or Hat if your jacket did not have a hood to cover your head
Pair of thermals
Plenty of Cottons
Light woolens
Regular Sports or trekking shoes
Woolen Socks
For a more details version of this information, please read Cloths for Spiti Trip – What to Pack
Things to Pack for Spiti Valley
Some of the other items that you may need are as below.
Sunglasses
Sunblock lotion with highest SPF that you can find
Lip Balm
Nasal Drops
Pain Relief Spray
Moisturizer
Toilet Paper
Gloves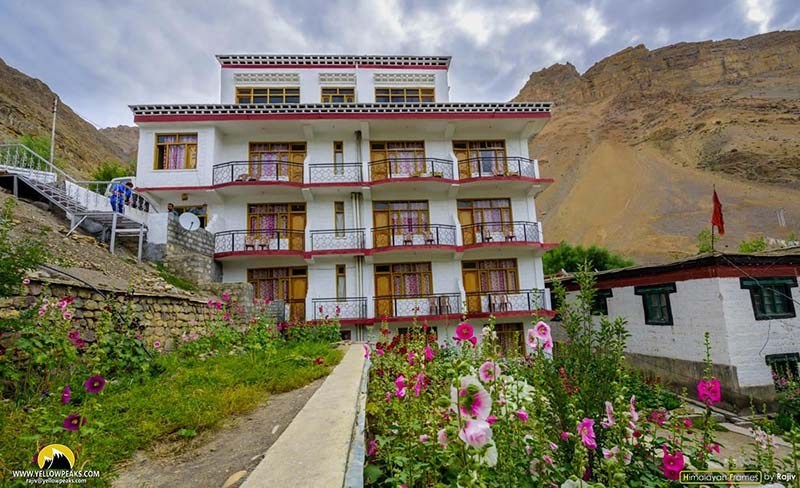 Accommodation Choices



You will be able to find accommodation at all the places I suggested in the itinerary above. If you want to book in advance for your peace of mind, you may choose to do so but I will not recommend it. Since it is just the beginning of the season, there will not be many tourists around and you will have no problem in negotiating an on the spot deal. If you booked in advance, you may actually end up paying more.
Narkanda is one place where you may want to call in advance and book a hotel. In Kalpa, you will have to move around back and forth a little finding a place to stay. If you want to stay at a monastery, you can do so in Tabo.
The only tricky part is the accommodation at Chandratal. Even if the Manali Kaza route opened by May end, campsites at Chandratal get operational only by early June. So before you finalize your travel plan, please inquire and confirm that there is, in fact, a campsite at the lake that is up and running and can accommodate you for the night. If there isn't then the only choice you have is to start from Kaza by the first light of the day; cover Chandratal on the way and reach Manali the same day. This will easily be about 12 to 14 hours journey considering the traffic jams at Rohtang Pass so start and travel accordingly.
Also read: Budget Hotels in Spiti Valley
Road Conditions
How will the road conditions be? To be honest, road conditions in Spiti are always bad so you best not get your hopes high in that aspect. Below is a break up of how you will find the road starting from Delhi.
Delhi to Narkanda – Super Smooth
Narkanda and Rampur – Smooth
Rampur to Jeori – Smooth
Jeori to Reckong Peo – Average
Reckong Peo to Pooh – Mix of good, bad and ugly
Pooh to Nako – Super Smooth
Nako to Kaza – Below Average
Kaza to Kunzum Pass – Extremely Bad
Kunzum Pass to Batal – Extremely Bad
Batal to Gramphoo – Nightmare of a Road. Probably one of the worst you have ever been on.
Gramphoo to Rohtang Pass – Good
Rohtang Pass to Manali – Mix of Good and Bad
For more information along with some pictures of the route, please see Spiti Valley Latest Road Condition.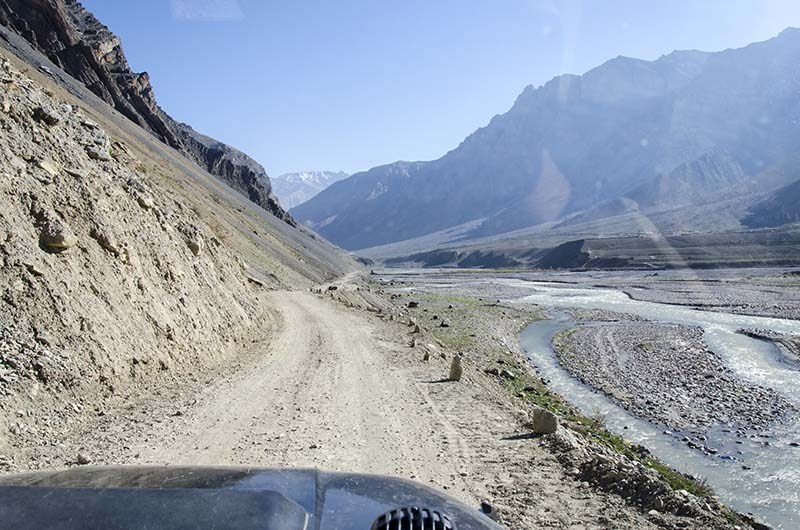 Acute Mountain Sickness in Spiti Valley
Will acute mountain sickness be a problem? In all probability no since you will be starting from Shimla. Mountain sickness becomes a concern when the gain in altitude is sudden but in this case, you will be gradually ascending in terms of height so you may not face any signs of AMS in Spiti at all.
However, if you went from Manali side, then yes, you will be prone to suffering from altitude sickness during your first couple of days of the trip. If you stayed at Chandratal for the night, then you will definitely feel the sting.
For more details on what AMS is and what its symptoms are, please read How to Handle Acute Mountain Sickness in Spiti.
Places to visit in Spiti Valley in May
Most of the valley is open for tourists in May; and you will be able to visit almost all of the tourist attractions. How many places can you cover depends entirely on how many days you have in hand and your mode of travel. The only area that may remain out of bound is the Manali Kaza route and Chandratal but rest all can be included in your itinerary. I will break the information down by the major tourist towns en route; listing by places in Kinnaur Valley, Pin Valley, Spiti Valley and on Manali Kaza route.
Kinnaur Valley in May
Shimla and Narkanda in May: Both these towns will be open in May. Weather will be pleasant at night and warm during day. Road condition around both these places is good. Hatu Peak at Narkanda is worth visiting.
Sarahan in May: Sarahan too will be open for tourists in May. Weather here will be pleasant during day and a bit cold at night. The Bhimakali temple and Bird sanctuary here are worth visiting.
Sangla in May: The town of Sangla will remain open in May. Weather will be pleasant during day and cold at night. The road between Karchham and Sangla is a bit bad at some places.
Chitkul in May: The road from Sangla to Chitkul is a mix of bad and good but you will be able to reach Chitkul easily. Natural beauty and the tranquility of the place is what makes Chitkul worth visiting and including in your itinerary.
Kalpa in May: Kalpa remains open for tourists throughout the year except for some days in winter when heavy snowfall may block the road between Reckong Peo and Kalpa. In May however, you can easily reach Kalpa. The view of majestic Kinner Kailash peaks is what makes this town a great destination to visit.
Pin Valley in May
Pin Valley remains open and accessible in May. To get here, you will have to take the diversion at Attargo Bridge which falls a little after Dhankar. A board marks the diversion and it will be a bit hard to miss actually. Mud Village is the place where you will find accommodation in Pin Valley. The 30 odd kilometers long road from Attargo to Mud Village is in a bad shape and it will easily take you 2 hours to complete the journey.
The scenic beauty of Pin Valley is what makes it worth visiting. The view you get from Mud Village is a feast for the eyes. For more details, please read How to Plan a Trip to Pin Valley.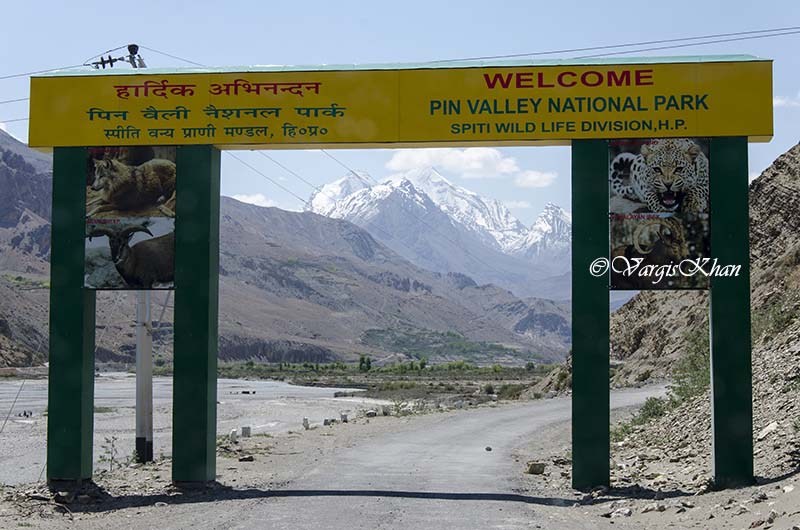 Spiti Valley in May
Nako, Tabo and Dhankar in May: All these three towns fall while on the way to Kaza and they will all be open. Accommodation will be available at all three places. Tabo Monastery allows visitors to stay overnight for a nominal charge. If you wanted to observe the lives and rituals of the monks and add a different kind of experience to your trip, you can plan to stay here for a night.
Kaza in May: The town of Kaza is the headquarters of Spiti valley and this small town, in fact, remains busy throughout the year. If you arrived here in May, you will find plenty of tourists around and will easily find a place to stay.
Kibber /Komik / Langza / Hikkim: These are some of the remote villages of Spiti valley and are very scenic. If you have time, then definitely stay for a day in Kaza; and explore these tiny hamlets. Accommodation in these villages is available in the form of paying guests only.
Kaza to Manali in May
The route from Kaza to Manali usually opens by Mid May each year and this too is highly dependent on the weather. If you went in early May, you will not be able to see this part of the circuit. If your trip was towards the later part of the month, you may be able to include it in your itinerary.
Kunzum Pass in May
Kunzum Pass is pretty much the same deal as the Manali Kaza route. In fact, the opening of Manali to Kaza road depends on the opening of Kunzum Pass. It usually is open by May end but may get delayed to early June if there was too much snow at the top of the pass.
Chandratal in May
The road from Kunzum Pass to Chandratal gets cleared only after the Manali Kaza route is declared open. And that is why the campsites here do not get operational until early June.
Kunzum Pass is freed of snow in towards Mid May and then BRO takes another couple of weeks to make the 14 kilometers long road from Batal to Chandratal accessible. Once the road is cleared, the owners of the campsites arrive and set up their tents. There is always a difference of about 2-3 weeks between the opening of the Manali Kaza route and Chandratal.
For a complete list of all must visit places in Spiti Valley, please read Tourist Attractions in Spiti Valley & Its Vicinity.
Snow in Spiti Valley in May
Will you get to see snow? It really depends on what time of the month you were traveling in, but your chances of finding snow in Spiti in May are only at either Rohtang Pass or at Kunzum Pass. Both of these passes are open only towards the end of May. So if you were traveling in later part of the month from Manali to Kaza, or vice versa, then yes, you will get to see some snow on the ground at top of these passes.
If you, however, went in the earlier part of the month and covered only Shimla to Kaza side of the circuit, then you will not find any snow anywhere.
Chances of catching a live snowfall in Spiti valley in May or anywhere else on the route for that matter are next to none.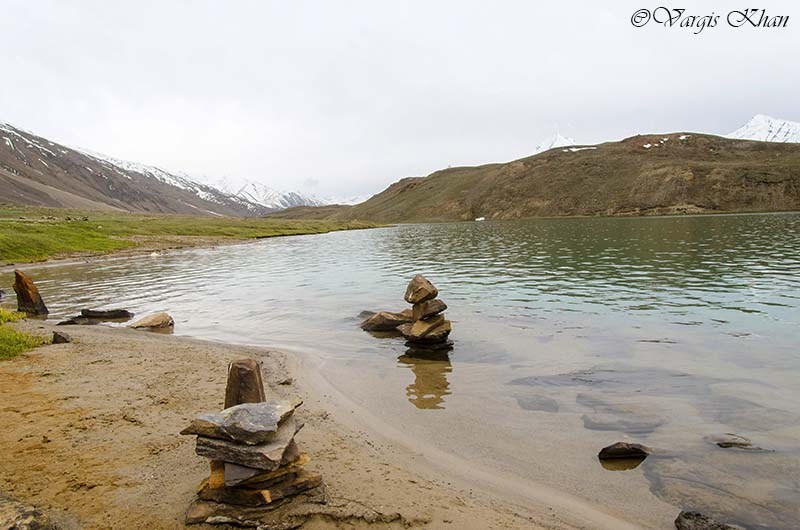 What to Do in Spiti Valley in May
The entire drive on the Spiti circuit is, in fact, an adventure in itself. Apart from visiting all of the above-mentioned places, trekking is another activity that you can indulge yourself in. There are some great trails from Chitkul, Pin Valley and Kaza that you can venture upon if you had the time.
Photography
Night skies are a sight for sore eyes in Spiti and if you had even the slightest of interest in photography, you would love to get some great night captures of Milky Way and star trails. Photography overall is one of the greatest things to do in Spiti Valley. It does not matter if you were a serious photographer with a huge camera or someone with just a cell-phone, you will surely have your fund clicking tons of pictures.
Camping
Camping is what a lot of people look forward to in Spiti. Chandratal is the preferred and best site to pitch your tent but it can be done in several other places like Narkanda, Sangla, Chitkul, Pin Valley and Batal as well.
As you drive through, you will notice camps at several other places as well en route; but the ones I mentioned are the most common camping grounds.
If you were bringing in your own gear, then you can pitch your own tent as well. The villages of Kibber, Komik, Langza, Hikkim, and Pin Valley are the most popular self-camping sites.
Experience a different Culture
The culture of Spiti Valley is a unique mix of Indian, Tibetan, Hindu, and Buddhist. You will find that everyone out here is way different than how things are in the rest of the country.
Festivals in Spiti Valley in May
For complete and detailed description of festivals of Spiti; including the dates when these are celebrated, please read Festivals in Spiti Valley – A Colorful Celebration of Life
Spiti Valley Trek in May
Chitkul, Sangla, Pin Valley and Kaza are some of the most popular starting points of great treks in Spiti. In fact, even if the road to Chandratal was not yet open, you can still contact a tour guide in Kaza and do a couple of days long trek to Chandratal.
For short walks, you can try trekking to Dhankar Lake from the monastery that will take about 2-3 hours. The trek to Sopona Lake from Mane Village is another short one that can be done in a few hours. The trek from Demul Village to Balari Top takes you to a view point that is hard to find anywhere else in Spiti.
Try some Local Food
You must taste some local dishes that Spiti Valley has to offer. Please read Food Items to Try in Spiti Valley for more details on this topic.
Shopping
Last but not least, you must spend some time filtering through the local market and pick up some stuff, things that will remind you of how great the trip was. You can buy expensive stuff as well as some small cheap items as well. For more details, please read Shopping in Spiti Valley.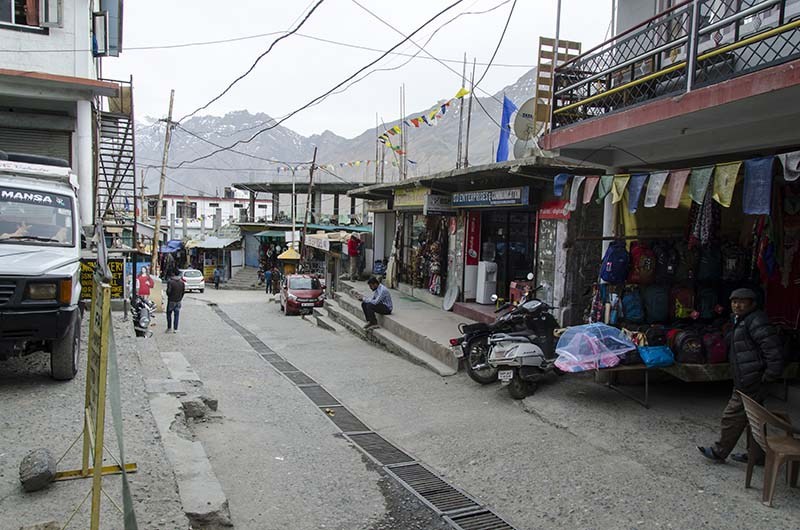 Permits Needed for Spiti Valley
If you are an Indian national, there is no permit required for you to visit Spiti. Just bring a valid government-issued ID like Aadhar Card and that will suffice.
If however, you are a foreign national, then you will have to get an Inner line permit from either Shimla, Manali or Reckong Peo. The permit is applicable to travel on the road between Pooh and Kaza so if you came from the Manali side, you can actually get the permit from even Kaza itself. For more details on this, please read How to Obtain Inner Line Permit for Spiti Valley.
For someone starting from Manali, irrespective of your nationality, you will have to get a permit to cross over Rohtang Pass. Without it, you will not be allowed to go beyond the Gulaba check-post. It is a per-vehicle basis and you do not need to worry about it if you were catching a Bus or shared taxi from Rohtang. For more details, please read Rohtang Permits – Procedure, Charges and How to Apply.
Other Tips
Mentioned below are some other tips that can be of help while planning a trip to Spiti in May.
Car or Motorcycle
Whether you plan the journey by car or motorcycle is entirely a personal choice. Both are equally good and it all depends on what you enjoy more. The only thing to keep in mind is that if you were bringing a car, ensure that it has good ground clearance. It doesn't necessarily have to be a 4×4 but good GC is must; otherwise, you risk the underbelly of your car hitting the ground at several places.
In terms of a motorcycle, you should remember that a trip to Spiti will last at least 7 to 10 days. So you will be carrying plenty of luggage and will be riding for 6 to 8 hours daily. Chose a motorcycle that is comfortable for long rides and makes it easy to rope the luggage on.
If you were traveling with a pillion then chose a larger engine motorcycle-like RE 350 or 500 CC. If you were coming on a smaller engine bike like 150CC, then please travel solo and as light as possible. For more details, please read Which is the Best Bike for Spiti Valley Trip.
Get your Vehicles Ready
Be it a car or motorcycle, the most important thing is to get your vehicles ready. Mechanics on the Spiti circuit are not a common occurrence, and even a small problem can upset your plans and become a pain. A trip to Spiti is going to be challenging not just for you but for your vehicle as well. Get it serviced well in advance and then ride/drive around for a week before the trip to ensure that everything is working fine. Repair or remove anything that seems dicey. Take a look at How to Prepare your Car for Spiti Trip? and How to Prepare your Motorcycle for Spiti Trip?for more details.
Until Reckong Peo, you will keep coming across several towns where mechanics are available. Once you cross Reckong Peo, the next mechanic will only be available in Kaza. There is no mechanic available between Kaza and Manali as well.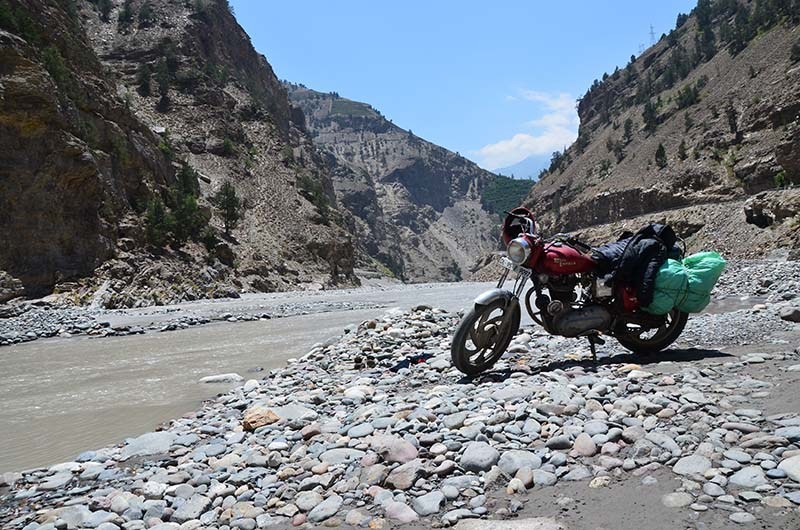 Petrol Pumps in Spiti
Fuel is not a problem in Spiti Valley. From Shimla till Reckong Peo, you will continue coming across gas stations at regular intervals. After Peo, the next petrol pump is in Kaza so do not forget to get a tankful done here. There is no fuel available between Kaza and Manali too but a tankful at Kaza is enough to last the journey.
Keep Buffer Days
This will apply irrespective of your time of travel. When going to a place like Spiti valley, it is always wise to keep at least 1 or 2 days as a buffer. If you got stuck at any of the places for any reason, like a landslide for example, then you will at least be able to afford it. Do not tie yourself down to a very strict travel plan.
Lahaul Spiti in May
I am adding this point here because people often get confused in these two places. Lahaul is not the same as Spiti. Lahaul valley is the area around Keylong and Udaipur where the Spiti valley is the area around Kaza and Chandratal. If you followed the itineraries I suggested above, you are only visiting Spiti Valley and not Lahaul. If you want to go to Lahaul, then you will have to go towards Keylong from Batal rather than going to Manali.
Conclusion
And that pretty much is all that you need to know about visiting Spiti Valley in May. I hope the information above was of help. If you have any further questions; or need any further details; please feel free to ask in comments section below; or at our Community Forum; and I will be glad to answer.