I recently returned from a trip on the Spiti circuit and stayed for a night in Kalpa as part of my itinerary. In Kalpa, I stayed at Hotel Parvati and below is a small review of how my experience at this hotel was. From an overall point of view, my stay here was comfortable and a pleasant one; and I would recommend this hotel to anyone who is heading towards Kalpa. They are not really one of the luxury or well-known hotels here but if you are looking for a decent enough hotel in Kalpa with a great view; then Hotel Parvati would prove to be a great choice for you.
The biggest attraction, and probably the one as well, in Kalpa is the magnificent and majestic peaks of Kinner Kailash. As you climb up to Reckong Peo and then further up to Kalpa; the imposing peaks put up a view that will sweep you off your feet. Every hotel out here is facing in the same direction but a few have slightly better view than others. And this is where this hotels comes out to be a winner. Below is a picture of the view from the hotel.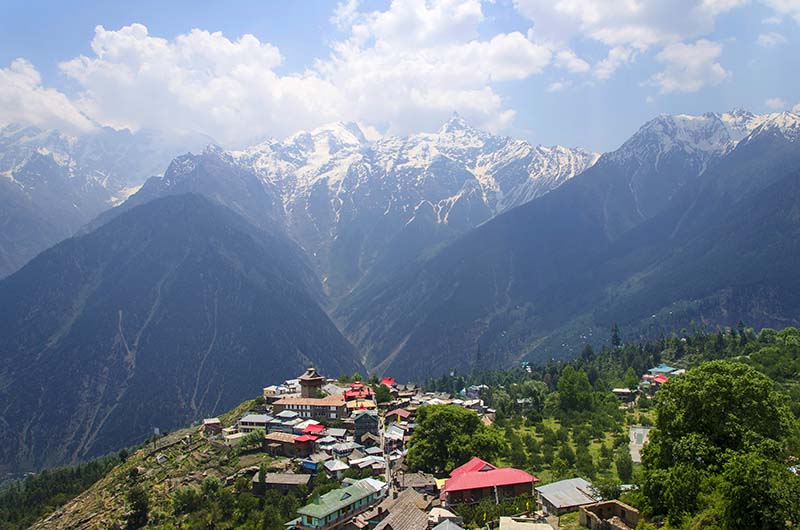 The building in blue in the picture below is the hotel that we are talking about here.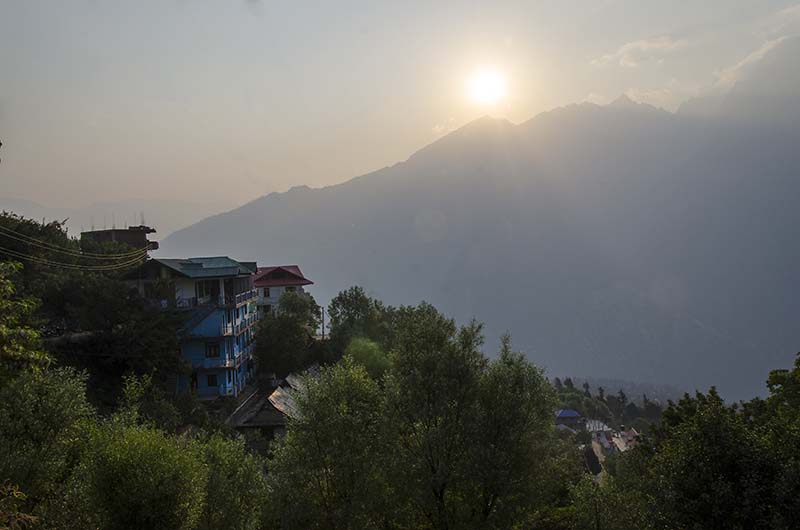 Hotel Parvati, Kalpa
To be honest, Parvati was not really the hotel that I was looking for upon my arrival in Kalpa. The last time I was here, I stayed at a hotel called Ashoka and that was the one I wanted to stay at again. Unfortunately however, when I arrived at Hotel Ashoka, I was told that they were completely booked and did not have even a single room to spare for a night. Also from the looks of it, it did not seem like that the folks at Ashoka were doing a good job in maintaining the hotel. A few of the rooms were open and they just did not seem to be clean or hygienic enough. I was anyways having second thoughts about staying here and when they told me that they were totally booked, it just gave me another excuse to rush out and look for a different hotel.
About a kilometer ahead of Hotel Ashoka, I noticed Hotel Parvati and when I asked there, they had rooms available and were able to accommodate us. I will post a few pictures of the hotel and rooms.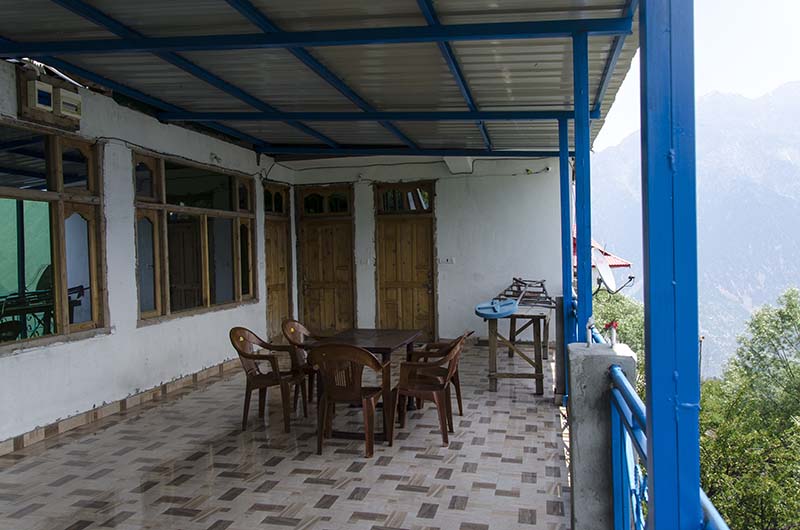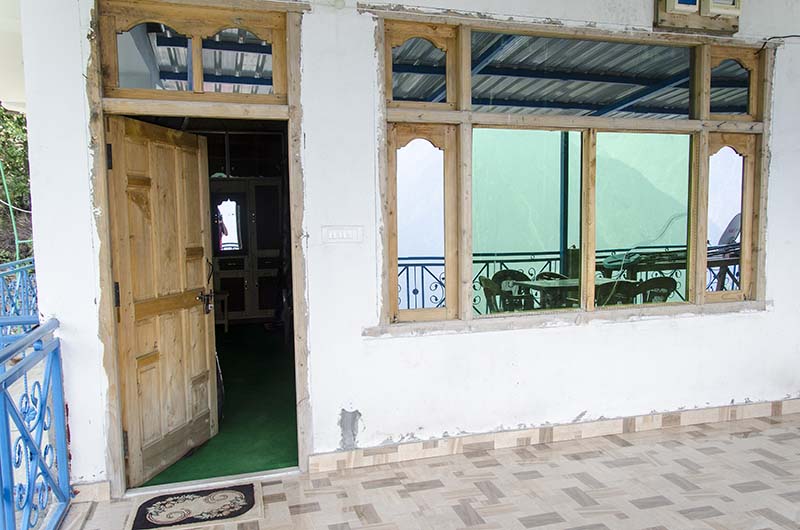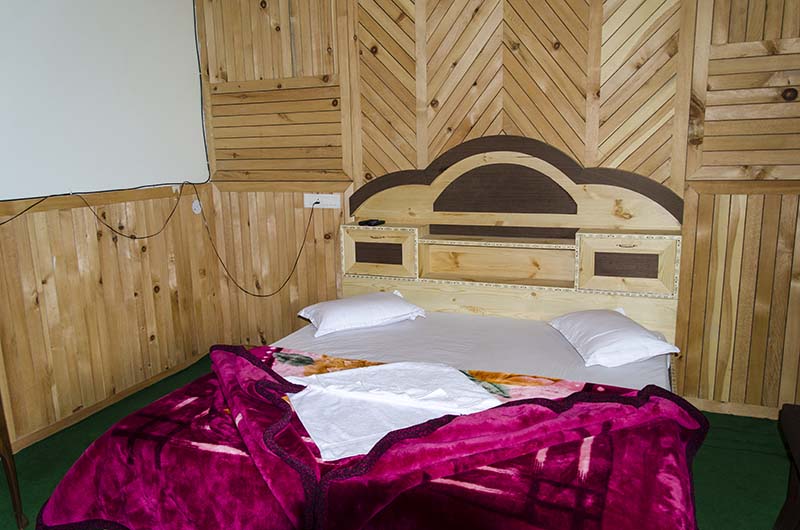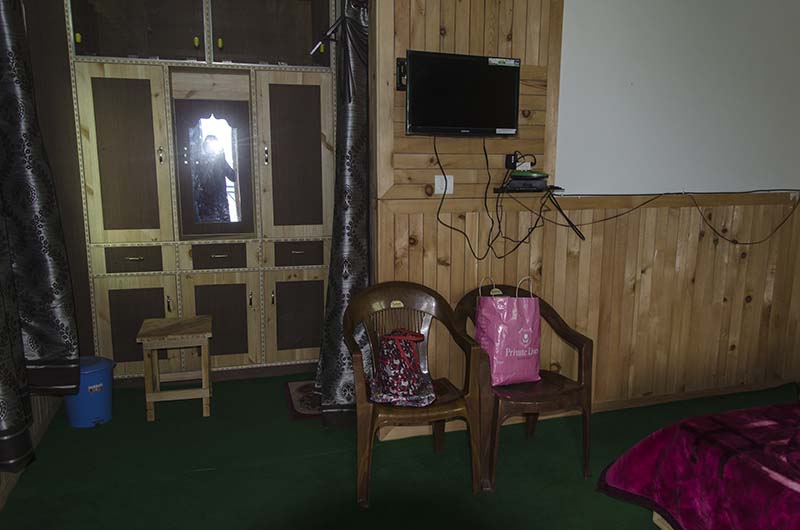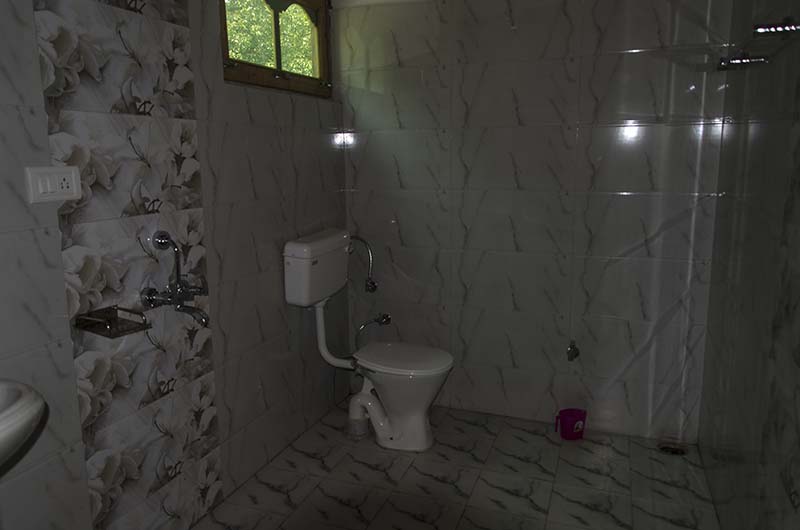 This hotel is located right in front of HPTDC Hotel Kinner Kailash. It is run by a few Bengali folks and the rooms they gave us were newly constructed. The view of the Kinner Kailash peaks in front was great. The rooms including the washrooms were quite spacious. Beds were large, comfortable and very clean. In terms of food, they do not have a kitchen of their own; but there is a small restaurant right next to the hotel that you can eat at. That restaurant too is run by the Bengali folks and can serve some amazing fish curry if you would like to have some.
Conclusion
I paid Rs. 2000 for the room in the pictures above which may not sound like a budget option; but in peak tourist season, it really is not too great a price in Kalpa. Other hotels will ask you about Rs. 2,500 or more for a similar kind of room. If however you need something for a lesser price then these guys also have other budget rooms that you can rent for Rs. 1000 to Rs. 1,500. You can park your car or motorcycle right in front of the hotel so that too will not be an issue.
I am not getting into a very detailed review because there is not really to write much; but in short, this is a great place to stay in Kalpa. Other tourist attractions like suicide point, Roghi village etc are also not very far away. It will take you about 15 to 20 minutes at least to walk down to Kalpa town from this hotel. I hope the information above was of help. If you need any further details, or have any other questions; please feel free to ask in the comments section below; or at our Community Forum; and I will be glad to answer.