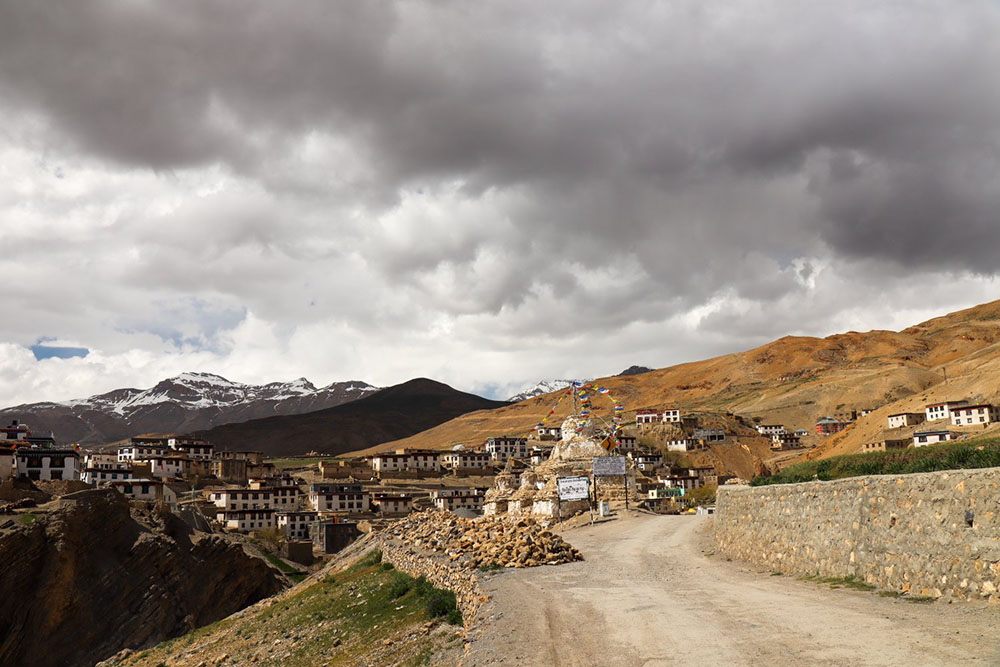 Not many people would be aware of Kibber Village in Spiti Valley. It is just a small group of houses tucked up in the hills about 20 kilometers from the town of Kaza; another one of numerous such tiny hamlets of Spiti. Visit here and you will realize that it is one of those places where time stands completely still.
Nothing seems rushed up here. People have very little, lead simple lives, have small incomes but are very content. The place feels as if the rest of the world has forgotten about it yet the smiles of the people here feel genuine. In short, it is a place that you must witness if you happened to be around.
Also Read: How to Plan a Trip to Spiti Valley  – A Complete Travel Guide
Spiti Valley is a long list of tourist attractions, and I mean really long. You will need at least 10 to 14 days only to travel through the circuit while covering just the major tourist attractions. If you want to extend your sightseeing to the other 'not so well known places as well, then you can spend weeks in here and will still not be done with them all.
The thing however is that not many people really explore Spiti. The majority of the tourists just pass through the valley and seem keener on experiencing the road and a motorcycle ride on it.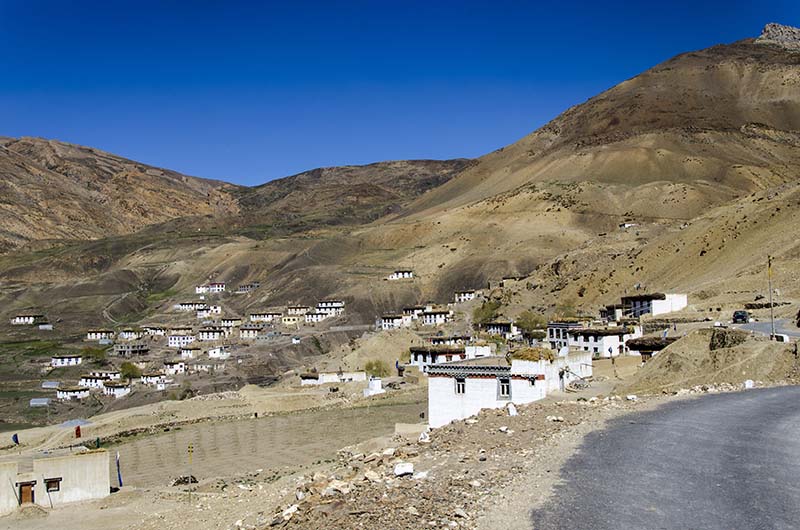 About Kibber Village
But if you truly want to see Spiti Valley then you got to take some time out to venture into its remoteness and see the villages hidden up in the hills. That is where the true life and beauty of Spiti are.
You cannot just reach Kaza via Kinnaur and then move on to Chandratal or Manali from there the very next day. You need to at least spend 2 days exploring Spiti and see its hidden gems.
The village of Kibber, also known as Kyibar, is located at an altitude of 4,270 meters or 14,200 ft in a narrow valley on the summit of limestone rock. The total number of houses in the village is just around 100 and almost its entire population depends on farming for livelihood. It is famed as the highest or second-highest motorable village in the world but the claim is highly disputed (and incorrect).
The village is situated in a cold desert so the landscape is quite similar to that of Ladakh. It is equipped with basic amenities like electricity, a school, a primary healthcare center, and a post office. After the recent increase in tourism in Spiti Valley, a few people have started to travel towards these remote villages.
As a result, there are now a couple of small eateries, guest houses, and homestay options available as well. There is in fact also a PWD rest house in Kibber now.
What really puts Kibber on the tourist map is its natural beauty, marine fossils, Kibber wildlife sanctuary, and the snow leopards found in it. I have covered all of these in detail further in the article.
Also Read: The Mummy of Spiti Valley
Where is Kibber?
Kibber is located at a distance of about 19 kilometers from the town of Kaza, headquarters of Spiti Valley. From Kaza, you will start driving on the Kaza Manali road until the Rangrik Bridge.
At the bridge, do not cross over and turn left because that will take you to Manali. Instead, continue straight ahead towards Kye Monastery. After the monastery, it is an uphill drive all the way to Kibber Village that can also get steep at several places.
The same road, in fact, continues to Chicham Village after crossing Kibber and the famous Chicham Bridge. After Chicham, the road then continues downhill and merges with the Kaza to Manali Highway near Kiato.
Kibber Road
The map below should help you understand the route I explained from Kaza to Kibber.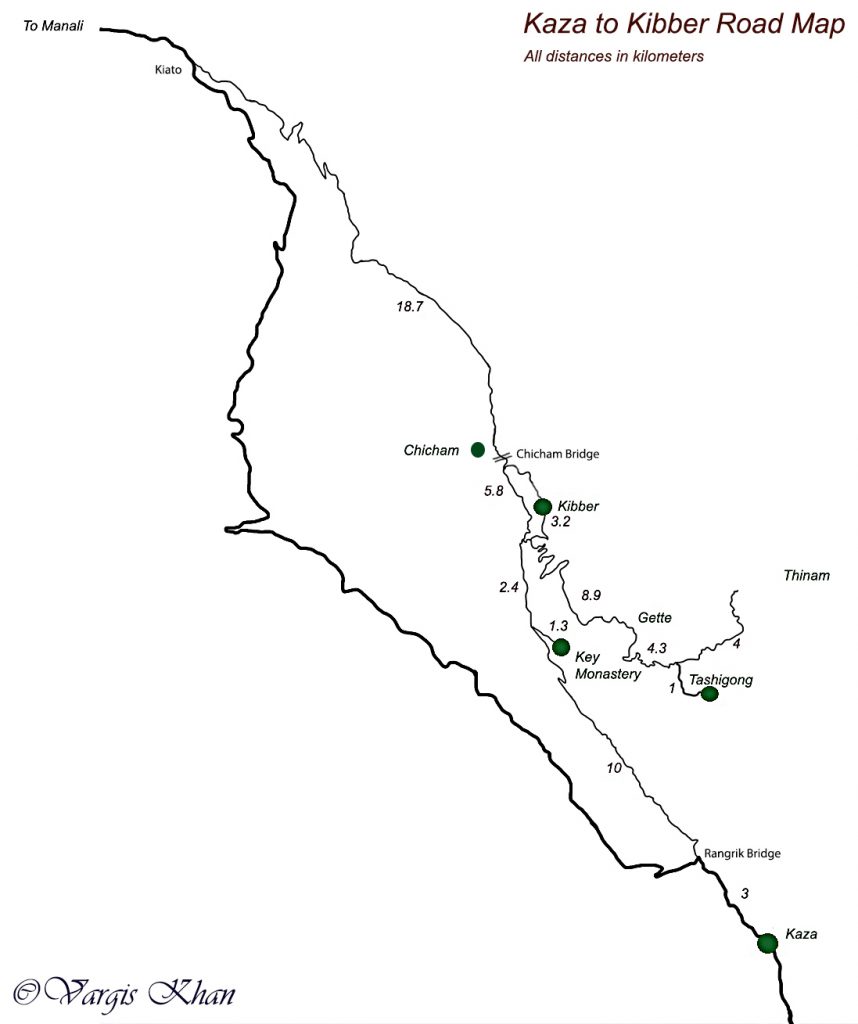 How to reach Kibber Village
In order to reach Kibber, you will first have to get to Kaza. There are two ways to do what. You can either take the road to Spiti Valley via Shimla, which remains open for all 12 months. This is also the easier one of the two ways. Or you can take the road to Kaza via Manali but this route remains open for only about 4-5 months in a year.
Shimla to Kibber
Now assuming that you were taking the road from Shimla to Kaza, the route of your journey will be as mentioned below. I will take Delhi as the starting point to explain the journey.
Delhi – Ambala – Shimla – Narkanda – Rampur – Pooh – Nako – Tabo – Dhankar – Kaza – Kibber
Traveling this way, the complete journey is about 780 kilometers and will take you 3-4 days to cover. The distance between Shimla and Kibber is about 450 kilometers. From Delhi, you will reach Shimla on Day 1, Reckong Peo on Day 2, and Kaza on Day 3. From there, you can then plan a day trip to Kibber and other villages like Hikkim, Chicham, Langza, Komik, etc.
How to reach Kibber Village from Delhi
If you were however not traveling by your own vehicle, you can still easily reach Kibber by public transport. From Delhi ISBT (or from any other town for that matter because I am using Delhi here just as an example) you will first board an overnight bus for Shimla.
Once you get to Shimla, you will then board the daily morning Bus for Reckong Peo from there. You will then stay overnight at Reckong Peo and board the Kaza-bound bus from there the next day. You will thus arrive in Kaza on Day 3 and then go to Kibber from there on Day 4.
Kaza to Kibber Bus
There is a daily bus from Kaza for Kibber at 5 PM every day. This bus first reaches Key Monastery, then Kibber village, and finally at Chicham in about 90 minutes.
The same bus then travels back to Kaza from Chicham via Kibber at 8 AM the next day. So you can actually use the same bus for getting to Kibber and coming back to Kaza from there.
If you did not want to wait for this bus till evening, you can catch a shared cab that travels daily between Kaza and Kibber. Or you can rent a private taxi as well if within budget.
Also Read: How to Handle AMS in Spiti Valley
Manali to Kibber
Now let me also explain how the journey will look like if you decided to travel via Manali. The route will then be as mentioned below.
Delhi – Chandigarh – Manali – Rohtang Pass – Gramphu – Batal – Kunzum Pass – Losar – Kaza
Traveling this way, the journey will be about 760 kilometers and can be done in 3 days. On Day 1, you will reach Manali after a journey of about 14-15 hours. On Day 2, you will cross Rohtang Pass and Kunzum Pass; and reach Kaza. On Day 3, you can then plan a day trip to Kibber from there.
An alternate way (if your destination was Kibber specifically) can be that on Day 2, rather than reaching Kaza, you can take the road towards Kibber that branches off from the main highway near Kiato. This way, you will reach Kibber on Day 2 itself.
A few things that you must keep in mind is that this route remains open only from late May to Mid October. It crosses over two high altitude passes that receive about 50 ft of snow each here and remain blocked from Mid October to Mid May. The roads on this stretch are a complete nightmare, especially between Gramphoo to Kiato.
Last but not least, you will also need to get a permit for Rohtang Pass without which you will not be allowed to cross over. To know more, please read How to Obtain a Permit for Rohtang Pass.
Manali to Kibber Bus
There are no direct buses from Manali to the village of Kibber. If you were traveling by public transport, you will have to first get to Kaza and then board the Kaza to Kibber Bus.
For the initial journey, you will first board an overnight Bus for Manali from your hometown. From Delhi or Chandigarh, there are regular buses available for Manali throughout the day. Plan an overnight journey though that can have you reach Manali by 5 in the morning. There is a daily bus from Manali at 7 AM for Kaza which then you will have to catch for the next leg of your journey.
Rohtang Pass permit is also not needed if you were traveling by Bus.
You must also consider the fact that your gain in altitude coming this way will be sudden and may trigger symptoms of AMS. To know more, please read How to Handle Acute Mountain Sickness in Spiti Valley.
By Train
The nearest train station is in Joginder Nagar, at a distance of 365 kilometers from Kaza. This is a narrow-gauge station and receives train a daily Toy Train from Pathankot railway station. The second option, and another Toy Train one, would be the Kalka Shimla Toy Train. The major nearest railway station however is at Chandigarh, about 500 kilometers from Kaza.
So you will first catch a train for Shimla, Joginder Nagar, or Chandigarh and then reach Kaza by Bus. The best of these choices would be to get to Chandigarh by train and travel to Kaza by Bus. For more information, please read How to Reach Spiti Valley by Train.
By Air
Bhuntar is the nearest airport to Kaza but is only domestic and has limited flight connectivity. Chandigarh is the major and the biggest nearest airport. For more details, please read How to reach Spiti Valley by Air.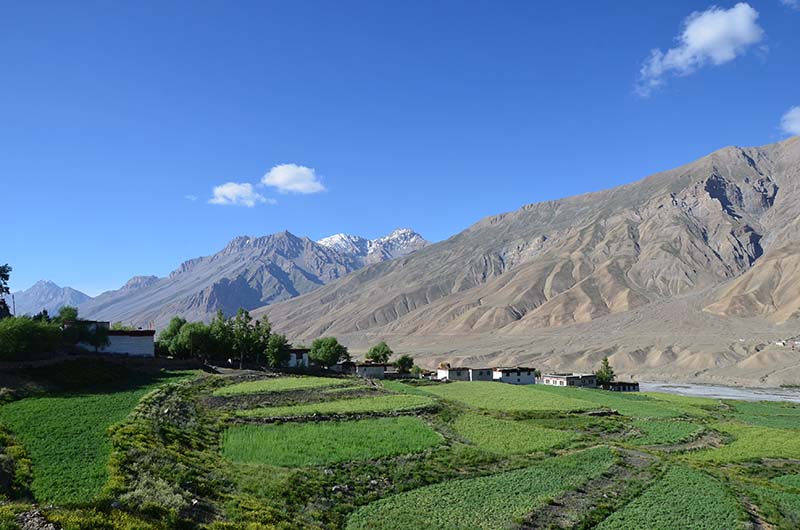 Places to visit in Kibber
Now that you have reached Kibber Village, let us talk about the tourist places that you will be visiting here. To be honest, Kibber is a small but moderately developed village in the middle of nowhere, and as such, there is not a huge list of tourist spots here.
Or if I was to rephrase and put it differently, this entire village and the region is actually a huge tourist spot in itself. Why? Because of the natural beauty and the serenity it offers.
So that will be your attraction # 1. No matter where you look or which direction you go in, you will be presented with vistas and landscapes that will inspire the awe out of you immediately. As I mentioned previously in the article, this is a village where time literally stands still.
You will feel every hour of the day passing you by. The natural beauty here is beyond comparison and the peace and tranquility are beyond comprehension.
With that being said, there are a few things in particular that can be mentioned as tourist highlights. Please note that in this post, I am just talking about places to visit in and around Kibber village only. I am not covering the rest of the Spiti Valley because that will just render the article too long.
That information is already covered in another post Sightseeing in Spiti Valley – What to see in and around Spiti that I will urge you to read.
Kibber Wildlife Sanctuary
The wildlife sanctuary that has been named after the village itself (or vice versa maybe) is one of the greatest attractions of Kibber. It was established in 1992 and spans over an area of 2,220 square kilometers.
The average altitude of the sanctuary is ranged between 3,600 to 6,700 meters and it is home to several endangered animals like snow leopard, Tibetan Wolf, Red Fox, Tibetan Wild Ass, Bharal (Himalayan Blue Sheep), Ibex, Tibetan Woolly Hare, Lynx Pika, and Pale Weasel. Several rare Himalayan birds like Bearded Eagle, Griffons, and snow Cock are also found here.
Not just the animals, but even the vegetation found in the sanctuary is rare, endangered, and of great value. Being located in a cold desert, the vegetation here is sparse but whatever little can be found is known for its high medicinal properties.
The star of the show, as you may as well call it, will remain to be the Snow Leopard. As many as 30 snow leopards have been found and documented here by the authorities. Other than the nearby Pin Valley, this is the second most favorite place to spot a Snow Leopard.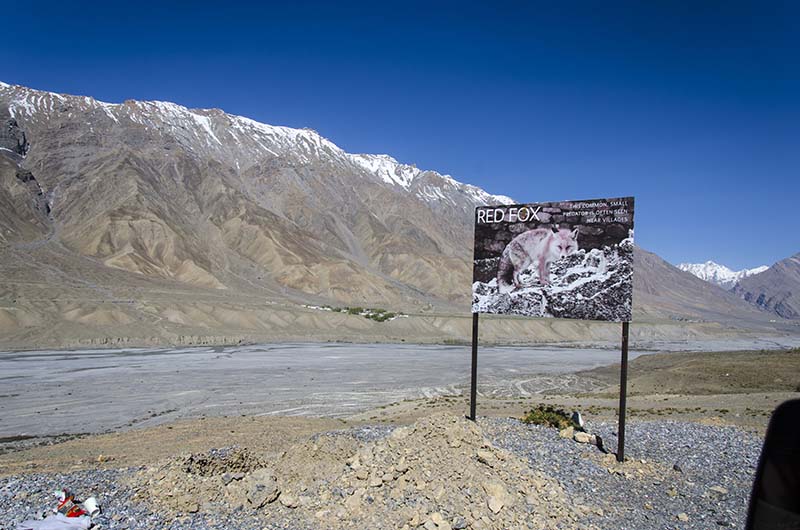 Kibber Monastery
There is a small monastery in the village that you can visit. It was founded by Serkang Rimpoche who was one of the seven teachers for the Dalai Lama. It is not a large monastery but its location at the highest point in the village makes it worth visiting.
Also Read: Schedule of Bus Service in Spiti Valley
Key Monastery
Key Monastery, also known as Key Gompa (also spelled Ki, Kye, or Kee) is the largest monastery of Spiti Valley. It is a religious training center for Lamas and is home to over 100 monks.
The monastery is located at the top of a hill at an altitude of 4,166 meters (13,668 ft) and built like a fort. Its castle-like appearance and stunning location make it possibly one of the most photographed sites in all of Spiti Valley.
Key Monastery is not really in Kibber village but falls on the way. It is located at a distance of about 14 kilometers from Kaza and Kibber is another 6 kilometers from here. A visit to this monastery, either while going towards Kibber or returning, is highly recommended.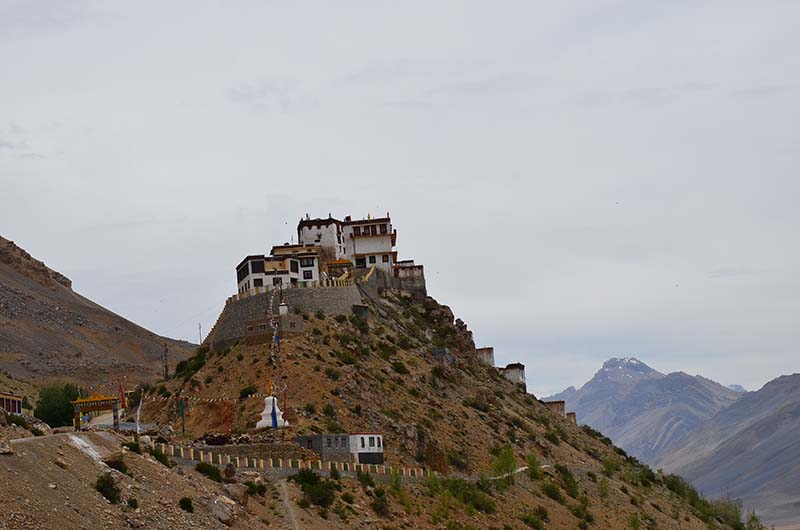 Marine Fossils
This entire belt, including the other nearby villages like Hikkim and Langza, is rich in marine fossils. The villagers here have these on display and can even sell you for a small price. Do note though that you will only recognize a marine fossil if you know what you are looking for. To common people like us, it will just look like a normal rock and you will not be able to tell the difference much.
What to do in Kibber
Apart from visiting all of the above-mentioned places, listed below are a few other things that you can do while visiting Kibber Village. Most of these, however, would require you to spend at least a couple of days in the village.
Kibber Snow Leopard Expedition
Let us face it. A Snow Leopard out here is not something that you are going to find just as you were driving by or looking out of your window. It can happen though but chances are far too less. Snow Leopards are shy animals and are notoriously elusive. This is what earned them their nickname 'grey ghosts'. If you want to see a Snow Leopard here, you got to have patience and time.
The good news, however, is that their sighting in the last few years has increased. So if a snow Leopard is what you are after, then you got to hire a local guide and be ready to trek through the sanctuary to find the trail.
There are several local operators in Kaza that organize the Kibber Snow Leopard tour. If not in Kaza, then you can talk to any of the locals in the village itself and they would love to be your guide. Several residents here are trained and recognized by the HP government as wildlife tour guides.
Venturing out on your own would be dangerous because you are then risking yourself to be the prey to either the Leopards or the wolves. Chances of you getting lost too will be extremely high. But most of all, spotting a snow Leopard on your own will be extremely tough.
Most of the expeditions to find a Snow Leopard in Kibber happen in the winter months. At this time, animals like the Himalayan goats and Ibex come down from the mountains to find food in the valley. Snow Leopards too follow them and thus the chances of finding one increase in winters.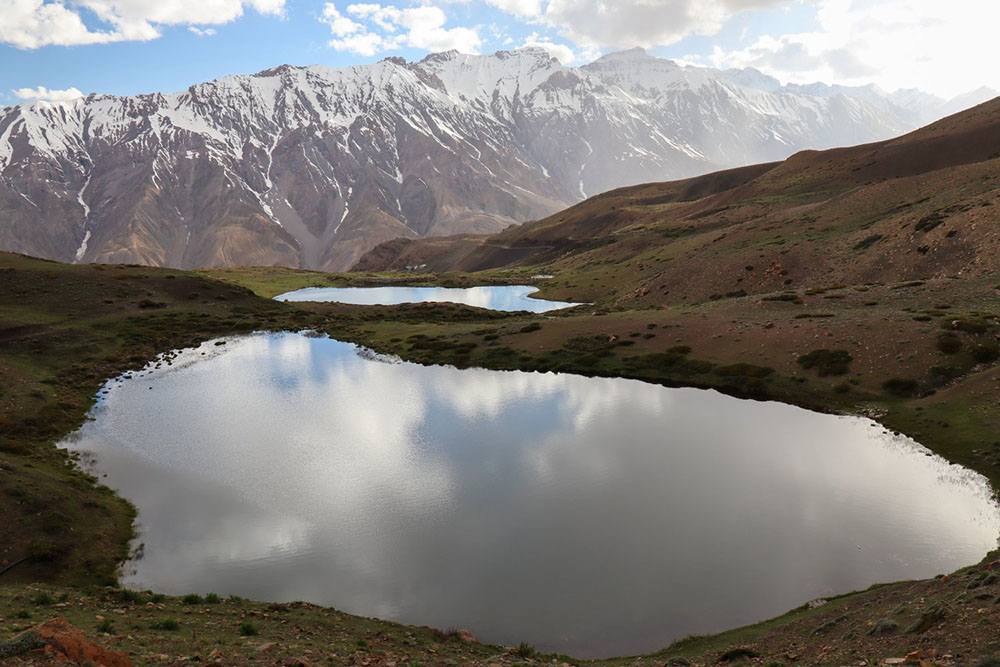 Parang La Trek
Parang La is a high mountain pass and this trek will take you from Spiti Valley to Ladakh in a total of 8-10 days. Kibber Village is one of the starting points for this trek. This is not an easy walk and will require that you have done some experience in trekking. The route leads over Parang La Pass to the upper reaches of the Parechu before ending at Lake Tso Moriri in Ladakh.
Parang La is at an altitude of 5,580 meters and can only be attempted from June to September. The entire trek passes through a deserted area. There are no villages en route and you will have to make proper arrangements before embarking upon the journey. Several tour companies in Kaza organize this trek and you can book either of them.
Also Read: How to Plan a Visit to Chandratal from Kaza
Fossil Hunting
If you do not want to buy the fossils that the villagers have to sell, you can hire a local and spend a day finding some fossils yourself.
Spot a Snow Leopard
Hire a local, get some porters, prepare yourself and spend a few days walking through Kibber Wildlife Sanctuary trying to spot a snow Leopard. When you will finally see one (if you do), the feeling of achievement will be beyond words. You would have seen a sight that only a handful few in the world had the opportunity to witness.
Take a Walk around the Village
I know, Kibber Wildlife Sanctuary, Parang La, Fossil Hunting, and all of what I mentioned above would require you to get out of your beds and do some physical work. If that is not what you came here for, then just sit back, relax and take a stroll through the village. See the local vistas, visit the monastery, talk to the locals, learn about their culture and get a taste of how life in Spiti goes on.
Photography
This is one of my favorite things to do in Kibber. It does not matter whether you were carrying a huge professional DSLR or just a cell phone camera, you will have loads of fun clicking hundreds of pictures here. From Landscape to wildlife to people, Kibber is capable to cater to a wide range of photography enthusiasts.
Be Amazed by the Skies and the Stars
That is right, you will definitely be amazed by the view that each night of Kibber brings. The pollution-free sky lights up with millions of stars each night; a sight that city folks like you and I rarely get to see. If you were into photography and were carrying a capable enough camera, you will have fun getting some long exposure shots of the Milky Way and star trails.
Also Read: Festivals of Spiti Valley
Do Nothing
That is right. Forget about all that I said above. Come to Kibber, check into a homestay, sit back, relax, let life slow down and enjoy it for a day. Let your mind get the rest it so badly needed and allow your body to rejuvenate.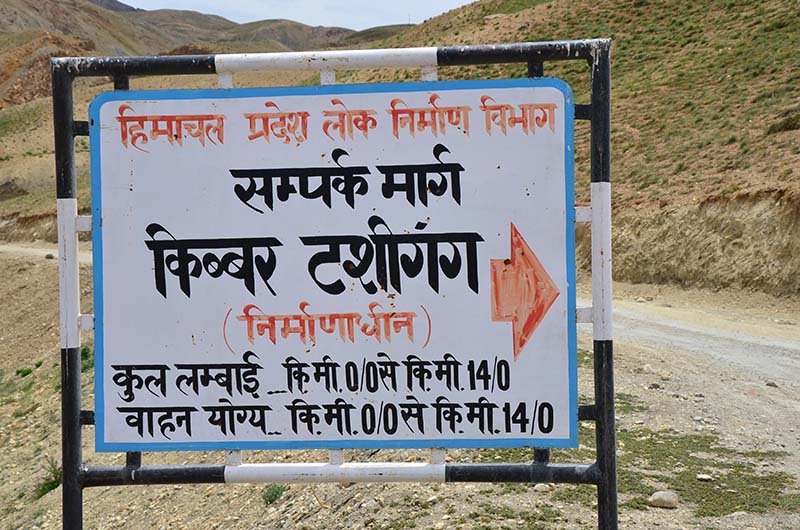 Weather in Kibber
Cold, harsh, and unpredictable are the three words that describe the weather of Kibber the best. This entire region is a cold desert which means that it remains cold for all 12 months; only the level of cold changes depending on the month of the year. I am writing this article now in December and the current temperature in Kibber is -17° Celsius. By January, it is expected to drop down to about -31° Celsius.
This should give you an idea about how brutal winters here are. It continues like this well until March and then the weather starts to change with the arrival of spring in April. Snow starts to melt and is mostly all gone from lower areas by Mid April.
From May till September, the weather remains pleasant with warm days and moderately cold nights. Winter starts to settle in by the end of September and the entire region receives its first spell of snow in early October. By November beginning, all high altitude passes get buried under snow blocking the roads and the valley turns white.
Spiti is in a rain shadow area which means that it either does not rain here at all or rains very little. However, the nearby areas of Manali and Kinnaur Valley receive huge rainfall each year. Landslides in the months of July and August caused by incessant rains become a common sight.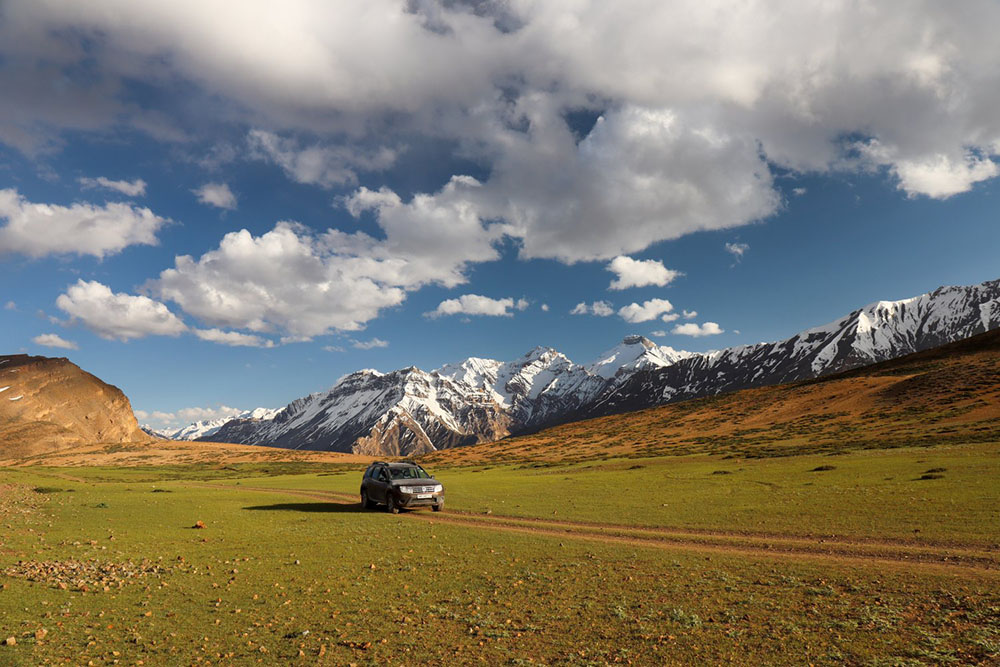 Best time to visit Kibber
Now based on the information above, I think it is safe to say that the best time to visit Kibber would be anytime between May to September. During this window as well, May, June, and September are the best months. At this time, the entire Spiti Circuit will be open and you can cover all places in Kinnaur, Pin Valley, and Spiti; and around Shimla and Manali. You can start your journey from either Shimla or Manali and exit via the other route.
You can go in July and August as well but just be prepared for the rains. Monsoon is my favorite time to visit the hills because this is when the rains bring the valleys of Kinnaur and Manali to life. So if you are OK with the rain and ready to risk the landslides and roadblocks, then these two months also are good enough to visit.
A lot of people plan to visit Spiti in the winter season as well but I will not recommend that for your first trip. Spiti in winter should be actually your third or fourth trip after you have properly familiarized yourself with the region.
Also Read: What clothes to Pack for Spiti Valley Trip
Clothes to Pack
What kind of clothes you should bring will entirely depend on the time of your arrival. For a trip between October to March, you must pack all heavy woolens, thermals, a windproof jacket, good quality gloves, monkey caps, sunglasses, woolens socks; and snow boots as well.
For a trip between May to September, just pack your regular cotton clothes with a few woolens and a windproof jacket and that should do. For a trip in July and August, pack clothes that can dry faster, like polyester.
Above all, irrespective of the time of your trip, you must pack a good sunblock lotion of the highest SPF you can find. Sun is very harsh in Spiti and if you were not properly covered and prepared, it will burn you to an extent that it will take your skin several weeks to properly recover. Also carry a lip balm, skin moisturizer, and cold cream.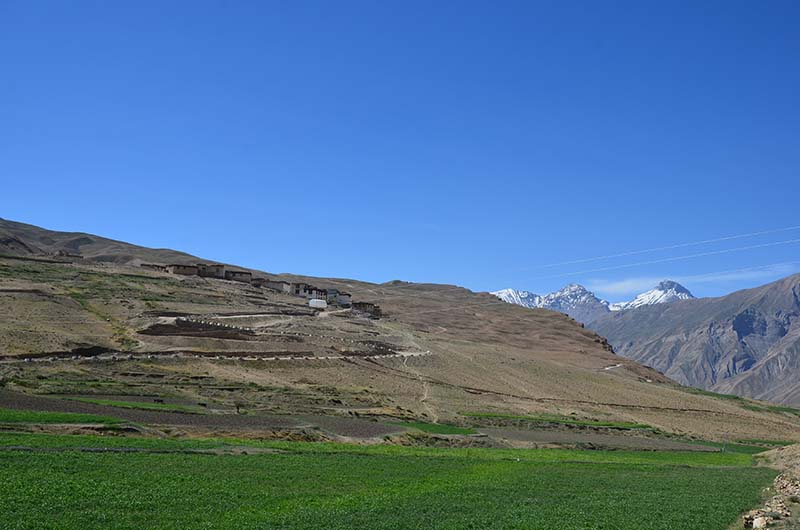 Where to Stay in Kibber
Tourism in Spiti Valley has been on the rise for the last few years. As a result, even in remote villages like Kibber, you can easily find a place to stay for a few days. As a matter of fact, a lot of people now even avoid staying in Kaza and head straight to places like Kibber.
Also Read: How to Prepare your Bike for Spiti Valley
Homestays in Kibber
Homestays are the only option of accommodation in Kibber as of now. I am sure in the future, there will be proper hotels and guest houses as well but right now, staying as a paying guest with a local villager is the choice of stay you get.
But do not get me wrong, all these homestays are well equipped with basic facilities like hot running water, double bedrooms, attached bathroom, good food, etc.
From a budget standpoint, the good homestays will cost you about Rs. 2000 – Rs. 2500 per day. I know, it sounds steep but these villagers have a very limited window of time when they can earn a little money from tourism.
This price, however, is for homestays that have more or less become guesthouses only. If you were looking for a budget option, then just take a stroll around the village and talk to the locals. Almost every house here serves as a homestay and I am sure you can find accommodation for a lesser amount as well.
Contact Details of Homestays in Kibber Village
Norling Homestay is probably the oldest and most famous one here. You can contact them at 9418556107. Deshek Homestay (Phone 7650074070) is another one that comes recommended. This is the same one that is also known by the name of Tashi Homestay. Thinley homestay (094597 25525) is another where a friend of mine stayed and her experience was a pleasant one.
Please keep in mind that there is no TV in any of the homestays here. Another thing I will suggest is to not book in advance and negotiate an on-the-spot deal. They will quote as high as Rs. 2000 – 3000 but you can easily negotiate down to Rs. 1000 – 1500 (if you were good at negotiating)
A few others are as mentioned below.
Sonam Home Stay: 9459980911
Kanamo Home Stay: 9459053363
Tanzin Home Stay: 9418720036
Serkong Home Stay: 8918355693
Hotels in Kibber
There are no hotels in Kibber but I am sure it is only a matter of time when someone builds one here.
Also Read: Shopping in Spiti Valley – What to Buy & Where
What and Where to Eat
Eating at the homestay you were staying at will be the best choice. The daily tariff at the homestays in Kibber usually covers your meals as well. It, however, will be a good thing to clarify it with the owner before you decide to check in. Ask them if the money you are paying will include meals and if yes, then how many.
If you decide to eat out then there are a couple of small eateries where you can try some local food. To know about what kind of foods you should try while in Spiti, please read Food Items to Try during your Spiti Trip.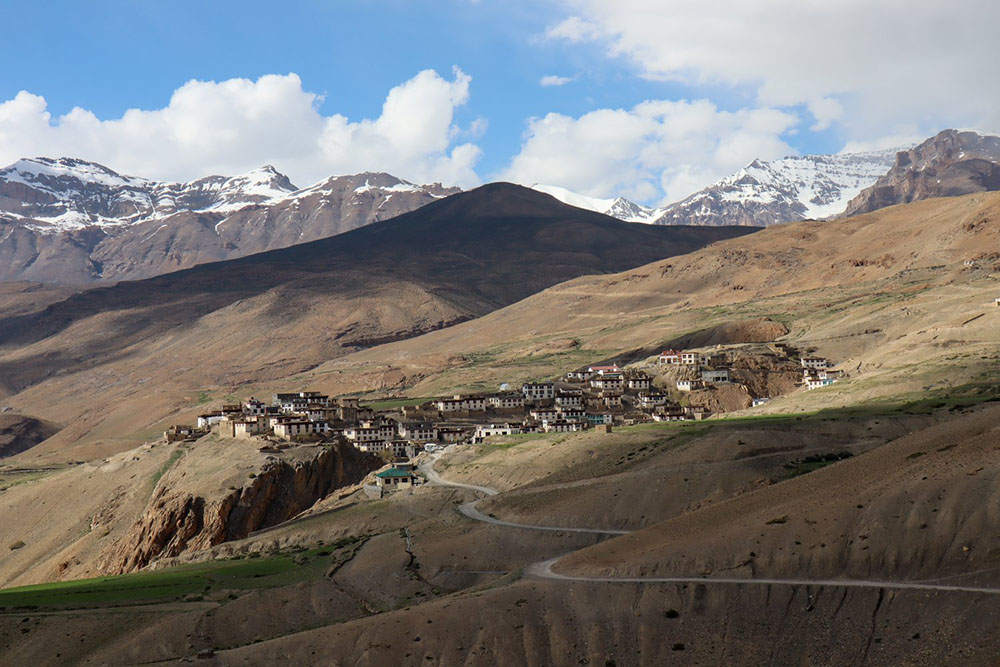 Other Tips
Below are some other tips that can be of help for planning a trip to Kibber.
ATM / Banks
There are no ATMs or banks here. The nearest one is located in Kaza.
Mobile & Data Connectivity
There is no network here. Your cellphones will only work in and around Kaza and you will lose connectivity a couple of kilometers outside the town. For more information, please read Mobile Network & Data Connectivity in Spiti Valley
Kibber in Winter
If you were visiting in the winter season, the only way to get to Kibber is by hiring a local 4×4 vehicle from Kaza. Due to the snow on the road, local buses will stop plying and a 2×4 vehicle may not be able to reach here.
Kibber Temperature
Below is how the temperature in Kibber trends. Please note that these are just average numbers and the temperature can go up and down as well.
Kibber in January: Average Minimum -10°C; Average Maximum 5°C
Kibber in February: Average Minimum -15°C; Average Maximum 10°C
Kibber in March: Average Minimum -10°C; Average Maximum 15°C
Kibber in April: Average Minimum 5°C; Average Maximum 20°C
Kibber in May: Average Minimum 5°C; Average Maximum 25°C
Kibber in June: Average Minimum 5°C; Average Maximum 25°C
Kibber in July: Average Minimum 10°C; Average Maximum 25°C
Kibber in August: Average Minimum 10°C; Average Maximum 25°C
Kibber in September: Average Minimum 8°C; Average Maximum 20°C
Kibber in October: Average Minimum 5°C; Average Maximum 15°C
Kibber in November: Average Minimum 0°C; Average Maximum 10°C
Kibber in December: Average Minimum -5°C; Average Maximum 5°C
Altitude of Kibber
Kibber is at an altitude of 4,270 meters or 14,200 ft.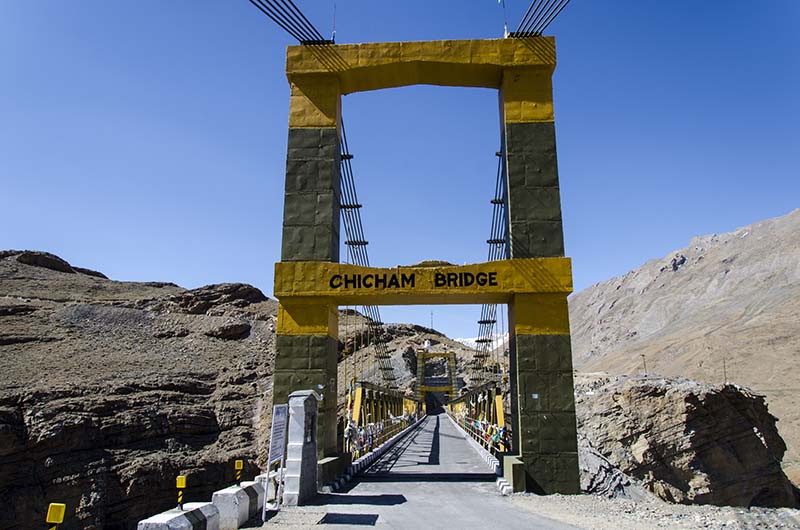 Distance Chart
Kaza to Kibber Distance: 19 Kilometers
Kibber to Chandratal: 75 Kilometers
Kibber to Chicham: Kibber to Chicham is only about 5 kilometers. The new bridge is now operational, connecting the villages by road.
Kibber to Hikkim: 32 kilometers approximately.
Kibber to Leh: 530 kilometers approximately. This distance is by Manali to Leh road and not via Parang La trek.
Kibber to Losar: 42 Kilometers
Kibber to Manali: 187 kilometers; via Kiato, Losar, Kunzum Pass and Rohtang La.
Kibber to Narkanda: 366 kilometers; via Kaza, Nako, Rampur route
Kibber to Tso Moriri: 505 kilometers; via Manali Leh Highway and not Parang La trek.
Why Kibber is called a cold desert?
Kibber is known as a cold desert because of its barren landscape and extremely cold weather. Vegetation is extremely sparse here and not much grows.
Buses to Kibber
The nearest bus stand to Kibber is in Kaza and that is the only place from where a regular HRTC bus plies to Kibber. There are no other buses from any other town like Shimla or Manali.
Conclusion
I hope the information above on visiting Kibber Village was of help. If you have any other questions; or need any more information; please feel free to ask in the comments section below, or at our Community Forum, and I will be glad to answer.