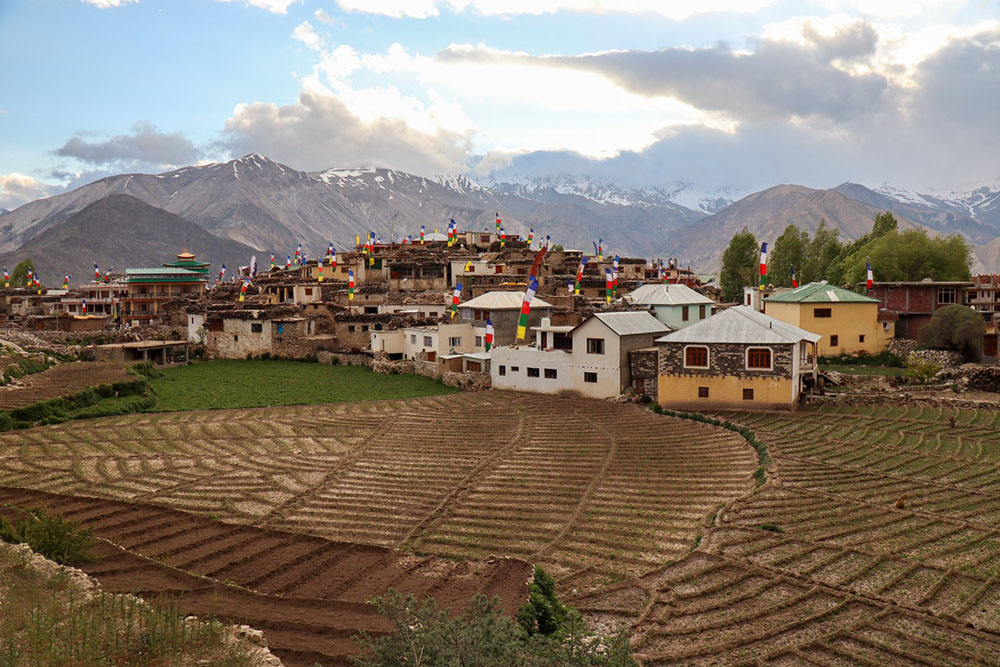 This post is in continuation with a previous one and a part of my Spiti Valley Travelogue. We traveled from Delhi to Kalpa in 4 days, halting at Narkanda, Sarahan, and Chitkul on the way. On Day 5, we rode from Kalpa to Nako and stayed there for the night. Details of the fifth day of the journey are provided in this article. If you want to read the previous parts of the travelogue, please click on the link below.
Before we move on to today's journey, let me talk a little about Nako Village and provide some necessary details that can help you plan a journey here.
Nako Travel Guide
I was very excited about visiting Nako because of only and only 1 reason, Nako Lake. I had seen a lot of pictures of it and it looked so beautiful in all of them. The very thought that I will be standing on the banks of Nako Lake today excited me even further. Even at one point when Narender asked what was so special about Nako, I went on at length to describe how beautiful Nako Lake is, all from the pictures I have seen on the internet.
About Nako Village
Nako is a small village in the Kinnaur District of Himachal Pradesh. Yes, that is correct. Nako is actually in Kinnaur and not Spiti, which people commonly believe. The area is considered as upper Kinnaur Valley but the landscape and topography of the area match more to the barren brown of Spiti than the lush green of Kinnaur. The village of Nako is where Kinnaur ends and Spiti Valley starts.
Nako is basically just a handful of houses, a monastery, and a man-made lake in the middle of nowhere. The population of the village is only 500 odd people. It is located at an elevation of 3,625 meters (11,893 ft) with the backdrop of the Reo Purgyil peak which has an elevation of 6,816 meters.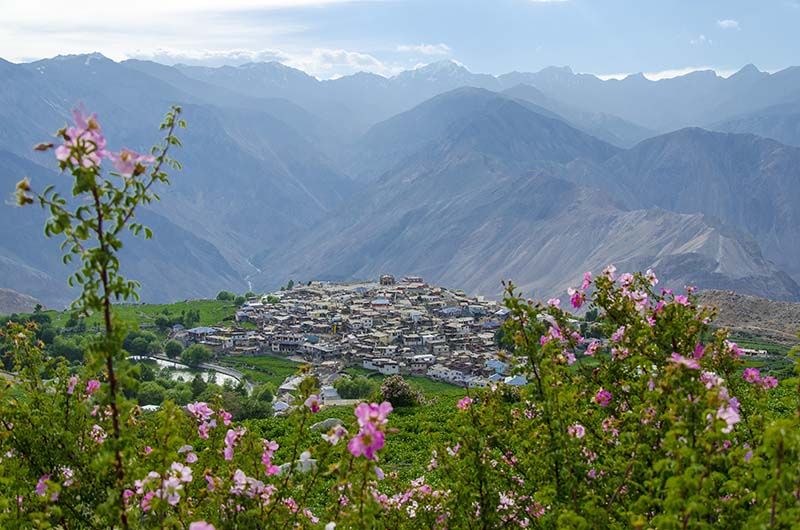 In recent years, as tourism in Spiti started to increase, Nako turned into a major stopover for people traveling on the circuit. There are several hotels here and the absolute peaceful silence of the place makes it worth spending some time at. The village is best known for its lake, the monastery, and a stunning view of Himalayan peaks around. The entire village is surrounded by green fields and presents a high contrast to the naked desert-like mountains all around it.
Also Read: How to Plan a Trip to Kalpa
How to reach Nako Village?
There are two ways that Nako can be reached. The first and the easier way is via Shimla and the second route is via Manali.
Via Shimla: Delhi – Chandigarh – Shimla – Narkanda – Rampur – Pooh – Nako
Via Manali: Delhi – Chandigarh – Manali – Rohtang Pass – Gramphoo – Batal – Kunzum Pass – Kaza – Dhankar – Tabo – Nako
Delhi to Nako Village
The road via Shimla is 650 kilometers whereas, via Manali, it is about 850 kilometers. Via both sides though, from Delhi, it is a journey of around 3 days. If you rushed and drove for long hours (14-15 hours a day), then you can also make it in 2 days as well.
Delhi to Nako Bus
There is no direct Bus from Delhi to Nako. You will have to change buses at Shimla and Reckong Peo in between.
Shimla to Nako
If you chose to take the route via Shimla, and if you were coming from Delhi, then your destination on Day 1 can either be Shimla or Narkanda. Personally, I find Narkanda to be a much better place to stay than crowded Shimla. It is much more peaceful unless you wanted to spend some time in Shimla and go sightseeing.
On Day 2, you have three options to break your journey. You can either go to Sarahan and stay there for the night, which is about 100 kilometers from Narkanda. Or you can go to Chitkul or head straight to Kalpa. If you were short on time, you can even travel directly from Narkanda to Nako as well but it will be a long drive so start early.
Shimla to Nako Bus

From Shimla, you will first have to board the HRTC bus for Reckong Peo and then board a Kaza-bound bus to get to Nako. This bus remains operational all 12 months except for peak winter months when too much snow can sometimes block the road.
Manali to Nako
If you were planning to travel via Manali, you can only do so between June to September because the rest of the time, this route remains closed. Starting from Delhi, you will reach Manali on Day 1 which is easily a 14-15 hours drive. On Day 2, you will cross Rohtang and Kunzum Pass and reach Kaza. From Kaza, you can then drive to Nako on Day 3.
Manali to Nako Bus
From Manali, you will first board a bus to Kaza and then catch the daily bus to Reckong Peo from there. The Manali road, however, is open only between late May to Mid October and is closed for the rest of the year so this bus too is only available in these months.
Also Read: How to Plan a Trip to Manali
By Air
The nearest airport to Nako is in Shimla, at a distance of 312 kilometers. From the airport itself, you can hire a cab to drop you at Nako which will cost you about Rs. 5000 – 75000. Or you can board a bus from Shimla and reach Nako via Reckogn Peo as I explained above.
Other than Shimla, the next best option is Chandigarh Airport which is a major airport and well connected to the rest of the country.
By Train
The nearest railway station is also in Shimla but it is only connected by the famous Kalka Shimla Toy Train. After Shimla, the next major railway station is in Chandigarh.
What to see in Nako
Nako, as I mentioned above, is a very small village in the middle of nowhere. And as such, there are not many places to visit in Nako. The natural beauty of the place will definitely be its start attraction followed closely by its tranquility. Sitting out here, the only sounds you will hear will be of wind, monastery bells, people talking and cows mooing, that is all. If you ever wanted to visit a place where time stands still, then Nako is where you should be headed to.
With that being said, there are a few places that can be called tourist places in Nako.
Also Read: How to Plan a Trip to Spiti Valley – A Complete Travel Guide
Nako Lake
Nako Lake is a small man-made lake at an elevation of 3,636 meters. It is an important part of the village and is surrounded by plantations of willow and poplar trees. Though it may not be much to look at during summer, it presents a stunning sight during the winter season when it freezes completely. During winter, ice skating is practiced on the lake's surface.
Can you go fishing in the lake? This was a question asked by someone recently so I will answer it here. No, you cannot go fishing here. Actually, I do not think there are any fish in the water at all but even if there was, the villagers will not allow you to.
Also Read: Tourist Attractions in Spiti Valley
During the day, the lake looks more like a pond of green water but try some photography here during dusk and dawn. You will get some stunning shots. For the rest of the time, just take a walk around the lake in a peaceful setting.
The lake is surrounded by plantations of willow and poplar trees on all sides. At dusk, you will find a lot of birds flocking the lake and creating a very pleasant environment. Boating in the lake was started a few years ago during the summer season but it stopped for some reason. I did not find any boats in the lake when I was there recently.
During the winter season, the lake freezes completely and becomes the ground for ice skating for the locals.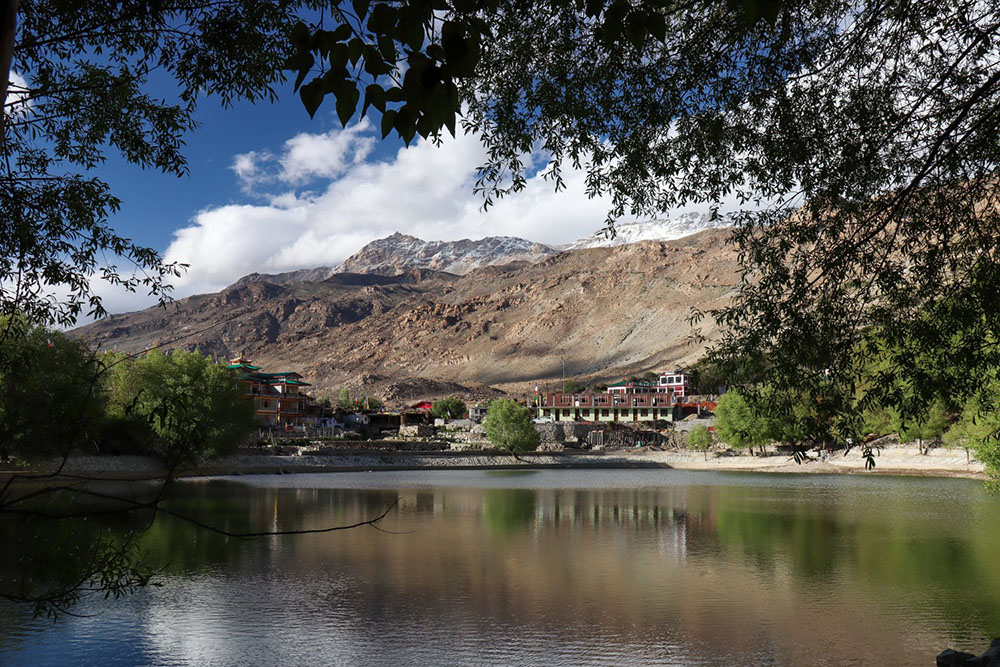 How to reach Nako Lake
Nako Lake is right in the middle of the village and the entire Nako is built around it. You will have no problem spotting a lake amidst a small number of houses but in case you do, just ask any of the locals and they will point you the way through the narrow streets of the village.
Nako Monastery
Nako Monastery is an ancient monastery that has been dated to the 11th century (1025 AD). It consists of four large halls and is the prime attraction of the village. The monastery boasts bright and colorful artwork and sits facing Tibet. Even though the village is a very small one, finding your way to the monastery can be a bit tricky and you will be better off asking the locals for directions. The iconographic artwork in the monastery definitely makes it worth a visit.
The monastery was badly damaged in the Spiti earthquake of 1975. A lot of artwork in the monastery at this time was vandalized. Due to no repair or maintenance, and the severe winter season of 1998, the monastery was in a near-collapse stage and remained in ruins for a long time.
Later, the University of Vienna launched stepped in with the Indian National Trust for Art and Cultural Heritage (INTACH), the Buddhist Association of Nako, and local residents of Nako to carry out restoration works.
Chango Monastery
Chango is a small village located about 25 kilometers from Nako towards Kaza. The monastery here has a prayer wheel made of Yak Skin, 3.5 meters (11 ft) in diameter, and is believed to be over 500 years old. It can be counted among tourist places near Nako and is a must-visit as you leave the village and move further towards Kaza.
Also Read: How to Plan a Trip to Shimla
Kazigs / Ka Loops
Also known as Ka Loops, it is a series of hairpin bends between Khab and Nako. One by one you climb up the loops and vistas keep getting better and the road below too looks quite scenic, like a crawling snake. These are named such because they are just before the village of Ka. After the loops, you first reach Ka village and then Nako.
The confluence of Spiti & Sutlej Rivers at Khab
Just before Kazigs, you will come across the confluence of two mighty rivers, Sutlej and Spiti. A beautiful spot as these two rivers merge to become one. The entire setting around the bridge is very scenic and definitely deserves a break. The last time I was here, some villagers were setting up a small Dhaba on the banks of the river. So you can, in fact, stop and get something to eat as well as you cross the bridge.
Also Read: How to Plan a Trip to Chail
Malling Nallah
I am adding this as a tourist attraction but it is actually not. Malling Nallah is an infamous stretch, a dreaded one for that matter. When in its full flow, getting across this Nallah can make your heart jump into your mouth.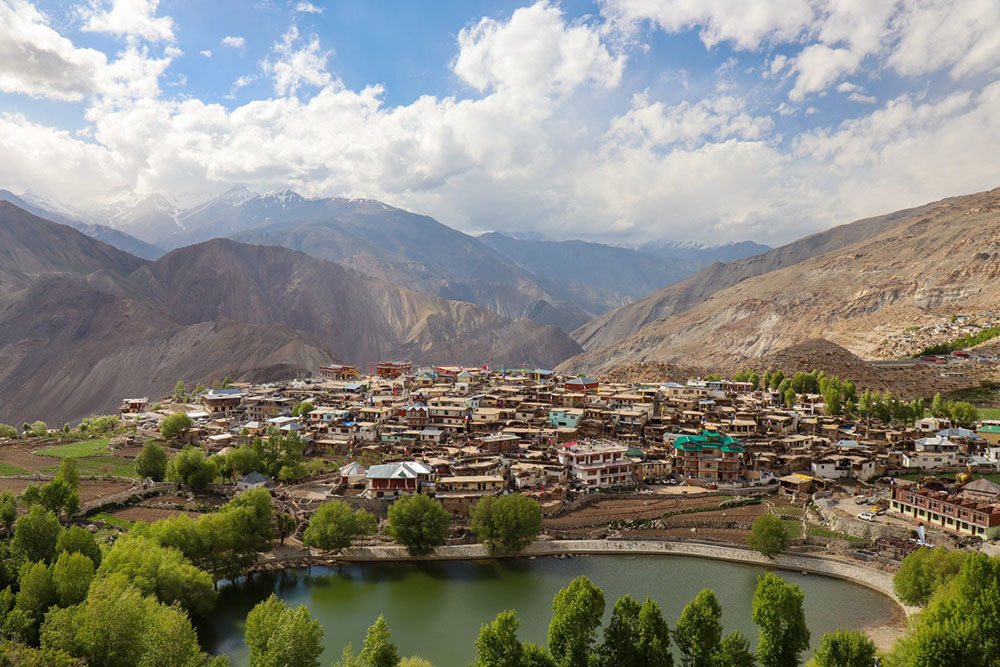 Things to do in Nako
Relax and enjoy your time here doing nothing, that is Nako for you. Just take a walk around the village and feel what it is like to live in a place so peaceful. If you were up for it, then you can just walk to any of the nearby surrounding hills and catch a bird-eye view of the village. You will notice small Gompas and monastery bells planted at a height around the village. Just walk to any of those and you will get a stunning view, like the one in the first picture on this page.
There are also some shepherd trails from Nako that lead to Chango, Hango, and Tashigang village but those are for people on a trekking expedition. As a regular tourist, enjoying the natural beauty, clicking plenty of pictures, and gazing at a pollution-free sky filled with countless stars is what you should be doing in Nako.
Where to Stay in Nako
There are plenty of hotels in Nako now and you will have no trouble finding one. Just take a walk around the village and you will easily find a place suiting your needs. Finding a budget hotel could be a problem though. The average cost of stay here per day is Rs. 1500 to Rs. 2000 at least. During the tourist season, it can even go up.
Nako Monastery does not have an option of night stay like Tabo Monastery. There is also an HPPWD rest house in Nako. If it was open at the time of your arrival and the caretaker allowed you to stay, it is a great place to stay in Nako.
Where to Eat
There are a few local dhabas that serve almost all of north Indian dishes as well as Tibetan food like momos, Chowmein and Thukpa. The best place to eat here will be in your own hotel though.
Mobile Network
Only BSNL works in Nako Village but the reception will be extremely bad. I tried making a few calls but half of the time, the call did not go through. When it did, the voice quality was so bad that I could barely make out what the other person was saying. On the positive side though, you will at least be able to send text messages out. For more information, please read Mobile Network in Spiti Valley and Data Connectivity.
Electricity & TV
Electricity is available in the village but power cuts are frequent. On this day, when we reached Nako, there was no electricity available and it remained gone the entire time we were there. Even our dinner was done in candlelight as you will read about it further in the article.
Only one hotel here has a TV. So if that is something you do need during your vacations, please ask before checking in.
Acute Mountain Sickness
Nako is among the highest villages of Kinnaur Valley. After Nako, the road is completely downhill until Kaza. So yes, some people do feel the symptoms of altitude sickness here. If you too were feeling uneasy, please do not stay in Nako and go to Tabo instead. There is no medical facility available here and if your condition was to worsen at night, you will be stuck here. For more details, please read How to Handle Acute Mountain Sickness in Spiti Valley.
Permits for Nako
There is no permit needed for Indian nationals to visit Nako. However, foreigners are required to procure a permit from either Shimla, Reckong Peo, Kaza or Manali. For more details, please read How to get an Inner Line Permit for Spiti Valley.
Weather of Nako
Cold and harsh are the two words that describe the weather of Nako Village the best. Due to its high altitude, it never gets hot here. Even during the months of May and June, you will need a jacket to walk around during the day. It is always windy here and there is a definite chill in the wind. The average maximum temperature in months like June and July will be around 20°C and minimum at 5°C.
The months of winter bring extreme weather when everything freezes. Even the water in the pipes freeze at this time and Nako Lake turns into a thick sheet of ice. The average maximum temperature in winter never goes above 0 and the minimum temperature falls down to -20°C.
Other than the cold, the sun will be your next biggest worry. You must bring a sunblock lotion of the highest SPF that you can find or you will get some very serious sunburns. The sun in Nako and the rest of Spiti Valley is very harsh.
Best time to visit Nako Village
The best time to visit Nako will be from late May to September. This is also the best time to visit Kinnaur and Spiti Valley. All the roads at this time will remain open and you will be able to cover all major tourist spots in Kinnaur and on Spiti Circuit. The weather too will be a little enjoyable with pleasantly cool nights and moderately warm days.
Kalpa to Nako Travelogue
Now let us get back to the travelogue and take a look at our journey for the day from Kalpa to Nako.
Morning in Kalpa greeted us with a sight that I will never forget for the rest of my life. Sunrise from behind Kinner Kailash.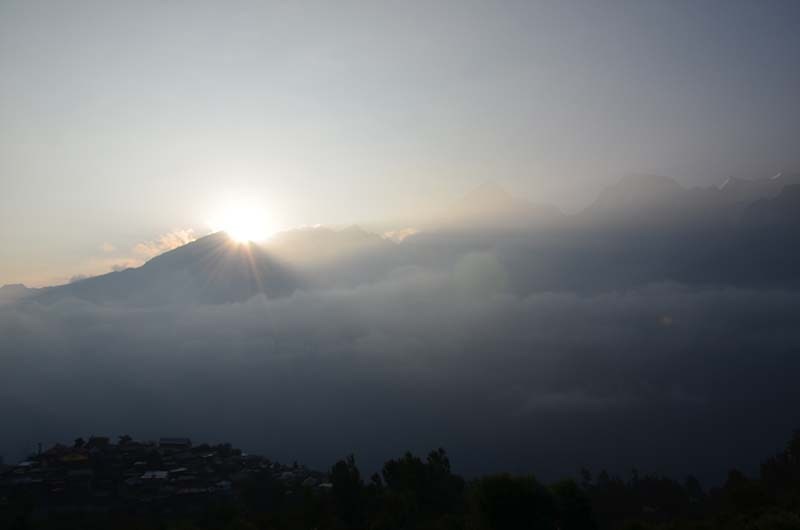 By 9 we were all packed and ready to start our journey towards our next destination, Nako.
Kalpa to Pooh   
Pretty soon we were saddled and on our way back towards Reckong Peo from which we continued towards Pooh. The road was as usual not there, just a track of dirt and stones.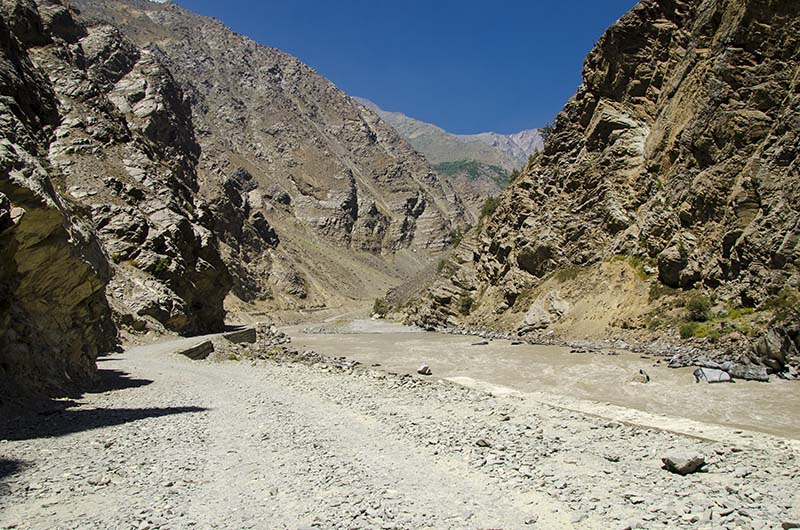 Clearing the landslide.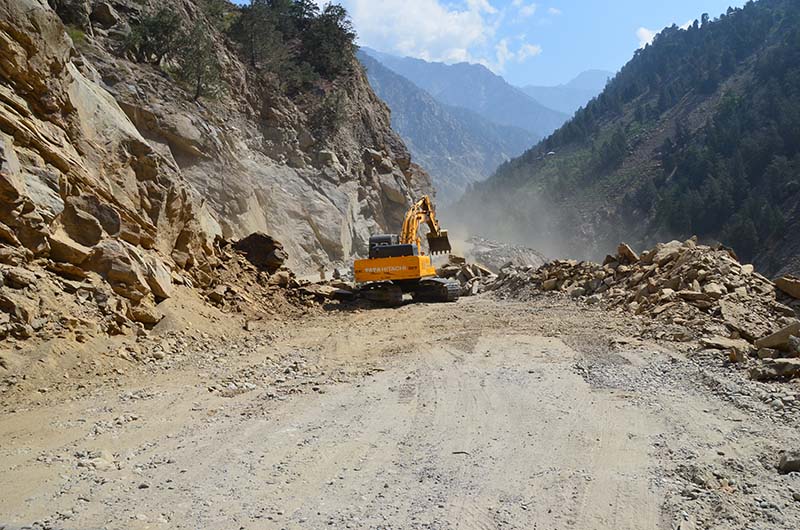 Saw this beautiful waterfall.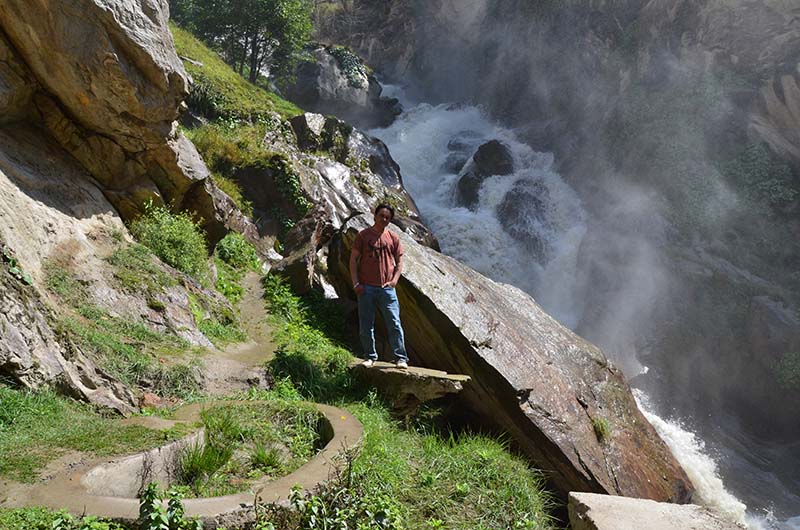 The mighty Sutlej.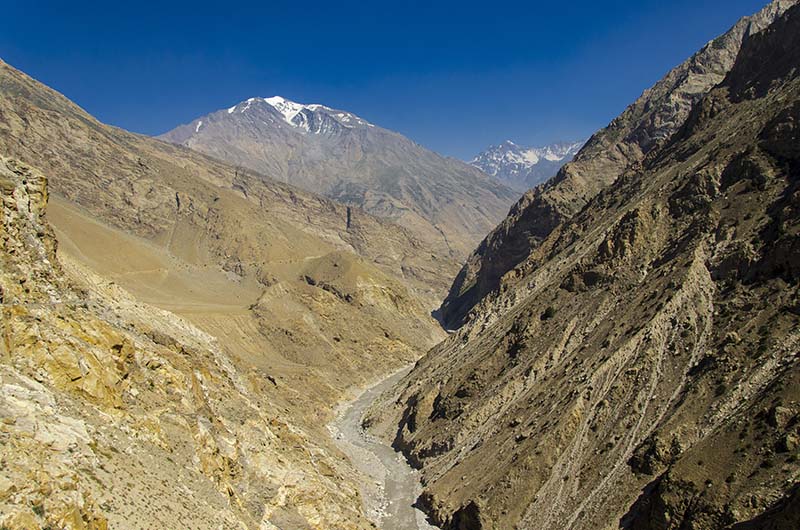 Near Pooh, and thank god, we once again found what we were missing since Kalpa, A ROAD.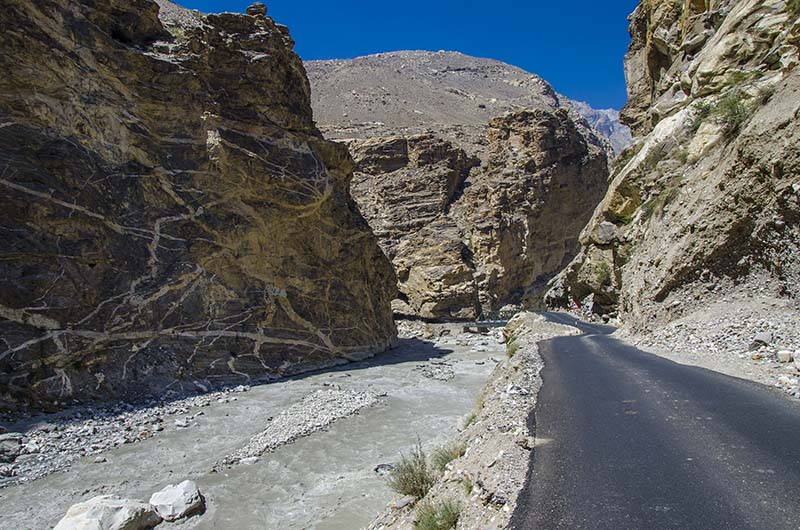 Funny road sign.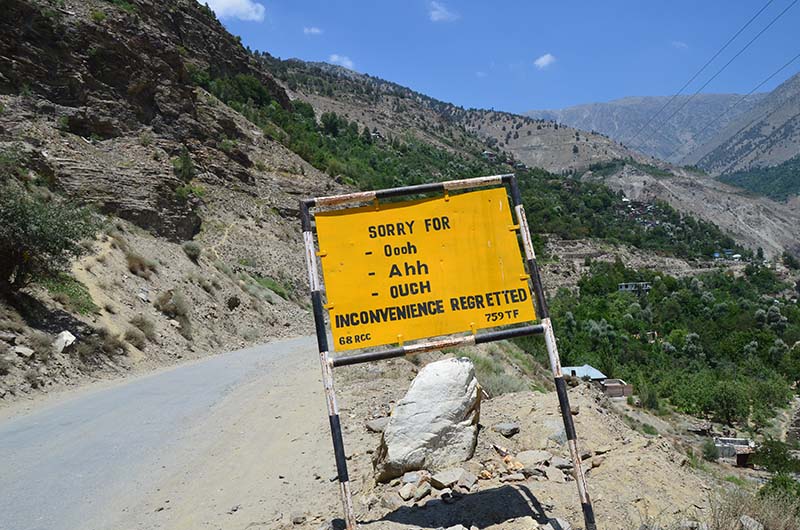 By now the sun had come up and it was starting to get really hot. Despite the helmets, we were both severely tanned, to the extent that I could feel a burning sensation on my arms and face. Here I realized that we were not carrying any sun-screen lotion which we should have and now were completely exposed to the harsh sun of Spiti.
But the beautiful landscapes made it worth all the pain.
Also Read: What to Pack for Spiti Valley Trip
Pooh to Nako
By noon we had crossed Pooh and started our ascent on Kazigs, towards Nako.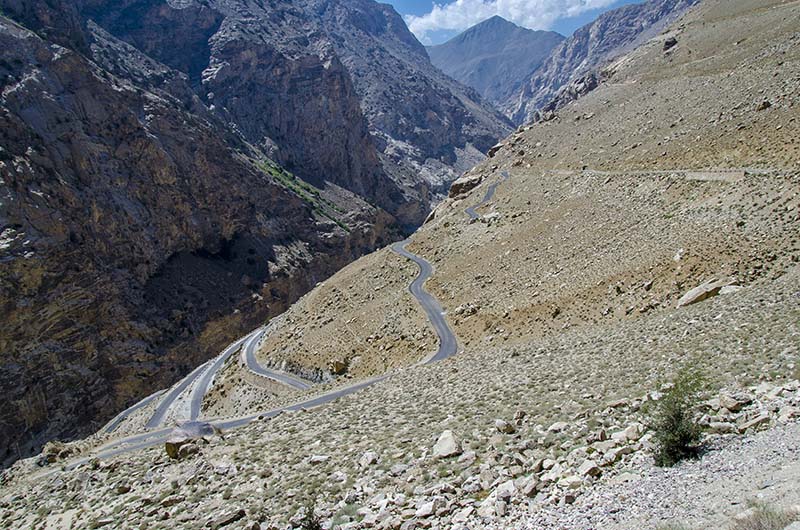 Did you notice even a single vehicle in the picture above or a single living soul on the road? There was no one except the two of us. At one point this road divided into two, one going straight and the other one in a different direction, up the hill.
We stopped and started to wonder which one to take. There was no signboard and no one around to ask. As a matter of fact, we had not seen a single human face in the last 2 hours.
After a brief discussion, we decided to take the road that was going uphill, based on the fact that for the last 3 days we had to leave the highway and go uphill to reach our destinations. This decision proved right because just after a few meters we saw a signboard that read Nako.
The Lake
After riding for about half-hour we reached Nako and man was I disappointed. The beautiful Nako Lake that I was so keen on visiting turned out to be nothing but this.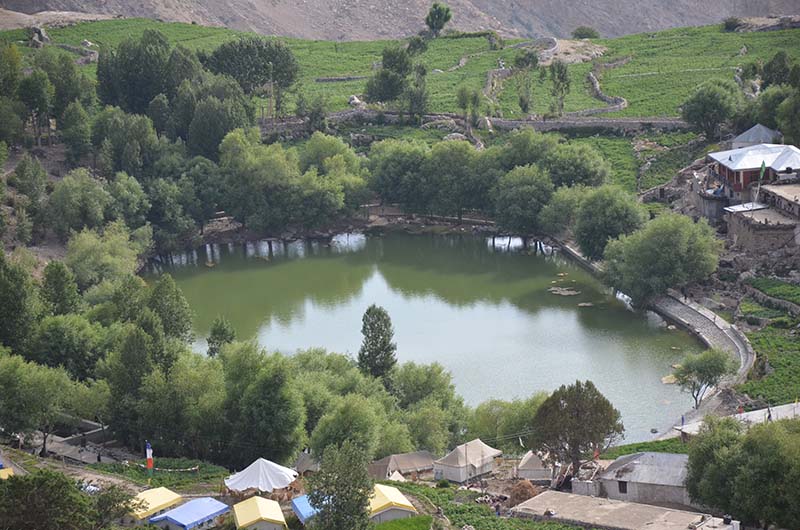 I just stood there for a while, disappointed and wondering if there was another lake in Nako apart from this one, which I had seen pictures of ( which there wasn't, this was it). Or if people had posted pictures of some other lakes and called them as Nako Lake. I found the other answer to my question later that evening.
Also Read: Taxi Rates in Shimla
HPPWD Rest House
We checked into a government guest house, right next to Nako Lake. At the guest house, I noticed a picture of Nako Village, exactly like the one below, and asked the caretaker where I could get this view. He pointed towards a flag on top of a nearby hill and after freshening up, it was time for us to do some hill climbing (the only reason was that I wanted to go up there and click this picture).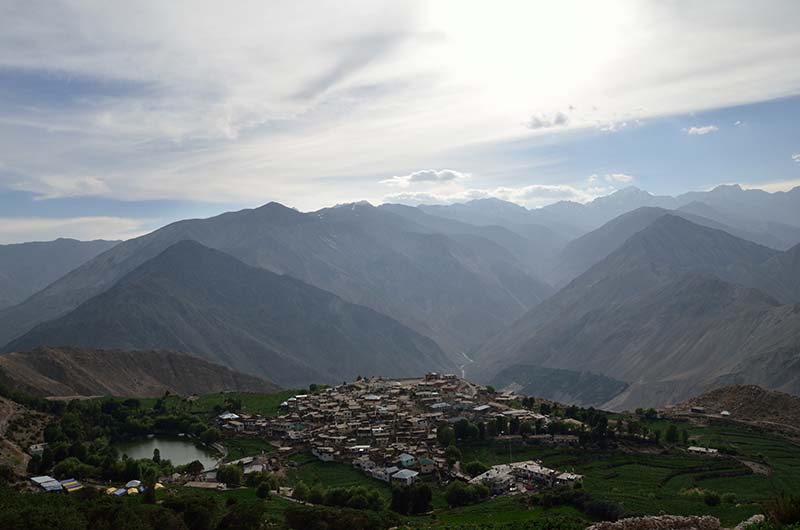 Trekking in Nako
Our trekking expedition lasted a little longer than we expected because once we reached the flag, we decided to keep climbing further, crossing over the pea fields of the locals. By the time we got down, the sun was starting to set.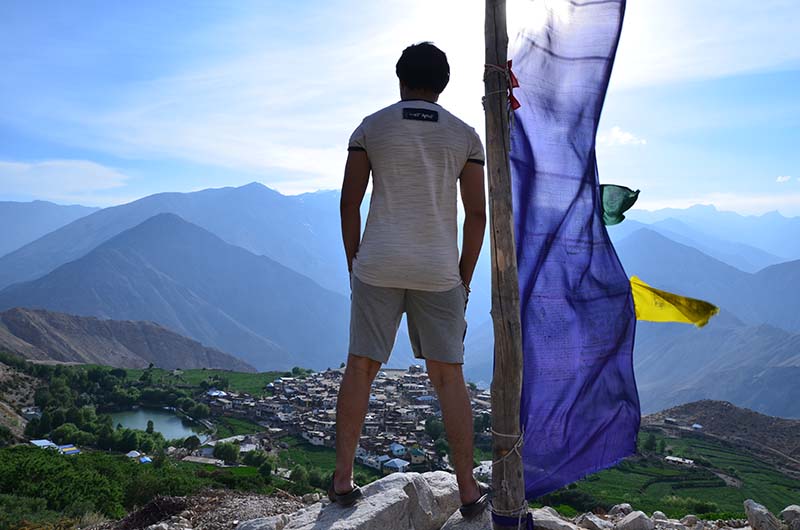 Despite all the disappointment, I still decided to click some pictures of the ugly Nako Lake, and damn, it did look beautiful in pictures.
Night at Nako was without power due to a power cut because of some fault in wires somewhere, not because these guys here don't have electricity because they do. So we had no choice but a candlelight dinner and go to sleep.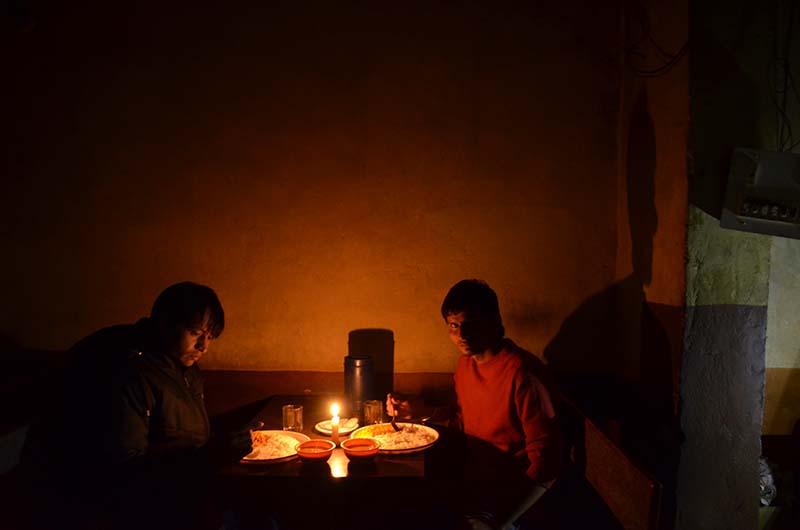 Journey Ahead: Nako to Kaza – The Heart of Spiti Valley
Please click on the link above to take you to the next part of this article. Mentioned below, however, is a little more information about traveling to Nako if you would like to gather more details.
Other Tips
Mentioned below is some other information that can be helpful in planning a trip to Nako.
Nako to Shimla Bus

If you were traveling the other way around, you will wait for the daily Kaza to Reckong Peo Bus that arrives at Nako at around 10 AM. You will board this bus and get down at Reckong Peo. From Peo then, you can board any bus going towards Shimla.
Nako to Chitkul
Chitkul is a journey of about 8 hours and can easily be done in a day. There is no direct transport available between the two places though and you will again have to rely upon changes buses at Reckong Peo.
Nako to Sangla
Sangla falls about 20 kilometers before Chitkul and the journey will pretty much be the same as I explained above for Chitkul.
Nako to Reckong Peo Bus
This bus actually is the Kaza to Reckong Peo bus that starts from Kaza in the morning, arrives at Nako at around 10-11 AM, and reaches Peo by evening.
Journey Ahead: Nako to Kaza – The Heart of Spiti Valley
Conclusion
Please click on the link above to continue reading the next part of this travelogue. I hope the information and details above on Nako were of help. If you have any questions; or need any other details; please feel free to ask in the comments section below, or at our Community Forum, and I will be glad to answer.