When you plan a bike trip to Spiti Valley, you know that you will be riding on some very challenging roads; cross at least two high altitude passes and numerous water streams on the way. This then brings up the next question of whether or not your motorcycle is good enough for riding through a place like this; and if not, then which is the best motorcycle for Spiti Valley. Is a 350 or 500CC Royal Enfield a must or will your 100CC bike or scooter survive the journey? Spiti is notorious for bad roads and to some extent, this apprehension is totally justified. Not only will the terrain here test your riding skills but also your machine's capabilities. In this article, I will provide some information on which motorcycle can be considered best to be traveling through Spiti and can you really take a smaller engine vehicle here.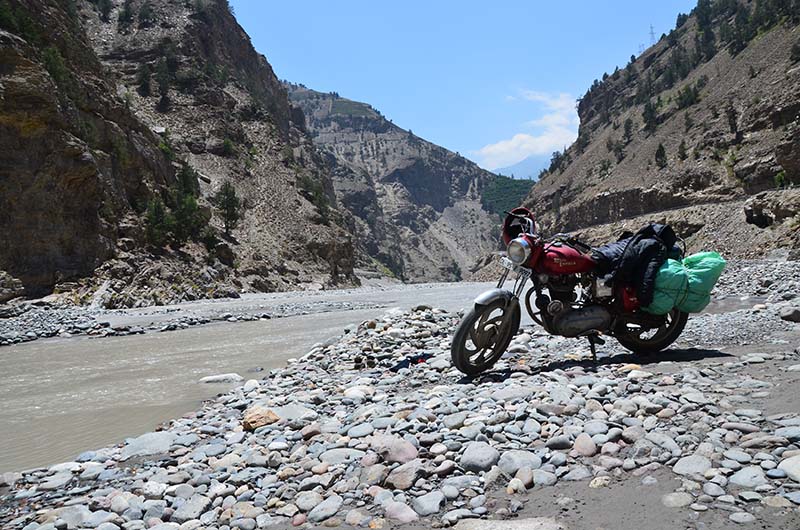 To be quite honest, there is really no best motorcycle for Spiti valley as such. The question should rather be whether or not your own motorcycle is good enough, no matter which one it is. Answer to this question will depend on several factors like how much luggage you are carrying, do you have a pillion, or how old your motorcycle is. I have personally known people who have successfully completed a Spiti trip on 100CC motorcycles and a Bajaj Activa. With careful planning, you can bring any motorcycle to Spiti valley and you will be able to successfully complete your trip; without any hassle at all.
Also read: How to ride to Spiti on 100CC motorcycle or Scooter?
The most important thing to understand is that it is not the motorcycle bringing you to Spiti but rather you riding it to the valley. As long as you know your machine, can maneuver it around steep ascents, are familiar with its limitations; then just about any bike will do. You need to make sure that your motorcycle is well prepared; carefully need to choose the time of your travel and plan your itinerary accordingly.
Explaining the journey from Shimla side and starting from Chandigarh; the first part of the trip is mostly all climbing up till Narkanda; about 175 kilometers. It however never really gets too difficult and you will find a lot of locals commuting on 100CC motorcycles or scooters here. After Narkanda, you descend down to the banks of River Sutlej and from there it is mostly riding in plains until a little before Nako. There will be occasional climbs during this part but not that tough.
Only exception on this stretch is the 16 kilometers climb to Sarahan from Jeori and about 15 kilometers to Kalpa from the Reckong Peo diversion.  If Chitkul was on your itinerary, there is a steep climb on the way on a dirt road but after that, as you move towards Chitkul, it once again turns in to a flat road.
Just before Nako, there is the steep climb of Kazigs, a series of hairpin bends like Gata Loops in Ladakh. From Nako, after a bit of going downhill and crossing Malling Nallah on the way; it is all mostly a flat run until all the way till Kaza and then Losar.If you are planning a trip to Kibber, Komik, Langza and Hikkim, then this is where you may have a little bit of trouble as the climbs are all steep and some on broken roads as well as dirt trails.
After Losar, the climb of Kunzum Pass starts which though is on a bad road but never gets quite difficult from Kaza side. The 14 kilometers road to Chandratal as well is a straight run. After Kunzum Pass, you reach Batal and this is where the most difficult part of the journey starts. The Batal  Gramphoo stretch is a badly broken dirt trails with numerous deep water crossings where you must maneuver your motorcycle carefully. After Gramphoo is the ascent up to Rohtang Pass which is a bit steep. From Rohtang top, it is all downhill to Manali and then back to Chandigarh.
As you can notice from the route details above, a lot of riding in Spiti is on a straight road. Though roads may be bad and broken, you will be able to manage it even on smaller engine vehicles if you just ride slow and carefully. With that being said, the fact still cannot be denied that having a more powerful motorcycle has its own benefits. I am of course referring to likes of an Enfield here. Bigger the engine means more the power which further means that the ride would be smooth, especially at steep ascents and you can dump all the luggage you want on your motorcycle. You do not have to worry about traveling light and can even take a pillion on the same machine, which further reduces the trip total cost.
But what if you do not own a 350CC or 500CC motorcycle? Do you go around buying one for the trip? The answer is no. If it is a smaller engine bike, then you just need to pay attention to a few details which I have mentioned down below before deciding whether or not to take it up the hills.
Age
This probably is the most important factor. No matter how well you maintain it, the chance of a mechanical failure is always more with older bikes than newer ones (a debatable statement, I know). If you have a 10 year old 125 CC motorcycle sitting in your garage, do not even think about taking it to Spiti. You will first have to spend a lot of money fixing and replacing a lot many parts and even then, it will not really perform up to expectations.
Odometer
This is the second most important factor. Here we are talking about age of the motorcycle in terms of kilometers and not years. Your bike may be only 3-4 years old but if you have already abused it to over 1 lakh kilometers, best not to ride it to Spiti.
Pillion
When you ride with a pillion, you need to remember that it is not just two people on the same motorcycle. A trip to Spiti means about a week of riding; which means a lot of luggage. With pillion, it is luggage of two people so in the end, with all the luggage dumped, it actually becomes kind of three people riding the same bike and not just two. In a terrain like Spiti with so much weight on it, your smaller engine motorcycle will huff and puff at a lot of places and give trouble with so much weight.
Luggage
If you are riding a 500CC motorcycle, luggage isn't really a big concern but if it is a 150 CC bike, then do not carry unnecessary luggage. Just take whatever you must. More luggage on your motorcycle would mean a very uncomfortable and difficult ride, both for you and your machine.
Prepare
Once you have taken into consideration the above mentioned four aspects, you need to start preparing your vehicle for the tough ride ahead. You should know your motorcycle inside out, how it performs at ascents or at great speeds. Before you head out; make sure there are no worn out parts, anything that can break or fall apart. Whatever seems dicey, replace it. Get your motorcycled serviced at least 1 week before the trip. Check all the cables, wires, clutch plates, chain set, tires, wheels and Oils. After servicing, ride it for a week regularly to ensure that it is performing up to expectations.
Also read: How to ride a 100CC motorcycle or Scooter to Spiti
Also read: How to prepare your motorcycle for Spiti trip
Which is the best motorcycle for Spiti Trip?
With that being said, there are of course a few motorcycles that will suit the journey better as compared to others. Mentioned below are a few bikes which may perform a bit better than others.
Royal Enfield
Nothing like it of course to for roads like Spiti. The big engine, whether 350 CC or 500 CC gives it an edge over all other motorcycles. The heavier size of the motorcycle makes it easier to tie luggage around. Good suspension and seating position makes it comfortable for both the rider and the pillion making it suitable for the long journey. Enfield was an acquired taste earlier due to a heavy kick that required decompressing, no electric start, the left side brake system but after all these changes in the newer models, it has now become everybody's motorcycle. If you own a Royal Enfield, you already know that you do not need to think twice before taking it to Spiti.
Bajaj Pulsar
Probably one of the most popular and best-selling motorcycles today in Indian market. With a Pulsar, you can rest assured that you can rely on it and it won't really ditch you anywhere. Be it a 220CC, 200CC or a 150CC pulsar, you can confidently plan your adventure ride on it. The huge fuel tank makes it ideal for long journeys and you won't have to worry about fuel so much. It does have its drawbacks though. The first and the foremost one is the seating position and on bad roads; it is bound to get your shoulders to start aching so make sure that you are not seated in a leaning position. Sit straight to get the pressure off your shoulders. Second drawback is its seat which is not comfortable at all and will kill your butt during long rides; so a good comfortable seat cover is highly recommended.
On a lighter note, be careful with your balls as well while riding bad roads on a Pulsar. Anyone who owns a Pulsar would know what I mean here.
Hero Impulse
Good bike for Spiti if you are going without pillion. Dual sport tires and long travel shocks make it fun to ride on dirt tracks. Upright riding position and comfortable seating posture ensures no fatigue. Biggest drawback is the 12 liter fuel tank with an average of about 40-45 kmpl. Under-powered engine may sometimes prove troublesome at steep ascents though but only if the bike is not well maintained.
Yamaha FZ and Fazer
These would be my next most preferred motorcycles for Spiti. Pretty much the same advantages and disadvantages as Pulsar.
KTM Duke
Pretty much the same advantages and disadvantages as Hero Impulse. This is one motorcycle that would be fun to ride on bad and challenging roads that Spiti is so famous for.
Royal Enfield Himalayan
The newest off-roader motorcycle in Indian market; this motorcycle is a perfect for riding in Himalayan terrains. The 400 CC engine is capable enough to carry it through any trail or any ascent; though anyone who has ridden other models of Royal Enfield would feel that it definitely lacks some juice. The sitting position is straight and very comfortable, both for the rider and pillion; and there is plenty of space to put all that luggage, including the Jerry cans for extra fuel.
Not recommended
One popular motorcycle that I would not however recommend at all is Bajaj Avenger. Do not get me wrong, it is a great motorcycle but in my opinion not suitable at all for mountain rides. It has a large turning radius making it a little troublesome in hilly region. The small height and low seating becomes tiresome for someone tall. The rear seat is not really wide enough for pillion rider. The front disk and the entire seating position is that if you applied sudden brakes at a sharp turn, your are bound to fall. You will be on the ground before you get your feet down. This however is just my personal opinion and others may not agree with it.
If you are riding with a pillion, then do it only if you have an Enfield. On all other motorcycles, ride solo if you can; as the seating position and the hassle of roping the luggage can be problematic during long rides. If you are on a 100 or 135 CC motorcycle, you must ride solo.
Conclusion
As I mentioned above, these are just a few recommended motorcycles. There are several others available in Indian market; like Bajaj Dominar, the newly launched UM motorcycles, Honda CBR 250 to name a few. In the end, it all matters on how well you have maintained your motorcycle; and how well you know it and how well can you ride. If the answer to these questions is "quite well" then by all means; bring it to to Spiti irrespective of which motorcycle you own.
I hope the information above was of help. If you have any further questions, please feel free to ask in the comments section below; or at our Community Forum and I will be glad to answer. If there is a good motorcycle that you know of and have been to Spiti on it, please do share your experience in order to help others.