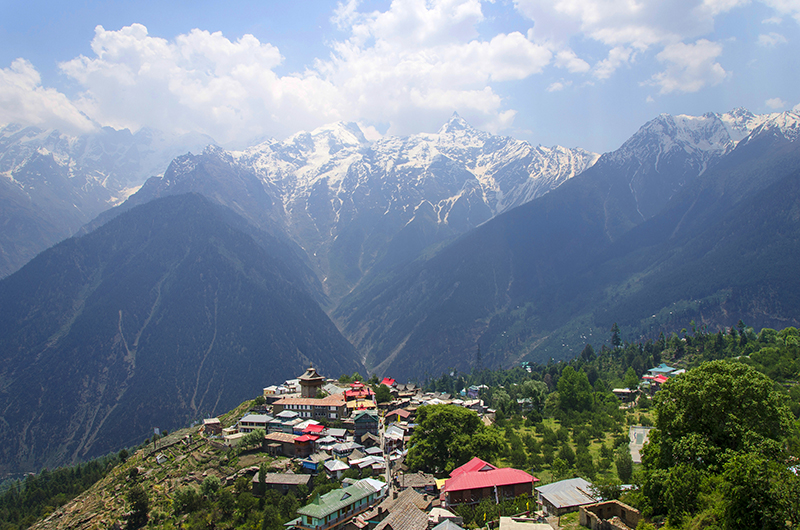 The name Kalpa in Kinnaur Valley would probably be known only to people who have done a bit of traveling in the Himalayas. People who have been to Himachal more than a few times or have been on the Spiti circuit at least once. It is a beautiful little town that is blessed with unparalleled scenic beauty and a majestic view. It is often termed, and quite rightly so, as the crown jewel of Kinnaur.
Kalpa and the nearby town of Reckong Peo are mostly used as the center point of the journey from Shimla to Kaza. It is not completely an unknown destination because tourism is a major part of the livelihood of the people here. You will definitely find tourists in Kalpa irrespective of when you arrive and the place is also very well connected.
It however is still not known to many people and never gets crowded. So if you were planning a trip in near future and wanted to travel to a lesser-known place that offers peace and tranquility as well as stunning vistas all around, then Kalpa could prove to be an ideal destination.
In this Kalpa Travel Guide, I will provide information on how you can plan your trip; covering details like how to reach, what to see, where to stay, and things to do.
About Kalpa
Kalpa is a charming little village in Kinnaur Valley of Himachal Pradesh. This area is also known as Sutlej River Valley. It is located at a distance of about 220 kilometers from Shimla and 7 kilometers uphill from Reckong Peo, the headquarters of Kinnaur.
At an altitude of 2,960 meters (9,710 ft), it is best known for its natural beauty, picturesque location, and apple orchards. The apples grown here are in fact considered to be the best in the entire world. The prime attraction of Kalpa however is the outstanding view that it offers of the imposing Kinner Kailas Peaks (more details to follow later in the article).
The village is inhabited by Kinnaur Valley. Hinduism is the main religion in the district followed by Tibetan Buddhism. There are a few ancient temples located in Kalpa and its nearby places.
There are two ways that you can get to Kalpa. You can either reach here from Shimla or take the longer route via Manali. Due to this, it acts as a stopover for people completing the Spiti Valley Circuit. Which of these will be the best route; what to see in Kalpa; and how you can plan your journey is what I will be providing details on in this post.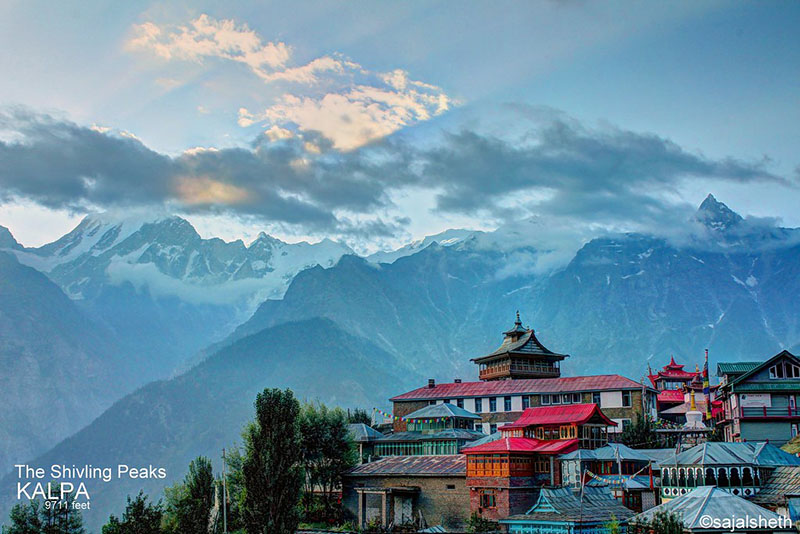 Why you should visit Kalpa
You should visit Kalpa for its natural beauty, views, tranquility, different culture but most of all, to be away from the crowd. The best thing I like about this tiny hamlet its location. From the Shimla Kaza highway, you climb up approximately 16 kilometers on a steep and narrow road, getting a sharp incline in altitude. When you finally make it to Kalpa, you are greeted with an outstanding view of the majestic Kinner Kailash peaks, also known as Kinnaur Kailash peaks.
It is rare that you would have witnessed a sight like this unless you have been to a lot of hill stations. It is a view that makes the entire journey to Kalpa totally worth it and will remain with you for months to come. The pictures you will get here will be some of your best landscape shots ever.
But that is not all. Kalpa also has a few other aces up its sleeve. Out here, you experience peace like never before. If you have never seen an apple orchard before then Kalpa is where you will surely find it. If you arrived here in winter, you will find the town covered under a carpet of white powder. There are a few other tourist locations that I have provided details on further in the article.
While planning a trip to Kalpa, you can either just visit Kalpa if you were short on time. Or you can also incorporate it with a trip covering the entire Kinnaur valley. If you had a few more days in hand, you can also move towards Kaza and visit Spiti Valley while ending the trip in Manali.
How to reach Kalpa
Kalpa is very well connected by a good motorable road and a regular bus service. You can actually get here for all 12 months of the year either by public transport or your own vehicle. The only time the road may be closed is if there were any landslides caused by the rain in the monsoon season or if the snow blocked the road in winters.
Let me first explain how you can reach Kalpa if you were traveling in your own car or motorcycle. For the sake of explaining the route, I will assume Delhi as the starting point.
Also Read: How to Plan a Trip to Sangla Valley?
How to reach Kalpa from Delhi by Road
Starting from Delhi, the journey will be as mentioned below.
Delhi – Panipat – Ambala – Zirakpur – Kalka – Kandaghat – Shimla – Narkanda – Rampur – Tapri – Reckong Peo – Kalpa
The total distance traveled will be about 575 kilometers and it is ideally a 2 days journey with a night halt at either Shimla or Narkanda.
The nearest major town is Shimla, located about 220 kilometers that can be covered in 7-8 hours depending upon your speed and breaks. From Shimla, you will climb uphill all the way till Narkanda and then you will drive down to the banks of Sutlej River.
You will then continue towards Reckong Peo while crossing Rampur, Jeori, and Powari on the way. A few kilometers after Powari, a road climbing up on your left is the one that you will need to take. You will first reach Reckong Peo and then finally to Kalpa.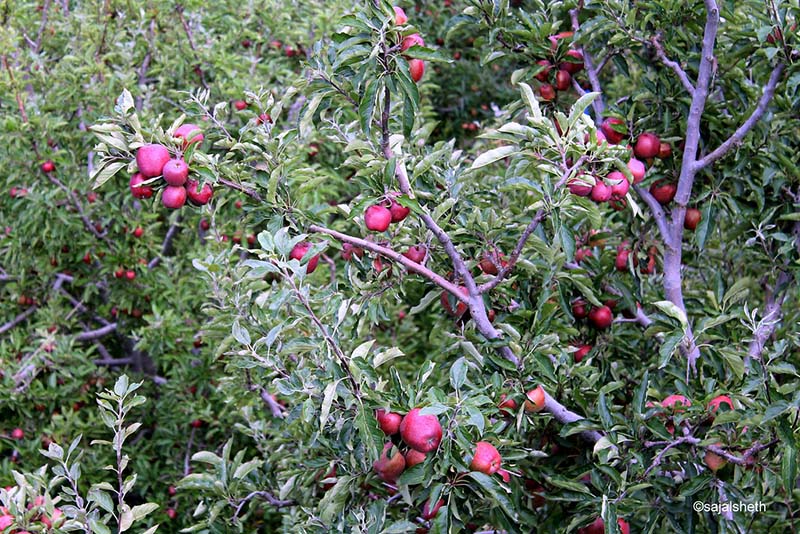 How to reach Kalpa from Delhi by Bus
Kalpa is very well connected by public transport and getting here by Bus is not difficult at all. From Delhi and Chandigarh, there are HRTC Buses available for Reckong Peo. In Delhi, you can board this Bus from ISBT and the fare per person is around Rs. 900.
Reckong Peo is about 10 kilometers from Kalpa and once you get there, you can board another local Bus to get to Kalpa which will cost you about Rs. 15 and is available every one hour. The travel time from Delhi to Reckong Peo via Shimla is about 18-19 hours (sometimes even more). From Peo to Kalpa, it is a journey of 20-25 minutes at most.
The HRTC Bus is an ordinary one and can be a bit uncomfortable for a long journey. If you do not want to travel by it, then another option would be to board the HRTC AC Bus for Rampur. It leaves ISBT Delhi at 7:30 PM and reaches Rampur Bushahr the next day at 9 AM. The total fare is about Rs. 1000 per person.
From Rampur, you can then board another Bus for Reckong Peo which will about Rs. 200 per person. These buses are available every hour or so.
Also Read: How to Plan a Trip to Chitkul?
How to reach Kalpa from Shimla
The most comfortable way to travel by Bus, however, would be to find one from Delhi to Shimla and then Shimla to Peo. There are numerous Volvos/Scania buses available between Delhi/Chandigarh and Shimla. Fare is about Rs. 1000 per person for Delhi to Shimla by a Volvo and Rs. 800 for an AC Bus.
I know I explained the journey above from Delhi but there are buses available to Shimla from every major city nearby. It is a major tourist destination and you will have no problem finding a bus for Shimla, either state-run or private.
Once you are in Shimla, you can then board an ordinary Bus for either Rampur or Reckong Peo from the Tutikandi bus stand. Shimla to Rampur ordinary bus ticket is about Rs. 300 per person. There are several buses plying between Shimla to Rampur and finding one will not be a problem in the morning. From Rampur, you will then take a bus for Reckong Peo for Rs. 200 and then another Bus from Peo to Kalpa.
The bus fare from Shimla to Reckong Peo is Rs. 500 per person. You can even book your ticket online for this. There is one bus from Shimla to Reckong Peo that leaves at 9 AM and another one at 9.30 AM.
You can book HRTC buses online at the HRTC Online portal.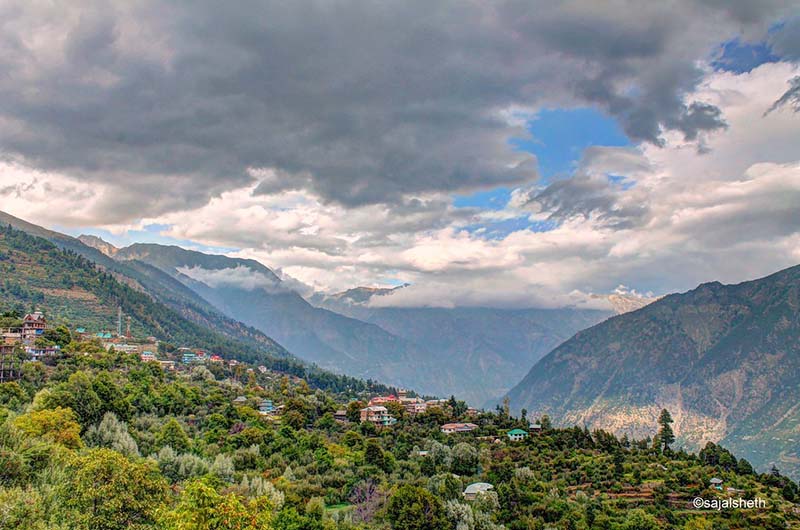 By Air
The nearest airport to Kalpa is the Shimla airport located in Jubbarhatti. After Shimla, the next nearest airport is the Bhuntar airport between Chandigarh and Manali. These are however small airports and flights to both these places are limited. The nearest major airport is at Chandigarh which is connected with several flights from all over the country.
By Train
The nearest train station also is at Shimla but like the airfield, this train station also is a small one; connected to Kalka by the famous Kalka – Shimla toy train. The nearest major railway station is at Chandigarh; trains to which are available from all major cities in the country.
By Taxi
You can also catch a shared cab that ply on this route in ample amounts. These are easily available between Shimla, Rampur, Reckong Peo, and Kalpa. If the budget was not a problem, you can also hire a private taxi in Shimla that will cost about Rs. 4000 – 5000 for a drop to Kalpa.
What to see in Kalpa
Kalpa is just a tiny little village. You can walk from it's one end to another in less than 30 minutes and as such, there is no long list of places to visit or things to do in Kalpa.
The natural beauty and calm of the place is the biggest reward of planning a visit here. If your idea of a trip is to do plenty of sightseeing, shopping, eating out, and adventure activities then Kalpa will definitely disappoint you. For a trip like that, you should visit Shimla and Manali. But come to Kalpa if you want to spend some time away from the crowd and relax for a few days.
With that being said, there are a few places in Kalpa that are worthy of note. The view of Kinner Kailash peaks remains to be the primary attraction. The town is also famous for its Apple orchards. Apple farming is a major part of the livelihood of people here. Taking a walk through the town and its apple orchards is a very pleasant experience.
Also Read: Top Offbeat Destinations in Himachal
Another tourist spot is the suicide point which is about 4 kilometers out of Kalpa towards Roghi village. If you wish to, you can continue another 5 kilometers on the same road to reach Roghi village, popular for its apple orchards and ethnic village life, which includes temples, monasteries, Kinnauri style buildings.
Kothi village which is located about 5 kilometers from Kalpa is also visited by many tourists. An ancient shrine here is dedicated to Goddess Chandika, a manifestation of Goddess Kali. The architectural style of the temple and the gold image of the deity makes this village worth a visit.
List of Tourist Places in Kalpa
I have covered this topic in great detail in another article, Tourist Attractions in Kalpa and its Vicinity. But for a brief overview, below is a list of places to visit in Kalpa.
Kinner Kailash Peaks – The view of this majestic mountain is available from pretty much everywhere in Kalpa, irrespective of where you were standing.
Suicide Point – A vantage point about 4 kilometers from Kalpa.
Roghi Village – A small village about 10 kilometers from Kalpa.
Chaka Meadows – A meadow located at the top of a mountain. You will have to hike uphill about 3 kilometers to get here.
Narayan Nagini temple – An ancient temple located in Kalpa itself.
Kothi Village and Temple – Another village that is known for its beautiful ancient temple.
Apple Orchards – The entire town is surrounded by beautiful apple orchards.
Hu-Bu-Lan-Kar Gompa – An ancient monastery located in Kalpa.
Things to do in Kalpa
Other than visiting all of the places listed above, below are some of the other things that you can do in Kalpa.
Photography
Enjoy the Night Skies
Take a Walk through the Village
View the Sunrise
Relax
For more details on these places and activities, please read Tourist Attractions in Kalpa and its Vicinity. Adding all the details here again would have just rendered this article endless hence I put it on another page.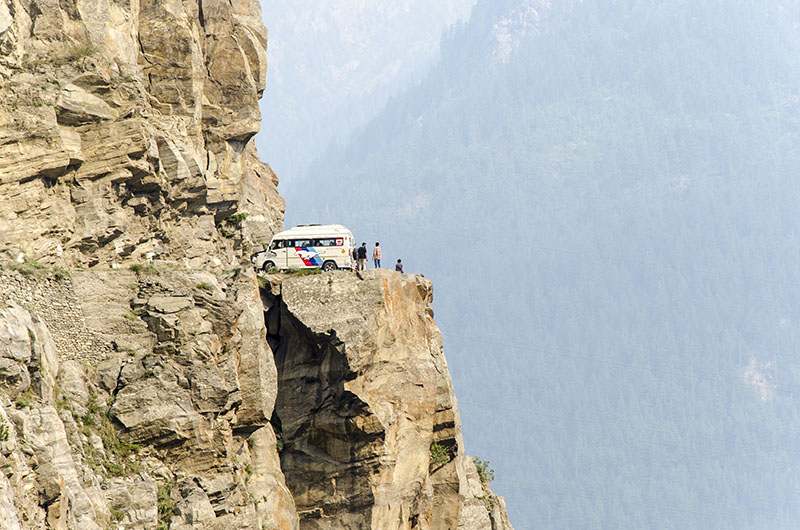 Weather in Kalpa
No matter which time off the year you visit here, Kalpa will always be cold. During summer, it will be a pleasant kind of cold when the temperature during the day will be between 10 to 20 degrees Celsius. At nights, however, the temperature will drop down to close to 5 to 10 degrees. Summers in Kalpa are pleasant but very short, lasting from late April to early July. However, even in May and June, there will always be a chill in the air and you will have to keep wearing a light sweater or jacket all the time.
Monsoon arrives towards late June and remains until early September. During this time, it can rain here anytime. Rainfall can be from moderate to so intense that it can even cause landslides. Sometimes it rains so much that the roads can get blocked for days. Monsoon season is usually not considered a safe time to be in Kinnaur.
September is an agreeable month when the weather turns pleasant again. Monsoon departs but leaves an air of freshness in the valley. October marks the beginning of the autumn season. The temperature will again start to dip and Kinnaur will get ready for the arrival of the winter season.
From December and then again until March next year, the area gets covered under a sheet of snow. It starts to snow towards the end of December and the temperature will drop below 0 degrees Celsius. Chances of a snowfall remain from January to March.
In April, it may not snow but will still remain very cold. May onward, the weather will start to get warm and remains pleasant until July.
Also Read: How to Plan a Trip to Prashar Lake?
Clothes to Pack
What kind of clothes to bring for Kalpa will really depend on the time of the year you are arriving here. A warm, thick and windproof jacket however is a must irrespective of the month of your arrival.
If you were planning a winter trip, then ensure that you are carrying all heavy woolens, waterproof gloves, and shoes that can keep the snow and the wet out. Also make sure that your jacket has a hood to protect your head, neck, and face.
During summer, however, carry your regular cotton clothes with some light woolens and a heavy jacket and that will be sufficient.
While visiting in the months of July and August, ensure that you are bringing clothes that can dry fast, like polyester. Proper rain gear inclusive of a good quality waterproof jacket along with a good umbrella will be a must for visiting Kalpa in monsoon.
Best time to Visit Kalpa
When to visit Kalpa will really depend on what kind of trip you were looking forward to. On an overall basis, April to June is considered to be the best time to visit Kalpa because this is when the weather will suit the majority of the tourists. The entire valley remains open in these months and you can also cover other places like Sangla Valley and Sarahan.
If you wanted to see snow, January and February will be an ideal time for the trip. Chances of snowfall are more in January than in February though. You must keep in mind though that the temperature in winter will fall several degrees below 0 and you should be prepared for that. Even the roads can get blocked and may leave you stranded for a while in Kalpa.
For a budget trip, you should plan in either Monsoon or November. Tourists in Kalpa at this time are less and this will increase your chance of getting a good on accommodation.
If lush green mountains are what interests you, then the months of monsoon or September is a good enough time to go to Kalpa. This is also the best time for a photography visit.
Late October, November, and early December is an overall bad time to visit. The scenery at this time is very dull and featureless. The weather will be very cold and there won't even be any snow around.
If you were thinking about a bike trip, Monsoon will be a really bad time to plan.
For more information on this topic, please take a look at When is the Best time to visit Kalpa.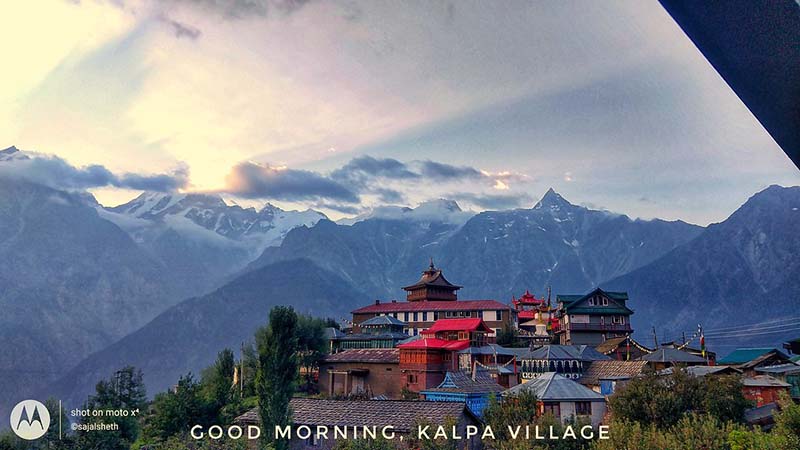 Where to Stay in Kalpa
There are a lot of hotels in this entire area including both Reckong Peo and Kalpa so you will have no trouble finding a place to stay. Whether or not to book your stay in advance will entirely depend upon you. I am more of a person who would rather arrive at the destination, find a hotel per liking, and negotiate an on the spot deal. If however booking your stay in advance gives you the peace of mind than you can do that as well.
To find a good hotel, however, continue driving up all the way up and cross the town of Kalpa as well. The views get better as you go further up. Do not check into any of the hotels between Reckong Peo and Kalpa. Once you arrive at Kalpa, cross it through the narrow roads and head towards HPTDC Hotel Kinner Kailash. If this hotel fits your budget, then it is a stunning place to stay. If not, then there are several other hotels around it where you can check for a vacancy.
From a budget point of view, between April to June, you will have to pay anywhere between Rs. 1500 to Rs. 2500 for a decent enough hotel. The luxury ones will cost you even more. The same prices will apply in January and February as well but in offseason, the fare can be a little less, around Rs. 1000 per day.
Where and What to Eat
All the hotels here in Kalpa serve all north-Indian dishes so you can easily order at the same hotel that you were staying at. If not, then there are a few restaurants at the main Kalpa chowk. You can walk till here from your hotel and enjoy some Himachali / Kinnauri dishes at these eateries.
You will also be in fact surprised by the number of Bengali people living here. There are a lot of them here running hotels and restaurants. So if you wanted to enjoy some fish curry rice, you can walk up to a Bengali restaurant and try some.
Also Read: How to Plan a Trip to Chanshal Pass?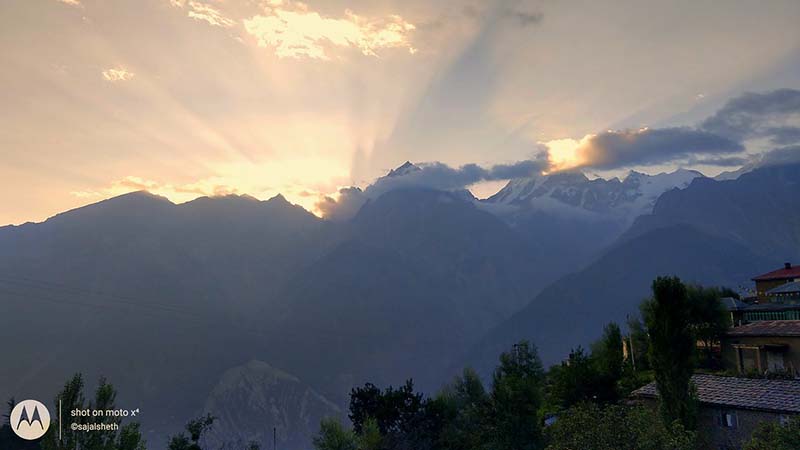 Kalpa Sightseeing Itinerary
Now to the most important part, how to plan a trip to Kalpa. For the sake of this article, I will assume that you are starting from Delhi. A journey to Kalpa will then take two days and your itinerary will pan out like below.
Day 1 – You will reach either Shimla or Narkanda. I personally prefer staying at Narkanda better than the crowded Shimla city.
Day 2 – You will travel for 6 to 7 hours and arrive at Kalpa.
Day 3 – You can stay in Kalpa and visit the local sightseeing places. You will easily be able to cover all of them in a day.
Day 4 – You can stay another day in Kalpa or move to Sarahan or Chitkul. If you spent the day in Kalpa, you can trek to Chaka Meadows.
Day 5 – Drive from Kalpa and break the journey at Chail. This is another beautiful scenic little village that you can read about at How to Plan a Trip to Chail.
Day 6 – Drive back to Delhi from Chail. The journey will be about 7-9 hours.
If you were short on time, you can remove either Day 3 or 4. Or you can remove Day 5 and drive straight back to Kalpa which will easily take you anywhere between 18 to 24 hours.
Kalpa Kinnaur Itinerary
A better way of the journey will be to cover the entire Kinnaur valley. You will then travel from Narkanda to Kalpa and stay here for a day or two. From Kalpa, you can then travel to Chitkul and spend some time in Sangla valley. The next day, from Chitkul, you will arrive and stay at Sarahan and then continue back to Delhi via Shimla.
An even better way of the journey will be to complete the entire Spiti circuit. You will then arrive at Narkanda on Day 1, at Kalpa on Day 2, at Kaza on Day 3, Manali on Day 4, and return to Delhi on Day 5. This is just the bare minimum time. Depending on the number of days you have, you can add destinations to this plan like Chitkul and Sarahan.
Shopping in Kalpa
Kinnaur is famous for its Handloom and Handicraft items like shawls, caps, mufflers, and items of wood carving that you can consider buying. Apples of Kinnaur are considered to be among the best in the world so that can definitely be something to buy. Some other eatables that you can look for are almonds and apricots.
This is more of a general guideline though. To be honest, though, there really isn't much of a shopping choice in Kalpa. You can try some handicraft souvenirs in Reckong Peo but that is pretty much it. If you want to try shopping then a better place for that is Shimla which is on the way.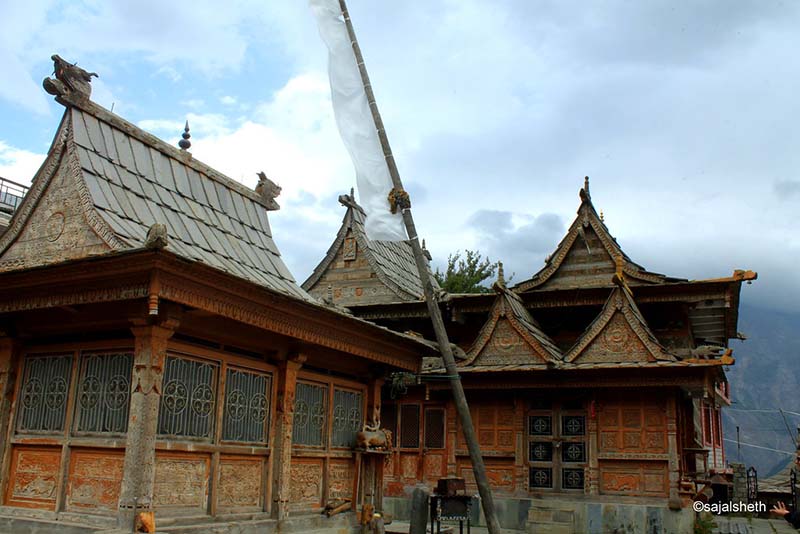 Other Details
Below are some other details that can be of help in planning a trip to Kalpa.
ATM / Banks
The nearby town of Reckong Peo is actually the headquarters of Kinnaur valley and a major town. Because of this, there are banking facilities in this area and you will have no problem finding a bank as well as an ATM.
Petrol Pump / Mechanic
There are two petrol pumps in Reckong Peo and one at Powari. As you move towards Shimla from here, you will continue coming across gas stations at regular intervals. If you however went towards Manali, then the next petrol pump after Peo is at Kaza and then at Manali.
Mechanics too are available in Reckong Peo.
Medical Facilities
There are a couple of dispensaries in Kalpa but if you need a Doctor or a hospital, you will have to drive down to Reckong Peo. The hospital in Peo is a well-equipped one. In case of a serious medical emergency, the patient would then have to be shifted to either Shimla or Chandigarh.
Also Read: How to Plan a Trip to Sarahan?
Mobile Network in Kalpa
No matter which network you are on, your cell phone will remain connected while visiting Kalpa. Voice clarity will be good and you will have good reception throughout the region. In terms of data, you will have 3G or 4G data connectivity.
Road Conditions
The road from Shimla to Kalpa is smooth all the way. It always remains in good condition except for a few bad patches in between. There is some road widening work going on between Chandigarh and Shimla so you may face some slow traffic here. But once you cross Shimla, it is good tarmac all the way.
If you were however coming from the Manali side, then the roads will mostly be bad with the stretch between Manali and Kaza a total nightmare. There will be water crossings, nalllahs, broken roads, boulders, loose stones, high altitude passes, slush, narrow sections, and everything that you can imagine on a terrible road.
Local Commute
Kalpa is a small town and you can actually cover all of it on foot in less than an hour. Visiting nearby places like Roghi, Kothi, and suicide point however can be a bit of a hassle if you were not visiting by your own vehicle. In that case, you will either have to hire a local taxi or a motorbike from Reckong Peo.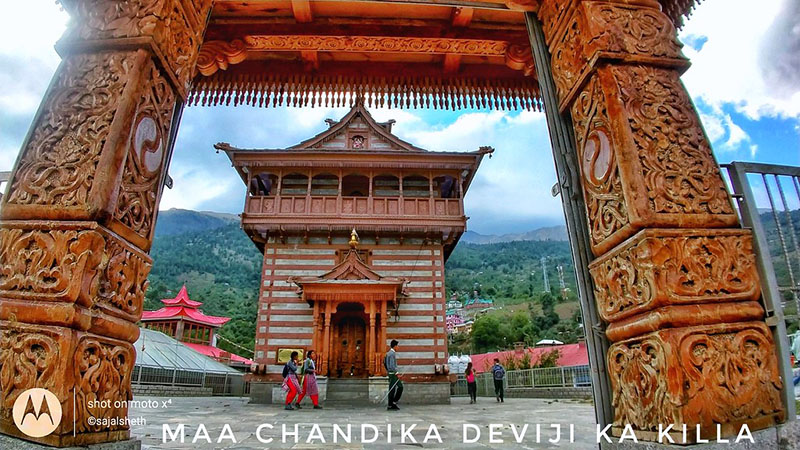 FAQs
Below are some frequently asked questions about Kalpa.
Where is Kalpa in Himachal?
Kalpa is located in the Kinnaur District of Himachal Pradesh.
How to reach Kalpa from Chandigarh
The best way to reach Kalpa from Chandigarh is the board the overnight bus for Reckong Peo and then go to Kalpa from there.
How can I go to Kalpa from Shimla?
There are daily buses between Shimla and Reckong Peo that you can board to travel to Kalpa.
Can I visit Kalpa in December?
Yes, Kalpa remains open in December and can be visited.
Is Kalpa Worth Visiting?
Yes, Kalpa is one of the most scenic places in all of Himachal and is definitely worth visiting.
Conclusion
I hope the information above on visiting Kalpa was of help. If you have any further questions; or need any other details; please feel free to ask in the comments section below, or at our Community Forum, and I will be glad to answer.