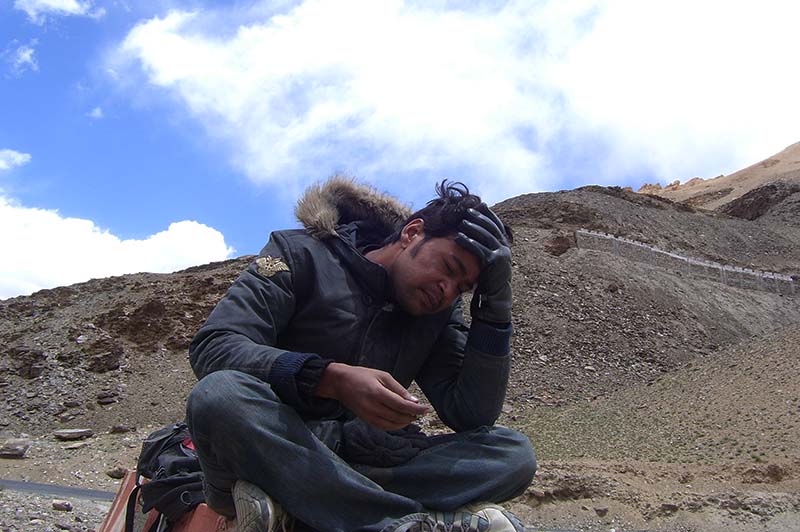 Acute mountain sickness in Spiti Valley is one of the most important things that you need to consider while preparing yourself for a trip to this hidden paradise. Irrespective of who you were traveling with or how, this is a precaution that you must take to ensure a hassle-free and safe trip. In this article, I will provide some essential information on altitude sickness in Spiti valley and how you can deal with it.
To be quite honest, AMS in Spiti doesn't really get pondered upon so much as it does in the case of Ladakh. The fact however still remains that you will be traveling to an altitude that you probably have never been to. You are bringing your body to a climate that it is not really accustomed to.
Also Read: How to Plan a Trip to Spiti Valley – A Complete Travel Guide
The sudden change in elevation mixed with low oxygen levels sometimes may cause your body to experience the symptoms of acute mountain sickness, also known as AMS in short.
Before I go any further in the article, I would like to mention that I am not a doctor or a medical professional. I have no knowledge of medicine and have no experience in the field at all. What I am adding here is purely my own research on the topic.
While the information below suffices for most travelers, I highly recommend a visit to a doctor if there is any medical condition involved, like Asthma, coronary heart disease, or anything else that can turn serious.
Altitude Sickness in Spiti Valley
I have been to Spiti valley multiple times and quite frankly, have never experienced altitude sickness there. But then I travel around a lot and regularly to the mountains. On the other hand, for someone who is visiting the valley for the first time, there is a high chance that you may feel discomfort at several places during the trip.
Where will you suffer from AMS can differ for each individual but It can be assumed that for most of the people, it is the height of 10,000 ft or above that can lead to altitude sickness. Your most chances are at Batal, Chandratal, Kunzum Pass, Kaza, Rohtang Pass, and Nako. The belt of higher villages around Kaza like Kibber, Komik, Langza, Hikkim, Langza, etc is also prone to mountain sickness.
The places I mentioned above are just a few names though. Some other tourist destinations en route like Chitkul, Sarahan, Kalpa are also at quite a high altitude and you can feel the symptoms even here as well. In the end, it will all depend on how well acclimatized you were. A slow gain in altitude and plenty of rest is the best cure against AMS.
A trip to Spiti valley is mostly done in the form of a circuit. What I call the traditional way of doing this circuit is to start from Shimla and end at Manali. If you too have planned the journey in the same manner; it is rare that you will suffer from acute mountain sickness anywhere during the trip. However, if you were traveling from Manali to Spiti, chances of altitude sickness are quite high. Read on to find out more.
Also read: Mobile Network and Data Connectivity in Spiti Valley
What is Altitude Sickness
Depending on the symptoms, Altitude sickness can be of three types.
Acute Mountain Sickness (AMS)
AMS is the mildest, most common type of altitude sickness. It is caused by reduced air pressure and lowers oxygen levels. Symptoms include difficulty in sleeping, dizziness, fatigue, headache, loss of appetite, nausea or vomiting, rapid heart rate, and shortness of breath.
High-Altitude Pulmonary Edema (HAPE)
HAPE is a more serious condition of altitude sickness. Its symptoms include shortness of breath (even while resting), persistent coughing, exercise intolerance, coughing up pink and frothy spit (an indication of fluid in the lungs).
High-Altitude Cerebral Edema (HACE)
HACE is an even more serious condition of altitude sickness. It causes difficulty when walking, severe lethargy, and a loss of focus. HACE and HAPE are rare and if not treated on time, these conditions can be even fatal.
Also read: How to Calculate Cost of Motorcycle Trip to Spiti Valley
What Causes Acute Mountain Sickness in Spiti
Acute Mountain Sickness is a direct result of exposure to a lower percentage of oxygen at high altitudes. As altitude increases, the level of Oxygen present in the air starts to get lower. In order to accommodate for low oxygen per breath, our body increases the breathing rate and this is the reason why we start to huff and puff so easily in the mountains.
The process of a human body getting accustomed to low oxygen and adapting to the new environment is called acclimatization. When there is ample time for this process and our body is not undergoing stress, there will not be any symptoms at all.
However, as it happens in case of a trip to Spiti from Manali side, the gain in altitude continues to happen over a period of 2-3 days and at a faster rate than our bodies can adapt to. This is what can trigger altitude sickness.
What are the Symptoms
While AMS falls under the category of nonspecific symptoms, in most cases they are the same as that of high fever. Your body temperature will suddenly rise followed by severe headache, chest pain, vomiting, lack of sleep, fatigue, nausea, loss of appetite, and difficulty in breathing. Most people will suffer AMS when the increase in altitude is in a matter of a few hours or a day. But some people may suffer it for the first few days even if the process is gradual.
These symptoms, ranging from mild to life-threatening, will also depend on the speed of your climb and how hard you exert yourself. If mild then they will gradually subside after a couple of days at high altitude. But sometimes, it can even lead to high altitude pulmonary edema, which is the worst condition of AMS and can be fatal.
Some of the severe symptoms, affecting the nervous system, lungs, muscles, and heart are blue color to the skin, gray or pale complexion, chest tightness or congestion, confusion, coughing up blood, decreased consciousness, withdrawal from social interaction, shortness of breath even while resting or unable to walk at all. Severe cases may result in death due to lung problems or brain swelling, called cerebral edema.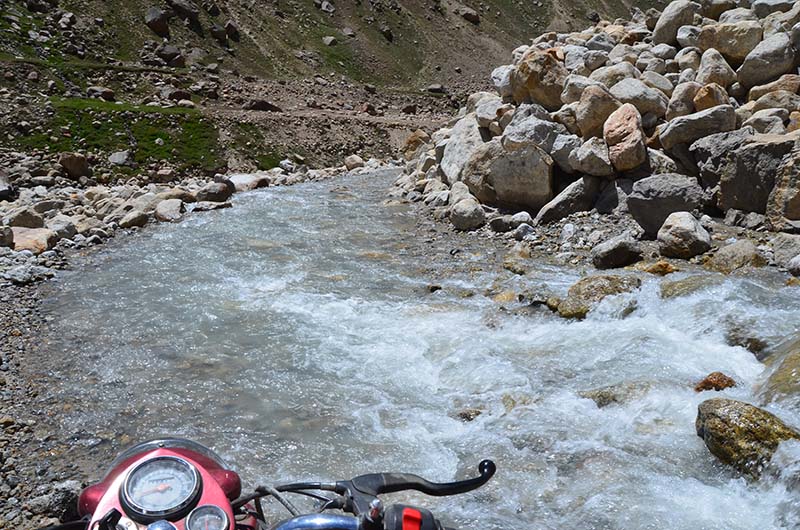 How to Handle Acute Mountain Sickness in Spiti
Once it happens, only two things will help. The first is to give your body ample time to adapt and for the symptoms to subside. If this doesn't help, the only other way is to get to a lower altitude as fast as you can. But mentioned below are a few tips that can help you prevent AMS from happening.
Start from Shimla and End at Manali
Time is the key to altitude sickness, both before and after you start feeling the symptoms. As a rule of the thumb, stop for a day at every 2,000 feet (600 meters) of the climb above 8,000 feet (2,400 meters). You really got to give your body ample time to acclimatize and need to plan your journey in a way that the altitude gain happens gradually.
Start the journey Shimla and end at Manali. This is beneficial in two ways. First, as you travel from Shimla and approach Spiti, altitude increases gradually, giving enough time to your body to adapt. Shimla is at 2000 meters, Narkanda at 2700, Sarahan at 2300, and Chitkul at 3400, so the rise in altitude is slow, spread over a few days.
On the other hand, if you start the journey from Manali, altitude increases all of a sudden. One day you are at Manali, at a height of 2000 meters, and the very next day you reach Chandratal at a height of 4300 meters, more than double.
Secondly, traveling from Shimla means that you do not have to acquire a permit to cross Rohtang Pass which you will have to if you travel from Manali. This is an added benefit because acquiring this permit is really a hassle and a time-consuming process. For more details, take a look at How to Obtain a Permit for Rohtang Pass.
Avoid Smoking & Alcohol consumption
I know, this is easier said than done but it definitely helps. When at high altitude, you should avoid smoking and drinking. If you cannot avoid completely then at least keep it in check. Also, stay away from any sleeping pills or anti-depressant medicines.
Avoid Turning the Heater On
If traveling in a Car, you will be tempted to turn on the car heater in the cold atmosphere of Spiti. Avoid doing so. Even if you did turn on the heater, do not keep it at full blower or full heat. In the closed atmosphere of a Car, using a heater at its full capacity may trigger the symptoms of AMS.
Sleeping Habits
While you need to ensure that your body is getting proper sleep, you also need to avoid spending a night at a place where you are already suffering from AMS. If you start feeling the symptoms, then break the journey immediately rather than continuing to an even higher place.
Ensure that you are sleeping with your head on a pillow and not without it. Avoid sleeping during the day at all. If you are feeling symptoms of AMS, try sleeping in an upright position, with your back against the wall.
Also Read: How to Plan a Trip to Spiti Valley with Family
Eating & Drinking Habits
Keep yourself hydrated. Drink plenty of water and ensure that your diet has a lot of carbohydrates in it. At the same time, you need to make sure that you are not over-hydrating yourself.
Do not force yourself or someone else to drink water if they are not thirsty. This can happen especially with children. Over hydrating or forced drinking can lead to vomit or worse; can trigger cerebral edema (symptoms being confusion, weakness, seizures, or coma).
Avoid drinking too much coffee or tea and eating heavy, fatty, junk foods.  Try having small meals rather than heavy ones; inclusive of food that is easily digestible.
Do not Exert Yourself & Take Plenty of Rest
Keep your body relaxed, try to walk slowly, and do not exert yourself with any unnecessary activities that will leave you panting.
If you are experiencing symptoms of mild AMS, the first step is to rest at the same altitude. Usually, symptoms resolve with rest and painkillers within 24 hours. If symptoms do not resolve or if symptoms become worse, move down (descend). It is common that even a short descent and rest will improve symptoms significantly. It may still be possible to climb up again (re-ascend) if you have recovered and your schedule allows for this.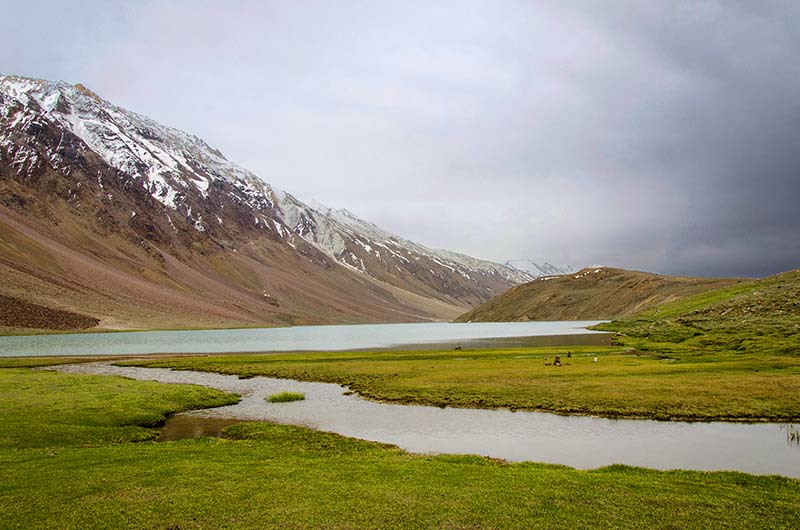 Medicines for Acute Mountain Sickness in Spiti
There are several medicines available in the market for high altitude sickness. What they do is make your body breathe faster than the usual rate and hence try to compensate for the low amount of oxygen. However, even these medicines are a precautionary measure and not a cure. They become useless once you start feeling the symptoms and should be taken as a precaution to avoid symptoms.
Acetazolamide, also known as Diamox, is the preferred medicine. It helps your body get used to higher altitudes more quickly and reduces minor symptoms. Take a dose of Diamox a day before you climb, and then for the next 1 to 2 days.
Diamox is essentially a blood thinner. It is also a sulphonamide drug, so people who are allergic to sulfa drugs should not take Diamox.
It is highly advised to consult your doctor before taking Diamox as it has several side effects like nausea, drowsiness, tingling like sensation in the body, and frequent urination.
Also Read: What Clothes to Pack for Spiti Valley
Home Remedies for Altitude Sickness in Spiti Valley
Apart from Diamox, there are some natural home remedies known to help with mountain sickness. These are some general daily use things and I will recommend that you pack these a little as well.
Ginger / Ginger Water
Ginger can prove to be one of the best remedies for altitude sickness. Chewing on some raw ginger can also combat nausea, dizziness, and vomiting at high altitudes.
What you can also do is to consume it mixed with water. Peel the ginger, grind it to extract the juice, and mix it (1 tbsp) in 1 glass of water. Consume it in the morning before you start climbing up and then again midway if you begin feeling dizzy or nauseous.
Garlic
Garlic is known for two things, both of which can be helpful while experiencing AMS. First is that it thins the blood and enhances circulation. Second is that it helps the body use oxygen more efficiently; which reduces breathlessness at a high altitude place like Spiti. All you need to do is to peel off 2-3 garlic cloves and start chewing on them.
Clove
Clove is another natural home remedy that helps the body to be more efficient while using oxygen.
Lavender Oil
Lavender Oil is known to contain sedative effects that can soothe the mind and decrease restlessness. It helps reduce headaches and stomach discomfort which are some of the symptoms of AMS. Just apply 2 to 4 drops of lavender oil on your head for a headache or inhale the lavender oil to reduce nausea and dizziness.
Manali to Spiti
Chances of suffering from Spiti are highest when traveling from Manali to Spiti valley; as I also previously stated in the article. A lot of people do it mostly when they are short on time. If you too are planning a trip this way then ensure that you first reach Kaza from Manali, and do not break the journey at Chandratal.
The primary reason behind this is that Chandratal is pretty much in the middle of nowhere. If your situation worsened at night, you will be in trouble with nowhere to go. At least with Kaza, you have the option of getting medical help. You can cover Chandratal on your way back to Manali. Your body would have acclimatized better and you will feel better.
Also Read: How to Plan a Trip to Chandratal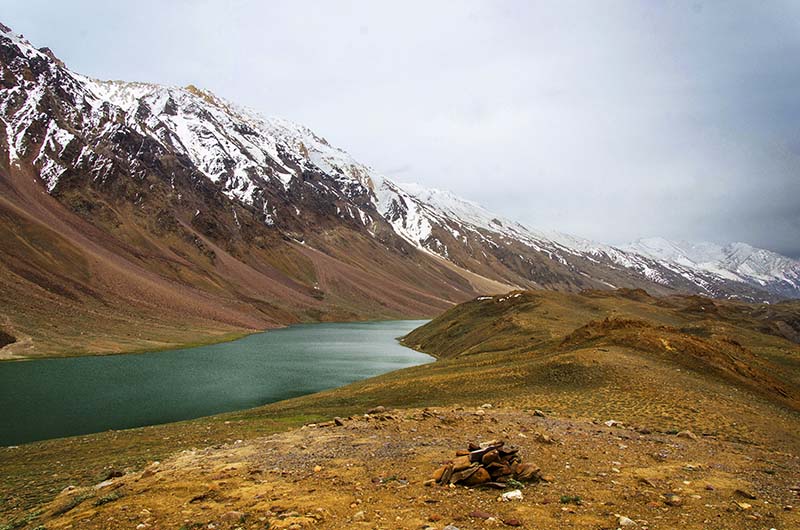 Oxygen Cylinder
Whether to carry an Oxygen cylinder or not is really a personal choice. If you are a healthy individual, went via Shimla, and took plenty of rest, then you do not really need to bring an Oxygen can. But if you want to, for your peace of mind, then yes you can.
If you had a breathing-related ailment or anyone else in the group did, then an Oxygen cylinder comes highly recommended. You also should think about carrying one if you were traveling with elders.
FAQs
Can Asthma Patients go to Spiti Valley?
This is not a question that you should be seeking answers to on the web. There is no direct yes or no to this. It will all depend on a person's medical history and the severity of the illness. This is a question that only a Doctor should answer after a close examination.
Can you Travel to Spiti With Elders?
Yes, you can but you must observe some necessary precautions. Please read How to Plan a Trip to Spiti with Senior Citizens for more details.
Can you Travel to Spiti with Children?
You should not if your child is an infant or under 2 years of age. If your child is above that age then yes you can but with precautions. Please take a look at How to travel to Spiti Valley with Kids for more details.
Acute Mountain Sickness in Spiti – Conclusion
Once again, the only sure-shot cure of AMS is to get to a lower altitude. An oxygen tank can help as well if you continue to have a breathing problem. If your condition worsens, please rush to a hospital. In the case of a heart patient, it is best to avoid this journey and not take the risk. Try planning from Shimla to Spiti if possible. If not then ensure that you head straight to Kaza from Manali and stay there until you do not feel any symptoms at all.
I hope the information above regarding Altitude Sickness in Spiti valley was helpful. If you have any further questions, please feel free to ask in the comments section below or at our Community Forum; and I will be glad to answer.