When I get asked about my favorite hill station, my answer always is Chitkul. It has been over a decade since I first visited here and since then it has remained on top of my "most scenic places" list. This  tiny hamlet hidden in the remote hills of Himalayas looks like a picture straight out of a painting. Surrounded by hills from three sides; a road leading up to it and then ending at the village; a river flowing down from up the mountains with sun rising in the backdrop; yes that is Chitkul for you. A place that you used to see in paintings and wallpapers and then suddenly arrived there yourself.
Chitkul is blessed with natural beauty and that is its primary attraction. The entire route from Karcham to Chitkul takes you through a paradisiacal landscape and you will find it hard to not stop at every turn and click hundreds of pictures. The road ends at Chitkul, making it the last village on the border. After that, it is just the mighty mountains in front of you and beyond that, Tibet.
Chitkul usually gets included in the itinerary by people who are out traveling on the Spiti circuit; or covering the entire Kinnaur Valley. But if you have a few days in hand and wanted to visit a scenic but lesser-known destination then Chitkul would perfectly serve the purpose. How you can plan your journey here is what I will provide details on in this article.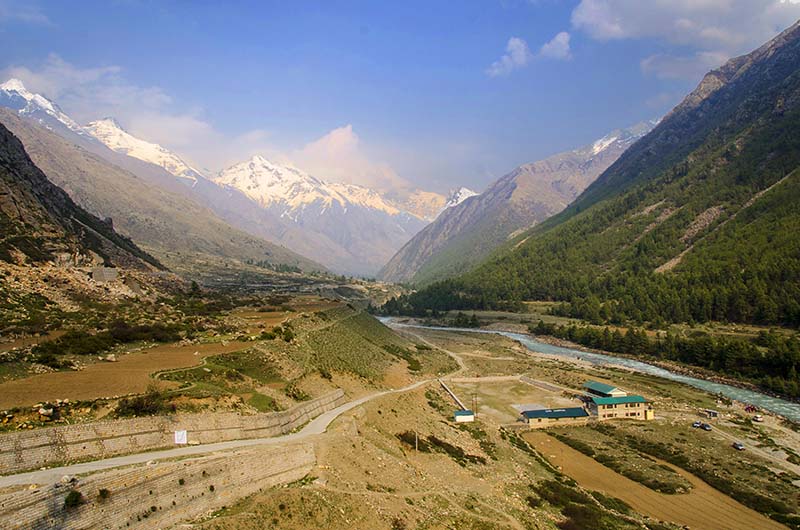 All About Chitkul
For a brief overview, Chitkul, (also known as Chittkul or Chhitkul) is a small village in Kinnaur district of Himachal Pradesh. Situated on the banks of Baspa River, it is the first village of Baspa valley and the last village on the old Hindustan-Tibet trade route. The road to the village bifurcates from Hindustan-Tibet Road (NH 22) at Karcham; from where Chitkul is approximately at a distance of 40 kilometers; while crossing the Sangla village on the way. The road ends at Chitkul making it the last inhabited village on Indo – Tibet border.
Chitkul is best known for its extremely beautiful and picturesque location. On one side of the Baspa River are snow-clad mountains; and on the other side, the whole terrain is full of apple orchards and wooden houses. During winters, the entire place mostly remains covered under a thick sheet of snow; and even the locals move to lower regions of Himachal for a few months. During the months December to March, the road gets blocked by snow, making the village impossible to reach.
The locals follow either Hinduism or Buddhism as religion and speak the Kinnauri language.
Where is Chitkul?
Chitkul is located roughly around 600 kilometers from Delhi; about 350 kilometers from Chandigarh; and about 250 kilometers from Shimla. It is a 2 days journey from Delhi; and one day from Shimla. You can actually make it in a single day from Chandigarh as well but the drive will at least be of 12 hours.
The road doesn't actually take you all the way till the actual border. It ends around 90 kilometers before the border, at Chitkul. The area between Chitkul and the border is under the control of Indian Paramilitary force ITBP.
If you were up for it, you can actually take a walk beyond the village as well. Trekking for 3 kilometers along the Baspa River will take you to Nagasti ITBP check post. Walk for another 7 kilometers and you will arrive at Rani Kanda Meadows which is a popular campsite and a stunning location with some amazing views. Ask anyone at the village and they will point you in the right direction.
Also read: Top Offbeat Tourist Places in Uttarakhand
Is Chitkul Worth Visiting?

The first question that comes to mind is if Chitkul is worth visiting and what does it have to offer? To be honest, there is nothing at Chitkul. It is just a tiny village with a handful of houses only. It is not really a place for people who like visiting tourist destinations like Shimla and Manali. That set of people will definitely get disappointed here.
It is, however, a perfect location if you want to spend some time away in peace and tranquility; away from the crowd at an offbeat destination. If you want to visit a place where there are hardly any people around, then Chitkul will suit you just fine. It is a place where you can slow life down for a few days; feel every hour of the day; listen to the birds, the river, the trees; listen to the silence; soak in the warm and walk along a river while gazing upon the snow-capped mountains.
In short, Chitkul is a place where you come to relax and rejuvenate yourself.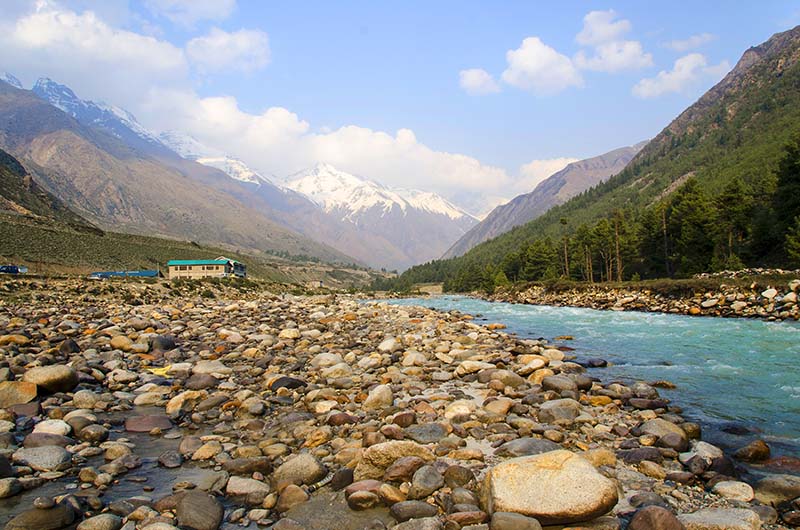 How to reach Chitkul Village

There are two ways that you can get to Chitkul. The shorter and easier route is via Shimla; while the longer and tougher one is via Manali. If you are into trekking then, of course, you can also reach Gangotri in Uttarakhand first and then trek to Chitkul from there; but that is a topic for another article at another time. For now, I will explain how you can reach Chitkul via Shimla or Manali.
How to reach Chitkul by Road
Let us first talk about how you can reach Chitkul if you were traveling by road and your own vehicle. For the sake of explaining the route, I will assume Delhi as your starting point.
How to reach Chitkul from Delhi
In order to reach Chitkul, you will first have to reach Chandigarh. From Chandigarh, you will then climb up to Shimla and then continue uphill all the way till Narkanda. After Narkanda, the drive is mostly downhill to the banks of Sutlej River.
You will then drive along with the river and reach Karcham while crossing Rampur and Jeori on the way. At Karcham, cross the dam over to the other side of the river and turn on the road that goes towards Sangla. From Karcham, it is then a straight drive to Chitkul for 40 kilometers. The route will be as mentioned below.
Delhi – Chandigarh – Shimla – Narkanda – Rampur – Jeori – Karcham – Sangla – Rakcham – Chitkul
The entire journey will be of about 570 – 600 kilometers, depending upon where you started from in Delhi; and it will take you at least 2 days to reach Chitkul.
How to reach Chitkul from Manali
If you, however, took the Manali route, then you would first have to cross the entire Spiti valley on the way. The route will then be as below.
Chandigarh – Manali – Rohtang Pass – Gramphoo – Batal – Kunzum Pass – Kaza – Dhankar – Tabo – Nako – Pooh – Karcham – Sangla –  Chitkul
Traveling this way, the journey will increase to almost 1000 kilometers from Delhi and travel time will increase to at least 3 days.
Of these two routes, going via Shimla is, of course, the preferred way to reach Chitkul. If you started by 3 to 4 AM from Chandigarh, you can actually make it to Chitkul the same day; whereas from Manali side, it will be a 3 days journey. You will first reach Manali on Day 1, then Kaza on Day 2 and Chitkul on Day 3. Journey on all these 3 days will be way too long. This route is not advised unless it is on purpose, and you want to cover Spiti valley as well.
Another point to consider while taking the Manali route is of Acute Mountain Sickness in Spiti Valley which you will have to definitely tackle with.
How to reach Chitkul by Bus

You can also reach Chitkul easily by Bus. Shimla is very well connected by daily buses to almost every major city nearby. Once you reach Shimla, you have two choices. You can either board a direct bus to Reckong Peo or Sangla. Of these two, Sangla would be the preferred one but you can board either one that matches your timings. There are daily buses from Sangla and Reckong Peo to Chitkul which you will board finally to reach your destination.
For more details I would recommend you to take a look at HRTC Timetable | Bus Schedule of HRTC & Fare where I have listed several buses plying in this region.
Another choice is of hiring a private cab from Shimla to Chitkul but that will cost you at least Rs. 12,000 to Rs. 15,000. It can however be a good choice if you were traveling in a group of 5 – 6 people that can all share the cost.
How to reach Chitkul from Delhi by Bus
So, for example, if you were coming from Delhi and wanted to reach Chitkul by Bus, you will first board a bus for Shimla. This is really the easy part because there are numerous buses that you can find going towards Shimla from ISBT Kashmere Gate. These will be a mix of both ordinary and deluxe buses by HRTC.
Once you reach Shimla, stay overnight and board a bus for either Reckong Peo or Sangla. Both these buses start from Shimla Bus stand in the morning so be there on time. If you reached Sangla, then you will have to look for a shared cab that can drop you to Chitkul.
If you reached Reckong Peo, you will have to stay overnight; and board the next day morning bus for Chitkul.
If you wanted to take the Manali route, then do not go all the way till Manali. Board a deluxe or ordinary bus from Delhi and get down at Mandi. From Mandi, there is a direct bus for Chitkul that starts at 6 PM from Mandi and arrives at Chitkul the next morning at 8.30 AM.
How to reach Chitkul from Chandigarh by Bus
There is a direct bus from Chandigarh ISBT for Sangla at 10 AM. This is the bus you will board and it will drop you at Sangla late in the evening. You can then stay overnight in Sangla and then look for a mode of commute for Chitkul the next day.
Nearest Airport to Chitkul
The nearest airport to Chitkul is the Shimla airport located in Jubbarhatti. After Shimla, the next nearest airport is the Bhuntar airport between Chandigarh and Manali. These are however small airports and flights to both these places are limited. The nearest major airport is at Chandigarh which is connected with several flights from all over the country.
How to reach Chitkul by Train



The nearest train station also is at Shimla but like the airfield, this train station also is a small one; connected to Kalka by the famous Kalka – Shimla Toy Train. The nearest major railway station is at Chandigarh; trains to which are available from all major cities in the country.
Also read: Places Less Visited in Himachal
How to reach Chitkul from Shimla
If you reached Shimla by either train or flight, you can then board the next day morning bus for Sangla or Chitkul, as I explained above. Or you can get a taxi for Chitkul from either the airport or train station itself.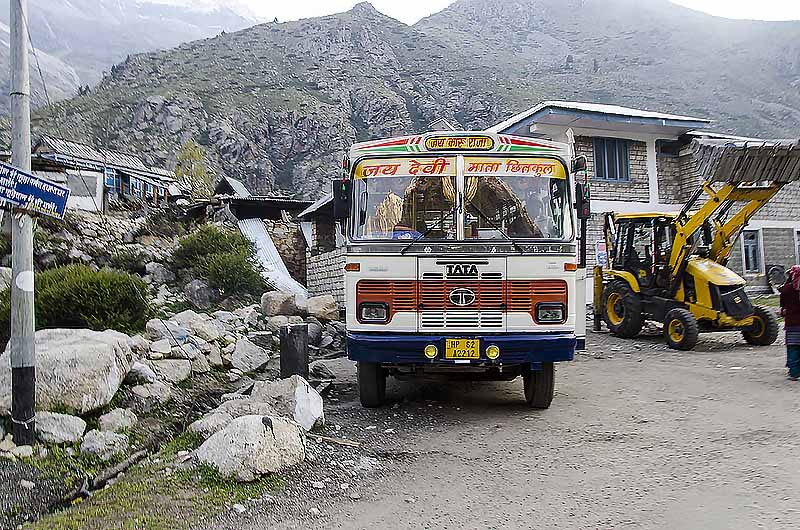 Weather in Chitkul
One thing is for certain when it comes to the weather in Chitkul. No matter which time of the year you travel here, it will always be very cold. Weather changes very rapidly and even in summers, a sudden fall in temperature may trigger winter-like conditions.
I have been to Chitkul in the months of May, June, and July and even at this time, when the summer season is burning up half of north India; the temperature here never went beyond 10 degrees Celsius. Nights will get extremely cold with temperature dipping close to 0 degrees even in summer.
Monsoon arrives by mid to late July and remains all of August. During this time, it rains heavily in the region and landslides become common. Sometimes it rains so much that entire sections of the roads get washed away; cutting off the area for several days.
Come October, winter will start to settle in and by December, it can snow here anytime. By January, the entire region gets buried under heavy snow and even the road from Karcham to Chitkul gets blocked completely. From September till April, it gets so cold here than even some of the locals leave the area.
I have covered this information in great detail in another article. Please read The Weather of Chhitkul to know the climate here changes throughout the year.
Best time to visit Chitkul
The best time to visit Chitkul, in my opinion, would definitely be the month of September. Why September? Because this is the time when the entire Kinnaur valley would actually be alive. When I say alive, I mean lush green with flowers of several colors blossoming all around.
You can actually get to see this in the months of July and August as well but that is the time of monsoon and would involve risking rain. In September however, monsoon would be long gone but would have left plenty of greenery behind for you to enjoy.
After September, the next best two months will be May and June but the vistas will be a little dry in both these months.
Also read: How to Plan a Trip to Prashar Lake
Chitkul in Winter
A bad time to visit here would be peak winters; unless you came here looking for it. The road to Chitkul can get cut off for months altogether due to heavy snow and if you happened to be here around that time, you will be stuck. In 2011, over 100 Bengali tourists were stuck at Chitkul due to extreme weather and it was weeks before they could be rescued. The same thing happened in 2017 as well. So unless you were looking for some extreme adventure and were prepared to be stuck here for months; then you may come to Chitkul in winters; otherwise avoid it.
Clothes to Pack
What kind of clothes to bring for Chitkul will really depend on the time of the year you are arriving here. A warm, thick and windproof jacket, however, is must irrespective of the month.
If you were planning a winter trip, then ensure that you are carrying all heavy woolens, waterproof gloves and waterproof shoes (so you can walk in snow if required). Also make sure that your jacket has a hood to protect your head, neck, and face. Do note though that by a winter trip, I mean visiting towards late March or early April when the road to Chitkul had just opened.
During summer, however, carry your regular cotton clothes with some light woolens; a heavy windproof jacket and that will be sufficient.
While visiting in the months of July and August, ensure that you are bringing clothes that can dry fast; polyester for example. Proper rain gear inclusive of a good quality waterproof jacket and an umbrella will be a must for visiting Chitkul during monsoon.
Also read: How to Plan a Trip to Chanshal Pass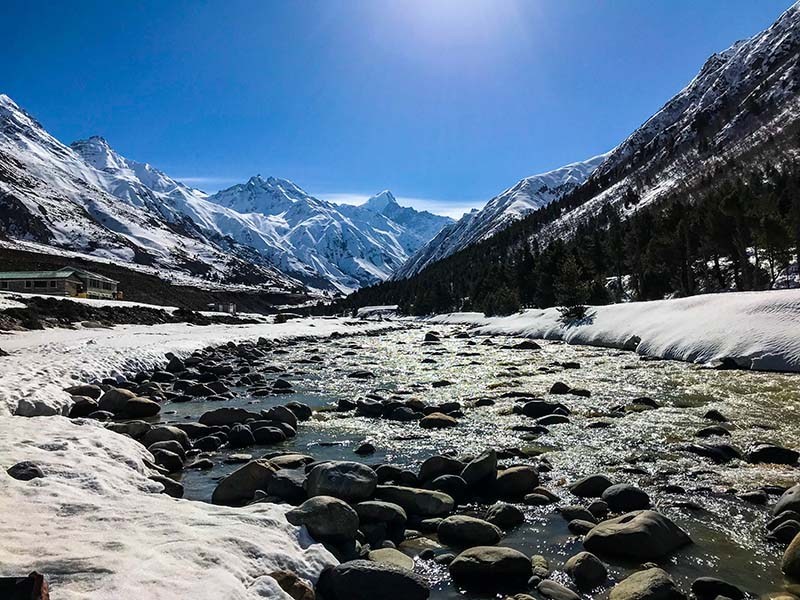 What to see in Chitkul
Except for the natural beauty, there is nothing to see here in particular. But it is the natural beauty itself that will keep you busy for days. You can go for short day-long treks as I mentioned above in the article. The nearby town of Sangla has a Kamru fort and Nages God temple that is worth a visit. If you have a few days in hand, then you can also include places like Kalpa and Sarahan in your trip; thus covering the entire Kinnaur Valley.
I have covered this information in more detail in another article. For an overview, I will list down the places to visit in Chitkul here but for more details, please read What to See in Chhitkul – Sightseeing in Chitkul.
Sightseeing in Chitkul
Natural Beauty
Tranquility
Baspa River
Mathi Devi Temple
Hindustan ka Aakhri Dhaba
Chitkul Fort
Hydro Flour Mill
Architecture
Village School
Places to Visit near Chitkul
Sangla
Kamru Fort
Bering Nag Temple
Karchham Dam and Lake
Sarahan
Kalpa
What to do in Chitkul?
The only thing to do here is to sit and relax the natural beauty all around you; to savor on the mesmerizing vistas and listen to the silence. If you are into trekking then there are a few trails that you could venture out on. It is the start point for Lamkhaga pass trek and Borasu pass trek. For a single day trekking, Nagasthi ITBP post is 4 kilometers and is an easy to moderate walk. Further ahead is Ranikanda meadows, about 10 kilometers from Chitkul. This same trek than takes you up to the Lamkhaga Pass and ends at Gangotri.
This information too is covered in another article in great details. I will list down some of the most fun things to do in Chitkul here but if you want to know more about them in details, please What to do in Chhitkul.
Photography
Enjoy the Night Skies
Camping in Chitkul
Learn about local culture
Walk along the river
Eat at Hindustan ka Aakhri Dhaba
See some unique temples
Drive on some adventurous roads
Chitkul Treks
Nagasti ITBP Post
Rani Kanda Meadows
Lamkhaga Pass Trek
Borasu Pass Trek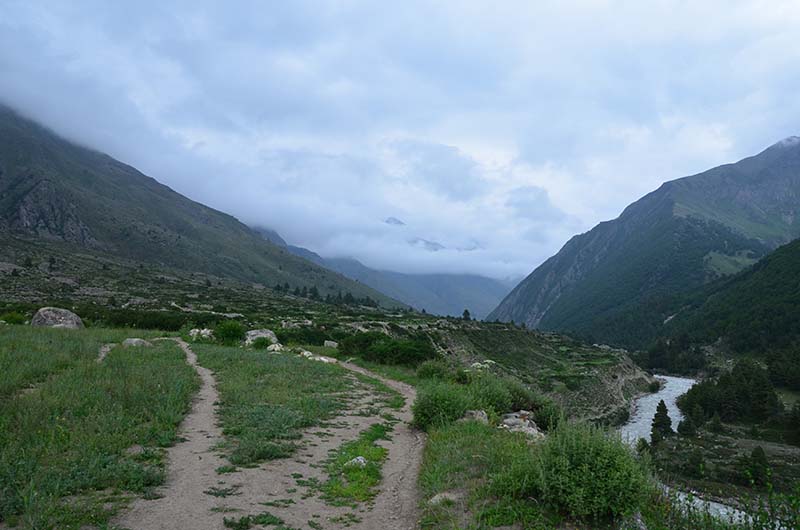 Where to stay in Chitkul
There are several hotels in Chitkul and you will easily find a place to stay here. There are several budget hotels as well; but to be on a safer side, keep a budget of around Rs. 1000 – Rs. 1500 per day minimum.
There is also an HPPWD rest house here that you can get for around Rs. 500. But I wouldn't recommend staying there. The rest house is in a very bad state and the caretaker is really an annoying person. Just take a walk around the village and check into any hotel that looks the best to you. For more info, please read HPPWD Rest House Review.
Camping in Chitkul
Yes, you can go camping as well if you wish to. There are several campsites in Sangla, Rakcham and along the way where you can check-in for the night. The charge for the camps really depends on your own negotiation skills but expect it to be around Rs. 2000 – 2500 per person including meals.
Self Camping
If you were carrying your own camping gear, you can go self-camping as well. I will, however, advise against doing it in the middle of nowhere. Just talk to the locals in the village, pay them a small amount for a safe spot to camp.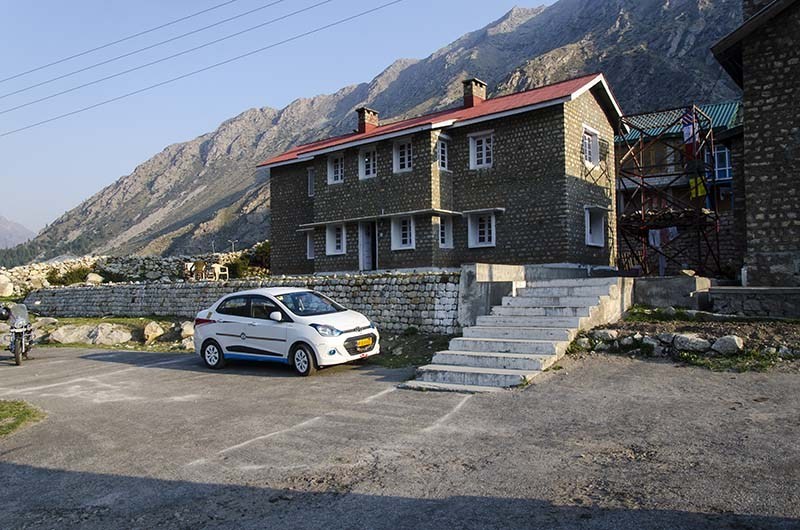 Where and What to eat

There isn't any special dish that they serve here; but most of the basic north Indian food remains available. Depending on your choice, you can either eat at your hotel itself or at any of the small Dhabas that are available all over the village.
Shopping Options
None of course. It is just a tiny village and there is nothing of interest here that you would want to buy; at least nothing that I noticed. For shopping, I will recommend that you try your luck in Sangla. It has some Himachali handicraft shops available if you are into that sort of thing.
ATM / Banks
There is no Bank or ATM in Chitkul but Sangla has an ATM. I have withdrawn cash from this ATM every time I went to Chitkul and found it to be functional always.
Petrol Pumps / Mechanics

There are several petrol pumps en route as you move from Shimla towards Karcham. However there is no gas station in the last 40 kilometers after. The last mechanic available en route will be at Sangla but only for some minor fixes.
Also Read: 7 Short and Easy Winter Treks in Uttarakhand
Medical Facilities

The nearest hospital or medical assistance is available only at Sangla for small ailments. If it is something serious, then you would have to go to either Reckong Peo or Shimla.
Mobile Network in Chitkul

Only BSNL works here but the reception is not that great. You will be able to have a conversation on the phone but voice clarity will be bad and the phone will continue to go on and off the network. Data connectivity will be pathetic; slower than even 2G. If you were on any other network then your phone will continue to work fine until Sangla but will go dead the moment you cross it.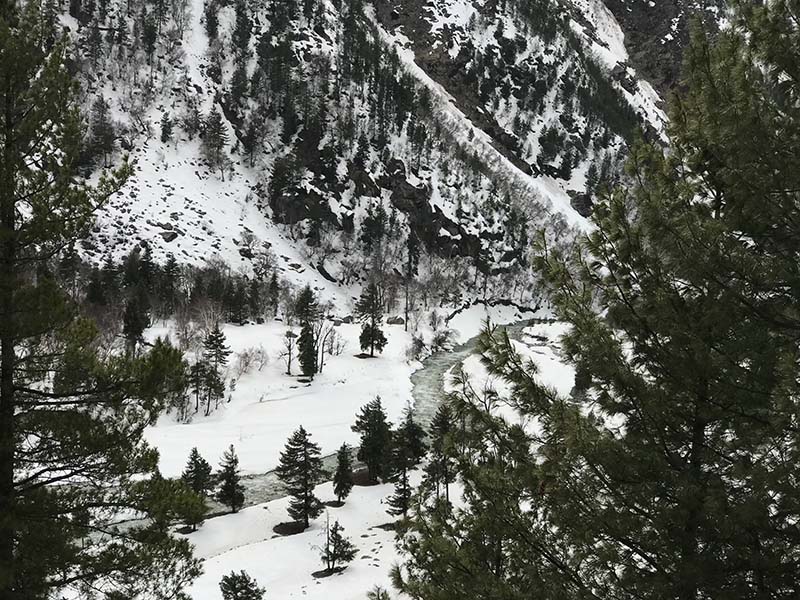 Chitkul Trip Itinerary

Assuming that you were coming from Delhi, on Day 1 you can either reach Shimla or Narkanda. I personally find Narkanda to be a better place for night stay for two reason. First is that Shimla is way too crowded for my taste. Second is that staying at Narkanda also reduces the travel time on Day 2. You can start early from Narkanda, possibly by 7 AM and will easily make it to Chitkul by 2-3 PM. Spend your 3rd Day in the village itself and then return to Delhi on Day 4 and 5.
Delhi to Chitkul Itinerary
An ideal way would be to add a few more days to the journey explore more. You would anyways be traveling for 5 days so spend a couple of days more in the beautiful Kinnaur valley. The itinerary can be as below.
Delhi to Narkanda – Day 1
Narkanda to Chitkul – Day 2
Chitkul to Kalpa – Day 3
Kalpa to Sarahan – Day 4
Sarahan to Chail – Day 5
Chail to Delhi – Day 6
Itinerary for Chitkul
Another itinerary can be like bellow but this would mean that you will be traveling on entire Spiti circuit which also has some of the worst sections of road that you had ever been on.
Delhi to Narkanda – Day 1
Narkanda to Chitkul – Day 2
Chitkul to Kalpa – Day 3
Kalpa to Kaza – Day 4
Kaza to Manali – Day 5
Manali to Delhi – Day 6
This is just a sample itinerary and you can definitely stretch it by adding more places if you had more time.
Also Read: How to Plan a Trip to Sarahan
Chitkul Current Road Conditions

Starting from Delhi, the roads are mostly all good until Karcham. The last 40 kilometers after Karcham will be a mix of good, bad and ugly. If however you were completing the entire Spiti circuit, then from Karcham to Kaza will further be a mix of good and bad. From Kaza to Manali is an extremely bad and nightmarish drive. From Manali to Delhi is mostly all good with a few bad patches in between.
Best Vehicle
There is really no best vehicle as such. In Kinnaur Valley, you will find locals still driving around in old Maruti 800s. The only thing that is needed is that your car is in good condition and you know how to handle it in the mountains. If you can arrange an SUV with good ground clearance, then it will be an added benefit.
In terms of a motorcycle as well, just make sure that your bike is well maintained and serviced. If you were coming on a smaller engine bike, then please ride solo and as light as possible.
Chitkul Temperature
Mentioned below is how the temperature here trends throughout the year. Please note that these are the average numbers based on historical data. Depending on the weather, the temperature can go even further up or down.
| | | |
| --- | --- | --- |
| Month | Maximum | Minimum |
| Chitkul in January | -5 °C | -21 °C |
| Chitkul in February | -2 °C | -17 °C |
| Chitkul in March | 1 °C | -13 °C |
| Chitkul in April | 7 °C | -8 °C |
| Chitkul in May | 12 °C | -3 °C |
| Chitkul in June | 18 °C | 2°C |
| Chitkul in July | 20 °C | 7°C |
| Chitkul in August | 20 °C | 7°C |
| Chitkul in September | 15 °C | 1 °C |
| Chitkul in October | 10 °C | -5 °C |
| Chitkul in November | 3 °C | -15 °C |
| Chitkul in December | -2 °C | -19 °C |
Other Tips
Mentioned below are some other tips and FAQs that can be of help in planning your trip.
Festivals in Chitkul
The major festivals celebrated in Chitkul are The Sajo Festival in January; The Dakhrain festival in July; The Jagro festival in September; The Fulaich festival of flowers in October and The Khepa festival.
Local transport
Chitkul is just a small village and is best explored on foot. You do not need local transport to move around in the village. The bus service I mentioned above can be used to move in and out of here.
Chitkul Altitude
Chitkul is located at an altitude of at 3450 meters (11,319 ft).
When does it snow in Chitkul?
Chitkul starts to receive snow towards the end of November or early December. The snowfall continues until the month of March and sometimes happens in early April as well.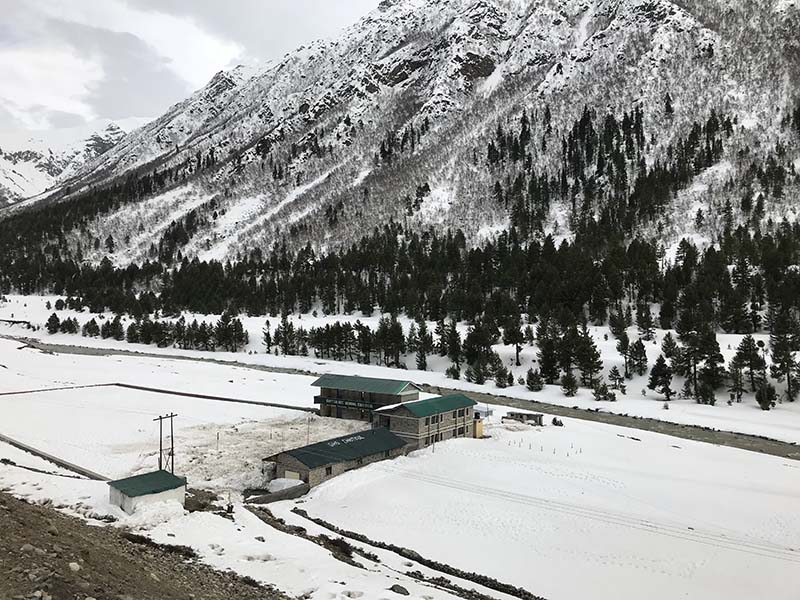 Facts about Chitkul
As per ancient mythology, the Kinnaur was believed to be the land between Heaven and earth and the people of Kinnaur were as Kinnaras, the halfway between gods and humans; more like demigods.
It may feel like you are deep in Himachal Pradesh but believe it or not, Uttarakhand border is merely 25 kilometers from Chitkul.
According to a recent study, Chitkul has the cleanest air in India.
There is no permit required to visit Chitkul but you will need one if you want to go trekking beyond Rani Kanda meadows.
Can we visit Chitkul in November?
Yes, you can visit Chitkul in November but only in the early part of the month.
How to reach Chitkul in December?
Chitkul becomes inaccessible in December and cannot be reached by road. Even if the road was open, I will still not recommend risking a trip here that late in the season.
How to reach Chitkul from Delhi by Train?
The best way to reach by train from Delhi is to first board a train for Chandigarh. From Chandigarh, you can then board a Bus or rent a taxi for Sangla or Chitkul.
Another way is that from Chandigarh, you reach Kalka, board the Kalka-Shimla Toy Train and arrive at Shimla. The final leg of the journey from Shimla can then be completed by Bus or taxi.
Is Chitkul open in January?
No, Chitkul remains closed in January.
Conclusion
I hope the information above on visiting Chitkul was of help. If you need any further information; or have any other questions; please feel free to ask in the comments section below; or at our Community Forum; and I will be glad to answer.