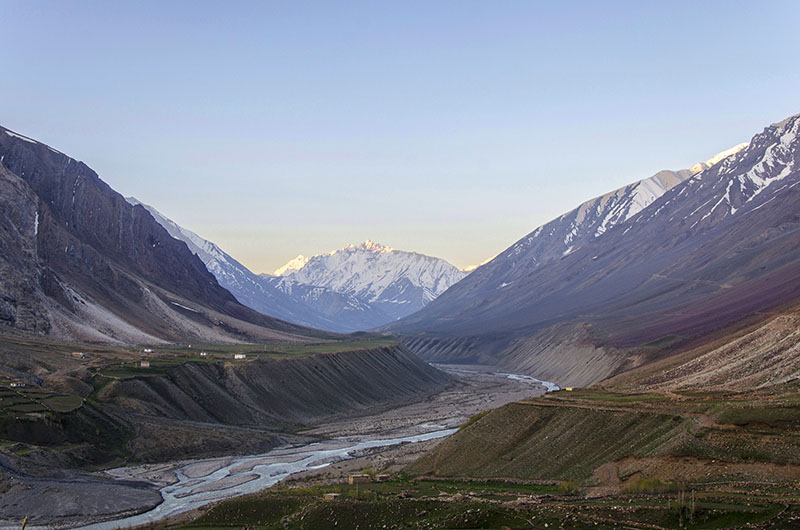 My first visit to Spiti was a bike trip that lasted for a total of 10 days, completing the entire circuit. I was with a friend of mine and we were both on my Royal Enfield 350CC. The combined expense of our trip came out to be around Rs. 18000. Divided into two, it was Rs. 9000 per head which means that our per day expense per person was under Rs. 1000, including everything. Believe it or not, but that was our total cost of trip to Spiti Valley.
Were we trying to cut down the cost in every way possible? Not really. We stayed at decent hotels, did a little shopping, enjoyed good food, and had a great time. We did not have a set budget for Spiti Valley so we were not even thinking about the cost. If we did, I am sure we would easily have reduced it by a few thousand more.
Also read: How to Plan a Trip to Spiti Valley – A Complete Travel Guide
I agree that this was a little while ago but not much has changed in the valley. It still is a place that you can travel to even with a very light budget. Even after considering the annual inflation and price increase over the last few years since the trip I mentioned, if you plan it well, you can still easily manage a budget trip to Spiti Valley. Read on to find out how.
Please note that in this article, I am only talking about the Spiti valley trip budget. If you want to get other details like how to reach the valley, what to see and where to stay, please read How to Plan a Trip to Spiti Valley.
Cost of Trip to Spiti Valley
With the exception of camps at Chandratal, at most of the places en route, accommodation cost will range between Rs. 600 – Rs. 1000. This can further go down to Rs. 500 if you were staying in the remote villages of Spiti. If a budget hotel is not per your taste then increase the price to Rs. 1500 per day and you can stay at a good hotel.
During your entire trip, finding a place to eat where you will not have to pay more than Rs. 100 for a meal for one person is not a big deal at all.
Your main expense however will come out to be of fuel. Since the kilometers you will travel are set and so is the price of the fuel, there is not much that you can do about it. The only way you can cut down this cost is by traveling in a group, to have someone to share this cost with.
A second way would be to not go by your private vehicle and opt for public transport. Please read How to plan a budget trip to Spiti Valley by Bus and Shared Cabs for more details.
The total days of travel, mode of commute, and personal spending habits are what will eventually form the total cost of a trip. With that being said, there can always be an average minimum estimate of how much you will spend while traveling to any place. Let us see how those numbers will look like in the case of Spiti. I will explain this with the help of a comprehensive itinerary.
How to Calculate the Minimum Budget for Spiti Valley
In my opinion, if you truly want to experience the complete Spiti circuit; a minimum of 9 – 10 days must be given to this journey. Any lesser than this and you may have to rush through the journey on certain days. A common and relaxed itinerary for Spiti valley would look something like this.
Delhi to Shimla / Narkanda – Day 1
Shimla / Narkanda to Sarahan – Day 2
Sarahan to Chitkul – Day 3
Chitkul to Kalpa – Day 3
Kalpa to Nako – Day 5
Nako to Pin Valley – Day 6
Pin Valley to Kaza – Day 7
Sightseeing in Kaza and its Vicinity – Day 8
Kaza to Chandratal – Day 9
Chandratal to Manali – Day 10
Manali to Delhi – Day 11
The above-mentioned itinerary ensures that you do not travel either too much or too less on any day. At the same time, it covers all the major tourist places en route. For the sake of this article, I assumed that you are starting from Delhi. If not, then only the journey and cost for the first and the last day will change. The rest of the details will still apply.
Not everyone can follow this itinerary and even the cost estimate I give will not be exact. But it should at least give you a fair idea of how much you will end up spending.
The total cost of the trip can be divided into three major parts; travel, accommodation, and meals. The per-head cost will depend on how many people you are traveling with and what is your mode of commute. In this article, I will provide an overall cost that you can divide by the number of people to get an average.
Accommodation Cost of Spiti Valley Trip
Hotel charges while traveling to Spiti valley will really not be that high. On the entire circuit, you will easily be able to find a hotel where you can get a room for a price between Rs. 600 to Rs. 1000.
All of the places I mentioned in the itinerary above have hotels that will easily fit into every kind of budget. The only exception here is the camps at Chandratal where you will have to pay around Rs. 1500 – Rs. 2000 per person, including meals.
If this does not fit your budget, you can choose to not stay here and go to Batal. The Chadar tent or Dhaba at Batal will offer you a bed to sleep on for the night for as little as Rs. 200 to Rs. 300. Another option is that you only plan a day trip to Chandratal. Start early from Kaza, visit Chandratal, and be on your way to Manali.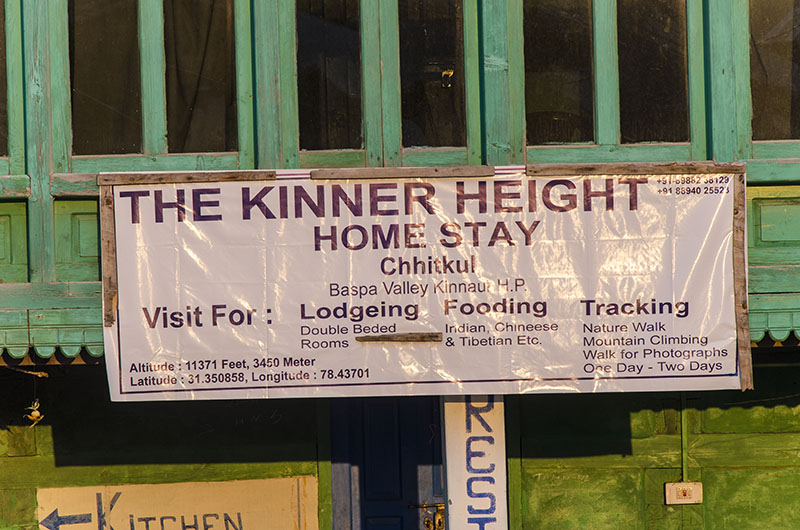 Cheap Hotels in Spiti valley
Let us take a look at the rest of the places.
Shimla: Rs. 600 – Rs. 1000
Narkanda: Rs. 1500 – Rs. 2500 (depending on the season)
Sarahan: Rs. 600 – Rs. 1000 (Rs. 300 if you stayed at the Dharamshala provided by Bhimakali Temple)
Chitkul: Rs. 700 – Rs. 2500 (Depending on your negotiation skills and season)
Kalpa: Rs. 1500 – Rs. 2500 (depending on the season)
Nako: Rs. 1000 or above, depending on the season
Tabo: Rs. 200 to Rs. 1500 (If you stayed at Tabo Monastery, you will only pay 200-300 per person)
Pin Valley: Rs. 500 – Rs. 2000 (Depending on where you stayed and your negotiation skills)
Kaza: Rs. 600 – Rs. 1000
Kibber / Komik / Hikkim / Langza / Chicham & Other Villages: Rs. 600 – Rs. 2500 depending on your own negotiation and the village. Some villages that are on tourist map will charge more and others much less.
Chandratal: Rs. 1500 – Rs. 2500 (Per person)
Manali: Rs. 600 – Rs. 1000
So keeping a modest average of about Rs. 800 per night, a 10-day trip will cost you Rs. 8000 – 9000 for accommodation. If you are traveling with a friend or in a group, then the room will be shared by two people and the total accommodation cost per head will come down to Rs. 4000 – Rs. 4500.
This is just an estimate. If you went in off-season or were good at negotiating, this cost can definitely be reduced further. Just opt for staying at places where it will cost you less, take a look through the town and find a hotel that will cost you less.
Also read: Clothes for Spiti Trip – What to Pack?
Meals Cost of Spiti Valley Trip
If you want to keep things under a budget, there are several small Dhabas on the route where you can eat enough and not pay more than Rs. 100 per meal. So an average of about Rs. 300 for meals per day per person will come out to be about Rs. 3000 for the entire trip.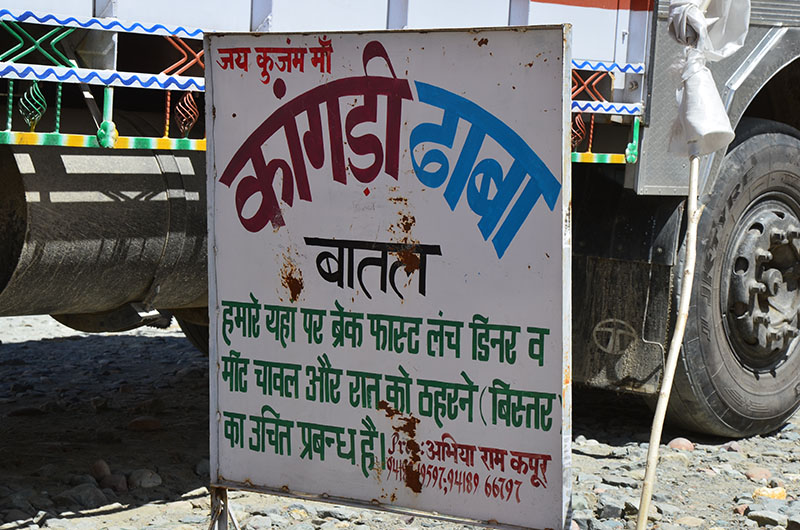 This number however is strictly limited to vegetarian meals at small Dhabas or restaurants. If you eat at the hotels you are staying at. then this number is bound to go up. If you order non-vegetarian, it will again be costly.
Following the above-mentioned itinerary, staying at budget hotels, and eating at cost-effective Dhabas, your total cost will be about Rs. 11000 – Rs.12000 if traveling alone. If traveling with a friend, the cost will come down to Rs. 7000 – Rs. 8000 per person.
Also read: Mobile Network and Data Connectivity in Spiti Valley
Travel Cost of Spiti Valley Trip
This as I mentioned will be your biggest expenditure. You can work around the accommodation and meal charges but how many kilometers you will travel and how much fuel you will use is a set number.
The only way to keep this expense at a bare minimum is to use public transport. If not then travel with a friend or a group that can share the fuel cost. If you were traveling alone, you can post a thread in our Community Forum's Travel Partner section. A lot of people have posted their travel plans here and were able to find other solo travelers. You can mention your itinerary and date here and someone with a similar plan can join you.
By Bus / Shared Cabs
There is a regular bus service available in Spiti Valley but its frequency is very less. A trip while relying entirely on buses will be very difficult. Hence, you will have to shuffle between both. Board a bus when available; otherwise, look for a shared taxi.
Shared cabs in Spiti are mostly either a Tata Sumo or Bolero. These are available on all routes and run regularly throughout the day.
The total fare of the entire circuit that I mentioned above for 10-11 days will not come our more than Rs. 3000 at most. Your largest expense will be the ticket from Delhi to Shimla and then Manali to Delhi. Other than that, these are just ordinary buses in the valley that locals use. The fare will not be that high for any of the destinations in between.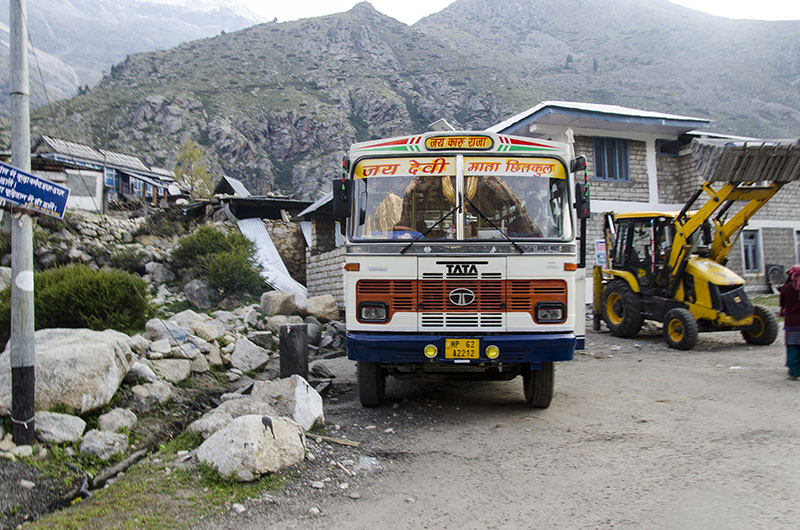 Self Owned Motorcycle
Following the itinerary that I mentioned above, from Delhi to Kaza via Shimla and back via Manali; the total distance covered would be close to 1800 kilometers.
After the total distance, you will next have to review your motorcycle's fuel efficiency. In the mountains, you should expect its average to dip down slightly than what you were getting on plain roads. Riding in lower gears, steep ascents would definitely consume more fuel.
Most of the motorcycles these days give a mileage of about 30 – 40 kilometers per liter (most, I know there are some that give more than this). To be on a safer side let us assume that you get an average of 30. So 1800 kilometers, at an average of 30 with Rs. 80 per liter of petrol (price at the time of writing this article) would come to a total of about Rs. 4800 as fuel charges. If you are riding with a pillion, then this cost would be about Rs. 2400 per person.
Self Owned Car
Just like motorcycles, I will assume an average of 10 kilometers per liter which I guess is the minimum for most cars. So 1800 kilometers, an average of 10, Rs. 80 for per liter for petrol or Diesel and the total fuel cost will be about Rs. 14400. Assuming that you are 4 people traveling in the same car, fuel cost per head will be somewhere close to Rs. 3600.
Putting all of the above together, if you went by Bus, the above expenses will add up to about Rs. 14000 if traveled solo by Bus. If you were with a friend, the cost will come down to Rs. 11000 per person.
if you are riding solo on a motorcycle, then your total cost of the trip will be somewhere about Rs. 15000 to Rs. 16000; inclusive of fuel, accommodation, and meals. If riding with a pillion, this cost would come down to about Rs. 11000 per person.
If traveling by car, the total cost would be about Rs. 11000 – 12000 per person for a group of 4 and close to Rs. 15000 – 16000 for 2 people.
Any money you spend in getting your bike or car ready for the trip, or getting it serviced / repaired after the trip will be a further addition.
Also read: How to Calculate Cost of Motorcycle Trip to Spiti Valley
Rented Motorcycles or Self Drive Cars
If you are renting a motorcycle, depending upon which one you choose, the average charge comes out to be close to Rs. 1500 per day. So for 10 days; you will pay about Rs. 15000 as motorcycle rental. Please note that in this case, the itinerary will change too because if you rent a motorcycle from Shimla, you will have to come back to Shimla to hand it over. If you leave it at Manali, then the rental agency will charge you more money for this service. Any such charge will be in addition to this rent.
So adding the accommodation, meals, fuel, and rental; traveling by a rented motorcycle will cost you about Rs. 30000 for a 10-day trip, if riding solo. If you have a pillion to share this cost with you; then the total cost will come down to about Rs. 18000.
I am not really sure about the rates of self-drive rentals so cannot provide an estimate on that but the calculation will be the same. Just add the daily rental of the car with your meal and accommodation charges I mentioned above and you will get the idea.
Also read: A Complete List of Tourist Attractions in Spiti Valley
Private Taxi
If you are planning to hire a private taxi then my honest advice would be to reach Shimla or Manali by Volvo. Do not hire a taxi all the way from Delhi because this will just be an additional cost. Do a comfortable night journey in Volvo from Delhi to Shimla and rent a taxi from there. Same way, catch a Volvo from Manali to get back home in Delhi.
A taxi for 10 days of a trip from Shimla to Manali via Spiti will be Rs. 20000 – 30000, depending on your own negotiation skills. Whatever the deal you agreed upon with the travel agency or the driver with, add that cost to accommodation and meal costs I mentioned above.
Please note that there will be several other costs involved like toll charges, snacks, cigarettes, smokes, cold drinks, etc which I will consider as a personal spending habit. This will vary highly for everyone so I have not included in the cost estimates I provided above. You can add it to the estimates depending upon your own expenditure or of the group you are traveling with.
Conclusion
Tourism in Spiti in recent years has increased drastically. What once was a destination for bikers and adventure enthusiasts now gets considered for family vacations as well. The good news however is that it has had minimal impact on the cost factor yet. Considering that you will be traveling for a total of 10-11 days and almost 2000 kilometers, the numbers I gave above are not really that high.
I hope the information above related to the cost of trip to Spiti valley was helpful. If you have any further questions, please feel free to ask in the comments section below or at our Community Forum and I will be glad to answer.