In this article, I will provide details on how and where can you obtain an Inner Line Permit for Spiti Valley. I will talk about the procedure to procure the permit, the different places you can get it from, the documents needed, and the related cost.
Please note that in this post, I am only covering the topic of permits for Spiti Valley. For any other details about your trip, please take a look at How to Plan a Trip to Spiti Valley – A Complete Travel Guide.
Is there any Permit Required for Spiti Valley?
There is no permit needed for Spiti Valley for Indian Citizens but foreign nationals are required to get a permit. This permit is only limited to the stretch between Kaza and Reckong Peo.
What this means is that even foreigners do not need the permit for traveling between Shimla to Reckong Peo, or Kaza to Manali. But if you were also planning to traverse between Peo and Kaza, then yes, you will need to get a permit for Spiti Valley. This permit is known as Inner Line Permit.
Inner Line Permit Spiti Valley

The fact actually is that the term ILP is only applicable to permit that an Indian need to get. For foreigners, the term used is a protected area permit. The purpose is the same for both; to authorize a civilian entry into inner line areas however the format and the procedures are different.
Since Indian nationals have no need to obtain an ILP for Spiti, I will only cover how a foreign tourist can get a protected area permit for them. Below is how this permit looks like.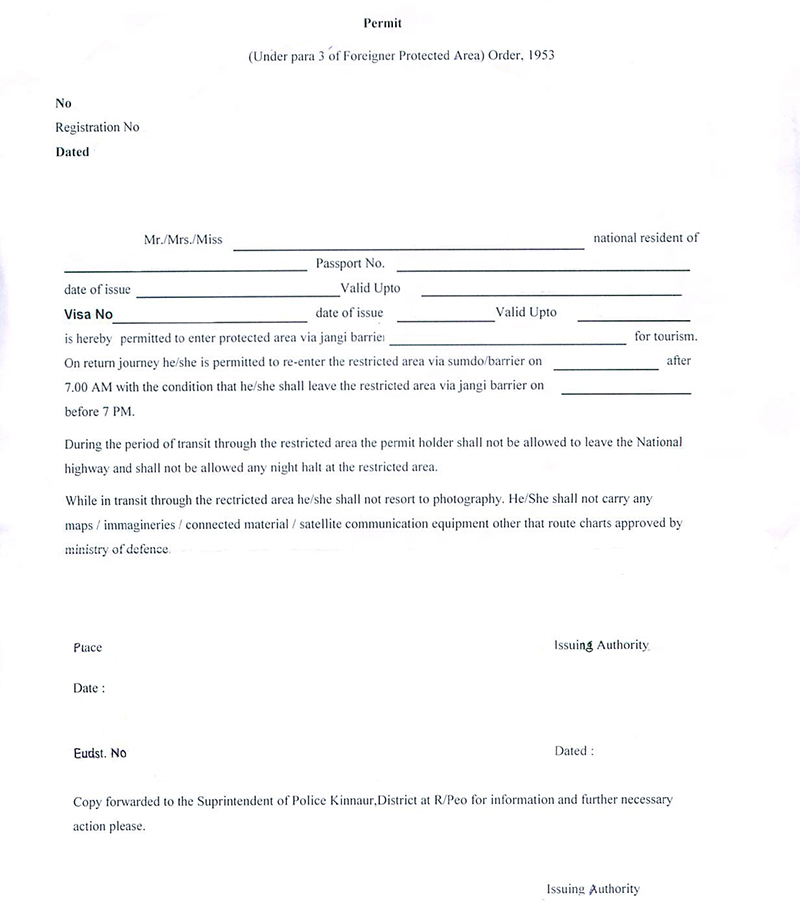 Permit for Spiti Valley for Indian Nationals
As an Indian Citizen, the only document you need to carry is a government-issued Identity card and that will suffice. Aadhar Card will be the best for this purpose. There are check posts on the way where you will have to register yourself and produce an identity card before you will be allowed to go any further.
The only permit you will have to procure is the one issued for Rohtang Pass in case you are traveling from Manali. If going from Shimla, then this permit also is not required.
Also Read: How to get a Permit for Rohtang Pass
Protected Area Permit for Spiti Valley for Foreign Nationals
Starting from Shimla, there is no need to get a permit for traveling up to Reckong Peo. Anywhere beyond that and you will need to obtain a permit for places like Pooh, Nako, Tabo, Dhankar, and Kaza.
There is a check post after Reckong Peo where all tourists have to register themselves before proceeding any further. Indians can just produce a government-issued Identity card like Aadhar card, voter's ID, Driving incense and it will suffice.
Foreigners however will have to submit a photocopy of their permits. This permit can be obtained from the DM office in Shimla and Reckong Peo. If coming from Manali, you can get the permits from the DC office at Keylong.
Apart from these places, permits are also issued from the ADM office in Rampur and Udaipur.  Offices are upon from 10 AM until 5 however in order to get a permit, make sure you reach there before 3 PM. The process of getting the permit can take up to 2-3 hours so you should plan your travel accordingly.
Also Read: What Clothes to Pack for Spiti
Manali to Spiti Valley Permit
Coming from Manali, you can reach Kaza without a permit via Batal and Losar. If however, you want to pass Kaza towards Dhankar or Tabo, you will then need a permit that you can obtain in Kaza itself.
Please note that for a trip from Manali, you will also need to get the Rohtang Pass Permit first from Manali.
Validity & Procedure
The validity of the permit is 2 weeks from the issue date. If your trip extends beyond two weeks, you will again have to apply and get another permit after the current one expires. Once you have the permit, please ensure that you are carrying multiple copies of it as you will have to submit one at each check post.
The tricky part around getting this permit is the involvement of a travel agency. You will be required to get a letter from a registered travel agent stating that they are sponsoring you and a permit can be issued.
Apart from this letter, you will also be required to produce a copy of your passport, visa, three passport-sized photographs, and a detailed itinerary of your travel plan.
You will also have to fill out the permit application form which you can get at the SDM office itself.  A better and easier way to get this done to contact a travel agency and rather than asking them to give you a letter, pay a little extra and ask them to get the permit itself for you.
The ILP application form, however, must be completed in person and all person traveling must be present in front of the ADM when he signs the permit.
The best place to get the permit would be at Reckong Peo because there are not many people there. At Shimla or Manali, it may take you an entire day to get the permits issued. In the end, it is a government process after-all and you may end up talking to several people.
Charges for Spiti Valley Permit

Officially, there is no charge for these permits. Some time ago, a "Sugam Center" was set up in Shimla in order to make the process of obtaining these permits faster and easier. A charge for Rs. 200 was also added to be paid at the Sugam center as a "convenience fee".
However, quite the contrary happened. The process still remained slow and time-consuming but now at a cost of Rs. 200. If either of the ADM office staff asks you to go to Sugam Center, do not do so. In the end, you will still have to submit the same form at the ADM office.
Another official rule states that the permits can only be issued to a group of a minimum of 4 tourists through a recognized travel agency. This rule however is only applied strictly at Shimla.
If you are a solo traveler or a group of less than 4, then do not try to get the permit in Shimla as you will be denied. Rather, continue to Reckong Peo and apply there. This rule somehow is not applicable in Peo. You will easily get the permit even if you are a solo traveler.
Also Read: Mobile Network in Spiti Valley and Data Connectivity
Where to get an Inner Line Permit for Spiti Valley in Reckong Peo?
In Reckong Peo, the permits are issued at the ADM office at Khwangi Road. The process is somewhat easier here. There won't be too many people around applying for the permit so the time consumed will be less.
You would not have to worry about a minimum of 4 people; and also do not need to carry a passport size photograph. They have a webcam installed using which picture of you will be clicked and pasted directly on the permit.
If you do not want to go through the hassle, then there are a few travel agents in both Reckong Peo and Kalpa who can help get the permit on your behalf for about Rs. 100 to Rs. 200 per person.
In Keylong, the process is pretty much the same as Reckong Peo. There will not be many people around and the 4 people rule too is not strictly followed. You can get the permits from the DC office Keylong but will have to bring in your 2 passport-sized photographs.
Also Read: How to Handle Acute Mountain Sickness in Spiti Valley
Online Permit for Spiti Valley
There are no provisions to obtain Spiti Valley Permit online. It must and can only be obtained in person.
Inner Line Permit for Spiti – Conclusion
I hope this information on the inner line permit for Spiti Valley was helpful. If you have any questions, please feel free to ask in the comments section below and I will be happy to answer. You can also follow me on Instagram and chat with me live there or subscribe to my YouTube channel and ask a question there.