Affectionately known as Ladakh's little brothers, the valleys of Lahaul and Spiti are located in the northern Indian state of Himachal Pradesh. These two valleys are part of a fascinating world tucked away in the remote reaches of the mighty Himalayan Mountains and are located close to the Indo-Tibet border. Lahaul and Spiti are situated at a height of nearly 4000 feet above sea level and they are both as different as night and day. The Lahaul Valley luxuriates in lush greenery generated by the glacial waters of the Bhaga and Chandra rivers. On the other hand, the Spiti Valley, known as "Land of the Llamas" boasts a cold, barren desert landscape with a harsh climate and craggy hills.
Also Read: How to Plan a Trip to Spiti Valley – A Complete Travel Guide
The region also has a number of picture-postcard-perfect freshwater lakes – Suraj Tal, Chandra Tal and Dashir Tal which are a feast for the senses! These snow-capped mountains, abundant valleys and winding trails are home to some of the hardiest species on the planet. Himalayan wolf packs prowl across the plains. Wild yaks peer at passersby with a calm, patient demeanor. Woolly hares and Tibetan gazelles gallop freely. Best of all, the elusive snow leopard patrols his sky-high domain. It is a lucky traveller indeed who can manage to spot this shy, gorgeous creature in the wild!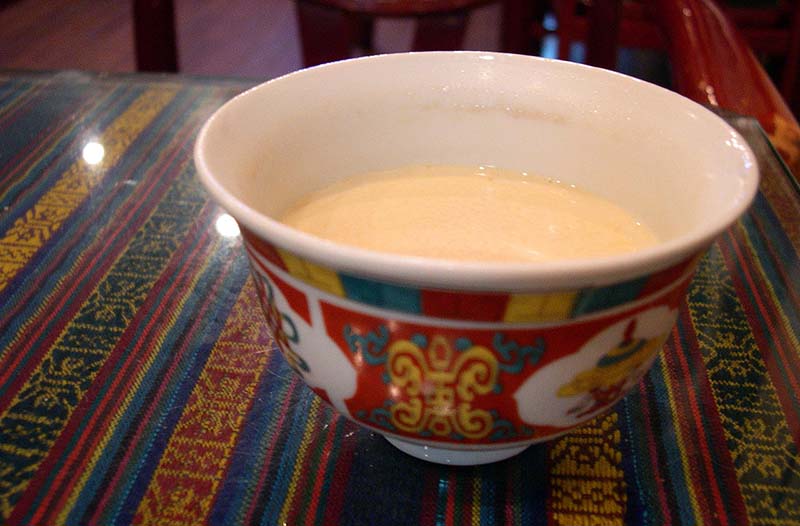 Foods to Try in Lahaul and Spiti Valleys
Perhaps as a result of facing the trials and tribulations of such harsh climatic conditions, the people of these valleys are some of the warmest and kindest anywhere on Earth. They provide a friendly welcome to world-weary travellers and soothe their jaded spirits. The local culture is a fascinating mix of Hindu-Buddhist-Tibetan influences, all coexisting in harmony. The result is an entire land frozen in time whose tranquil monasteries, ancient temples, colourful fairs and festivals, exotic ethnic tribes and bewitching Buddhist artefacts draw thousands of tourists every year.
Lahaul and Spiti valleys have much to see and do: leisurely walks along the Spiti River, skiing on the snowy slopes, trekking off the beaten track and river rafting over the freezing waters. So many activities are sure to work up a mighty appetite! Luckily for you, food in Lahaul Spiti food is some of the most delicious and filling in all of India.
Also Read: Shopping in Spiti Valley – What to Buy & Where
Lahaul Spiti Cuisine
Lahaul and Spiti experience a harsh climate year round. Only shrubs and scattered patches of grass can grow here. In the winter, extreme snowfall cuts off these valleys from the rest of Himachal Pradesh for months at a time. Lahaul Spiti food is a reflection of these conditions. The locals enjoy non-vegetarian options, such as chicken, mutton, lamb and even yak. The rivers are teeming with delicious freshwater fish which frequently end up on the plate. Local food in Spiti valley is clean and organic. Nearly everything cooked in the hotels, restaurants and homestays are usually freshly harvested from the local fields. Food in Lahaul and Spiti contains a wide variety of vegetables: leafy greens, potatoes, radish, green peas, tomatoes, carrots and cabbage.
Where to Eat the local food in  Spiti Valley
Lahaul Spiti food is a mouth-watering combo of Pahari-Tibetan-Punjabi influences, topped off with some truly iconic homegrown dishes. On the way to these valleys, Indian food is readily available at roadside restaurants and dhaabas. However, the higher you go the more you will find that traditional Tibetan dishes are the norm: Thukpa, Kyu, Thentuk, Momos, Tsampa, Churpe, steamed dumplings and Chiltas. Although your options will be limited, the cooks will make a fair attempt to prepare your wanted dish on request. So, be prepared to eat the local take on roti, sabzi, daal and rice!
To truly experience delicious, mouth-watering Lahaul Spiti food choose a homestay. You will get the unique chance to eat traditional dishes fresh from the kitchen, whose recipes have been passed down from generations! Missing this will be something you regret!
Also Read: Festivals in Spiti Valley: A Colorful Celebration of Life
Famous

Lahaul and Spiti Foods



Listed below are some of the most known and delicious dishes that you can try while traveling through Spiti. I will begin with food items first and then move on to Beverages.
Dishes
Madra
Thenktuk
Dhaam
Tudkiya Bhaath
Bhey
Chhaa Gosht
Siddu
Babru
Aktori
Trout curry
Thukpa
Mittha
Channe Ka Khatta
Kadoo Ka Khatta
Mash Daal
Patande
Chicken Anardana
Pahadi Chicken
Gahat Ka Shorba
Alu Palda
Luchi Poti
Momo
Finsha
Teemo
Shunali (Sweet Dish)
Beverages
Chhang and Arak (Alcoholic)
Seabuckthorn Juice
Butter Tea
Chaza
Snowmelt
Let me also provide a little more information on all the items listed above.
Madra
An inseparable part of Himachali cuisine, expect to be lovingly offered Madra at every home, restaurant, occasion and festival. Originating in the Chamba district, this delicacy is prepared by combining soaked chickpeas and vegetables in a yogurt base to form a singular, kadhi like dish. It is cooked in ghee or oil and seasoned with onion-ginger-garlic paste, cardamoms, cinnamon, cloves, coriander powder and turmeric powder. Finally, it is garnished with dry fruits. This filling dish is perfect for breakfast, lunch or dinner and is served with puris or rotis. A classic Pahari dish!
Thenktuk
A Thukpa variant, this soup noodle dish goes easy on the spices. Of Tibetan origin, the gravy consists of mutton, chicken, tomatoes, onions, spinach, potatoes, radish, garlic, ginger and cilantro. The noodles are of the pull-out variety and mixed with wheat dough chunks. The unique fact about this dish is that Yak meat is often used here, which makes it iconic and a must try for every food connoisseur.
Dhaam
A complete meal by itself, Dhaam was originally prepared only for Himachali Brahmins and was served on leaves. Even today, no auspicious occasion is complete without a plate of Dhaam and is prepared by chefs hired specially for this purpose, who are known as "botis". What does a quintessential plate of Dhaam offer? Rajma, moong daal, yoghurt, boor ki kadi and fragrant mountain rice.  Mash daal and sweet and sour sauce prepared from jaggery and tamarind are served as condiments. For the best taste, eat Dhaam prepared for a festival.
Also Read: How to Plan a Visit to Chandratal Lake
Tudkiya Bhaath
This is a Pahari version of pulao and is jam-packed with nutrients. White rice is tossed with potatoes, lentils, onions, tomatoes and yoghurt and spiced up with cinnamon, garlic, cardamom, ginger, chilli powder and bay leaves. Sprinkle freshly squeezed lemon juice on this spicy dish and eat with mash daal for the best results. For an authentic taste of Pahari cuisine, a taste of Tudkiya Bhaath is essential!
Bhey
A scrumptious and addictive part of Lahaul and Spiti food, Bhey is a unique dish made with lotus stems. First, the stems are thinly sliced and boiled, then, they are stir-fried with gram flour, onions, cayenne pepper, garlic-ginger paste and mountain herbs. What emerges a distinct dish with a unique texture and taste. The people here love their Bhey. It can be served both as a snack as a meal.
Chhaa Gosht
A dish which no self-respecting meat lover will be able to resist is this rich mountain delicacy – Chhaa Gosht. Typically a lamb based dish, the meat is first marinated. Then, the meat is added to a gravy of yogurt and gram flour and seasoned with strong spices – red chili powder, cardamom, coriander powder, garlic-ginger paste, asafoetida and bay leaves. For the most aromatic and enticing version, eat Chhaa Gosht at a local's home.
Also Read: Spiti Valley Bus Service
Siddu
No, we are not talking about eating Navjot Singh Siddhu here. Siddu is the local bread, typically prepared with wheat flour. The process of preparation is arduous and time-consuming, but the final result is so delectable that it makes the effort worth it. First, the dough is kneaded and kept aside for at least five hours so that the yeast can work its magic. Then, the fat is added to the dough and it is baked on a direct flame till it is half cooked. Finally, the dough is steamed. This is where the secret lies to its distinctive taste because cooking this way allows nutrients to be preserved. Siddu is slathered with butter or ghee and the warm, moist bread is eaten with mutton or daal. Yummy!
Babru
Standing in stiff competition to the North Indian Kachori, Babru prepared by kneading dough which is then stuffed with a paste of locally grown black gram lentils. Deep fried to crispy perfection, it can be served with tamarind chutney or Madra. A warning though – you will never again be able to have Kachoris without longing for Babru!
Aktori
Aktori is a festive local food of Spiti Valley. It is made with buckwheat leaves and is shaped like a pancake or cake. This divine dish is considered an inseparable part of every celebration and people all over Himachal Pradesh enjoy it with relish!
Trout curry
The icy rivers of Himachal are fed by freshly melting glacier snows. These waters are the favorite breeding ground for the delicious Rainbow trout.  These fish are brimming over with nutrients, so it's hardly surprising that their curry is one of the healthiest dishes in the state.  The trout are first marinated and then shallow fried in mustard oil with minimal spices. This allows the original, natural flavors of the fish to be preserved. It is then combined with boiled vegetables and served with piping hot rice. Don't forget to sprinkle lemon juice on the fish to bring out the best flavor!
Also Read: What to See in Spiti Valley
Thukpa
Tibetan cuisine is the mainstay of Lahaul and Spiti food items, born from centuries of interactions with Tibetan culture. A natural and yummy result is that a delicious dish known as Thukpa is today widely available all across Himachal Pradesh. It is a popular comfort food. Into chicken, mutton or beef soup are added noodles, tomatoes, onions, garlic and seasonal vegetables and served with spicy chutney. In the chilly climate, Thukpa warms you up, inside and out.
Mittha
As sweet as its name, Mittha is prepared by adding generous portions of dry fruits to sweetened rice. Always served on special occasions, Mittha can also be served as a dessert at the end of a Dhaam meal.
Channe Ka Khatta
This is an iconic Pahari dish prepared with black gram. Its sour taste is a perfect complement for Madra or white rice.
Kadoo Ka Khatta
A flavoursome food in Lahaul Spiti, this spicy, tangy pumpkin gravy is a traditional Pahari delight. It gets its iconic taste from dried mango powder. To even out the taste, boiled potatoes are added. An impressive dish which melts in the mouth!
Mash Daal
Every Himachali person will lovingly recall this daal made with split black lentils as a childhood favorite. So, it is fittingly called Maa ki Daal. Lentils are soaked overnight and then steamed. Then, the lentils are added to a pan along with ginger-garlic paste, sliced onions, and spices and shallow fried in piping mustard oil. A classic comfort dish.
Patande
Who knew that you could find savory pancakes so high up in the mountains? An Indian version of the popular dish, they resemble crisp dosas. A batter is prepared from milk, wheat flour and sugar. This batter is spread on a pan and moistened with ghee. A yummy snack!
Also Read: What Clothes to Pack for Spiti Valley
Chicken Anardana
We bet the name itself made you sit up and take notice! This meat dish came about as a result of Persian influence. Chicken is marinated and then garam masala and dried, powdered pomegranate seeds are added. Finally, yogurt is added to get a spicy-sour gravy. Chicken Anardana can be enjoyed with steaming rice or hot rotis.
Pahadi Chicken
This dish is one of the fastest and easiest to prepare foods in Lahaul Spiti. Chicken chunks are stir-fried with garlic, ginger, coriander and mountain herbs. It is garnished with mint to get a full range of flavours. Pahadi chicken can be eaten with rice or rotis.
Gahat Ka Shorba
India has many varieties of Shorba, and it is no surprise that Spiti Valley food has its own take on this delicious dish. This stew is prepared with a local grain known as Gahat and flavoured strongly. with garlic and coriander.
Alu Palda
This is a potato curry prepared in yoghurt gravy.  Alu Palda's mellow taste makes it a firm favourite dish in Lahaul and Spiti.
Luchi Poti
This might just be the most exotic local food in Spiti Valley. The main component is the lamb intestines. Millet and wheat flour are mixed together with a wide variety of spices. The intestines are stuffed with the resulting paste and steamed. A must-have dish for every hardcore non-vegetarian!
Also Read: Mobile Phone Connectivity in Spiti Valley
Momo
No die-hard foodie can think of momos without salivating, and we are no exception! Of Tibetan origin, momos are today served in every corner of India and have a dedicated fan following. The dough is stuffed with minced meats, cheese, and vegetables and then steamed till cooked. They are then served with chutneys, chili sauce or ketchup. Momos may also be served in a soup. Incredibly, this simple dish is so versatile that the combinations of stuffings are endless. Also, every stall and restaurant has its own secret momo recipe. This unique, flavourful dish has rightly earned its place in the Food Hall of Fame.
Spiti Local Food – Beverages
After food items, let me now list down some of the delicious and refreshing beverages that you can try in Spiti.
Chhang and Arak (Alcoholic)

Made from barley, Chhang is consumed in every home. It also enjoyed at every festival and social gathering. Arak is a distilled form of Chhang, which is super potent. It is definitely not a drink for lightweights! Please know that it is a local alcoholic drink and Chhang is even sometimes called as the local beer of the region.
Seabuckthorn Juice
It is made from the wonder berries of the Himalayas, also known as Leh Berries. It is highly nutritious and proven to have wonderful antioxidant and anti-aging effects. In some places, you may also find tasty jam made from these berries.
Butter Tea
This is a Tibetan delicacy and can prove to be a lifesaver at high altitudes. Salty, pink and exotic butter tea really warms you up. Incredibly, this tea is pink in color, with a distinctive aroma. For a half a day, tea leaves are stewed in water. Then, boiling milk is added to this water, along with salt and fresh yak butter. The pink color is from the Himalayan salt used.
Also Read: What NOT to do in Spiti Valley
Chaza
This salty tea is made with melted yak butter. Can it get any more exotic?
Snowmelt
While trekking in high altitudes, don't miss the opportunity to indulge in some freshly melted snow. This might, in fact, be the only source of drinking water for miles around. However, always get a green light from your guide before you consume this.
Best Places to Eat local food in Spiti Valley
Now comes the question of where to eat. The best place to enjoy all these items will be the main town of Kaza. There are several restaurants located in there. From Shimla to Kaza, for the initial part of the journey, food items on the menu will mostly be north Indian ones as you travel through the valleys Kinnaur. It is only after Reckong Peo that the menu will change and start to look a little more Tibetan than Indian.
If you are up for  home-stay in some local villages, then try a night-out in Kibber, Kaumik, Langza or Hikkim. These are the local villages near Kaza and you will get a first hand experience of local food, cooked by a local villager, eating it on their dining table while listening to some local stories. It doesn't really get any more local than this. Staying at the monasteries too will be a good choice but keep in mind that the food served will be very simple and the one that Lamas eat. If nothing worked out, take a walk through the local Kaza market and eat till you can't anymore.
What to Eat in Spiti – Conclusion
The delicious food of Lahaul and Spiti will stay in your memories for years to come. Such delicacies are simply not to be missed. Travel to this wonderland and feast to your hearts' content. I hope the information above was of help. If you have any questions, please feel free to ask in the comments section below; or at our Community Forum; and I will be glad to answer. If you know of any other food item that is not in the list above, I welcome you to suggest.