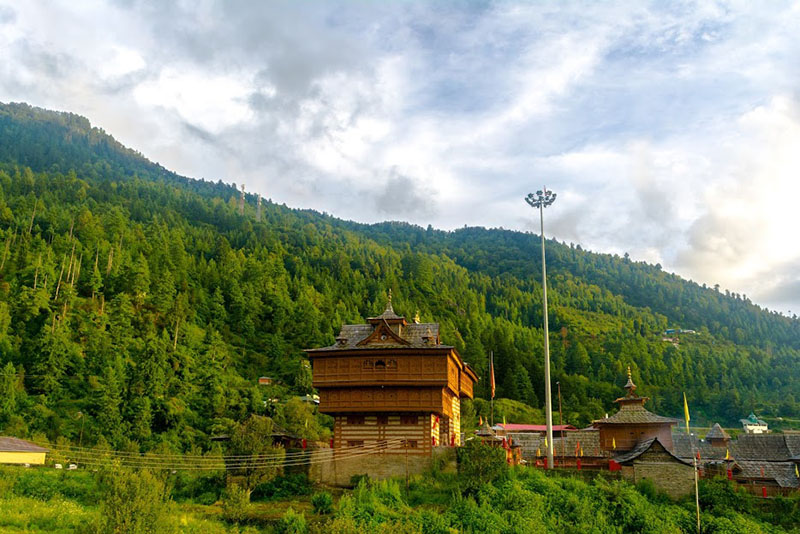 Sarahan is a sleepy little hamlet that not many would have heard of. It has a great religious significance in Hindu mythology but is yet to receive the fame it deserves as a tourist destination. It is one of those places that can aptly be termed as the hidden gems of Kinnaur. In this travel guide, I will share some necessary details on how to plan a trip to Sarahan.
It was quite by chance that I ended up in Sarahan for the first time about a decade ago. I was going to Spiti and took a wrong turn at Jeori, thinking of it as the road to Chitkul. I did not reach Chitkul that day of course. But because of that wrong turn, I ended up exploring a completely new place, a small amazingly scenic village that I was not even aware of.
It was Sarahan where I stayed that day and the day after. Since then, every time I am on the Spiti circuit or headed towards Kinnaur, I always ensure that I spend at least one night at Sarahan. Views from up here are mind-blowing and peace and tranquility are like none other. There is not much to do at Sarahan but the quality time you will spend here doing nothing will remain etched in your memories for long.
About Sarahan
Sarahan is a small village in Kinnaur Valley of Himachal Pradesh. It is located about 100 kilometers from Narkanda and 165 kilometers from Shimla. Known as the "gateway of Kinnaur" and sitting at an altitude of 2,100 m (6,900 ft), it was once the summer capital of the rulers of the Bushahr kingdom. Apart from its scenic location, Sarahaan is also known for the Bhimakali Temple, originally known as Bhimadevi Temple; one of 51 Shakti Peethas.
It is a quiet and peaceful place that not many people visit and is perfect for someone who wants to head to an offbeat destination, without going too remote. The views you get here are spellbinding and it is also home to a bird pheasantry. The place receives a significant amount of snow and turns into a white wonderland in the winter season.
Due to its close proximity to Narkanda and its location on Shimla Kaza highway, Sarahan can easily be added to a trip to a trip to Shimla, Spiti valley, or find its places in a Kinnaur Valley itinerary. Read on to find out more.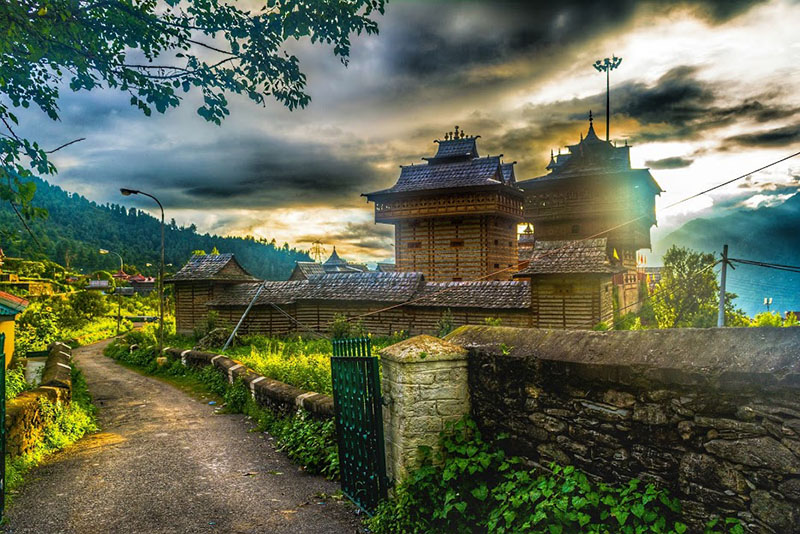 How to reach Sarahan
Sarahan is very well connected by a good motorable road and a regular public transport service. It is at a distance of about 500 kilometers from New Delhi and 270 kilometers from Chandigarh. One can travel by train to Kalka or by air to Chandigarh and then travel by road to Sarahan. People also opt for the train ride from Kalka to Shimla.
Taxis and jeeps too can be hired to reach Sarahan. Bus services are also available from Chandigarh, Shimla, Rampur, and Jeori. It takes approximately 6 to 8 hours by road to reach Sarahan from Shimla and 9 to 11 hours from Chandigarh.
Let me first talk in detail about how you can reach Sarahan by road. For this part, I will assume Delhi as the starting point for the sake of explaining the route.
How to reach Sarahan from Delhi
Starting from Delhi, the route of the journey will be as mentioned below.
Delhi – Panipat – Ambala – Zirakpur – Kalka – Kandaghat – Shimla – Narkanda – Rampur – Jeori – Sarahan
You will first drive all the way to Shimla and then continue further uphill to Narkanda. This journey can take you about 10-11 hours easily covering a total distance of about 400 kilometers.
After a short break at Narkanda, you will then drive downhill to the banks of Sutlej River. Driving along the river, you will first reach Rampur and then the small town of Jeori.
At Jeori main chowk, there is a narrow steep road climbing up to your right. This is the one that you would have to turn on in order to reach Sarahan. It is a drive of about 15 kilometers and the road can get quite narrow and steep at some places.
Delhi to Sarahan is ideally a 2 days journey with a night halt at Chail, Shimla, or Narkanda. But if you were short on time and were able to start from Delhi by 2 or 3 AM, you can easily reach Sarahan in 14-15 hours.
Chandigarh to Sarahan is about 9 hours total and easily be done in a day.
How to reach Sarahan by Bus
If you were traveling by public transport, then the first step would be to board a bus to Shimla which should not be a problem. There are buses to Shimla from almost every major town nearby. You can either board a state-run bus like HRTC or book a seat with any private tour company.
The next step would then be to reach Jeori for which, you will have multiple choices. You can board any of the buses headed for Reckong Peo, Kaza, Pooh, or Sangla from Shimla. All these buses cross Jeori on the way.
Buses ply between Sarahan and Jeori at periodic intervals, which then you will board to arrive at your destination. Just wait at Jeori, ask around if you weren't sure and you will find a bus going to Sarahan.
If not a bus, then you can try to find a shared cab from Jeori.  It will take you about an hour to get to Sarahan from Jeori.
From Shimla, you can also board any of the buses headed to Rampur. Bus, shared taxis, public carriers are frequent between Rampur and Jeori as well. So you can then look for a different mode of travel for the final leg of the journey.
There is in fact a direct also a direct bus from Shimla to Sarahan but its frequency is not that great. But it makes more sense to take any of the frequent buses between Shimla and Reckong Peo and get off at Jeori on the main road (NH 22).
A bus at 10 a.m plies directly from Sarahan to Jeori and Rampur that you can board to travel back from Sarahan.
Delhi to Sarahan Bus
There is no direct bus between Delhi and Sarahan but there is one for Reckong Peo. You can board this Bus from ISBT and the fare per person is around Rs. 900. This bus will pass through Jeori and you can get down there.
The HRTC Bus is an ordinary one and can be a bit uncomfortable for a long journey. If you do not want to travel by it, then another option would be to board the HRTC AC Bus for Rampur. It leaves ISBT Delhi at 7:30 PM and reaches Rampur Bushahr the next day at 9 AM. The total fare is about Rs. 1000 per person.
From Rampur, there are hourly buses for Reckong Peo which you will then board and get down at Jeori.
Also Read: Nako to Kalpa to Chitkul to Sarahan to Delhi
By Flight
The nearest airport to Sarahan is the Shimla airport located in Jubbarhatti. After Shimla, the next nearest airport is the Bhuntar airport between Chandigarh and Manali. These are however small airports and flights to both these places are limited. The nearest major airport is at Chandigarh which is connected with several flights from all over the country.
By Train
The nearest train station also is at Shimla but like the airfield, this train station also is a small one; connected to Kalka by the famous Kalka – Shimla toy train. The nearest major railway station is at Chandigarh and trains are available from all major cities in the country to Chandigarh regularly.
Also read: How to Plan a Trip to Chanshal Pass
How to reach Sarahan from Shimla
The most comfortable way to travel by Bus, however, would be to find one from Delhi / Chandigarh to Shimla and then Shimla to Peo. There are numerous Volvos/Scania buses available between Delhi/Chandigarh and Shimla. Fare is about Rs. 1000 per person for Delhi to Shimla by a Volvo and Rs. 800 for an AC Bus.
I know I explained the journey above from Delhi but there are buses available to Shimla from every major city nearby. It is a major tourist destination and you will have no problem finding a bus for Shimla, either state-run or private.
Once you are in Shimla, you can then board an ordinary Bus for either Rampur or Reckong Peo from the Tutikandi bus stand. Shimla to Rampur ordinary bus ticket is about Rs. 300 per person. There are several buses plying between Shimla to Rampur and finding one will not be a problem in the morning. From Rampur, you will then take a bus for Reckong Peo for Rs. Jeori for Rs. 100, get down at Jeori and then board another Bus / shared cab for Sarahan.
The bus fare from Shimla to Reckong Peo is Rs. 500 per person and around Rs. 250 for Rampur. You can even book your ticket online for this. There is one bus from Shimla to Reckong Peo that leaves at 9 AM and another one at 9.30 AM.
How to reach Sarahan from Chandigarh
If you arrived at Chandigarh by train or flight, the easiest way would be to book a taxi for Sarahan which will cost you anywhere between Rs. 5000 to Rs. 8000, depending upon your negotiation skills and the type of taxi you chose. If not a taxi, then traveling by bus will not be difficult either as I explained above.
Also Read: 7 Short and Easy Winter Treks in Uttarakhand
That I believe covers the majority of the information that you need to know about reaching Sarahan. Not let us take a look at the places you should be visiting here after you have arrived.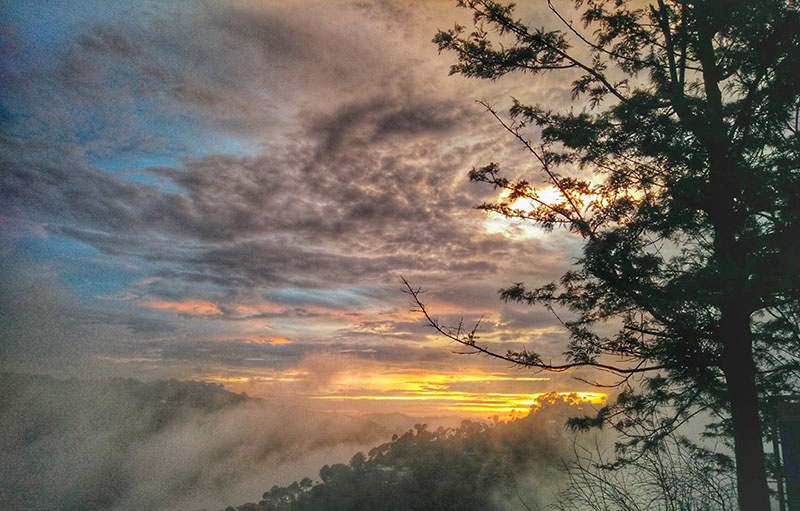 What to see in Sarahan
This brings us to our next question of what do you see in Sarahan? Natural and scenic beauty if of course a given. The 16 kilometers drive from Jeori is quite steep and will bring you to a great height. From here, you will get an amazing view of the mountain ranges around. Apart from its vistas, below is a list of a few places that you should see while visiting Sarahan.
Bhimakali Temple
The Bhimakali Temple remains to be the prime attraction of Sarahan. Originally known as Bhimadevi Temple (Bhima Kali), dedicated to the mother goddess Bhimakali; this temple is one of 51 Shakti Peethas.
Build in the traditional Kinnauri style of architecture, the temple is really a sight to behold. The outer part of the temple boasts of amazing woodworks and the interior is full of complex carvings.
It is said that the manifestation of the goddess is reported to the Daksha Yajna incident. The location of the Bhima Kali temple is the place where the ear of Sati fell when Lord Shiva was carrying around her burnt body in grief. The places where her other body parts fell are the location of the 50 other Shakti Peethas. (Source: Wikipedia)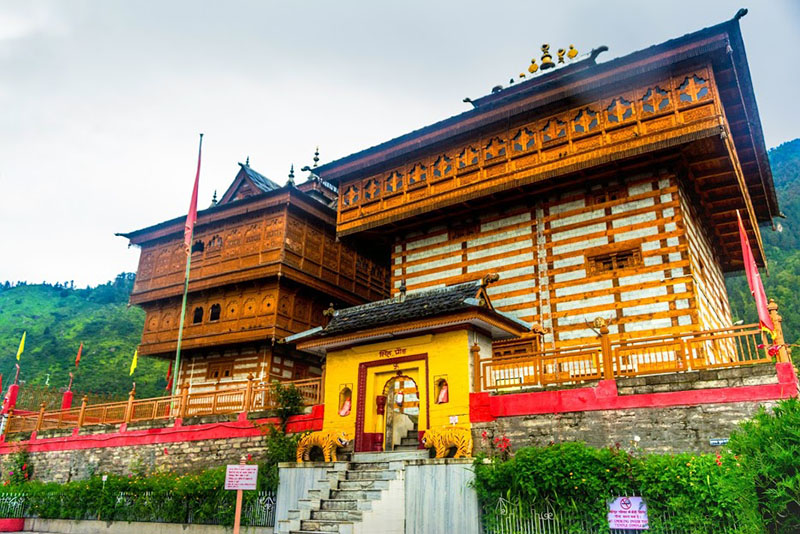 Royal Palace
The Palace of the royal family is located right next to the temple though they do not live here any longer. Tourists are not really allowed to enter the palace, but you are free to take some pictures from outside.
Bird Sanctuary
There is also a bird sanctuary in Sarahan that is worth visiting. This sanctuary caters to the breeding of some local species of birds called 'pheasants'.
The state bird of Himachal Pradesh, locally known as Jujurana is a pheasant and endangered presently. The pheasantry in Sarahan is the only place where the breeding of this rare bird is carried out.
It is a great spot for getting some beautiful pictures of rare birds. Please note though that the sanctuary remains closed during the monsoon season due to birds mating season.
Hawa-Ghar
It is a small sitting area built under a canopy. Once upon a time, you could get some amazing views of the peaks and valley around from this spot. Tall trees have grown around it now though and have obstructed the views.
Also Read: Kinnaur Valley Itinerary – How to Plan your Journey
Apple Orchards
A trip to Sarahan means that you will be driving through some beautiful apple orchards. This entire region is famous for producing high-quality apples. In fact, Kinnaur apples are known to be the best in the entire world.
Nalati Stadium
It is a large playground, mostly used for playing football and cricket. It mostly remains closed though but if it was open, it is a good spot to sit for a while and enjoy the view of the distant Himalayan peaks.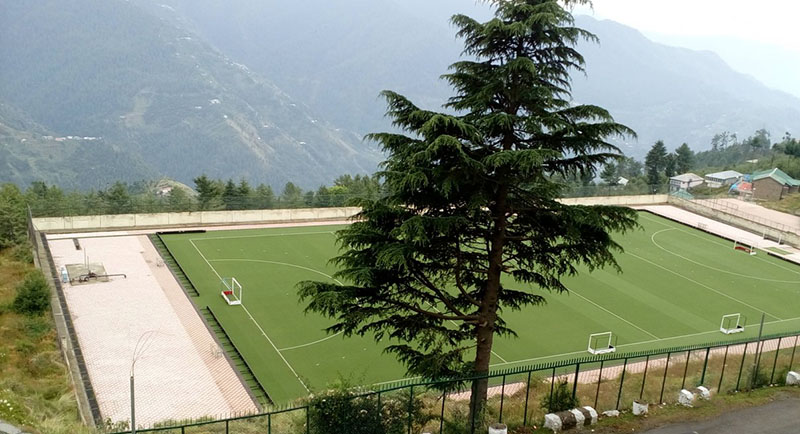 Things to do in Sarahan
Other than visiting the above-mentioned places, there is not much to do in Sarahan except to just relax and enjoy the natural calm of the place. There are no adventure activities here and no long list of tourist attractions. You can visit the temple and the bird sanctuary, but most of your time at Sarahan will be spent doing nothing. That is what you should really come here for.
If you are a bit on the adventurous side though; and fit enough to do some trekking then the trek to Bashal Peak is the one to look out for from Sarahan. This trek starts from Sarahan and can be done in a day.
But please make sure that you are not attempting it on your own. It involves some steep ascents through a dense forest with wild animals present. Hire a local guide from Sarahan to take you to the peak and bring you back safely.
In short, below is a list of things that you can do in Sarahan.
Enjoy the Natural Beauty and Peace
Trekking
Photography
Nature Walks
I have covered the topic of sightseeing in Sarahan in another article. For any more details on these places and activities, I will request you to please take a look at Places to visit in Sarahan and Things to Do.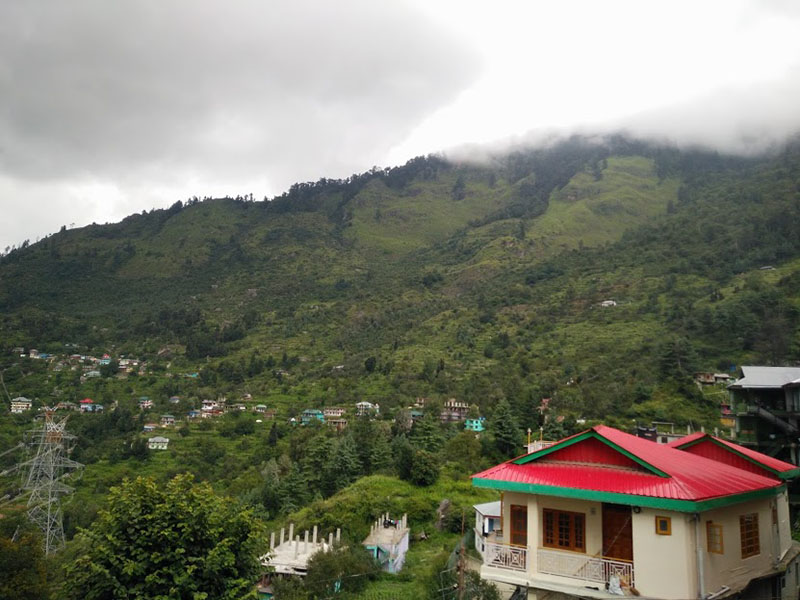 Where to stay in Sarahan
There are a few hotels in Sarahan, both luxury and budget. HPTDC Hotel Shrikhand is a good place to stay if within budget. If not, then just take a walk around and you will easily find another hotel. There are several of them near the temple itself or on the way to the temple, as you drive up from Jeori.
The temple too provides the facility of night stay, like a Dharamshala, and could be a great choice for someone traveling on a limited budget.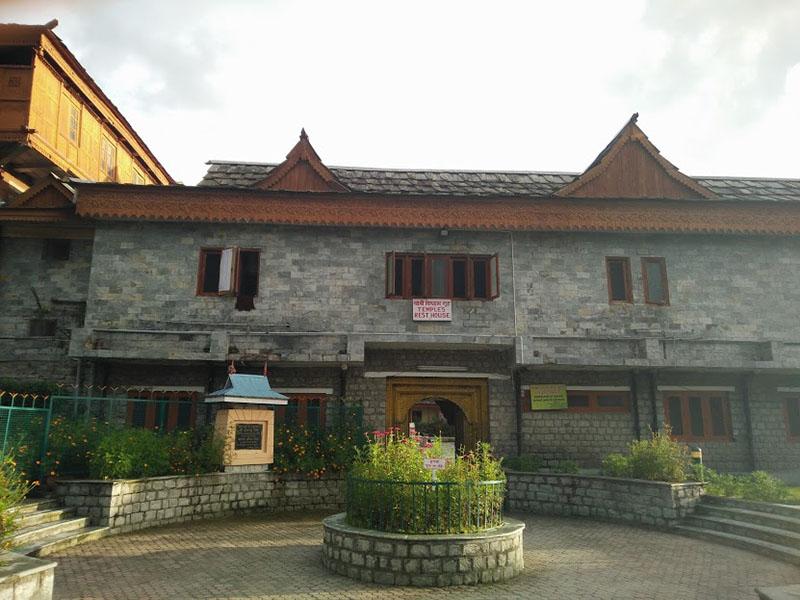 Weather of Sarahan
Sarahan has an average elevation of 2,100 meters (6,900 ft). Owing to the altitude, the village experiences a cold climate throughout the year which is suitable for apple farming.
The weather during summer remains cool and pleasant with temperatures fluctuating between 10 to 30 degrees Celsius, depending on the time of the day and the month. On average though, the day temperature during summer is around a comfortable 20 degrees Celsius.
Come July and the monsoon arrives in the hills of Himachal. It continues to rain here throughout August and sometimes even in the first half of September. During this time, the hills and valleys get covered under a carpet of green grass with flowers of numerous colors all around.
Monsoon however also brings the risk of cloudbursts and landslides caused by incessant rains. This entire region receives high rainfall each year. If planning a trip in July or August, you would be wise to call ahead and inquire about the conditions before leaving home.
After November, it can snow at Sarahan at any time. Winter temperature here ranges between 5 Degrees to -10 Degrees Celsius. At times, during the months of January and February, it can snow so much that even the road from Jeori to Sarahan can get blocked.
Also Read: Shimla Manali Trip Itinerary – How to Plan Your Journey
Best Time to visit Sarahan
So when is the best time to visit Sarahan?  It would be either the months from April till June; or the months of September and October.
My personal favorite is September though. This is the time when the monsoon has just passed. Chances of rain and resulting risks are long gone but the green of the valley and freshness still remain. In general, it is the months of monsoon that bring life to the hills of Himachal and you can get to see plenty of it left in September.
You can also plan a trip here in the months of April, May, June, and October. Of these, April and October will be slightly colder than May and June.
November is an overall bad month to go because the scenery at this time is very dull and featureless. It will be terribly cold and there won't even be any snow around.
The months of late July and August are usually not considered to be suitable for a trip to Sarahan. We already talked about cloudbursts and landslides. But even if that did not happen, it can still rain non-stop up here, trapping you inside the hotels and ruining any sightseeing plans.
If you wanted to see a snow-covered Sarahan, January will be the best month for that. For a budget trip, you should visit in July, August, or November. The number of tourists at this time is very less and you will have a great chance of getting a good deal on accommodation.
For a family trip, April to June is the best time to go since the weather at this time is agreeable with the majority of the tourists.
For more information on this topic, please take a look at When is the Best time to visit Sarahan.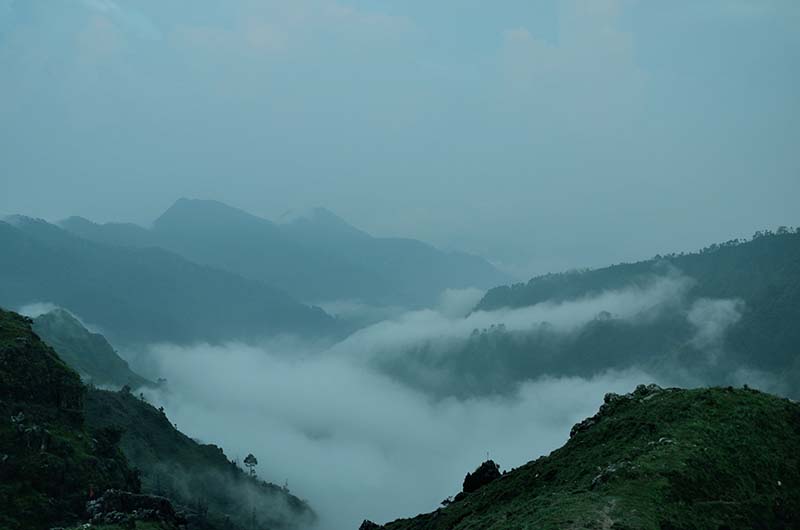 Clothes to Pack
This will completely depend on the month of the year you arrived here. A heavy, windproof jacket will however be required irrespective of the time. Along with the jacket, in summer months, just carry your regular cotton clothes, a few light woolens and that will suffice.
To cope with the freezing temperatures of winter though, you must bring all your heavy woolens and thermals. For a winter trip, you also need to ensure that you have a pair of good-quality gloves and warm socks. Your jacket should also have a hood that can be helpful in protecting your neck, face, ears, and head. If not, carry a cap and a muffler as well.
If you were traveling during monsoon, then pack clothes that can dry fast, polyester. Keep a pair of rubber sandals handy for walking or riding around in the rain; like Crocs for example. You definitely do not want to get your shoes wet because that will take ages to dry and will be a great hassle. If you were traveling by car then keeping an Umbrella with the rest of your luggage can prove to be a good idea.
Itinerary for Sarahan
Mostly Sarahan gets included in itineraries for people either visiting Spiti valley, or Kinnaur. You will however find a lot of tourists here only visiting Sarahan.
How many places you want to cover will entirely depend on the number of days you have in hand but I will suggest a few itineraries as an example. For the sake of this article, I will assume that you are starting from Delhi. If you were coming from a different city, then only the journey for 1st and last day will be different. The rest of the details will still apply.
Sarahan Itinerary
Delhi to Narkanda – Day 1
Narkanda to Sarahan – Day 2
Sarahan – Day 3
Sarahan to Chail – Day 4
Chail to Delhi – Day 5
The itinerary above is a simple one where you arrive at Sarahan, stay for a day, and head back home. As a matter of fact, if you started by 2 AM from Delhi, you can actually make it to Sarahan on the same day without needing to stay at Narkanda.
Sarahan and Kinnaur Itinerary
If however, you want your travel a little broader with more places included, then you can plan something like below.
Delhi to Narkanda – Day 1
Narkanda to Sarahan – Day 2
Sarahan to Chitkul – Day 3
Chitkul to Kalpa – Day 4
Kalpa to Chail – Day 5
Chail to Delhi – Day 6
Also Read: Road Trip to Kinnaur Valley – Kalpa, Chitkul, Sarahan, Theog
Sarahan and Spiti Itinerary
If you wanted to travel on the entire Spiti circuit, then you can plan like this.
Delhi to Narkanda – Day 1
Narkanda to Sarahan – Day 2
Sarahan to Chitkul – Day 3
Chitkul to Kalpa – Day 4
Kalpa to Kaza – Day 5
Kaza to Chandratal – Day 6
Chandratal to Manali – Day 7
Manali to Delhi – Day 8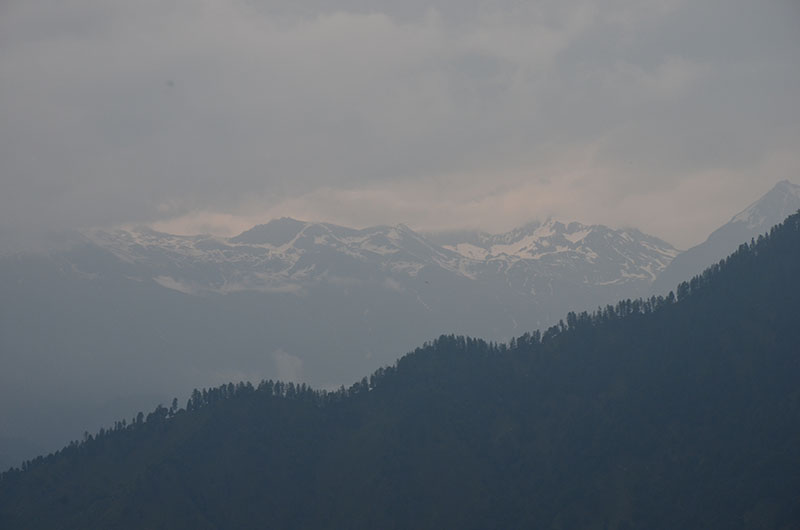 Other Details
Below are some other details that can be of help in planning a trip to Sarahan.
Mobile Network in Sarahan
BSNL has the widest coverage in all of Himachal. But no matter which network you are on, your phone will be working fine in Sarahan. The reception will be strong and voice clarity good. Data connectivity also is good here.
The last time I visited Sarahan, I was using Airtel, another person from the group was on Vodafone, and a third person on Jio. Of these three, service in terms of call clarity and data connectivity was best for Jio.
Where and what to eat
There are numerous local dhabas here that serve some Himachali dishes like Thupka and all other north Indian dishes as well. You can choose to either eat at any of these dhabas or at the hotel that you were staying at.
Also Read: Kalpa – How to Plan your Trip and Explore
Shopping in Sarahan
Some items that you can consider buying are Kinnauri Caps, shawls, Nehru jackets, and socks. All these items are available at the main market near the temple complex. Apart from clothes, some locals jams made from apples and apricots too remain on sale and are a good buy.
If you were visiting the temple, then you may choose to buy some religious items as well like puja thali and prayer bells.
Other than this, there is nothing to buy here. Sarahan is just a small village and if shopping was on your mind, you should try in Shimla rather.
ATM/Banks
I am not really sure about any of the private banks but there are branches of both SBI and HP State Co-Operative banks here at Sarahan. Both these banks provide ATM facilities and you will be able to withdraw cash. If not Sarahan then you will also find ATMs at Jeori, Rampur, and other places en route.
Mechanics / Petrol Pump
Like ATMs, petrol pumps and mechanics also on this route are in ample amount. You will keep coming across gas stations at regular intervals. Mechanics for small fixes too are available at several places along the highway and in Sarahan as well.
Towns like Shimla, Narkanda, and Rampur actually have authorized service stations for some known car and motorcycle brands.
Also read: 10 Offbeat Places in Himachal
Medical Assistance
Medical help for small ailments and a dispensary are available at Sarahan. For anything serious, however, you will have to either go to Reckong Peo, Rampur, or Shimla.
Sarahan Altitude
Sarahan is located at a height of 2,100 meters (6,900 ft) above sea level.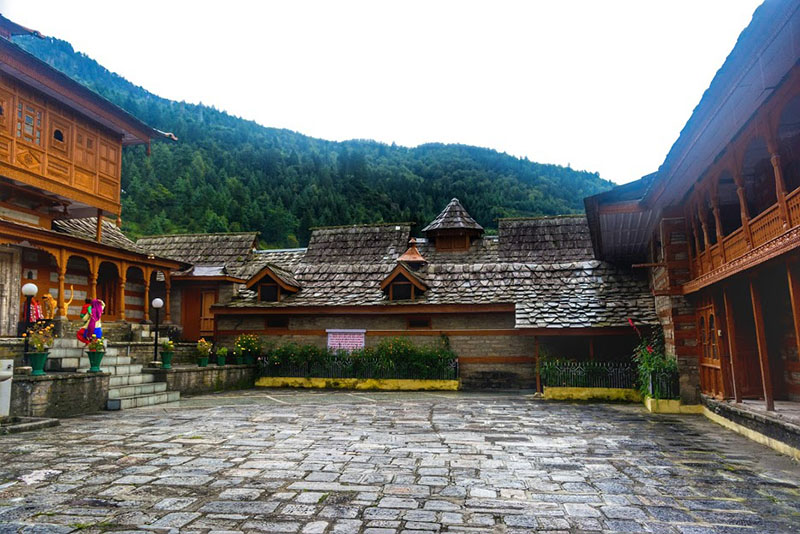 Road Conditions
Starting from Delhi, roads are mostly smooth all the way to Sarahan. There is some road widening work going on between Chandigarh and Shimla where you may hit some bad patches and slow traffic.
Shimla to Sarahan Road Conditions
The road from Shimla to Sarahan is a smooth drive until Jeori with a few bad patches in between. The road from Jeori and Sarahan is narrow and tricky in some places.
Sarahan to Kalpa Road Condition
The entire road from Sarahan to Kalpa is a smooth run. The entire distance of 85 kilometers between both the places can easily be completed in 3 to 4 hours.
Sarahan to Sangla Road Condition
If you were traveling from Sarahan to Sangla or Chitkul, you will find the road to be smooth until the Karchham dam. After that, for the next 40 kilometers, the road will remain to be a mix of average, bad and ugly.
Also read: Sarahan to Chitkul – The Magnificent Valley of Baspa
Sarahan in Winter
Sarahan receives a lot of snow in the winter season and even the road from Jeori till here can sometimes get blocked. If you were planning to arrive here in winter, then be prepared for freezing temperatures.
Ensure that you are bringing in all your woolens and keep at least a couple of days as a buffer in your itinerary. In case the weather turned extreme and you had to stay back because of roadblocks, then you should be ready to afford to do so.
Conclusion
I hope the information above on visiting Sarahan was of help. If you have any other questions; or need any further details; please feel free to ask in the comments section below, or at our Community Forum, and I will be glad to answer.