Like previous years, I am starting this thread to share the most recent updates on Rohtang Pass Status in the year 2021. Other than this post, I will also be starting a thread in the Community Forum to post the recent pictures of the mighty pass. I cannot post too many pictures on this page otherwise it will just get too heavy.
If you just want to know the Rohtang pass status now, then scroll through this page; and you will get the desired information. If however, you would like to get a more visual presentation of the updates, then I will recommend you check out the Forum Thread.
If you are planning a trip to Rohtang Pass in the next few days, then please read through How to Plan a Trip to Rohtang Pass. This should give you an idea of some of the important things to keep in mind while planning the trip. Another important aspect of the trip will be the permit for which, I will recommend taking a look at How to Apply for Rohtang Pass Permit.
For a list of other places that you should be seeing while visiting Manali, please read How to Plan a Trip to Manali. For visiting Solang Valley, please see How to Plan a Trip to Solang Valley.
Rohtang Pass Status Today = CLOSED

Rohtang Pass status today is closed. The entire Himalayan region is receiving a lot of snow this year. Rohtang top is buried under several feet of snow right now and more is expected in the coming months. The road beyond Gulaba is completed blocked. As a matter of fact, there is snow even on the road between Manali and Gulaba.
Rohtang Pass Opening Date 2020 = April 15th
Opening of the road this year will also depend on how the COVID situation will unfold next year. A lot of places in Himachal are seeing a surge in the cases after they allowed tourism. The entire Spiti Valley is more or less quarantined. They have decided already that there will be no tourists in the valley until April 2021.
Update November 2020
Manali and Rohtang did open for tourists in September – October 2020 but did not see a lot of footfall. A lot of hotels are not even functional as of now. Traffic between Manali and Lahaul Valley is channeled via Atal Tunnel now which may also delay the opening of the pass next year because now only tourists will visit Rohtang.
Sharing a picture of Solang Valley after a recent snowfall.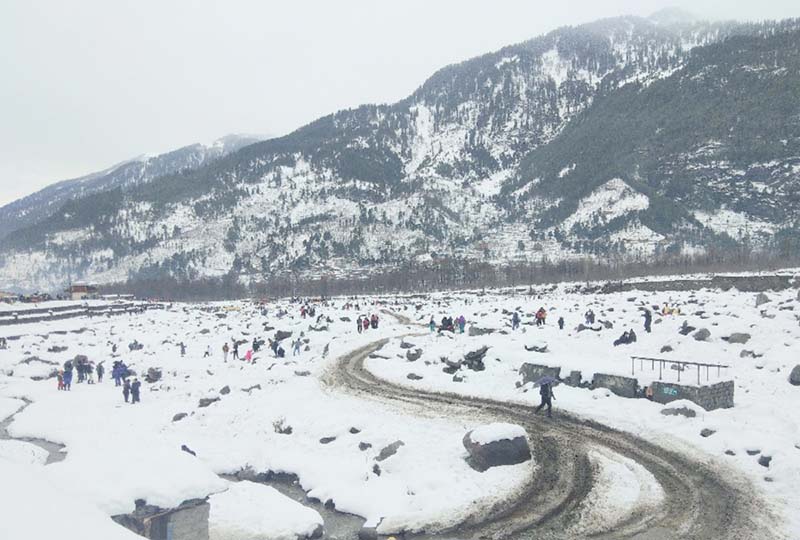 When Will Rohtang Pass Open in 2021?
The opening of Rohtang Pass entirely depends on the weather, and how fast BRO is able to clear the snow after the winter season has passed. Historically though, it is always the month of April when Rohtang Pass is declared open for the tourist community. Sometimes it can open sooner as well if the snow wasn't much, but Mid April is a safer time to assume. There have been times when the pass was not open well into the month of May as well; as it happened in 2019.
Is Rohtang Pass Open Today?
No, Rohtang Pass is not open as of today. The entire Manali town is receiving heavy snowfall and the road beyond the Gulaba check post is blocked.
Is Rohtang pass open on Tuesday?
No, Rohtang Pass remains closed for all kinds of vehicular movement on Tuesdays.
Is Rohtang Pass Open Now?
No, Rohtang Pass is closed as of now.
Is Rohtang Pass Safe?
Yes, Rohtang Pass is very safe and is visited by thousands of families each year. But that can only be if you too act like a responsible tourist. The road from Manali to Rohtang can be a little tricky at places so you will have to drive carefully. Drive carefully, do not put yourself in harm's way and you will be OK.
If you start to feel uneasy because of altitude sickness, you must cut your trip short and drive back down to Manali immediately. If the symptoms persist after you were back, consult a doctor and take plenty of rest.
Is Rohtang Pass safe for Infants?
This one is a tricky question. There are two factors that will have to be considered. The first one is of the cold weather and the second is of acute mountain sickness. You will not be the only family visiting Rohtang with kids but you must practice some cautions. Keep your kid well covered to protect against the cold wind. If possible, do not bring the baby out of the car. Keep them inside, well covered and protected as you step out to enjoy the vistas.
In terms of acute mountain sickness, you should know that the lungs of an infant are not fully developed to handle AMS. You can go to the pass but if your baby starts crying, looks irritated or annoyed, looks uneasy then you must drive back down to Manali and not go any further.
Is Rohtang open in April?
Yes, Rohtang Pass remains open in April but only after the 15th of the month. There have been times when it was open in the first week as well but Mid April is a safer time to assume as the official opening of the pass.
There have also been instances when continued snowfall pushed the opening of the pass to May 1st week. Historically though, Rohtang remains open in April for at least a few days to a couple of weeks.
Conclusion
I hope the information above on Rohtang Pass Status was of help. If you have any questions, please feel free to ask in the comments section below; or at our Community Forum; and I will be glad to answer. If you have an update on Rohtang Pass road status more recent one than what I posted on this page; then please be kind enough to share the word in order to help others.