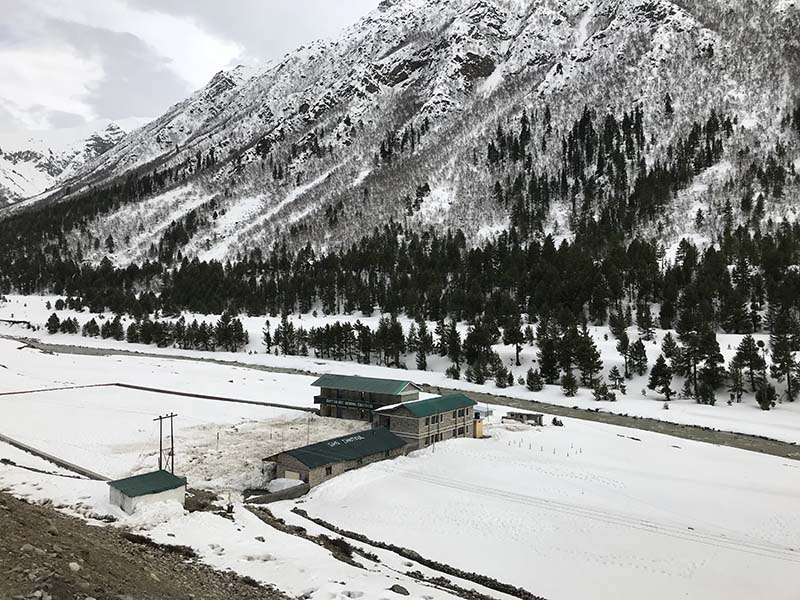 Sangla Valley, also known as Baspa Valley, is equipped with everything you will need from your vacation. The place is easily accessible, yet never crowded and perfect for spending a few days with nature. The small town of Sangla sits quietly on the banks of Baspa River and has all modern-day amenities. The natural beauty of Sangla Valley will surely charm you and you will enjoy every minute you spend here. The scenery is like nothing that you had ever seen. In short, Sangla is what you can call a perfect offbeat destination.
Together, Chitkul and Sangla are among the prime attractions of a trip to Kinnaur Valley, and spending a couple of days here is highly recommended. It does not matter whether you were planning a family vacation or a friends outing, but if you are going to be in Kinnaur, there is absolutely no way that you can miss Sangla Valley.
Due to its strategic location, outsiders were not allowed to enter the valley until 1989 without obtaining special permission. That rule was later removed and now tourists are free to drive all the way till Chitkul. If you have been thinking about planning a trip to Sangla valley, below is a complete travel guide detailing how you can do so.
About Sangla Valley
For a brief introduction, Sangla Valley is a river valley located in the Kinnaur district of Himachal Pradesh. It is known by two different names. Sangla is the largest town here due to which it is commonly referred to as Sangla Valley. The actual name however is Baspa Valley, after the Baspa River that flows through the valley for its entire length.
Sangla Town is the center of all commercial activities. It has a petrol pump, Bank ATMs, Post Office, Restaurants, Bar, mid-range hotels, and several shops selling all day to day commodities. Chitkul however is more famous as a tourist destination due to its tag of 'the last village on the Border'.
Other villages in the valley are Rakcham, Batseri, and Kamru.
Sangla valley is surrounded by forested slopes and is rich in apple orchards, apricot, Wall-nut, Cedar trees, and glacial streams with trout fish. Apple farming is one of the main livelihoods of people here. This region boasts of growing the world's best quality apples.
Location
Sangla Valley starts at Karcham, at a distance of 203 kilometers from Shimla. Here, you will leave the Shimla Kaza Highway and turn right, crossing over the Karcham Dam. The narrow road will then run for 42 kilometers through Sangla Valley and end at Chitkul while crossing Sangla on the way. The area after Chitkul is under the control of ITBP. Tibet border is about 80 to 90 kilometers from here.
The distance between Delhi to Sangla is 565 kilometers and will take at least 2 days to cover. From Shimla, it takes about 6-7 hours to reach Sangla.
Altitude
The average altitude of the valley is 2621 meters, 8600 ft. Chitkul however is at a much higher altitude, 3,450 meters, 11319 ft.
Why Visit Sangla Valley
In recent years, tourism in Sangla valley has been on the rise. This entire area offers magnificent views of the high mountains around. With a river flowing right through it, the valley remains lush green throughout the year. During summer, its location in the greater Himalayan range gives it a milder climate than the plains. In peak winter though, it receives a high amount of snow and gets cut off from the rest of the Himachal for a few months.
So if you want to visit a place that is never crowded, is easy to reach, does not take you too remote, and has all modern-day amenities, then Sangla Valley will be a perfect destination. For a winter trip as well, you can arrive here by late March or early April and chances are that you will still find plenty of snow.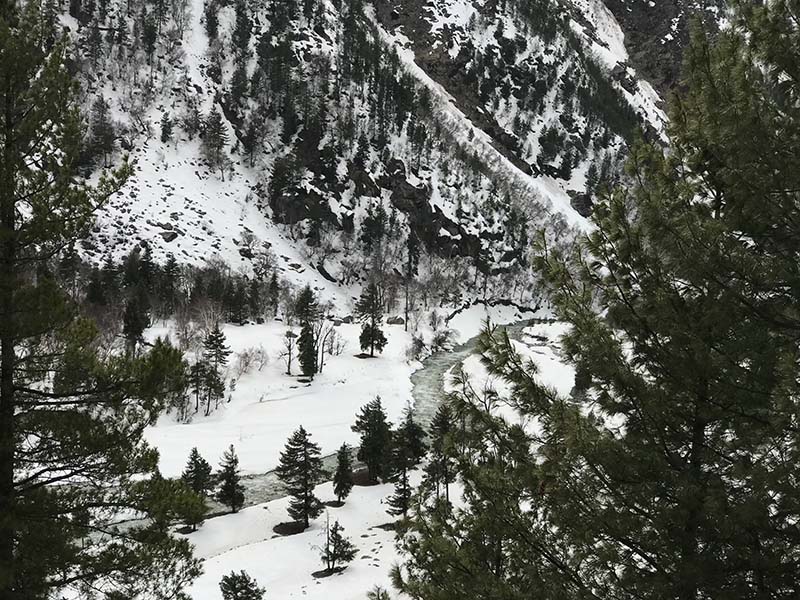 How to reach Sangla Valley
In order to reach Sangla Valley, you will first have to get to Shimla and then drive there via Rampur. This entire area is in remote hills of Himachal Pradesh which means that the only way to reach here is by road. You can either get here from Shimla or Manali.
The ideal and easier of these would be from Shimla. If you are into trekking then another way could be to trek and walk across the passes, but that would be information for a different article another time. For now, I will focus on how you can reach Sangla by road.
For the sake of explaining the route, I will assume that you are starting your journey from Delhi. Even if you were coming from a different city, the information below will still apply.
Also read: How to Plan a Trip to Chanshal Pass
How to reach Sangla Valley from Shimla
For a road trip to Sangla valley from Delhi, you will first reach Chandigarh (or Shimla) by either road, train, or flight. From Chandigarh, you will then drive up to Shimla and then continue uphill all the way till Narkanda. After Narkanda, the drive is mostly downhill to the banks of Sutlej River.
You will then drive along with the river and reach Karcham while crossing Rampur and Jeori on the way. At Karcham, cross the dam over to the other side and turn on the road that goes towards Sangla. From Karcham, it is then a straight drive of about 20 kilometers to Sangla town. The same road then continues to Chitkul for another 20 kilometers and ends there. The route will be as mentioned below.
Delhi – Panipat – Ambala – Shimla – Narkanda – Rampur – Jeori – Karcham – Sangla – Rakcham – Chitkul
During this journey, depending on the time you have in hand, you can also spend some time in Narkanda and Thanedar which are another couple of highly scenic but offbeat destinations of Himachal. Another place that you can cover on the way is Sarahan, for which you will have to take a detour from Jeori. Sarahan is best known for its Bhimakali temple, Bird Sanctuary, and amazing views.
How to reach Sangla Valley from Delhi via Manali
If you however took the Manali route then you would first have to cross the entire Spiti valley on the way. The route will then be as below.
Chandigarh – Manali – Rohtang Pass – Gramphu – Batal – Kunzum Pass – Kaza – Dhankar – Tabo – Nako – Pooh – Karcham – Sangla – Chitkul
Of these two routes, going via Shimla is of course the preferred way to reach Sangla Valley. If you started by 3 to 4 AM from Chandigarh, you can actually make it to Sangla and even Chitkul the same day.
Whereas from Manali side, it will be at least a 3 day's journey. You will first reach Manali on Day 1, then Kaza on Day 2 and Sangla on Day 3. Journey on all these 3 days will be way too long; and this route is not advised unless it is on purpose; and you want to cover Spiti valley as well.
Another way to do this journey is to first get to Manali and then rather than going via Spiti, take the Tattapani route to get to Shimla from there. This is a good way to plan if you want to cover Manali as well on this trip.
Once again, it will be a 3 days trip. You will reach Manali on Day 1, Shimla on Day 2 and Sangla Valley on Day 3. Any time you spend in Manali in between will be in addition to this.
By Public Transport
You can also reach Sangla easily by Bus. Shimla is very well connected by daily buses to almost every major city nearby. Once you reach Shimla, you have two choices. You can either board a direct bus to Reckong Peo or directly to Sangla. Both the buses start early in the morning from Shimla and arrive at their destination by later afternoon.
If you went by the Sangla Bus, then a better way would be to stay in Sangla for the night and plan a trip to Chitkul the next day. There are a couple of buses available between Sangla and Chitkul that you can travel in.
If you reached Reckong Peo first, then you will have to spend a night in Peo. The next day, you can catch the daily morning Bus from Peo bus stand that arrives at Chitkul between 10 – 11 AM.
Do keep in mind though that these are all ordinary buses that you will have to board on the spot. There is no booking system available as well. The deluxe or luxury buses are mostly available only till Shimla. There is an AC bus available from Chandigarh which starts early in the morning, reaches Shimla by noon and Reckong Peo by evening.
Shared Taxi
The bus service on this route is regular but not frequent. Mostly there is just one or two daily buses available. If you missed the bus, the next best option is to find a shared taxi. Believe it or not, these are much easier to find and convenient as well. Just wait by the road and a shared cab (mostly a Bolero or Sumo) will arrive shortly. Even the locals rely on shared cabs more than a Bus.
Private Taxi
Another choice is of hiring a private cab from Shimla to Sangla but that will cost you at least Rs. 12,000 to Rs. 15,000, depending on your itinerary. It can however be a good choice if you were traveling in a group of 5 – 6 people that can all share the cost. At an average, the per-day cost of the taxi comes out to be Rs. 2000 – 3000.
By Air
The nearest airport to Sangla Valley is the Shimla airport located in Jubbarhatti. After Shimla, the next nearest airport is the Bhuntar airport between Chandigarh and Manali. These are however small airports and flights to both these places are limited. The nearest major airport is at Chandigarh which is connected with several flights from all over the country.
Sangla By Train
The nearest train station to Sangla Valley is at Shimla but like the airfield, this train station also is a small one, connected to Kalka by the famous Kala – Shimla toy train. The nearest major railway station is at Chandigarh, trains to which are available from all major cities in the country.
If none of these work, you can also book a train to Delhi but it is a little to far and then you will have to figure out how to go to Sangla valley from Delhi.
Local Commute
There are daily buses and shared cabs available between Reckong Peo, Sangla and Chitkul. You can walk around on foot while you are in Sangla or Chitkul but moving between villages by walking is not a good option. If possible, hire a private taxi which will be the best option. If not, then you will have to rely upon the buses and cabs.
You can catch a daily bus from either Shimla or Reckong Peo to reach Sangla directly. Once you get here and to explore the valley further, there is a daily bus operated by HRTC that leaves from Sangla at around 12 PM, reaches Rakcham at 1 PM and Chitkul at around 1:30 PM. Apart from the HRTC Bus, there are a few other private buses as well that ply within Sangla valley and also towards Reckong Peo.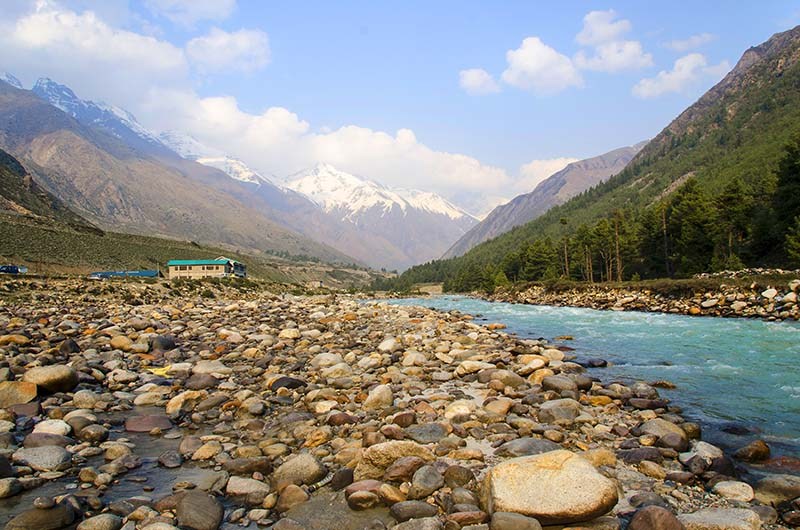 Sangla Valley Weather
During summer, the average temperature in Sangla valley remains to be around 15 degrees Celsius. This however is just an estimate during a clear day with the sun shining bright. Mercury here can dip anytime bringing the temperature down to around seven to eight degrees. Nights even in summer will be very cold and the temperature will remain close to 5 degrees Celsius.
Monsoon arrives in the month of July and remains until the end of August. The rains add freshness to the valley and enhance the beauty of the lush green vegetation. During this time, Sangla Valley turns into a sight to behold with green hills and flowers of numerous colors blossoming all around.
At the same time, monsoon also brings the risk of landslides due to too much rain. Sometimes entire sections of the road can get washed away closing the valley for several days or weeks. If it rained non-stop then it will also force you to remain indoors at your hotel during your entire trip; giving little time for sightseeing and exploring.
The months of winter, from November to February, witness plenty of snowfall. While the average temperature remains around 3 degrees Celsius, it can go as low as -10 degrees during peak winter. Usually, in the months of January and February, it snows so much here that the road from Karcham to Sangla and Chitkul can get completely blocked.
Sangla in December to February
Sangla Valley starts to receive snow by late November to early December, at least in higher reaches. By December end, it would have snowed pretty much everywhere in the valley. Snowfall continues well until March, and sometimes until early April. The intensity and frequency however is higher in January and February when the temperature can go down as far as -20 to -25 degrees Celsius.
The road from to Sangla gets blocked due to the snow in the winter season. Authorities do their best to keep it open at least until Sangla town but that too is not guaranteed. Chitkul gets completely off the limits between January to March and no effort is made to clear the road between Sangla to Chitkul.
Also read: Top Offbeat Tourist Places in Uttarakhand
Sangla in March to June
Tourists start to arrive in the valley towards the end of March. April marks the beginning of the spring season and things turn pleasant. It will still be cold but not as much as the previous months.
If you visited in March, then chances are that you will still find plenty of snow around. Chitkul will still be blocked. If you were lucky, you may even catch a live snowfall.
If you arrived towards the end of March or early April, Chitkul will be open as well. The snow starts to melt by end of March and is mostly all gone by Mid April. The next two months of May and June are the peak tourist season. With vacations on in the school, you will find a lot of families visiting Sangla at this time.
The weather between April to June remains very pleasant with clear skies and moderate temperatures. The only exception is Chtikul where it will still be extremely cold at night and you may have to switch on a room heater while sleeping.
Sangla in July and August
The region starts to receive pre-monsoon showers by the end of June, marking the arrival of the monsoon season. The months of July and August are not a good time to be in Sangla Valley or anywhere in Kinnaur for that matter. This entire area receives a heavy amount of rain each year. Landslides caused by incessant rains are a common sight here.
The road can sometimes get blocked for days and you will be stranded if that happened during your trip.
You should plan a trip at this time only if you must. Even then, please inquire about the weather forecast and condition of the roads ahead before traveling.
Also read: Places Less Visited in Himachal
Sangla in September to November
September is one of my favorite times to be in the hills. Monsoon would be long gone but would have left behind plenty of greenery to enjoy. The mountains will be covered with a carpet of green and dotted with flowers of all kinds.
October is when the autumn season arrives and the entire valley turns golden. Weather in both September and October remains very enjoyable with pleasant days and moderately cold nights.
Winter starts to settle in by the end of October and November marks the beginning of the winter season. The temperature starts dropping with each passing day and the upper reaches of the valley get the first snowfall. The hotels and campsites as well start packing up, putting an end to the tourist season.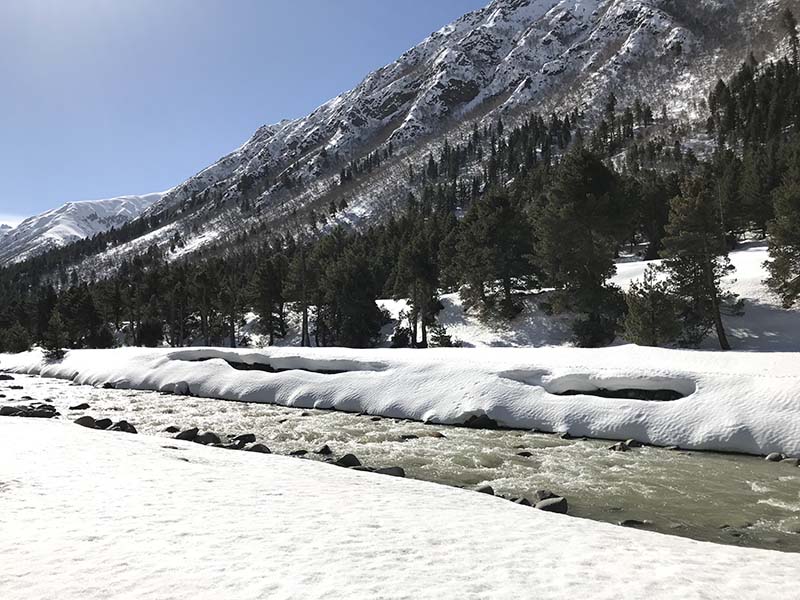 When is the Best time to visit Sangla Valley
Now based on the information above, the month of September in my opinion is the best time to visit Sangla Valley. This is the time when monsoon has just passed and the valley is at its full blossom. Weather will be pleasant with no risk of rain or snowfall. After September, the months of May and June are considered a good time to be visiting Sangla. You can go trekking or even camp with no worries of rain ruining your plans.
August end and September are also the harvest season for apples. Kinnaur is famous for its apples and at this time, the entire valley turns colorful with the colors of the harvest everywhere.
January, February, and August can be called as a bad time to be heading here. This is the time when the weather can turn extreme suddenly. Owing to heavy snowfall or rain, the roads can get closed. Even if the roads were open, the weather can still force you to remain indoors, trapping you in your hotel room with no chance of any outdoor activities or sightseeing.
November overall is a bad month to visit because the scenery at this time is very dull and dry. Weather will be terribly cold and there won't even be any snow around.
Also read: 10 Offbeat Places in Himachal
Clothes to Pack for Sangla Trip
Your clothes will really depend on which month of the year you are visiting. A good quality heavy windproof jacket is a must irrespective of the time you arrive here.
During winters, you will need all your woolens as well as thermals. Gloves and warm socks too at this time will be a must. Ensure that your jacket has a hood to protect your neck and head. If not, you will also have to carry caps and mufflers to keep you completely covered.
During summer, your regular cotton clothes accompanied by some light woolens will do the job. During the day, you will be able to walk around comfortably wearing cottons and a light jacket. But during the evening, morning and night, the temperature will still drop close to 10 degrees Celsius (even further below in Chitkul) and you will have to put on some woolen clothes as well.
If planning a trip during monsoon, you want to bring clothes that will dry fast, like polyester.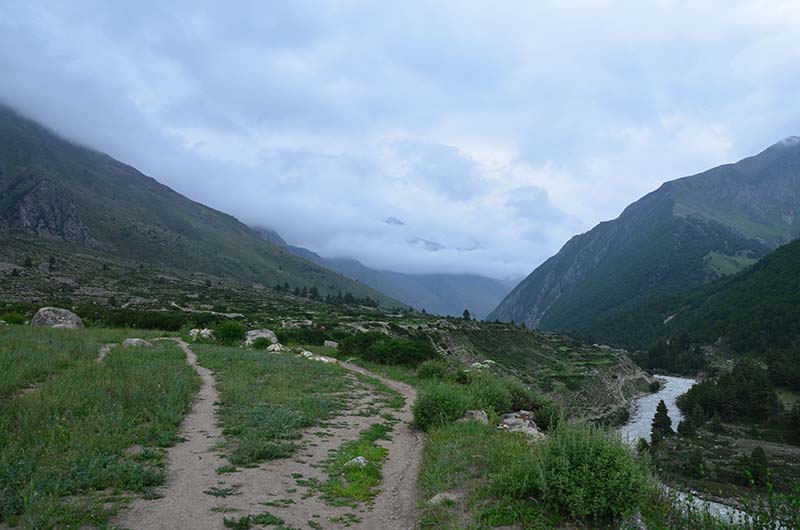 What to see in Sangla Valley
I have actually covered this topic in a different article in great detail otherwise this one page would have become way too long. To provide a brief list, mentioned below are the places that can be considered for sightseeing in Sangla Valley.
Karcham Dam
Baspa River
Sangla
Bering Nag Temple
Kamru Village
Kamru Fort
Badrinath Temple
Batseri Village
Trout Fishing Farm
Wood Carving Center
Rakcham
Chitkul
Mathi Devi Temple
Chitkul Fort
Sangla Kanda Meadows
Saffron farm located on the outskirts of Sangla
To know more about these places, please read Best Places to Visit in Sangla Valley and Things to Do.
Things to do in Sangla Valley
The biggest activity to do in Sangla is to enjoy the scenic beauty around you and relax. The peace and silence you will find here are like nowhere else. Enjoy undisturbed walks while enjoying the flora and fauna of the valley.
If you are into trekking, there are numerous trekking trails from Sangla to neighboring valleys; like Jalandrigad valley via Lamkhaga pass, Har ki dun valley via Borasu pass, Sangla to Netwar via Rupin pass and Pabbar valley via Buran pass. Yamrang la pass & Gugairang La are the two passes situated on Indo-China border.
Outdoor camping will be another great activity to do here. There are numerous camps on the banks of Baspa River that you can stay at. These campsites can also organize various adventure activities like rappelling, rock climbing, river crossing for you. Even if you were staying at a hotel, you can also talk to any of the tour agents in Sangla and indulge in these activities.
You can also try your hand at fishing in the Baspa river at the trout farm but you will need to get a permit for it.
I have talked more about this topic in the article Best Places to Visit in Sangla Valley and Things to Do.
Festivals in Sangla Valley
If you happen to be visiting in August and September, you can also attend the annual Fulaich Fair. It is a festival of flowers, celebrations of which involve traditional music and dances. This is the time for the harvest season for the apples.
Where to stay in Sangla
A recent increase in tourism in Sangla valley has been observed and owing to this, new hotels have come up all across the valley. There are four types of accommodation choices available.
The first one is of hotels and guest houses that are available in plenty at Sangla and Chitkul. You can easily get a hotel for Rs. 700 – 1000 per day.
The second choice is of the HPPWD rest house that you can try staying at. There are rest houses available at Sangla, Chitkul, Rackham, and one near Karcham as well. The best way to stay at a PWD rest house is to go with prior booking but you can also try talking to the caretaker in allowing you to stay for a night. For more details, please read How to Book a PWD Rest House.
The third choice is of campsites that are available at Sangla, Rakcham, Chitkul, and at a few other scenic places en route. Rackham is known to be the best place to go camping. You can either choose from an existing campsite or even pitch your own tent.
The third choice is of staying as a paying guest with the locals which is available at remote villages like Kamru and Batseri.
The best option in my opinion is to stay at a guest house at either Sangla or Chitkul. Just take a walk through the village, find a hotel per your liking, and check-in.
Also read: How to Plan a Trip to Prashar Lake
Where and What to Eat
The food available in Sangla Valley is a mix of North Indian, Himachali, and Tibetan. You can try some Tibetan dishes Noodles, Dumplings, Momos, Thukpa, etc. Other than that, all north Indian dishes are available at all the restaurants and hotels in Sangla and Chitkul. If you want to try some local Himachali food, staying as a paying guest with a local would be the best way to go about it.
Shopping Options
Below are a few things that you can consider buying.
Apples: The entire Kinnaur valley boasts of producing the best quality apples in the world. This will be the first item that you would want to buy from here and bring home.
Kinnauri Shawls: Beautiful hand-woven shawls with a colorful border.
Kinnauri Caps: This cap, mostly green and grey, has over time become the very symbol of Kinnaur and entire Himachal for that matter. Aside from being colorful and stylish, this cap is also very warm.
Chulli (Wild Apricot) Oil: This oil is widely used all over Kinnaur, both for massage and as a cooking medium. People here believe that this oil is what keeps Kinnauri people strong and healthy. Chulli (or Chuli) means Apricot in the local language.
ATM/Banks
Sangla is the largest town in the valley and has banking services and the only ATM available. I have been here a few times and have always found this ATM operational.
Petrol Pump in Sangla
There are several petrol pumps on the route as you approach Karcham from Shimla. In Sangla valley, however, there is only one petrol pump just before Sangla town. I wouldn't really worry much about fuel though because you will never really go a great distance without coming across a fuel station.
Medical Facilities in Sangla
Sangla Town is the only place where you can get some medical attention in the valley. That too however will only be for some minor ailments. If it was something serious, you would then have to rush to either Reckong Peo or Shimla.
Mobile Network in Sangla
No matter which network you are on, your phones will work fine till Sangla town. After Sangla however, only BSNL has the connectivity, and the rest of the phones will be off the network. Even with BSNL, the reception around Chitkul and other villages is not that great. The connection will be intermittent and voice clarity bad.
The last time I was in Chitkul, I could barely make a call with a BSNL connection and in the end, had to send a text message. Data connectivity too will be good only until Sangla town and is not available anywhere else.
Also Read: 7 Short and Easy Winter Treks in Uttarakhand
Itinerary for Kinnaur and Sangla Valley
Sangla and Chitkul are usually part of itineraries for people visiting Spiti valley. But a trip to only Sangla valley is also a great idea and while doing so, you can also cover a few other places in Kinnaur and en route. Below are a few itineraries that you can follow for the trip. For the sake of this article, I will assume that you are starting from Delhi and suggest accordingly.
Sarahan Sangla Kalpa Chitkul Itinerary
Delhi to Shimla / Narkanda – Day 1
Shimla / Narkanda to Sangla – Day 2
Sangla to Chitkul – Day 3
Chitkul to Kalpa – Day 4
Kalpa to Sarahan – Day 5
Sarahan to Chail – Day 6
Chail to Delhi – Day 7
Above is a plan that lasts for an entire week and will have you spend plenty of time in the valley. If you have more days, then you can extend your stay at any of the places and head out on a few trails. If you were a bit short on time, then you can reduce your stay at Kalpa or Sarahan. A minimum of 5 days is what you will need to plan a trip here from Delhi.
Sangla Kalpa Chitkul Itinerary
If you were a little short on days, a trip can be planned like this.
Delhi to Rampur – Day 1
Rampur to Sangla – Day 2
Sangla to Chitkul to Kalpa – Day 3
Kalpa to Shimla / Chail – Day 4
Shimla / Chail to Delhi – Day 5
Sangla Valley Itinerary
If you just want to explore Sangla Valley, then below is the itinerary you can follow.
Delhi to Narkanda – Day 1
Narkanda to Sangla – Day 2
Sightseeing in Sangla. Visit Kamru and Batseri Villages, see the fort, temple and the Trout farm – Day 3
Sangla to Chitkul. See Chitkul Fort, Mathi Devi Temple and walk around the village – Day 4
Trek to Nagasti ITBP Camp / Rani Kanda Meadows – Day 5
Chitkul to Shimla – Day 6
Shimla to Delhi – Day 7
If you had one more day in hand, you can also camp at Rani Kanda meadows and return the Chitkul the next day. Otherwise, you will have to start trekking really early in the morning if you want to cover it on the same day. Otherwise, do not go all the way to the meadow. Just go to the ITBP post at Nagasti and return.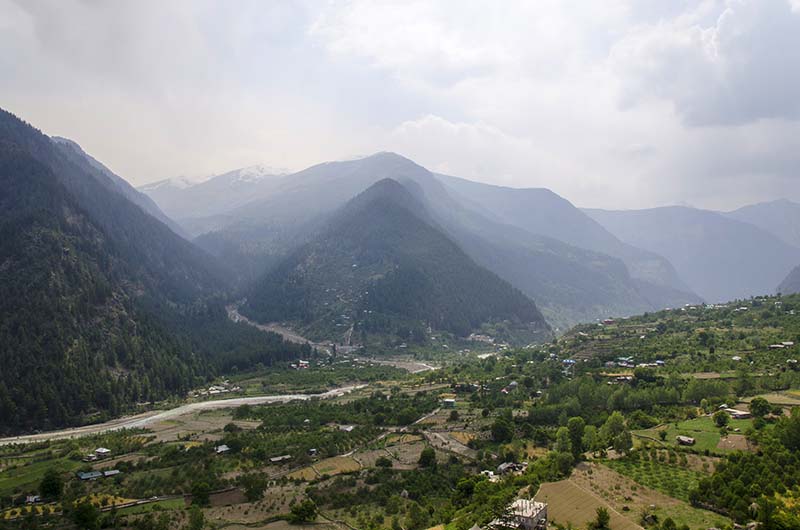 Sangla Valley Road Condition
The road conditions are mostly all good until Karcham with a few bad sections in between. The 40 kilometers long stretch from Karcham to Sangla is a mix of good, bad, and ugly but mostly average.
Best Vehicle
There is really no best vehicle as such. I have seen the locals in Sangla easily driving around a Maruti 800 and 100 CC bikes. The only thing you need to make sure is that your vehicle is well maintained, serviced, and capable of handling mountain roads. If you were traveling on a smaller engine bike, it would be best to ride solo and as light as possible.
Also read: How to Plan a Trip to Chitkul
FAQs
Where is Sangla Valley in India?
Sangla Valley is located in the Kinnaur District of Himachal Pradesh.
Is Sangla Worth Visiting?
Yes, Sangla Valley is definitely worth visiting. The scenic beauty of the place is truly mesmerizing and it is not even difficult to reach. It is very well connected by a good motorable road from Shimla and can be reached in 6-7 hours.
How to reach Sangla Valley from Shimla?
There is a daily bus available from Shimla to Sangla. It starts early in the morning and arrives at Sangla by late afternoon. You can either stay in Sangla for the night or find another mode of transport to get to Chitkul on the same day.
When will it snow in Sangla?
Sangla experiences snowfall from late December to late March. Sometimes it can start to snow a little early as well and last as long as early April.
Conclusion
I hope the information above on visiting Sangla was of help. If you need any further details, please feel free to ask in the comments section below; or at our Community Forum; and I will be glad to answer.