Sopona Lake, also known as Sapona Lake or Mane Lake, is not a name that many people will recognize. It is a small lake located in Spiti Valley but I can bet that even people who have been to Spiti will not have heard of it. It is one of those places that some people will call as a 'hidden gem' while others will just tag it as too remote or too troublesome to reach. Is it worth visiting though? To me, yes it is. Why? Because it gives you a true taste of what people come looking for to Spiti, to explore the unexplored and see something new.
Also Read: How to Plan a Trip to Spiti Valley – A Complete Travel Guide
I was once told by a local in Kaza town that the true beauty of Spiti Valley is in its villages. After 4 trips to Spiti now, I concur with this statement. You have not truly been to Spiti unless you have explored its villages; unless you have taken the road less traveled. One such place is the small village of Mane from where the trail to Sopona Lake starts; and this is why it also gets called as Mane Lake. There is no motorable road and the lake can only be accessed on foot.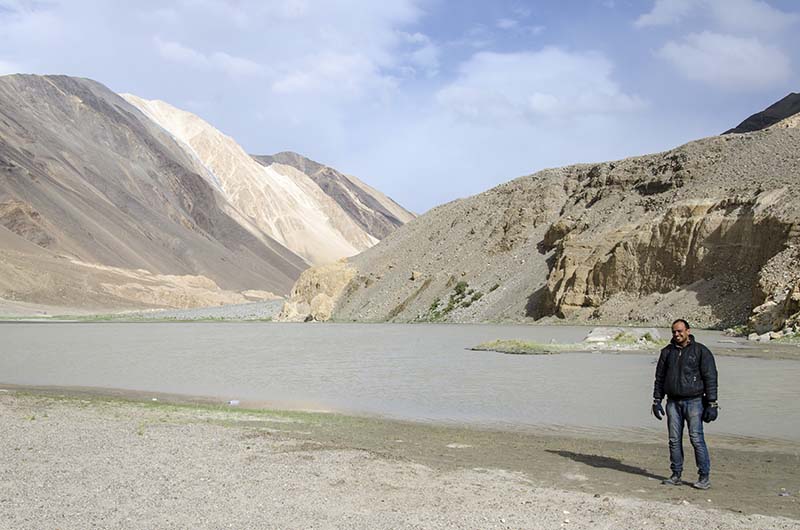 Sapona Lake Spiti
Sopona Lake is a seasonal glacial lake. What it necessarily means is that the lake exists only for a certain period of the year. It is formed during the spring season when the snow starts to melt from the glaciers. All the water then flows down from the hills and accumulates to form this lake. During the winter season, the lake shrinks to a mere nothing and almost completely vanishes.
Now since this is a periodical lake, the amount of water and the beauty of the landscape entirely depend on when you were visiting it. If you reached here during the winter season in Spiti, you will be greeted with just a dried piece of land. If you went early in the season, in March or April; you will just find patches of water. If you went late, towards October or after, you will find a lot of slush and mud. But if you went between May to September, you will find the lake filled with water and presenting awe-inspiring scenery. Even the trail is marked with some amazing views of the surrounding snow-capped peaks and views of the valleys of Spiti.
Also Read: What Clothes to Pack for Spiti
Where is Sopona Lake?
The lake is located between Tabo and Dhankar in Spiti Valley, near the village of Mane. It is not on the main highway though and you will have to leave the road to get there, which I have explained further in the article. You will first get to the lower Mane Village, then the Upper Mane Village and then trek for about 2-3 hours to get to the lake. This lake also acts as a base to trek to Manirang Peak / Pass.
How to reach Sopona Lake
In order to reach the lake, you will first have to get to Spiti Valley; either to the village of Dhankar or Tabo. There are two ways to do this. You can start your journey to Spiti from Shimla and then reach Tabo via Narkanda, Rampur, Pooh, and Nako. Or you can reach Spiti via Manali, in which case, you will first get to Kaza and then reach Mane Lake.
Also Read: How to reach Spiti Valley by Road, Bus, Train or Flight
The route from Shimla side remains open for all 12 months, except for peak winter and monsoon season when extreme weather can sometimes block the road. From Tabo, as you drive towards Dhankar, you will reach a small bridge to your left exactly after 20 kilometers.
There aren't many people around in this region so keep an eye out for this small bridge. It is also known as Atergu Bridge (not to be confused with Attargo Bridge of Pin Valley).
Another couple of villages located here are Siluk and Piyuche. So if you see a board that reads Atergu, Siluk, Piyuche, Mane, Manegogma or Maneyogma, you know that this is where you need to turn and cross the river to the other side. This will road will immediately climb up as soon as you cross the river.
Mane Village
Manegogma and Maneyogma Villages are both actually the same village, or they used to be the same village, known by the name of Mane. It is one of the little known but highly scenic hamlets of Spiti which was destroyed in a flash flood a few years ago. After the flood, the village got divided into two – Mane Gogma which means the lower Mane Village and Mane Yogma which means that upper Mane village. The best part, however, is that both of these villages can be easily reached by a motorable road.
Also Read: Mobile Network in Spiti Valley and Data Connectivity
After you take the turn and cross the river at Atergu Bridge, keep driving for about 3 kilometers and you will arrive at the lower Mane village. Don't stop here and continue driving for another 3 kilometers to reach the upper Mane Village.
The distance from Tabo to Mane Village is about 26 kilometers and it will take you about 45 minutes to complete.
Via Manali
If you were coming to Spiti from Manali side, then you will first reach Kaza via Rohtang La and Kunzum Pass. This route remains open only from Mid May to Mid October. After Kaza, start driving towards Dhankar, reach Atergu Bridge and then arrive at Mane Village. The distance between Kaza and upper Mane is 34 kilometers and will take you about an hour.
Please note that you do not have to go to Dhankar to reach Mane Village. Dhankar is a little off the main highway so unless you wanted to visit there first, you do not have to go that way and can directly drive to Mane from Kaza.
Mane Village to Sopona Lake
From Mane Village, the trail continues to climb up for most of its length and it is mostly a straight walk from the uppermost houses of the village. My advice would be that you plan the trek as a day-long excursion. Have something to eat and carry some snacks as well. There is no drinking water available on the way so make sure that you are bringing your own water along. The water in the lake is not drinkable so please do not sip it in because you may fall sick.
After the village, the trail will continuously climb up a hill. It will take you about 45 minutes to 1 hour to reach the top of the mountain from where you will get a stunning view of the entire valley around the Mane village in it. Here, you will notice this trail getting divided into two. You will have to keep walking straight. Just keep walking straight and do not deviate from the path.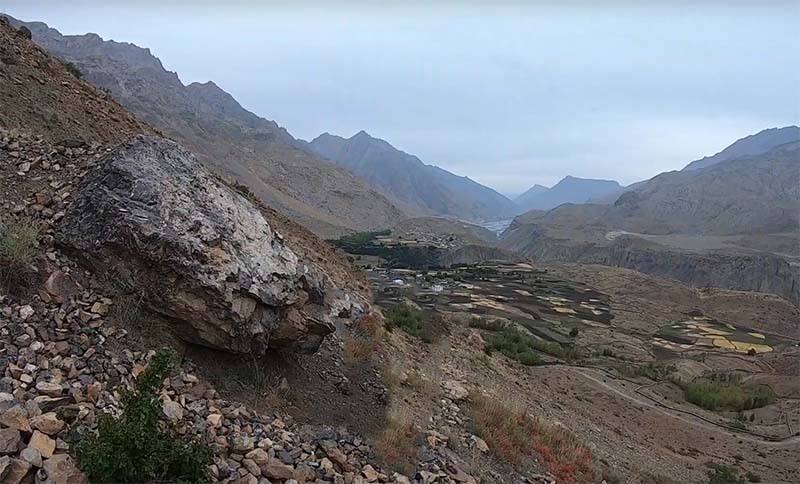 If you are carrying a GPS device, then it will work well throughout the trail to track your way. If not, then I will highly recommend brining a local from the village along as a guide. They can show you some sites along the way that you will otherwise miss and can keep you from getting lost. You will stay on the trail, finish it on time and also support the livelihood of the locals in the process.
If you did not have a GPS device and were not also bringing a guide, then at least get a general idea of the direction that the lake is located in. This will at least give you an idea about where you should be headed towards.
Difficulty Level
Sopona Lake is located en route the Manirang Peak which is one of the highest mountains in Himachal Pradesh. So from this, you can imagine that the trail can no way be called an easy one. But at the same time, it is not also extremely tough. As long as you have moderate enough fitness level and can walk 5-6 kilometers, you can easily complete it with enough breaks on the way.
Also Read: How to Handle Acute Mountain Sickness in Spiti Valley
How to reach by Bus
There is no direct bus available for Mane Village, so traveling by public transport can be a little tricky. There is however a daily bus that travels towards Tabo from Kaza (or towards Kaza from Nako and Tabo). Traveling by this bus, you will have to get down near the Atergu Bridge and either hitchhike to the village or walk the entire distance.
Another mode of commute that you can use is shared cabs. But since Mane is a remote village and the road ends here, even the shared cabs are not that frequent.
If you were planning your entire journey by Bus, then there is a regular bus service from both Shimla and Manali side for Spiti. To know more, please read How to reach Spiti Valley by Bus.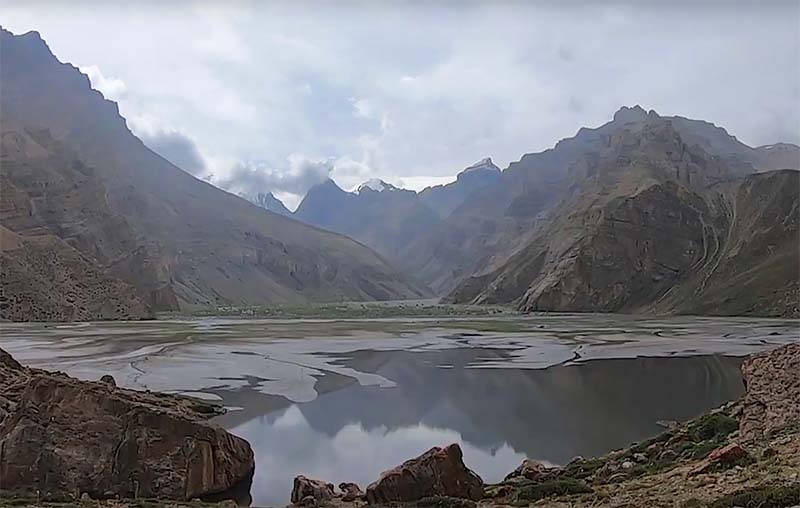 What to do at Sopona Lake
There isn't much to do actually. Trekking to the lake is in itself a thing to do in Mane Village. Just reach here, have fun, relax, walk around the lake in a circle, take plenty of photographs from different angles and trek back to the village. If you were planning to camp here, then you will have plenty of time to sit near the shores and have a blast of a time with your friends. There are a lot of boulders here that are easy to climb and are fun to do so. But please practice caution and keep in mind that you have a long distance to walk back. You do not want to get your ankle twisted here or hurt yourself in any other way.
Also Read: Shopping in Spiti Valley
Altitude of Sopona Lake
Mane Lake is at an altitude of 13,402 ft (4085 meters).
Best time to visit Sopona Lake
Since Sapona Lake is a seasonal lake, its existence entirely depends on the summer season. It starts to form towards early April with the arrival of the spring season. The snow in the glaciers and the mountain peaks melt and give birth to the lake. By May or early June, the lake is full of water and in its full glory. It remains that way until early September and then starts to recede. By October, only a little bit of water is left and what once was a lake turns into mud and slush. Spiti starts to freeze again in November and the lake ceases to exist.
So the best time to visit Sapona Lake will be from late May to mid-September; which also is the best time to visit Spiti Valley. The entire Spiti Circuit remains open in these months. You can start your journey from Shimla and end at Manali or vice versa; while covering all the major tourist attractions in Spiti valley and in nearby areas.
Where to Stay at Sopona Lake
Mane Village is where you will be staying. It is a small village so there are no fancy hotels or guest houses. Accommodation is available in the form of homestays and camping, which can be organized on request. Some of the villagers have extended their homes by a few rooms and rent those out to the tourists. Your stay will be basic but comfortable.
In terms of food as well, you will have to eat at the homestay only. There are no eateries or a restaurant in the village.
The per-day tariff you will pay be will be inclusive of the meals as well but it will be better to clarify it with the owner before you check-in. The food provided too will be basic but delicious.
I stayed at Sonam Homestay at Upper Mane Village. It is owned by a gentleman called Sonam. Their rooms were surprisingly good and comfortable. Other than the homestay, they also have a campsite within the village. So you can either stay in the cemented rooms or spend the night in a tent.
Also Read: Food Items to Try in Spiti
Camping at Sopona Lake
There are no campsites available and I do not even think that it is safe to camp there. The lake also serves as a water resource for wildlife so you may run into some trouble at night.
But if you were eager to camp, then talk to the people in the village or your homestay owner. If they advise that it is safe enough to camp at the lake, then please ask them to make the arrangements.
If you were carrying your own camping gear, then you can pitch your tent as well but will definitely need a porter from the village to carry everything to the lake.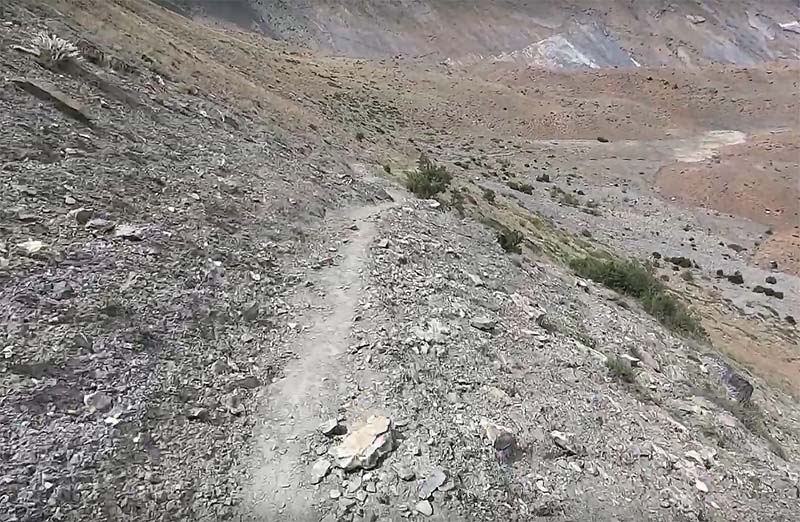 Other Tips
Mane village acts as the base for the trek to the lake as well as the Manirang Pass.
The trail to the lake is not a well laid one but easily navigable.
I will advise taking a local as a guide. It will ensure that you do not get lost and stay on the trek which will further ensure that you complete it in time. The locals can also show you some other sites on the way that you may miss. Another added benefit will be that you will support the livelihood of the villagers.
Only BSNL / MTNL works here. Surprisingly, I was able to get the BSNL network even at the lake. The Internet, however, was of course not working.
The nearest petrol pump is either in Reckong Peo towards Shimla or in Kaza towards Manali.
The nearest ATM also is in Kaza.
Medical assistance, if needed, is available only in Kaza. There is however a primary health care center in Tabo as well.
It is a humble request to please not litter. If you were carrying any items to eat or water bottles, please make sure that you bring them back and do not discard the trash either at the lake or on the trail.
I will strongly recommend wearing good trekking shoes with a good grip.
Itinerary for Sapona Lake
Both Mane Village and Sopona lake will, of course, be a part of a trip to Spiti Valley. Keeping that in mind, below is an example of an itinerary that you can follow for your overall journey. For the sake of drafting the travel plan, I am assuming that you are starting from Delhi and visiting between May to September.
Delhi to Shimla / Narkanda – Day 1
On Day 1, start early from Delhi and break your journey either at Shimla or Narkanda. It will be a 9-10 hours drive in total. Starting your journey from Shimla is better rather than Manali as it gives your body a chance to acclimatize to the high altitude better.
Also Read: How to Plan a Trip to Narkanda
Shimla / Narkanda to Sarahan – Day 2
On Day 2, spend some time in Narkanda and make a short trip to Hatu Peak. Check out of your hotel and drive down to Rampur and continue to Jeori. From Jeori, take the right turn, drive uphill for 16 kilometers and reach Sarahan where you will stay for the night. Visit Bhimakali Temple in the evening or in the morning the next day.
Also Read: How to Plan a Trip to Sarahan
Sarahan to Chikul – Day 3
If you were short on time, then you can skip Sarahan and come straight to Chitkul on Day 2 itself. Otherwise, this will be your destination for Day 3. Take the road towards Sangla Valley from Karchham which will end at Chitkul. From Narkanda, it is about 6-8 hours of journey and 4-6 from Sarahan.
Also Read: How to Plan a Trip to Chitkul

Chitkul to Kalpa – Day 4
If you were short on time, then you can skip Sarahan and Chitkul both and come to Kalpa directly from Shimla or Narkanda on Day 2. Kalpa is best known for the majestic view of the Kinner Kailash peaks. There are several hotels here that you can stay at for the night.
Also Read: How to Plan a Trip to Kalpa

Kalpa to Nako / Tabo – Day 5
You can break your journey at either Nako or Tabo on Day 5. I prefer staying at Nako because it has better views but you can stay at Tabo as well if you wish to. See the confluence of Spiti and Satluj Rivers at Khab on the way. Even if you weren't staying in Nako, drive into the village and see the Nako Lake. After Sumdo, drive to the Giu village and see the 500-year-old mummy of a monk.
Also Read: How to Plan a Trip to Nako
Nako / Tabo to Mane Village – Day 6
Start early and drive to Atergu Bridge. Cross it over and reach Mane Village. On this day, if possible, just stay in the village and enjoy the vistas. Do not trek to the lake. Stay in the upper Mane Village.
Also Read: How to Plan a Trip to Tabo

Mane Village to Sopona Lake to Mane Village – Day 7
This will be the day that you will spend trekking to the beautiful Mane Lake. In total, it will take you about 2-3 hours to reach the lake and then another 2-3 hours to get back, depending on your fitness level. Assuming that you will also spend some time at the lake, in total, it will become an excursion for an entire day.
If you did not have an entire day to spend on this, then on Day 5, stay at Tabo and not Nako. On Day 6. start by the first light of the day from Tabo and reach Mane Village. Check into a hotel and visit the lake on Day 6 itself.
Mane Village to Kaza – Day 8
On Day 8, you must start early because it will be a long day. First reach Dhankar and trek to Dhankar Lake, another beautiful small lake that you must visit. You can leave your vehicles at Dhankar Monastery while you visit the lake. This will take you about 2-3 hours to complete.
After Dhankar Lake, reach Attargo Bridge and drive into Pin Valley, to Mud Village. Have your lunch there and then drive back to Attargo Bridge. From here it is a straight run to Kaza.
Also Read: How to Plan a Trip to Kaza

Kaza – Day 9
Spend the day in Kaza visiting the nearby village of Kibber, Komik, Tashigong, Langza, Hikkim, etc.
Kaza to Chandratal – Day 10
Start early and drive to Kunzum Pass via Losar. As you drive downhill from Kunzum Top, you will notice a narrow road barely wide enough for a car. It will be about 2 kilometers before Batal. This is the road that you will need to take to reach Chandratal. Camp overnight at Chandratal.
Also Read: How to Plan a Trip to Chandratal

Chandratal to Manali – Day 11
Drive back from Chandratal to Kunzum Pass and then drive down to Batal. Today, you will be driving on the worst stretch of the road you have ever been on, between Batal and Gramphoo. Please be careful and practice caution.
Also Read: How to Plan a Trip to Manali

Manali to Delhi – Day 12
This will be the last day of the trip; a long and monotonous one. Drive back to Delhi via Chandigarh which can take you anywhere between 12-14 hours.
Conclusion
I hope the information above on visiting Sopona Lake was of help. If you have any questions; or need any other details; please feel free to ask in the comments section below; or at our Community Forum; and I will be glad to answer.