Pin is a beautiful valley in Lahaul & Spiti district of Himachal Pradesh; formed by Pin River that runs throughout its length, before merging with Spiti River. This valley is also the location of a wildlife reserve called "Pin Valley National Park". Though within Spiti, the ecosystem of Pin Valley is completely different than that of Spiti and its pristine beauty is quite fascinating.
Wildly furious but majestic Pin River flows right through it, turning the entire valley into carpets of green with snowcapped mountains rising in the background. Sunny weather, strong winds, miles and miles of isolation, stunning views, enchanting silence, colorful flowers all around, the transformation from shades of a desert to acres of greenery; put this all together and you have a magical Pin valley to lose yourself into.
Remember the song "Intezaar" from the movie "Paap" starring John Abraham and Udita Goswami? Remember the beautiful valley that she walks through as the song progresses? That was Pin valley; the shooting location of this song. If you haven't yet seen it or do not remember, google and watch the video.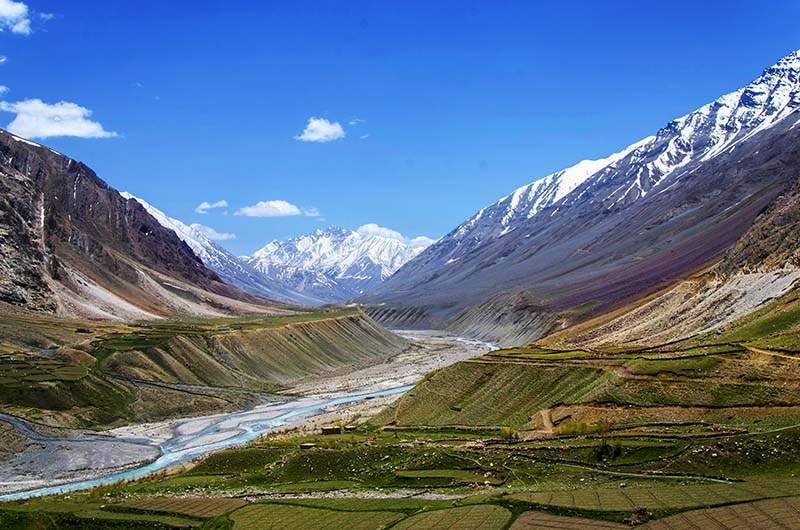 About Pin Valley
There are approximately 17 villages in Pin Valley with a total population of about 1500-1600 people. Most of the locals here follow Tibetan Buddhism. The valley is home to several endangered and rare animals like Snow Leopard. Until a few years ago, it was largely unknown but with the rise of tourism in Spiti, a lot of people have started to visit Pin Valley as well. Sagnam is probably the largest village but Mud Village is the main tourist spot. There are several monasteries and stupas here that are well worth a visit of which Kungri Monastery is the most well known one.
Also read: How to Plan a Trip to Spiti Valley – A Complete Travel Guide
Pin Valley National Park

Pin Valley national park is a wildlife sanctuary located within Pin Valley. It was established in 1987 and is considered as home to the "grey ghost of Himalayas", the Snow Leopard with as many as 12 of them believed to be living here. It is also the natural habitat of several other endangered animals like Siberaian Ibex, Bharal, Weasel, Red fox and Marten. Several rare birds like Pika, Himalayan Snowcock, Bearded Vulture, Chukor Partridge, Snow Partridge, Golden eagle, Griffon, Himalayan Chough, Snowfinch and Raven can also be found here. The elevation of this park ranges between 3500 meters at Ka Dogri to over 6000 meters at its highest elevation point.
For more details on the park itself, please read How to Plan a Trip to Pin Valley National Park
How to reach Pin Valley
To begin with, I will first post a map of the region to explain it better. Click on the map or save it to your hard drive to view in full size and to be able to read it better.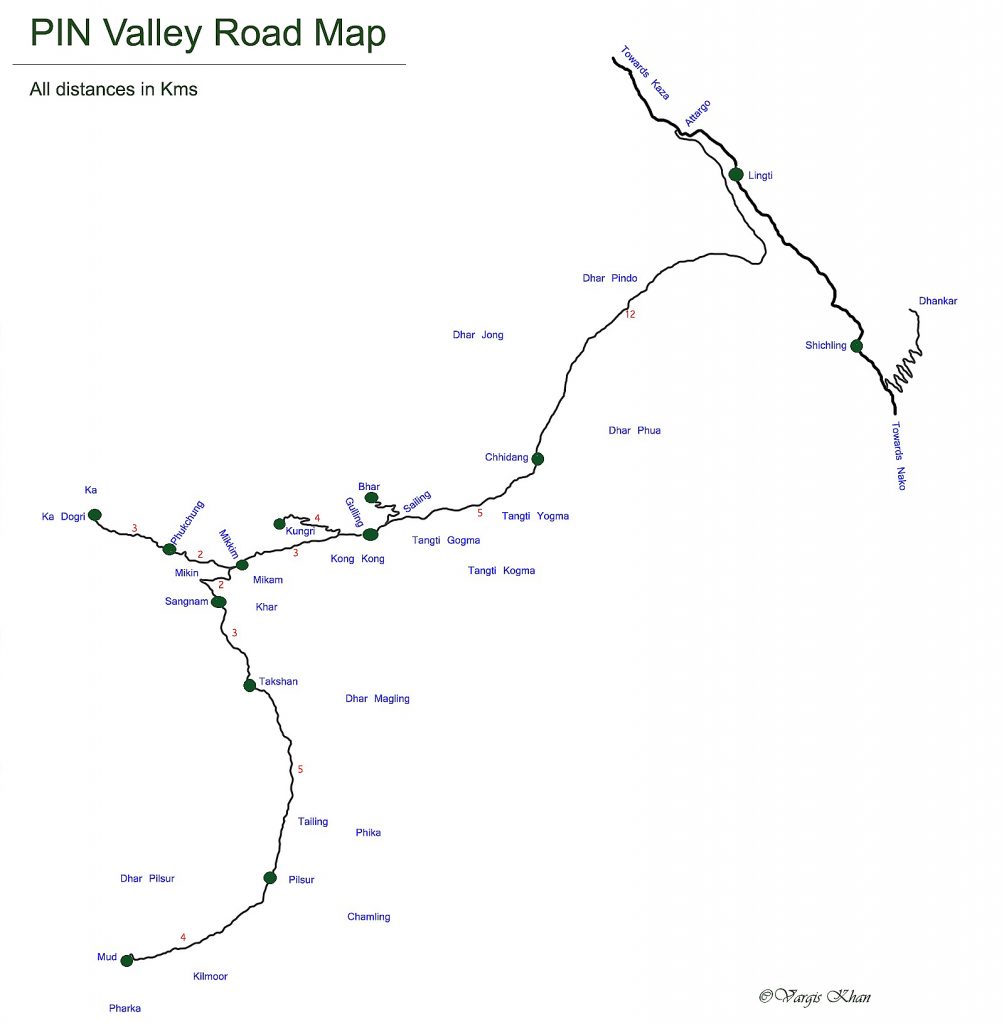 In order to reach Pin Valley, you will first have to reach Spiti Valley. You can either take the Manali route to first reach Kaza and then to Dhankar or you can travel via Shimla, Rampur, Pooh and Nako to reach Dhankar.
The route via Shimla remains open throughout the year whereas the Manali route is only open between late May to early October. In winter months, this road gets closed after it starts to snow at Rohtang and Kunzum Pass. There is also a regular bus service both via Shimla and Manali that you can take to arrive in Spiti Valley. To get more details on it, please read How to reach Spiti Valley by Road, Bus, Train or Flight.
Kaza / Dhankar to Pin Valley
After arriving in Spiti Valley, you will have to get to a place called Attargo Bridge. It is about 16 kilometers from Kaza and about 9 kilometers from Dhankar.
As you move towards Kaza from Dhankar (or approach Dhankar if traveling from Kaza), a road bifurcates towards Pin Valley at Attargo Bridge, as shown in the image below. The road crosses over to the other side of Spiti River and from there, it is a straight run to Pin Valley, driving right next to Pin River.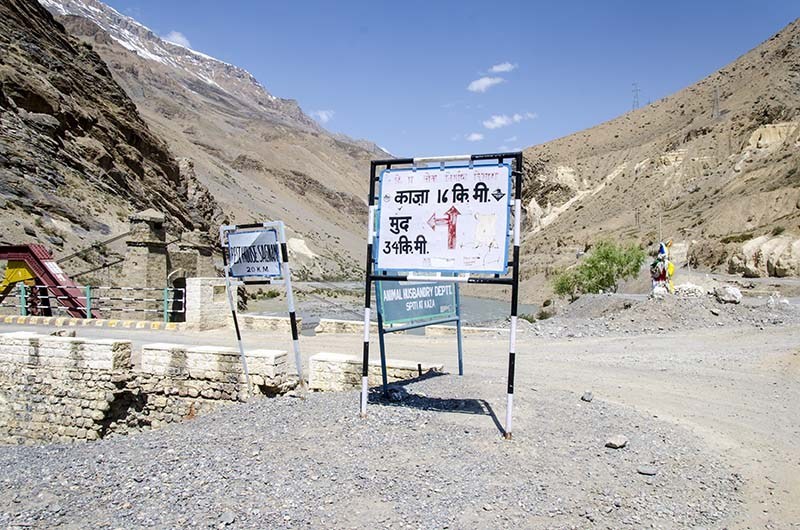 From Attargo bridge, the route of the journey will be as mentioned below.
Attargo to Gulling – 16 Kms – Should take about an hour
Gulling to Kungri – 2.6 Kms – 15-20 mins drive
Gulling to Mikkim – 3.3 Kms – Half an hour at most
Mikkim to Ka Dogri – 5 Kms – 22 Mins
From Mikkim to Sangnam – 5 Kms (2.5 Kms drive, 2 Kms trek) – Should take about an hour
Mikkim to Mud – 15 Kms – Should take an hour
It is an untarred road all the way till Mud. It is full of lose gravel, a bit bumpy but the drive is OK if not smooth. But with Pin River flowing right next to you and the beautiful vistas, you would hardly notice the road anyways. Mud is the last village in Pin valley that you can reach by road. It also acts as the trekking base for Pin Parvati Pass and Bhabha valley. The trek starts from Mud and ends at either in Parvati Valley or Kinnaur Valley.
How to reach Pin Valley by Public Transport
There is a daily bus from Kaza to Mud that starts in the evening at around 4 PM. This bus goes all the way to Mud. If you are coming from Tabo or Dhankar, you can catch this bus from Attargo at around 4.30 PM.
The same bus then returns to Kaza at 6 AM from Mud Village. So you can actually use the same bus for reaching Pin Valley and for coming back to Kaza.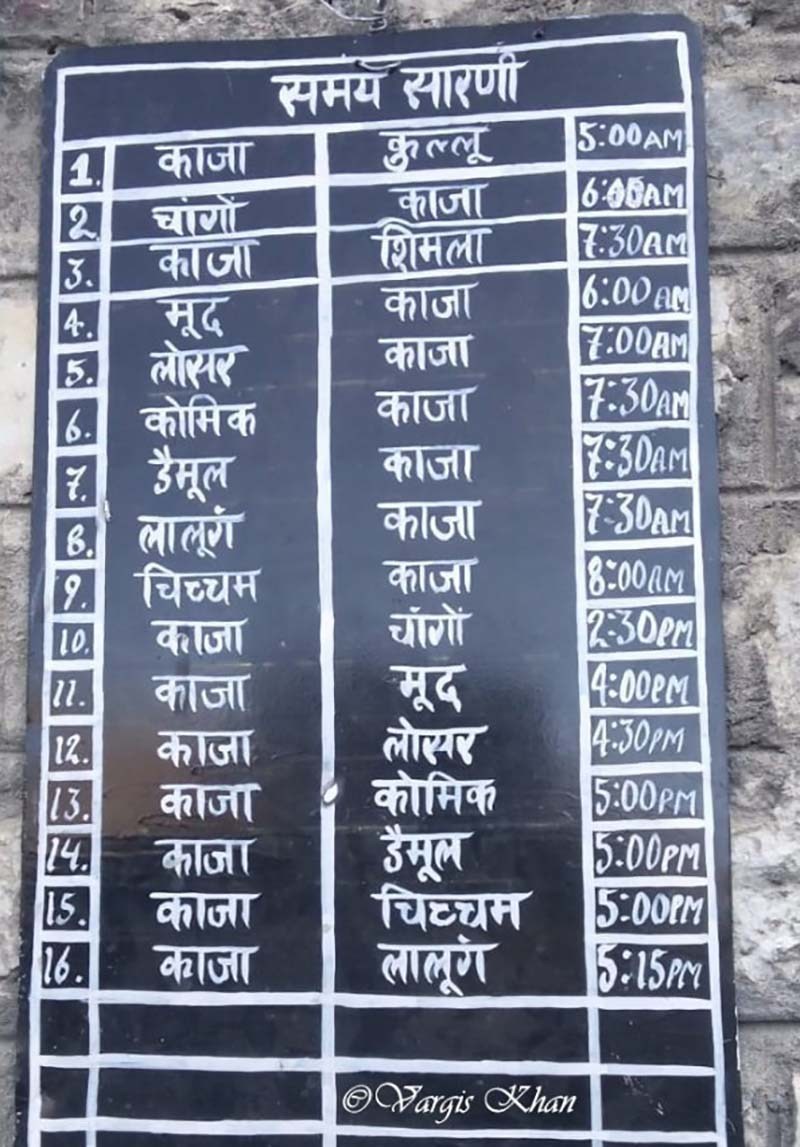 If these timings do not match your plan, then you can get a shared taxi from both Kaza and Dhankar to Mud for about Rs. 50 – Rs. 70 per person. You can also wait for these taxis at Attargo Bridge and board one from there. Private taxi from Kaza would cost anywhere between Rs. 2000 – Rs. 3000 per day.
Mud Village
As mentioned above, Mud is the last village in Pin Valley that is accessible by motorable road. The road actually goes a little ahead of the village as well towards Bhabha Pass but gets terribly bad. This village more or less acts as the base for anyone traveling to Pin Valley, be it a road trip, casual trekking or scaling the Pin Parvati trek and Bhabha Pass trek.
It is a very small village, just a handful of houses put together with a few hotels and guest houses however it is your best bet to find a decent accommodation in Pin. Some other villages too have a few stay options available but it is always recommended to stay at Mud.
Places to Visit in Pin Valley
I have actually covered this information in great detail in another article. For an overview, I will list out the tourist attractions in Pin Valley here. But if you want to get some more details on these places, I will urge you to read What to See in Pin Valley – Sightseeing in Pin Valley.
Spiti and Pin River Confluence: You will see this right when you take the turn towards Pin Valley at Attargo. A great sight as both these rivers merge into each other.
Kungri Monastery: This is Spiti's second oldest Monastery and was built around 1330 AD. Monks here are very warm people, would offer you something to eat and if asked, may even let you stay overnight at the monastery.
Pin-Parvati Pass Trek: At an altitude of 5319 meters, this Pass connects Parvati Valley to Pin Valley and is one of the most challenging and popular trek routes in Himachal.
Bhabha Pass Trek: Another popular trek that starts from Mud Village, crossing over Bhabha Pass at an altitude of 4,850 meters over to Bhabha Valley.
Wildlife: This of course remains the prime attraction of Pin Valley. Take a walk through the valley and if you lucky, you may spot an Ibex or someone else from the wonderful animal life here.
Pin River Beach: A great spot where you can leave your car on the road and come down on the banks of Pin River to click some pictures, picture below.
The View at the Mud Village: A great view visible from everywhere in Mud Village. I am talking about the first picture that I posted in this article.
Pin Valley National Park: It is an animal sanctuary known as home to the grey ghost of Himalayas, the Snow Leopard.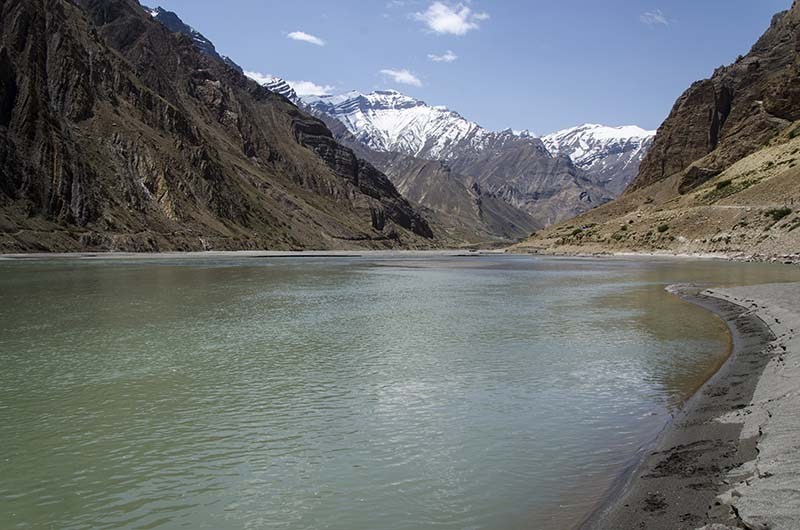 Things to do in Pin Valley
There isn't much to do in Pin Valley actually but that is the reason why you should plan a visit here. In all honesty, you do not come to a place like Pin to do tons of activities and run down a long list of tourist attractions. Rather, you come here to relax and do nothing.
Take a couple of days, slow down the time and life a bit, sit down and have a cup of tea while watching the sun coming up from behind the hills and over a gorge, know what it feels like to experience every hour of the day; that is Pin Valley for you.
Relaxing, taking a walk around the village, and enjoying the natural beauty and peace is what you should be doing in Pin Valley. Other than that, Trekking is an adventurous activity that you can be a part of. To know more in details, please read the article that I provided link to above, What to See in Pin Valley – Sightseeing in Pin Valley.
Where to stay in Pin Valley
If you asked this question about a decade ago, the answer would have been that you cannot because there is no such option. Much however has changed recently, thanks to the increasing tourism in Spiti Valley. Now, accommodation in Pin Valley comes in the form of Homestays and guest houses.
Mud Village has the highest number of guesthouses and homestays. The other two villages that I surely know to have accommodation available are Gulling and Sagnam. Other villages also have the option of homestay but I cannot confirm that coz I didn't ask at any other.
In terms of charges, expect a price between Rs. 1000 – Rs. 2000 per day depending on your negotiation skills and time of arrival.
Homestay in Pin Valley
Pin Valley has several small villages scattered over the mountains and all of them are a small group of houses. At almost all of these villages, if you talk to the locals, they will be more than happy to let you stay in their home as a paying guest. This is a great option if you want to experience the local life around here. However, if staying as a paying guest, please do not expect a luxurious hotel like treatment. Your stay and meals will be very basic but neat, comfortable and with good food.
Guest Houses in Pin Valley
There are guest houses in Sagnam and Gulling and Mud Villages. Most of these guest houses are actually just the houses of the locals extended by a few rooms that they rent out to tourists.
I have stayed at Tara Guest House / Homestay and Ibex Guest House in Mud Village and both were good. During another trip, I stayed at Valley View Guest House in Gulling and that stay was very comfortable as well.
PWD Rest House in Pin Valley
There is also a PWD rest house in Sagnam Village where I stayed in 2018. It is a great choice only if you were able to find the caretaker and talk him into allowing you to stay. The first two times I could not find him anywhere but the third time was a charm. It, however, did take a lot of talking before he allowed us to stay. He just kept insisting that we go to Mud Village and stay there but in the end, he agreed.
The only problem was that there was no arrangement of food and the caretaker too refused to cook. Thankfully there was a kitchen available and we were carrying a few Maggie packets that became our dinner that night.
Monastery Stay
I have not tried this one myself but if you wish to stay at a monastery for the night, then go to Kungri Monastery, a little ahead of Gulling Village. The monks there do allow tourists to stay for the night. This is not guaranteed though and there is a chance that you may get turned back.
Hotels in Pin Valley
There are no hotels in Pin Valley.
Camping in Pin Valley
Yes, Camping can be done in Pin Valley but I did not notice any readily available campsites. So it would have to be self camping if you were carrying your own gear. Do make a note to not pitch your tent just about anywhere though. Pin Valley is home to a wildlife sanctuary and you do not want to end up being a wild animal's dinner in the night. Camp close to a village. Talk to a villager and pay them a little to give you a safe spot to set up your tents.
Accommodation in Pin Valley
Listed below are names and numbers of some recommended hotels in Pin Valley.
Tara Guest House
Location:  Mud Village
Phone: Sonam Gialson; 09418365251, 09418441453, 08991723015
Review: Best option to stay in Pin Valley. Clean rooms, warm blankets, western style toilets, running hot water and almost all modern facilities of a hotel available. Owners too are very nice and friendly people. Tariff would be between Rs. 1000 to Rs. 2000.
Also Read: Tara Homestay Review
Ibex Guesthouse
Location: Mud Village Village
Tariff:  Rs 1000  – Rs. 1500
Review: Good rooms, mattress was a bit hard, food was good, very friendly owner, great view from the roof, running hot water and friendly staff. A good option if you were on budget and Tara Guest House was quoting higher amount.
Also Read: Ibex Guest House Review
PWD Rest house
Location: Sagnam village
Phone: 01906 – 222252
Review: Ok if you are on a budget. Bed was a bit uncomfortable. Will take a lot of convincing before the caretaker allows. Food will be a hassle, no running hot water when I was there and we had to work with buckets.
Pin Parvati Guest House
Location: Mud Village
Phone: 9418571167 and 8991723015
Snow Valley Guest House
Location: Mud Village
Phone: 9418985242 and 8991723015
Valley View Guest House
Location: Gulling
Tariff:  Rs 1000  – Rs. 1500
Review: Good rooms, comfortable bed, running hot water, food was good, very friendly owner, great view from the rooms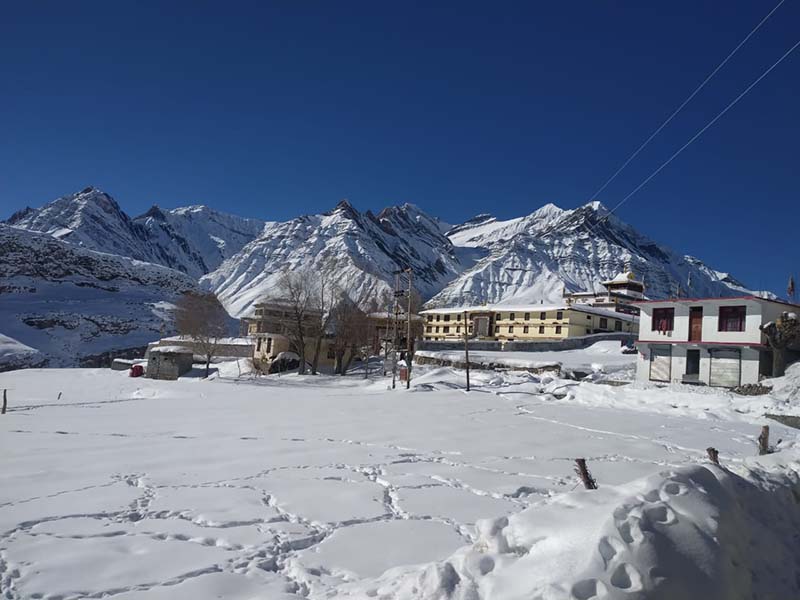 Where to Eat
The best place to eat would be at your homestay only. There are no restaurants or dhabas here. The only eatery I saw was a small tea stall. But the food served at the homestays and guesthouses is quite good and you will not be disappointed. Tara Homestay has a Balcony kind of arrangement where you can eat with a great view in front of you. I used to have my tea and lunch on the roof of Ibex Homestay and it felt great.
Do keep in mind though that the menu at these homestays is not a large one and food too will be basic. So please do not expect anything fancy but whatever will be served will be delicious enough.
Also Read: Food to Try in Spiti Valley – What to Eat in Spiti
Shopping
There are of course no markets here. I just noticed a few general stores selling regular packaged chips, biscuits and some daily commodities. If you would like to shop around though then I will recommend trying your luck in Kaza. For more details on this, please read Shopping in Spiti Valley – What to Buy in Spiti Valley.
Pin Valley Weather
Pin Valley is a cold desert so the weather here is always cold, even during the months of May and June. Not just Pin but winters in the entire Spiti Valley are extreme and it is surprising that the people here survive such weather each year. It gets so cold that even the water in the pipes freezes, making running water a luxury. Toilets get replaced by dry pits and by January, the temperature can drop as far as -35°C.
The weather during the summer season ranges from being pleasant to moderately warm. To be honest, it will be quite unfair to even call it summer because the average temperature remains around 10° C only. It, however, does bring a lot of tourists to Pin Valley as well as the entire Spiti Valley. This is the best time to go trekking and camping in Pin Valley National park.
Pin Valley is in a rain shadow area; which means that it either does not rain here at all or rains just for namesake. The surrounding areas of Kinnaur Valley, Parvati Valley, and Manali receive heavy rainfall each year; sometimes enough to cause landslides and block roads. Accidents, roadblocks, tourists getting stranded are a common sight in the hills during the monsoon season; so please check the weather forecast before you leave home.
Best time to visit Pin Valley
The best time to visit Pin Valley is anywhere between April to September. If you, however, wanted to include the Manali Kaza route as well; then this time window will shorten further to between June and August.
For a family trip, plan in June or September. If you were traveling on a tight budget, try planning in September and October. If you wanted to see a white Pin Valley covered in snow, try towards late February or early March. Keep in mind though that a winter trip to Pin Valley is only suitable when you have been to Pin Valley once before. If this was going to be your first time, then best plan in summer first and then go back in winter; after you have familiarized yourself with the region and its weather.
If trekking was on your mind, then the months from June to September will be the best. If you were planning a trip by public transport, you should avoid visiting between November to March; as the frequency of public transport is not that great in these months due to all the snow on the road.
Clothes for Pin Valley
What clothes to pack will entirely depend on your time of arrival but the change will only be between light woolens or heavy woolens. Even during May and June, the temperature will remain around 10° C so you will definitely need to bring a warm enough jacket. If visiting between October to April, pack all your heavy woolens, waterproof gloves, woolens socks, monkey caps, and a heavy windproof jacket. For a trip between May to September, pack your regular cotton clothes along with some light woolens and a jacket.
If you were planning to go trekking then you will have to also pack good trekking shoes with good grip.
Other Items to Pack
Sun is quite harsh in Pin Valley and can give some serious sunburns. So before you plan your trip, you must find a good sunblock lotion with the highest SPF and bring it along. Also pack some necessary medicines like for flu, fever, cold, body ache, headache, and some pain relief spray or balm.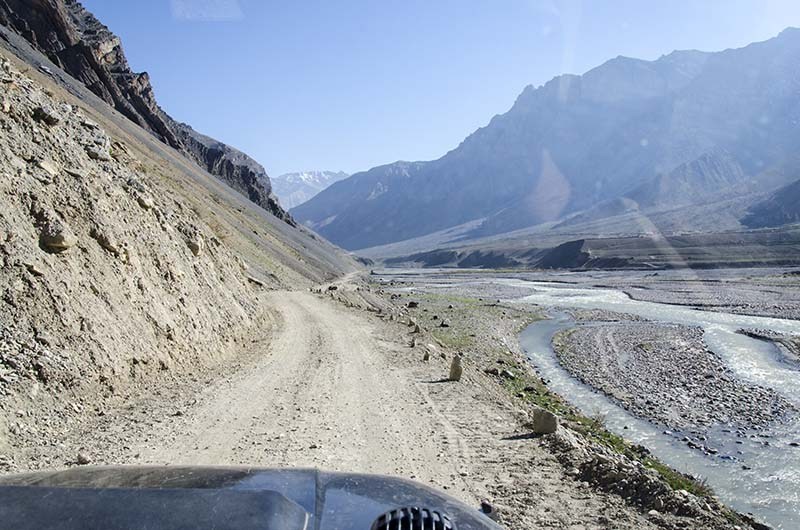 Road Conditions in Pin Valley

The road from Attargo Bridge to Mud Village is a completely bad and broken dirt trail. The road towards Shimla is a mix of good and bad. But the road towards Manali is a complete nightmare. For more details on the road conditions in Spiti Valley, I will recommend you to take a look at Spiti Valley Road Conditions in Pictures.
Best Vehicle for the Trip
An SUV with good ground clearance is what you need for Spiti Valley. It does not have to be 4×4 but good ground clearance is a must. In terms of a motorcycle, any of the bikes will do as long as it is well maintained. If you were riding with a pillion, then you would need a large engine bike like Royal Enfield. For more details on the topic, please read Which is the Best Motorcycle for Spiti Valley and Which is the Best Bike for Spiti Valley.
Mobile Network & Data Connectivity
There is no network available in Mud Village or elsewhere in Pin Valley. I was carrying an Idea and Jio SIM, one of my friends had Vodafone and another one a BSNL connection but none of us got any network here.
Tara Homestay has a dish antenna installed on their roof for satellite internet so that is the only place where you can get internet connectivity here.
Also Read: Mobile Network in Spiti Valley and Data Connectivity
Permits
Indian citizens do not have to get a permit for visiting Spiti or Pin. Just carry a valid government-issued Identity card and that will suffice. The only permit you would need is the Rohtang Pass Permit but that too only if you were starting from Manali. If you were coming from Shimla side and traveling from Kaza to Manali, then you don't need Rohtang Permit as well.
Foreign nationals are however required to obtain a Permit for visiting Spiti Valley from either Manali, Shimla, Kaza or Reckong Peo. For more details on it, please read How to get an Inner Line Permit for Spiti Valley.
Itinerary for Pin Valley



If you were thinking about how you can include Pin Valley; then I will share an example of an itinerary that you can follow. For the sake of explaining the route, I will assume Delhi as your starting point. However, even if you were coming from a different city, only the journey on first and the last day will change. The rest of the details will still apply.
Delhi to Shimla / Narkanda – Day 1
Shimla / Narkanda to Sarahan – Day 2
Sarahan to Chitkul – Day 3
Chitkul to Kalpa – Day 4
Kalpa to Nako / Tabo – Day 5
Nako / Tabo to Dhankar / Dhankar Lake to Mud Village – Day 6
Sightseeing in and Mud Village – Day 7
Mud Village to Kaza – Day 8
Sightseeing in and around Kaza – Day 9
Kaza to Chandratal – Day 10
Chandratal to Manali – Day 11
Manali to Delhi – Day 12
If you did not have so much time to spare, then remove any of the places that you would rather skip.
If you had already reached Kaza, then you can start early in the day from there, cover Pin Valley making it a day trip; and return to Kaza by evening.
If you wish to go trekking into the Pin Valley National Park; then you would have to spend at least 2-3 days in the village for the same.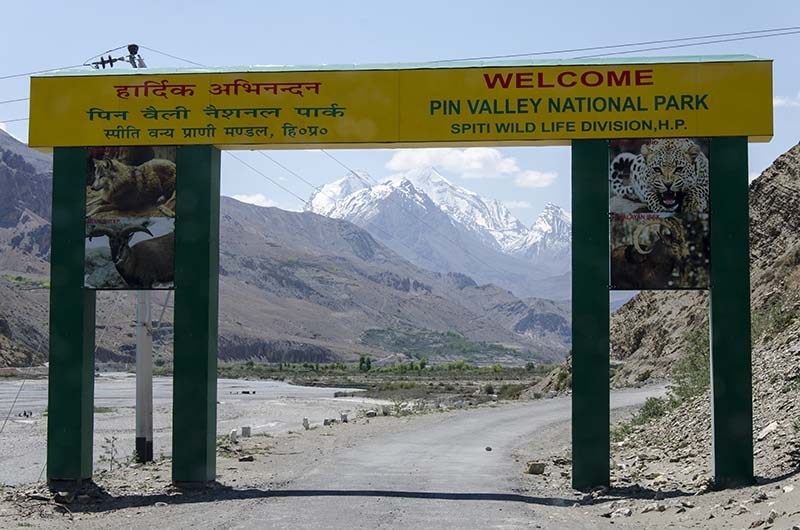 Other Tips
The nearest petrol pump is in Kaza.
The nearest mechanic as well is in Kaza.
There is a Himachal Pradesh Gramin Bank in Sagnam Village but no ATM. That is available in Kaza only.
In terms of medical assistance, you will either have to Kaza or the primary Health care center in Tabo.
Kaza to Pin Valley
If you are traveling from Kaza to Pin Valley, you will have to take the road towards Dhankar. Pin Valley from Kaza can easily be completed in a single day but ensure that you get an early start in the morning so that you have more time to explore Pin Valley and be back in Kaza before dark.
If you have more days in hand, you can by all means travel to Pin Valley, stay there and explore the park. Even though basic and simple, there are several accommodation options available in Pin Valley, details of which I will share further in the article. At least a day' stay here is highly recommended. If you are however short on time, then you can make it a day visit from Kaza.
Also read: How to Handle Acute Mountain Sickness in Spiti Valley
Total road distance between Kaza to Mud Village (last village in Pin Valley accessible by motorable road) is approximately 50 kilometers. Driving from Kaza towards Dhankar, you will first have to reach the Attargo bridge and take the turn towards Pin Valley. Kaza to Attargo is a mix of good and bad patches on the road but after Attargo, it is a untarred dirt road all the way to Mud.
Manali to Pin Valley

You can make it to Pin Valley on the same day starting from Manali but it will be a very long journey and you will have to take a really early start from Manali. Take the road towards Rohtang and while descending towards Lahaul valley, turn on the Gramphoo Batal road. From Batal, cross Kunzum Pass to reach Kaza and then continue towards Mud Village. If you can; you should give this journey two days to not stress yourself. Reaching Chandratal from Manali and then Chandratal to Pin Valley on second day is an ideal way to do this journey.
Manali is at a total distance of 250 odd Kms from Mud Village. The road until Gramphoo is a mix of good, bad and very bad. Gramphoo to Batal is an ugly road all the way. From Batal to Losar is mostly bad and from Losar to Kaza, the road conditions are average at best.
Also read: Mobile Network & Data Connectivity in Spiti Valley
Shimla To Pin Valley
If you just want to visit Pin Valley and not interested in visiting any other place in Spiti Valley, then ideally you should start from Manali. If you are reaching here from Shimla, it would take you much longer and would become a 2 days journey at the least, if not rushed. However, if you want to travel to Pin Valley in winters, then Shimla is the only way to do it as the road across Rohtang La and Kunzum Pass remains closed.
Total distance from Shimla to Mud Village is a total of 450 kilometers via Reckong Peo and Pooh. Road until Peo Rampur is mostly good, is really bad between Reckong Peo and Pooh, good around Nako and average at rest of the stretches.
Also read: Clothes for Spiti Trip – What to Pack?
Tabo to Pin Valley
A lot of people traveling from Shimla to Pin Valley or visiting here in winter prefer to stay in Tabo. Usually the itinerary is to reach Tabo, then go to Mud village from there and reach Kaza from Mud. Closest town is Dhankar however Tabo has much better options in terms of accommodation. There are several budget hotels in Tabo that you can stay at, a choice that gets limited if you want to stay at Dhankar.
Distance between Tabo and Pin Valley is approximately 65 kilometers which can be covered easily within 2-3 hours at most. Road from Tabo to Attargo bridge is average at best and an untarred road from Attargo to Mud.
Temperature in Pin Valley
Below is a monthly breakdown of how the average temperature in Pin Valley trends.
| | | |
| --- | --- | --- |
| | Maximum | Minimum |
| Pin Valley in January | -2° C | -22° C |
| Pin Valley in February | -2° C | -18° C |
| Pin Valley in March | 2° C | -15° C |
| Pin Valley in April | 6° C | -5° C |
| Pin Valley in May | 0° C | 12° C |
| Pin Valley in June | 15-20° C | 5° C |
| Pin Valley in July | 20 – 25° C | 7-10° C |
| Pin Valley in August | 20 – 25° C | 7-10° C |
| Pin Valley in September | 0° C | 10° C |
| Pin Valley in October | 6 °C | -7 °C |
| Pin Valley in November | 2°C | -12°C |
| Pin Valley in December | -4° C | -18° C |
Conclusion
I hope this information above on How to Plan a Trip to Pin Valley was helpful. If you have any further questions, please feel free to ask in the comments section below; or at our Community Forum; and I will be glad to answer.