Spiti Valley, though still remote, has seen much boost in tourism recently. People travel to Spiti all year long but if you truly want to experience the local life of the people of the valley; their traditions and beliefs, rarely seen dance moves; colorful attires; amazing masks, interesting rituals; then you must attend any of the festivals in Spiti valley. In this article, I will provide some information on what these festivals are and when are they celebrated. For a complete travel guide on visiting Spiti, Please read How to Plan a Trip to Spiti Valley.
What is the best way to observe and experience the culture of a place during your visit? There can be several answers to this question but in my opinion, participating in a local festival is probably the best choice. Those are the times of merrymaking and old traditions; a sight that you will not get to witness at any other time. Spiti too is no exception to this theory.
Spiti is a cold desert, a harsh terrain; and life in places like this without any doubt is tough. However, you would hardly realize it after seeing how these people live their lives. Every event out here is a cause for celebration. From births to marriages, all occasions are celebrated by society as a whole; where they eat, drink, sing and dance together. Festivals in Spiti Valley are a celebration of life. It is a sight to behold which will leave you with memories to cherish and tall tales of your travel to tell.
Festivals of Lahaul Spiti
I will include here festivals that are celebrated both in the valleys of Lahaul & Spiti. Let me first provide a list of the festivals by month that they are celebrated in and then I will run down the list one by one.
For some festivals, I have mentioned the exact dates and for other, the approximate time period. Dates of the festivals in Spiti Valley changes with the Tibetan Lunar calendar so, for some of them, it is hard to tell the exact dates. It is in fact decided by the Lamas each year the date on which the festival will be held.
| | | |
| --- | --- | --- |
| Festival Name | Month | Dates |
| Khogla / Halda Festival | January | 2 Days in early January |
| Dechhang / Dachang Festival | February in Spiti Valley | 14 |
| Losar | February | 3rd or 4th week |
| Gothsi / Gochi Festival | February | 3rd week |
| Fagli | February | 15 |
| Buddha Purnima | May | 2nd or 3rd week |
| Kungri Festival | June / July | Second half of June or early July |
| Tsheshu Fair / Key Chham Festival | July | Before 15th |
| Namgan Festival | August | 3rd week |
| Ladarcha Festival | August | 17, 18, 19 |
| Keylong Tribal Fair | August every year | 14, 15, 16 |
| Pauri or Pori Fair | August | 3rd week |
| Gataur Mela | September | 4th week |
| Chakhar Mela | September | 4th week |
| Spiti Festival | September | 17, 18, 19 |
Let us now take a look at all of these festivals in details.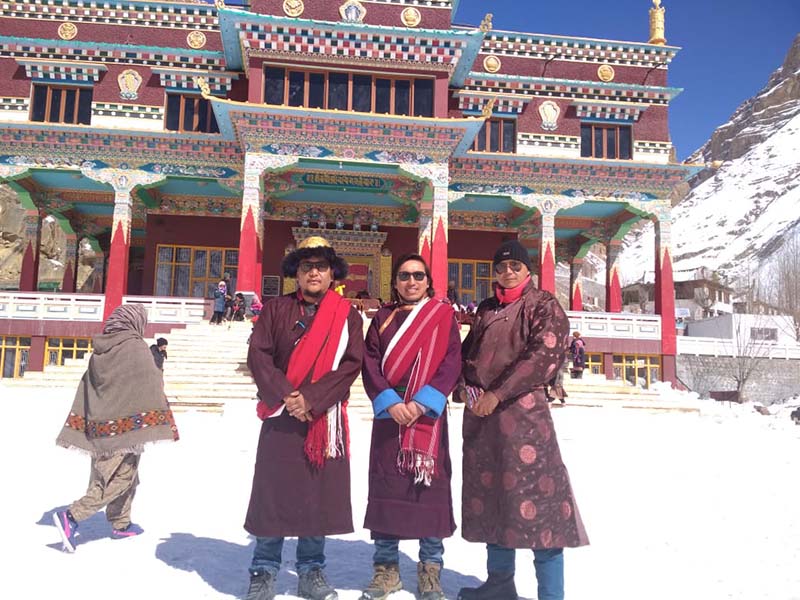 Festivals in Spiti Valley in January, February, March
Winters are the tough times in Spiti Valley. This is when the temperature drops to -35 degrees Celsius and even something as basic as running water becomes a luxury. Electricity can be gone for several days and the entire valley gets buried under a thick sheet of snow, bringing the life to a complete standstill. If the weather turned extreme, getting in and out of the valley will become impossible for several days, or weeks even.
Surprisingly, however, this is also the time when a majority of the festivals are celebrated in Spiti. Even freezing temperatures and harsh weather fails to dampen the spirit of the people and the festivities carry on.
Khogla / Halda
This festival is known as Kholga in Pattan Valley and as Halda in other valleys of Lahaul, but can actually be called as the festival of light. The date of this festival is decided by the Lamas but it is celebrated in the month of January and stretches on for a period of two days. Please note that this festival is celebrated more in Lahaul valley and not in Spiti.
For the ritual, pencil cedar branches are cut into strips and tied together as a bundle like Torch which is called Halda, like a 'mashal' in Hindi. After dark, Halda is burnt at each house and brought to a central place in the village. The entire process is repeated four to five times. All the Haldas are prepared and lit in the same manner; and brought to the same spot in the village where they are left to burn down to ashes.
What however makes this festival interesting are the curses. During this festival, people curse the Ranas of clans that are hostile to their own clan; like the people of Keylong curse the Ranas of Goushal and Kardang and vice versa. Family gatherings, dancing and drinking are some of the other major attractions of the Halda Festival.
Also Read: Shopping in Spiti Valley – What to Buy in Spiti Valley
Dechhang / Dachang Festival
This festival is celebrated during the peak winter season, either towards the end of February or early March. Local dancers dressed up in traditional clothes perform mask and sword dances. Some of the other highlights of the festival are comic charades, community bonfires and archery games organized among the villagers. The festival is held for a total of 7 days.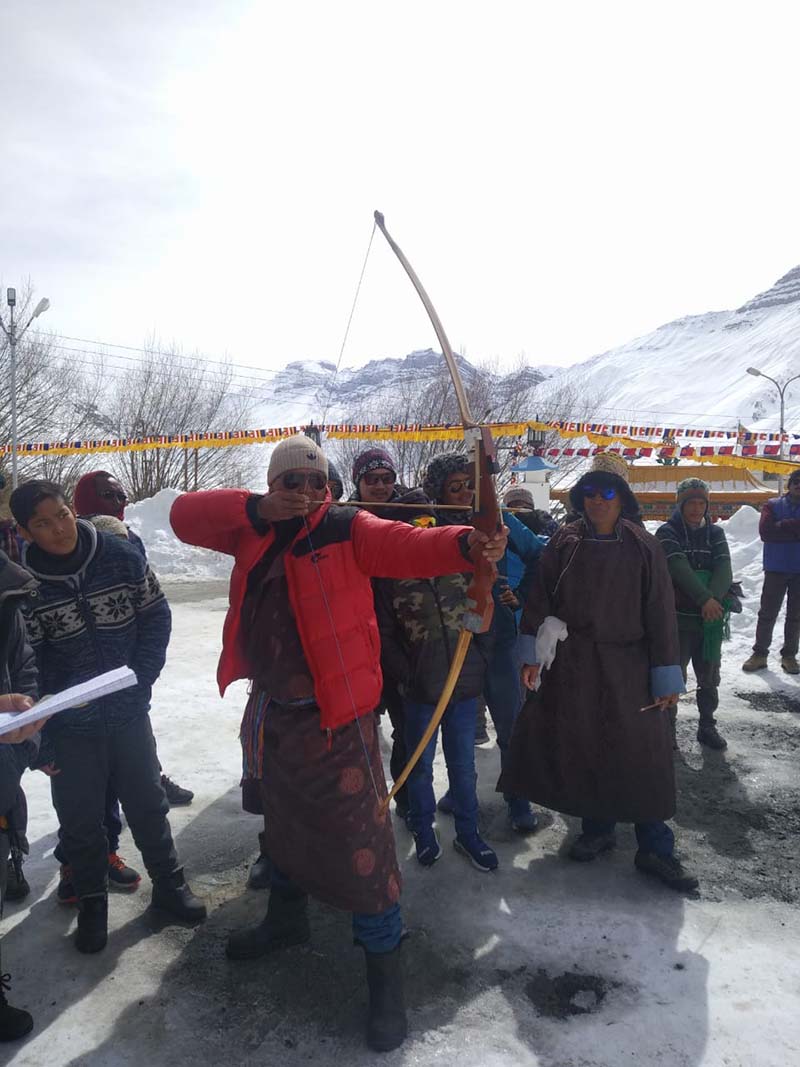 Losar
This festival marks the celebration of the new year and is celebrated in the month of February in all the monasteries of the valley.  The prime attraction of the festival is stylized Chham dance, with elaborate costumes and masks; performed by the lamas.
There are other rituals as well which are definitely worth attending.  Losar is one of the most widely celebrated festivals not even in India but also in Nepal, Tibet, and Bhutan. In India, it is also celebrated in Ladakh, Arunachal Pradesh, and Sikkim. It is a 3 days long affair, dates of which are decided by the lamas in accordance with the lunar calendar.
Also Read: How to reach Spiti Valley
Gothsi / Gochi Festival
This festival is celebrated in the month of February in Lahaul Valley and not in Spiti. It is quite an interesting one, an important part of which is that only families where a son was born in the preceding year celebrate it.
It begins with a gathering of the villagers early in the morning. A dough made of Sattu is placed on a big plate and carried by four men to the place of village deity.
A young girl, all dressed in her best clothes and jewelry and carrying a pot of chhang (local drink) accompanies them. Two men, of which one carries a burning stick of pencil cedar and other carries cedar leaves tied together with lamb skin, follow this girl right behind.
The woman who gave birth to the first son in the previous year is also part of this group. This woman too is of course dressed at her best. They all arrive at the spot to pay homage to the village god post which, "Labdagpa" the village priest performs the rituals with a bow and an arrow.
After this, the dough is broken and thrown away to appease the gods. The lamb skin is hung on a tree near the idol of the village deity and people shoot at it with arrows. The entire ceremony is quite musical with lohars beating on their drums. After the rituals, the rest of the people go back to their daily routine while the families celebrating it continue visiting other houses where a male child was born.
Also Read: Spiti Valley Bus Schedule
Fagli Festival
This is another festival celebrated in Lahaul Valley (not Spiti) in the first or second week of February on the moonless night or Amavasya. This is a New Year festival preceding the beginning of the Tibetan or Chinese calendar and is celebrated to mark the end of winter or the beginning of spring.
To start the festivities, a bamboo stick of about two feet in height is fixed on the floor and a white bed sheet is draped around it. This figure is called Baraza and signifies an angel dressed in white. It is then decorated with jewelry and marigold flowers.
During this festival, every house in the village is properly decorated and oil lamps are lit all night. As a part of the ritual, dough of roasted barley flour or buttermilk is prepared. It is first offered to the deities and then distributed among family members as god's offerings.
Among the rituals, locals also pay respect to their livestock (cows, sheep, and goats) and acknowledge their dependence on these animals. After that, the entire community pays respect to the village elders.
Rituals, feasts, and festivities continue for several days among relatives and friends with the exchange of gifts and marigold flowers.
Also Read: Food that you must try in Spiti Valley
Festivals in Spiti Valley in April, May, June
April marks the arrival of the spring season in the valley. Snow starts to melt and the locals prepare for the upcoming tourist season. There aren't many festivals celebrated at this time though. There is just one festival in Kungri Monastery that happens in June but even that can sometimes get pushed to early July.
Buddha Purnima
This falls in the month of May each year. The date is different based on the lunar calendar but it usually around 2nd or 3rd week. Prayers are held in all the monasteries followed by Chham Dances. I attended this festival once in Key Monastery.
Kungri Festival
It is another festival celebrated in Kungri Monastery in Pin Valley. Star attraction of this festival too is the Chham dance performed by the Lamas and a sword dance by the Buzhens of Mud Village on the banks of Pin River. The dates of this festival usually fall in the second half of June but can also get pushed to the first week of July sometimes.
Festivals in Spiti Valley in July, August, September
These three months are truly the months of celebrations in the valleys of Lahaul and Spiti. Listed below are the festivals celebrated during this period.
Tsheshu Festival / Key Chham Festival
This festival is celebrated in the month of June / July at the monasteries of Shashur, Gemur, Kye, Kardang, Tabo, and Mane. It is commonly referred to as the summer festival as it marks the end of the summer season in the valley. The prime attraction of this festival is the devil dance performed by Lamas wearing colorful attires and masks of different birds and animals.
In the monastery of Key, it is also referred to as the Kye Chham festival and is one of the biggest annual events. A large number of devotees and villagers gather in the monastery to celebrate the occasion.
Also Read: How to Plan a Trip to Kye Monastery
Namgan Festival
This is a pre-harvest festival that is mostly celebrated in Kinnaur but the villages of Demul, Langza, and Komic too celebrate it. It is a day-long event in the month of August during which, the local villagers ride on their horses, without saddles, around the village. Multiple horse races are held all day long and a winner is chosen by the end of the day.
Other than the race, the locals visit each other's houses and have food and drink together.
Ladarcha Fair
It is probably the biggest festival of Spiti Valley; celebrated in the month of July in Kaza. Earlier it was celebrated on the grounds near Kibber village where traders from Ladakh, Rampur and other places in Lahaul – Spiti would gather to exchange their produce. After the closure of Tibetan trader routes, the sight of this fair was then moved from Kibber to Kaza, the headquarters of Spiti valley.
After the move, what was once an occasion for people to exchange goods of daily use has now turned into a colorful celebration of different cultures. Thousands of people from not only Lahaul Spiti but also Ladakh and other parts of the country gather here to celebrate Ladarcha.
Tribal Fair of Keylong
This festival is celebrated in the town of Keylong in Lahaul Valley, from 14th to 16th August which also coincides with Independence day celebrations. During this festival, artists and cultural troops from several cities like Chandigarh, Dharamshala, Manali, Leh, Chamba, Kullu, and Kaza are invited; to make the celebrations even livelier and colorful.
It is a state-level fair and must be attended by any tourists going towards the valley at this time. The festival is held in the police ground in Keylong.
Also Read: A Complete list of all tourist attractions in Spiti Valley 
Pauri Fair
This festival is celebrated in the town of Udaipur of Lahaul valley; in the third week of August each year. It was once the most prominent festival of Lahaul Valley and even now; people in huge numbers gather to attend this festival each year; not only from Lahaul but also from the valleys of Spiti, Chamba, and Kullu. It is a two days affair for which preparations are made at least a week in advance.
The first part of the festival is darshan of Trilokinath (Shiva Lord of Three Worlds) or Avalokiteshvara; as it is regarded in Buddhism. Darshan is followed by a three to seven clockwise parikrama between the inner and outside walls of the temple; while reciting "Om Mani Padme Hum".
This Parikrama is done every morning and evening till the pilgrims stay at the temple. Ghee and Mustard Oil lamps are lit continuously at the temple. During this festival, stalls selling several souvenirs and eatables are set up. After sunset; the pilgrims dance in a huge circle to the melody of folks songs.
On the second day, a traditional procession is taken out in the morning; headed by the Thakur of Trilokinath riding on a decorated horse. This part and ritual of the festival is the most important one. The procession moves to a place where; as per the local lore; seven gods, youngest of which was Trilokinath, had appeared from seven springs. It is then returned to the fairground for more festivities.
Chakhar Mela
Chakhar is celebrated once every three years in the last week of September. At the time of this festival, Lamas worship God Chikchait for 6 days and throw away the Chakhar in the fire on the 7th day. After this ritual Chham dance by Lamas is performed.
Gataur Mela
Gataur is celebrated every year in the last week of September. During this festival, Lamas worship God Chaugayal and the next evening, saur is thrown into the fire while performing the Chham dance.
Spiti Festival
Spiti Festival is held each year in the month of September in Kaza. It is a well organized and grand event. Spiti has a rich tradition of orally transmitted songs, music, and dance which become the highlight of this festival.  The festival lasts for 3-4 days during which, innumerable sets of cultural dances and cultural programs are performed by local Spitian people. It is one festival that every tourist should attend.
Also Read: When is the best time to visit Spiti Valley
Festivals in Spiti Valley in October, November, December
There are no known festivals celebrated in the winter months of October, November and December. Some villages may held prayers and Chham dances in their local monasteries but there is no big even as such that I am aware of.
Festivals in Spiti Valley – Conclusion
I hope the information above on festivals in Spiti Valley was of help. If you know of any other celebrated festivals in Spiti that I missed listing here, please do mention it in the comments and I will add to the article. If you have any further questions, please feel free to ask in the comments section; or at our Community Forum; and I will be glad to answer.