Like last year, this will be a dedicated post for Lahaul & Spiti valley road status 2018. I will continue updating the status on opening and closing of the road; along with the road conditions as the year progresses.  Apart from the blog post here, I will also start a sticky thread at our Community Forum; where other members of the forum can also shared their updates.
This is a post that I started last year for 2018 and I am no longer updating this. For more recent update and status of the road in 2019, please check and follow this year's thread at Lahaul & Spiti Valley Road Status 2019
---
---
Current Spiti Valley Road Status 2018:
Shimla to Kaza: OPEN
Manali to Kaza: OPEN
Manali to Keylong: OPEN
Keylong to Kaza: OPEN
Keylong to Leh: OPEN
Also read:
How to Plan a Trip to Lahaul Spiti – Complete Travel Guide
---
Update: June 20th
Below is an update on the road condition in Spiti this year.
Delhi to Chandigarh – It is NH1 and is always in good condition. Travel time can be anywhere from 4 to 6 hours depending upon your speed and breaks.
Chandigarh to Shimla – Mostly this road is good but for last couple of years, there is road widening work going on this entire stretch and it will take another few years before it gets completed. Road is a mix of good and bad. Earlier it won't take you more than 3 hours to cover this stretch but the travel time now can be up to 5 hours.
Shimla to Narkanda – Good smooth road.  Travel time of about 2 hours.
Narkanda to Jeori – Road is mostly good with a few bad patches in between. Travel time of about 3 hours.
Jeori to Sarahan – The regular road from Jeori to Sarahan is shut down right now due to a broken bridge. This road won't be functional at least until next year. As of now, there is a 5 kilometers long dirt road built a couple of kilometers after Jeori that you will have to take to get to Sarahan. Travel time on this dirt road is about 60 minutes because it is in extremely bad condition. Once the regular road gets functional, it takes about 30 minutes to reach Sarahan from Jeori. Please note that the entire 12 kilometers climb from Jeori to Sarahan is quite steep and on a narrow road.
Jeori to Karcham – The road is a mix of average and good; travel time of about 90 minutes to 2 hours.
Karcham to Chitkul – This road is mostly always broken bad and travel time can be anywhere between 2.5 to 3 hours. As of this year, the road from Karcham to Sangla is good but from Sangla to Chitkul is really bad.
Karcham to Kalpa – Road is mostly good; travel time can be anywhere between 60 to 90 minutes.
Kalpa to Nako – This is where the road will turn really bad for the first time in your journey. There are stretches in between where it can turn even really ugly. Distance between Kalpa to Nako is slightly over 100 kilometers but will easily take you about 5 to 6 hours to cover; can take even more.
Nako to Dhankar – It is a mix of good, bad and ugly. Travel time can be anywhere between 2 to 3 hours depending upon your speed and breaks.
Dhankar to Pin Valley – The entire section of the road from Attargo bridge to Mudh village is a badly broken road. Distance is only about 35 kilometers but will easily take you about 2 hours to complete.
Dhankar to Kaza – The road here is mostly average. Travel time of about an hour to 90 minutes.
Kaza to Kibber / Komik / Chicham – The bridge between Kibber and Chicham is now operational. This entire stretch from Kaza to Kibber, then Chicham is fresh tarmac. After Chicham, this road merges into Kaza Manali highway near Kiato. While going from Manali to Losar, it is recommended that you take this road at least until Kiato rather than traveling on the regular highway.
Kaza to Losar – The road is in very bad condition; terribly broken.
Losar to Kunzum Pass – Extremely bad
Chandratal Road – If you are in a car then this 14 kilometers of stretch will have your heart jumping in to your mouth. Road is extremely narrow at several places and in a terrible state with a few water crossings in between. Please practice caution while driving on it. While going to Chandratal, plan your travel in a way that you travel from Batal to Chandratal after

noon

. While coming from Chandratal, start early in the morning. This way, you will be able to avoid traffic coming from other direction. This road is barely wide enough for one car and if you ran into a car coming from opposite direction, it will be very tricky to cross.
Batal to Gramphoo –As always, it is a nightmare of a road. Severely broken and a non-stop series of water crossings. Travel time will be about 4 hours.
Gramphoo to Manali – The road across Rohtang is a mix of good and bad but the problem is the tourist traffic at the pass. Be prepared to be stuck in traffic jams at several places while climbing down to Manali.
---
Update: May 20th
Rohtang Pass and the entire stretch between Manali to Kaza is now officially open. Permits to private vehicles to cross the pass over are now being issued. HRTC has also resumed their service from Kullu to Kaza via Manali. There is however snow at several places en route. Rohtang has 10 feet high snow walls at several places and about 2 to 3 feet of snow at the top so please be careful while driving by.
---
Update: May 17th
Both Rohtang Pass and the entire Manali – Kaza stretch is not yet open for tourists but local traffic is being allowed to ply. Tourist traffic is expected to be allowed in next 2 – 3 days. Below are some pictures of the road clicked yesterday. There is still snow in the valley but nothing on the road. As of now road condition is just about OK. It is still all dirt trail with lose stones but no water crossings or slush as the snow has not yet started melting. Work is still going on to clear the remaining snow.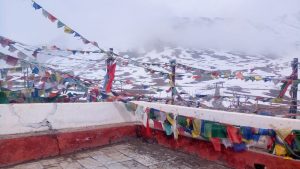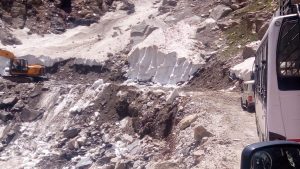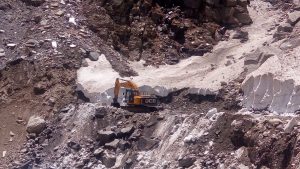 ---
Update May 10th
The game of Rohtang getting open, closed, open, closed and open again continues. Authorities declared the pass open yesterday and will allow the movement of civilian traffic from today onward.  Ever sine it was opened in early April, the mighty pass has been closed and reopened again three times due to late snowfall and unpredictable weather . However, for now only local traffic will be allowed and there is still no word on by when the tourists will be allowed to visit or cross Rohtang top. The road condition at the pass is dangerous right now and even local traffic had to be stopped yesterday due to some cars skidding off the road.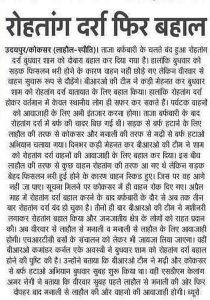 ---
Update: May 9th
Surprise Surprise !! It is the month of May and the spell of late snowfall still continues. Valleys of Lahaul and Spiti and Passes of Rohtang, Kunzum, Sach and Baralacha all received fresh snowfall yesterday. This is definitely bound to delay the opening of all routes including Rohtang Pass, Sach Pass, Manali Leh and Manali Kaza routes. For now, the estimate is that both Manali Leh and Manali Kaza routes will not open until Late May and Rohtang Pass will probably open around 20th; provided that there is no more heavy snowfall. Below is a pic of Kaza after fresh snowfall in Spiti yesterday. There is forecast that more snow is on the way.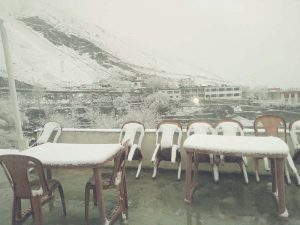 ---
Update: May 6th
Rohtang Pass, Kunzum La and Losar – Gramphu stretch has been freed of snow. The road has been declared open for local vehicles as of today. Please note that it is for now open only for local traffic. Locals will start commuting between Manali and Kaza today and only then the true condition of the road will be known. For tourists, it will take at least another week before vehicles are allowed to travel.
---
Update: April 21st
Winter this year arrived very late at Rohtang and other nearby passes. BRO was able to clear the snow off Rohtang completely and were hopeful that they will be able to reopen Manali Leh highway by April 20th but due to recent spells of snow, they had to shut down Rohtang Pass again. It has been snowing at top of the passing at regular intervals due to which opening of Rohtang, Kunzum Pass, Sach Pass, Manali Leh and Manali Kaza stretch will definitely get delayed. There is no confirmed date yet about opening of all these places.
Even Srinagar Leh highway which was opened several weeks ago was closed again yesterday due to snowfall at Zojila top.
---
Update: April 6th
Rohtang Pass has been declared open for year 2018. BRO was able to clear snow all the way and restore traffic on the route on Thursday. For now, only light motor vehicles will be allowed to ply between Manali and Keylong from Friday, April 6th. An official announcement of the opening however will only be made on 9th April.
Please note though that for initial days, only the local vehicles are allowed to cross over. Tourists do not get the permit to cross over for initial few days. You must give it at least 7 to 10 days before planning a trip. To be on a safer side, do not plan to cross the pass before 15th April.
BRO is hopeful that if the weather remained the way it is right now; they will be able to restore connectivity on entire Manali Leh highway by 20th April. The road from Manali to Kaza will also be restored by April end; or May first week at latest.
For now, one-way traffic will be allowed towards the pass on a daily basis. This is because the road is not really in best of the condition and is quite narrow at some places. On Friday, traffic will be allowed to ply from Manali side and then on Saturday, vehicles from Lahaul side will be allowed to cross over. BRO will continue to work on the road and stabilize it. Once they have widened it enough for vehicles to cross each other, two way traffic will be allowed.
---
Update: April 3rd
Rohtang Pass should be all clear of snow this week and in all probability will be declared open for tourists next week. Less than a kilometer of snow is left to clear towards the top which BRO is currently working on removing.
---
Update: March 31st
Road between Shimla and Kaza is blocked at two places following landslides; about 25 before Nako and between Ribba and spillow. It is expected to be cleared and reopened in next 2 days.
---
Update: March 29th
Snow clearing at Rohtang Pass continues and it is only the last 14 kilometers towards the top that are left to be cleared now. BRO team working from Kokhsar side has already reached Rohtang top and cleared snow all the way. From Manali side the work has been completed till Rani Nullah.
Unless the weather turns extreme again, it is expected that snow clearing operation at Rohtang will complete by April 10th; post which BRO will test the road conditions. Estimated date of opening of Rohtang Pass right now is April 15th.
---
Update: March 21st
It rained and snowed all across Himachal on 21st which will further hamper the snow clearing at Rohtang Pass. There is a forecast that rain and snowfall will continue on 22nd as well.
Rohtang Pass received about 45 centimeters and Kokhsar about 25 centimeters of fresh snow on 21st March. Other areas in both Lahaul and Pangi valley too received snow.Night temperature at Keylong dipped to -0.9 degrees Celsius and 4.8 degrees at Manali.
---
Update: March 20th
After the heavy snowfall at Rohtang on 15th March, the snow clearing operation had come to a complete stand still. It has however now been resumed. From Manali side, snow is already cleared until Beas Nala. From Kokhsar, it has already been cleared way ahead of Gramphoo. If the weather doesn't turn extreme, snow will be all cleared by March end or early April. BRO will then assess the road and declared it for vehicular traffic if they found it safe.
---
Update March 12th
Efforts are now underway to first open Rohtang Pass and restore connectivity with Lahaul Valley. Teams of BRO are working from both sides of Rohtang Pass to reach the top as early as they can.
At Beas Nallah, thickness of snow is about 10 to 15 feet and is expected to be about 30 feet near Rohtang top. First team of BRO from Manali is clearing snow near Beas Nallah towards Rohtang Pass; while the second team is clearing snow between Koksar and Rohtang Pass. The third team is moving from Darcha towards Baralacha Pass.
Meanwhile, locals from both sides of Rohtang have already started to cross the mighty pass on foot. Like each year, two rescue posts have been established on either side of the pass in case someone gets stuck or faces any trouble. Pedestrians are required to register themselves at both the posts before and after crossing Rohtang Pass.
In all probability, an early opening of both Rohtang Pass and entire Manali Leh stretch is expected. Even the connectivity with Spiti valley will be restored early this year.
Image Source: Tribune India
---
Update: March 9th
BRO has started the snow clearance operation from Manali and are now working to reach Rohtang top. On the other side in Lahaul valley, snow clearance operation has begun from Sissu and will soon have it completed all the way till Kokhsar. About 7 kilometers of this stretch has already been cleared. As of now, it is expected that Rohtang will open towards early April. After Rohtang, the work will then continue towards opening the Gramphoo – Kaza stretch.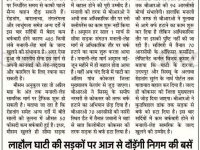 The bus service in Lahaul valley however resumed today after 56 days of complete halt. For the initial part, three buses were started between Keylong – Udaipur, Keylong – Darcha and Keylong – Gufa Hotel.
Update: February 23rd
After the snowfall earlier this month that I posted pics of below, Spiti once again is running dry. There have been no more snowfalls anywhere and whatever little snow is left is melting fast. Passes like Rohtang La, Baralacha La and Kunzum Pass receive 20 to 30 feet of snow each year however this year it is merely 5 to 6 feet of snow towards the top of these passes.
BRO is all set to start the snow clearing operation on Manali Leh highway on 1st March. For the initial phase, snow will be cleared from Rohtang Pass from both Manali and Keylong side.
What this necessarily means is that the connectivity between Manali and Kaza too can be restored early this year; unless there is a major snowfall in March. For now, Manali to Keylong is expected to be cleared by early April and Manali to Kaza by early May.
Sharing a recent pic of Chitkul after it snowed in the valley.
---
Update: February 14th
It continues to snow all across in Spiti and Lahaul valleys. Looks like weather has finally decided to change. Sharing a few pictures of Kaza after the snowfall yesterday. Road from Shimla to Kaza is open all the way so if you were planning a winter  trip to Spiti, now is the time to go.
---
Update: February 10th
It finally snowed a little at Kaza earlier this week. Sharing a picture that was sent over by a friend who lives in Kaza. Amount of snow wasn't that great though, it was more of a light snowfall as compared to the usual amount of snow that this regions gets.
---
Spiti Valley Road Status 2018 Update: February 2nd
Adding an update provided by Shyam Bhai who just returned from Spiti trip.
"Just an update from my side. Went to Spiti on Jan 27th and just came back. Shimla to Kaza road is completely fine with no snow anywhere except a little after Shimla. Spiti is dry. No snow so far.
No major bad stretches. A very small stretch of road between Nako and Chango is in bad shape but nothing to worry.
1. Accommodation is easily available in home stays. You can ask anyone in the main market near bus stand and they will help you out.
2. You might face some problems in the morning with your vehicle because of extreme cold. In that case as well, locals can help you out. In Diesel vehicles, you might need to heat the diesel in the morning.
3. After Powari (near Reckong Peo), there's no fuel station till Kaza. So carry extra fuel.
4. Get a BSNL sim card. No other network providers are there after Pooh town.
5. Carry enough winter wear. Sometimes temperature might go as low as -27 degrees.
Rest everything is fine. Nothing to worry. Do not expect white Spiti. It's completely dry as of now, a little bit of snow in the higher areas."
---
Spiti Valley Road Status 2018 Update: January 26th
The long dry spell this winter finally broke this week with entire Himachal receiving snow all around. Keylong was coldest in the region with minimum temperature settling at -5.8 degrees C, Kalpa -3 degrees and Manali -0.6 degrees. The thick sheet of snow however is mostly limited in the valleys around Shimla, Kufri, Narkanda and Manali. Spiti valley continues to remain dry still as Kaza did not receive much snow still.
---
Spiti Valley Road Status 2018 update: January 14th
If you were planning a winter ride to Spiti anytime soon, it would be best to delay it for now. By winter ride I am assuming you would be wanting to chase snow which really is not there in Spiti right now. This year has not seen much snow and Spiti is pretty much all dry. There is no snow in Kaza too right now, though you may find some towards Kibber and Kaumik villages; or towards Kunzum Pass. Shimla to Kaza road is completely open while Manali to Kaza remains closed.
---
Spiti Valley Road Status 2018 update: January 1st
There has not been much snow so far in the season. While the temperature dipped close to zero degrees in Shimla and Manali, Kaza recorded a temperature of -25 degrees at night at -10 degrees at noon on 1st January. Both Shimla and Manali have so far not seen any snow at all while Kaza has seen very little snow. There was a snowfall on 1st January but it mostly remained limited to hill tops and upper areas. Lower areas experienced almost next to none snow so far this year. It has snowed very little even atop Rohtang and Kunzum.
The road from Shimla to Kaza remains open but if you are chasing snow, you will not find any for now. Manali to Kaza will remains closed at least until May.
---
Spiti Valley Road Status 2018 update: December 19th
Spells of snow continue all across the Himalayan region. Both Rohtang and Kunzum pass have already been buried deep under snow; rending the entire stretch from Manali to Kaza as closed for vehicles. From Manali side, farthest you can reach is the snow point, not even Rohtang top.
From Shimla side however, road continues to remain open until Kaza; which it does throughout the year except for occasional temporary roadblocks due to snow. It has already snowed heavily at Nako and Kaza and temperature in the valley dips several degrees below zero at night.
If you are planning a trip to Spiti, until late May next year you can only do it from Shimla side. You will reach Kaza and take the same route back to return home. Chandratal too is off the limits.
---
Spiti Valley Road Status 2018
While the road from Shimla to Kaza remains open throughout the year; the stretch from Manali to Kaza closes sometime by mid October after it starts to snow at Kunzum Pass. Come November and Rohtang Pass too get declared closed. This year however; much to everyone's surprise, all the passes and roads remains open still with half of the November gone. There have been light spells of snow at both Rohtang and Kunzum; but for now the entire stretch between Manali and Kaza; including the road to Chandratal remains open.
There may not be a lot of snow but there will still be some along with frost and black ice; which makes journeying on this stretch quite dangerous. If you are planning a trip to Spiti valley anytime soon; better do it from Shimla side and return via the same route. Keep the Manali route out of your itineraries for this year.
I hope the information above on was of help. If you have any further questions, please feel free to ask in the comments section below or at our Community Forum and I will be glad to answer.