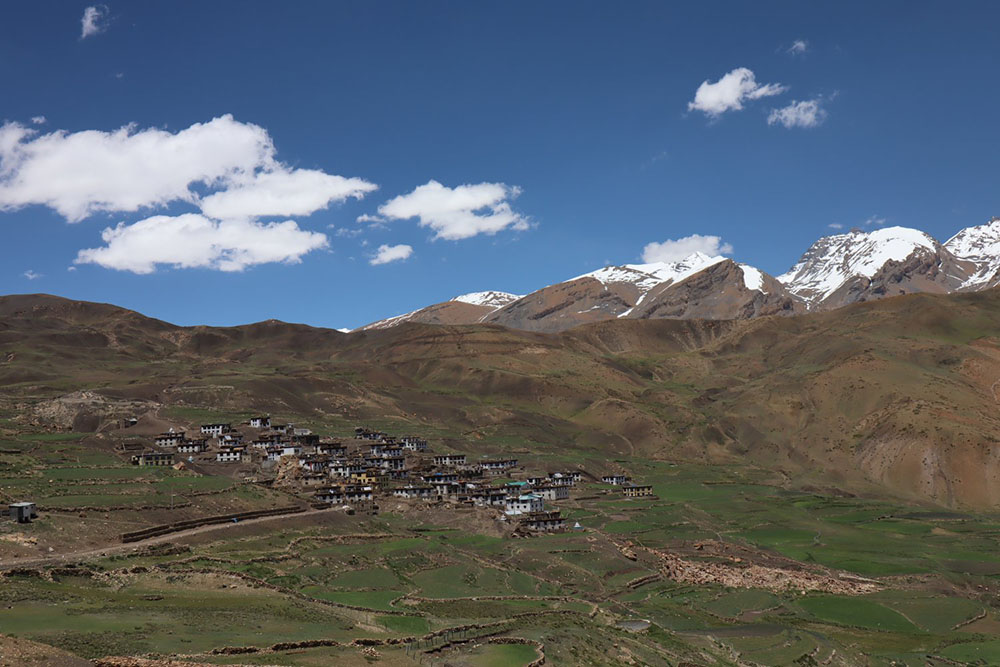 When you go to Spiti, how do you make the full use of your time and get a true Spiti experience? Where do you go if you want to explore the unexplored and go someplace new? The answer to this question is that you visit the remote hamlets of Spiti, like the Demul Village.
Not many people do this though. For most visitors, a trip to Spiti means riding their bikes on the highway through the valleys of Kinnaur, Spiti, and Kullu. That is true to some extent and is an experience in itself no doubt, but if you want to see the true beauty of Spiti Valley, then you got to explore its remote villages.
Also Read: How to Plan a Trip to Spiti Valley – A Complete Travel Guide
If you want to know its culture then you go to try staying at a homestay and listen to the stories of the locals. You got to hear the silence of the mountains, standstill with the time, and soak yourself in serenity.
Demul village happens to be the perfect spot to do all this.
Demul Village Spiti
There is a whole story about how this little village came to be. It is said that once a local farmer here had a female Yak by the name of 'Demo'. Once while grazing, Demo got lost and the farmer couldn't find her anywhere. After hours of searching, he found Demo grazing in what looked like a meadow in the middle of the barren wasteland that Spiti is. There were patches of green well-grown grass all around.
Spiti is a cold desert and finding such a piece of land is like finding gold. The farmer immediately decided to build his home at that spot and live there only. Gradually, he invited his family and friends to live with him and what was once an empty field of green grass turned into a small village. The farmer named the village Demul, after his Yak that found it in the first place.
Also Read: What Clothes to Pack for Spiti
All this is said to have happened 200 years ago. What now stands is a cluster of about 50-60 odd houses, almost in the middle of nowhere. The place looks like an oasis with green pastures surrounded by barren brown snow-capped mountains all around.
I think the story above applies to almost every village anywhere. Someone found a good piece of land somewhere, decided to live there and it grew into a village. But it is good folklore, especially the part about how the name Demul was derived from the name Demo. What really matters, however, is how Demul developed to the village that it is now, the harmony that they live in now.
Location
Demul is located at a distance of about 32 kilometers from Kaza towards Tabo.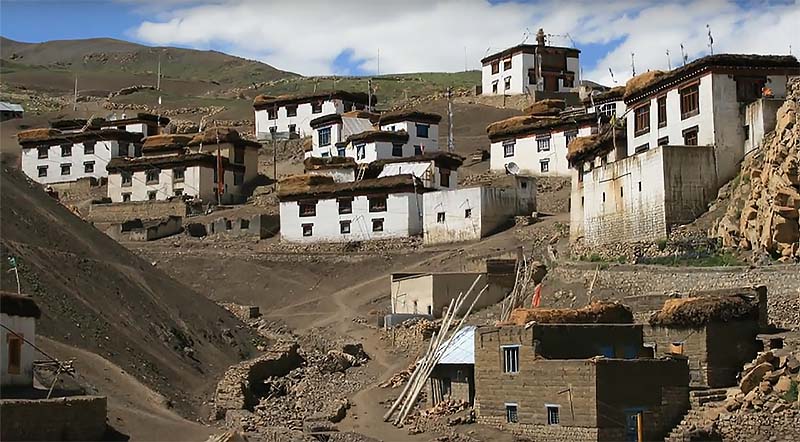 How to reach Demul Village
In order to get to Demul, you will first have to reach Spiti Valley. There are two ways to do this. You can either enter Spiti Valley via Shimla. This route remains open for all 12 months and is considered to be the easier one. You will travel through Shimla, Narkanda, Rampur, Pooh, Nako, Tabo and arrive at Kaza in 2 to 3 days.
The second way is to reach Spiti Valley via Manali. This road passes through two high altitude passes, Rohtang La and Kunzum Pass, due to which it remains open only from Mid May to Mid October. You will start from Manali, cross Rohtang Pass, Gramphu, Batal, Kunzum Pass, Losar and arrive at Kaza. This road remains closed in the winter season and you will also need to procure a permit for Rohtang Pass.
From both Shimla and Manali, there is a regular bus service to Kaza so traveling by public transport is also easy. For more information on this topic, please read How to reach Spiti Valley by Road, Bus, Train or Flight.
Kaza to Demul Village
From Kaza, in order to get to Demul, you will start driving towards Tabo and turn left slightly before Lidang Village and Attargo Bridge. The turn is about 13 kilometers from Kaza. The road climbs uphill all the way for about 19 kilometers but is a tarred one in average condition.
If you were going towards Kaza, then the road will be to your right, about 35 kilometers before Kaza and 3.5 kilometers from Attargo Bridge. Demul is part of the belt that forms the high villages of Spiti like Kibber, Komik, Langza, Hikkim, etc. The road branches off the main highway and ends at Demul.
It is not connected to any other village by a motorable road and you will have to return to the main highway from here. If you were trekking, then there are trails leading to all the other villages from here.
Komic to Demul
The dirt trail between Demul and Komic is wide enough for a car. So you can actually travel between both these villages without having to go back to Kaza or the main highway. From Demul, drive back towards the highway for about 7-8 kilometers and you will notice a dirt road to your right that will take you to Komic.
Kaza to Demul Bus
If you weren't traveling by your own vehicle, then there is a daily Bus from Kaza at 5 PM for Demul. The same bus then travels back to Kaza at 7.30 AM the next day.
Also Read: Mobile Network in Spiti Valley and Data Connectivity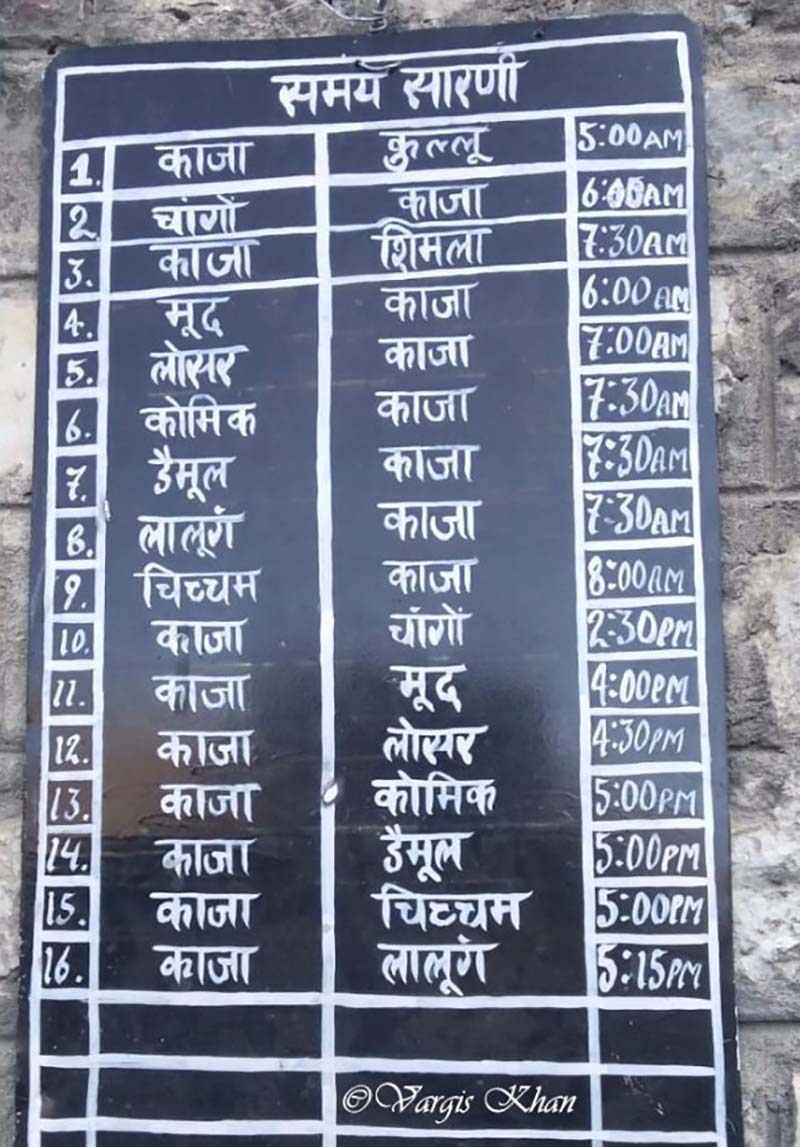 What to see and Things to Do
Demul village is just a small group of houses and as such, there is not much to see or do here. The natural beauty of the place is, of course, its prime attraction followed by peace and tranquility. To be honest, you do not visit a place like this to do tons of activities. Rather, you come here to do nothing at all. Just sit back and relax for a few days. Slow down the life a little and relinquish yourself.
Also Read: How to Handle Acute Mountain Sickness in Spiti Valley
Balari Top
The best thing to do around Demul Village will probably be to trek to Balari Top. Also known as Palari Top, it is the highest vantage point from where you can get an incredible panoramic view of the entire Spiti Valley. Standing here, you can view 18 villages of Spiti Valley, the confluence of Spiti, Pin, and Lingti rivers, Dhankar Gompa, and a view that you will never forget.
The trek from Demul to Balari Top takes about 3 hours. The ascent is gradual but the long walk can be taxing if you are not into trekking. Do not forget to bring a pair of good trekking shoes with a good grip if you intend to try this trek.
Balari Top is at a height of 4,953 meters (16,250 ft). The gain in altitude from Demul to the top is about 600 meters. From the top, you also get to see the surrounding peaks like Kanamo Peak, Chou Chou Kang Nilda Peak, Mount Kuwa, and Shilla Pass. If you do not mind the trek, trust me, this is a view that you must see.
Yak Safari
Yes, this is a popular thing around here. Talk to any of the locals in the village and you can go on a Yak Safari around the village or maybe even to the nearby villages like Komic, Langza, etc.
The Local Temple
There is a small but beautiful temple in the village that I will recommend visiting. Just take a stroll around the village, see some sights and visit the temple.
Also Read: How to Plan a Journey on Spiti Circuit
Photography
This is something that you would do even if you were not into photography. The vistas around you will compel you to take your cameras out and click as many pictures as you can. Depending on the time of the day and the season, Spiti presents a different color and you will have fun with the camera irrespective of whether you were someone with a huge DSLR or just a cellphone.
Star Gazing
The pollution-free skies of Demul light up each night with numerous stars, a sight that city people like us do not get to see often. If you were into photography, you will love to click some great shots of the milky way and star trails from here.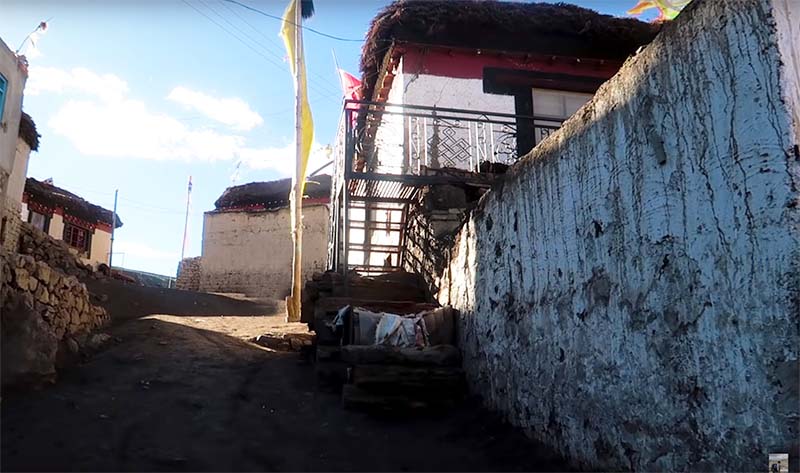 Best time to visit Demul Spiti
Visiting Demul will, of course, be a part of a larger Spiti Valley itinerary. So the best time to visit Demul will be the same as the best time to visit Spiti Valley; which is from May to September. The entire valley remains open in these months and you will be able to cover all major tourist attractions in Spiti and its nearby areas. You can start from Shimla and the trip to Manali or vice versa.
Weather in these months too will be pleasant with warm days and moderately cold nights. Since it is the tourist season, all hotels and guest houses too will be functional and you will have no problem finding a place to stay anywhere. On the way, you can also cover other tourist destinations like Sarahan, Chitkul, and Kalpa.
Visiting Demul in the winter season is a possibility as well but I will advise against it if this was your first time in Spiti. A winter trip to the valley should be your 3rd or 4th trip here, or at least the 2nd one; after you are already familiar with the terrain from your first trip.
Where to Stay
There are no fancy hotels and guest houses in Demul. Accommodation is limited to homestays only which also is the highlight of a trip here. This is the part about which I earlier mentioned as the highlight of Demul Village.
To make sure that everyone in the village prospered economically, they developed a well-organized homestay system that ensures the best possible treatment for tourists and equal distribution of income to the entire village.
Also Read: How to Plan a Trip to Chitkul
Homestays in Demul
They have a person in the village that is responsible for managing the homestays. When I was there, it was a person by the name of Angrup Funchok. He is known as the coordinator of Demul. Once you arrive at the village, this is the person you will meet first of all. He will allocate you a house to stay and that will become your residence in Demul for that day.
If you wish to stay for more than a day, then you will have to change accommodation the next day. That is correct. No villager can play host for a certain tourist for more than a day. This ensures that there is no negative competition among the villagers and everyone gets an equal share of income from tourism.
It works like a taxi union. You cannot choose a homestay on your own. I was told that this whole idea was introduced here by an NGO but I cannot confirm that. Apparently, that same NGO also made arrangements for the village to have two hours of solar electricity daily. But irrespective of who put the idea in place, it is a good way to ensure that every house got its share for having people stay over, and no one house monopolized the tourists.
As a tourist, this saves you a lot of hassle. If you were staying for more than a day, then you get to stay with different families, meet more people, hear more stories and learn more about the local culture. The accommodation you will get will be basic but comfortable and warm enough.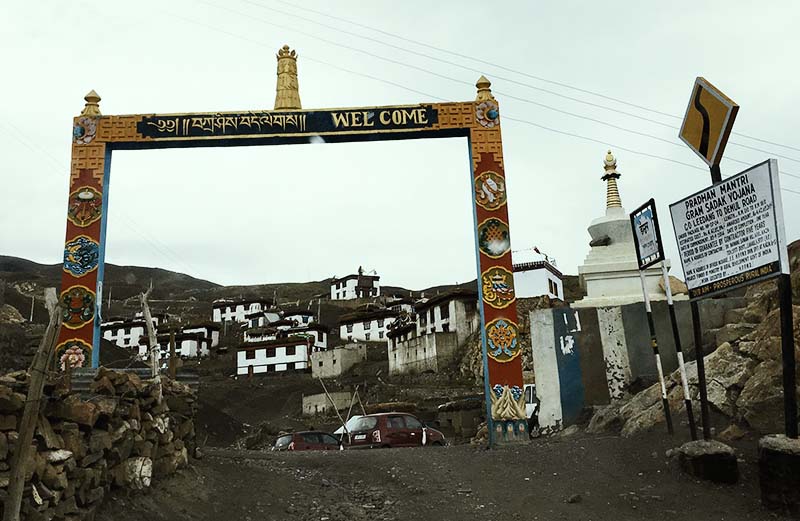 Where to Eat
There are no eateries or restaurants here. You will eat with the family that you will be staying with. Food served will be a mix of north Indian, Himachali, and Tibetan. If you would like to try some local dishes, then let your host know and they can prepare something accordingly. For more information on this, please read Food to Try in Spiti Valley – What to Eat in Spiti.
Shopping
There are of course no markets here. I just noticed one general store selling regular packaged chips, biscuits, and some daily commodities. But I was told that some villagers make some small handicraft items at home. I did not buy anything but you can ask around.
I doubt it will be anything expensive but just small souvenirs that you can buy to support the local economy. If you would like to shop around though then I will recommend trying your luck in Kaza. For more details on this, please read Shopping in Spiti Valley – What to Buy in Spiti Valley.
Phone Connectivity
There is no cellphone connectivity here. Even BSNL doesn't work. The only phone available in the village is a satellite phone installed in the house of the village chief. In case of an emergency, you can use this phone to make a local call for Rs. 5 per minute and a long-distance call for Rs. 10 per minute.
Conclusion
Demul is not visited by many tourists and only a handful would only be aware of its name. It is a nice place to visit though to see the organized way income from tourism, natural beauty, serenity and of course, the view from Balari Top. It is a place that I will personally recommend visiting. Even if you were short on time and did not wish to stay for the night, you can still make it a day trip and cover it with other villages like Kibber, Komic, Langza, Hikkim, etc.
I hope the information above on visiting Demul Village was of help. If you have any questions; or need any other details; please feel free to ask in the comments section below, or at our Community Forum, and I will be glad to answer.