Manali is a year-round destination. The tourist season here never ends and for good reasons. It is one of those places that you just cannot go wrong with. No matter what kind of trip you were looking forward to, Manali will not disappoint you. There is plenty to do here and so many places to see that it can keep you occupied for several days. One such place that I will talk about in this post is Kothi Village in Manali.
One thing that a lot of people do not like about Manali is that it tends to get a little crowded. Even I agree with this but do not let it deter you from planning a visit here. If you are the kind that does not like crowded spots, then there are several tiny hamlets around Manali that will serve you well. Kothi is one of them.
It is a greatly located and highly scenic village that offers some of the best vistas that you can get in Manali. It is located on the main highway to Rohtang Pass and remains accessible throughout the year. So reaching here is also will never be a problem.
Please note that in this article, I am only discussing the Kothi Village specifically. If you want to get information on Manali overall, then I will recommend that you read How to Plan a Trip to Manali.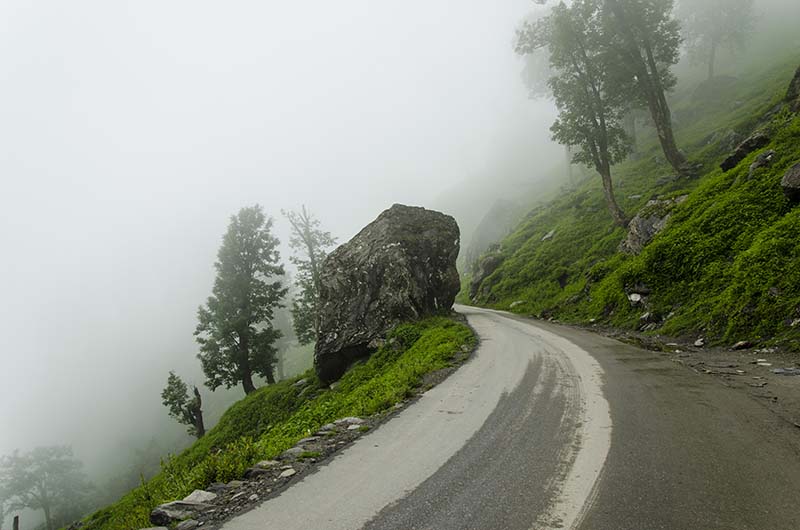 Where is Kothi village
Kothi is located about 13 kilometers from Manali towards Rohtang Pass and about 8 kilometers before the Gulaba check post. From the main Manali town, you will start driving towards Palchan via Vashisth and Nehru Kund.  At Palchan, the road bifurcates. The one going to your left will take you to Solang Valley and the one to your right will go to Rohtang La. Turn right, drive for another 3 kilometers and you will arrive at Kothi Village.
Why visit Kothi
Kothi is just a small village and to be very honest, there isn't much to do around here. But that is what really is special about it. It is a very peaceful hamlet that serves as a base for several adventure sports like paragliding and skiing. The beautiful Solang Valley is a short drive away so a trip to Kothi can also be incorporated with Solang Valley.
There are several hotels in the area so if you wanted to stay a little away from the main crowded town, Kothi is an ideal place to look for a hotel. It is also a great spot for honeymooning couples. If you want to enjoy a great view from your hotel window and do not want to be looking at other buildings or hotels, you should head straight to Kothi or Solang. The views from here are hard to get from elsewhere in Manali.
Also Read: How to Plan a Trip to Rohtang Pass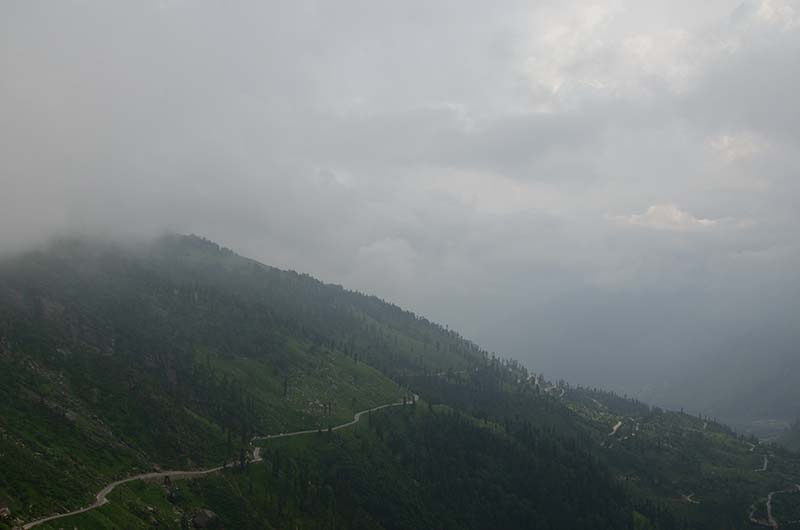 How to reach Kothi Village
In order to reach Kothi, you will have to first reach Manali town, which I believe is the easiest task of all. Being a major tourist destination, Manali is well connected to the rest of the country by a smooth road and regular public transport. From Manali, you can then go to Kothi by either your own vehicle, a cab or by Bus.
For example, if you were coming from a town like Delhi or Chandigarh, below is how your journey will look like.
How to reach Kothi Village Valley from Delhi
Starting from Delhi, the route will be as mentioned below.
Delhi – Panipat – Ambala – Chandigarh – Swarghat – Sundernagar – Mandi – Bhuntar – Kullu – Naggar – Manali – Vashist – Palchan – Kothi
The total distance covered will be about 550 kilometers and will take you around 14-16 hours to cover; depending on your speed, breaks and where started from in Delhi.
From Delhi, you will start driving on NH1 all the way till Ambala. Just before Chandigarh, take the bypass towards Rupnagar via Kharar rather than entering Chandigarh city. After Rupnagar, continue driving to Kiratpur Sahib and from there the hilly area will start. Until Kiratpur the roads will be mostly good except for a brief stretch around Chandigarh.
But after Kiratpur, you will be stuck behind a long line of trucks and the journey will become slow and a bit annoying until Mandi. Vistas will improve after Mandi and you will be able to enjoy the journey better. Continue driving through Bhuntar, Kullu, and Naggar to finally arrive at Manali.
Also Read: Manali Bus Service – Schedule & Timetable
By Bus
There are regular buses available for Manali from almost every major city in North India. HRTC has both ordinary and luxury buses available to and from Manali to all nearby cities. Other than that, several private travel companies as well operate regular luxury buses to Manali.
You can also book your seat online at the online portals of HRTC and HPTDC. For booking a Bus with a private tour operator, you can search in portals like RedBus.
How to reach Kothi from Manali
Now that you are in Manali, you can either stay here for a night and go to Kothi the next day; or you can continue driving straight to Kothi. Pass through the busy Manali town, cross the bridge after Bus stand and take the road towards Rohtang Pass. After 11 kilometers, you will cross the small village of Palchan where the road for Solang Valley bifurcates. Continue driving straight towards Rohtang and you will arrive at Kothi after driving for another 3 kilometers.
Also Read: How to Plan a Trip to Solang Valley
Manali to Kothi Village bus
There is a total of 6 daily buses available from Manali to Kothi. The first two buses leave in the morning at 7 and 8 AM. After that, the next bus is at 12 noon. Later in the day, there are three more buses available at 1 PM, 4.30 PM and 5.30 PM daily.
Nearest Airport to Kothi
The closest airport to Kothi is located in Bhuntar; at a distance of 63 kilometers. Prepaid taxis are available from the airport that can drop you at either Manali or Kothi for Rs. 4000 – 5000, depending upon your time of arrival and negotiation skills.
Other than Bhuntar, the next major airport is in Chandigarh.
Also Read: How to Plan a Trip to Dalhousie
Nearest Railway Station to Kothi
The nearest railhead to Kothi Village is in  Joginder Nagar, at a distance of 50 km. It is a narrow gauge track connected by a Toy Train to Pathankot, much like the Kalka Shimla Toy Train. So you will have to first board a train to Pathankot, then to Joginder Nagar and then a taxi to Manali.
Other than Joginder Nager, the next nearest railway stations is in Chandigarh. A better way to plan the trip would be to catch a train to Chandigarh first, rather than Pathankot. Then you can board a Chandigarh to Solang Bus for your final leg of the journey.
Kothi Village in Winter
Kothi village remains open and accessible in the winter season as well. The road gets blocked after the Gulaba check post which is another 7-8 kilometers after Kothi. All the modes of transport that I explained above remain available for all 12 months. So even during the peak winter season, you will easily be able to get until Kothi village.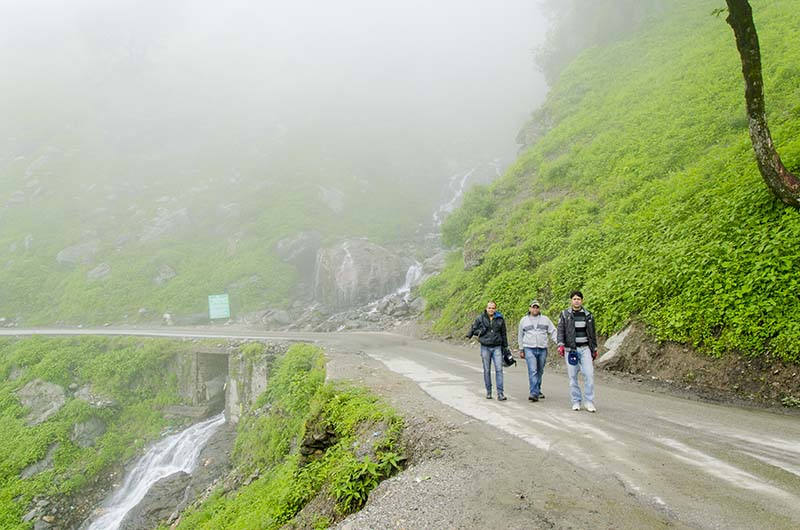 Weather of Kothi Village
The weather of Kothi remains enjoyable for most of the year. Owing to its high altitude, it is almost never hot here and the change is only between being extremely cold and pleasantly cold.
Winters here are long and last for the most part of the year. October marks the beginning of the cold weather that lasts well until March. January is the coldest month when the temperature can drop as low as -5 °C. It snows quite a lot here and sometimes even the road between Manali to Kothi can get temporarily blocked.
Spring arrives towards the end of March and from here on, the weather remains very pleasant for the next three months. The average temperature ranges between 10°C to 15°C. Days will be warm with sunny skies and clear views whereas nights will be moderately cold. Snow is mostly all gone by March-end from the lower areas and you will only find some if you continued traveling further towards Rohtang Pass top.
The months of monsoon are considered to be a bad time to visit Manali or nearby areas as it rains quite a lot here; sometimes enough to keep you indoors for the entire duration of your trip. Landslides caused by incessant rains and resulting accidents can pose a real safety threat so please check the weather forecast before you leave. The average temperature in these months as well remain around 15°C.
Best time to visit Kothi Village
The months from April to June are considered to be the best time to visit Kothi. The weather in these months, as I mentioned above, is at its best and will suit the majority of the visitors. However, when to visit a place also depends on your reason to visit. If it is snow that you were after then you must plan your trip in either January or February. These are the two months when you will find a lot of snow around Kothi and Solang Valley. For the rest of the time, you will have to go all the way to Rohtang top to find snow.
If you want to see a live snowfall; then your chances will be better in January then February.
If you do not like cold weather than you must not visit between October to March. If you are not fond of crowded places then skip April to June. For someone traveling on a budget, the months of July, August, October, and November will be the best. If you do not want to risk the rain, avoid July or August. For a family trip, plan in April, May or June. If Rohtang was on your itinerary, then your trip must be planned after April (once Rohtang has been declared open) and before October Mid (when Rohtang is closed).
For more details on the topic of the weather in Kothi and an ideal time to visit, please read When is the Best time to visit Kothi and Solang Valley?
Clothes to Pack
What kind of clothes you should pack will entirely depend on your time of arrival. For a trip between January to March, you must pack all heavy woolens, a windproof jacket, waterproof gloves, warm socks, waterproof shoes, a monkey cap, and a muffler. The weather in these months will be freezing and you must prepare yourself accordingly.
If visiting from April to June, carry your regular cotton clothes and a few light woolens or a couple of jackets. You may not even need a jacket during the day at this time but will surely need one for mornings and evenings.
For a trip in July, August or September, bring clothes that can dry faster, like polyester. Do not bring any heavy clothes at this time and if possible, carry a raincoat or umbrella.
If you were visiting between October to December, you will have to bring light woolens and a heavy windproof jacket.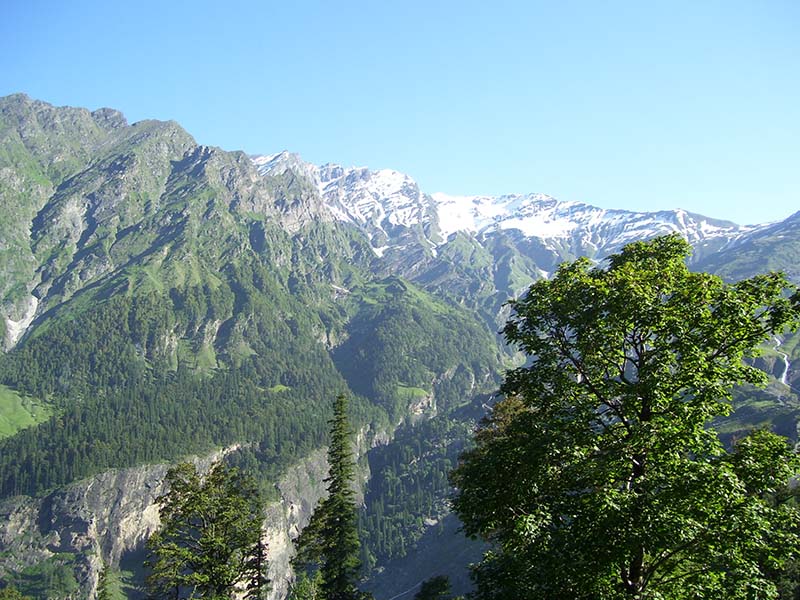 What to see in Kothi Village



I have actually covered this topic in more details in another article. A trip to Kothi is usually combined with a trip to Solang Valley as well as Rohtang Pass. But if you were wondering whether it is worth taking some time out to explore the area then the answer is that yes it is. I will list down the tourist attractions in and around Kothi Village to give you an overview. If you, however, want to know more about these places, I will request you to read Sightseeing in Solang Valley and Kothi Village – Places to Visit in Solang Valley.
Natural Beauty:

There is absolutely no dearth of natural beauty in and around Kothi. The views you get from here are hard to find elsewhere in Manali.
An Offbeat Experience: Manali no doubt gets a lot crowded during peak tourist season. If you want to spend time in a peaceful and quieter location, then you should head towards Kothi Village and find a hotel there.
Solang Village: The heart of Solang Valley, this is another quiet little village that is as beautiful as Kothi.
Rohtang Pass: This is the king of all tourist attractions in and around Manali. Rohtang top is located about 37 kilometers from Kothi Village.
If you want to read about all the places that you can visit in and around Manali, I will recommend you to read Sightseeing in Manali – What to See in Manali.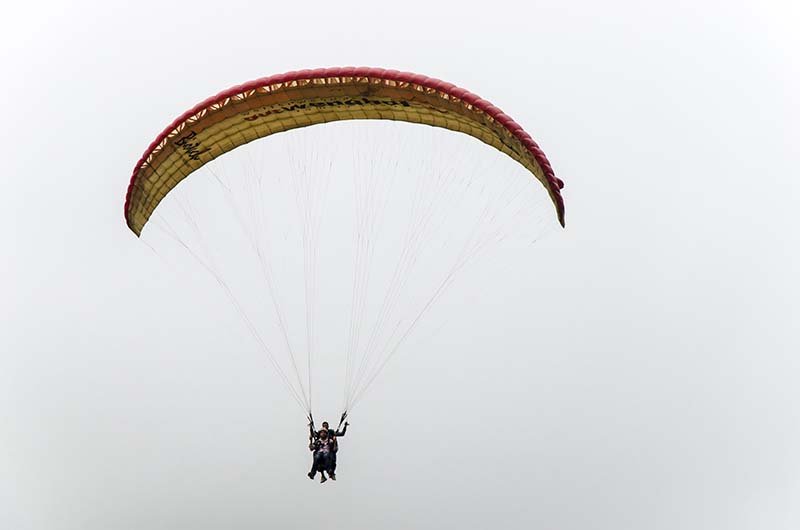 Things to do in Kothi Village



Kothi and the nearby Solang Valley are the heart of all adventure sports in Manali. What can you do here entirely depends on your time of arrival. I have covered this topic as well in the tourist places article that I provided the link to above. But below is a list for an overview.
Paragliding: It is one of the most sought after adventure activities in Manali. Paragliding remains available throughout the year.
Gondola Ride: You can enjoy a Gondola ride in Solang Village and this too is available throughout the year.
Skiing: The valleys and meadows of Solang near Kothi become the preferred destination to enjoy Skiing in Manali.
Quad Biking: This is another adventure sport that remains available for all 12 months.
Snow Mobile Ride: Much like Quad biking but available only during the winter season.
Zorbing: This is when then put you in a huge inflated ball and roll you down the hill either on grass or snow. It sounds scary but is fun. See the picture below for reference.
Trekking: There are several treks leading out of Kothi Village to place like Anjani Mahadev, Dashir Lake, Patalsu Peak, Beas Kund, and Bhrigu Lake.
Camping: There are several campsites near Kothi and Solang on the banks of the Beas River.
To get more details on these topics, please read What to do in Solang Valley?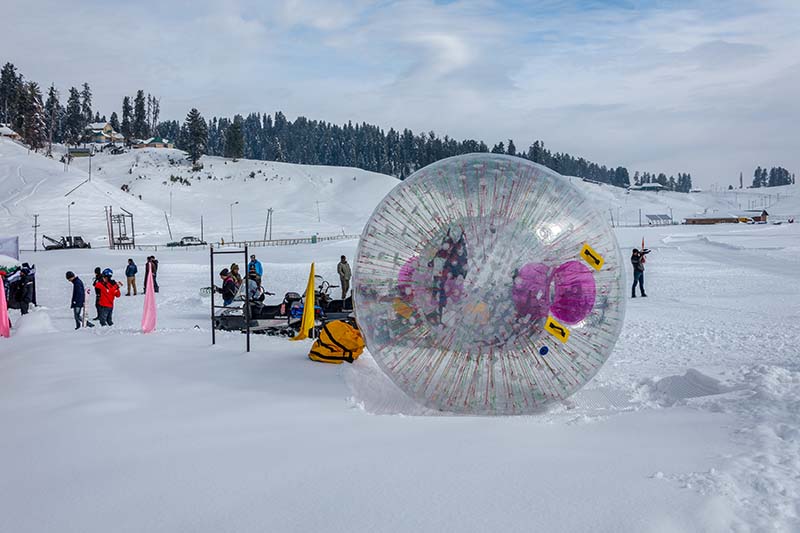 Where to stay in Kothi
There are several hotels in Kothi and in nearby Solang Valley that you can stay at. Hotels are also located around Palchan and on the entire 13 kilometers stretch between Manali and Kothi.
There is an HPPWD Resthouse in Kothi, (also known as circuit house) where we stayed and it was a good experience. You will, however, need to book your stay in advance. We were lucky that we were able to talk the caretaker in allowing us to stay for a couple of days but I will still recommend booking to be on a safer side. For more details on this, please read How to Book an HPPWD Rest House.
From a budget standpoint, expect the price of the hotel to be around Rs. 2500 for a double bedroom during tourist season and around Rs. 1500 in offseason.
If you were traveling on a budget, I will recommend staying in Manali itself and making a day trip to Kothi.
Camping in Kothi
I did not notice any campsites around Kothi Village. If you want to go camping, your best bet would be in Solang Valley. For self-camping as well, you will find better spots near and around Solang.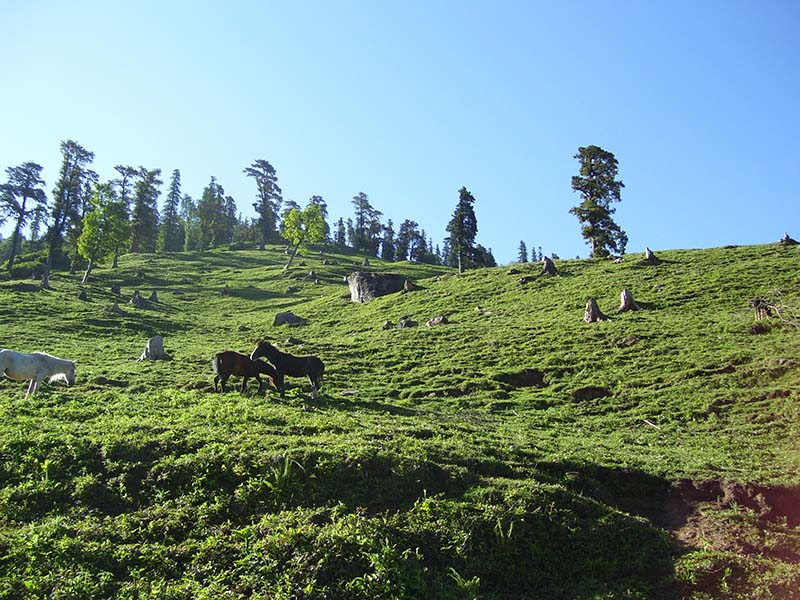 What & Where to eat
There are a few restaurants in Solang, Palchan and Kothi where you can get most of the north Indian dishes. Manali is, however, the best place to try different types of food.
If you were not in a mood to step out, then just order in your hotel only. In the winter season, this actually seems like a better choice.
Shopping
Kothi is just a small village and there is nothing to buy here as such. For shopping, I will recommend that you head back to Manali and try there.
Mobile Network and Data Connectivity
There is good cell phone reception in Kothi. You will remain well connected irrespective of which network you were on. I was using Airtel and got good 4G Data connectivity. If you however went on any of the nearby treks, then you may lose reception. In remote places, BSNL has the best service in Himachal.
Bank / ATMs
There are several ATMs located near Palchan where you can withdraw money.
Petrol Pumps & Mechanics
The nearest gas station is located about 2 kilometers before Palchan. There are no mechanics here as well.
Hospital / Medical Assistance
There is a medical center in Solang and a Primary Health Center in Palchan. A dispensary is also located near Palchan. For something serious, however, you will have to come down to Manali.
Also Read: How to Plan a Trip to Bir Billing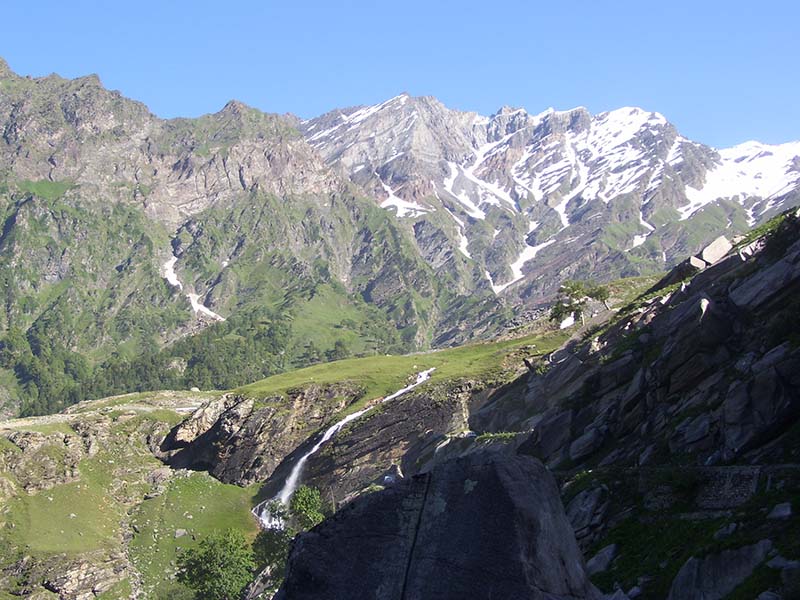 Itinerary for Manali, Solang Valley and Kothi Village

Below is an example of an itinerary to visit Kothi, Solang Valley and Manali. For the sake of the itinerary, I will assume Delhi as your starting point.
Delhi to Kothi Village – Day 1
Start early from Delhi
About 550 kilometers of drive
Total 14-15 hours of journey
Reach Kothi by evening and relax.
Kothi to Solang Valley – Day 2
Arrive at Solang Valley and just walk around in the village
Relax and have fun. Try any of the adventure sports I mentioned above.
Trek to Anjani Mahadev either in the first half or the latter half of the day
Also Read: How to Plan a Trip to Shimla
Solang Valley / Rohtang Pass – Day 3
Try Gondola Ride and enjoy paragliding
Visit Rohtang Pass
Kothi to Manali – Day 4
Drive down to Manali
Visit the market, do some shopping, eat out
Manali to Delhi – Day 5
Return to Delhi on Day 5
Another 14-15 hours of a journey so start early from Manali.
Also Read: When is the Best time to Visit Manali?
Temperature in Solang Valley
Below is an average monthly breakdown of how the temperature trends in Solang Valley.
| | | |
| --- | --- | --- |
| | Maximum | Minimum |
| Kothi Village in January | 2 °C | -5 °C |
| Kothi Village in February | 2 °C | -5 °C |
| Kothi Village in March | 8 °C | -2 °C |
| Kothi Village in April | 17 °C | 4 °C |
| Kothi Village in May | 18 °C | 6 °C |
| Kothi Village in June | 22 °C | 10°C |
| Kothi Village in July | 22 °C | 12°C |
| Kothi Village in August | 22 °C | 12°C |
| Kothi Village in September | 17 °C | 9 °C |
| Kothi Village in October | 13 °C | 3 °C |
| Kothi Village in November | 5 °C | -3 °C |
| Kothi Village in December | 5 °C | -3 °C |
Conclusion
I hope the details above on visiting Kothi Village were of help. If you have a question or need any other information, please feel free to ask in the comments section below; or at our Community Forum and I will be glad to answer. If you have been to Solang Valley and Kothi Village and have a few other tips that can be of help to others, please do comment and mention.