Continuing from the last article where I talked about how you can plan a trip to Manali; in this post, I will provide details on taxi rates in Manali. The information below will include charges you will pay for hiring a cab for local sightseeing in Manali; as well as taking a cab from Manali to another town or vice versa.
Please note that Manali taxi rates depend highly on the month of your travel. During the peak tourist season, as the demand for taxis goes up, these per-day charges can seem to touch the sky all of a sudden. Another thing to note is that there is no such thing as "fixed rates" in Manali. It all depends on the season, demand, and your own negotiation skills.
For booking a taxi in Manali, you can contact Kunal @ 9910 402 252. Give my reference and you will surely get a discounted and best available rate.
Also Read: How to Plan a Trip to Manali – A Complete Travel Guide
If one was to list down the most visited tourist destinations of our country, I am sure the name of Manali will remain among the top ones. The tourist footfall here remains throughout the year and it never really is an off-season. No matter which month you arrive, you will always find tourists in Manali.
Due to this very fact, the rates of taxis in Manali can sound ridiculously high to some people. Hence, the best way to travel to Manali is always by your own vehicle. But if that is not a choice for you, then you can easily rent a taxi for or from Manali. How much it will cost you is what I will discuss in this post.
Types of Taxi in Manali
There are four different kinds of taxis available in Manali and the rate is different for all of them.
Class A – Hatchbacks; which in most cases is an Alto
Class B – Sedans; like Dzire and Etios
Class C – SUVs; like Tata Sumo and Bolero
Class D – Luxury SUVs; like Innova and Scorpio
The rates I have mentioned below are broken down into these categories. So the first column is for Alto, the second for Dzire or Etios, the third for Sumo, Bolero, or Tavera, and the last one for Innova or Scorpio.
Please note that the figures below are approximate and not absolute. Taxi rates in Manali are highly prone to change depending upon the time of your arrival and negotiation skills.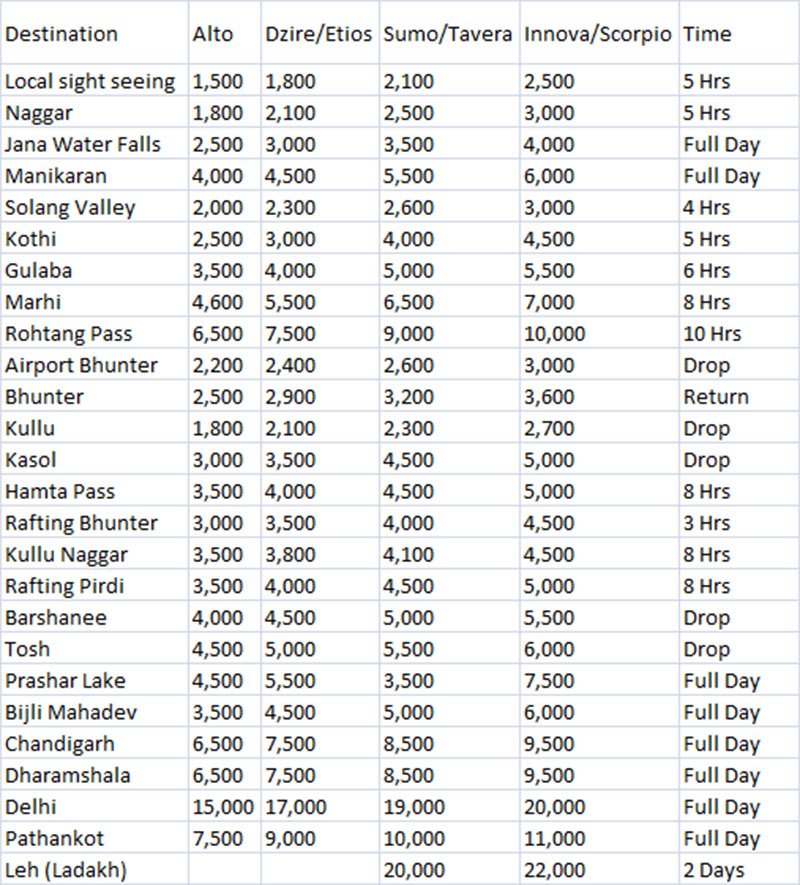 Taxi Rates in Manali
A few more details on the rate list above are as mentioned below.
Manali to Rohtang Pass Taxi Fare
Rohtang Pass, beyond any doubt, is the biggest attraction of a trip to Manali. The pass remains open from the month of May till September and is a beauty in itself. Almost every tourist that arrives in Manali travels to Rohtang.
So high the number of people going to the pass became that authorities have to take action and introduce a permit, thus capping the limit of tourists to the pass in a day. Due to this, the demand for a taxi traveling to the pass is very high and so is the price.
During the months of May and June, a trip to Rohtang Pass will cost you between Rs. 10,000 to Rs. 12,000 for a simple Alto. The destination is only 50 kilometers but due to the long traffic jams and slow traffic, this trip will eat up your entire day. During the off-season, the fare drops down to Rs. 5000 or Rs. 6000.
Manali to Rohtang Pass Shared Taxi
This will be a little hard to find really due to the whole concept of the permit. You can try talking to a travel agent or a taxi driver in Manali and see if they can club you with some other group. The fare will entirely depend upon your negotiation.
Manali Sightseeing Taxi Rates
Renting a taxi for a few hours to show you around in Manali will cost about Rs. 2000 to Rs. 3000. Please note though that they will just move you around in the town itself and will not travel towards Solang, Gulaba, Rohtang, or any other tourist spot outside Manali.
Also Read: Taxi Rates in Shimla
Bhuntar Airport to Manali Taxi Fare
A taxi between Manali and Bhuntar will cost you about Rs. 3,000 approximately.
Manali to Manikaran Taxi Fare
A full-day trip from Manali to Manikaran Sahib will cost Rs. 6,000 per day.
Manali to Solang Valley Taxi
This will be a total trip of about 4 to 5 hours. The taxi fare will be between Rs. 2,000 to Rs. 3,000. The taxi will bring you to Solang Valley from Manali, show you around, and drop you back at the hotel.
Manali to Kullu Taxi Fare
A private taxi from Manali to Kullu or vice versa will cost about Rs. 2,000 to Rs. 3,000
Manali to Kasol Taxi
A private taxi from Manali to Kasol or vice versa will cost about Rs. 4,000 for an Alto.
Manali to Chandigarh Taxi Fare
Depending on which type of cab you chose, a private taxi from Manali to Chandigarh or vice versa will cost between Rs. 7,000 to Rs. 10,000.
Manali to Delhi Taxi Fare
A drop to Manali from Delhi or the other way around will cost you between Rs. 15,000 to Rs. 20,000. The journey will easily take about 14 to 15 hours depending upon the traffic, your breaks, and speed.
Manali to Pathankot Taxi Fare
A taxi from Manali to Pathankot will cost about Rs. 8000 to Rs. 9000. The price can be slightly less if you were boarding a cab from Pathankot to Manali.
Manali to Leh Ladakh Taxi Fare
This will be a 2 days journey with a night halt at either Keylong or Jispa. The total fare will be about Rs. 20,000 for a private taxi.
Manali to Leh Ladakh Shared Taxi Fare
The fare per person for Manali to Leh by shared taxi will be about Rs. 2,000 to Rs. 2,500. You can find these shared cabs at the Manali taxi stand only. Do keep in mind that they drive non-stop to Leh city with no halt in between. The journey usually is of around 18 to 20 hours of a cannonball run.
Taxi Rates in Manali
| | |
| --- | --- |
| Destination | Fare |
| Manali to Naggar Taxi | 3,000 |
| Jana Waterfall | 4,000 |
| Kothi | 4,500 |
| Manali to Gulaba Taxi | 5,500 |
| Manali to Marhi Taxi | 7,000 |
| Hampta Pass | 5,000 |
| Rafting at Bhunter | 4,500 |
| Kullu Naggar | 4,500 |
| Rafting at Pirdi | 5,000 |
| Barshanee | 5,500 |
| Tosh | 6,000 |
| Prashar Lake | 7,500 |
| Bijli Mahadev | 6,000 |
Conclusion
I hope the information above on taxi rates in Manali was of help.  If you have any questions, you can ask in the comments section below. You can also contact me on Instagram to chat with me or subscribe to my YouTube channel and ask a question there.
This error message is only visible to WordPress admins
Error: No feed found.
Please go to the Instagram Feed settings page to create a feed.