The small and beautiful town of Narkanda is located about 65 kilometers from Shimla that can easily be covered in 2 hours on a super smooth road. The number of people who visit here, however, is amazingly less as compared to that of Shimla and nearby areas like Kufri. Due to this very fact, Narkanda makes up for a perfect setting to spend some time in peace and tranquility. But that is not all that it has to offer. There are several other tourist places in Narkanda and its nearby areas due to which it gets counted among the top offbeat destinations of our country. What these places are and how you can visit here is what I will be discussing in this article.
Also Read: How to Plan a Trip to Narkanda – A Complete Travel Guide
Narkanda is really a very charming place that changes colors every season. It is white in winter, green by the monsoon, and Orange during autumn. But one thing that remains common is that it is beautiful for all 12 months. When to visit will really depend on your reason to visit. If you want to enjoy the snow, then plan in January or February. If you want to see Golden valleys then plan in October; or early November. If you just want to spend some time in peace and away from the crowd then you can visit any time of the year and you will definitely not be disappointed.
Tourist Attractions in and around Narkanda
I will not really waste your time by suggesting a long list of 20 places and include half from Shimla and the remaining half from Kinnaur just for the sake of it. What I will instead focus on are tourist spots in Narkanda itself or in its close proximity. If you were spending a couple of days in Narkanda, you can visit all of them easily. If you want to know about the places in and around Shimla, you can take a look at Tourist Places in Shimla and its Proximity.
Hatu Peak
Hatu Peak is Narkanda's first and by far, the biggest, tourist attraction. This mountain is the highest point not only in Narkanda but in the entire Shimla district. It is located at a height of 3,400 meters (11,152 ft) and is surrounded by a dense forest of conifers, oaks, and maples. At the top of the peak is a small but beautiful wooden temple called Hatu temple.
From the top of the peak, you get a stunning view of the valley around and snow-capped mountains. It is also a great spot for catching some amazing sunset and sunrise views.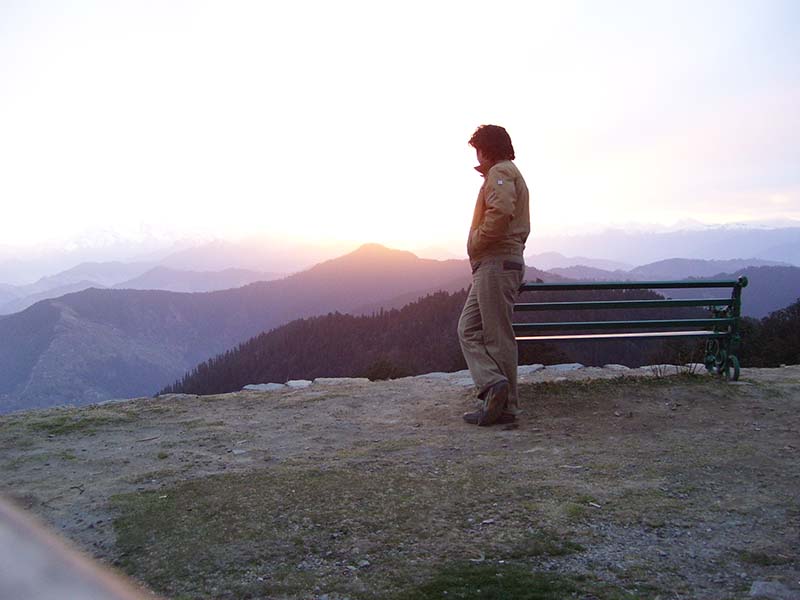 Hatu Temple
Next in the list of tourist attractions in narkanda will be the Hatu temple. It is a beautiful temple at the top of Hatu Peak. According to the local belief, the famous Hatu Mata temple is the temple of Goddess Kaali. Another belief, however, claims it to be of Mandodari' wife of 'Ravan'.
Goat sacrifice is still practiced at the temple on the first Sunday of "Jeth" month.
Bheem Chulha
There is an ancient stove-like formation of rocks nearby the temple, see the picture below. This formation is known as "Bheem Chulha" and is believed to be used by the Pandavas brothers to cook their food during their Agyaat Vaas. It looks a little small in the picture below but these are actually giant rocks standing erect. They are quite tall.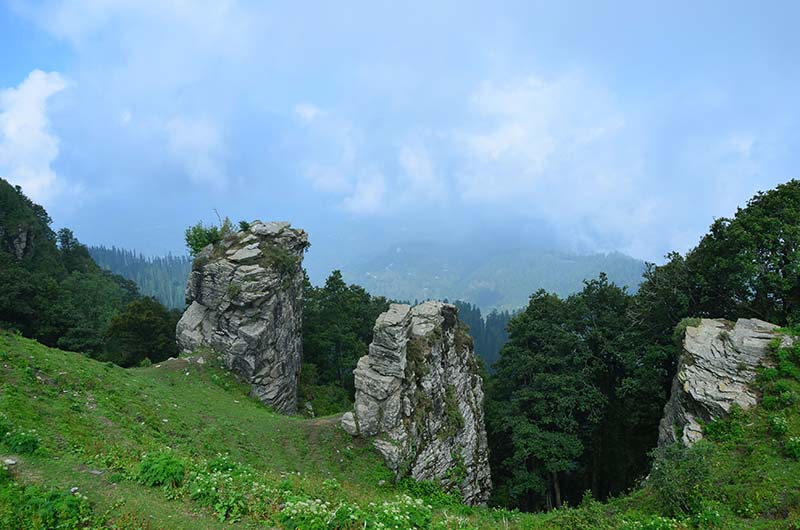 Jor Bagh
If you are into trekking then about an hour from Hatu Peak are the beautiful meadows of Jor Bagh. The trail will take you through the dense forest and finally ending at a mist-covered green clearing; which actually will look like a shot straight out of a movie or wallpaper. It is also a favorite spot for a lot of local shepherds to graze their livestock.
To get here, you will first have to reach Hatu Peak top, leave your vehicle and then walk the rest of the way to the meadow through the jungle. A word of caution though. The forest around the trail is quite dense and easy to get lost in. It would be better to hire a local from Narkanda to guide your way to Jor Bagh.
Also Read: When is the Best time to Visit Narkanda
Ski Slopes
The Ski Slopes at Narkanda is one of its foremost attractions. During winters, these slops get covered under a thick cover of snow and make up for a perfect setting for Skiing. For the rest of the year, barren of any snow and covered in grass, it turns into a beautiful meadow. You will find horses grazing there often and together with the background, it is a great spot to click some stunning pictures if photography interests you.
To get here, you will have to walk a little on the outskirts of the village. You will see a small path to the left near the Bus stand that will take you through a series of hotels and houses and then to the ski slopes. Just ask any of the locals and they will be happy to guide you.
Sutlej View Point
Drive a few kilometers downhill from Narkanda towards Rampur and you will be treated with a stunning view of Sutlej River flowing in the valley below. You can actually continue driving down till you reach the banks of the river. But Sutlej View point is where you get the first view of the river. It is about half an hour drive from Narkanda and is located right in front of an SSB (Seema Suraksha Bal) base. It is in fact the soldiers from SSB who have marked this spot such.
If you have about 3-4 hours to spare from Narkanda, then you can drive all the way down to the river. Otherwise, reach this spot, click a few pictures and return.
Also Read: Narkanda to Chitkul – The Enchanting Valley 
Tani Jubbar Lake
It is a small man-made oval-shaped lake located about 15 minutes of drive away from Narkanda. There is also a temple dedicated to 'Nag Devta' near the lake. The whole setting of this water body amidst apple orchards and snow-clad mountains pleases the eye.
Even the drive from Narkanda to the lake is quite scenic. Said to be home to several exotic birds, this lake makes for a great camping spot if you have your own gear. There is a small clearing near the lake where you can pitch your tent for the night.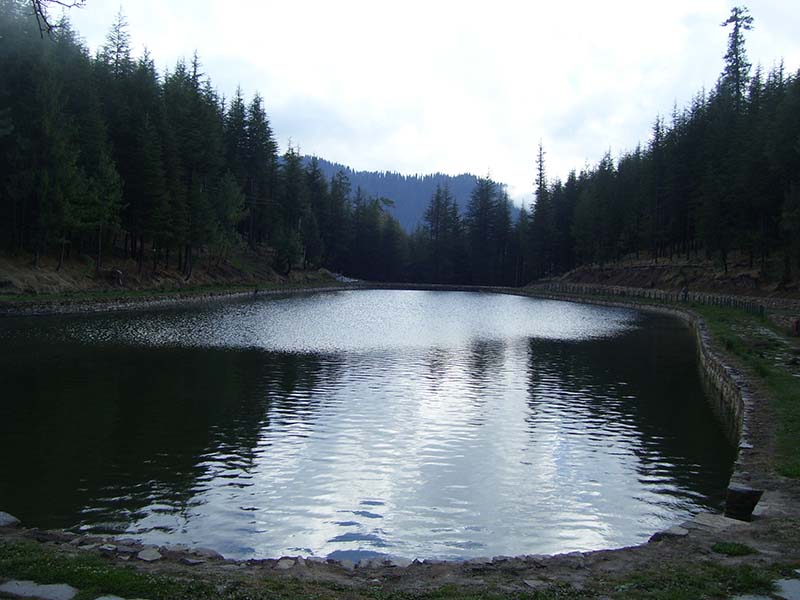 Mahamaya Temple at Kacheri
It is a temple dedicated to Goddess Kali and is located at Kacheri, about 10 kilometers away from Narkanda towards Rampur. You can actually merge it all together with a trip to first the Sutlej View point, the Kacheri temple and the banks of Sutlej River.
Also Read: Narkanda to Sarahan – The Beauty of Kinnaur
Arya Samaj Mandir
Also known as the Paramjyoti Stone temple, this temple was actually built by an Englishman called Samuel Stokes in Pahari architectural style. He later covered to a Hindu and lived all his life in India; and is also credited for introducing Apple farming in the country.
The temple is located in Thanedar, a small village at a distance of 15 kilometers from Narkanda and is one of the prime tourist attractions there.
Stokes Farm, Thanedar
It is an apple orchard in Thanedar named after Samuel Stokes to recognize and celebrate his efforts for introducing apple cultivation in this region.
St. Mary's Church
Located near the small village of Thanedar, this wooden church was built in 1843. The popular Gorton Mission School too is situated close to the church in Kotgarh.
I have covered the information about the Arya Samaj Mandir, Stokes Farm and St. Mary's Church in great details in another article, Thanedar Travel Guide that I will urge you to take a look at. Thanedar is about 15 kilometers from Narkanda through a beautiful jungle road. If you were going to spend a few days in Narkanda, then exploring Thandear comes highly recommended. If you did not have enough time, you can skip these three places.
Tourist Attractions in Narkanda
Of all the places mentioned above, only the Ski slopes are the ones that are located within Narkanda town itself. Rest all the other places are at some distance and will need you to spend at least a day or two. During my first trip, I stayed there for 2 days and was able to cover almost all of the tourist places in Narkanda.
Best Places to Visit in Narkanda
Hatu Peak, Hatu Temple and the Ski slopes are the best places to visit in Narkanda. But this will really depend on the time you have in hand. To cover all of the places I mentioned above, you will need at least 2 days. If you had just one time, then you should just visit Narkanda town, Hatu Peak and drive down to Sutlej View point. If you were just planning a day trip to Narkanda from Shimla, then just go to the top of Hatu Peak, drive back down, have lunch in Narkanda and return to Shimla.
Also Read: Foods to Try in Narkanda
What to do in Narkanda
Apart from visiting all of the above-mentioned tourist places in Narkanda and spending some time in peace, there isn't much to do here. Narkanda in my opinion is not a place that you go to enjoy a ton of activities. For such kind of a trip, Shimla is the best place. Narkanda on the other hand is a place where you go to do nothing. Just spend a couple of days in the peace and tranquility that the place has to offer.
With that being said, mentioned below are a few activities that can be termed as the top things to do in Narkanda.
Skiing
If you arrived in winter and there was enough snow, you must try your hand at Skiing. Proper equipment for the purpose and a trainer will be available in Narkanda itself and very easy to find. This is in fact the a must do activity if you arrived here with your family and kids. You do not need to have any kind of prior skiing experience. Spend a couple of hours sliding down on snow and have great fun.
Trekking
For a summer trip, trekking is the most popular activity and the trek to Hatu Peak is the most common one that tourists venture upon. It is an easy trek that even an absolute beginner can complete.
There are two ways to do the Hatu Trek. You can either trek through the jungle which will cut the distance in half but will require you to tackle some steep climbs. The other way is to just walk on the motorable road to the top. This is easier but will need you to first walk 11 kilometers uphill and then another 11 kilometers back to the town.
If you were up for an adventure, then hire a guide in Narkanda and have him take you all the way to Jor Bagh.
Also Read: Delhi to Narkanda
Photography
Photography, of course, would be one of the major activities that you will love to do in Narkanda. No matter where you go, you will be presented with alluring vistas all around; and will find it hard to keep your hands off your camera. The pollution free skies of Narkanda light up each night with countless stars; a view that city folks like us are not accustomed to. If you were into photography and had a capable enough camera, you will have your fun getting some long exposure shots and capturing star trails.
Sightseeing in Narkanda – Conclusion

And that is probably all that you need to know about tourist attractions in Narkanda town and its vicinity. Depending upon the time of your trip and total days in hand, you can plan to cover places of your interest and enjoy either some Skiing or trekking.
I hope the information above on tourist places in Narkanda was of help. If you have any questions; or need any other details; please feel free to ask in the comments section below; or at our Community Forum; and I will be glad to answer.