Rohtang Pass is definitely the prime attraction of a trip to Manali. On average, it attracts hundreds of thousands of visitors each year which kind of proves that for everyone, a trip to Manali is incomplete without visiting Rohtang. Some people drive on their own while a lot of others will hire a taxi or travel by Manali to Rohtang Pass Bus. If you are planning a trip to Manali by public transport anytime soon and Rohtang Pass is on your mind, below is information on how you can travel from Manali to Rohtang Pass by Bus.
Also read: Rohtang Pass Electric Bus: Fare, Schedule & How to Book?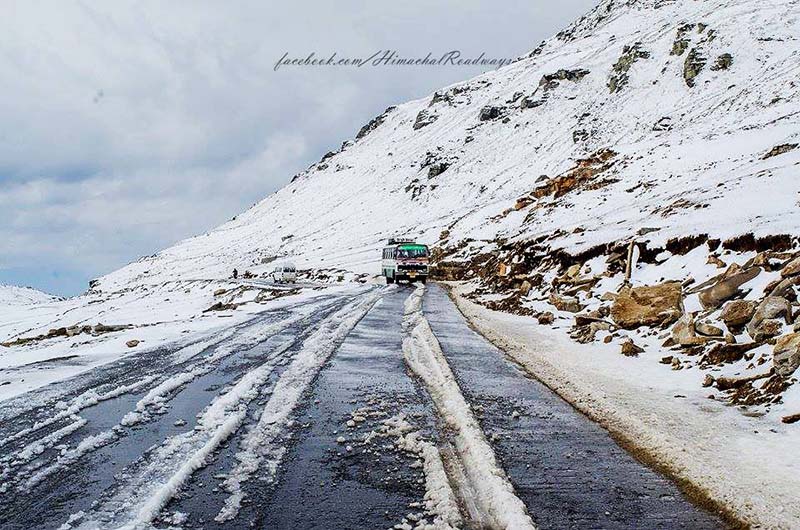 Manali to Rohtang Pass by Bus
The bus service from Manali to Rohtang starts after the pass gets declared open sometime in May. There are two kinds of buses that operate on this route. One is run by Himachal Pradesh Tourist Development Corporation (HPTDC) and other by Himachal Road Transport Corporation (HRTC).
The HPTDC bus is a deluxe one started for the sole purpose of taking tourists from Manali to Rohtang and bringing them back. The HRTC bus however is an ordinary one and not just for Rohtang Pass. This bus actually runs all the way till Keylong in Lahaul Valley and locals here use it for their daily commute.
Also read: How to Plan a Trip to Rohtang Pass
Manali to Rohtang Pass Bus Timings
HPTDC operates two daily buses to Rohtang Pass and both start from Manali in the morning, around 8 AM. These buses are available every day except Tuesdays when Rohtang Pass is closed for tourists. The HRTC bus however remains available on all 7 days. There are three daily HRTC buses from Manali to Keylong, starting at 4, 5, and 6 AM.
Manali to Rohtang Pass Bus Fare
Fare of HPTDC Bus is Rs. 300 to Rs. 350 per person. Traveling by HRTC bus will cost you about Rs. 60 – Rs. 70 per person.
Manali to Rohtang Pass Bus Booking
You must book your ticket a day in advance at Himachal Tourism office on Mall Road. It is located near Hotel HPTDC Kunzum.
Manali to Rohtang Pass Bus Booking Online
There is no online booking portal available. You will have to reach Himachal Tourism office in person and buy a ticket for the next day.
Manali to Rohtang Pass By Bus – HPTDC & HRTC
Both the HPTDC and HRTC buses have their own advantages and disadvantages. If you travel by HPTDC bus, you will be traveling in a luxury bus that will take you there and bring you back to Manali. However it will cost you more than HRTC Bus.
Also Read: How to Obtain Permits for Rohtang Pass
If you travel by HRTC bus, you can travel all the way till Rohtang top and get down there since this bus crosses Rohtang to reach Keylong. This way you will end up paying just about Rs. 60-70; way less than what you will pay traveling by HPTDC bus (fare + pony charges).
Drawbacks of traveling by HRTC bus is that it is just an ordinary bus, stuffed with locals going that way so the ride may get a lot uncomfortable. Second is that it will drop you to Rohtang Pass and continue to Keylong which means you have no sure way of getting back to Manali. Biggest problem however is that the driver or conductor may even refuse to take you in this bus. Ideally this bus is for people wanting to go beyond Rohtang Pass so you may not get a seat in it.
Private Taxi for Rohtang Pass
If you would however like to hire a taxi, then you can do so at Himachal Taxi Operators Union office at either Bus stand or HPTDC office at Mall Road. For more details, please take a look at How to Book a Taxi in Manali for Rohtang.
Rohtang Pass Taxi Fare
Depending on the kind of vehicle you chose, a taxi would cost you anywhere between Rs. 1200 to Rs. 1500. These taxis too however will only go till Gulaba (snow point).
Also read: How to Apply for Rohtang Permits Online
Conclusion
In my opinion, if you want to travel to Rohtang Pass then either hire a taxi or travel by HRTC Bus. The HPTDC bus will drop you at a distance from snow point from where if you hire a pony than it will cost you more than what a taxi would in total. If you walk then it is inconvenient and not really the vacation you came for. A taxi however will take you all the way till snow point.
If you travel by HRTC Bus, then you get a ride all the way till Rohtang top as both the HPTDC bus and taxi will not take you beyond snow point. The conductor may refuse to take you but just request and persuade him a little. Before you leave Manali though, inquire about the bus that comes back from Keylong to Manali.
Get down at Rohtang top, spend some time; and wait for the Keylong bus to reach back Manali. Another way around this that you hitchhike your way back or catch a shared taxi coming from Lahaul valley to Manali. A reader recently travelled this way; went to Rohtang top by HRTC bus and came back hitchhiking. In peak tourist season, there is a regular traffic movement on the road and you can easily find someone to hitchhike with.
I hope this information on Manali to Rohtang Pass by bus was helpful. If you have any further questions, please feel free to ask in the comments section below or at our community forum; and I will be glad to answer.