i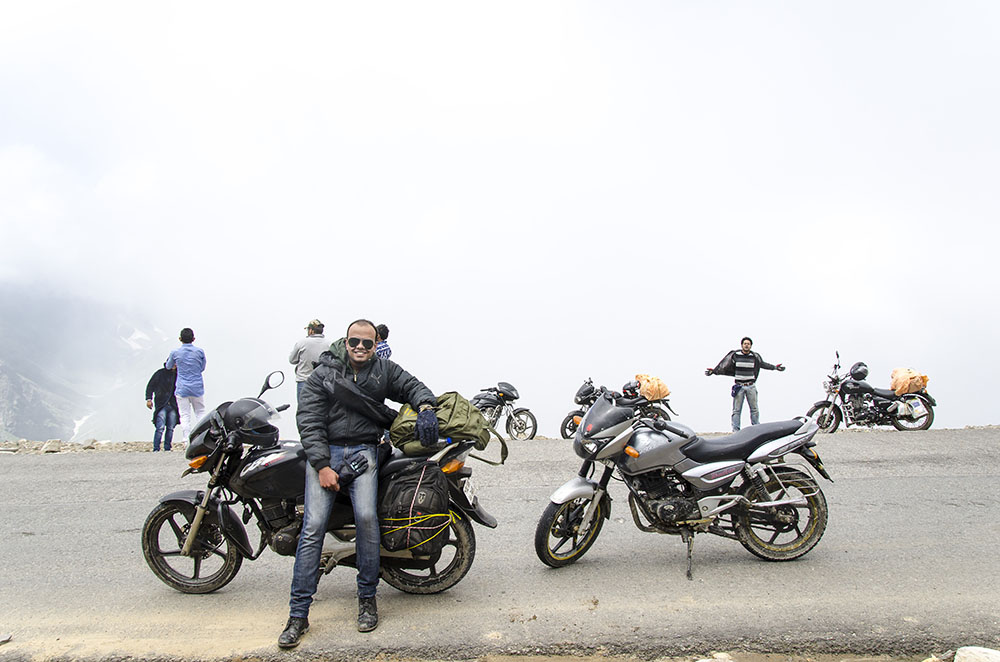 Listed below are different types of available bikes on rent in Manali and the amount that you will pay as per day rental for each one of them. I will begin by first listing down the charges you will pay as rent for different kinds of bikes. Later in the article, I will also detail some of the important things you should keep in mind and check before finalizing which bike to rent and from where.
Renting a motorcycle is one of the most common methods of local commute for tourists in Manali. It just makes things a whole lot easier and is not even that costly an affair. Public transport in Manali, though available, is definitely not a thing of convenience; and renting a private taxi is enough to burn a hole in the pocket of someone traveling on a budget.
Also Read: How to Plan a Trip to Manali – A Complete Travel Guide
In a situation like this, taking a bike on rent in Manali really becomes the next best thing if you know how to ride one around and handle it in the hills. How much you will pay for the motorcycle will entirely depend on which one you chose.
Bikes on Rent in Manali in 2021



The thing with renting a motorcycle in Manali is that there are no set rates or anything. It is more like a general rate that applies here on the basis of how the market is trending elsewhere. So the amount that you will pay for renting a motorcycle in Manali will pretty much be about the same that you will pay in any other city.
With that being said, it also means that the final rental will entirely depend on how long you rented the bike for, how many motorcycles you needed and how good you are at negotiating. The longer the duration is, the lesser you will pay as per day charge. Listed below are motorcycles available on rent in Manali.
| | |
| --- | --- |
| Motorcycle | Per Day Rental in Rs. |
| TVS Jupiter or Activa | 500 / 800 |
| Bajaj Pulsar 180 | 800 / 1000 |
| Bajaj Avenger | 800 / 1200 |
| Royal Enfield 350 CC | 1200 / 1500 per day |
| Royal Enfield Thunderbird 350CC | 1200 /  1500 |
| KTM Duke 200 | 1500 / 1800 |
| Royal Enfield 500 CC | 1500 / 2000 |
| Royal Enfield Himalayan | 1500 / 2000 |
| Royal Enfield Thunderbird 500CC | 1500 /  2200 |
| KTM Duke 250 | 1700 /  2000 |
| KTM Duke 390 | 2000 /  2300 |
| Royal Enfield Interceptor 650 CC | 2200 /  2500 |
| Kawasaki Ninja 650 | 3500 /  4000 |
I have provided a range of rates for each motorcycle because the final price will depend on you and the rental company but will fall in between the rates listed above
To rent a bike in Manali, you can take a look at Rentrip Bike Rentals. I have dealt with them in the past and have found their motorcycles to be reliable. They have an online portal you can check out or can also call them directly at 8800779391.
Accessories Included in Rental Cost
The only accessory that is included in the rental is a Helmet and nothing else. Some dealers may also provide disk locks and chain locks for long-distance travel but that is not really guaranteed.
Just assume that the helmet is the only thing you will get with the bike and will have to pay separately for everything else.
Also Read: How to Plan a Trip to Rohtang Pass
Items Not Included in the Rental Cost
Items listed below are most commonly confused to be a part of the rental deals which they are actually not. Please note that you will have to pay a daily rental for these items as well if you chose to get either of them.
Tool Kit
Spare Parts
Only one helmet will come with the bike for free. If you have a pillion rider, you will have to rent another helmet for them.
You will have to pay for your own fuel. The rental agency will give you just enough to get you to the next petrol station.
Only Royal Enfield motorcycles come with a luggage carrier installed with space to hold jerry cans. No other bike will have this facility and if you chose to get one, you will have to pay for it separately.
Insurance Cover
The motorcycle you rent will come with third-party insurance. But please note that this is only for the namesake and is non-existent. Any damage to the motorcycle will have to come from your own pocket and no rental agency will agree to claim it from the insurance agency.
If you lose the motorcycle or it got stolen, most dealers will ask you to pay the full market rate for the bike. This is non-negotiable and you will end up paying this cost no matter what.
In case you crashed the bike, then the entire repair cost plus charges paid for transporting the bike too will be borne by you. The security deposit and the rental too will be forfeited.
For example, let us say that you rented a bike for 7 days and paid the entire rental cost and security deposit. But on the second day itself, you crashed the motorcycle.
In this case, your entire rental amount and security deposit will be forfeited. You will have to pay any additional cost incurred for transporting the bike to the service station and then finally all expenses to get it up and running again.
In case you crashed the bike beyond repair, you will have to pay its entire market value.
Legal Cost
Any fines/penalties imposed by the cops like for reckless driving, riding without a helmet, increasing the speed limit, riding with more than 2 people on the bike, or any legal trouble too would have to be borne by you.
So for example, if the motorcycle got impounded, it will be your headache to get it back from the cops and return it to the dealer.
Also Read: How to get Rohtang Pass Permits
Security Deposit for renting a motorcycle in Manali
Every rental agency will ask you to pay upfront a fee as a security deposit for each motorcycle. This cost is different than the per-day rental and will be refunded to you when you return the bikes, provided that there was no damage involved of any kind.
If there were any wear and tear, then the cost to repair the damage will be deducted from your security deposit. If the damage to the motorcycle exceeded the security deposit, you will be asked to pay over and above the deposit.
This deposit too will depend on the motorcycle and the duration of the trip. If you were renting the bike for local sightseeing in Manali for a day or two, it would be around Rs. 2000 to Rs. 3000 per motorcycle.
If you were, however, renting it for a trip to either Ladakh or Spiti, then this deposit would be around Rs. 8000 to Rs. 10,000.
One Way Rentals
A lot of people would rent a motorcycle in Manali and then leave it at another destination, like Leh, Srinagar, or Shimla. A lot of rental agencies provide this facility but would charge you an additional "transportation cost" for this facility.
This cost can be anywhere from Rs. 10,000 to Rs. 15,000 over and above your daily rental. So for example, if you rented a RE 350 for Ladakh for 10 days, then your Manali to Leh one-way bike rent would come out to be about Rs. 22000 to Rs. 25000 (1200*10+10,000).
Documents Needed for renting a Bike in Manali
Listed below are the documents that you will need to produce while renting a bike in Manali.
Driver's License
You must have a valid and permanent driving license. A temporary license will not do. If you were not an Indian citizen, then you must have an International driving license.
The one from your own respective country will not be considered valid. You must also carry your DL in original as you will have to produce it for verification before renting the bike or scooter.
Also Read: How to rent a Bike in Leh
Identity Proof
You must also carry another government-issued identity card like PAN Card, Aadhar Card, Voter ID Card, or passport. This is needed because your ID proof will be deposited when you rent the motorcycle and will get returned at the time of returning the bike.
A driver's license too can work as identity and residence proof but the agency cannot keep it with them while you ride around on their bikes.
They will return the DL and will hold on to a different ID proof. If you are a foreigner, they will return the passport as well but may ask you to pay a higher amount as security.
Should you Book in Advance?
There are numerous agencies where you can get bikes on rent in Manali. Even some of the mechanics offer bikes for rent. Just take a walk around the town and you will come across several places that you may rent from.
What I am trying to say is that you do not have to absolutely book in advance and will easily find one on the spot irrespective of the time of your travel. But if it gives you peace of mind, you can pre-book as well.
My recommendation, however, would be to not book for 3 reasons. The first one is if there was a change in plan and you did not need the motorcycles anymore, the full booking amount will not get refunded.
The second is that booking deprives you of opting for a different and better motorcycle elsewhere. Third and the last one is that you are stuck with the same rental agency and will have to take whatever they give you.
Hence a better way would be to reach Manali first, test ride a few motorcycles, and rent the one that felt the best.
Cancellation Policy
If you booked in advance then the cancellation policy will differ from agency to agency. This is because there is no defined cancellation policy as per the union for bikes on rent in Manali or nearby areas.
If you cancel within 24-48 hours of the trip, you will not get any money back at all. But if you cancel before that, you will get a refund for about 20 to 50% of the booking amount.
If the dealer himself canceled on you due to the unavailability of motorcycles, then you will get a full refund. This applied to all agencies offering bikes on rent in Manali.
Also Read: How to rent a Motorcycle in Srinagar
What to know before renting a Bike in Manali
Mentioned below are some of the other details that you should keep in mind while renting a motorcycle in Manali.
Click Pictures
Click as many pictures as you can of the motorcycle while renting it. Cover each angle and part of the bike. This is only to ensure that the dealer will not make any false claims of any damages that did not occur while the bike was in your custody.
Come to an agreement about damages
Write down on a piece of paper about what is to happen if you crashed the bike or if there were any damages. A written agreement between you and the dealer will be better than a verbal one.
Read your rental contract Carefully
A few rental agencies, in fact, have a rental agreement that they will get you to sign and will provide a copy of. Make sure you read the rental agreement carefully and clarify anything that you do not understand or agree with.
Get all the Documents
Along with the motorcycle, make sure you also get the Registration Certificate (RC), Pollution Under Control (PUC) certificate, and insurance documents from the dealer. Read through the documents and ensure they are all valid and up to date.
What to check before renting a Motorcycle
I am not a mechanic myself but listed below are a few things that you should check before taking delivery of the motorcycle. This will be applicable for all types of bikes on rent in Manali.
The Brakes
Take the bike for a quick spin and make sure it is riding straight and without any hiccups
Make sure the taillight, Indicators, brake light, and headlight, are all operational
Check the horn
Make sure that the tires have good pressure and ample tread
Ensure that the shock absorbers are not shot. Push forward and down on the handlebars to check the front shock.
Similarly, sit down on the motorcycle and thrust your weight back and down to check the rear shock absorber.
Also, check the front fork seal for oil leakage. If there is oil leaking on the front shockers, ask the dealer to fix it.
Listen to the sound of the engine. It should hum regularly. If it isn't, don't rent the motorcycle and ask for a different one.
Make sure the chain isn't worn out or has too much slack in it.
Take an overall look at the motorcycle. Notice any scratches or cracks, etc. If you find any, click a picture of it and point them out to the dealer. It will also be a good idea to note down all these things on a piece of paper and have both parties sign on it.
Avoid Booking Online
A lot of rental agencies have the option of booking the motorcycle online but it is better to book one on the spot. Take a walk through the market, see different bikes at different dealers, negotiate a deal and then finalize on the one.
Also Read: Manali Leh Highway Travel Guide
Manali to Leh Bike Rent
If you are renting a motorcycle from Manali for Leh, please know that it can only be used to reach Leh. You cannot use a Manali-registered bike for sightseeing in Ladakh.
Once you reach Leh, you will have to leave this motorcycle parked in the hotel and rent another Leh-registered bike for visiting other areas like Nubra and Pangong.
This is a very serious matter and please do not take this lightly. There have been incidents when Manali rented bikes were vandalized in Ladakh.
Manali to Spiti Valley Bike Rental
The rule above is only applicable to Ladakh and not Spiti Valley. If you are going to Spiti, you are free to use Manali bikes to ride to any of the areas there.
Please do note though that bikes on rent in Manali for Ladakh aren't always the best option due to frequent disputes between the Manali rental and Ladakh rental associations.
Manali to Rohtang Pass Bike Rental
Depending on which bike you chose from the list above, renting a bike for Rohtang Pass will cost you anywhere between Rs. 1000 to Rs. 2000.
If you are planning to visit the pass on a motorcycle, please make sure that you have some experience in riding a bike and that you know how to handle one in the hills.
There are some places before the pass where there is plenty of slush and bad stretches and you should be able to maneuver the bike there for a safe trip.
Manali to Solang Valley by Bike
Yes, you can rent a bike in Manali for Solang Valley as well. Manali to Solang Valley is about 13 kilometers in total so you can easily cover it in a day.
Also Read: Srinagar Leh Highway Travel Guide
Scooty on rent in Manali
Scooters like Activa too are available for rent in Manali. These are much cheaper than motorcycles and are best for moving around locally in Manali. I will however not recommend hiring one of these if you wanted to go to Rohtang Pass.
One day Bike Rent in Manali
Though some rental agencies have criteria for a minimum rental period like 3 or 4 days, you will still have no problem finding a place to rent a bike for one day. The majority of them, in fact, would lend you the bike for a day or two.
Bikes on Rent in Manali – Conclusion
That pretty much covers most, if not all, that you need to know about bikes on rent in Manali.  If you have any questions, you can ask in the comments section below. You can also contact me on Instagram to chat with me or subscribe to my YouTube channel and ask a question there.
This error message is only visible to WordPress admins
Error: No feed found.
Please go to the Instagram Feed settings page to create a feed.