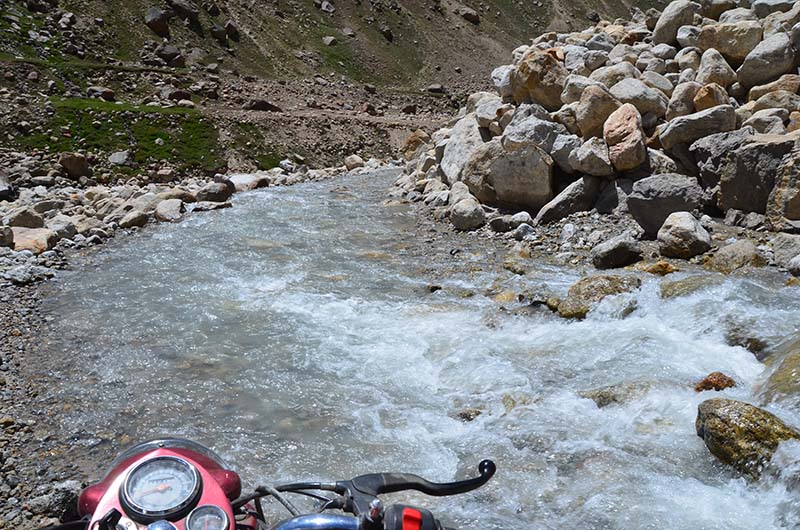 This post is in continuation with a previous one and a part of my Spiti Valley Travelogue. We completed the entire Spiti Circuit in a total of 10 days. The first 8 days were spent in reaching Kaza from Delhi via Kinnaur, with stops at Narkanda, Sarahan, Chitkul, Kalpa, and Nako on the way. Day 7 was spent in exploring Kaza town and the villages around it. On the 8th day, we reached Chandratal and then traveled back to Delhi on Day 9 & 10 via Gramphu Batal Kaza Road. The post below is a detailed log of our journey from Day 9 when we rode on the adventurous Batal to Gramphu road.
Along with the Sach Pass road and the cliffhanger route, this is among the most exciting roads that I had ever been on in my entire life. If you know how to handle a bike and are looking to add some thrill in your ride, this is definitely the road you must attempt. Your journey from Chandratal to Manali will be the one that you will remember for years to come.
If you want to read the previous part of this travelogue, please take a look at Kaza to Chandratal – The Beautiful Lake of the Moon. Else, continue reading below about  the route from Batal to Gramphoo.
Batal to Gramphu Road
The famous (or notorious) Batal Gramphu road is a stretch of 60 kilometers on the Manali Kaza highway. Gramphu is on the Manali end of this road and Batal on the Kaza end. Both of these places are temporary tent establishments that more or less serve as a rest stop for tourists and travelers.
What makes this road so talked about then? It is its very challenging nature and the off-roading experience that it offers. For its entire length, the road is a badly broken dirt trail full of numerous water crossings, waterfalls, slush, and loose boulders right on the road.
But it is not just the adventure but also the scenic beauty of the region that is a reward for the travelers. It is open for only 4 to 5 months and remains blocked by snow for the rest of the year. The road passes through a region surrounded by snow-capped peaks and offers stunning views mighty glaciers all around.
Also read: How to Plan a Trip to Spiti Valley
During the months of July and August, which is also the peak tourist season in the valley, the water streams turn even furious, fed by the water from melting glaciers and the incessant rains. I once traveled on this road in August and counted as many as 40 water crossings within 60 kilometers. The below picture should give you a fair idea of what I am talking about.
Gramphu Batal Kaza Road
The 60 kilometers of Gramphu to Batal road is a part of the 200 kilometers long Manali Kaza highway. Starting from Manali, this road will first have to climb up the steep ascent of Rohtang Pass. After driving down for 15 kilometers from Rohtang top, you will arrive at Gramphu where the road towards Spiti Valley bifurcates.
The condition of the road until here is mostly good with a few small stretches of bad. The real fun however starts after Gramphu and until Batal, as I described above. From Batal, the road condition improves but only slightly. You will still be driving on loose gravel and there will still be no tar on the roads.
After crossing the Batal bridge, you will start navigating through the steep uphill drive of 12 kilometers on the hairpin bends of Kunzum Pass. This is when the views will turn from good to stunning and you will get clear views of the glaciers all around.
Losar is the next village located about 18 kilometers from Kunzum Pass top. The drive will now be downhill but not as difficult as it was when going uphill. After crossing a major nallah at Losar, you will finally get to see a tarred road but an extremely bad one. Kaza is about 58 kilometers from here but the journey can easily take up to 3 hours due to the bad condition of the road and resulting slow speed.
Also read: Mobile Network and Data Connectivity in Spiti Valley
Batal to Chandratal
Chandratal is not exactly on the Manali Kaza highway. To get to the lake, you will have to leave the highway and drive on an extremely narrow road that is barely wide enough for one car.
The total distance between Batal to Chandratal is about 19 kilometers. Of this distance, the first 3 kilometers are on Batal Gramphu Kaza road as you drive towards Kunzum top. About 3 kilometers after Batal Bridge, you will reach the Chandratal road starting point.
Turn left from here and drive for another 14 kilometers to reach the end of the road. Here, you will leave your vehicle at the parking area and walk the last 2 kilometers to reach the lake.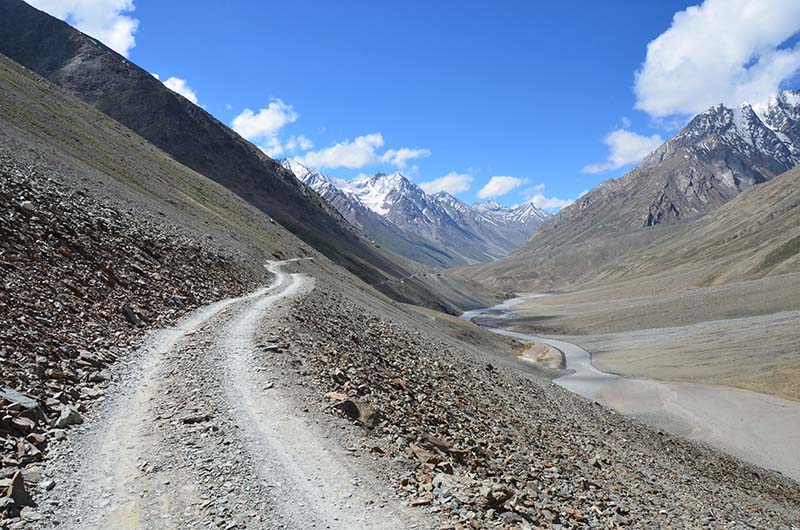 Day 9 – Chandratal to Sundernagar
Coming back to the travelogue, I know all these details about Batal Gramphu road now, after traveling to Spiti Valley several times in the last few years. But at the time of this trip, which was my first time there, I had absolutely no idea what the day had in store for us. I was actually much surprised by the narrow Chandratal road that we rode on the previous day.
Nonetheless, the night at the camps was an uncomfortable one but the morning was pleasant. My bed, though warm, was not really comfortable and I woke up with a stiff back. Narender was still sound asleep and I really envied him for that.
But the moment I stepped out of our tent, all the pains of the uncomfortable night were washed away by the amazing view I had in front of my eyes.
Thankfully, the owner of our campsite, Jamaica, was up as well and I asked him for a cup of tea. It was still early in the morning and except for the two of us, everyone else was still asleep.
Also read: Clothes for Chandratal Trip – What to Pack?
Morning at Chandratal
Jamaica and I got talking as we both sat there drinking tea. He had noticed my Nikon DSLR the day before and sensing my interest in photography, suggested that I should go to the lake now in the morning. He mentioned that since the water in the lake will be calm right now, I will be able to get some amazing shots of the reflections of the mountain in the water.
Paying heed to his advice, I picked up my camera and started walking to the lake alone. Narender was still sleeping and I did not wake him up. In a little while, I was once again on the shores of Chandratal and realized how true Jamaica's words were. The true beauty of the lake is indeed in the early morning hours.
I think I spent at least 2 hours at the lake that morning, just sitting and enjoying the plethora of natural beauty and peace. Shortly after, Narender too arrived and we walked a full circle of the lake.
Chandratal to Batal
We returned to our campsite and packed up our luggage. After a light breakfast of a bowl of Maggie and a cup of tea, it was time to start our travel to Manali.
I remember how heavy my heart felt at that moment. In a way, this was pretty much the last destination of our trip. From here on, it was just the return journey to Manali and then to Delhi. An amazing ride of 10 days was finally coming to an end and all that I ever wished for at that moment was to be able to do it all over again. I made a resolution that I will return soon on the Spiti circuit but I was able to do it only after 2 years.
I kick-started my Royal Enfield and we started riding back on the same narrow road for 14 kilometers. It was almost 10 AM when we finally left the campsite. Not much happened after that really. We reached Batal a little while later and stopped at Chacha Chachi Dhaba for a break.
We have only had a bowl of Maggie for breakfast so we were both still hungry. Thankfully, the Aaloo Parathas and the Sabzi at the Dhaba turned out to be really delicious.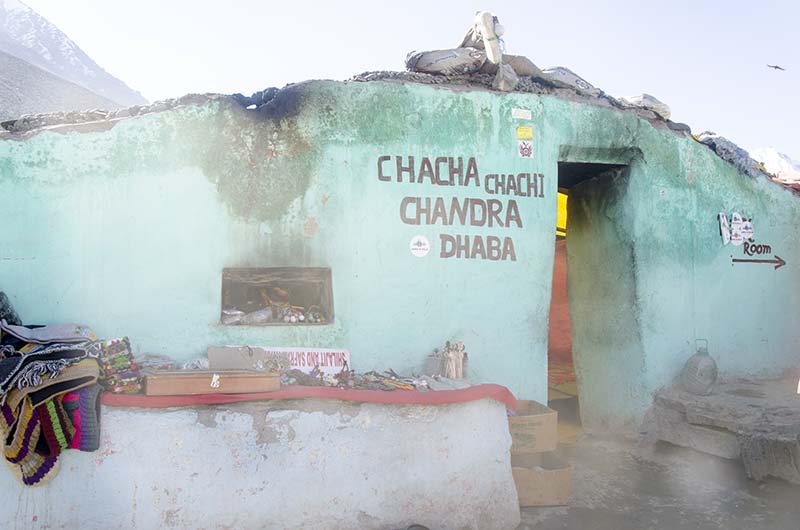 Batal to Gramphu
My heart was still heavy thinking that I am going back now and there is nothing in the trip left. Little did I know of what we were about to face now for the next 4 hours. The biggest adventure of the trip was yet to come.
Also Read: How to Safely Cross Water Streams on a Motorcycle
Shortly after Batal, we crossed a major water crossing and it never stopped after that. One after another we kept coming across rivulets, so much that after a while I looked up to the sky and prayed to God that it was enough.
My shoes did not dry at all. For the first 2-3 crossings, we stopped and removed shoes in order to avoid getting them wet. But after I realized that it was not going to stop, we did not bother. And it was not just about the nallahs but there were small puddles throughout the journey. There was absolutely no way that we could have kept our feet dry.
Finally, after what seemed like an eternity, we exited on Manali Leh highway near Gramphu and we both heaved a sigh of relief.
Gramphu to Manali
From Gramphu we rode up to Rohtang Pass and then stopped there for a cup of tea. After that, it was a downhill drive all the way through the beautiful valley of Solang. The next stop came at Kothi, just before Manali, and this is where I made a mistake.
Throughout the day, we had been riding with our helmets on. To be honest, we were both quite tired by then and our heads were hurting as well. Since Manali was just a little distance away, we decided to ride without the helmets, to feel a little fresh air.  We were anyway going to stay in Manali so leaving the helmets tied to the bike for a while made sense.
Just when we were about to enter Manali, we came across a checkpoint and were stopped by traffic police. I think this was the first time that I was ever stopped by traffic cops anywhere in the hills. As you can guess, I tried to talk my way out of it but to no avail. We ended up getting fined for riding without the helmets.
After paying the fine, we entered Manali and I was aghast by how crowded it was. It was people and people all around. On Narender's recommendation, we decided to skip Manali and continue to Kullu instead.
Manali to Sundernagar
I think it was 6 PM when we left Manali and the sun went down fast after that. Darkness was soon upon us and along with it came fatigue. The ride on the bad roads had left us both extremely tired and riding even a kilometer more seemed like a task. On top of it, I have not had proper sleep the night before and was now sleepy.
To make the matters worse, we crossed Kullu in the dark and did not even realize it. I noticed a few hotels on the way but we just kept going on for some reason until we realized that we had come a little too far.
Somehow, we managed it to Sundernagar and checked into a hotel there for the night. We were both so tired that we did not even bother to have dinner. We just entered the rooms freshened up, had a cup of tea and called it a night. I think the total time between our check-in and our falling asleep was 30-45 minutes at the most.
Journey Ahead – Sundernagar to Delhi
Conclusion
Please click on the link above to continue reading the next part of this travelogue. I hope the information above on Gramphu Batal Kaza road was of help. If you have any questions or need any other details, please feel free to ask in the comments section below, or at our Community Forum, and I will be glad to answer.