These days a lot of people say that they are visiting Lahaul and Spiti. Well, technically they only visit the Spiti valley and not Lahaul. Lahaul somehow always gets ignored as compared to its counterpart Spiti. People just treat it as a pit stop to Ladakh. But if one can take time out and explore Lahaul valley then one would surely appreciate the enormous mountains, pristine valleys, fecund slopes, and ancient Gompas.
Well, this may be about to change soon with the opening of the Rohtang tunnel just around the corner. This beautiful valley is so far untouched by tourism as it remains disconnected from the world for almost for 6 months during the winter season. After Rohtang Tunnel, it will be open all year round which could be a boon for tourism here. But I can only hope that it doesn't end up being like Manali, Kasol or Shimla. All these places are just swarmed by tourists these days which is taking a huge toll on these aforementioned tourist destinations.
Lahaul Valley has a unique culture, an amalgamation of Buddhism and Hinduism. It was once a part of the kingdom of Ladakh which comprised of Ladakh, Zanskar, Lahaul, and Spiti. Lahaul got separated from Ladakh in the second part of the 17th Century and ruled was by King of Kullu. Though Lahaul and Spiti are both included in the same district, their landscapes are very contrasting. Spiti is a cold desert and Lahaul is much greener and fertile as compared to Spiti.
Where is Lahaul Spiti?
Moving on, let me explain to you where exactly the Lahaul valley is located. Rohtang Pass or Rohtang La is basically the gateway to both Lahaul and Spiti valleys. Once you have crossed Rohtang and are on the other side of the mighty pass, you have officially entered the Lahaul and Spiti district. The first settlement you would come across is Gramphu. From Gramphu, if you turned right, you would approach Spiti Valley (or you may even actually call it a U-turn on a road parallel to the one that you would be as you drive down from Rohtang). This road leads to Batal to Kunzum la to finally Kaza which is Spiti Valley.
However, if you continued straight, you will enter Lahaul Valley.  On Lahaul side, the first village you would come across is Kokhsar. So basically Lahaul is located between Rohtang and Sarchu on Leh – Manali Road and from Tandi to Udaipur on Killar – Kishtwar road.
Also Read: How to Plan a Trip to Spiti Valley – A Complete Travel Guide
Lahaul Valley
Lahaul Valley has 4 sub valleys.
Tinan valley/ Ranglo Valley: Khoksar, Sissu up to Tandi
Ghar Valley (also known as Gahar Valley): Keylong, Jispa up to Darcha.
Todh (Tod) Valley: Darcha area up to Sarchu and Shinku la.
Pattan Valley: From Tandi to Udaipur including Miyar valley.
Talking about the places to visit in Lahaul Valley, the first you should know is that every Lahauli village is motorable. So if you are traveling by your own vehicle or self-driven rental, you should try to explore deep inside the valley and stay at such small villages' places rather than the main villages. That is only, of course, if there is an accommodation option available. In most of the cases, there are homestays at all these villages that offer a great view of the mountains. That being said, even the main villages of Lahaul can be considered as offbeat as it is still untouched by tourism.
Places to Visit in Lahaul Valley
Now let us talk about what to see in Lahaul Valley. Some of the places I am listing below you may have heard of before and some would be unknown. But rest assured, they are all equally stunning.
Also Read: Best Hill Stations for Honeymoon in India
Tinan Valley / Ranglo Valley
Khoksar and Sissu are the main villages in this area. From Sissu you can visit the villages of Shurthang, Teling and Jagdhang (to name a few).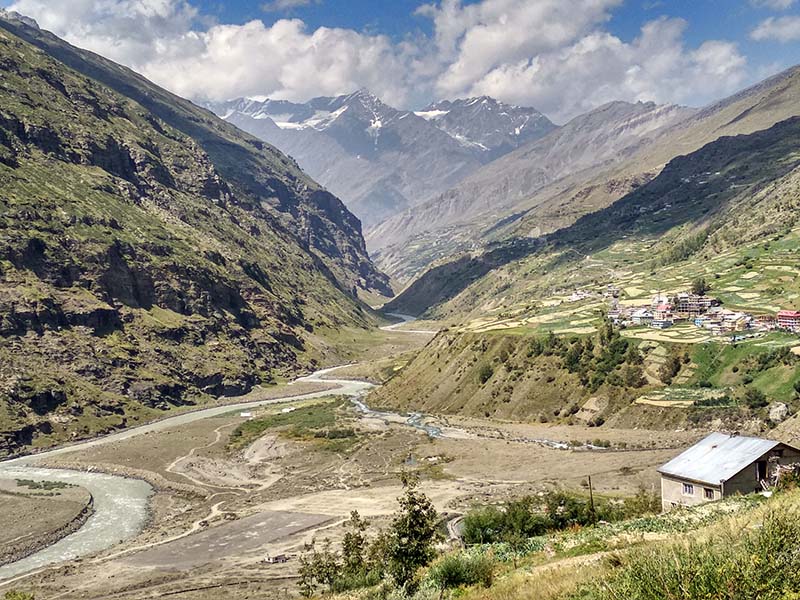 Sissu Waterfall
Sissu waterfall is visible from pretty much everywhere in Sissu and also the nearby upper villages. If you happen to have a 4×4 vehicle (or a bike) then you can reach quite close to the waterfall which would require just an hour hike from the point where a vehicle can reach. In any case, you will have to take a diversion from the Sissu nursery to reach the waterfall. It is pretty straight forward and easy to find but in case you are not able to, you can ask the locals as well for directions.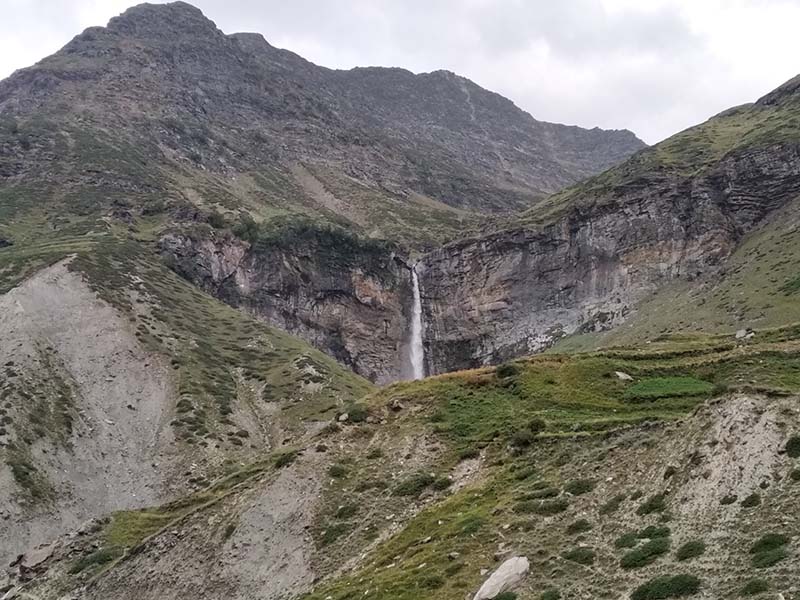 Labrang Gompa
One can visit also Labrang Gompa which is around a 3 kilometers hike from Sissu.  There is a cemented trail up to the village of Jagdhang and then the trail eventually meets a motorable road. Almost all the villages in Lahaul are motorable. The views are pretty breathtaking from those upper villages like Shurthang, Teling, Labrang, etc.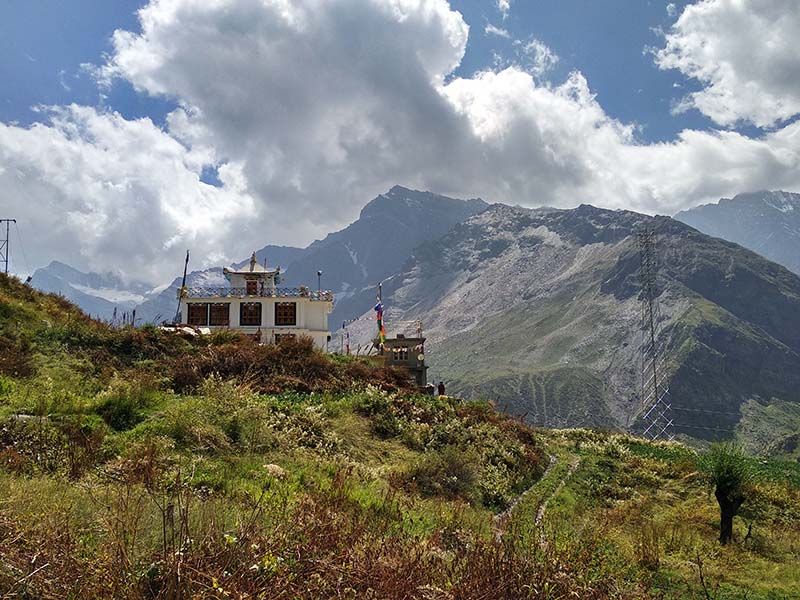 Ghepan Lake
If you are a seasoned trekker and love challenging yourself then you must trek to mystical Ghepan Lake. There is not much information available about this lake and even locals don't know the exact route. They all have heard about it but only a small number of people have actually visited the lake. From what I found out, the key is to find the correct trail leading to the lake which in itself is quite a difficult task; so taking a guide is strongly advised. It is very easy to get lost and get on a different trail if attempting on your own which will create problems.
Also Read: Jibhi – A Complete Travel Guide & Itinerary
Ghepan Raja Temple
Situated in Sissu, this is the most prominent deity of Lahaul Valley and almost all Lahaulis Worship Ghepan Raja. Unfortunately, I couldn't visit the temple.
Gondhla Fort
It is situated in the village of Gondhla and is around 18 kilometers from Keylong. You need to take a diversion from the highway in order to reach the Fort. It can be easily spotted from the main Leh – Manali Highway itself in case you don't have the time to visit it.
Ghar Valley / Gahar Valley (Keylong and Upper Keylong)
As soon as one enters the Keylong area, they would be welcomed by Lady of Keylong peak. Lady of Keylong would pretty much accompany you everywhere in and around Keylong Area. Keylong is the district headquarters and the main town of Lahaul Valley; and is located around 110 kilometers from Manali.
Gompas around Keylong
There are several beautiful monasteries around Keylong that are worth a visit. Even if you are not religiously inclined, the views you get from there gompas will make it worth your while.
Also Read: Sach Pass Bike Trip from Delhi | An Unforgettable Trip
Guru Ghantal Gompa
This is the oldest Gompa in Lahaul Valley and the most revered one. It is still as it was when built and has never been renovated. Guru Ghantal can be only reached by foot and the hike to the Gompa can be quite arduous as the trail is a ver steep one. It starts from Tupchiling Gompa which is located near Tandi Bridge. I didn't visit this Gompa but was told by the locals that the trail is a very scenic and the view from the Gompa will take your breath away.
Shashur Gompa
A Drukpa Sect Gompa, this was founded by a Zanskari Lama Deva Gyatsho. This is one of the biggest Gompas in Lahaul and also a pretty popular one. It is around 5 kilometers from Keylong. From the Gompa you get a magnificent view of the valley. You can hire a Taxi from Keylong in case you don't have your own vehicle. For people who are traveling solo on a budget, just hike to the Gompa following the motorable road.
Kardang Gompa
Kardang Gompa is perched on the opposite hill to Shashur Gompa. But it is quite far from Keylong. Actually, in order to reach this Gompa, you will have to first get to Tandi. After Tandi comes Kardang Village and finally Kardang Gompa. The Gompa is 18 kilometers from Keylong and the road from Tandi Bridge is not in good shape. Kardang Gompa can be also reached by foot from Keylong and is frequented by locals. The only tricky thing is to find the trail for which locals can be asked.
Tupchiling Gompa
This Gompa falls on the way to Kardang Gompa and is a branch of Guru Ghantal Gompa.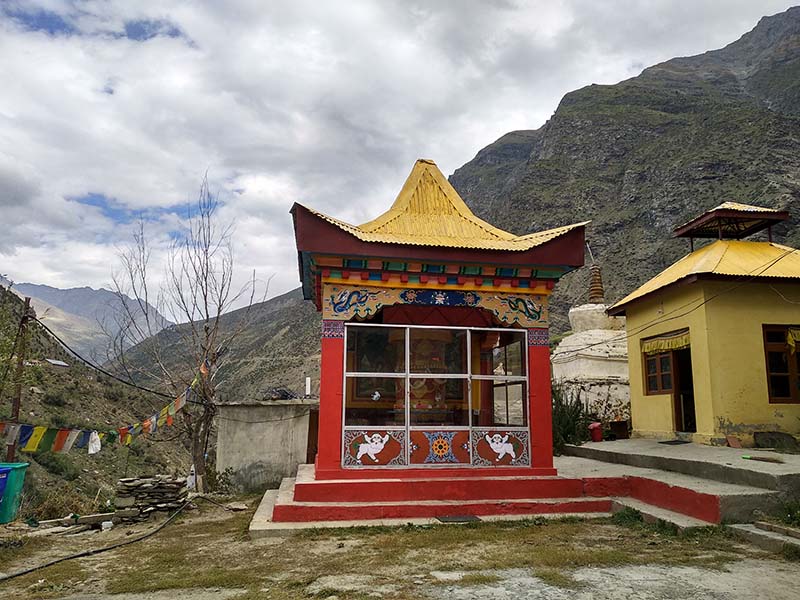 Bokar Gompa
Bokar Gompa is near Keylong and can be reached by a motorable road. I am not sure of the total distance though as I reached here on foot. There is a trail that goes up to the Gompa on the Leh- Manali Highway.
To reach the trail, just start walking on the Leh road for about a kilometer from the new bus Stand in Keylong. After a kilometer, you will find a small trail leading up to the Gompa. Please ask the Locals in case of any confusion.
Just make sure you don't take a different trail as there is one here. The second trail goes to a village nearby which eventually takes you to the motorable road. But it would just increase the total distance and would tire you out. The trail itself is uphill but it's not that difficult. From Keylong, the Hike would be around 3-4 kilometers.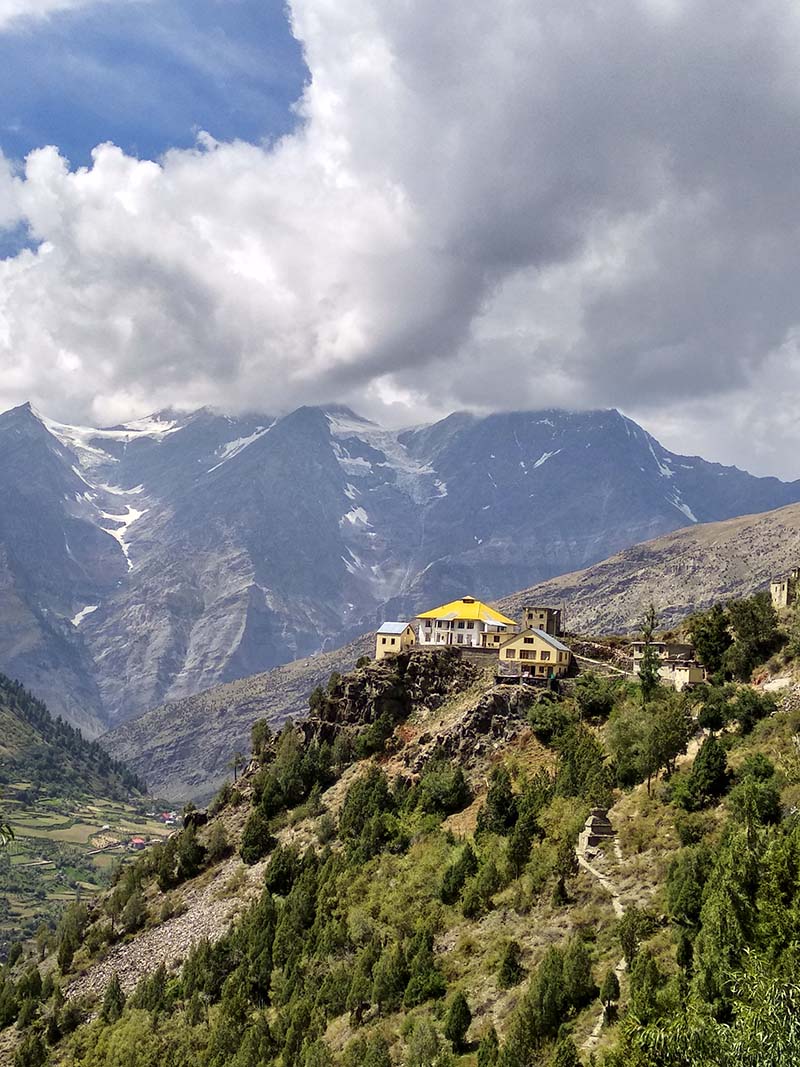 Gemur Gompa
Gemur Gompa is located between Keylong and Jispa. The village of Gemur is roughly 18 kilometers from Keylong and can be reached by the local buses going towards Darcha or Leh. Once you reach Gemur Village, you'll find two chortens following which, a trail would lead you up to the Gompa. The views from the Gompa are exquisite and you can spot the entire Jispa town from there. It takes around 15 minutes to Hike up to the Gompa and I would highly recommend visiting.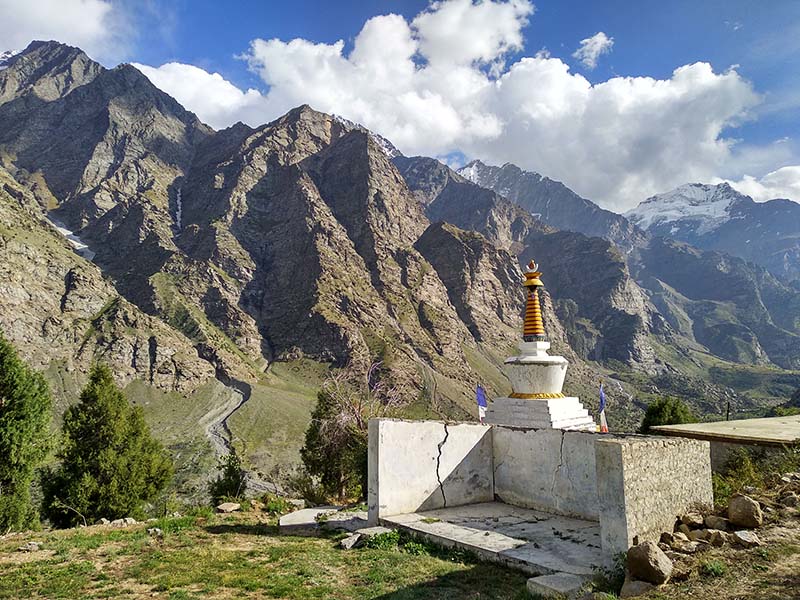 Tayul Gompa
Tayul Gompa is situated near Stingri Village which is around 5kms from the Keylong. There is a trail that leads up to the Gompa. The climb is uphill all the way and takes about an hour to complete.
Also Read: Trekking and Camping in Mcleodganj & Dharamshala
Khangsar Khar
Khangsar Khar is a 108 room fort in the Village of Khangsar. It used to be the seat of principle Thakur family of Lahaul. Much of the fort is in dilapidated state now and only 70-80 rooms are still intact as per the locals. Certainly, the fort's glory days are a thing of the past now. One can go inside the fort but most of the rooms are closed. You can reach the roof and see the vast fields of Cauliflower, potatoes, peas, etc. which is very common in Lahauli Villages. The fort may give you eerie vibes but there is nothing to worry about as it is completely safe to go inside it. The villages of Kolong, Kwaring, and Sarang can also be visited along with Khangsar.
Jispa
Well, this village is quite well known on the tourist map as it acts as a night halt for people going towards Ladakh. But don't get me wrong. It isn't just a pit stop. Actually, the very reason why it is a preferred pit stop is because of its immense scenic beauty. If you want to go camping in Lahaul, Jispa is one of the best and safest spots to do so.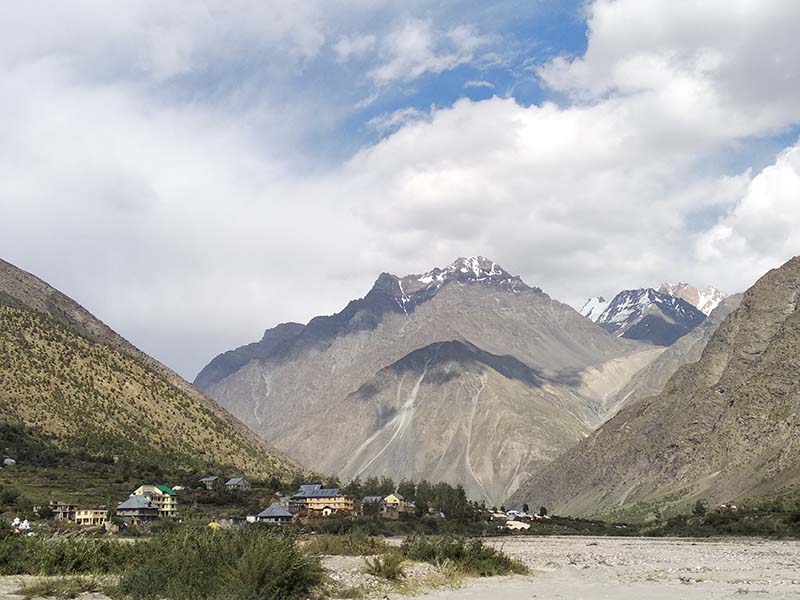 Todh (Tod) Valley
Let us now take a look at places to visit in Todh Valley, also spelled as Tod Valley. It is the area from Darcha to Sarchu and Shinku La (Shingo La) Pass.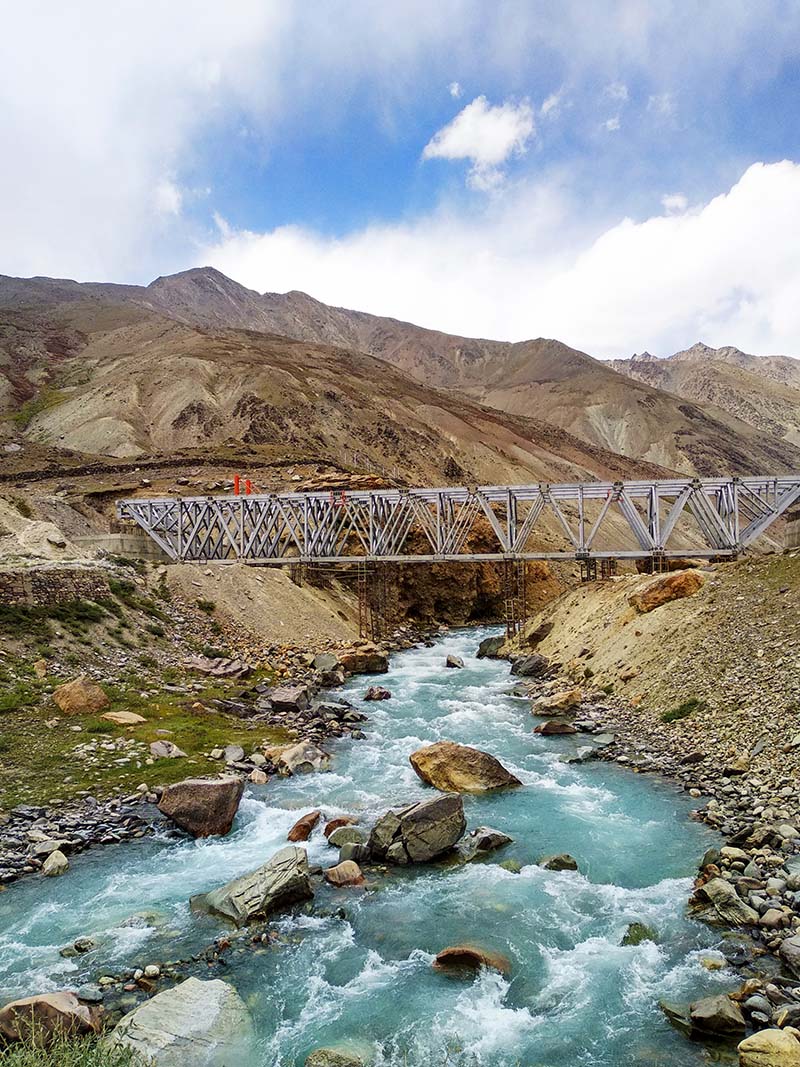 Baralacha La
Those familiar with Ladakh will know about this high altitude pass. It is around 79 kilometers from Keylong and at an altitude of 4,890 meters (16,043 ft), is also one of the most scenic spots on Manali to Leh route. It receives heavy snowfall each year and the top of the pass remains covered in snow all year long. The road from Manali to Leh opens when Baralacha La is freed of snow and closes once Baralacha La starts to receive snow. Another interesting fact about this pass is that it is also supposedly haunted. To know more, please read, The Cannibal of Baralacha La – The Ghosts of Ladakh.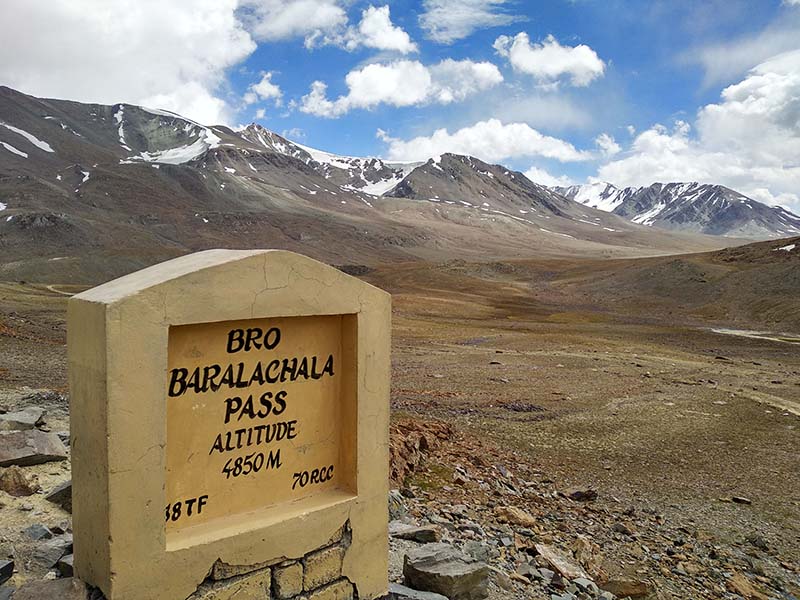 Suraj Tal
This is a small alpine lake located at the top of Baralacha pass. If you are into trekking then there is a trekking route from the famous Chandratal to Suraj Tal. Hiring a guide would be advisable as this is route may not be well marked. If you were traveling early in the season, like June or early July, there is a high chance that you will find Suraj Tal completely frozen or in a partially frozen state.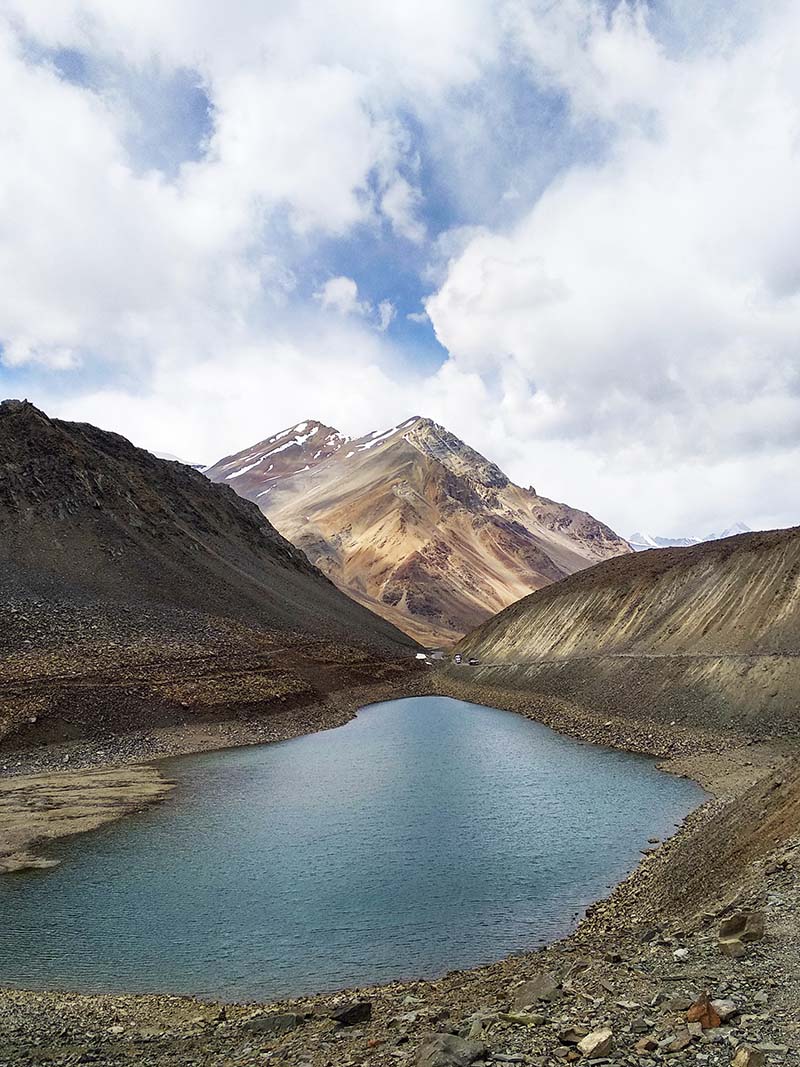 Deepak Tal
This is another small lake (even smaller than Suraj Tal) that can be seen on the road to Baralacha Pass.
Shinku La
Also known as Shingo La, Shinku la is now a motorable pass and is a gateway to Zanskar Valley. This will act as a shorter route to Zanskar Valley from Himachal Pradesh and would provide respite to the locals in terms of commute and also open up more tourism in Zanskar Valley.
Even though some 4×4 vehicles and Bikers have crossed Shinku La and even reached the first Village of Zanskar, the road is yet very dangerous. Even going to Shinku La should not be attempted unless you have good driving skills and have a 4×4 vehicle, let alone getting to the first village of Zanskar. As of now, the route has just been traced. Within a year or two, it will hopefully be all tarred. This route will be a motorable one from Darcha in Himachal Pradesh to Padum in Zanskar Valley.
Pattan Valley
The area from the Tandi to Udaipur comes under Pattan Valley. This is probably the least explored region of Lahaul valley and also the most scenic one.
Also Read: Chamba – A Comprehensive Travel Guide & Itinerary
Udaipur
Yes there is Udaipur in Himachal as well which might come as a surprise to some. It is a low lying land and a very fertile one as well. There are a plethora of apple orchards here as compared to the other parts of the valley. This quaint little hamlet situated in Pattan Valley acts as a gateway to Pangi Valley in Chamba district. It is around 55 kilometers from the district headquarters in Keylong.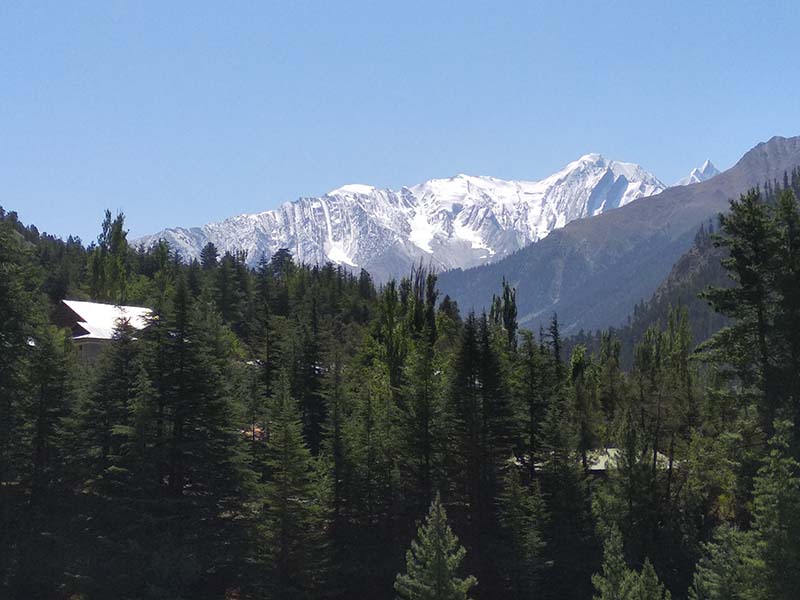 Mrikula Devi Mata Temple
This is one of the most ancient temples of the region and is located in Udaipur. It is famous for its intricate wooden carvings. The walls depict scenes from Mahabharata and Ramayana. It is a must visit temple if you are in Udaipur.
Trilokinath Temple
It is another ancient temple located in Pattan valley. This temple is revered equally by Hindus and Buddhists. Hindus consider the Deity to be Lord Shiva while the Buddhists consider the deity to be Lord Avalokiteshwara. This Temple is located at an altitude of around 2700 meters. It is located on the backdrop of splendid mountains and you can get a birds-eye view of the entire valley from here.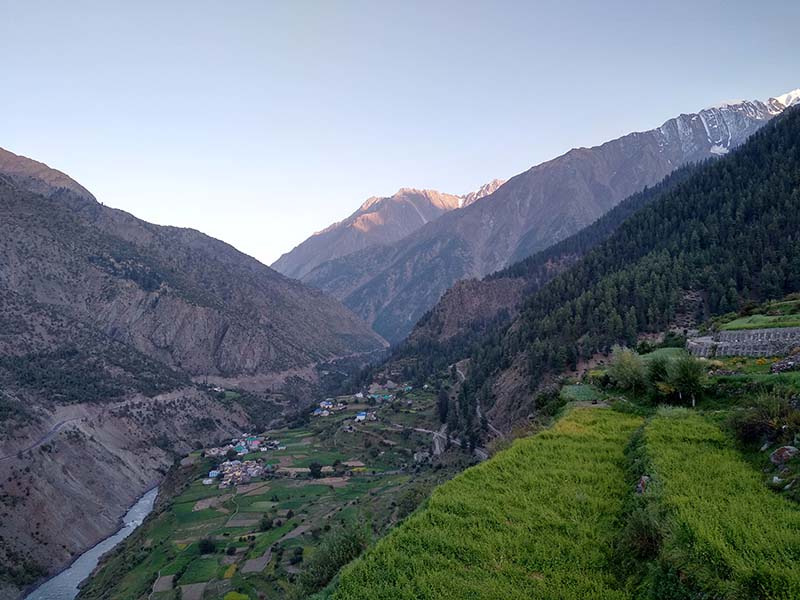 Miyar Valley
This is a sub valley of Pattan valley and offers the best of both Himachal and Zanskar. Once you enter the valley it feels like one has entered Kinnaur; and as you reach the end of the motorable road, you will see that the terrain is similar to Zanskar and Ladakh. Miyar Valley is mostly frequented by trekking enthusiasts and is very obscure among regular travelers. Villages in Miyar valley include Tingrit, Urgos, Shukto, and Khanjar. Shukto is the last motorable village.
Also Read: Bir Billing – How to Plan your Trip & What to See
Most of the people who come to Miyar Valley mostly trek to the high altitude alpine meadows at around 4000 meters which is a 10 kilometers hike from Shukto. If you want to take things up a notch, then one can trek to Zanskar Valley as well from Shukto via Kang La at 5,468 meters. It is a multi-day trek and of course a pretty difficult one. So do not attempt this if you don't have experience in trekking to such high altitude passes. Taking a guide along with you would also be quite mandatory.
However, even if you are not into trekking, Miyar is still an offbeat and a tranquil place where you can escape all the hustle-bustle of your mundane life and seek some solitude. The last point in Miyar valley is Shukto which is about 29 kilometers from Udaipur.
How to reach Lahaul Valley
Getting to Lahaul is very simple if you're using public transport. First of all, you need to get Manali which is very easy to reach these days. There are buses available from almost every major city in north India for Manali which includes both ordinary and luxury buses by HRTC, HPTDC and private tour operators.
Once you get to Manali, there are buses available for Keylong almost the entire first half of the day. Ram Parivahan and HRTC buses ply between Manali and Keylong almost every hour starting at 4 AM and the same goes if you want to return to Manali from Keylong. The buses will be available starting at 4 Am and then almost every hour.
If you are coming by your own vehicle, private taxi or self-driven car, then getting a permit for Rohtang Pass is mandatory. So make sure you get your permits ready which can be a little trickier during summers because of the tourist rush in Manali and towards Rohtang Pass.
Another thing to remember is that Rohtang remains closed on Tuesdays for private vehicles so make your travel plans accordingly. It is also recommended to leave early from Manali at around 4.00 AM otherwise there is a great chance of being stuck in the notorious traffic on the way to Rohtang.
Local Transport in Lahaul Valley
There are a lot of HRTC buses going from Keylong towards Udaipur on an almost hourly basis. The frequency of buses going to Darcha and other villages in Todh Valley is less as compared to buses going towards Udaipur.
Also, reaching Trilokinath is very simple as well as many buses ply from Udaipur towards Trilokinath every hour.
Below is the time table of HRTC buses to various places in Lahaul.
Where to Stay in Lahaul Valley and What to eat
The Best Way to explore is to stay in a homestay of a Lahauli Village. Most of the upper villages in Tinnan, Ranglo Valley, Ghar don't have many homestay options let alone hotels, but they offer a great view. So if you have your own vehicle, then maybe you can reach and stay in either of these villages as they are not exactly on the Main Highway. There is also almost no public transport you can board to reach these villages.
Main villages like Sissu, Khoksar, Keylong, Jispa, and Udaipur have hotels and homestays and decent connectivity. Prices here are quite reasonable and one can find decent accommodation without paying too much.
Also Read: Palampur – A Complete Travel Guide & Itinerary
Hotels in Sissu
Sissu has quite a few homestays and hotels which you can stay in. I recommend staying in a homestay as you can experience Lahauli culture this way and also try simple yet lip-smacking organic homegrown sabzi and Roti; and of course equally tasty daal chawal. I stayed in Woodvilla Homestay in Sissu and my experience was great.
Hotels in Keylong
Keylong is too crowded with hotels for my liking. if you are a budget traveler going solo then some places in the Keylong market do offer beds at Rs 100 per person. But I personally would recommend staying in Hotels near the New Bus Stand as it becomes easier to commute if you don't have your own vehicle. They are also not very expensive.
Don't expect authentic homestays near Keylong Bus stand and Market area. As I said earlier, if you want to experience Lahauli culture, then stay away from the Hotels and stay at upper villages in Ghar Valley which offer homestay. The only catch is that it is only is easier if you have your own vehicle.
Hotels in Jispa
Jispa has great accommodation ranging from budget hotels and homestays and luxury hotels and camps as it is located right on the Manali Leh route.
Hotels in Udaipur
Udaipur also has plenty of budget accommodations in terms of hotels and homestays. If you are visiting Trilokinath, there are a few cheap homestay options in the village. The temple has Dharmshala which has one private room and rest all are sort of dormitories that costs Rs 80 per bed. Temple also offers Bhandara to the pilgrims two times a day which you should definitely try out. The food is basic but is very tasty.
Also Read: Dharamshala Mcleodganj Trip – How to Plan & What to See
Hotels in Miyar Valley
Miyar valley doesn't have many options to stay. There are a few Homestays though, in Shukto and also in Urgos. Shukto, as I mentioned, is the last motorable village in the valley. I stayed in Tashi Homestay in Shukto which was quite decent.
What to Eat in Lahaul Valley
In Lahaul don't expect luxury hotels and fancy food. Don't hesitate to try out local food like Thukpa, Momos, Roti Sabzi and Daal Rice. The food here mostly is organic, homegrown and extremely tasty.  You won't get such vegetables in cities so do experience it. There are a few good restaurants in Keylong if you want to try something fancy.
Phone Network  in Lahaul Valley & Data Connectivity
Other than BSNL and Airtel no other network works in Lahaul. BSNL works almost everywhere except for Udaipur and Trilokinath Area. While Airtel works in just Keylong, Udaipur and Trilokinath area. But from what I heard from the locals, Jio will be operational very soon in the entire Lahaul valley.
Don't expect the internet to work with the BSNL sim here. You'll get WIFI in Keylong in the hotels but don't expect the internet anywhere else.
Conclusion
I hope the informaiton above about planning a trip to the beautiful Lahaul Valley was of help. I spent a few days exploring this untouched heaven in Himachal and would highly recommend visiting here. If you hav any questions, or need any other details, please feel free to ask in the comments section below, or at our Community Forum, and I will be glad to answer.