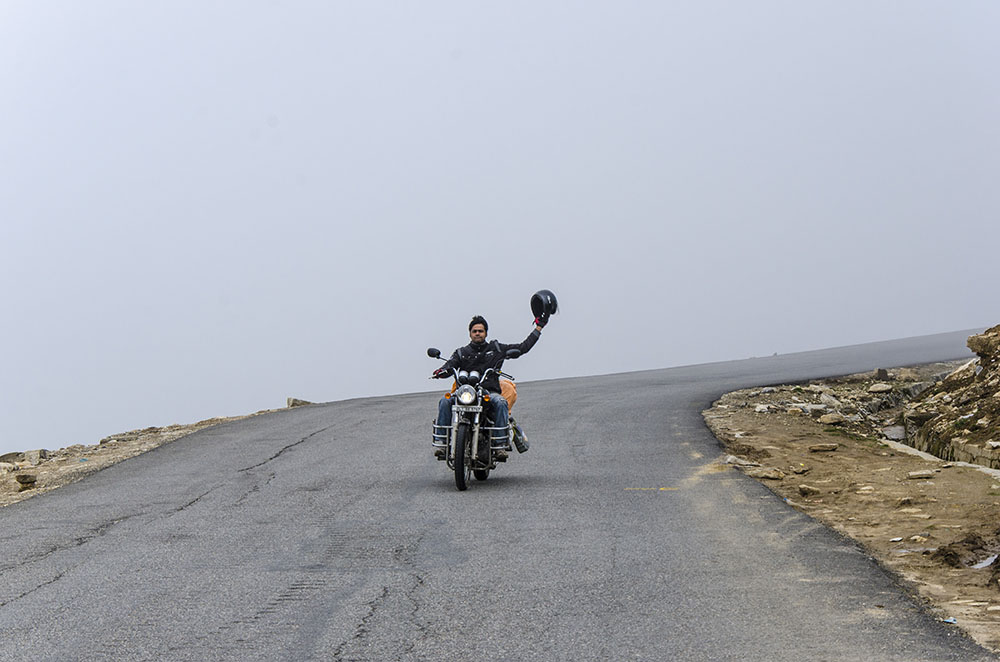 There are two ways that a permit for Rohtang Pass can be obtained. You can get it in person from the SDM office in Manali or you can apply for it online. Both the permits are issued from the same day limited quota of the total number of vehicles allowed. Getting the Rohtang Pass permit online can save you a lot of trouble and time. In this post, I will run you through the process of doing so.
Ever since its implementation, the permit rule for Rohtang has been troublesome to almost everyone traveling that way. Don't get me wrong, I totally support the "Save Rohtang Pass from Pollution" idea. But in the peak tourist season, it is a battle in itself to get the permit and to get it on time.
Thankfully, in order to make it easier for everyone, authorities have introduced several revisions and changes in the last couple of years.
One such relief was building a web portal where people could apply and obtain the Rohtang pass permit online. For more details on visiting the pass, please take a look at How to Plan a Trip to Rohtang Pass.
How to Get Rohtang Pass Permit Online?
There are two types of permits that get issued for Rohtang. The first one is the permit for 'Tourism purpose'. This one is for people who want to visit Rohtang Pass and come back to Manali the same day.
The majority of the tourists visiting Manali fall under this category. There is a daily limit for this permit and the maximum number of vehicles allowed is 1200 per day, further divided in 800 Petrol run vehicles and 400 Diesel engines. It is issued on a first-come, first-served basis.
The second permit is for 'Travel Purpose'. It is issued to people who want to cross Rohtang Pass to the other side. Anyone going towards Lahaul Valley, Ladakh, or Spiti Valley will fall in this category. There is no limit applied to this permit and these are issued as many as required in the day.
Rohtang Pass permit Online Booking
Now coming back to the question of how to book a Rohtang pass permit online? For this, you will have to visit the Online Portal of the Manali Tourism Department.
There are a few options on the page. Below is a brief explanation.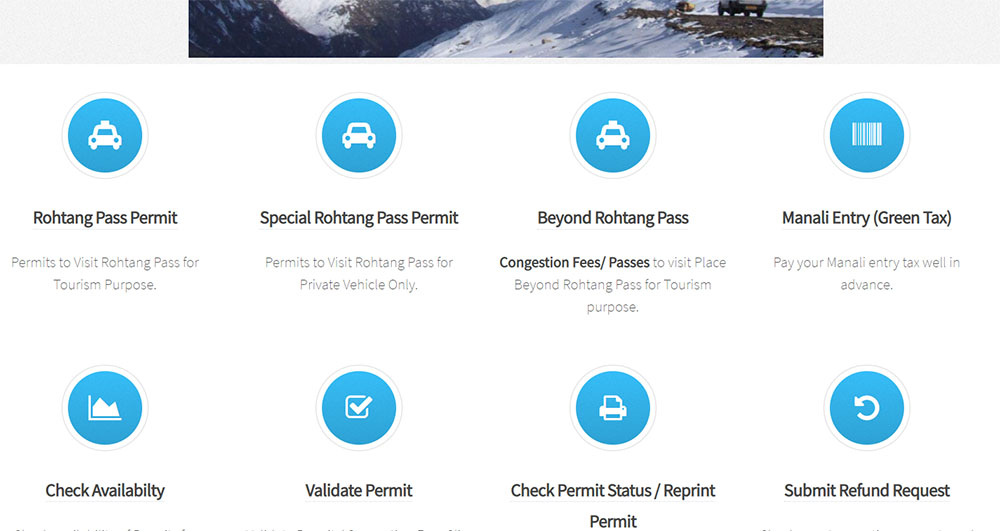 Rohtang Pass Permit
Your regular permit for visiting Rohtang on a day trip. This permit is issued for all days except Tuesdays as Rohtang is closed to tourists on this day for maintenance work.
Rohtang Pass Special Permit
This is the same as the regular permit but is reserved for personal vehicles only. Taxis and commercial vehicles cannot apply in this category.
Beyond Rohtang Pass
This one is for people traveling to Leh Ladakh or Lahaul & Spiti Valley. This is issued for all 7 days a week. So if you will not be coming back to Manali on the same day, you are free to travel on Tuesdays as well
Manali Entry Fee
This is to pay the green tax that you are required to pay just before you enter Manali. If you are applying for Rohtang Permit, you do not have to pay this separately. It will get covered in that permit fee only. If you do not want to go to Rohtang however, then you will need to pay this fee.
Then there are a few other options to check the availability of permits, to validate your permit and check its status, and to request a refund for the amount you paid.
From this list, please click on the link of the type of pass you wish to apply for. It will take you to another page that will brief you about the documents required to obtain the permit and the charges applicable. Submit your vehicle details, make payment and the permit is yours.
Please note the portal opens online for specific hours of the day and the timings change every year.
If you do not get an option to click on any of the links, it means that the permits are either not being issued, or the pass is closed.
Also Read: When is the Best Time to visit Rohtang Pass
Documents Needed
Documents required are pollution under control certificate, your vehicle's registration certificate, and your driving license.
Rohtang Pass Permit Fee
All vehicles will be required to pay a sum of Rs. 500 as permit fee and Rs. 50 congestion charge, so a total of Rs. 550 per permit. Buses and Heavy motor vehicles will have to pay Rs. 100 for congestion charge so a total of Rs. 600 per permit.
These charges are however applicable only for tourism purpose permits. For traveling beyond Rohtang (travel permits), you will only have to pay a congestion charge of Rs. 50. There will be no refund if you do not use or try to cancel your Beyond Rohtang permit.
Other Tips
You can apply for permits 2 days in advance. So let us say, for example, If I am traveling to Rohtang on the 3rd of a month, I can apply for permits from home on the 1st and then start the journey once I am assured that I have the permit.
Your vehicle should also not be over 10 years old or else you will not get the permit.
Vehicles coming from Lahaul, Ladakh, or Spiti to Manali do not need any permits to cross Rohtang Pass. This obligation is only for vehicles going from Manali towards Rohtang.
Also Read: How to Plan a Trip to Manali –  A Complete Travel Guide
Check-Post
A check-pot and Barriers have been set up at Gulaba with a computerized system to verify the permits. For example, let us say you obtained a Beyond Rohtang permit to go to the other side of the pass. But you tried to use this permit to just visit Rohtang top and come back to Manali the same day.
Please do not attempt this. . You will be caught at the Gulaba check post while returning. There will be barriers on both sides of Rohtang Pass recording the entry and exit of permits and vehicles in a computerized system.
Vehicles found in violation of the above law will be fined and black-listed.
Rohtang Pass Permit Offline
Permits at SDM office, Manali will be issued all 7 days (yes on Sundays too). You will need to visit the SDM office between 10 AM till 1 PM to submit your documents.
The permit will not be issued at the same time though. After submitting the documents, you will need to go back again between 3 PM to 5 PM to collect your permit.
Conclusion
If you were for any reason unable to get the permit on time, you will have to use the Atal Tunnel to get to the other side of the pass. If you were going to rent a taxi in Manali, the driver will arrange for the permit on his own. But it is always wise to clarify this with him first.
The same applies to motorcycles too. The bike rental agencies in Manali can arrange the permit for you for an additional cost.
I hope this information on how to get Rohtang Pass permit online was of help. If you have any other questions, please feel free to ask in the comments section below or at our Community Forum, and I will be happy to answer.