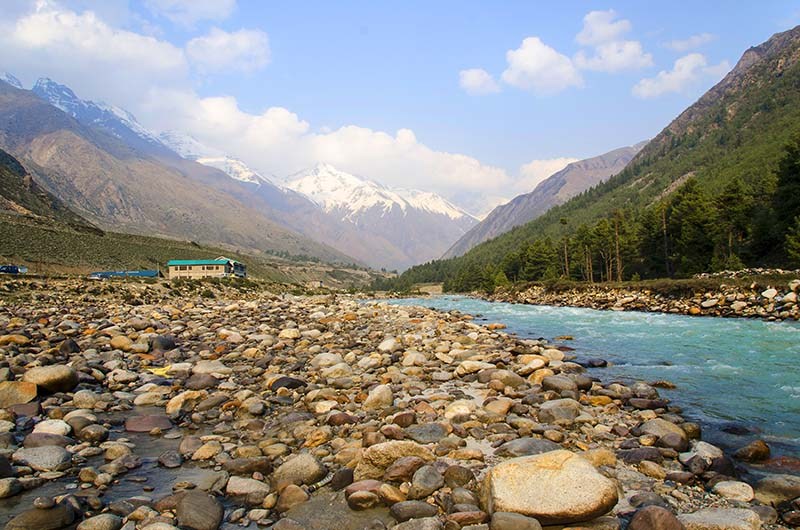 What is there to see in Sangla? While a direct answer to this question will always be the natural beauty and peace, there are several other beautiful places to visit in Sangla Valley that are sure to charm you and deserve a mention.  It is one of those last regions of Himachal that are easily accessible yet unexplored. You can spend days in Sangla and will still have not had your fill of it.
In this article, I will provide a list of all tourist places in Sangla Valley. This will include places in Sangla town, Chitkul, and other nearby villages. If you want to get more details like how to reach and where to stay, I will recommend taking a look at How to Plan a Trip to Sangla Valley – A Complete Travel Guide.
Also known as Baspa Valley and Tukpa Valley, Sangla Valley was once the old capital of the princely state of Bushahr. The old fort in Kamru village stands witness to the glorious days the valley has seen. It may not be carrying its royal status anymore, but the beauty of the valley is still no less majestic.
Surrounded with white snow-capped mountains and the Baspa River flowing right through it, it is a haven for anyone with interest in trekking, photography, wildlife, or for someone just wanting to spend some time in peace.
Places to Visit in Sangla Valley
The motorable road that runs through Sangla Valley is about 42 kilometers long. You leave the Shimla – Kaza highway near Karcham and then drive deep into the valley, right next to the Baspa River. The road ends at Chitkul and that is pretty much the end of it. Ahead of Chitkul is the India – Tibet border so you will have to drive back to Karcham once you are done visiting Sangla.
Below is a list of places that you will visit between Karcham and Chitkul.
Karcham Dam
It is not exactly in Sangla Valley but I am still adding it as a tourist attraction. This massive and beautiful dam works as a landmark because this is where you turn right, drive over the dam and enter Sangla Valley. The accumulated water of the dam turns into a large man-made lake and is indeed a sight to behold. It is definitely a good spot to stop and click some pictures.
Also Read: Kalka to Shimla Toy Train – How to Plan your Trip !
Baspa River
Baspa will remain to be your companion no matter where you are in Sangla Valley. It rises near the Indo-Tibetan border, flows down to Chitkul, through the valley for 40 kilometers, and finally joining Sutlej River at Karcham. On the way, it forms some of the most beautiful landscapes you would have ever seen. Taking a walk along the river is among the top tourist activities in Sangla Valley.
Challenging Roads
I agree that the road from Shimla to Karcham is challenging in its own way but it takes a whole new definition of tough once you enter Sangla Valley. The road will get much narrower and steep. On your one side will be a mountain wall with a risk of shooting stones and a straight drop into a gorge on the other side. If you were sitting inside a Bus, trust me, you will definitely close your eyes at several places.
Natural Beauty
Yes, the road will turn difficult but the vistas will turn amazingly beautiful. The altitude will increase drastically after Karcham and you will feel a chill in the wind. Even the speed of the wind will suddenly catch the pace. The sights you will get for the next 40 kilometers will make you want to stop at every turn and click more pictures.
Small Temple
A little before Sangla is a small temple along the narrow road. Every vehicle that passes here will stop to get blessings at the temple for a safe journey. The ambiance at the spot where this temple is also very peaceful, making it worth stopping.
Also Read: Bike Trip to Kalpa | Delhi to Kalpa Road Trip
Sangla
A little later after the temple, you will arrive at the heart of Sangla Valley, the small town of Sangla. This is also the center of all commercial activities here. Out here, you will find several hotels, shops, and even an ATM. A lot of tourists chose to stay in Sangla instead of Chitkul because it offers a far wider range of accommodation options.
Despite all this, Sangla is not really a large town. You will drive through it from one end to another in less than 10 minutes. It is really just a group of houses, hotels, and shops located at a very stunning location. In a bowl-like valley, Baspa River flows through like a snake and Sangla is right on its banks, surrounded by mighty lush green mountains all around. The below picture should be able to give you an idea.
Bering Nag Temple
This is a famous temple located in Sangla. It is also known as Nages God temple and is one of the most visited ones in Sangla. It is an ancient temple dedicated to Nages God, Lord Jagas, believed to be a form of Lord Shiva.
The temple is located a short walk down from the main market and is located almost at the bank of Baspa River. The short walk passes through a village with traditional and small backyard apple gardens. Every year in the monsoon season, (August / September), a grand even 'Fulaich fair' is held here that is attended by thousands of Kinnauri people.
Kamru Village
Located 2.5 kilometers outside of Sangla is the small village of Kamru. It was once the capital of the Bushahr principality. The village is divided into two parts. The main Village Kamru and Palika Kamru, a smaller hamlet located slightly above. A road to this village bifurcates near the bridge that you cross while entering Sangla from Rakchham's side.
Also Read: Solang Valley Travel Guide – How to Plan your Trip
Kamru Fort
Kamru village is best known for a tower-like structure at its highest point, known as Kamru Fort. The fort is believed to be almost a thousand years old and was built by Lord Badrinath himself.
The five floors high tower is beautifully made out of stone, bound at small intervals with wooden rafters, and topped with a gabled roof and a ridgepole. It has two entry points, a gate carved out of wood and another of metal. At the main gate, a stunning image of Lord Buddha greets the visitors.
It is said that the fort is, in fact, a shrine that is home to 33 crores (330,000,000) gods and goddesses. Inside the fort campus, there is another shrine dedicated to Kamakhya Devi that is said to have been brought here from Assam.
Badrinath Temple
This is a small temple dedicated to Lord Badrinath and located inside Kamru Fort.
Batseri Village
Batseri is a tiny village located about 8 kilometers from Sangla. A small narrow road from the main town will bring you to the village, right next to Baspa River. It is a good place if you want to stay with the locals as a paying guest and spend some time in absolute peace and tranquility. The villages are involved in making wooden handicraft items, handmade shawls, and Kinnauri caps. Pine Nuts are also grown here. So it is a good place if you want to buy some souvenirs for your trip.
Also Read: Kothi Village near Manali – How to Reach & What to See
Trout Fishing Farm
This is located on the way from Sangla to Batseri. Set up by the Himachal Government, it is known to be the first Trout breeding farm in India, set up back in 1926. They have made a bunch of small pools where they breed Trout fishes and then set them free in the river. You can also try your hand at fishing in the river (in Batseri) but will have to procure a permit for it first.
Wood Carving Center
This is another entry in the list that is not really for everyone. But if you have interests in handicrafts then this will surely please you. This is a small center in Sangla where the villagers practice their age-old skills of carving wood and turning them into handicrafts and decorative items. You can buy a few to bring back home and also observe the process.
Rakcham
Moving on from Sangla, the next place you will reach is Rakcham, also spelled as Rakchham. When you are in this area, it really feels like you are driving through a forest. There will be trees all around you as you drive on a dirt trail and crossing water streams.
Rakcham is a small village but it is more famous as a camping site. There are a few camps that you can choose from or you can even pitch your own tent. There is an ITBP check post here where you will be stopped to register before continuing to Chitkul.
Is it worth staying in Rakcham? Yes, if you want to stay in camps. This is probably the best camping site in all of Sangla Valley. The camps are available on both sides of the river. In fact, the ones on the other side of the river are right inside the forest and a great place to enjoy nature.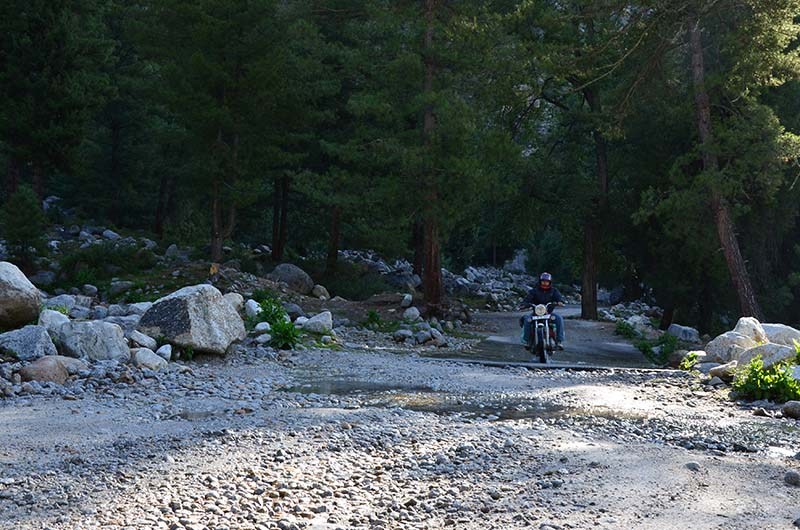 Chitkul
Shortly after Karcham, you will arrive at the most known place of Sangla Valley, the quaint little village of Chitkul. Its tag of the 'Last Village on the Indian side of the Border' attracts thousands of tourists each year. Of all the things to do and see in Sangla valley, Chitkul alone drives more than half of the tourism.
What makes Chitkul so special? Nothing really. It is just a little village hidden up in the mountains but the natural beauty of the place is like no other. I remember visiting here about a decade ago and I was so pleasantly charmed that I ended up extending my trip by 2 days so I could spend some time here.
Have you ever seen a painting of the mountains where a river flowing down the hill into a valley and there are a bunch of houses around it? That is Chitkul for you. A place straight out of the painting.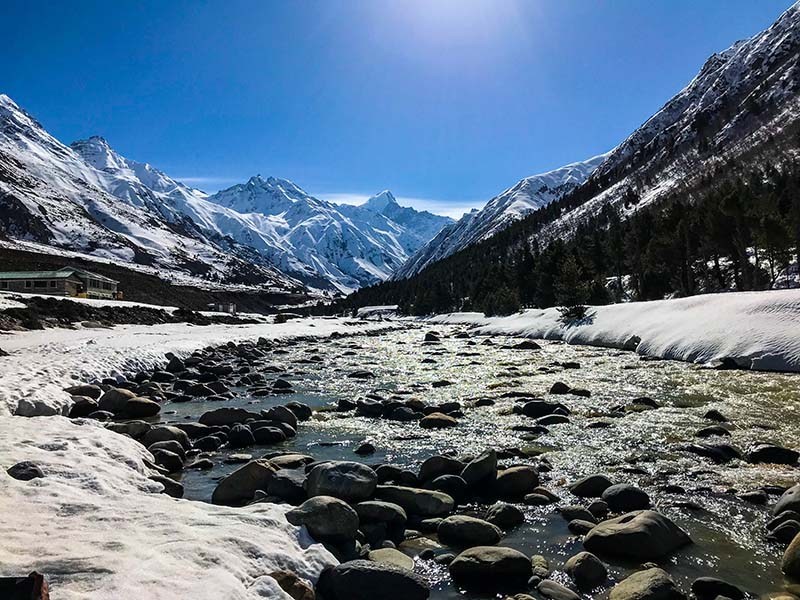 Tranquility
Offbeat places like Sangla Valley and Chitkul are perfect for some soul searching. It is very quiet and peaceful here. The only sound you will hear will be of the flowing river, chirping birds, or maybe of a local woman yelling at her kids somewhere far away. There is no traffic here, no crowd, and absolutely nothing to disturb you. The tranquility of the valley will have its effect on you, one that will last for months after you are gone back home.
Mathi Devi Temple
Dedicated to the goddess Mathi Devi, this temple is located in Chitkul and believed to be over 500 years old. As per the mythology, the goddess traveled a long distance before finally deciding to settle in Chitkul. After her arrival, the village prospered for which she is worshipped till date. The temple complex has three shrines in it and all three of them are beautifully built.
Chitkul Fort
A little ahead of the Mathi Devi temple is the Chitkul fort, which looks more like a watchtower actually. It is also the tallest building in the village; other than the newly coming up hotels of course. It is a three-story structure that towers over the village and is referred to as 'quila' locally. It is also a shrine but I think it is referred to as fort or 'quila' due to its tower-like structure.
Also Read: Dharamkot – A Complete Travel Guide & Itinerary
Things to do in Sangla Valley
Other than sightseeing at all of the places I mentioned above, let us also take a look at some of the other things that you can enjoy while visiting Sangla Valley.
Photography
It does not really matter what kind of photographer you were; whether a serious one with a huge DSLR or someone with just a fancy cellphone; you will find it hard to stop clicking pictures at every turn of the road. Out here in Sangla Valley, you will get some of the best landscape shots that you have every clicked. The warm people of the village with their Kinnauri Caps also present a perfect opportunity to get some good portrait clicks.
The pollution-free night skies light up each night with millions of stars. If you knew what you were doing and had a capable camera, you will have your fun getting some long exposure shots the night sky and star trails.
Nature Walks
There is a lot you can explore and the valley is best explored on foot. Just take long walks, spend time strolling through the villages and the valley, listen to the sounds of nature, and rejuvenate yourself.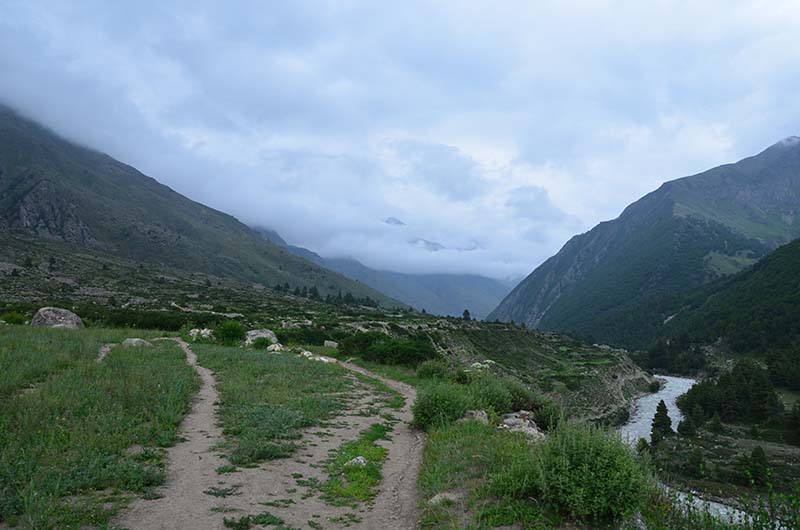 Rafting in Sangla Valley
Rafting is not really an option, unfortunately. I thought to add this point here because a lot of people ask me about it. The water of the river does not create many or large enough rapids to enjoy rafting. The depth too of the water is not that much. Baspa is a peaceful river that is suitable more for peaceful walks than rafting.
Talk to the Villagers
The villagers out here love to talk and share their tales. They have a lot of folklore and mythological stories that they can tell you about their gods and kings. Older people are of curse more prone to this and have better stories to tell, LOL.
This is one of the best things to do in Sangla Valley. Just get talking to the locals, hear out their experiences, find out how they live life out here in remote areas, and gain knowledge and experience.
Also Read: Tosh Village – A Comprehensive Travel Guide & Itinerary
Camping in Sangla Valley
Last but not least, camping is something that a lot of people enjoy in the valley of Sangla and you can too. There are several campsites in Chitkul, Sangla and near Rakcham where you can go camping. If you were carrying your own camping gear, you can go self-camping as well. Rakcham is probably the best place for camping but there are several spots near Sangla and Chitkul as well.
Trekking in Sangla Valley
Let us also take a look at the trekking options available in Sangla Valley. There are several trails leading out of both Sangla and Chitkul that are fit for all kinds of trekkers. Even if you were a complete beginner, you can still enjoy trekking here and let Sangla Valley be your first trekking experience.
Depending on the time you have in hand, you can either go on a short trek that will end in a day or plan a longer one lasting several days. Mentioned below is information on some of the best treks.
Nagasti ITBP Post
Nagasti ITBP Post is about 3-4 kilometers from Chitkul and is really an easy walk. You walk on a mostly straight path along the Baspa River to arrive at the check post and then return.
If you started from Chitkul after breakfast by 8 or 9 AM, you will easily make it to the post by 10 or 11 AM. Take a break, rest, have a discussion with the ITBP soldiers posted there, and head back to Chitkul to reach just in time for lunch.
Rani Kanda Meadows
Rani Kanda is on the same route as the Nagasti ITBP Post. From Chitkul, you will first reach Nagasti, register yourself and then walk another 6-7 kilometers to Rani Kanda Meadows. There is another ITBP check post at Rani Kanda where you may be asked to register again. Please carry a valid government-issued identity card if going this way.
The total distance from Chitkul to Rani Kanda is about 10 kilometers and will take you an entire day to reach. It is ideally a 2 days trek. You start from Chitkul, reach Rani Kanda, stay overnight, and return the next day.
Also Read: How to Plan a Trip to Chitkul
Lamkhaga Pass Trek
At an altitude of 5,282 meters (17,320 ft), Lamkhaga Pass is one of the toughest treks in Himachal that connects Chitkul to Harsil in Uttarakhand. The trek is a fairly remote one and takes at least 10 days to complete. The pass is located very close to Indo – Tibetan border and a permit needs to be obtained from Reckong Peo in order to attempt the trek.
Borasu Pass Trek
Borasu pass is a high altitude pass between high mountains that divide the states of Uttarakhand and Himachal Pradesh. At its summit, the elevation of the pass is 5,450 Meters. Yes, it is even higher than Lamkhaga Pass.
For this trek as well, you will reach Rani Kanda Meadows but take a different route after that. This trail will take you across Borasu Pass and will end at Har Ki Dun in Uttarakhand. On the way, you will also see the beautiful glacial lakes of Zhupkia and Morinda Taal.
Total trekking distance will be around 64 kilometers and doable in 6-8 days. Permits from Reckong Peo will be needed for this trek as well. Also, please note that this is a difficult trek and not suitable for beginners.
Conclusion
I hope the information above on places to visit in Sangla Valley was of help. If you have any other questions, please feel free to ask in the comments section below, or at our Community Forum, and I will be glad to answer.