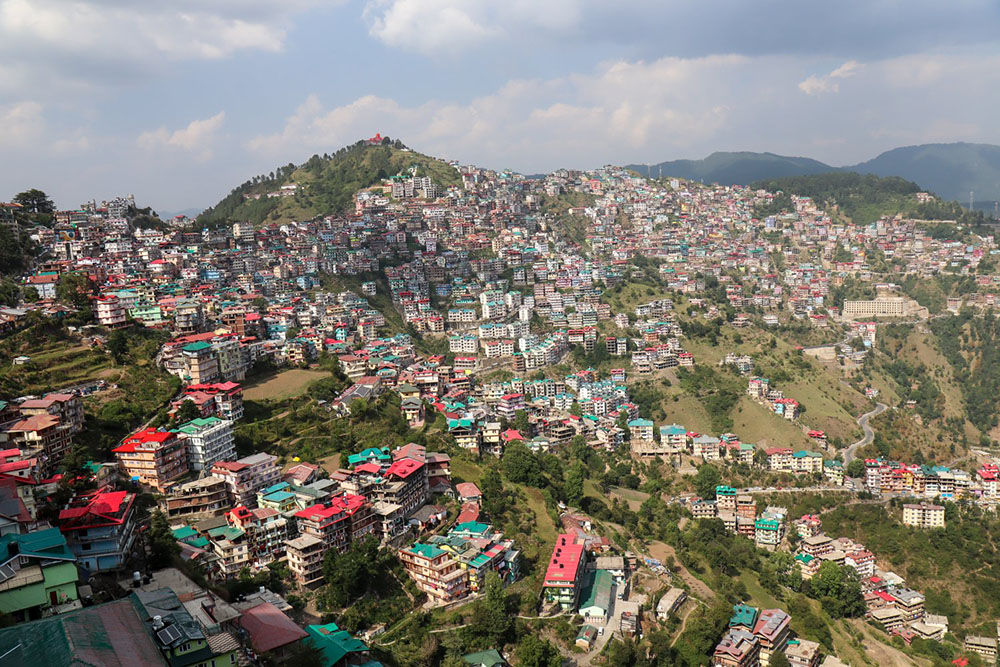 If one was to prepare a list of the favorite and most visited tourist destinations of our country, Shimla will definitely be at the top of that list. This small hill town has enjoyed the status of being the favored one for almost 2 centuries now. British arrived here in the early 1800s and liked the place so much that they declared it as their summer capital in 1864. They even took all the hassle of building a railroad to Shimla.
The British left a long time ago but Shimla still continues to enjoy the same status. The beauty of this place is no less than it was a century ago, and still attracts thousands of tourists each year from all parts of the country.
If you too were thinking of visiting Shimla in the near future, then in this article I will provide some quick tips on how to plan a trip to Shimla. Your final travel plan will of course depend on several factors like how you are traveling; how many days you have in hand; the time of your trip but I will add a few things in this article which will remain the same irrespective of all these.
About Shimla
Shimla, also known as Simla, is the capital and the largest city of the Indian state of Himachal Pradesh. It gets its name from Shyamala Mata, an incarnation of the goddess Kali. A temple, dedicated to the goddess and named Kali Bari temple, is situated near the Ridge.
The town is located at 2,276 meters (7,467 ft) and is fondly called the 'queen of the hills'. Before independence, it served as the summer capital of British India. After independence, it became the capital of Punjab and then finally the capital of Himachal Pradesh after the state came into existence.
Reasons to visit Shimla
What makes Shimla a desired destination for thousands of people however is because it is perfect for all kinds of vacations. From honeymooners to adventure seekers to families, the city serves as a charming retreat to a large number of people. The enchanting beauty of this hill station has attracted countless filmmakers and cinematographers. This erstwhile summer capital of the British, still retains its colonial-era charm through its spectacular historical churches and institutes, like Christ Church, Indian Institute of Advanced Study, and many more.
It is very well connected by road so getting here is not a problem. You never really go too remote and the famous market of Shimla is perfect for an evening of shopping around. Every modern-day facility is available here including good hospitals in case a medical emergency came up. All cell phone networks work in Shimla so you remain connected with your family and friends all the time.
Also read: Ghosts of Shimla and their Haunting Stories
Another great reason is the vast choice of accommodation choices available. No matter what your budget is, you will easily find a place to stay in Shimla. While the overall altitude of the city is enough to make it snow here, you never really climb up to a level where it becomes uncomfortable; or where you run a risk of suffering from acute mountain sickness. In short, it is a perfect destination to go to with family and also for a quick weekend getaway with friends.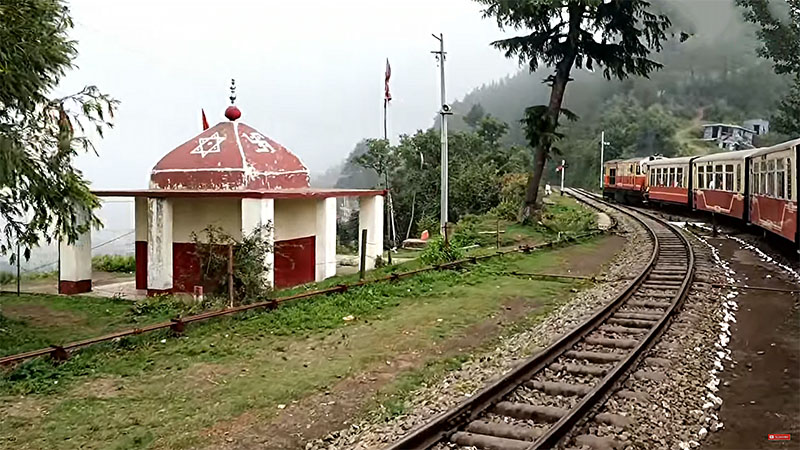 How to Reach Shimla
Reaching Shimla will really be the easiest part of your vacation here. The city is very well connected and you can reach either by road, air or train, depending on your own preference.
How to reach Shimla by Road
Let us first take a look at how you can reach Shimla if you were traveling by your own car or motorcycle. For the sake of explaining the route, I will assume that you were starting from Delhi. Even if you were coming from a different city though, only the journey till Chandigarh may change. The rest of the details will still apply.
Starting from Delhi, the route of the journey will be as mentioned below.
Delhi  – Panipat – Karnal – Ambala – Zirakpur – Panchkula – Kalka – Kandaghat – Shoghi – Shimla
The total travel time will be about 7-8 hours, depending on your speed and breaks. From Delhi, you will follow NH1 until Chandigarh. Do not enter the city though. Just before Chandigarh, turn right towards Kalka on Himalayan Expressway and follow the uphill road to Shimla.
This entire road remains in good condition all year. There is some road widening work happening between Kalka and Shimla due to which you may encounter some slow traffic. Once this work is completed, the entire road to Shimla will be a 4 lane highway, can you believe it?
How to reach Shimla by Bus
Shimla is very well connected by a regular bus service. There are daily buses available from almost all major cities in North India and finding one will be really easy. HRTC and HPTDC operate daily buses from Shimla to places like Delhi, Chandigarh, Jaipur, etc, and vice versa. Other state transport agencies as well as private travel companies also provide regular buses. Just do a Google search and you will get plenty of options.
If you were coming from Delhi, you can board an overnight air-conditioned luxury bus from ISBT Kashmiri Gate, or may even catch a daytime bus.
Also Read: Shimla Bus Stand Time Table
How to reach Shimla by Train
An even fun and better way however will be to get here by Train. Yes, I am referring to the famous toy. You can reach Kalka by either a train from Delhi or Chandigarh and then board the Toy Train. The entire journey is on a narrow-gauge rail track, covering a distance of 96 kilometers in about 7 hours. For more details, please take a look at How to Plan a trip by Shimla Kalka Train.
If you do not want to travel by this train, you can reach Chandigarh instead. From there, either board a Bus or hire a private taxi.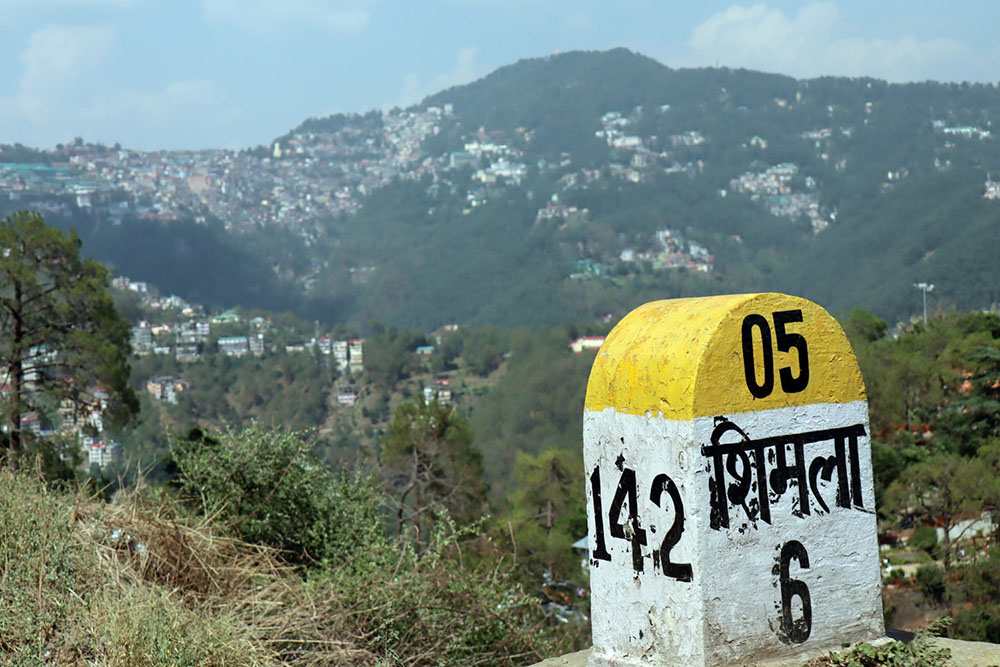 How to reach Shimla by Flight
Jubarhati, which is about 23 kilometers from the town, is the nearest airport to Shimla. There are regular flights going from Jubarhatti to Chandigarh and Delhi.
Other than Jubarhatti, Chandigarh is the next nearest airport.
Best way to reach Shimla
The best way to reach Shimla would be to travel by your own vehicle; either by a motorcycle or Car. The condition of the road, as I mentioned, is very good and it takes you through some really stunning landscape. You can take as many breaks as you want, travel at your own pace and enjoy the scenery.
Also read: Easy Winter Treks in Uttarakhand
What to See in Shimla
Shimla has a long list of tourist attractions. You can spend days here and still not be done with it all. Some places are right in the town whereas some others are at a little distance, like Kufri. If you drove a little further, you can even visit places like Narkanda and Thanedar, that are equally beautiful and even quieter than the main town.
I have covered the topic of sightseeing in a different article, Complete List of Tourist Attractions in Shimla and its Vicinity, that I will urge you to read. Adding all of these details here on this one page would have just rendered this article endless.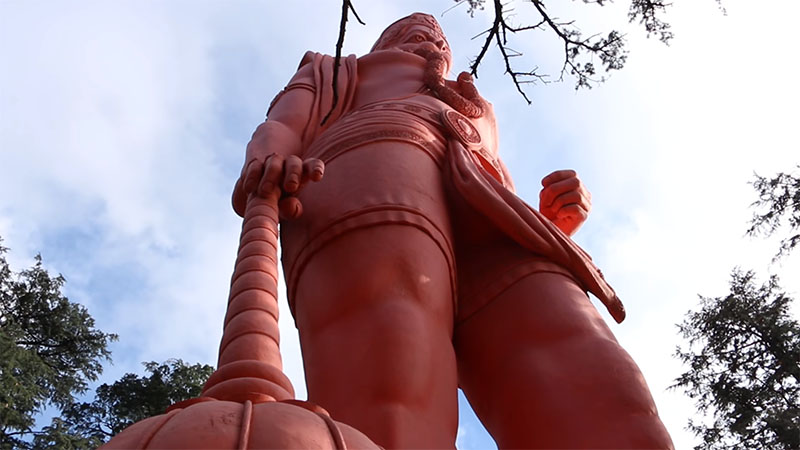 Places to visit in Shimla
But for a brief summary, below are some of the best places you can visit during your trip.
Mall Road: Main shopping street is known as "The Mall" or "Mall Road". It is more or less the center of all activity here and runs as the town's lifeline. Cafes, restaurants, and social hangouts on Mall Road are especially popular with locals and tourists alike.
Christ Church: It is the second oldest church in Northern India, dating back to 1857. Situated on The Ridge, it is one of the prominent landmarks of Shimla and a fine display of neo-Gothic architecture.
Scandal Point: It is known so because this is where the Maharaja of Patiala had eloped with the daughter of the British Viceroy. Back then, it was the scandal of the highest order.
Jakhu Hill: The highest peak around Shimla, at a height of 8,000 ft, offering a magnificent view of the valley around.
Shimla State Museum: Full of several ancient artifacts displaying the cultural wealth of Himachal Pradesh
Statue of Lord Hanuman at Jakhu Hill: This 108 feet tall statue stands at a height of 8,500 ft above sea level.
Viceregal Lodge: Dating back to 1888, this lodge was built by British architect Henry Irwin and served as the residence of the British Viceroy of India
Rothney Castle: Rothney Castle was the home of Allan Octavian Hume, the British civil servant who founded the Congress in 1885
Also read: Charleville Mansion Of Shimla – A Century of Being Haunted
Things to do in Shimla
Other than visiting all of the places mentioned above, here is a list of some other activities that you may indulge yourself in while visiting Shimla. I am not including things like hiring a cab and drive an hour to visit a nearby place, but things that you can do while staying in the town itself.
Take a Walk on The Ridge:  The ridge is an area near Jhaku Hill and the Observatory. This is the place where Shimla's fairs, festivals, and functions are held. Tourists come here to see several colonial-style buildings, a church, a library, and a statue of Mahatma Gandhi.
Trek to Jhaku Hill: At a height of 2,455 meters, the top of Jhaku hill offers a mesmerizing view of Shimla and the entire Shivalik range around. It is a fun trek of about 30 minutes to the top through lush forest terrain.
Shop at Mall Road: While you are in Shimla, do not forget to do some shopping at the famous Mall road and buy yourself some souvenirs.
Ride the Toy Train: Take a ride in the famous Toy train of Shimla. It is a journey of 96 kilometers that will take you over 864 bridges and 102 tunnels, including the longest one at Barog. Scenic vistas will accompany you throughout the journey and you will have a hard time to stop clicking your camera.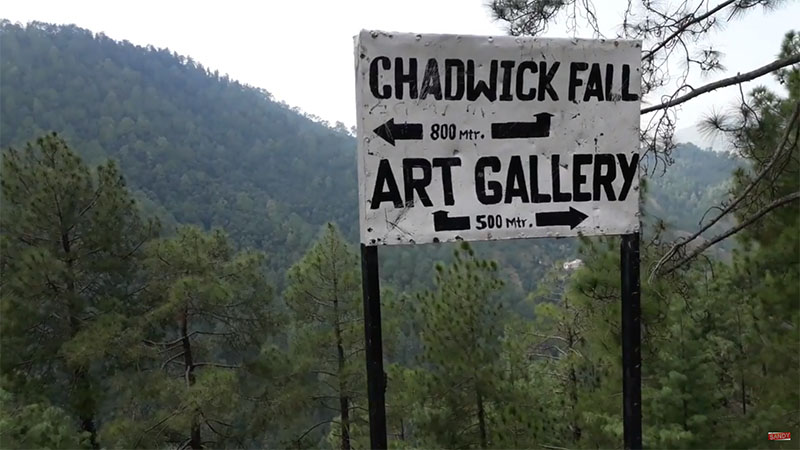 Weather of Shimla
The weather in Shimla is mostly cool throughout the year. The summers can be moderately warm but winters will be extremely cold. During the summer, the temperature will fluctuate between 10°C to 28°C. The average temperature during winter is 10°C to 0°C, but the record low temperature is −12°C.
Between late December to early February, Shimla receives plenty of snow each year and turns into a winter wonderland. Sometimes even the roads from Shimla to Mashobra or Narkanda can get blocked due to all the snow on the road. The night temperature in these months will drop close to 0°C.
The snow is mostly all gone by March, except for at the top of the distant peaks. April marks the beginning of the spring season and until the end of summer in June, Shimla receives the majority of tourists each year. People reach here to escape the scorching heat of the plains. But at this time, even Shimla can feel pretty hot and you may need to switch on the AC in your hotel room. The day temperature can go even beyond 30°C.
The months of July and August are of monsoon. Even though the scenic beauty at this time is at its best, it is not a safe time to visit anywhere in the hills. Shimla receives a lot of rain each year. Sometimes it can rain non-stop for days, causing landslides and making a trip very risky.
Also read: Top 10 Less Visited Places of Himachal
Monsoon departs in the month of September but leaves behind plenty of greenery. Autumn arrives in October and all that was green in September now turns Orange. November is mostly a dry month when the winter settles in once again and the average temperature drops close to 10°C.
Best time to Visit Shimla
Answer to this question will depend on whether you are planning a winter trip or in the months of summer; and what exactly do you seek. On an overall basis, the months from March to June are considered the best time to visit Shimla. This is the time when the weather is neither too cold nor hot. The temperature will range between 10°C to 28°C and both days and nights will be pleasant.
If you were however planning a winter trip and wanted to see plenty of snow, then the months of January and February will be the best time to visit here. The temperature however at this time can dip as low as −4 °C. So you must carry plenty of woolens, jackets and warm clothes. Chances of snowfall are more in January than February.
If you, however, would like to witness the lush green valleys, the months of July, August and September would be the best time. This is the time when the monsoon is either in the valley or has just passed and breathes in life to the fauna and flora of the region.
Please be advised that the rainy season also brings in the risk of incessant rains and landslides as a result. You may even get restricted to your hotel room completely if it rained non-stop.
When to go to Shimla
Below is a breakdown of the best time to go to Shimla for different kinds of trips.
Best time to visit Shimla for Apples: The apple harvesting season begins in mid-July and ends in August.
Best time to visit Shimla by Toy Train: The toy train remains functional for all 12 months so it is only a question of when is it convenient for you. Please take a look at How to Plan a Trip in Shimla Kalka Toy train for more details.
Best time to visit Shimla for Snow: A trip in January or February will be best if you want to see snow.
Best time to visit Shimla for Honeymoon: If you were planning your honeymoon, January to March will be the best time. September and October will be the next best months.
Best time to visit Shimla for Snowfall: Your chances of catching a snowfall are best between late December to early February. It can snow in late February or early  March as well but chances are less.
Best time to visit Shimla with Family: The months from March to June are best for a family trip.
Best Month to visit Shimla: September, in my opinion, is the best month to visit Shimla. For a winter trip, January will be the best.
Best season to visit Shimla India: Spring and post-monsoon are the best seasons to visit Shimla.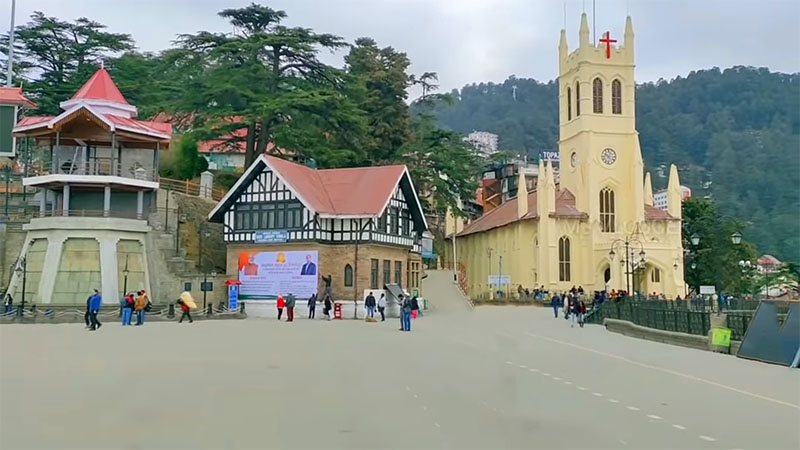 Where to Stay in Shimla
Shimla is one of the most visited hill stations in our country which means that no matter which month you arrive here in, finding a place to stay will not be a problem at all. Hotels here are available in every range, from luxury 5-star resorts to budgeted guest houses. You can easily find a room here for as low as Rs. 700 per night. As a matter of fact, the moment you enter Shimla, you will have agents chasing you for a good hotel deal.
Whether or not to book in advance depends upon your discretion but is not required. If you have already decided on a hotel and know where you want to stay, you may book. If you are on a budget or not sure of the hotel, then best would be to reach Shimla, find a hotel per your liking and negotiate an on the spot deal.
Also read: Offbeat Tourist Places in Himachal
Things to Pack for Shimla Trip
Below is a list of items that you should be packing for your trip.
Clothes
If visiting in summer, pack light cotton clothes for the day as the sun is quite strong. The temperature in the evening however may drop a bit so pack a light jacket as well.
If visiting Shimla in the winter, carry woolens, thermals, and a heavy jacket. To keep warm when it snows, boots, gloves, a cap, and muffler are essential.
If visiting during the monsoon season or in September, you should pack clothes that can dry faster, like polyester. If it was not inconvenient, you should also pack an umbrella or a poncho.
Other Items
Some other things to carry will include the following.
Government-issued valid identity card
Warm Caps (Winter)
Pair of Waterproof Warm Gloves (Winter)
Sunglasses
Sunblock lotion with highest SPF that you can find (if visiting in Summer)
Prescribed medicines if you are on medication
Head Phones/Earphones
Power Bank
Chargers for your electronic items
Umbrella or a Rain Poncho (if visiting during monsoon)
Torch
Snow Boots if visiting in Winter
Boots with a good grip if you are planning to go on a trek
Comfortable Lower if planning to go on the trek as jeans are not advisable for this purpose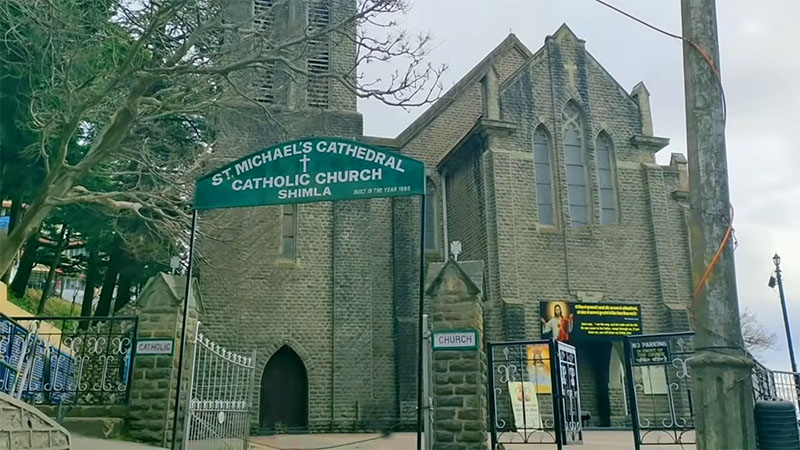 Itinerary for Shimla
How your trip finally plans out will completely depend on how you were traveling and the number of days in hand. But I will suggest a few different plans that you can follow, covering Shimla and its nearby areas.
I will suggest the itinerary assuming that you were starting from Delhi. Even if you were coming from a different city though, only the part about traveling to and from Delhi will change. The rest of the details will still apply.
3 Days Itinerary Shimla Trip Itinerary
Day 1 – Delhi to Shimla
Day 2 – Spend the day sightseeing in Shimla. Visit Jakhu Temple, Christ Church, The Ridge, and Mall Road. Take a drive towards Kufri
Day 3 – Return to Delhi
4 Days Itinerary
Day 1 – Delhi to Shimla
Day 2 – Spend the day sightseeing in Shimla. Visit Jakhu Temple, Christ Church, The Ridge, and Mall Road.
Day 3 – Take a drive towards Narkanda. On the way, visit places like Mashobra and Kufri. See Hatu Temple in Narkanda.
Day 4 – Return to Delhi
5 Days Plan
Day 1 – Delhi to Shimla
Day 2 – Take a walk on the Ride road. Later, visit Jakhu Temple and Christ Church. Spend the evening at Mall Road.
Day 3 – Take a drive towards Narkanda. On the way, visit places like Mashobra and Kufri. See Hatu Temple in Narkanda.
Day 4 – This day can be planned in 3 ways. Either you can spend it in Shimla just relaxing and enjoying the views. Or you can take a drive to the nearby Chail which is another great tourist attraction. The third way is to enjoy a ride in the Toy Train.
Day 5 – Return to Delhi
By Public Transport
The above plans were for someone traveling by their own vehicle. If you were coming by a Bus, below is how you can plan your journey.
Day 0 – Board an overnight bus for Shimla. In Delhi, you can get it from ISBT Kashmere Gate.
Day 2 & 3 – Spend the next 2 days in the town itself. Visit all of the local attractions in Shimla, eat out, and do some shopping.
Day 4 – Board the toy train and reach Kalka. From Kalka, reach Chandigarh Bus stand and find a Bus for your hometown. If you have no interest in the toy train, then find a Bus for back to your hometown from Shimla itself.
Another way you can plan this journey is by doing it the other way around.
Day 0 – Board a Bus late in the evening that can drop you at either Shimla or Kalka by the morning the next day.
Day 1 – Board the morning toy train for Shimla from Kalka. Reach Shimla and check into a hotel.
Day 2 & 3 – Spend the next 2 days sightseeing in Shimla.
Day 4 – Return to Delhi by Bus.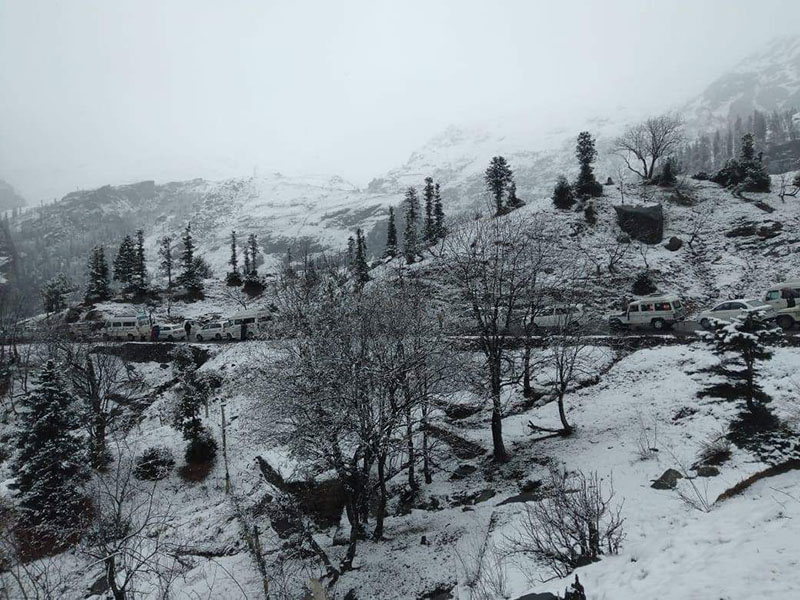 Mobile Network in Shimla and Data Connectivity
BSNL has the widest network coverage in Himachal but in Shimla, every cellphone will work fine. Irrespective of which network you were on, you will get reception and 4G data.
If I was to name one, I will say that Airtel and Jio are best mobile network in Shimla on an overall basis.  BSNL has a good network everywhere but data connectivity can be a little poor at times.
Hospital / Medical Assistance
Shimla is the capital of Himachal Pradesh and as such, it has good and large hospitals, capable of handling all kinds of medical emergencies. If you need medical assistance, finding it in Shimla will not be difficult at all.
But with that being said, I will strongly recommend carrying a few basic medicines like for flu, upset stomach, fever, body ache, and pain relief spray.
Petrol Pump / Mechanics
There are petrol pumps and mechanics available in Shimla. In fact, car and motorcycle companies have authorized service stations here so it will not be a problem at all.
Banks / ATMs
All major banks have their branches and ATMs in Shimla. I have been in Shimla on numerous occasions and have never had any trouble getting cash at any of the ATMs.
What & Where to Eat
Being a popular tourist destination, Shimla has an endless list of restaurants serving all kinds of dishes. Out here, you can try local Himachali food, North & South Indian, Chinese, Italian, and pretty much everything.
Where you eat will surely depend on where you were. Your breakfast will be at your hotel and lunch at a restaurant depending on your sightseeing plan. But for dinner, I will suggest that you go to Mall Road and try any of the restaurants there per your liking.
Shopping in Shimla
There are four places where you can try shopping. The first one is the Mall road, the heart of all the action and activity. The second and cheaper option is the Tibetan Market where you can negotiate for good deals on clothes.
An even cheaper place is the Lower Bazaar but is more for buying day to day commodities rather than shopping.
If you want to buy some decorative items, you should try Lakkar Bazaar.
Other than these 4 places, the Himachal Emporium is also a good place to buy some local handicraft items.
My favorite of all these is the Lakkar Bazaar. It is a great place to pick up some souvenirs for the trip. You can try Mall road as well but I found it better for eating than shopping.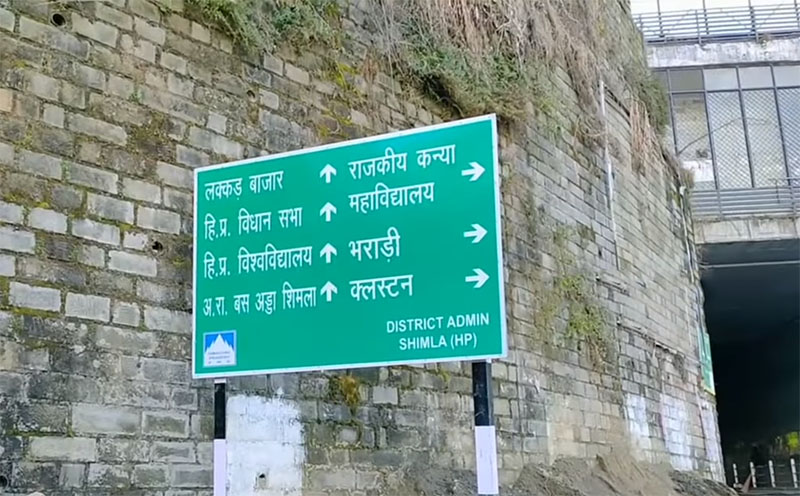 Shimla Road Condition
The entire stretch between Delhi to Shimla is a smooth run. Both NH1 between Delhi and Chandigarh and then NH22 between Chandigarh and Shimla remain in excellent condition throughout the year. The only problem on this stretch earlier was the narrow roads and traffic of Kala but with Himalayan Expressway being now operational, the complete journey has turned into bliss.
At the time of writing this article, there is road widening work ongoing between Kalka and Shimla so expect some slow traffic at places. But upon completing, this entire road will turn into a 4 lane highway.
The roads from Shimla to other places like Kufri, Fagu and Narkanda are also very smooth.
Best Vehicle
There is really no best vehicle as such. You will find the locals here driving around Maruti hatchbacks and even scooters. The only thing needed is that your vehicle is well maintained and capable of handling the ups and downs of the mountain roads. In fact, you will find most of the taxi drivers using a Maruti Alto for showing the tourists around.
FAQs
Below are some most commonly asked questions about Shimla.
When will Shimla Open?
Shimla remains open for tourism throughout the year and flaunts different colors in every season. While the months of June till September will present you with lush green and well-blossomed valleys; January and February will cover Shimla under a thick sheet of white.
Is Shimla Worth Visiting?
Yes, Shimla is definitely worth visiting and there is plenty to see here. It is not only nature lovers but also people with an interest in history and architecture that will be pleased after a trip to this historic hill town.
When does it Snow in Shimla?
It snows in Shimla between late December to early February.
Conclusion
I hope the information above on planning a trip to Shimla was of help. If you have any further questions; please feel free to ask in the comments section below, or at our Community Forum; and I will be glad to answer.