Chandigarh is referred to as "The City Beautiful" and you can find the beauty here in every corner. It is the only union territory that serves as the capital to two different states, Punjab and Haryana. Le Corbusier who was a Swiss French architect designed this dream city of former Prime Minister Pt. Jawaharlal Nehru. He manifested the vision of Nehru and you can sense it during your visit here. If you were planning a trip to Chandigarh anytime soon then below is your complete lit of places to visit in Chandigarh and some fund things that you can be a part of.
Many of the wanderlusts around don't know yet about this beautiful and zealous city. Chandigarh is unique, and you get to know this from the moment you step in. It is the first planned city of India and everything so well-maintained around is evidence to it. The lush green surroundings; fences covered by trees; cleanliness around; kind-hearted disciplined people; fashionable folks; and the rich Punjabi food loaded with butter is enough to hold anyone captive. People are full of life here and celebrate every festival, event, etc. that come across with complete joy.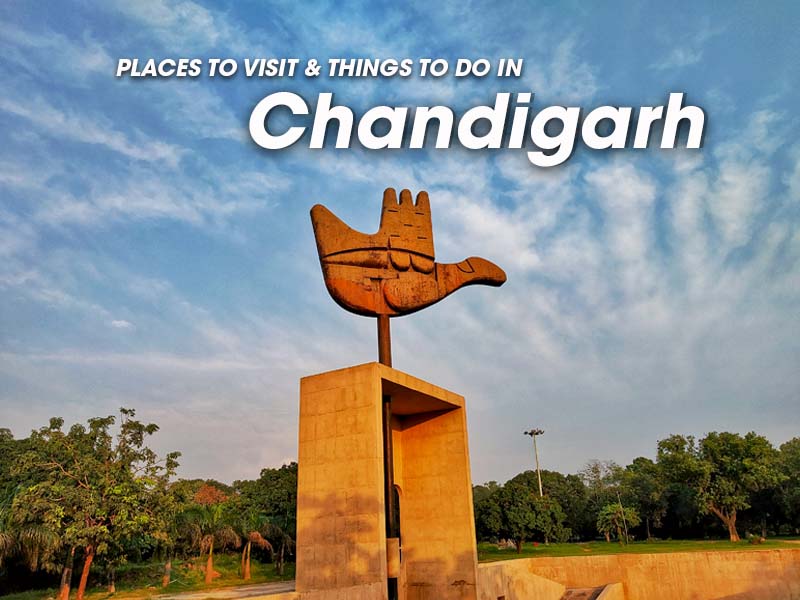 It's been two years since I am living here and I don't know what so alluring the aura of this city has that I don't want to go back. Whatever you think, this city has it all in ideal proportion, from an active lifestyle to a vibrant nightlife.
Places to visit in Chandigarh
The travelers are not so aware of the places to visit in Chandigarh and the things they can do while being here. They perceive that this city is just like a city, a long line of houses and nothing else. But here I am with my list to change your perception and make you visit "The City Beautiful" the next time you head to north India.
With so much beauty to witness around, let me take you on a stroll. I am considering that you are already in Chandigarh. Below are the things to do and places to visit in Chandigarh that you definitely should not miss at any cost.
Relish Authentic North Indian Food
First things first, with your stomach growling, how can you move around in this paradise? If you are in Chandigarh and haven't tasted the Punjabi cuisine yet, then you are not doing justice. There are various restaurants in and around the city at every corner in every market that serve finger-licking good food. It doesn't matter whether you are going with your beloved, family, group of friends or even alone.
The eateries here are acquainted with the art of satiating your taste buds. Get ready to be welcomed by gleaming smile and warmth you never experienced before. Some of the famous outlets that I have tried myself are Pal Dhaba, Nukkar Dhaba, Sindhi Sweets, Haramrit Vaishno Dhaba, Khalsa Dhaba, Amritsari Kulcha Hub, Roll express and many more.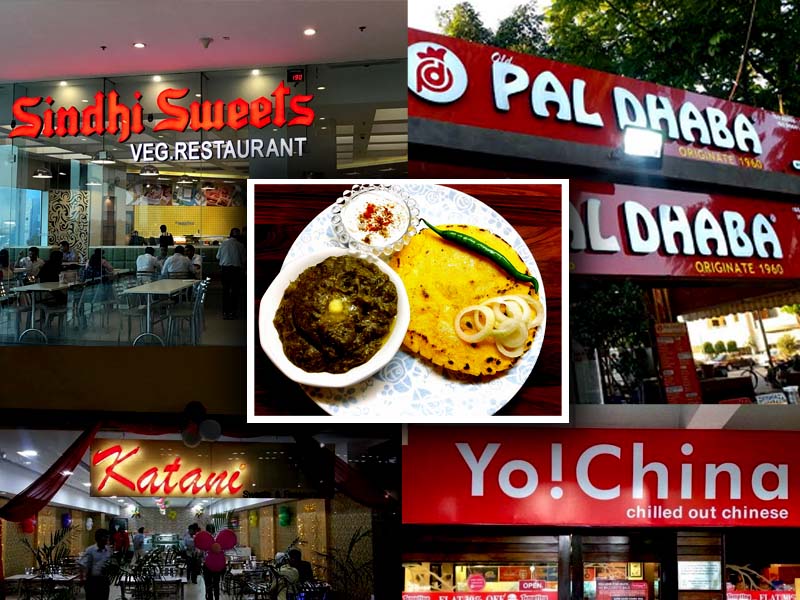 Whether you are looking for breakfast options or dinner, they have it all. Don't be amazed to see butter dripping down as Punjabi's are so in love with Desi Ghee, Cheese, and Butter.
What & Where to Eat in Chandigarh
Let me help you with the order. Pick Sarson ka saag, Makki di roti with lassi, butter chicken, kulcha, stuffed paratha, Dal makhani or anything else you like from the menu. Without spending enough pennies, fill your stomach. Devour seasonal desserts like Gajar ka halwa, Gulab Jamun, Rajbhog, etc at the end of the meal.
Moreover, every sector has its market where you can find plenty of food options that are both hygienic and tasty. Looking for Chinese food? Then head to sector 15D or Sector 23 of Chandigarh, which hosts the Chinese food market. I tried their momos, Thupka, haka noodles, and shakes. Your taste buds will definitely bring you back to these places.
Don't forget to try or get the sweets packed from Sindhi Sweets, Gopal's, Sai Sweets, Katani sweets, or Lovely sweets to share with others at home and carry the taste of Chandigarh. Tummy full, let's move to see what more this place holds for you in its closet.
Sukhna Lake
Begin your day from Sukhna Lake, located in sector 1 of Chandigarh. A clean manmade lake nicely seated on the foothills of Shivaliks is thronged by both locals and tourists. Le Corbusier established Sukhna Lake to let the dwellers have someplace where they can come any time to relax, experience nature, and get a much-needed escape from the never-ending hustle-bustle of the city.
3 km wide lake with pavements around set the picturesque scene to make anyone adore Mother Nature. During the early hours of the morning, experience the dawn here with sunlight scattering on the water, making it dazzle. Often the joggers and strollers can be found here following their physical regime. Come here to rejuvenate and feel gratitude for the gift nature has bestowed us with.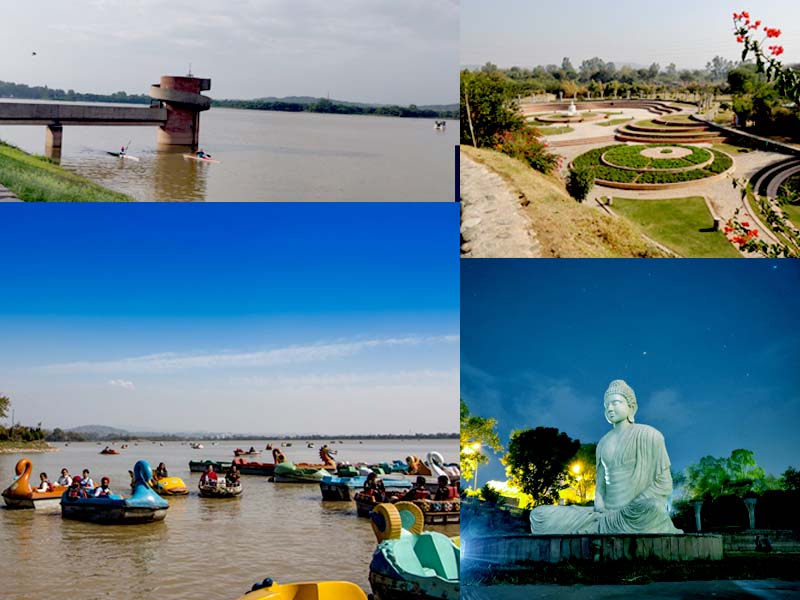 The CITCO Chandigarh, in the lake's premises, serves Punjabi and Chinese cuisine, with a variety of beverages to freshen up. I had the best Malai Chaapever from here, which I still miss sometimes. To experience a bit of thrill, do boating, hop on a camel, do shikara ride, ride the angry bull, and get a portrait of yourself done. Click photographs and buy souvenirs from shops around to carry home.
You can walk or rent a bicycle for going to the other end of the Sukhna Lake, catch sight of a giant statue of Buddha there with hands folded in lap and concentric steps around it. It is called the Garden of Silence; meditate here for a while to fill yourself with good vibes.
After spending a few hours with nature here and breathing in the fresh air, let's move further.
Rock Garden of Chandigarh
The Rock Garden of Chandigarh built by Nek Chand is genuinely a wonder from waste items like broken plates, pots, bangles, tiles, mirrors, cups, wires, rocks, and other discarded objects. Every item or the structure you see here is made from trash. Yes, I am serious.
It portrays how even trash can be utilized to create beauty. Every day thousands of tourists come here to see the excellent piece of art and wonder the extent to which the human mind can think. Started as an illicit affair, Rock Garden is now a blessing for Chandigarh.
It is divided into three phases; every phase depicts a different story. Catch sight of a manmade waterfall, human sculptures, and open ampi theatre in the mini village. Photogenics, don't forget to click some good shots. It opens at 9 AM and you should reach here early to acknowledge the masterpieces created from Debris.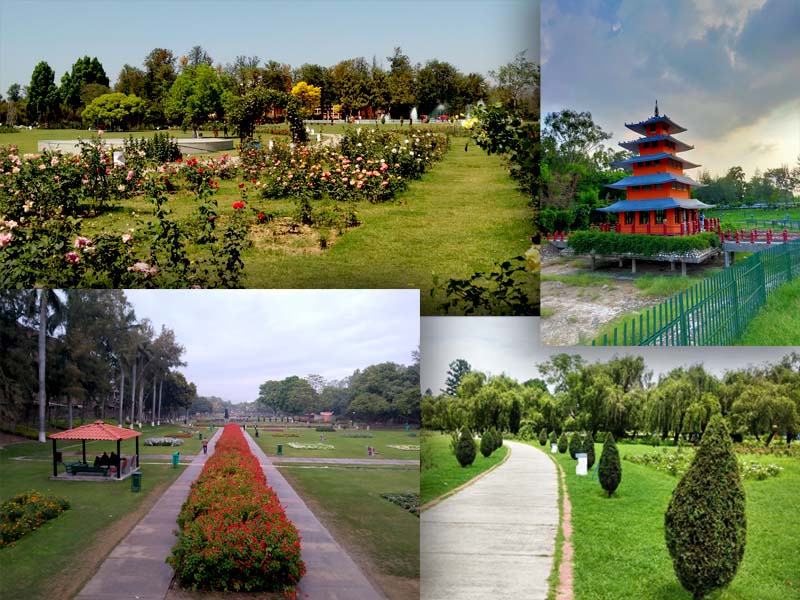 Rose Garden
Located merely at a distance of 4 km is the Rose Garden; which is Asia's Largest Garden accommodating a variety of roses, medicinal plants, and herbs. Spread over an area of 30 acres, it is the place worth watching for rosephiles.
Named after the former president Zakir Hussain, Rose garden of Chandigarh is thronged by tourists from every corner of the world.
Sit for a while on the clean green landscape and breathe in the pleasant aroma of different roses, which instantly calms your senses and make you feel ecstatic. You might not have seen such a well maintained and elegant garden in your life so here is your chance.
Verka booth in the middle of the garden serves kheer, sandwiches, lassi, flavored milk, ice creams and varieties of food. Have some treats from here in case you feel hungry. At the end of February or starting of March every year, Rose Festival is held that pulls thousands of visitors from every corner of the world. Don't forget to be a part of this festival if you are here in February.
Other Tourist Places in Chandigarh
Just in front of Rose Garden (Sector 16) is Sector 10 open ground, which is a site for holding concerts and other traditional fairs. To feel like you are in Paris, a miniature Eiffel Tower Replica that stands tall is established, and tourists love to get click photos with it.
Some of the other gardens worth visiting are Leisure Valley (a long 8km stretch home to various gardens in its way), Bougainvillea Garden, Terraced Garden, Japanese Garden, Shanti Kunj, Garden of Fragrance, Hibiscus Garden and many more. Catch sight of wildlife at Chattbir Zoo.
Visit Fateh Burj, the highest standing Minar in India, which marks the victory of Sikhs in the third battle of Chapparchiri. The list of places to list in Chandigarh is never-ending.
Shopping in Chandigarh
Chandigarh never disappoints you when it comes to shopping. Packed with a variety of local Streets Markets to Huge Malls, you have it all here at nominal prices. The people from Punjab, Haryana, Himachal Pradesh, and other nearby states often come here to shop the stuff they need for any occasion or casually.
Being the shopping hub, some of the famous markets here are Sector 17 or shopping plaza, Shastri Market, Patel Market, Rehri Market, Palika Bazaar, Sadar Bazaar, Krishna Market, Janta Market, and several others.
Whether you want to shop cheap or branded stuff, they have got it all. Sharpen your bargaining skills before going to any of these markets. Chandigarh is home to Elante Mall (Second largest mall in north India), North Country Mall, DLF Mall, Wave Emporium, etc. that present you with the fantastic collection from every renowned brand and delicious food to savor.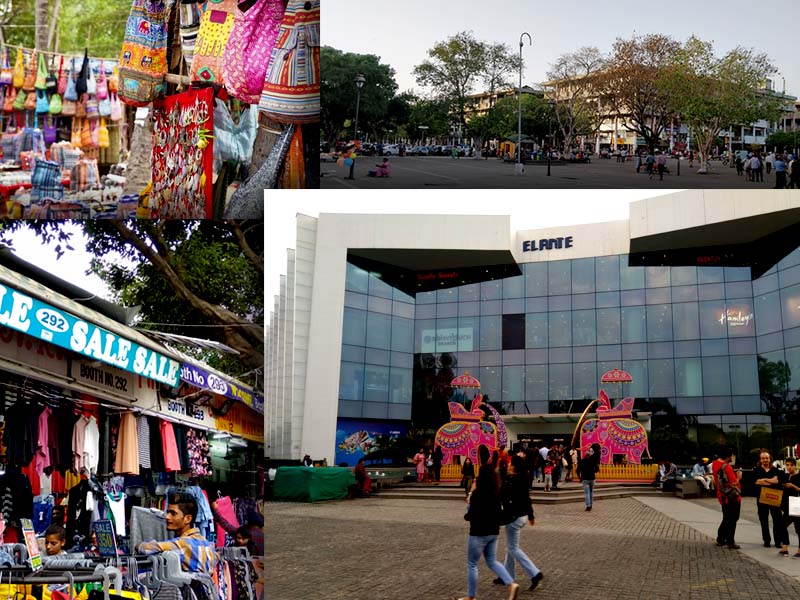 Where to Shop in Chandigarh
Besides Malls, all the markets are well maintained, with so many shops in a lane that are called Booths. You need a keen eye to spot the items you need. From trending tops, casual wear, bridal dresses, footwear, formals to party wear or anything, you name it, and they will show you. I head to local street markets for shopping rather than the malls where there is no scope of bargaining (I am not a miser 😉). You may get the top you saw in Zara store at the mall, here for merely 500. Amazing, isn't it.
Sector 17, the heart of Chandigarh hosts renowned brands and people sell outside the stuff like handicrafts, paintings, accessories, belts, suits, dupattas, etc. Have dosa or coffee from Indian Coffee House that is famous among locals as well as travelers.
Chandigarh is no less than a paradise for Shopaholics. The shop owners serve outsiders with great enthusiasm and never get bored of showing you a variety of stuff they have. Carry back a few items with you and when people ask you where you bought it, say "The City Beautiful".
Fun Things to Do in Chandigarh
People of Chandigarh are health freaks, and you will witness here a lot of pedestrians and cyclists traveling around. The dedicated lanes for cyclists are made along every main road in the city.
You can rent a bicycle, board a CTU bus, hire a cab, or move around in auto, the choice is yours. Find more roundabouts here than the traffic signals; residents are way more disciplined as they gladly follow all the rules to ensure the safety of everyone traveling on the road.
The greenery follows you everywhere making it a real pleasure to travel around in the city. If you are an architecture lover, then visit the posh areas of Chandigarh to catch sight of beautiful houses standing tall with lush green surroundings and luxury cars parked outside. See the young Punjabi boys flaunting their cars at Geri Route.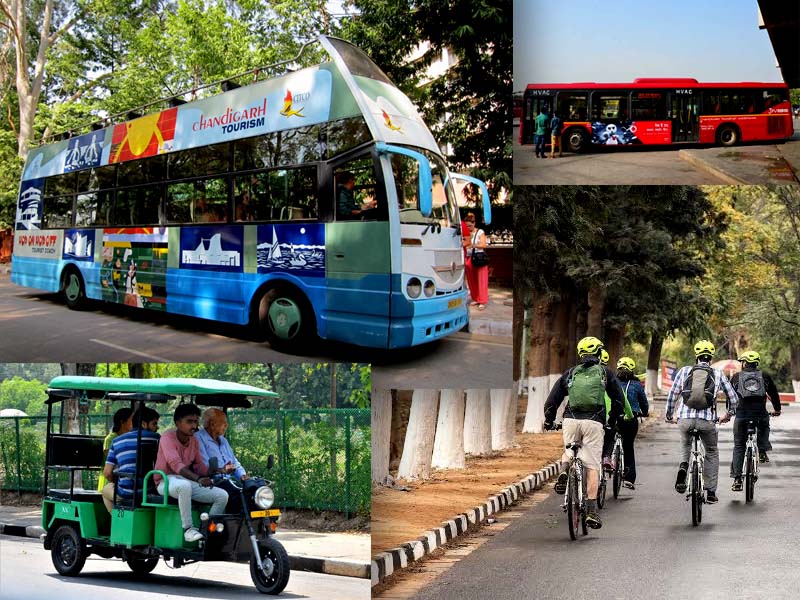 For cycling, you can get in touch with the Cyclegiri group here, who are a bunch of cyclists always on the quest to explore new places. Chandigarh administration ensures smooth transportation, and buses are almost available to every location, be it Sector 17 or Nada Sahib.
Ho Ho Bus
Buy the tickets and hop on the Ho Ho Bus that starts from the Hotel Shivalik view; it takes you through the major locations like Government Museum and Art Gallery, Rock Garden, Rose Garden, International Dolls Museum, Sukhna Lake, 17 Market, etc.
Eager to know how this city was built and want to see uncommon things about it then head to Government Museum and Art Gallery. It is home to centuries-old coins, paintings, old artifacts, etc. which will make you dive into its rich history.
If you got less time, then I suggest you board the Ho Ho bus. Every sector has something unique in its lap to show. I love to move around in the market during evening hours after office and eat momos (I am addicted to it). Walk and fall in love with The City Beautiful.
Nightlife in Chandigarh
Find one of the best bars, pubs, and clubs in Chandigarh, with comfortable seats, large flat-screen LED's in front, and a lot of drinks ranging from wine, mixed drinks, mocktails, and beer to alcohol. To chill out with your friends at night or move around with your beloved, there are many scenic places.
Chandigarh gets more vibrant and livelier at night. Hanging out with your friend's late-night or party till you drop is in the blood of the people of Chandigarh. It is very safe around here but in case you sense trouble, then call the helpline number; they provide pick and drop service.
In the last few years, the party culture has reached a peak in Tricity (Mohali, Chandigarh, and Panchkula). With a plethora of options like night dining, drinking, dancing, clubbing and entertainment, the night owls and party animals never sleep at night.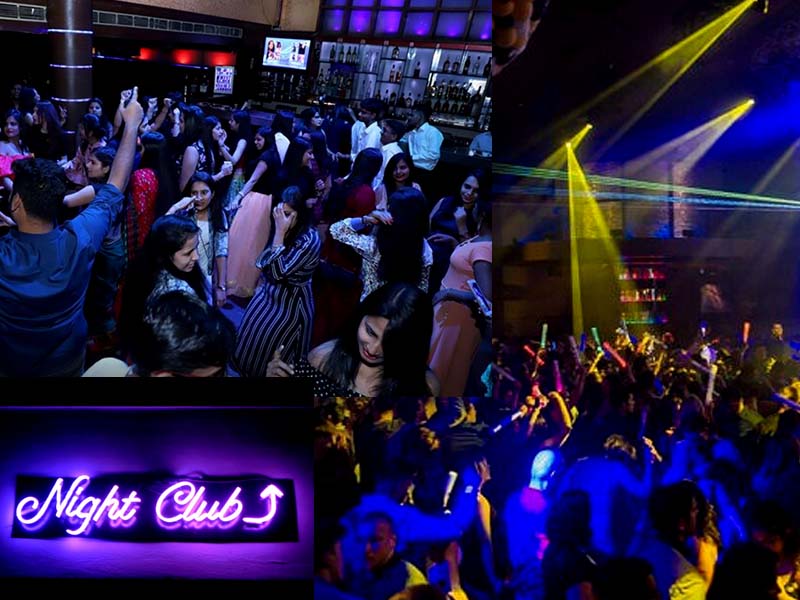 Range of bars and pubs, late-night restaurants, night food street, dhabas, clubs, etc. serve you with comfortable seating, large screens to watch the shows you like; live music playing; groove on dance numbers and serve variety of drinks from mocktails to mojitos which let you sip in the night flavor of this city.
Some of the best night-out locations that are proudly called the soul of Chandigarh are FLYP @MTV, The Great Bear, Whistling Duck, Hops n Grains, Grapevine, The Back Room, Brewmasters, Mob and many more. The late-night food delivery outlets stay open till early morning to quench your hunger pangs.
Pay Obeisance
Why not seek the blessings of God before going back to your place? Along with many tourist spots, Chandigarh is also home to various religious sites like Temples, Churches, Gurudwaras, etc. Chandi Mandir is one of the famous holy shrines in Chandigarh, and the city is named after it. Visit the religious sites to seek blessings and let the peace instill in your soul.
Every sector has its temple and Gurudwara that is visited by the people of that sector every day. Though it is not possible to pay obeisance at every pilgrimage site considering the limited time you have so here is the list of few: Chandi Mandir, Nada Sahib, Amb Sahib, Mata Mansa Devi Temple, Koohni Sahib, ISCKON Temple and Christ the King Cathedral. Every site has a unique architecture and cultural history associated with it.
What else can be a better way to end your journey to Chandigarh?
Conclusion
Whosoever comes to witness the beauty of Chandigarh leaves overwhelmed. The plethora of places to see with neat surroundings urges everyone to pay a visit here at least once in a lifetime. I tried my best to tell you the things to do to have an overall good time. From eateries to shopping markets to pilgrimage sites to visit, I covered everything I myself tried in the last 2 years.
Include all these places and fun activities to do on your itinerary for the next trip to Chandigarh. The charm of the city is enough to keep you hooked for a long time and cherish the memories. To have a safe and smooth journey abide by the rules followed by all the people here.
Pack your bags now and explore this peaceful yet elegant destination. Which place did you like the most? Do let us know your thoughts in the comments section. Feel the essence of this city and get soaked into it. Feel free to ask any questions and I will answer it gladly.