Rohtang Pass electric bus is the most recent addition to the local transport within Manali. The step was taken this year in order to reduce the level of pollution at Rohtang. In this article, I will provide details on how you can book a seat in this bus and where to board it from.
Rohtang Pass is definitely the biggest tourist attraction that Manali has to offer. But at the same time, it is also not the easiest to travel to. Each year, hundreds of thousands of people arrive at Manali and Rohtang Pass is on the itinerary of everyone. So many people travel on this 50 kilometers stretch from Manali to Rohtang that traffic jams here are not really an unusual thing.
Even the government had to take steps to control the number of vehicles going to the pass every day in order to keep the rising pollution levels in check. More steps are being taken each year to both protect the fragile ecology of the Rohtang Pass and to also make it easier for tourists to visit the mighty and beautiful pass. One such step was the introduction of Rohtang Pass Electric Bus this year.
Please note that in this article, I will only talk about the electric bus service to Rohtang. For more details on the pass, please read How to Plan a Trip to Rohtang La.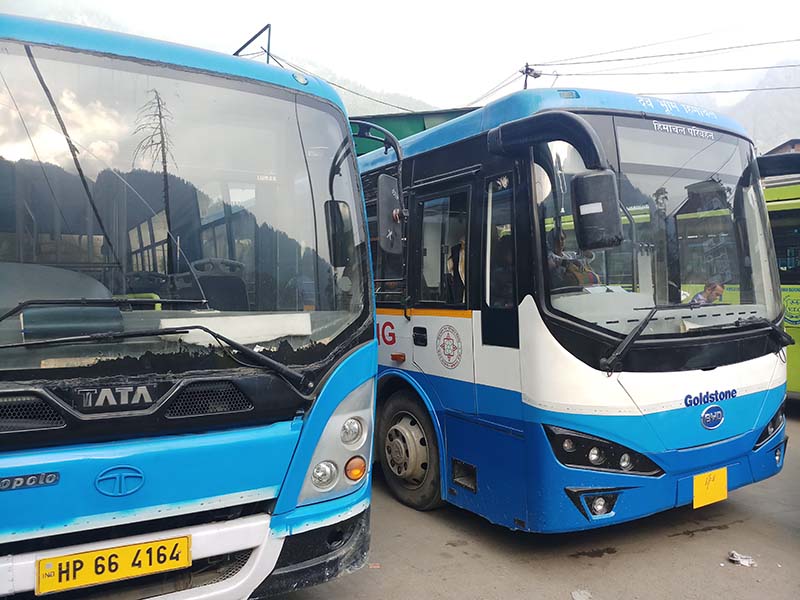 Rohtang Pass Electric Bus
The electric bus from Manali to Rohtang is a daily bus service introduced by HRTC that starts from the main bus stand near Mall road in Manali. This move was taken by authorities to contain the vehicular pollution on the high altitude pass.
Electric Bus to Rohtang Schedule
This bus will run for 6 days a week from Wednesday to Monday. There will be no service available on Tuesday when the pass is closed for cleaning and maintenance work. Initially, only three buses were introduced but due to an increase in demand, this number has now been increased to 9 buses as per the HRTC booking page.
The first bus starts from Manali at 5:30 AM. After this, there are 4 more buses at an interval of 15 minutes until 6:30 AM. Then there are 4 more buses at 7 am, 8 am, 8.30 am and then the last bus at 9 am. All these buses start from Manali main bus stand near Mall road.
Each of these buses has a capacity of 25 passengers and they will take the tourists all the way till the top of Rohtang La. The bus will then halt at the pass for 2 hours and then return to Manali by afternoon.
Rohtang Pass Electric Bus Fare
The fare of Rohtang Pass electric bus is Rs. 600 per person for a return journey to Manali. You can buy your ticket from the counter at the bus stand or book it online. The entire amount will be payable upfront and will include your ticket for Manali to Rohtang and then the return journey to Manali.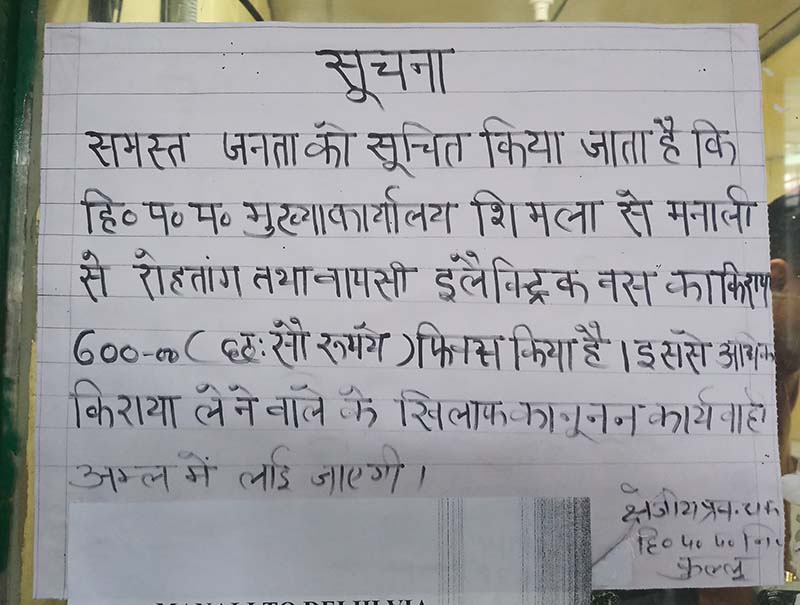 Rohtang Pass Electric Bus Booking
It is strongly recommended and wise to buy your ticket for this bus in advance. I was in Manali earlier this year and tickets for this bus service were all sold out completely for the next 9 days. You can book your tickets online from the HRTC official website.
How to book Rohtang Pass Bus ticket Online?
To book the electric bus ticket to Rohtang, please visit the HRTC Online Portal. This is a hyperlink so just click on the red portion and it will take you to the portal. Once you are there, search for the bus and availability of tickets. Select Manali in leaving from tab; then Rohtang Pass in going to tab; and then select dates of your travel.  You do not have to select the date of return; leave that blank. Something like in the picture below.

Once you have populated these fields, click on "Search for Bus" It will then take you to the next page showing all the available buses. A page that will look like below.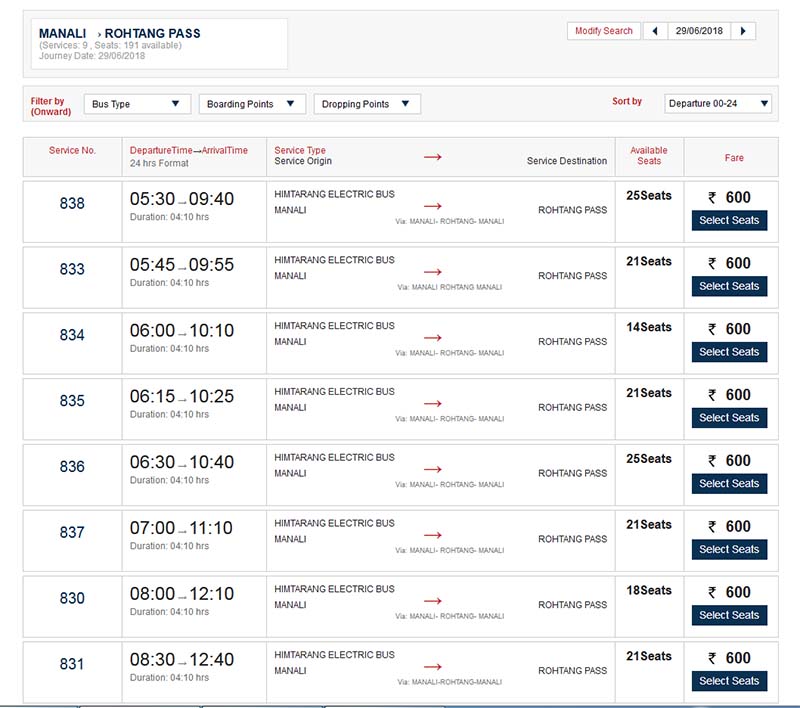 Now click on the "Select Seats" tab of the bus that matches your timing. It will then show a new drop-down just below the bus where you will have to click on "Show Layout". It will then show the fields below.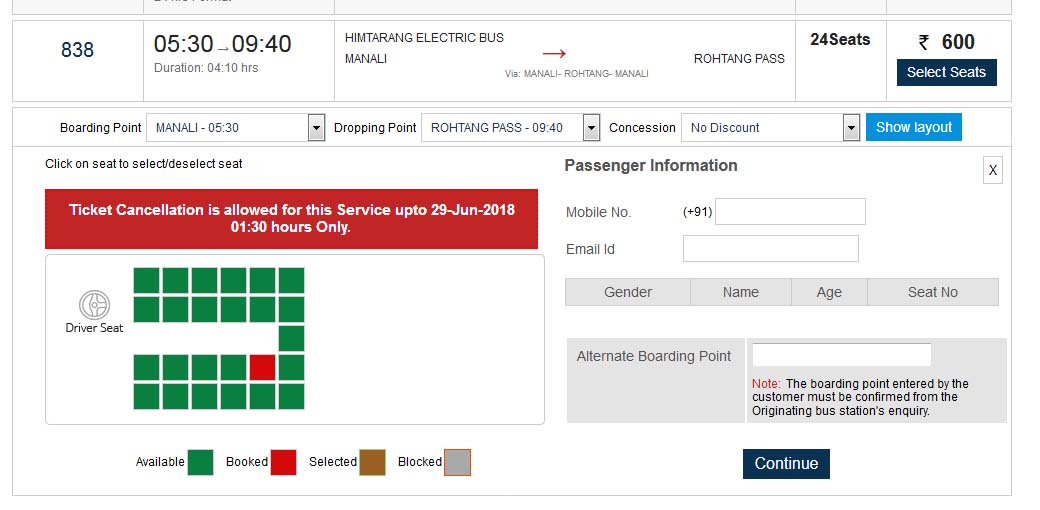 Select your seat by clicking on any of the seats shown in green. Then fill out your details in Passenger Information and hit continue. After this, you will be taken to the next page where you will be asked to make payment.
And that is it, your ticket for that particular day is booked.
Manali Rohtang HPTDC Bus

Sometimes the bus may not show on the HRTC Portal and you may get an error message saying that we are not currently servicing the route. In the cast please take a look at the HPTDC Portal. In the dropdown, select Manali local tour and it will show you the Bus to book. Do not select Tuesday because Rohtang remains closed on this day and no Bus service will be available.
Conclusion
I hope the information above on Rohtang Pass Electric Bus was of help. If you have any other questions or need any further details; please feel free to ask in the comments section below, or at our Community Forum; and I will be glad to answer.