;Rohtang, the very word means "a pile of corpses". How this 13,051 ft high mountain earned its notorious name is not really known but a fair guess would be that it is because a lot of people met their end while trying to cross it. Today there is a national highway that runs across it but even now it is quite a task to get across this high and mighty pass. One can only imagine how it must have been in the older days. Government now works to create a Rohtang tunnel to ensure safety of people but in ancient times, there was no other choice but to climb the mountain and risk life in order to cross it.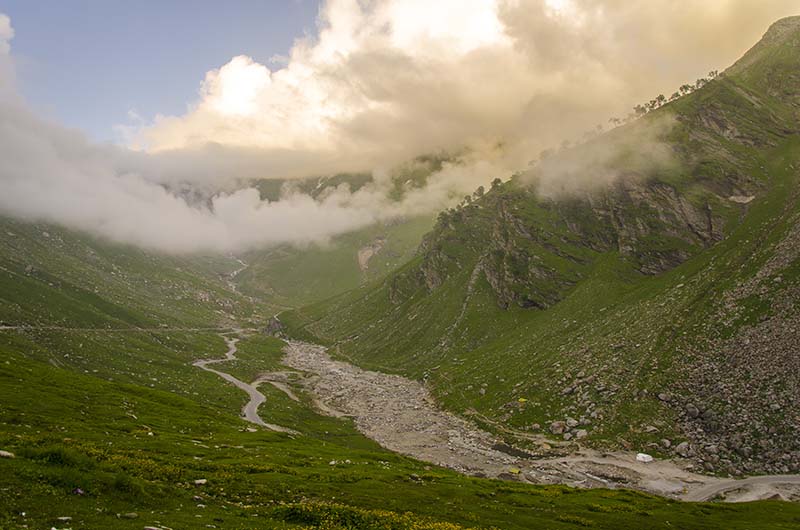 Rohtang Pass lies in the Pir Panjal Range of Himalayas and connects the Kullu Valley with Lahaul and Spiti valleys. This is a very important and crucial road for both civilian and military purpose. It is one of the three roads that provides connectivity to this part of the country. The only other way to enter Lahaul and Spiti valleys is either to come from Kaza crossing Kunzum Pass or to approach from Dalhousie via Sach Pass. Out of these three, both Kunzum and Sach Pass open only for about 3-4 months in a year and remain closed for the rest. Rohtang pretty much continues to remain to be the only road that provides connectivity to this region and runs like a lifeline for people living here.
Also read: How to Plan a Trip to Rohtang Pass
However there always remained a problem of commute for locals in the months of winter. Even when Rohtang Pass was open, there was always a chance of road closing down at any time of the year due to heavy rains and landslides. In winter, Lahaul and Spiti used to remain cut off from rest of the country for a good 4-5 months and the only way to get there was using a local helicopter service. Due to its military significance and the need to keep it open the entire year, in 2010 the Indian government laid foundation of the Rohtang Tunnel to bypass Rohtang pass; to create a much safer and faster year-around link to Keylong, Lahaul and Spiti and Ladakh.
The tunnel will be one of the longest road tunnels in India. Costing an approximate $320 Million, this road will not run right underneath the pass but slightly west of the pass; and will reduce the distance by 50 kms. As of now, ascending and descending Rohtang can take a good 4 to 6 hours; depending on the traffic and sometime even more than that. After this tunnel is operational, total travel time would be reduced to no more than 30 mins. The southern end of the tunnel is reached by turning left at Palchan, 10 km north of Manali.
This project had been under discussion for quite a while before it came into existence. As a matter of fact, this idea was proposed in 1983; but remained on papers until Prime Minister Atal Bihari Vajpayee announced it in June 2000. Initial cost was estimated at 5 Billion INR but was later revised to 13.35 Billion INR; when BRO was entrusted with the task in May 2002. Under an ETA of 7 years, the project was supposed to have completed by 2010 but no progress was made.
Then in December 2004, cost was again revised to 17 Billion INR and project was awarded to an Australian company called SMEC. Date then was again revised to 2014 but the work still did not begin. Then finally in September 2009, the project was cleared by Indian Government and an Indian construction company called AFCONS was entrusted with the task. On 28th June 2010, the work finally begun. As of the start of the year 2014, 4.1 km of the tunnel had been dug and the estimated completion date now is of year 2016.
For the locals living in Lahaul and Spiti valleys, this tunnel would change lives. People living in these remote areas are now forced to stock rations and prepare for winters. For months they are trapped in the valleys; and are forced to use rented helicopter services if they are forced to come across to Manali. Once this tunnel is operational, their lives would become much easier; as the connectivity would no longer be limited to summer. People living in the Spiti valley however would not be able to benefit much from this tunnel in the winter season; as there lays yet another pass, Kunzum, that has to be crossed in order to reach Spiti from Lahaul. This pass lies at a higher altitude than Rohtang and remains closed for almost 9 months in a year. There is no tunnel planned to bypass Kunzum yet.
Also read: How to Get Permits for Rohtang Pass
Rohtang Tunnel
Once completed, Rohtang Tunnel is set to become the world longest tunnel; at an altitude above 3,000 m or 10,000 ft. Primary reason however for this tunnel was of Military; use considering the fact that these are highly sensitive areas lying right next to India-China border. A need for a yearlong road connectivity to Ladakh has been gravely felt; and Rohtang tunnel is a part of this project; to create a road a road to Ladakh that will remain open all year long. From Darcha, another road is under construction that will reach Leh through Zanskar valley; in order to skip Baralacha La during winter. After this road is complete; winter route to reach Leh from Manali would look somewhat like this,
Manali – Rohtang Tunnel – Keylong – Jispa – Darcha – Shinku La – Zanskar Valley [Padum] – Nimmu – Leh
During summer, in future, there would be three roads to reach Leh. The currently existing Manali Leh highway, Srinagar Leh highway and the new road that would run through Zanskar valley. In winter however, only this one road would remain fully operational. This would ensure that during the heavy snow season, Leh would stop to be accessible only by air; and the new road would ensure better supplies for both the locals and Indian armed forces. While the expected completion date for Rohtang Tunnel is of 2016; there is no confirmed date on by when the new road from Darcha to Zanskar would be opened for civilian traffic. Local however continue to hope that it will be soon. If you have any thoughts to share on the topic, please do so either at our Community Forum or in comments section below.