As I sat in a Dhaba in Rangdum, a village in the middle of nowhere, drinking Cognac with a bunch of strangers, talking about nothing in particular, happy and at peace with myself, I couldn't help thank God for bringing me on a road trip to Zanskar.
Ever since our visit to Ladakh last year, we had every intention to return to the land of high passes. The beauty of the vast Changthang plateau haunted us, and we'd planned to visit it again this year. However, as this year's trip came closer, doubt crept into our minds.
Although there was no questioning our love for Changthang, visiting it again this year might make our trip too similar to the last one. Changthang was not going anywhere, and we could always go back to it later. We decided that this year we would explore another part of Ladakh – the Wild West.
The plan was to restrict ourselves to everything west of Leh – explore under-construction roads, trekking routes with motorable/ jeepable tracks, and most importantly, the remote Zanskar.
The Travelers: Aarti & Harsh
The Machine: Our very own wild ass – Tata Safari 4×4 – affectionately called Kiang
Total distance covered: 3850 km
Zanskar Valley Road Trip Itinerary
The following is the itinerary we followed.
Day 1: Delhi to Manali. 580 km in 12 hrs
Day 2: Manali to Jispa. 140 km in 14 hrs (surprised?)
Day 3: Jispa to Panginagu. 260 km in 13 hrs
Day 4: Panginagu to Leh. 220 km in 9 hrs
Day 5: Leh. Friends, dinners, and permits
Day 6: Leh. Hospital, medicines, and rest
Day 7: Leh to Lamayuru. Sham Valley Tour
Day 8: Lamayuru to Kargil via Batalik. 150 km in 6 hrs
Day 9: Kargil to Juldo. 150 km in 10 hrs
Day 10: Juldo to Padum. 140 km in 8 hrs
Day 11: Around Padum. End of Road – Zangla and Stongde. 130 km in 7 hrs
Day 12: Around Padum. Dzonkhul, End of the road beyond Reru. 135 km
Day 13: Padum to Kargil. 230 km in 11 hrs
Day 14: Kargil to Srinagar. 230 km in 10 hrs
Day 15: Around Srinagar. Wular Lake and Gulmarg
Day 16: Srinagar to Jalandhar. 475 km
Day 17: Jalandhar to Delhi. 400 km
All of the days above are clickable links in case you want to jump and read about our travel on a specific day. In this post, I will cover Day 1 and 2 of the travelogue. I cannot post the entire travelogue on this single post because that will just render this page too heavy and endless.
Day 1: Delhi – Manali (580 km, 12 hrs)
The night before the beginning of a trip is always a short one. It is almost impossible to put an over-active mind to rest and one twists and turns on the bed to fall asleep. So with limited sleep of just 3 hours, we finally left our flat in Vasant Kunj by 4 am.
Manali in 12 Hours
The high point of the drive till Bilaspur was the drive-through Banur to avoid Chandigarh altogether. It must have shaved off at least an hour of our total drive till Manali. The road from Ropar till Kiratpur was also a pleasant surprise with the construction finally over and all flyovers complete. The lowest point, as is always, was the frustrating truck traffic between Kiratpur and Bilaspur.
After driving non-stop for 6.5 hours from Delhi, we decided to stop for breakfast in Bilaspur. Breakfast at our usual stop, the Lake View hotel, was decent. Aarti then took over the wheel while I settled for some shuteye. Without any further incidents, we reached Manali by 4 pm.
Also Read: How to Plan a Trip to Manali
It was a record run for us till Manali, bettering our previous best run by at least half an hour. I wonder if Manali would be possible in 11.5 hours after the construction work on NH-1 is complete.
As always, the next order of business was to reach Il Forno to have a late lunch. According to me, Il Forno serves not only the best pizzas in all of Himachal but in all of India. Not to exaggerate, but the pizzas served even at La Piazza do not come close to the ones made by Roberta. You must give it a try when in Manali if you love those thin-crust non-oily pizzas as we do.
It was cloudy when we reached Manali. Clouds imply a bad state of affairs at Rohtang.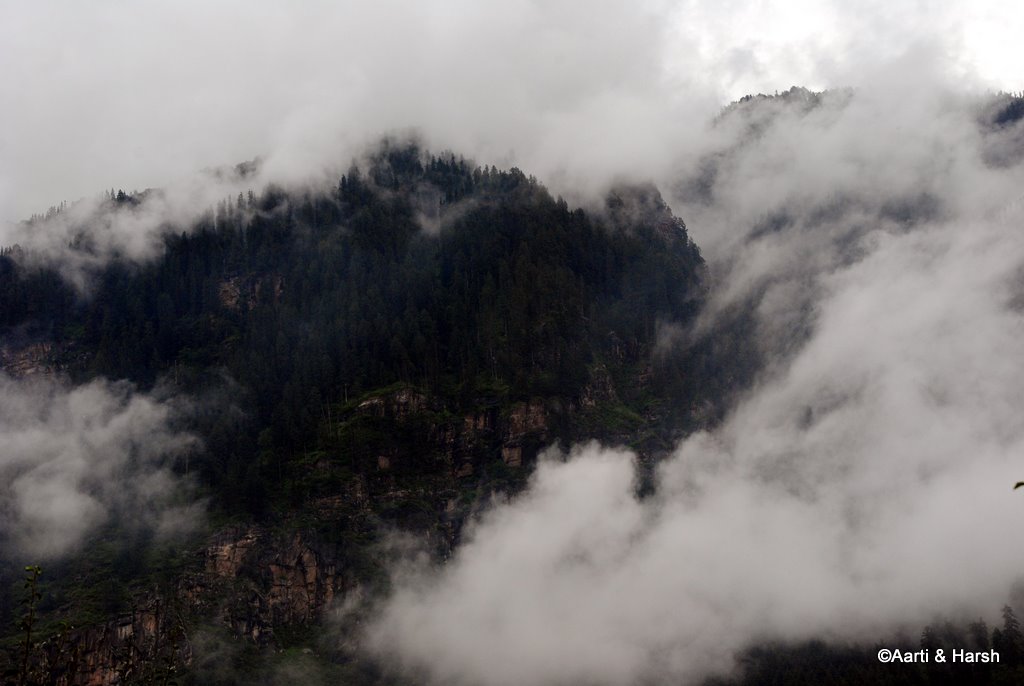 Truly yours, Harsh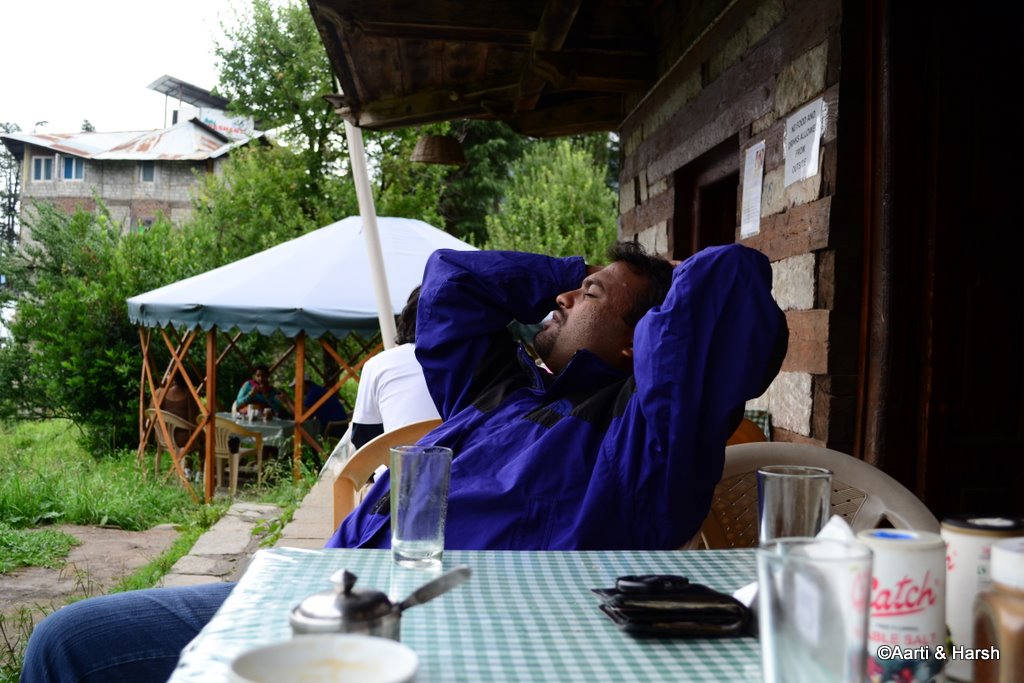 My wife, and co-traveler, Aarti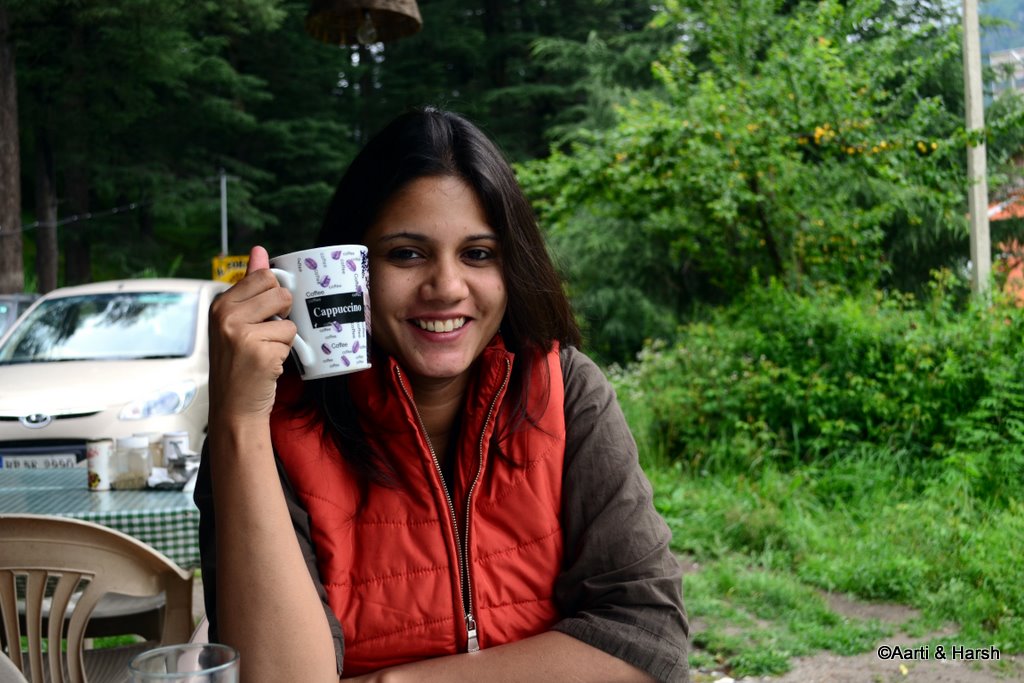 The outside seating is better than the inside one on pleasant days at Il Forno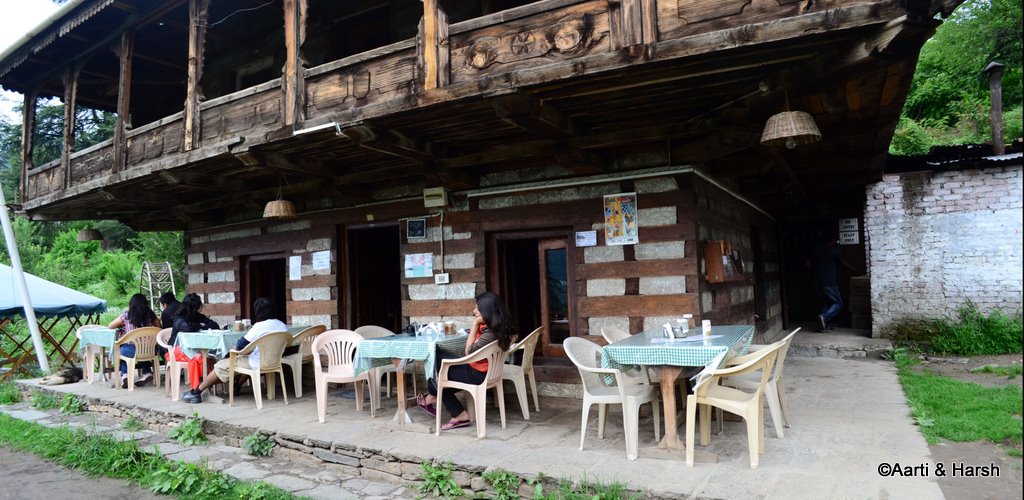 The Trouble
The next course of action was to check in to "our" hotel, the Johnson's Lodge at Manali. Since the HP government had decided to issue permits for non-HP registered vehicles to cross Rohtang, we had asked the hotel's staff to arrange it for us. They had, thankfully, agreed to do so.
That is when the owner dropped a bomb on us. She informed that Rohtang pass had been closed for a couple of days now and that no vehicles had been crossing over. Our primary reason for doing a Zanskar-centric trip via Manali, and not via Srinagar which would have made more sense, was to experience the Manali – Leh highway while going up, a thing that we had missed the last time around.
Not ones to easily give up, we thought it would be best to speak to a couple of taxi owners on the Mall road before taking any further action. Meanwhile, as Aarti was busy checking in, I thought of making some good use of the light to capture the beautiful flowers in the garden near our room.
Also Read: How to Plan a Trip to Rohtang Pass
The Relief
A walk to the Mall road soothed our nerves a bit when we were informed that the pass is partially open with only jeeps able to make it through and that too with much difficulty. What was reassuring was that it was at least POSSIBLE to cross Rohtang, although difficult.
After arranging for breakfast and filling up the tank, we went back to the hotel to hit the sack as early as possible. We knew that we must push off from Manali early the next morning to beat the morning rush. What we did not know, however, was that we had a very long and frustrating day ahead of us.
Day 2: Manali to Jispa (140 km, 14 hrs)
The day began on a wrong note altogether – no water in our room's bathroom. And mind you the room was not cheap at 2500 bucks. I have my doubts if we'll stay there again. Aarti, who has been in love with that hotel for many years now, of course, disagrees.
Manali to Rohtang
Anyway, after running about and finally managing somehow, we left for Rohtang at 4:30 am. Satisfied that despite the water fiasco we did not get too late, we began the familiar climb to Rohtang. Much to our surprise, our permit was duly checked at Kothi by a policeman, who was wide awake even at that early hour.
We reached Marhi by 6 am, and the road till there was excellent. However, that was the end of our good luck for the day.
This fall just before Marhi has its own charm.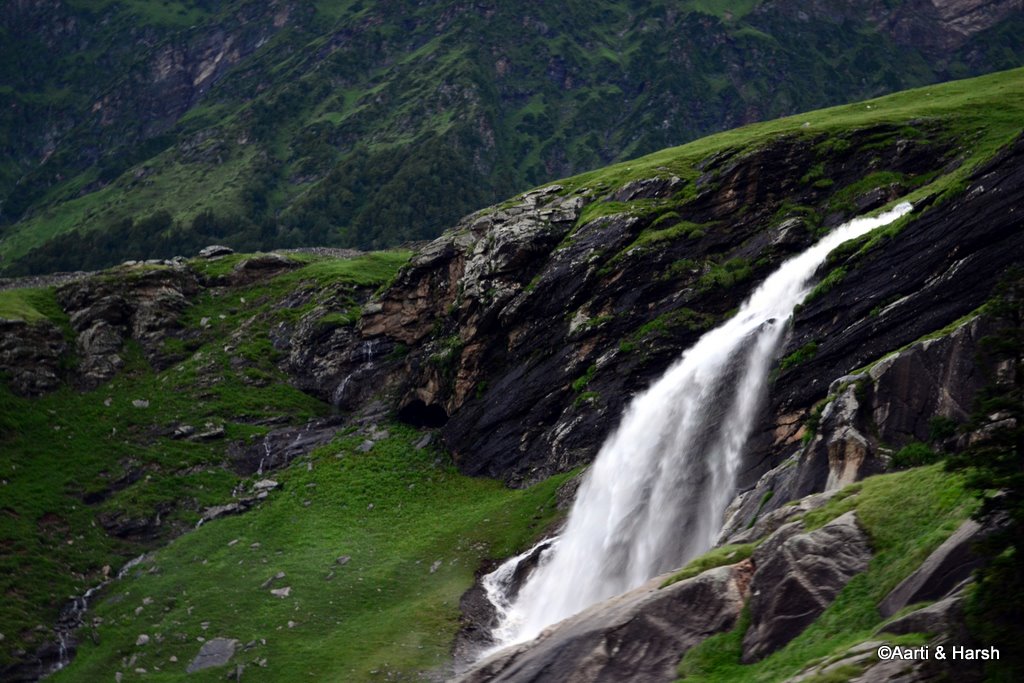 As we looked above us from Marhi, we saw a line of vehicles standing still. At first glance, they seemed to be stone pillars at the edge of the road, but on getting a closer look, our hearts sank.
They indeed were vehicles and not stones. Half an hour after Marhi, we hit the mother of all jams. It was only 6:30 in the morning, how could the jam already be so long, we wondered. That is when it struck us – these vehicles had been stuck since last night, or maybe even before that.
And that's the bloody queue.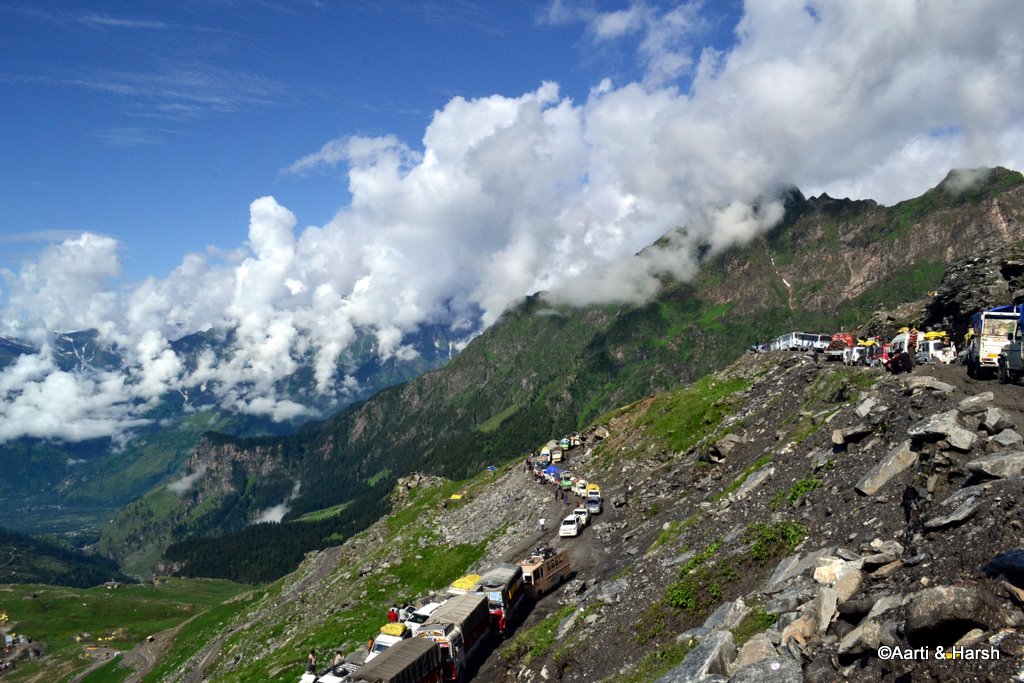 A view of Marhi from above. Paragliding and all other touristy activities continue uninterrupted.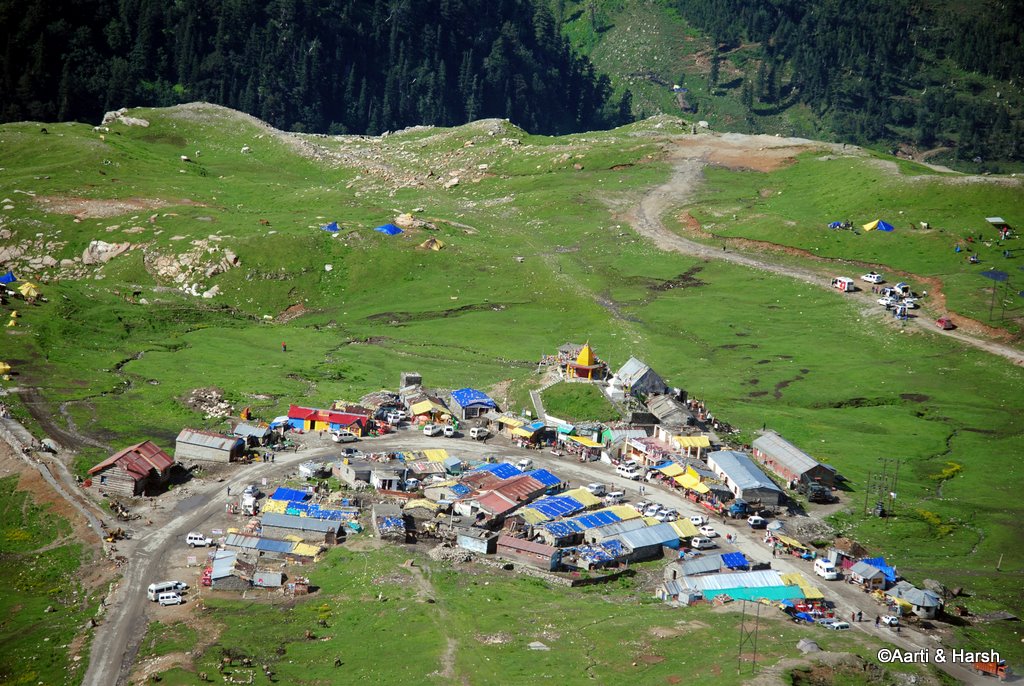 The Battle of Rohtang
I got out and walked a bit further, and then came back to tell Aarti that it was going to be a long day, with an initial estimate of 6 hours. In the next 8 hours, we moved about 4 km. In between the intermittent crawling, we chatted with the truck drivers around us, napped and ate chips, cursing the jam at Rohtang all the while.
An interesting conversation also happened with a fellow BCMTian, Sachin (airwolf9211) who was also stuck in the jam in his Scorpio. He told me about his escapades in the interiors of Changthang and driving on roads that we crave to explore one day. Some people are just lucky to have their work lead them to places like these.
7 hours later, we finally reached the spot which was the root cause of the massive jam. The slush at Rani Nallah and before it was the worst we'd ever seen, and no car crossing the ugliest 100 m stretch was able to make it in one go. A dozer was stationed nearby, which was towing out all the vehicles from the slush.
It was literally pushing the trucks out of the slush when they eventually got stuck after a futile momentum run. The poor taxis, however, were the worst hit. There was hardly any traction and pushing an Innova with a dozer would not have been the best of ideas.
A closer look at the ugly slush. Doing a miserable stretch by gaining momentum. One vehicle at a time. The ugliest stretch lies ahead.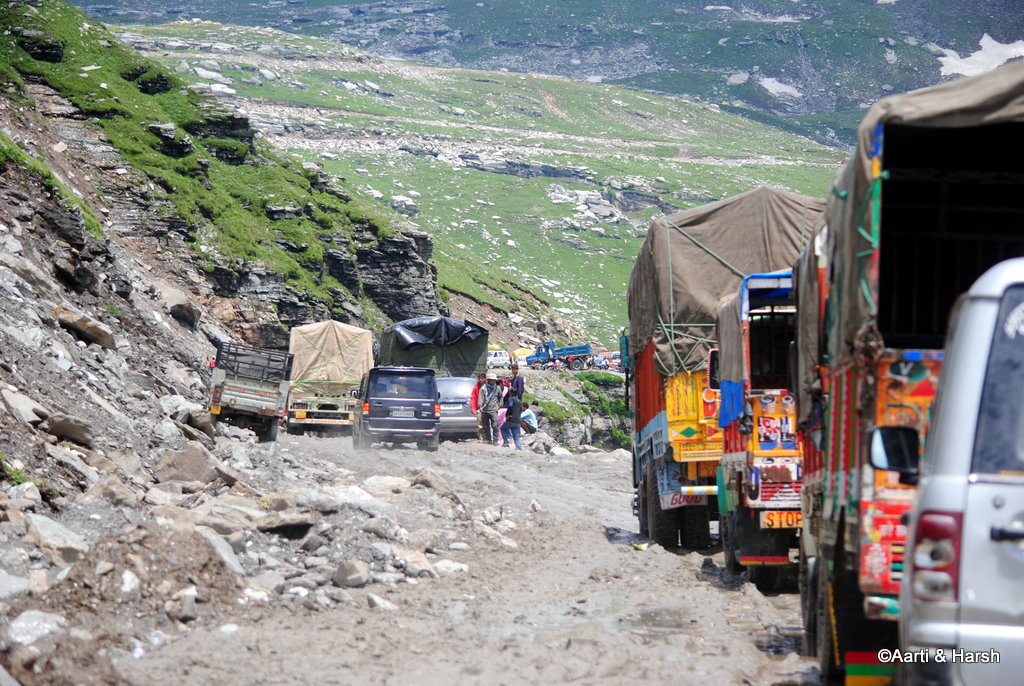 Rohtang Top, Finally !!!
​It was a royal mess, and although tired, we did not get frustrated and overall took the jam pretty well. Our destination for the day was Sarchu, but it soon dawned on us that there was no way we were going to make it there, lest we did some part of the drive post-sunset.
This, however, was not an option as we wanted to take on the highway as much as we could in daylight. We re-evaluated our plan and decided to stay the night at Jispa. The plan was to reach Leh in 3 days from Manali and somethings would have to go off our itinerary in order to make up for the lost 8 hours.
Well, that's the Manali-Leh highway for you. Even the best-laid plans have to be changed at the last moment. And I guess that's the beauty of it all.
We somehow made it to the top by 2:30 pm, after having crossed the final slushy stretch in one go, all thanks to the 4L mode that Safari offers. What was surprising though was that even with a 205 mm GC, some stones did hit the underbelly of our car.
Finally Rohtang Top
After a quick stop at the pass to check for leakages beneath the vehicle, we proceeded towards Jispa. Rohtang's descent was much better than its ascent. The road was not good and was ridden with potholes, but at least it was not slushy.
Rohtang to Jispa
Fabulous lunch of meat curry and rice happened at Koksar, the lovely, windy village after Gramphoo, known to be the coldest place in Lahaul. Thereafter, the road was like a runway, and even the fifth gear saw the light of day! A few kilometers after Koksar, just before Sissu, we saw the mouth of the Rohtang tunnel on the other side of the Chandra river.
The sight after the 8-hour ordeal we'd been through earlier in the day, was very pleasing. Aarti promised God that she would distribute sweets and also come to Manali the very day the tunnel opens. For the first time, I agreed that Rohtang was not worth all that pain. After ogling at the tunnel for a bit, we went on.
After a quick refueling stop at Tandi, we moved on towards Keylong. We tried to log on to the net and also call a few people to update them about our freedom from the horrible jam, but the network was patchy, and we couldn't. We finally reached Jispa around 6:30 pm and headed straight for the Padma Lodge, where we'd stayed way back in 2008 when it was still under construction.
Below is a picture of the Chandra river after Koksar. The road runs almost level with the river after Gondla, just before Tandi. The biker in this shot added to the charm according to me.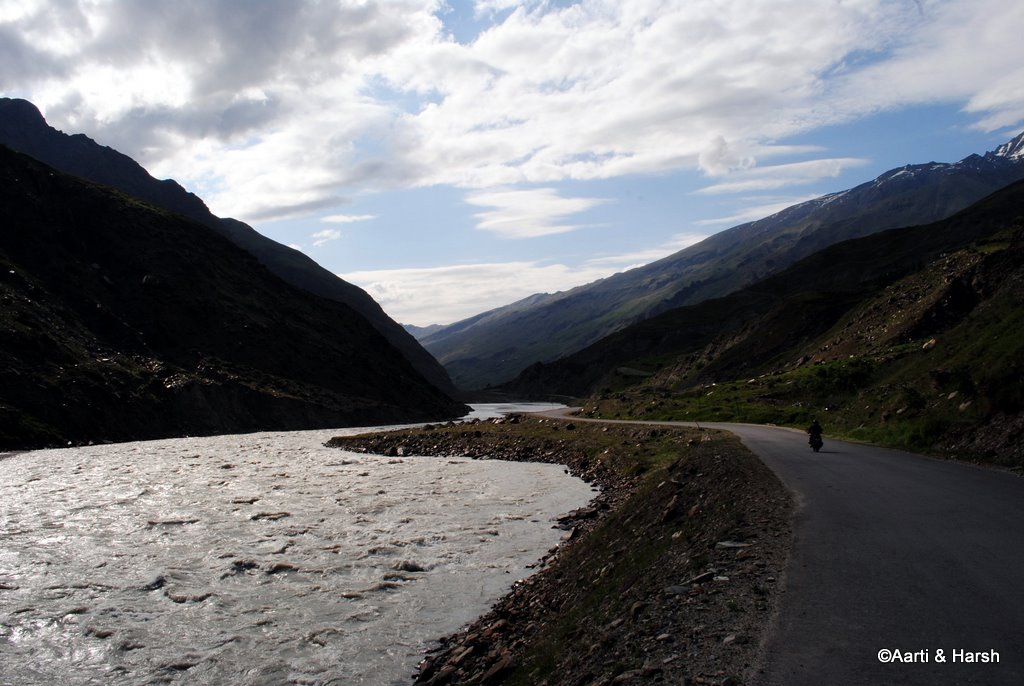 Chandra spreads wide after Sissu, at least for a while. This is where the confluence of Chandra and Bhaga rivers, to make the mighty Chenab, happens.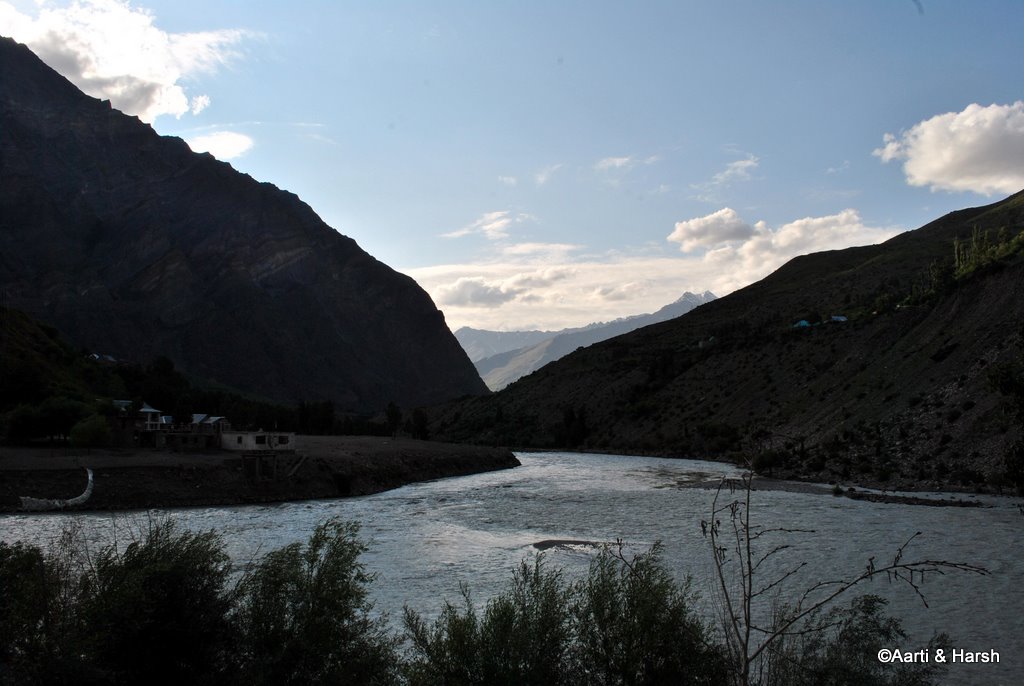 A quaint village on the other side of Chandra. No roads, but still there's prosperity.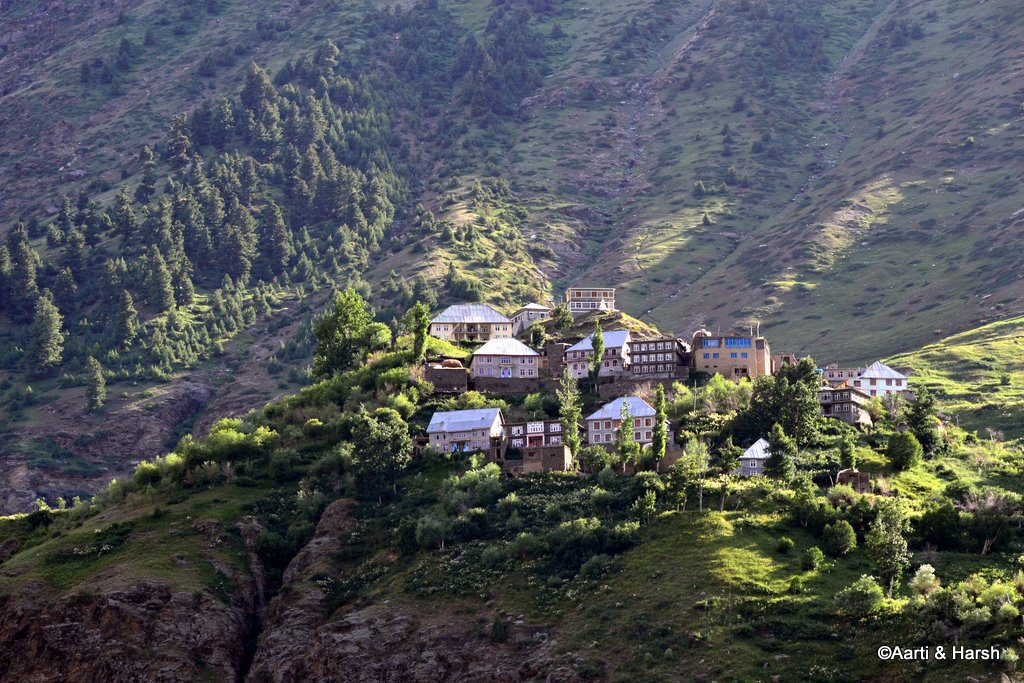 Another prosperous village after Koksar in the valley on the other bank of the river.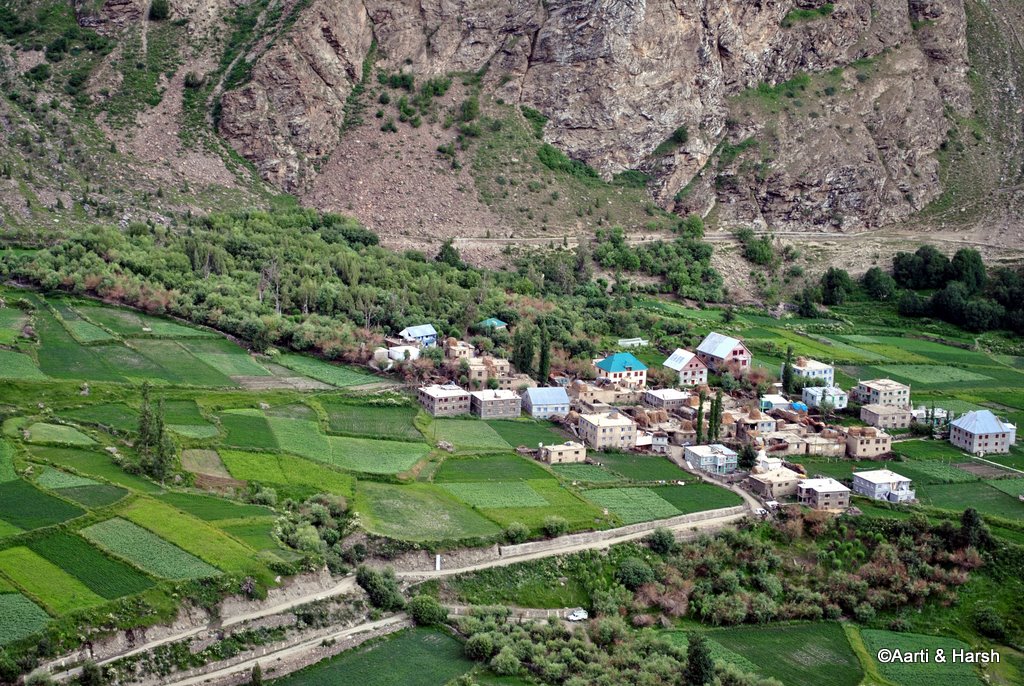 Jispa
​After checking in, we went down to the river and were totally floored by its beauty. The way the beautiful Bhaga spreads out at Jispa is stunning. The icing on the cake was the early moonrise, which captured the attention of our cameras for quite some time.
Also Read: How to Plan a Trip to Jispa
The Padma Lodge is a lovely place with nice and clean rooms and a charming dining room on the first floor. And guess what, it does serve beer for those who are interested.
The Lodge has two buildings, and both are almost equally priced. We got to know later that Rahul Gandhi had done the Manali – Leh highway last year, and stayed at the same lodge.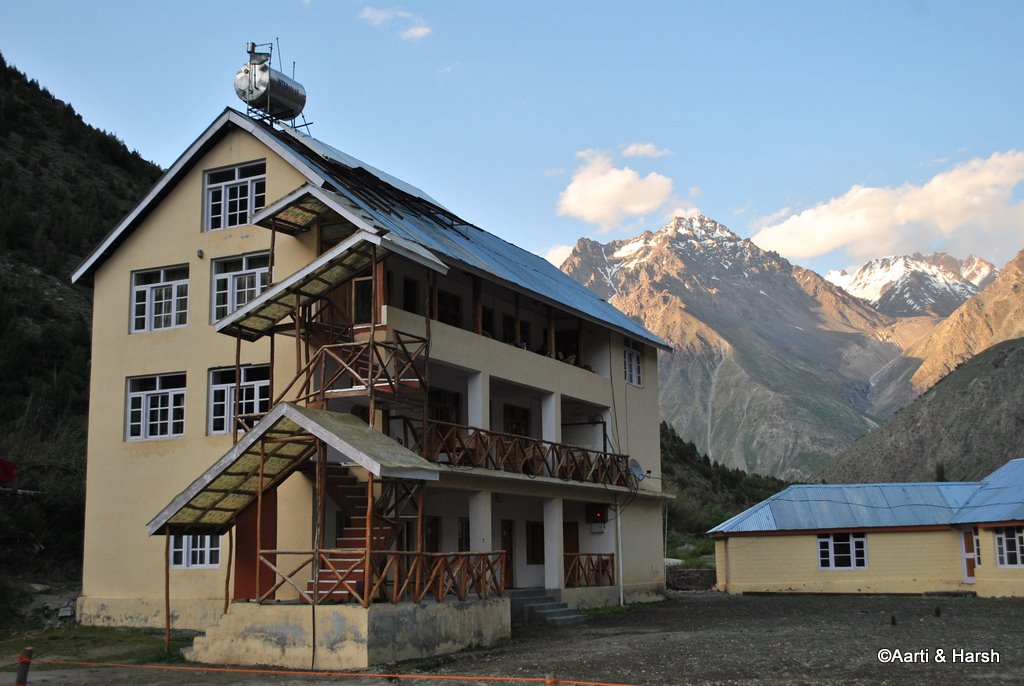 We went for a walk to the river, it was nice. Jispa by itself could be a destination, I think.
​Although pretty tired, I could not bear the sight of Kiyang all muddy after Rohtang and mustered some strength to clean it. After my hard work, the shiny and clean Kiyang was all the reward I needed. We then had dinner, and hit the sack, listening to Bhaga's pleasant roar.
Journey Ahead: Jispa to Leh
Time Needed for a Road Trip to Zanskar Valley
I know 17 days here may sound a little much but we really wanted to explore the place and a few others. How many days do you need will entirely depend on where you were coming from and your mode of travel. From a place like Delhi, 9 days will do for a road trip to Zanskar.
This is the minimum time needed though. In 9 days, you will barely touch the place and come back. If you want to explore it properly, you would have to spend about 2-3 days in Padum.
Also Read: How to Plan a Trip to Zanskar Valley –  A Complete Travel Guide
Best time for a Road Trip to Zanskar
Zanskar can be reached by road only between May to October. In these months, I will say that June and September can be termed as the best time to go. The months of July and August should best be avoided due to the monsoon season.
Best Vehicle for a Road Trip to Zanskar
There is really no best vehicle as such but you should travel by car that has good ground clearance. It does not have to be a 4X4 but a good GC is a must. This will save the underbelly of your car from getting hit by stones on the bad sections of the road; which in Zanskar are in plenty.
Road Trip to Zanskar – Conclusion
I hope the travelogue above on a road trip to Zanskar Valley and Ladakh was of help. Please click on the link above to continue reading the next part of this travelogue. If you have any questions or need any other details, please feel free to ask in the comments section below or at our Community Forum and I will be glad to answer.