When is the best time to visit Rohtang Pass? If you were planning a trip to Rohtang but could not decide the best time to do so, then hopefully this article will help answer your question. Here, I have provided a month by month comparison of how the tourist season and the weather trends at Rohtang throughout the year.
Rohtang pass is truly a charming spectacle. One of the most romanticized high-altitude passes, it is undoubtedly a stunning sight. Carved at an elevation of 3,978 meters, the top of the pass provides enrapturing views of lush green mountain peaks, piercing through the sky. You will drive through the nail-biting bends and the chilly wind will be all over your senses. Most of the tourists visiting Manali never miss out on experiencing this mighty and India's most famous Himalayan pass.
Rohtang is closed for vehicular movement in winters due to heavy snowfall. The roads pile up meters of snow which incapacitate any vehicle movement for months. The pass opens by mid-April and remains so till late October or sometimes even early November. The best time to visit Rohtang pass depends on what you expect to experience.
Please note that in this article, I am only comprising the topic of Best Time to visit the Rohtang Pass. If you want to get details like how to reach, where to stay, and public transport, I will request you to read How to Plan a Trip to Rohtang Pass.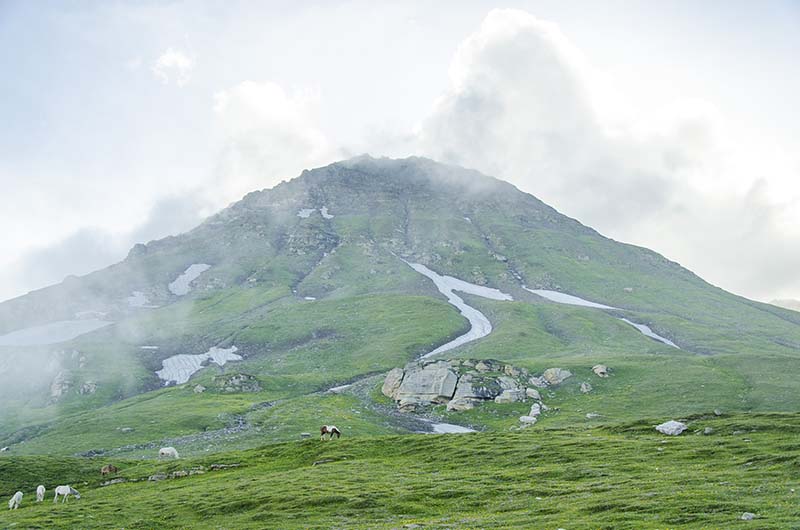 About Rohtang Pass
Rohtang pass remains closed during the winter season and is accessible only after it's opening in mid-April till October or November. The top of the pass is situated at a distance of 51 kilometers from Manali. If you start early in the morning, you can reach the top within 3-4 hours. But if you start a little late in the day, because of the traffic, it might take 5-6 hr to reach the top.
To visit Rohtang Pass, you need to obtain a permit from the SDM office in Manali; either in person or through their online web portal. There is a limit for vehicular movement across the pass due to vulnerable ecology, and the permit gives you access to visit it. If you don't have the permit, you will not be able to pass through from Gulaba Check post.
If you want to get all the details about the permit, please read Rohtang Permits: Details, Charges & How to Apply, and How to Get Rohtang Permits Online.
When to visit Rohtang Pass?
The right time to visit Rohtang Pass depends on various factors. If you wish to witness a winter wonderland with plenty of snow around you, May and early June can be the best time for you. If you wish to see Rohtang in its enchanting lush green glory, early July and September can be the best month for you.
July and August are usually considered as the worst time to go to Rohtang Pass because of incessant rains and resulting landslides.
If you are on a budget trip, you should plan towards the end of the season, sometime in October. For a family trip, May, June and, September is the time to go. If planning a bike ride, you should avoid the monsoon season. For Photography, early May and September is the right time to go.
Let us take a look at month-wise details that can help you plan your trip in the best possible manner. I will begin with the months when Rohtang Pass remains open and will cover the rest of the months towards the end of this article. For more details, I will also recommend taking a look at How to Plan a Trip to Manali.
Rohtang Pass in April
April is when the excitement for visiting Rohtang Pass starts to build up. BRO (Border Roads Organization) starts their snow clearing operation in March and Rohtang is freed of snow by early April. A couple of weeks are given to inspect the road condition and after it is deemed safe for civilian vehicles, tourist movement is permitted.
April is always a very dicey month and I do not advise anyone planning a trip at this time if Rohtang was on your mind. It cannot be confirmed when would the pass open and even after opening, it may get closed for a few days for maintenance. It will also be very crowded which will make getting a permit almost impossible. In terms of safety as well, April is not the best month to go. Hiring a taxi also will cost a fortune in April.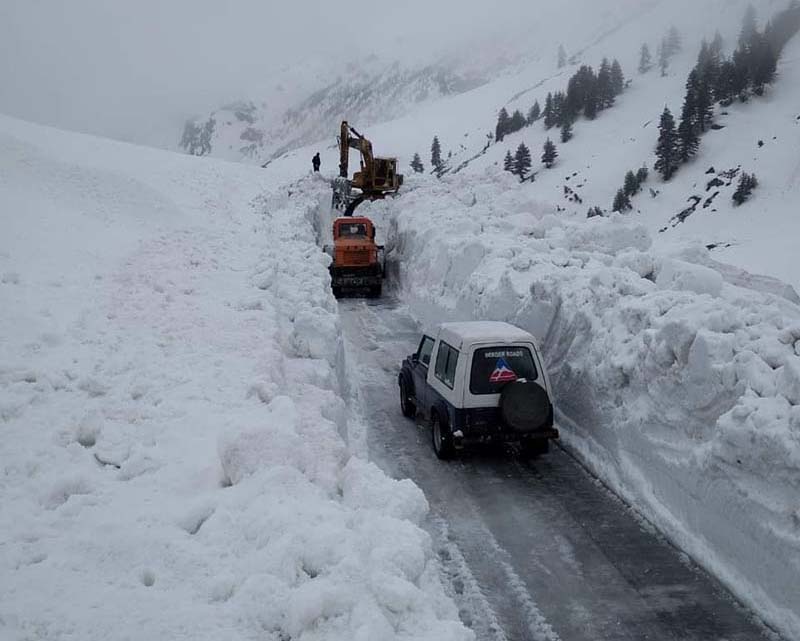 On a positive side though, this is when you will find the majority of the snow and can also see the famed snow walls on both sides of the road. Historically, it is only towards Mid April when the pass opens so if you were planning a trip in April, do so at the end of the month. Depending on the weather, the opening may happen early or get pushed to May but most of the time, it is open by April end.
Also Read: How to Plan a Trip to Shimla
Rohtang Pass in May
BRO is the sole organization that handles the clearance of snow on the mountains passes. If the snow is cleared in April or May, the roads will be opened for the visitors. It is hard to predict the opening of the pass as every year the weather condition is slightly different. In 2019, the pass opened in the early days of June whereas, in 2018, it was opened in March itself.
Is May a good time to visit Rohtang Pass? That, as said above, depends if the pass is opened in May. You can check the road status in THIS POST and plan your trip accordingly. If yes, then a few days after the pass is opened can be a good time to visit. You will get to see plenty of snow at the top which is one of the major reasons for people to visit Rohtang.
On the negative side, it will be extremely crowded. Procuring a permit will be very difficult and taxi drivers will charge you between Rs. 10k to 15k for a round trip. With summer vacations on in the schools, this is when the majority of the families plan a trip to Manali and Shimla. The wait time itself at the Gulaba check post can be up to 2 hours and even after that, you can still get stuck in traffic.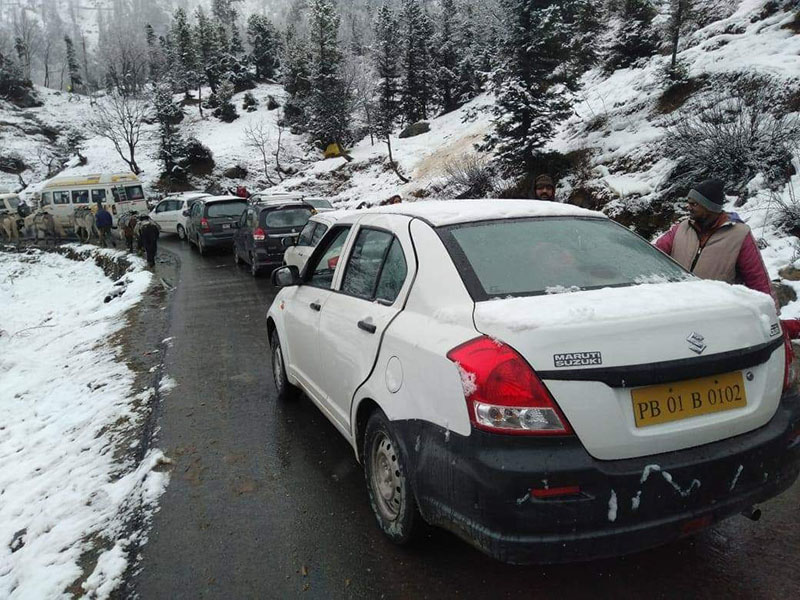 Rohtang Pass in June
June is an excellent month to visit Rohtang Pass. It would already be a few weeks since the road opened so it will be pretty stable and safe to drive on. The weather will be warm and pleasant but the snow would not have melted from the top of the pass.  There will still be plenty of it left for you to enjoy.
If you visit early in the month, you will be driving through meters high snow-walls on either side of the road. The road conditions would be good except for a few kilometers before Rohtang Top that mostly remains damaged. There will be a few bad stretches in between but majorly the road condition will be stable.
The ride on the narrow road in-between the snow walls will surely ignite your adventure-seeking soul.  The temperature during the daytime in June is around 15-18 degrees.
Since it is the peak tourist season, it will still be very crowded. Hotels, taxis, restaurants in Manali will all be overpriced so be ready for that. You will also encounter a lot of people traveling towards Ladakh and Spiti which will also add to the crowd and the traffic.
Also Read: Tourist Places in Manali – What to See in Manali
Rohtang Pass in July
July is the tourist season at Rohtang but off-season in Manali. This is because the tourist crowd in Manali would have gone down a little but there will still be hundreds of tourists crossing Rohtang and heading towards Ladakh or Spiti.
At the start of the month, Rohtang Pass looks spell-bounding in its lush green landscape. The views, complemented with snow-capped mountains and slopes covered with a carpet of green is what Rohtang Pass is all about in July.
Monsoon arrives in the hills in July but Manali starts to experience pre-monsoon showers by the end of June itself. By the end of July, the monsoon season is in its full swing. Sometimes, it can rain straight for two-three days and make it impossible for you to drive to Rohtang due to the fear of landslides. It is not uncommon for Rohtang to be declared temporarily closed in the monsoon season.
I would recommend you to plan your trip in the starting days of July, as the weather would be pleasant and you will be rewarded with mesmerizing beauty. After that, the monsoon showers will start taking a toll on the roads. The melting of snow and constant down-pour will definitely deteriorate the conditions of the roads.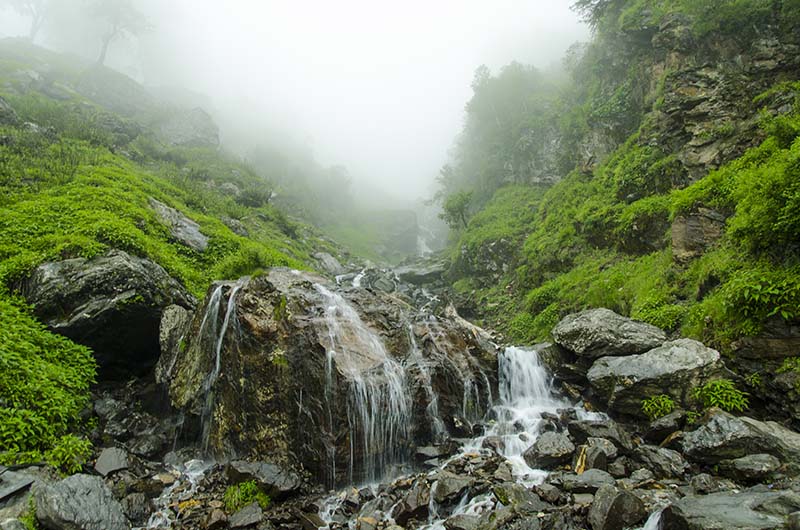 Rohtang Pass in August
Is August a good time to visit Rohtang? Definitely not. The monsoon season in the area around Manali can really wreak havoc. Sometimes entire sections of the road get washed away. Landslides and shooting stones caused by incessant rains pose a real threat at this time. If the weather got worse, authorities may even close Rohtang for a few days until it was safe to travel. All adventure activities like paragliding and white water rafting too will not be available in August.
On an upside, views at this time will be heavenly. This is when the valley and the mountains truly come alive with flora and fauna. If you are ready to risk the rain and do not mind getting wet a little, you will be rewarded with amazingly beautiful scenery. It can also be a good time for photography, provided that you keep your gear safe and dry.
I will not really recommend visiting Rohtang in August but if you do, please take a look at the weather report before you leave home.
Also Read: How to Plan a Trip to Solang Valley
Rohtang Pass in September
September is by far my favorite time for planning a trip to Rohtang. This month has the best views that you can ever get. Monsoon would be long gone but would have left behind plenty of greenery for you to enjoy. September offers everything that you will get in July and August but without the risk of the rain. Even if it rained, it will not be too much.
Snow-capped mountains, waterfalls, clouds floating low in the valley, streams of water is what you will get in September.  The only downside is the condition of the roads. All the rainfall from the previous months would have caused a lot of damage to the roads. Other than that, September is probably the best month to visit Rohtang Pass. It is not really tourist season in Manali so it won't be too crowded either. The weather too will be very pleasant.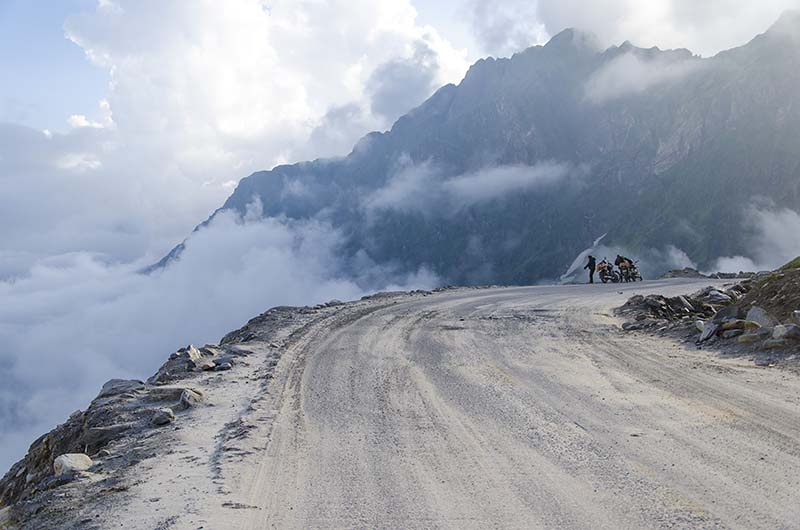 Rohtang Pass in October
Rohtang Pass remains open for most of October but it entirely depends on the weather. October marks the beginning of the winter season and the temperature starts to drop drastically. By mid of the month, Rohtang would have received its first spell of snow.
Can you visit Rohtang Pass in October? Yes, you can. Is it a good time to go? It is if you were going in the early part of the month. In the second half of October, the weather gets very cold and can change unpredictably. There have been instances when the weather suddenly closed in and the tourists were left stranded either at the top of the pass or on the way.
In terms of the scenery, this is another good time for photography. All that was green in September will turn Orange in October, giving a magical look to the mountains. Depending on the weather, the pass may get closed for the year by end of the month or would at least close for a couple of days as it starts to snow.
Also Read: Shimla Kalka Toy Train – How to Plan your Trip
Rohtang Pass in November
November is when Rohtang Pass gets closed for the season. The exact date depends on the weather but it is mostly in the early days. It remains open for a little longer for the locals as it is the only way for the people residing in Lahaul Valley to connect with the mainland. Tourist movement, however, is only limited to the initial part of the month.
If you are planning to visit in November, please note you would have to be ready for unpredictable weather conditions. It can snow anytime and there will be chances that you may get stuck. It is best to travel in the starting days of the month, in the first week itself, and even then, you should check the weather report.
On an upside, since it is off-season, a trip at this time will not cost you as much.
Rohtang Pass in December
Rohtang Pass remains closed in December and it is extremely rare that the road was open. Even if it was in the initial days, it will only be for the locals and not tourists. Mostly, the locals too have to cross the pass on foot as the road gets buried under a thick layer of snow.
Rohtang Pass in January
Rohtang Pass remains closed in January and cannot be visited. You will not be allowed to go any further than the check post at Gulaba. The pass receives as much as 50 ft of snow at this time. If it was snow on your mind then you will get plenty of it in Manali as well. You do not have to go to Rohtang for it.
Rohtang Pass in February
Much like January, Rohtang Pass remains closed in February and cannot be visited. You can neither drive nor walk to the pass. Even locals are not permitted to go at this time. January and February are however a good time to plan a winter trip to Manali and Solang Valley.
Rohtang Pass in March
Rohtang Pass remains closed in March and cannot be visited. BRO starts to clear snow off the road in March and finishes it in April. There have been instances when the pass was opened in March itself but chances of that happening are extremely rare. For a trip in March, just assume that you will only be visiting Manali and will have to keep Rohtang out of your itinerary.
Also Read: How to Plan a Trip to Lahaul Valley
When is the best time to visit Rohtang Pass?
Now based on the information above, I believe it is safe to say that the best time to visit Rohtang Pass is the months of May, June, and September. The weather at this time will be perfect for vacation. Aside from visiting Rohtang, you can also enjoy several other places and activities in Manali. All hotels and guest houses will be operational in these months and you will have no problem in either reaching Rohtang or finding a place to stay in Manali.
But there are few other factors that will have to be considered before you finalized your trip.
Best time to visit Rohtang Pass for Snow
If snow was on your mind, then you should plan a trip in the month of May, as soon as the pass opens. I agree that you will find snow in later months as well but it won't come even close to what you will get if you went in early May.
If you were hoping to catch a live snowfall then Rohtang is not the best place to do that. If it snowed while you were at the pass, you will get stuck and the situation can get serious. Rohtang anyways remains close in the months when it snows. So for a snowfall, you should visit Manali in January or February and keep Rohtang out of your plans.
Best time to visit Rohtang Pass with Family
May and June are the best months to visit Rohtang Pass with family. The weather at this time is perfect for a family vacation and the uncertainty factor will be at its lowest.
Best time to visit Rohtang Pass on Budget
If you were on a tight budget, then you must avoid a trip in May, June, and September. Your best bet will be the monsoon season, in July and August or in October. In all three of these months, the tourist influx in Manali is not that great and you will be able to get a good deal in terms of accommodation. The bus service will be open in these months so you can catch a Bus for Rohtang and since there won't be many tourists, you will easily be able to book a ticket.
Best time for a Bike trip to Rohtang Pass
May, June, September and early October are the best months to plan a bike ride but you must avoid visiting in July and August.
Best Season to visit Rohtang Pass
Summers are the best season to plan a trip to Rohtang Pass.
Conclusion
I hope the information above on the best time to visit Rohtang Pass was of help. If you have any questions or need any other details, please feel free to ask in the comments section below, or at our Community Forum, and I will be glad to answer.