What to see in Spiti valley is probably the first question that comes to mind when you plan a trip to this least populated region of our country. And the confusion mostly is because of the vastness of the area that you cover during the journey. When you travel on the Spiti circuit, you are not just visiting Spiti valley. Instead, you are traveling through a distance over 600 kilometers between Shimla and Manali and switching between several different valleys or districts. You will cross the mystical and enchanting valleys of Shimla, Kinnaur, Sangla, Pin, Spiti and Kullu over a period of 7 to 9 days or even more. So as you can imagine, the list of places to see here can really be a long one; enough to keep you busy for days or weeks even.
Also Read: How to Plan a Trip to Spiti Valley – A Complete Travel Guide
In this post, I will explain how you can plan your journey on Spiti Circuit and some of the must-visit places in Spiti Valley that you just cannot miss. Rather than just listing down the places and writing a brief summary on them, I will provide the information in the form on an itinerary or a journey. For an easier understanding, I will move between towns on the circuit in a traveling manner and explain the places that you should visit there. Apart from the tourist attractions in Spiti, I will also cover information like distance, travel time and accommodation. So this can actually work both as a guide to sightseeing in Spiti Valley as well as an itinerary for you.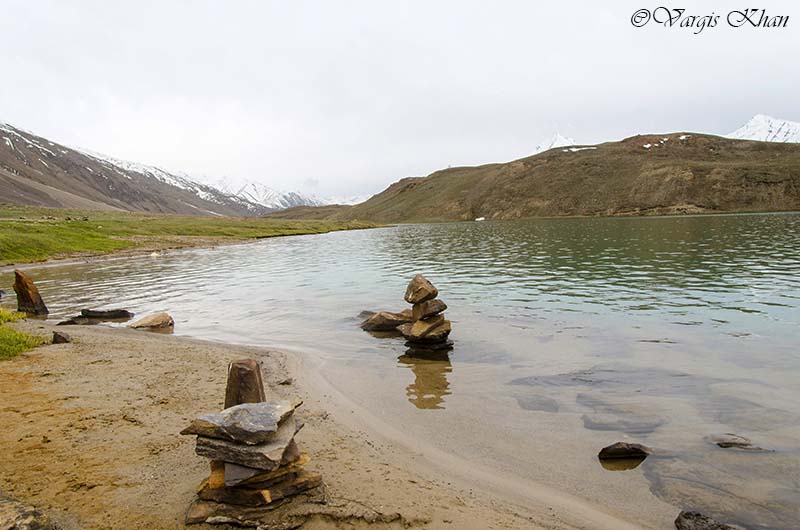 The Hindustan Tibet Road
This article is in fact in continuation with a previous one, Road to Spiti Valley – The Hindustan Tibet Road. In the previous part, I provided a brief summary of the entire Spiti circuit and which part of it is known as the ancient Hindustan Tibet Road. I have also provided a map of the route in the previous article and will recommend that you also take a look it to understand the journey better.
What to see in Spiti Valley
Now coming back to the question of places to see in Lahaul Spiti, I will explain the journey assuming Delhi as the starting point. However, even if you were coming from a different city, only the route before Shimla and after Manali will be different. Rest of the details will still apply. The way I am laying down this journey is to ensure that all the places in Spiti valley are covered and by that I mean all the towns en route. You will stop at every major tourist town on the way and see everything that is worth seeing. I agree that it will take some time to travel in this manner but trust me, it will be worth it. But if you were short on time, you can skip any of the places and move to the next town.
Below is how I will be traveling.
Delhi to Shimla / Narkanda
Shimla / Narkanda to Sarahan
Sarahan to Chitkul
Chitkul to Kalpa
Kalpa to Nako
Nako to Mudh Village (Pin Valley)
Mudh Village to Kaza
Kaza
Kaza to Chandratal
Chandratal to Manali
Manali to Delhi
As I mentioned, this is a very relaxed journey and long traveling hours are mostly limited to 1st and last day.  However, if you did not have 11 days to spare, you can skip any of the places and move to next directly. How? I have explained it further in the article. As you can imagine, this is going to be quite a long post considering the information we are covering here so stay with me.
Delhi to Shimla / Narkanda – Day 1

Your first day of the journey will be a long and quite a monotonous one. Take an early start from Delhi to avoid the traffic and hit the Delhi-Chandigarh highway; also known as NH1, GT Road, Sher Shah Suri Marg, Uttarapatha, Badshahi Sadak, Grand Trunk Road and Sadak-e-Azam. Yeah, all those are the actual names that this highway has been known as over the last few centuries. Call it whatever you want but one thing is certain. It will be quite a boring journey until Chandigarh at least.
Just before Chandigarh, take the turn towards Himalayan expressway and be on your way to Shimla. You will now be driving through the hills and the scenery from here on will be charming and interesting. Now there are two choices here. You can either stay at Shimla or continue another 70 kilometers and stay at Narkanda. I personally prefer staying at Narkanda as opposed to crowded Shimla but you can decide as per your own preference. Both the places have quite a few hotels but if you decide to stay at Narkanda, it would be better to call and book in advance.
Road conditions will remain super smooth all the way till Narkanda for this day's journey.
What to see in Shimla
Now for a minute, let us assume that you stayed at Shimla. You will arrive here after a very long journey and would have to be on your way to Spiti the next day. Shimla has a lengthy list of places to see but you will not have time to cover all of them. After you have checked into a hotel, you can visit the main shopping street known as "The Mall" and spend some time at the Christ Church; the second oldest church in Northern India. If you reached well within time, you can also visit Jakhu Hill. It is the highest peak around Shimla, at a height of 8,000 ft, offering a magnificent view of the valley. There is also a grand 108 feet tall statue of Lord Hanuman at Jakhu Hill.
So for Shimla, this will be your list.
The Mall
Christ Church
Jakhu Hill
Shimla State Museum
Statue of Lord Hanuman at Jakhu Hill
If you decided to stay a day in Shimla and explore it more, then I will recommend you to read How to Plan a Trip to Shimla for a complete list of places to visit here.
What to see in Narkanda
Narkanda is just a small town and the natural beauty of the place is what you will see here. A couple of places worth mentioning are the Hatu Peak and Tani Jubber Lake. The best time to visit Tani Jubber Lake would be right after you have arrived at Narkanda. Check into a hotel, freshen up, have a cup of tea and start driving towards the lake. If you weren't sure of which way to go, ask any of the locals and they will point you in the right direction. This is a man-made lake and is located about 2-3 kilometers from Narkanda. It is actually a nice spot to spend your evening after finishing the journey on Day 1. From Narkanda to the lake and back will take you about 1 hour at most. Do not go to Hatu Peak, you will cover that the next day.
Narkanda to Sarahan – Day 2
Your destination for Day 2 will be the beautiful town of Sarahan but before you go there, pay a visit to the Hatu Peak. It is the highest mountain in Shimla district and there is a drivable road that goes all the way to the top of the peak. The view from the summit is just amazing and definitely worth a visit. There is also a temple at the peak dedicated to Hatu Mata that you can pay your respect at. Hatu Peak is about 10 kilometers from Narkanda. A trip here will take you at least 2 hours so please make sure that you are managing your time accordingly.
After you have visited the Hatu Peak, start driving towards Sarahan from Narkanda. It will now be a downhill drive all the way. A few kilometers later, you will come across the Sutlej Viewpoint and get your first view of the Sutlej river. Take a break, spend some time and continue driving down. Pretty soon, you will be driving right next to the Sutlej River and it will be a beautiful drive. You will drive through some of the most scenic stretches of roads, see some amazing vistas and arrive at Jeori.
Now from main Jeori Chowk, there is a road that goes to your right. This is the one you will need to turn on. It is a steep and narrow climb of 11 kilometers so please be careful while driving. Travel time from Narkanda to Sarahan is 4 to 5 hours at most and road will continue to remain good. There are several hotels in Sarahan and you will have no problem finding one as per your liking and budget.
For more information on Sarahan, please read How to Plan a Trip to Sarahan.
What to see in Sarahan
Now there are two things that are worth visiting in Sarahan. The Bhimakali Temple and Sarahan Pheasantry, also known as Sarahan Bird Sanctuary. After you reach here, check into a hotel and first go straight to the Bhimakali temple, dedicated to Bhimakali and one of the 51 Shakti Peeths. After the temple, if there is still time, you can go to the bird sanctuary or leave it for the next day.
Sarahan to Sangla – Day 3
Today you will be traveling from Sarahan to Chitkul via Sangla. Chitkul is one of the most amazing hill stations I have ever been to. In fact, it wouldn't be wrong if I called it my favorite hill stations of all. Sarahan Bird Sanctuary, however, is one place that you haven't yet visited. The problem is that it opens a bit late in the day, around 9 AM I think. Sarahan to Chitkul is about 6 hours of travel so do manage your day accordingly if you want to visit the sanctuary.
Is it worth a visit though? I have been there and it is, in fact, quite a good one. It hosts Monal, the state bird of Himachal Pradesh and a few other rare birds. Please note that the sanctuary remains closed from July to September for Bird mating season. It is a great place but only if you have an interest in wildlife, birds or photography. If either of these doesn't interest you, then you can give it a skip.
For going to Chitkul, you will first drive down 11 kilometers back to Jeori from Sarahan by the same road you took to get there. From Jeori, continue driving towards Karcham. The place is a little hard to miss because there is a huge dam built on the Sutlej River here known as Karcham Dam. The Dam in itself presents quite a view and is a great place to capture a few photographs. Cross the bridge over to the other side and take the road that goes towards Sangla. It may be a little hard to spot and confusing at times so if you weren't sure which way to go, ask the locals.
Also Read: Sarahan to Chitkul –  An Awesome Drive
What to see in Sangla
Karcham Dam will be the first thing that can be called an attraction as you enter the Sangla Valley. From Karcham to Sangla is a total of about 20 kilometers and the road condition may get a little bad. Weather will turn cold and the speed of the wind will increase significantly as you enter the mesmerizing Sangla Valley. The beautiful Baspa River will be your next tourist attraction and it will continue traveling with you all the way to Sangla Town.
Once you reach Sangla town, take a break and pay a visit to Nages God Temple; a temple located dedicated to Nages God. Another tourist attraction here will be Kamru Fort; which is one of the oldest forts in Himachal Pradesh. There are a lot of hotels in Sangla and if you wish to, you can stay here as well for the night.
So for sightseeing in Sangla, your top places would be
Karchham Dam
Baspa River
Nages God Temple
Kamru Fort
For more information, please read How to Plan a Trip to Sangla Valley.
Sangla to Chitkul  – Day 3
From Sangla town, you will now venture further into Sangla Valley towards Chitkul, also known as the last village on Indian Border. The total distance between both places is about 20 kilometers and easily doable in about an hour at most. The road will be a mix of good and bad but narrow. There are several hotels and guest houses in Chitkul that you can stay at.
What to see in Chitkul
Nothing in particular really. Chitkul is famous for its serene beauty and peace. So sit down at a quiet place next to Baspa River and just enjoy the beauty of the nature around you at its best.
Chitkul to Kalpa – Day 4
After Chitkul, you will now exit Sangla valley and head to the small town of Kalpa, the heart of Kinnaur Valley. To get there, you will have to travel all the way back to Karcham, the entire 40 kilometers. Cross the bridge on Karcham Dam once again, come back to the highway and continue driving towards Powari. You will come across a petrol pump at Powari. I will highly recommend that you get a tankful done here and do not wait for reaching the petrol pump at Reckong Peo.
Shortly after the Powari Petrol Pump, there will be a diversion to your left going towards Reckong Peo. Take the turn and drive up to Reckong Peo. At the market area, ask the locals to point you in the direction towards Kalpa. You will start coming across several hotels as you get closer to Kalpa town. Just continue driving uphill and cross the Kalpa town through its extremely narrow streets, wide enough for only one car to pass at several places. The hotels are actually better located once you cross the Kalpa town and go even further uphill. Find one as per your liking and check into one.
The average price of per day stay in Kalpa will be about Rs. 2000. The total distance between Chitkul and Kalpa is 65 kilometers approximately, doable in 3-4 hours easily with sufficient breaks. Road conditions are a mix of good and bad.
Also Read: Chitkul to Kalpa – In the Heart of Lower Kinnaur Valley
What to see in Kalpa
Now that you are checked in to a hotel in Kalpa, let us talk about what you can see here. The biggest attraction of this little town is the majestic and imposing view of Kinner Kailash. You do not have to go anywhere for that. It will be right in front of view as you take the turn from Powari and start driving up towards Reckong Peo. No matter where you are in Peo or in Kalpa, this view will remain to be a feast for your eyes all the time. Below is a picture of what I am talking about. That little town in the picture is Kalpa. Do not stay in the town and continue driving up to where I am standing taking this picture. The peaks in front is the awesome Kinner Kailash summit.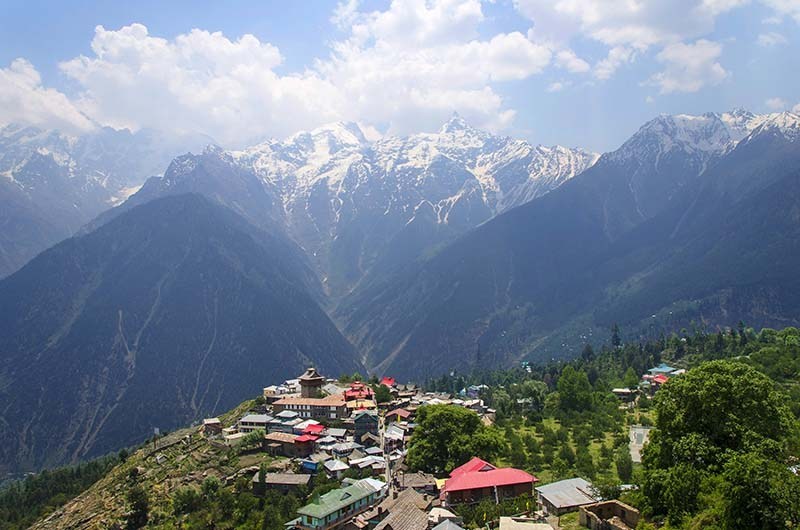 The second tourist spot in Kalpa is known as the suicide point. Nothing too special about it to be honest but it is, in fact, a great spot to click some good pictures. Take a drive to suicide point and it will hardly take you half an hour at most. The third place that you can visit here is the Roghi Village which is on the same road as the suicide point after another 5 kilometers. It is popular for its apple orchards and ethnic village life, which includes temples, monasteries, Kinnauri style buildings. So your three places to see in Kalpa in a day's visit will be
Kinner Kailash also called Kinnaur Kailash
Suicide Point
Roghi Village
If you were planning to extend your stay in Kalpa and had time for more sightseeing, I will recommend that you read How to Plan a Trip to Kalpa for a list of other places that you can visit here.
Kalpa to Nako – Day 5
The towns of Reckong Peo and Kalpa are located in lower Kinnaur Valley. After spending a day in Kalpa, you will now move towards the village of Nako which is the upper Kinnaur valley. Total travel distance for the day is about 100 kilometers that you can easily complete in 4-5 hours at most with plenty of breaks in between. No need to rush in the morning and you can take a slow and easy start from Kalpa at 9 AM. Have breakfast at your hotel in Kalpa and you will be well in time at Nako for lunch.
Road conditions will remain to be good but the scenery will get a bit dull. The hills on this stretch are very unstable and ugly, to be honest. There are a lot of shooting stones areas in this area where the stones keep falling from the top of the peaks so please drive or ride carefully.
To get to Nako, you will first have to drive down from Kalpa towards Powari, right to the spot where you took the turn the day before. From here, continue driving towards Pooh and then Khab. Cross the Khab Bridge and drive up towards Nako. There is a small dhaba at Khab Bridge and you must take a break here. It is at an amazing spot and tea here was good actually when I tried it. Just before Nako, there is also a small restaurant that a local lady runs and the Rajma Chawal here is awesome; a good place to have lunch. The restaurant / dhaba is hard to miss as it sits in the middle of nowhere and its front door is covered with stickers of different travel agencies and bike groups.
Also Read: Kalpa to Nako – The Upper Reaches of Kinnaur Valley
What to see in Nako
There is not much to see in Nako except for its natural beauty but there are several other places that you will see on the way. The first one is the high altitude pass of Shipki La. To get to the pass, you will have to turn to your right and drive up about 30 kilometers just before Khab Bridge. The thing, however, is that no civilian is allowed towards this pass at all. You will have to pull some strings and get a permit for the pass from Reckong Peo. Why? Because just across the pass is the Tibet border. So if you were able to manage a permit for Shipki La then visit here or else continue driving towards Khab Bridge.
Khab Bridge
There are two things to see at Khab Bridge. The first one is the confluence of Spiti & Sutlej Rivers right under the bridge. The second is the Reo Purgyil summit. At an elevation of 22,362 ft, it is the highest peak in all of Himachal Pradesh and Nako Village is located on the slopes of this mountain. You can get a good view of the peak from Khab Bridge if the weather is clear. The overall location of Khab Bridge is actually an awesome spot.
After Khab Bridge, as you approach Nako, you will be driving up the Kazigs. Also known as Ka Loops, it is a series of hairpin bends before the village of Nako. One by one you climb up the loops and vistas keep getting better and the road below too looks quite scenic, like a crawling snake.
Nako
After you have checked into a hotel in Nako, there are three things to see here. The first one is the Nako Lake which is a small man-made lake that is not much to look at during day time but looks good in pictures taken at either dusk or dawn. Next place would be the ancient 11th-century Nako monastery. If you still had sometime in the day left, you can trek up to the nearby surrounding hills at Nako and get an awesome view of the village like in the picture below.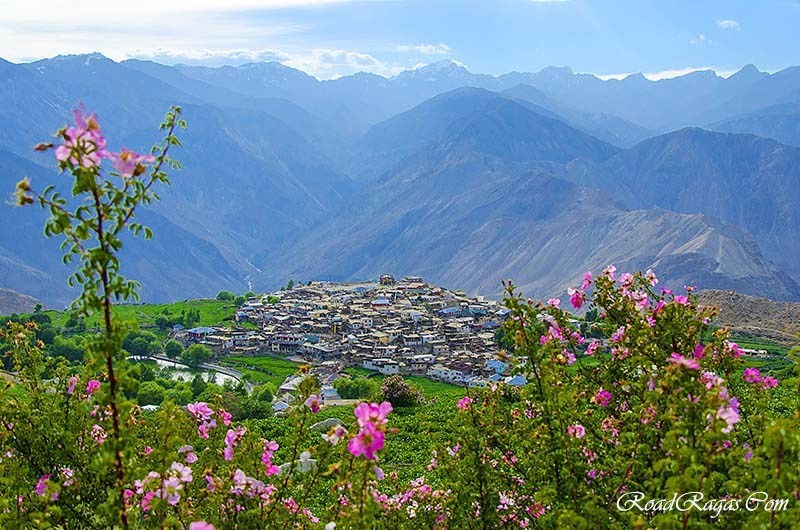 So for sightseeing in and around Nako, this will be your list.
Shipki La
Reo Purgyil Peak
Khab Bridge
Confluence of Spiti & Sutlej Rivers
Ka Loops
Nako Lake
Nako Monastery
If you decided to go trekking to the hills, you can add that to the list too. When you are in the village, you will notice temples and prayer wheels located at top of the hills. This is what you will be targeting to reach.
Nako to Mudh Village (Pin Valley) – Day 6
As you leave Nako, you will exit the Kinnaur Valley and finally enter Spiti. But your destination for today will actually be Pin Valley which in fact is one of the biggest tourist attractions of a trip to Spiti Valley. Road conditions from here on will be bad and continue to deteriorate until Manali. Total distance for today's journey will be about 90 kilometers in total until Mudh Village. But due to bad roads and places to cover en route, it will take you about 4 – 5 hours to complete.
Nako to Tabo
As you leave Nako and travel towards Tabo, your first hurdle will be in form of Malling Nallah. It is a huge water crossing and depending on the time of the year you are traveling, getting across can have your heart jump to your mouth. You will cross the nallah, drive on for a few kilometers and then first reach the small villages of Chango and then Sumdo. A little after Sumdo, to your right, you will come across a yellow colored gate marking the entrance to Gue Village.
There is a 500-year-old Mummy located in a temple in the village here that is definitely worth visiting. From the gate, it is a straight drive of about 8 kilometers uphill. When you reach the village, ask them where the mummy is located and they will point in the direction of the temple. To know more, please read The Mummy of Spiti Valley.
After visiting the Mummy, drive back down to the highway and continue towards Tabo which is about 35 kilometers from the Gue gate. Take a break at Tabo and visit the local Tabo Monastery. It is believed to be more than a thousand years old and is home to priceless collections of scroll paintings, manuscripts and well-preserved statues. A lot of people opt to stay at Tabo rather than Nako. There are a few guest houses here and a couple of campsites as well. The monastery in Tabo also provides the facility of overnight stay. But if you decide to stay here, please know that it is a very basic type of accommodation and a bit uncomfortable as well.
What to see in Tabo
Between Nako and Tabo, following will be the places that are worth visiting or mentioning.
Malling Nallah
The Mummy at Gue Village
Tabo Monastery
I know Malling Nallah is not really a tourist place but I listed it as such because of its notoriety.
Tabo to Dhankar
Dhankar or Dhankhar is another small town and a known tourist destination in Spiti Valley. "Dhang" means cliff and "Kar" means fort, hence the literal name of the place is "Fort on a cliff". It is located about 25 kilometers from Tabo which will take you another hour to complete due to bad road conditions in between. After visiting the Tabo Monastery, have something to eat at any of the dhabas here and start driving towards Dhankar.
Dhankar Monastery is the prime attraction here and there are two versions of it. First one is the ancient and old Dhankar Monastery which is really a wonder in itself. It is built on a 1000 foot high cliff overlooking the confluence of Spiti and Pin Rivers. The second one is the new Dhankhar Monastery and they are both close to each other.
While approaching Dhankhar, you will really need to watch out for a turn on your right. You will need to take this road and drive uphill about 7 kilometers to reach the Monastery. That is correct; it is not on the main highway.
If you had some time and are up for some trekking, then your next place to visit here will be Dhankhar Lake. You can leave your vehicle and belongings at the monastery and walk to the lake. Ask any of the locals for the way and they will point you in the right direction. Do keep in mind though that the trek is a bit steep and filled with loose stones so tread carefully. From the monastery to the lake and back will take about 60 to 90 minutes.
What to see in Dhankar
Following will be your two tourist attractions in Dhankar.
Dhankar Lake
Dhankar Monastery
The confluence of Spiti and Pin Rivers
If you were short on time then you can skip Dhankar Lake but a visit to the monastery is highly recommended. The confluence of the two rivers is not exactly in Dhankar but a little after the town towards Kaza near Attargo Bridge.
Dhankar to Pin Valley
When you are in Tabo and Dhankar, you are exploring Spiti Valley but for a while, we will exit Spiti and enter the beautiful Pin Valley. From Dhankar to Mud Village is about 50 kilometers in total on a bad road. You will continue driving towards Kaza village until Attargo Bridge. It is a bridge built on Spiti River and there is a huge Dam kind of construction near it so it will be hard to miss. The confluence of Spiti and Pin Rivers too is actually at this spot near the bridge. There is also a gate built on the bridge marking it as an entrance to the Pin Valley. See the picture below.
Cross this bridge, get on the other side of Spiti River and take left. The road near the bridge will be good but it will continue to get worse as you go deeper in Pin Valley. Your destination here will be the village of Mudh which is about 30 kilometers from Attargo Bridge. Just keep following the single road until it ends at Mudh; and do not turn anywhere. You will keep coming across several villages but Mudh has the greatest options in terms of accommodation for the night. There is a guest house in Gulling village too if you want to stay there.
For more information on Pin Valley, please read How to Plan a Trip to Pin Valley.
What to see in Pin Valley
For a day trip to Pin, the natural beauty of the place is what you will be seeing. The view from Mudh village is really the one to die for. I will post a picture.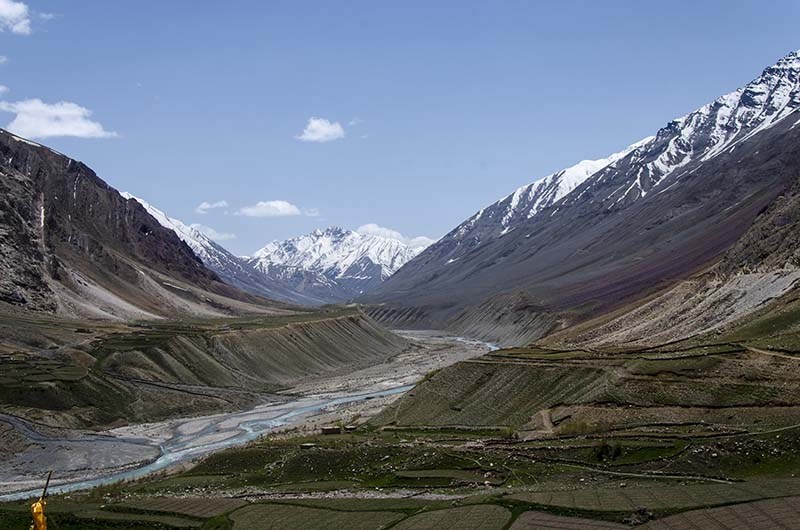 Below is a list of what can be called as tourist places in Pin Valley.
Pin River: You will be driving right next to Pin River for most of your time in Pin Valley. It will present several great photographic spots on the way.
Spiti and Pin River Confluence: It is a great sight as both these rivers merge into each other at Attargo.
Kungri Monastery: This monastery has the option of night stay if you want to experience it. It was built around 1330 AD and is a great place to visit. The route to the monastery, however, is a little off the main road and you would have to stop at Gulling village asking for direction. A road bifurcates towards the monastery a little after Gulling and the monastery is 2 kilometers from there.
Pin-Parvati Pass Trek: At an altitude of 5319 meters, Parvati Pass connects Parvati Valley to Pin Valley. You would of course need to spend a few days in Pin Valley to attempt this.
Bhabha Pass Trek: Another great trek that starts from Mudh Village and takes you to Bhabha Pass at an altitude of 4,850 meters and across into Bhabha Valley. You will need a few days for this too.
Wildlife: Pin Valley is known for its wildlife and if luck favored, you may spot an Ibex or some other animal.
The first two options and natural beauty is what you will actually see in Pin Valley unless you were planning on spending a few days in here.
Also Read: Nako to Mud Village – Enjoying the peace of Pin
Mud Village to Kaza – Day 7
Now after 6 days of traveling, you will finally enter the heart of Spiti Valley, Kaza. It is the administrative headquarter of Spiti and base for several tourism-related activities. From Mud Village, Kaza is about 65 kilometers in total so there is absolutely no need to rush. Enjoy a beautiful sunrise in Pin Valley from the roof of your hotel while sipping down a cup of tea or coffee. Beauty and mornings like this are hard to come by for city dwellers like us. So have as much of it as you can and while you can.
From Mud, you will have to drive all the way back to the Attargo Bridge. Cross the bridge again, take left and from here it is a straight drive to Kaza. The entire journey from Mud Village to Kaza will not take you more than 2 – 3 hours at most. Roads will be mostly a mix of bad and average. There are plenty of hotels in Kaza and no matter your budget; you will easily find a place to stay here.
There aren't many places to visit in Kaza. My recommendation would be that you use this time to relax. In the evening, visit the Kaza Monastery, do some shopping in the evening and have a pleasant walk on the banks of Spiti River.
Also Read: Pin Valley to Kaza – The Soul of Spiti
What to see in Kaza
Following will be the three main tourist attractions in Kaza.
Spiti River
Kaza Monastery
Kaza Market
Kye monastery is also one of the tourist places in Kaza but we will cover that on the next day. If you however wanted to use the time today, then ask any of the locals and they will point you in the direction of Key Monastery.
Sightseeing in and around Kaza – Day 8
Plan for today is to spend some time visiting the local villages around Kaza. These villages actually is the real Spiti valley. This is where you actually get a true taste of how life in these remote places goes by. A lot of people plan to even spend a night here as paying guest in any of the villager's house.
Take an early start from Kaza so that you have sufficient time to explore. You will be traveling through the villages of Kibber, Komik, Chicham, Langza, Hikkim, Tashigong etc. From Kaza, take the road towards Manali. You will come across a bridge but do not cross it and continue straight. This road will take you to straight to Kye Monastery which is one of the largest monasteries in Spiti valley. It is also known as Kye Gompa and is said to be over a thousand years old. It also serves as a training centre for Lamas.
After Kye Gompa, first take the road towards Kibber and visit the villages of Kibber, Chicham, Gette and Tashigong. The newly built Chicham Bridge is a great place to click some pictures.
After visiting these places, drive back all the way down to the same road of Kye Monastery. But do not go back to Kaza. There is another road here that goes towards Hikkim and Langza that you will now turn on and explore this side of Spiti. A grand Buddha statue at Langza overlooking the village is one of the prime attractions here.
Road Maps of Spiti
The roads and area are a little hard to explain in words. I will recommend that you take a look at the following two posts. I have explained here these villages in completed details and have also provided road maps to help navigate.
Also Read: How to Plan a Trip from Kaza to Kibber, Gette & Tashigong
Also Read: How to Plan a Trip from Kaza to Komik, Hikkim and Langza
Another prime attractions of these villages are the marine fossils found here. These are some really ancient fossils that a lot of people come here looking for. It is not however something that you will come across at random. Villagers here keep these fossils to show and also to sell. To be honest, you wouldn't even know it was a fossil if it was lying next to the road because it will just look like a normal stone to you.
Tourist Places near Kaza
Below is a list of places that can be considered as tourist attractions near Kaza.
Key Monastery
Chicham Bridge
Buddha Statue
Marine Fossils
Kibber
Komik
Langza
Hikkim
Chicham
Gette
Tashigong
I have listed all the villages as tourist places because the natural beauty of these places definitely makes them so.
Kaza to Chandratal – Day 9
Your next destination is the biggest tourist attraction of Spiti valley, the beautiful Chandratal Lake; literally meaning "The Lake of the Moon". There is a whole story about why this lake got to be named such and you can read about it at The Legend of Chandratal. The total distance between Kaza and Chandratal is approximately 100 kilometers but the journey will take you at least 6 hours due to extremely bad, broken and narrow roads. To read a more real-life version of this information and with pictures of the route, take a look at Driving from Kaza to Chandratal: The Fun & The Scares.
Take an early start from Kaza so that you can reach the lake in time and have some time left for sightseeing. The road will turn bad the moment you get out of Kaza and will continue to get even worse so better get used to it. You will first reach the village of Losar and after that will start driving up Kunzum Pass.
Road to Chandratal
The real fun would actually start after you start to descend from Kunzum Pass towards Batal. Road until now was bad, but from here on, it will turn into adventurous and scary. About 2 kilometers from Batal, you will notice a road to your right going towards Chandratal that you will need to turn on. This entire 14 kilometers long road till Chandratal is extremely narrow; barely wide enough for one car; and you are bound to get stuck if there was a car coming from the opposite direction. On one side of the road is a wall of Steep Mountain and a straight fall into Chandrabhaga River on the other side. The picture below will tell you what I am talking about.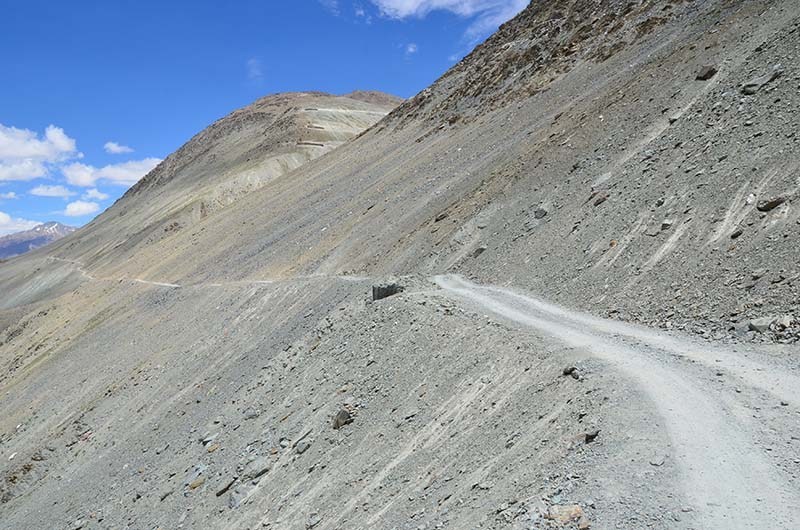 Vehicles on this road are allowed until about 2 kilometers before the lake but all the camp sites are located another 1.5 kilometers before that. These are hard to miss as all the camps are pitched in a huge ground like area. Take a look around, find a camp that you like and check into one.
Sightseeing at Chandratal
Between Kaza and Chandratal, there are only 4 things that can be called as of tourist interest.
Kunzum Pass
Chandratal
Mind blowing Scenery and Vistas
Adrenaline pumping adventurous roads
Once you have checked into a camp site, drive to the last point where vehicles are allowed. There is a parking area built there where you will have to leave your vehicle and walk the last 2 kilometers to this gem of a lake.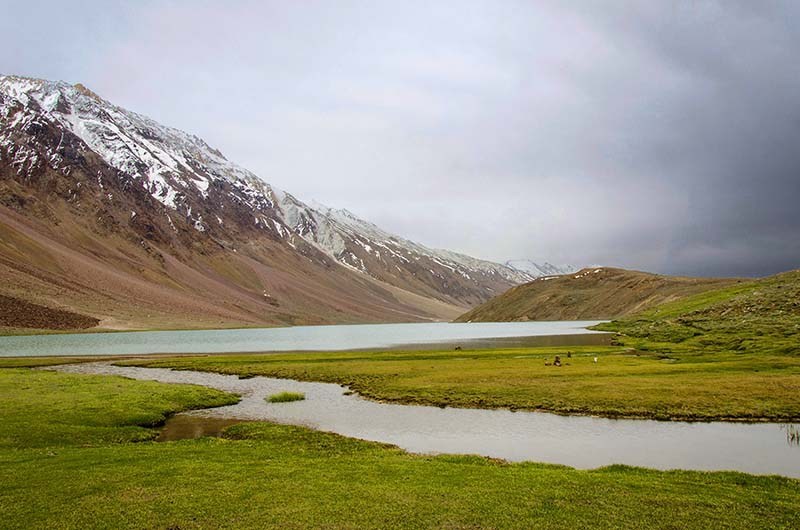 Let us now move on to the last part of this journey.
Chandratal to Manali – Day 10
Your last day in Spiti Valley will also be your most adventurous one. Today, you will be driving on the worst stretch of road you have ever been on. I am not sure how to put this in words so I will just let a couple of pictures do that talking.
That is correct. This is what you will be on for almost a 100 kilometers. Your average speed will be about 20 kilometers an hour at most because of which, the travel time between Chandratal and Manali will be at least 6 to 7 hours; even more if you got stuck in traffic at Rohtang. This entire road is filled with water crossings, one after another. During my last trip, I counted 37 water crossings on a stretch of about 60 odd kilometers.
You must start early from Chandratal in order to avoid the traffic coming from Kaza on the Chandratal road. Or else you will keep running into cars and getting stuck. Drive back down to Batal and then take the road to Gramphoo via Chhota Dhara. At Gramphoo, turn right to climb up to Rohtang Pass and from there, it is a straight run to Manali.
Manali has an endless series of hotels and no matter your budget; you will easily find a place to stay here. You will reach here by late evening and I doubt you will have enough energy for any sort of sightseeing in Manali left. Check into a hotel, freshen up and maybe visit the local market for dinner and some shopping.
Sightseeing on Manali Kaza Road
Between Chandratal and Manali, below mentioned places / things are the primary tourist attractions.
Chandratal
Kunzum Pass
Rohtang Pass
Gut Wrenching and Scary Roads
What to see in Manali
If you had a couple of days more to spare and were spending time in Manali, below is a list of tourist places in Manali.
Hadimba Temple
Bhrigu Lake
Nehru Kund
Hadimba Temple
Museum Of Himachal Culture and Folk Art
Manu Maharishi Temple
Gauri Shankar Temple
Jagatipatt Temple
Nicholas Roerich Art Gallery
Naggar Castle
Sultanpur Palace
Jana Waterfalls
Tripura Sundri Temple
Jagatsukh
Arjun Gufa
Beas Kund – It is an igloo shaped temple, on top has a spring which is the origin of River Beas
Kithi and Gadhan Thekchhokling Gompa
For a more details version of this information, please read How to Plan a Trip to Manali.
Manali to Delhi – Day 11
It is the last day of the trip and there really isn't much to write about it. It will be a long and monotonous journey of about 14-15 hours at least to Delhi. Take an early start from Manali and drive carefully. After you cross Chandigarh, you will be really tired and it is bound to take a toll on your. Take breaks wherever required and reach home safely by late evening or in the night.
Now let me cover some of the most common questions I get asked about tourist places in Spiti.
Must visit Places in Spiti Valley
This is mostly asked by people who are short on time and cannot afford to stay back for even a day at any of the places. If you read through the article above, you will know that I have explained the entire information without any stays included. The places that I have highlighted in bold are the ones that can be considered as must visit places in Spiti and you can visit all of them as you travel.
Best tourist Places in Lahaul Spiti
There are really no best places to visit in Spiti Valley as such. They are all equally beautiful and the only differentiating factor will be how much time you have and how many can you cover.
Unexplored Places in Spiti
Chitkul, Chandratal, Kibber, Komik, Langza, Hikkim, Chicham, Tashigong are some of the most offbeat places in Spiti Valley.
Shopping Places in Spiti
Shimla, Kaza and Manali are the only three places where shopping is possible while traveling on Spiti Circuit.
Haunted Places in Spiti Valley
I can't believe I am adding this but someone actually asked me this question once. If you are in fact interested in reading about haunted things and places, I will recommend that you read through Ghosts of Shimla and the Haunting Stories. Shimla is the only town en route that has some spooky tales to tell.
Tourist Places in Lahaul Spiti – Conclusion
And that is mostly all there is to the topic of tourist attractions in Spiti Valley. I know this article ran a little longer than I expected it to be but if you have read the information above carefully, you would know each and everything about traveling to Spiti Valley by now. Still, if you need any other details or have any other questions; please feel free to ask in the comments section below; or at our Community Forum; and I will be glad to answer.