This post is in continuation with a previous one; and a part of my Spiti Valley Travelogue. We traveled from Delhi to Kalpa in first three days of the journey, while covering Narkanda and Chitkul on the way. On Day 4, we journeyed from Kalpa to Nako, the last village in Kinnaur District. Details of the journey and a few pictures are in the article below. To read the previous part of this travelogue; please click on the link below.
Journey So Far: Chitkul to Kalpa – Day 3
Day 4: Kalpa to Nako​
As opposed to Chitkul, night at Kalpa was a very comfortable one. I slept like a baby through the night until my alarm woke me up the next morning slightly before sunrise. I wanted to get some morning shots so had set up the alarm before going to sleep the previous night. Both my fellow travelers were still fast asleep in their rooms so I picked up the camera and went out for a walk.
Now the idea was to get some clear shots of the beautiful sunrise at Kinner Kailash. However after walking around for over half an hour, I just could not get a proper shot because of all the electric wires in between. No matter where I went and stood, there were electric poles and wires as the foreground of every picture. Finally I gave up and just clicked some pictures the best I could thinking that I can remove the wires later in Photoshop.
Also Read: How to Plan a Trip to Spiti Valley – A Complete Travel Guide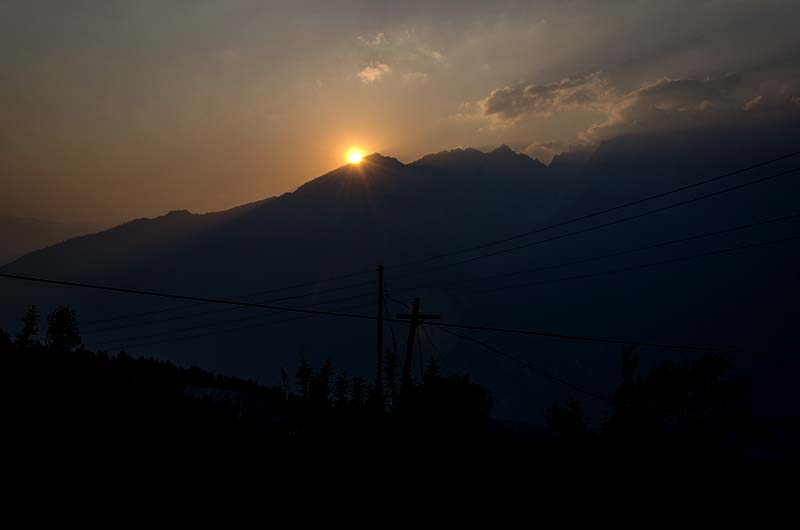 This is the HPTDC Hotel Kinner Kailash. I really wanted to stay here the previous day but could not because first of all they were completely booked. However, even if they were not booked, I still would not have because the price was way too high for just a one night stay.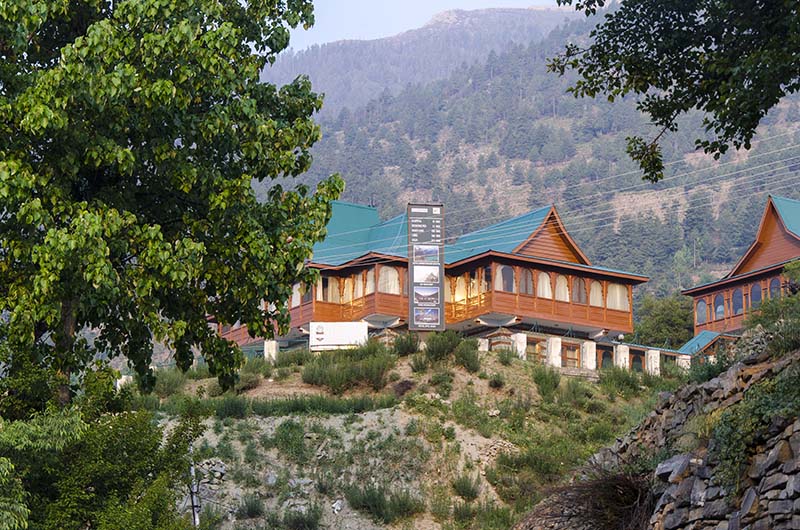 Instead, we stayed at Hotel Parvati, the blue building in this picture. Price we paid here was way less than what we were asked for at the HPTDC hotel and view more or less was the same.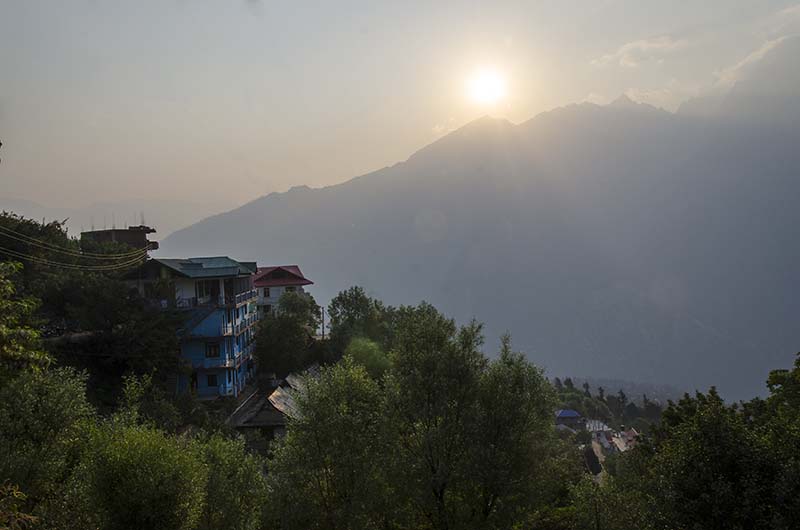 To read a detailed review of this hotel along with a few pictures, please read Hotel Parvati – A Decent Place to Stay in Kalpa.
Destination Next
Soon both my fellow travelers were up and after a quick breakfast at the restaurant next to the hotel, we were all ready for our journey ahead. Destination for today was going to be Nako which is barely about a 100 kilometers from Kalpa. Even this journey however can still take about 4-5 hours easily as this part of the road mostly remains broken and under construction always. We were relaxed and in no hurry because 4 to 5 hours meant that we would still make it to Nako before lunch.
After all the drama yesterday when Khushboo's luggage got left in our Thar and she went somewhere else, I was thinking that she would rather rope her bags on the motorcycle today. She however still left her luggage with us in Thar. I gave her strict instructions that we were headed towards Nako and if we got separated (which I was sure that we would), she was to look for us and find us there. Nako is a very small village and she could easily spot my Thar parked there in front of any hotel. An even bigger concern for me was that our Airtel connections will not be working at Nako and it would become impossible for us to call her if she did not find us there.
With all set and loaded, we finally started on our way. Khushboo of course started ahead of us and was soon out of our sights; just as I feared.
Petrol Pump at Reckong Peo
First task after we started on our way back was to get a tank full done since I missed to get Diesel from Powari gas station the previous day. The next petrol pump after Reckong Peo is at Kaza and since I also had a detour to pin valley planned, getting a tank full done was of utmost importance.
There are two petrol pumps in Reckong Peo. The one around the main market area was closed when we were going towards Kalpa the previous day. Actually it looked like it had been closed for a while so I asked a local directions to the other petrol pump which is a bit on the outskirts of Peo. A few kilometers of steep descent on a narrow road and we found the gas station. I got the tank of my Thar all filled up and also bought 4 liters of Petrol for Khushboo in Pepsi bottles that she had handed me over while leaving Kalpa.
So for anyone traveling towards Spiti, I would recommend that you gt a tank full done at Powari itself rather than waiting to get it done at Reckong Peo.
Also Read: Cost of Motorcycle Trip to Spiti Valley
Reckong Peo to Pooh
There are two stretches of road on Spiti circuit that are always in bad condition. One is of course the one from Manali to Kaza and the other one between Peo and Khab. The formation of mountains here is such that there is always maintenance work going on. The road here gets built each year and then it breaks again pretty soon. To be honest, it is also probably the least scenic area on the entire Spiti circuit. No matter which year you are arriving here at or which month of the year; I can guarantee that this section of the road will be damaged with restoration work going on. Good part however was that it was not all damaged and there were some good sections as well that really saved the day.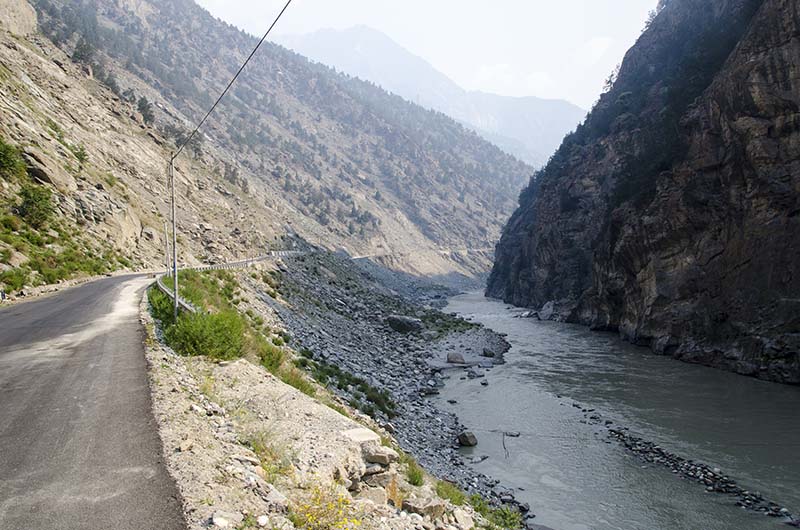 Khab
Finally we reached Khab Bridge and started on our way to Nako. There is now a Dhaba there at the Khab Bridge, right where the rivers merge into each other. It is a good spot to take a break and have some tea while clicking some pictures as well.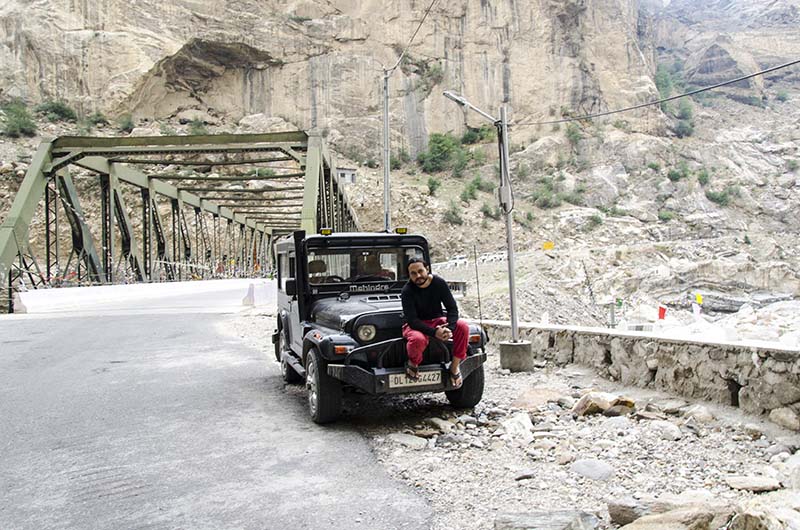 We climbed on the steep Kazigs and were soon at Nako.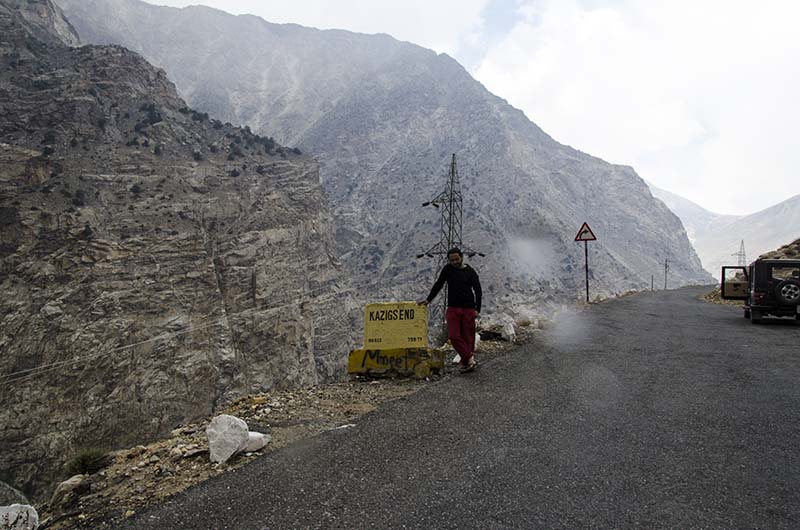 Stopped at this small Dhaba on the way. It was really in the middle of nowhere but the lady that runs it really knows how to cook. We stopped here and some delicious Rajma Chawal.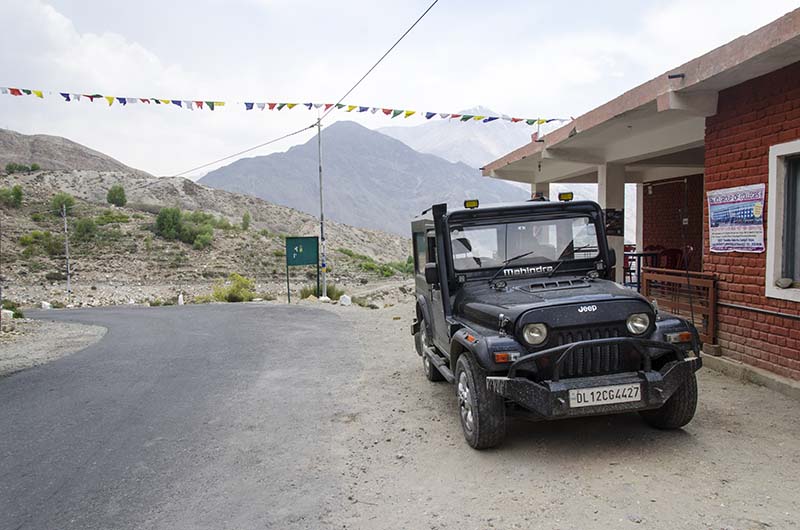 HPPWD Rest House Nako
At around 1 PM, we reached Nako and the task of hotel hunting started. During my previous trips here, I had always stayed at the HPPWD guest house near the lake and the plan was same for this year as well. Unfortunately however, the caretaker this time was missing and no one had any idea where he was. After waiting for a little while, I decided to check out the camp site right next to the guest house.
Also Read: How to Plan a Trip to Pin Valley
Camp Site at Nako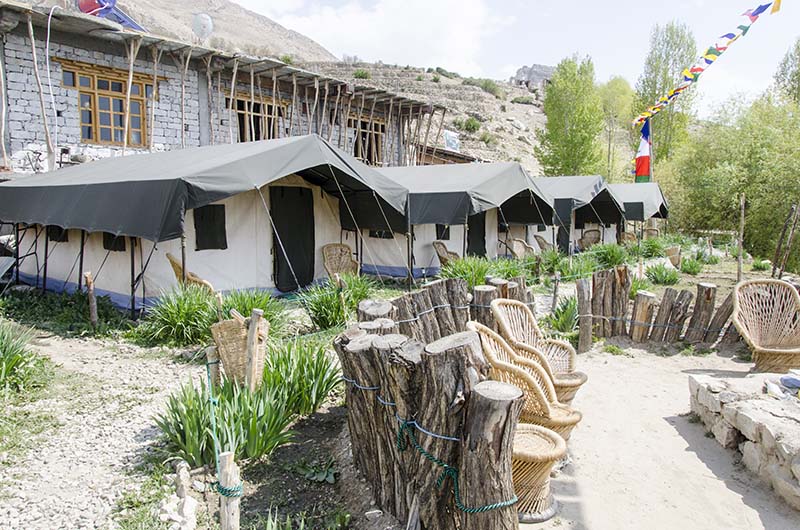 It looked like a good camp site and a great place to stay. The only problem however was that they were asking for a whopping Rs. 6000 for a camp for 2 people. Now this just did not seem like worth spending so much. I mean, it is not like we were really camping in the wilderness or at some lake as such. We were in a small village and even the views from that spot weren't that great.
I showed my apprehension but the best that the camp guy did was to reduce Rs. 1000. He was not the owner of the camp but just the guy who worked there. From my apprehension, he sensed that I was not going to stay at the camp-site and offered to show me around to a budget hotel. Actually he said that they also run a hotel and if I wanted, I could stay there.
Hotel Zambala
I don't know what came over me but I agreed to stay at the hotel without checking it out first. He told another guy to walk me to the hotel and said that he will bring my Thar to it. When I said I could drive it myself, reason he gave me was that I will not be able to manage it through the narrow roads of the village.
Well at least he was right about the narrow roads part. After 5 minutes of walking through the narrow "galiyan" of Nako, we finally arrived at the hotel. See the picture below.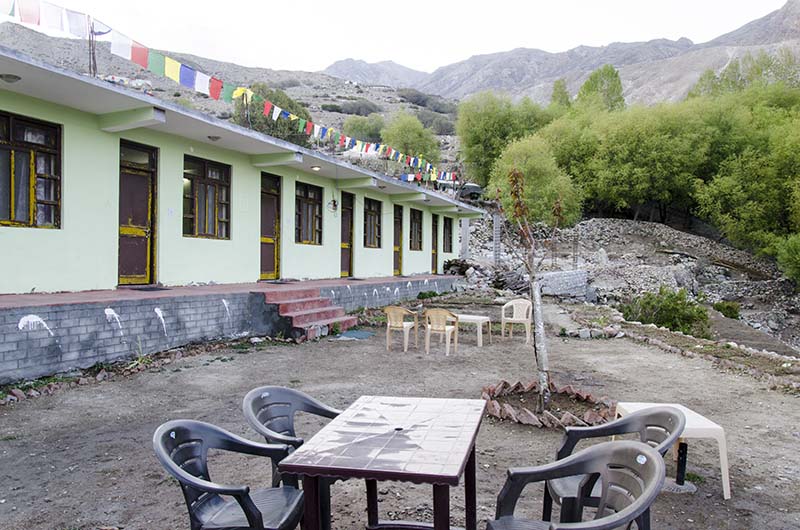 As you can see, there is not really much "hotel" to this place. Just a series of 5 rooms in a row. My first thought was to not stay here and checkout a different place; but for the second time in this trip, I ended up staying at a hotel just because I could not say no. The owner of this place was a very soft spoken and humble guy from Dharamshala. By the way he spoke to me with all the "Izzat", I ended up agreeing to stay at his hotel against all my wishes. His initial ask was Rs. 2000 but then he agreed on Rs. 1200.
Hotel Zambala Review
For a brief review of the hotel, the rooms were large and spacious, including the washrooms. Everything was quite clean. They have a kitchen in the hotel itself and the food was simple yet delicious. Staff was quite humble and even the owner as I mentioned was a very soft spoken guy. There is a large area right in front of the rooms and is a perfect setting if you want to have a bonfire with friends at night. The hotel is right next to the lake and has good parking area as you can see from the picture.
There are of course some negatives to this hotel. The mattress on the bed was rock hard and I woke up next day with a stiff back. This proved to be the biggest disadvantage. I wanted to get a bonfire going but the owner asked for another Rs. 1000 for it so I gave up the idea. The road to the hotel went through a narrow gali and could be a problem if you were traveling by an SUV. Actually he was right when he said that I will not be able to manage my Thar through. There was a cow-shed right next to the hotel and for some reason, that cow just won't stop mooing all day long.
When to Stay Here?
Overall, my stay at this hotel was just about OK. Did I regret staying here? Actually yes. After my stay at Chitkul, this was the second uncomfortable night that I could have avoided if I wanted to. Stay here if you want to have a bonfire in the open with friends for which this hotel is perfect. If not, then look for some other options. For Rs. 2,000 you will definitely get a better hotel in Nako. If you are traveling on a budget however, then Zambala could be a good place to crash at for the night but you will have to negotiate with the owner to lower the price.
One benefit of staying here was that I at least got my Thar washed. It had gotten really dirty after all the driving through the bad roads. One of the workers at the hotel was watering the plants with a pipe and I told him to wash Thar as well after he was done. He readily agreed to it and to be quite honest, did a good job of washing it.
To read a detailed review of this hotel and see a few pictures, please read Hotel Review – Hotel Zambala, Nako.
Evening in Nako
After we were checked in, the task of trying to contact Khushboo started yet again like it happened the previous day at Kalpa. We had Airtel connection so our phones were of course not working in Nako. I borrowed the phone of the hotel owner. Khushboo was carrying a BSNL connection so I knew that her phone would definitely be working. I kept trying her number for a little while but just couldn't reach her. A couple of times when the call did get through, either her voice was not clear or she was not audible at all.
Finally I gave up trying to contact her and decided to walk through the village. She knew we were staying at Nako so I just thought that she will reach here and will find us. This view of parked Thar was actually visible from the entire village.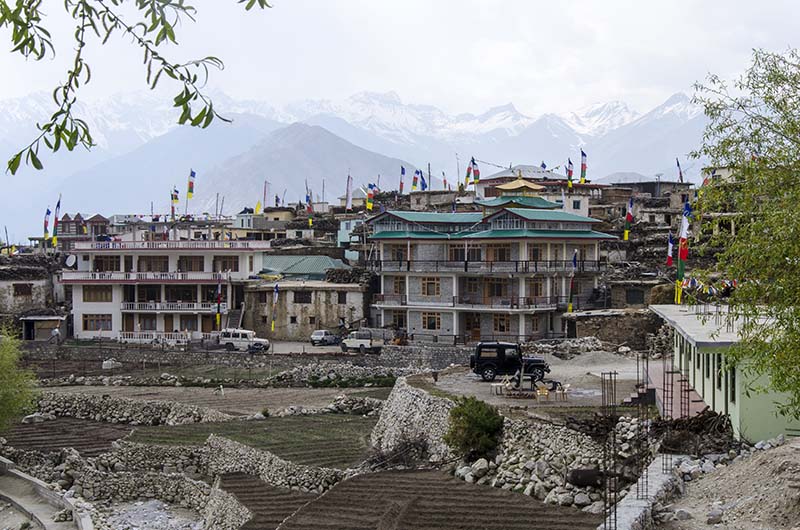 I wanted to trek up to the temples in the pictures below but my co-traveler did not agree. She was in no mood of doing the daunting task of climbing hills.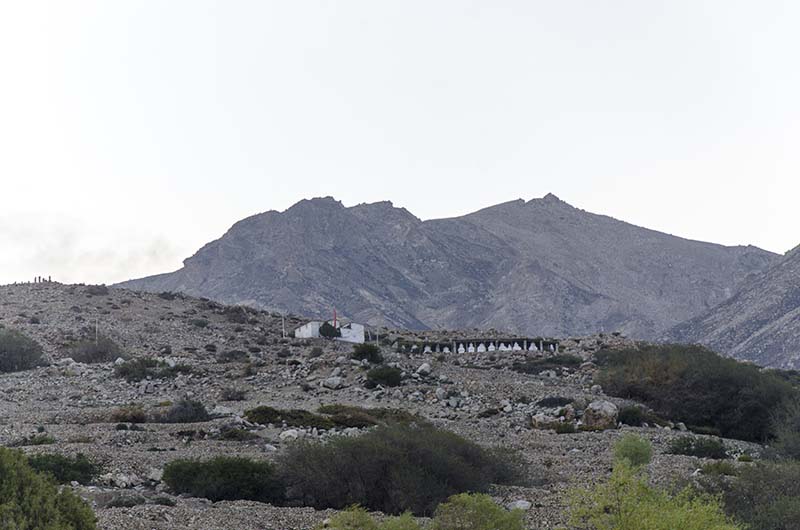 That entire day we kept trying to contact Khushboo but just could not get through. She also did not arrive at Nako and the entire day passed by with us waiting for her. This really got me worrying. Both her bags were still in my Thar and I had no idea where she was.
End of Day 4
Soon the sun went down and it was dark. My friend was tired and went to sleep early in the evening. At dinner table, it was just me at the night. Finally Khusbhoo called the phone of the hotel owner at around 8 in the evening and told me that she was staying at Tabo for that night. She apparently reached Nako at 11 AM and since the entire day was still left, she continued to Tabo rather than staying at Nako as we had previously agreed. I told her to meet us at Kaza and gave her the name and address of the hotel I was going to be staying there at.
Food proved to be another advantage of Hotel Zambala. It was simple yet delicious. The kitchen was right next to our room and since my friend was already fast asleep, I was actually alone at the dinner table. I just ordered some daal, roti and rice which turned out to be very delicious. After dinner, there was nothing else to be done so I too retired to my room and was soon fast asleep.
Journey Ahead: Nako to Pin Valley – The Beautiful Village of Mud
Some pictures and details of the journey are provided below.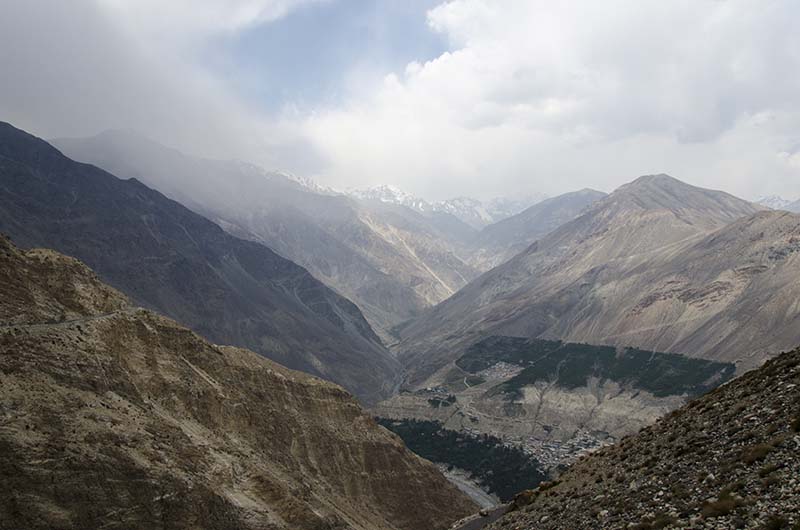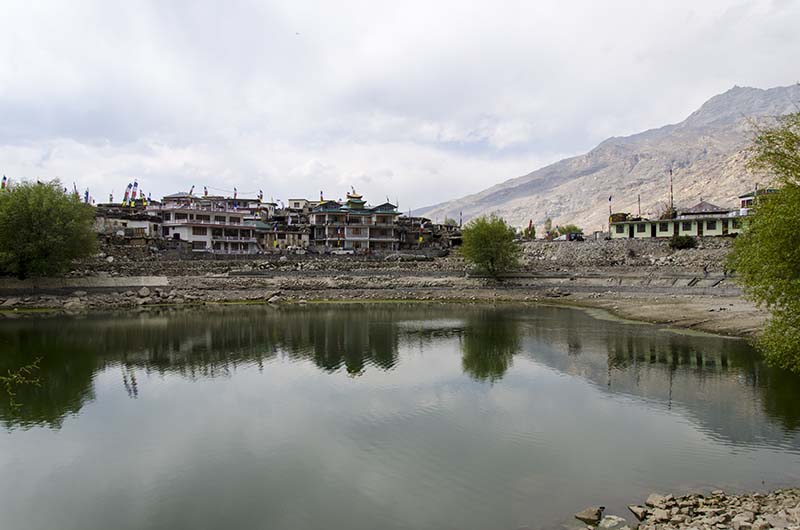 Kalpa to Nako Distance
Distance between Kalpa to Nako by road is approximately 100 kilometers but will take you a good 4 to 5 hours at least.
Kalpa to Nako Road Condition
The road between Kalpa and Nako really changes every year. There is restoration work going on here always. The entire area is a shooting stones sight and road continues to get damaged. The worst stretch however is between Peo and Pooh.
Kalpa to Nako Bus
There is no direct bus from Kalpa to Nako but a bus for Kaza leaves from Reckong Peo at 7 AM everyday. So from Kalpa, you will first have to come down to Reckong Peo bus stand and then board the Kaza Bus. Traveling by this Bus, you will reach Nako by noon.
Also Read: A List of All Tourist Attractions in Spiti Valley
Kalpa to Reckong Peo
There is bus service between Kalpa and Reckong Peo at regular intervals throughout the day; but you may not be able to find at as early as 7 AM in the morning. You will either have to keep a cab arranged if luggage was too much; or just walk down to Peo if you were traveling light. You may also hitch hike. Shared cabs are a great option and if you we able to find one, it would be the best thing.
Kalpa to Reckong Peo Distance
It will depend entirely on where you were staying in Kalpa; but the distance between two towns will be between 3 to 5 kilometers.
Reckong Peo to Pooh Distance
Pooh is at a distance of 70 kilometers from Reckong Peo.
Pooh to Nako
After Pooh, the drive to Nako gets a bit comfortable. The road condition starts to improve as you approach Khab. After you cross the Khab Bridge, it is a smooth drive all the way till Nako. You will also be crossing the hairpin bends of Kazigs before you reach Nako.
Pooh to Nako Distance
Nako is at a distance of about 35 kilometers from Pooh.
Conclusion
I hope the information above of help in planning your trip to Spiti valley; and the journey between Kalpa to Nako. Please read Nako to Pin Valley – The Beautiful Village of Mud for next part of this travelogue where we traveled to Mudh Village in Pin Valley from Nako. If you have any questions; please feel free to ask in the comments section below; or at our Community Forum; and I will be glad to answer.