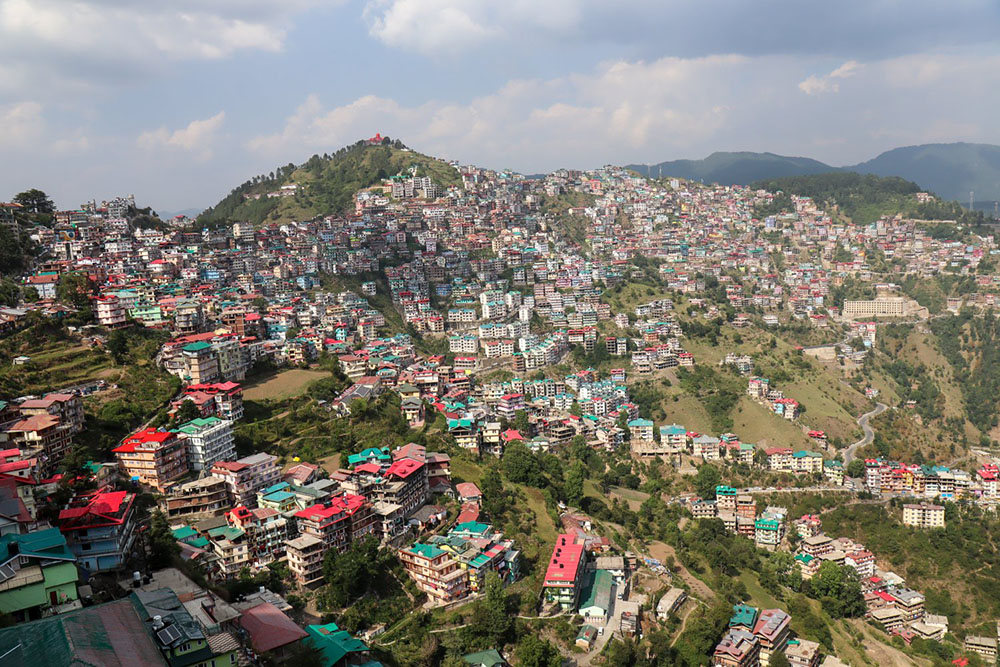 Shimla, the capital of Himachal Pradesh in north India, is often termed the queen of hills. There is no dearth of tourist attractions in Shimla. It is so because it has so many attractive places in and around it for travelers and tourists to unwind and rejuvenate themselves. If you were planning a trip to this majestic hill station and were wondering about what to see in Shimla, then listed below is a comprehensive list that can be of help.
Himachal Pradesh in itself is a naturally beautiful state with an abundance of works of nature. It has huge Himalayan Mountains with snow-covered peaks, lakes, streams, rivers, tall trees, natural flora and fauna, a large variety of wildlife, and a lot of religious and historical places as well. And Shimla has a fair share of all these attractions.
Also Read: How to Plan a Trip to Shimla –  A Complete Travel Guide
Shimla, in fact, has held on to its natural treasures and symbols of history but at the same time, it has tried to catch up with modern times too. So the tourist attractions in and around Shimla can easily hold the interest of any type of traveler. Whether you are a solo traveler or traveling in a group or with family, Shimla has something for every kind of tourist.
Here, I have tried to put together, some of the most beautiful and interesting places in and around Shimla, which include naturally beautiful places, historical buildings, religious places, places of adventure, and more. So read on.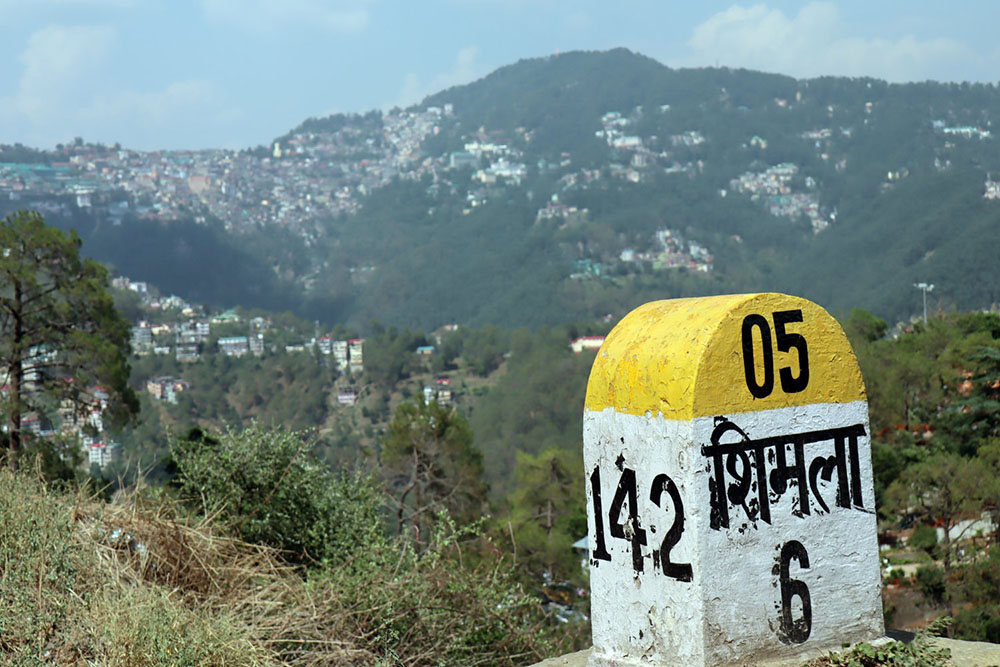 What to see in Shimla
I will begin by first listing down all places to see in Shimla followed by a brief explanation about all of them. Similarly, I will then list down some tourist activities in Shimla and will talk about them in brief.
List of Places to Visit in Shimla List
Toy Train
The Ridge
Jakhu Hill
Christ Church
Kufri
Chadwick Falls
Viceregal Lodge
Lower Bazaar
Scandal Point
Mahasu Devta Temple
Below is a brief explanation of the places I listed above.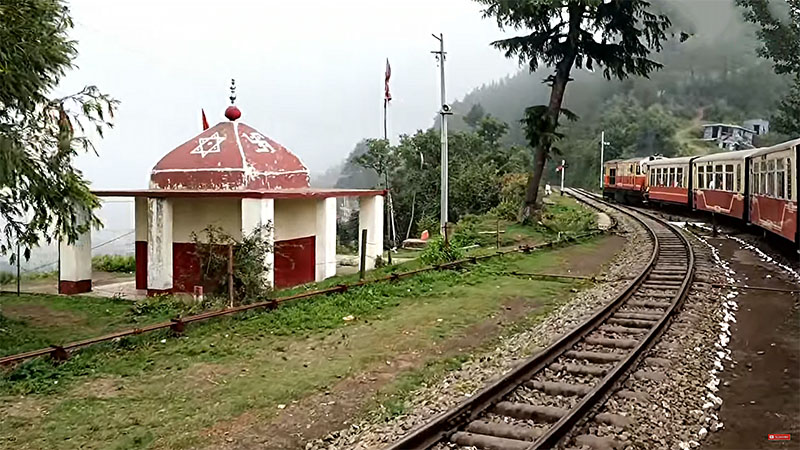 Toy Train
A visit to Shimla will be incomplete without a ride on Kalka – Shimla narrow gauge train popularly known as Toy Train. This railway line has been added by UNESCO as the mountain railways of India's World Heritage Site. A journey on the toy train between Shimla and Barog is most thrilling.
The beautiful view of the snow-clad mountains all around is bound to give you Goosebumps. It is made all the more beautiful due to the steep climb due to which the train slows down giving ample time to you to soak in the stunning surroundings.
This journey will amaze you to no end as the train will pass through 103 tunnels, 800 bridges, and so many breathtaking curves. So make sure that a trip on the toy train is there on your "to-do" list whenever you visit Shimla.
For more details, please take a look at How to Plan a Trip on Shimla – Kalka toy train.
The Ridge
It is a wide-open space in the heart of the city adjacent to Mall road. This is one of the places most frequented by tourists in Shimla. Surrounded by old British buildings, the ridge gives a colonial-era feeling. But that is not all about this place. It also serves as a popular shopping center. You can buy artifacts and many more things from here.
Apart from that, you can get a beautiful view of the snow-clad mountains at The Ridge. Surrounded by tall pine, Oak, and Rhododendron trees, it will give you enough inspiration to click a lot of pictures. It has many cafes, bars, restaurants, shops, boutiques, etc; and acts as the social hub of Shimla city. So do visit the Ridge to unwind once you feel like having got tired of site seeing.
Jakhu Hill
Jakhu hill is supposed to be the highest peak in Shimla. It is situated at a height of 8000 ft. It is an attraction for religious-minded, adventure seekers as well as nature lovers.
That is the reason it is one of the topmost tourist attractions in Shimla. Reaching the Jakhu hill requires trekking which is also the best way to get there because then you also get to admire the natural beauty during the trek. It takes around 45 minutes to reach Jakhu hill.
Also Read: Shimla Manali Trip Itinerary – How to Plan Your Journey
At the top of the hill is the famous Hanuman Mandir. It is believed that Lord Hanuman rested here for some time while going to fetch Sanjeevani herb for Lakshaman. So it has its religious significance.
Even if you are not religiously inclined and don't want to visit this place, for this reason, there is another incentive for you. You will get such a panoramic view of the city from Jakhu hill that the entire trek to this place would look worthwhile.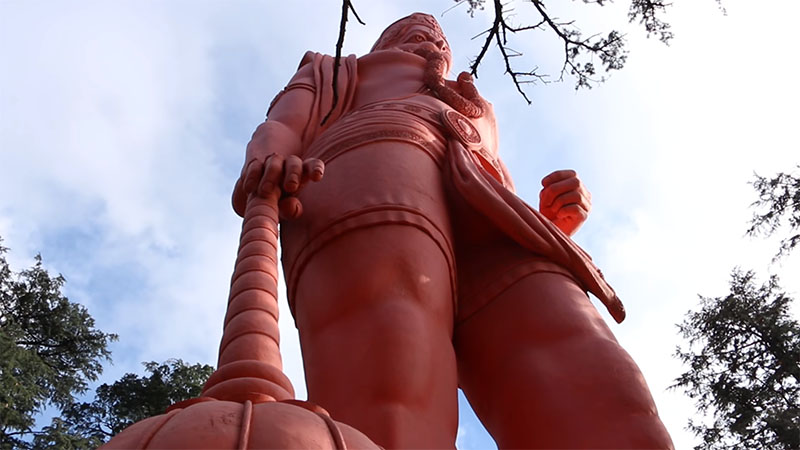 Christ Church
The second oldest church in North India, Christ Church is a major attraction in Shimla. It has significance for tourists as well as for lovers of history and peace seekers. Its architecture is simply marvelous and is a huge attraction in itself. The church was built in the British era, and the architecture would remind of the English days in India.
It is located in the midst of pristine surroundings and has a very peaceful environment. So, if you are looking for some peaceful time, spend an hour in Christchurch and feel internally rejuvenated. Admire the architecture; know about Christianity being practiced in a bygone era and check out the amazing landscapes.
Also Read: Best Time to Visit Shimla – When to go to Shimla
Kufri
This is one of the most picturesque places in Shimla. Located at an altitude of 2622 meters, Kufri is also called the winter sports capital. Known for its peaceful and tranquil surroundings, stunning locales, and amazing views, this is one of the must-visit places in Shimla.
This is also a place for adventure activities. When it snows in the hills, people throng Kufri to indulge in adventure sports like skiing and hiking, and ice-skating.
Kufri, situated in the foothills of mighty Himalayas, once belonged to the kingdom of Nepal. But now it is the pride of Shimla as well as Himachal Pradesh.
The snow-clad hills of Kufri will make you yearn for more. You are bound to feel the thrill of being at a place of amazing beauty. You won't be able to resist the urge of playing in the snow. And of course, if you are adventurous, you will surely go for winter sports.
Summer Hill
This is one of the most enchanting spots in Shimla. Summer Hill is a part of the seven hills that form Shimla. But the special thing about it is that you will get an unforgettable view from here. Just 5 km from the Ridge is this beautiful picturesque township.
Considered as one of the top tourist attractions in Shimla, Summer Hill offers a breathtaking view of the valley all around. It is full of greenery and is sure to entice you.
It is also known as Potter Hill. During winters, the whole of Summer Hill is covered in white snow, giving it an amazing look. And in summer, it is very pleasant. So if you are looking to escape from maddening city crowds any time of the year, this is the perfect place for you. Peaceful, serene, and full of natural beauty, Summer Hill is an ideal destination for each one of you.
Also Read: Taxi Rates in Shimla – Shimla Taxi Rates
Chadwick Falls
This is another naturally beautiful place and one of the more popular tourist sites in Shimla. Located in Glen forests, Chadwick Falls is really a very scenic spot. It falls from a height of 1,586 meters and its captivating beauty attracts thousands of travelers each year. With tall Deodar and pine trees and dense forest around it, Chadwick Falls presents a mesmerizing view.
Its beauty is enhanced during monsoons when the water level rises making it all the more attractive. You can trek to this place from Summer Hill but if you are not comfortable with that you can take a vehicle also. In any case, the natural beauty on the way will surely leave you spellbound. Chadwick Falls is an ideal place for family picnics, day camping or even for a serene outing.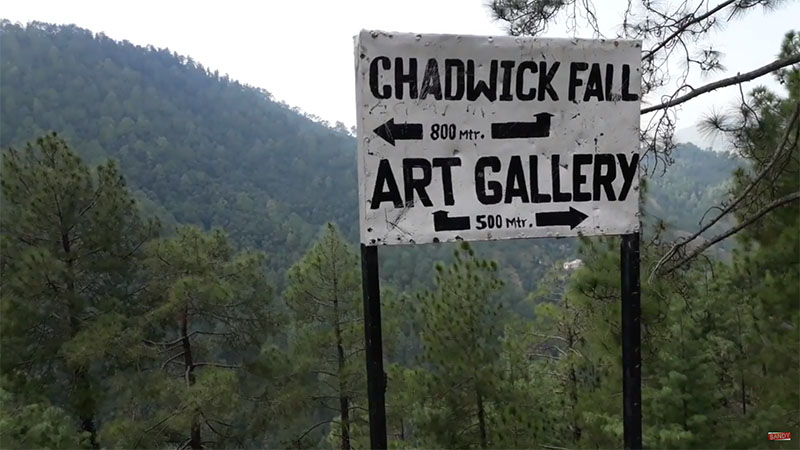 Viceregal Lodge
This is a historical building. Billed as one of the most beautiful structures in Shimla, it is an important part of Indian history. It is an imposing British-raj mansion built under the guidance of Lord Dufferin in 1888. Viceregal Lodge served as the summer residence of the Viceroy, the leader of the British in India, from 1888 to just before Independence till 1946.
The architecture of the building has to be seen to be believed. You must spend at least 4 to 5 hours in the building to be able to see every nook and corner of it.
The Viceregal Lodge is located about 2 km from Shimla city center on Observatory Hill. There is an entry ticket for INR 20 to visit this place. You will find some of the oldest articles and photographs right from the time of British rule in India. It also has some well-kept lawns. Viceregal Lodge is also known as Rashtrapati Nivas nowadays. This lodge is a 1-hour walk from the end of the mall, near the Oberoi hotel.
Also Read: Shimla Manali Dharamshala Dalhousie Trip Itinerary
Lower Bazaar
The Lower Bazaar is where the city's less expensive hotels and cheaper restaurants are located. But don't get me wrong. I am not referring it as a slum or cheap locale.
The Lower Bazaar in Shimla is similar to what Chandni Chowk in Delhi is. It retains an old-worldly charm and is an excellent place to try some Shimla specialty dishes, like Uradh Dal with rice or Shepard's Pie. It is also home to some wholesale markets selling clothes and household items.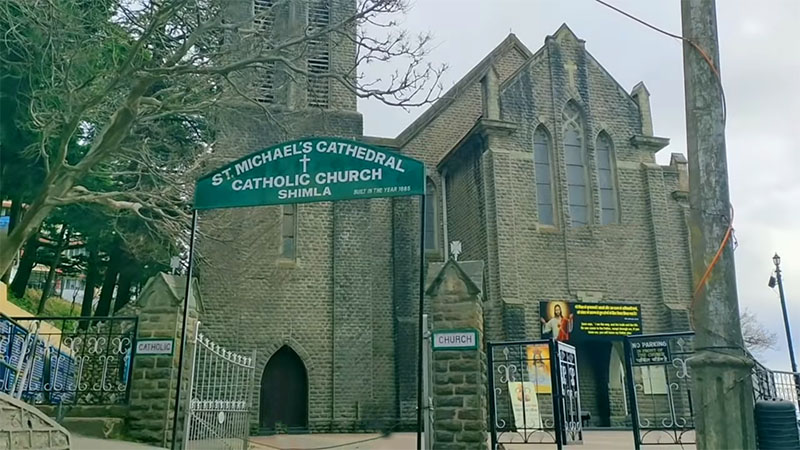 Scandal Point
It is known so because this is where the Maharaja of Patiala had eloped with the daughter of the British Viceroy. Back then, it was the scandal of the highest order. The spot now is one of the most favored places to catch a mesmerizing sunset view; and that of the snowcapped mountains and the lush valley. If you have even the slightest interest in photography, you just cannot miss seeing the splendid specter of the sunrise and sunset from Scandal point.
Mahasu Devta Temple
If you wish to visit a religious place as well during your trip, then Mahasu Devta Temple is where you should be headed. It is located in Pauria Village, near Chopal post in Shimla. Mahasu is the local name of Lord Shiva himself and the place is a popular shrine for the locals and a delight for travelers.
If you are visiting here in the month of May, you can be a part of the two-day Mahasu Jatra festival which is celebrated on the third Tuesday of May every year. During this time, Lord Shiva's idol is shifted back into the temple and festivities continue for full two days. Folk songs, the tribal Natti dance, archery competition are some of the highlights of the festival.
Also Read: Ghosts of Shimla and the Haunting Stories
Tourist Places in Shimla and Nearby
The list I provided above were some of the most commonly visited tourist spots in Shimla. But that is not where it ends here. Shimla has a lot more to offer to its tourists and the only thing that will limit you is the time you can afford to spend here. Let me also provide some tourist attractions in Shimla that you can visit if you had the time.
Mall Road: Main shopping street is known as "The Mall" or "Mall Road". It is more or less the center of all activity here and runs as the town's lifeline. Cafes, restaurants, and social hangouts on Mall Road are especially popular with locals and tourists alike.
Dorje Drag Monastery: It is a monastery built in the Nyingma tradition of Tibetan Buddhism, also known as Thubten Evam Dorje Drag. Entry to the monastery is free of any charge.
Shimla State Museum: Full of several ancient artifacts displaying the cultural wealth of Himachal Pradesh
Statue of Lord Hanuman at Jakhu Hill: This 108 feet tall statue stands at a height of 8,500 ft above sea level.
Rothney Castle: Rothney Castle was the home of Allan Octavian Hume, the British civil servant who founded the Congress in 1885
Mashobra: A peaceful town located in complete silence and tranquility and about 10 kilometers from Shimla. For more details, please read How to Plan a Trip to Mashobra.
Narkanda: A tiny hamlet, famous for its ski slopes. Hatu Peak here in Narkanda is the highest peak in the entire Shimla district and gives a stunning view of the valley around.
What to do in Shimla
Apart from sightseeing at all the places I mentioned above, below is a list of some other fun and exciting things to do in Shimla. These can be your things to do in Shimla with family or even with a group of friends. Which one you should pick will entirely depend on the nature of your trip, the people you were visiting with, and your own preference. One thing, however, is for sure. Shimla has a little something to offer for everyone and no matter what you seek, you will not be disappointed.
Paragliding
River Rafting
Camping
Trekking
Shopping
Photography
Bird Watching
Below is a little more information on the activities I listed above.
Also Read: The Myth Of Barog Tunnel – Shimla
Paragliding
The towns of Manali and Bir Billing are the ones most famous like paragliding. But the adventurous sport is not just limited to these places. Recently, it has found its way to Shimla as well and there are a few agencies here that you can go enjoy paragliding with.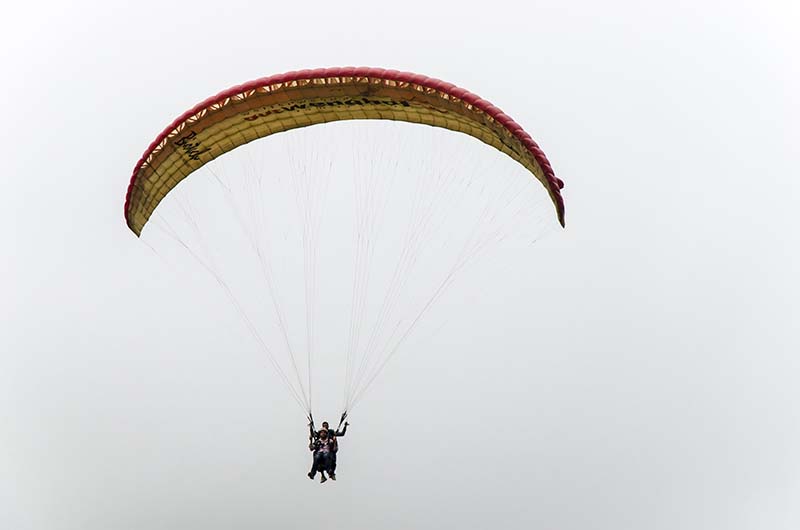 River Rafting
If the thrill of paddling through violent waters is what you seek then Shimla can be your destination. The 12 Km long rafting stretch from Chabba to Tattapani takes about 2 hours to finish and will give you the fun you seek.
Camping
Camping is one of the most popular activities that people come looking for in Shimla. Redwood Camp, Mashobra Greens, and Kheerganga Camping Company are some of the most popular camping sites here.
Also Read: Manali – How to Plan your Trip and Explore?
Trekking
No, I am not talking about serious treks that will take you a few days of walking through remote areas with a guide and porters. I am rather referring to a pleasant walk with families and friends on a lovely evening.  The trek to the Jakhu temple will definitely charm its way into your heart while in Shimla.
But if it is indeed some serious trekking that you want to do then there are several trails starting from Shimla into its mystical forests and ending at places like Chakrata, Banjar, or even circling back to Shimla itself.
Shopping at Lakkar Bazaar
Lakkar Bazaar is one of the more popular shopping spots in Shimla. If towards the end of your trip, you want to spend an evening doing street shopping then Lakkar Bazaar is the place you should be headed to.
It is famous for its woolen apparel, artifacts, pashmina shawls, handicrafts, Dry fruits. "Kullu Shawls" of Lakkad bazaar is quite famous. Some other things you can buy here are Chinese shoes, Tibetan mats, and carpets, woolen caps, and dolls.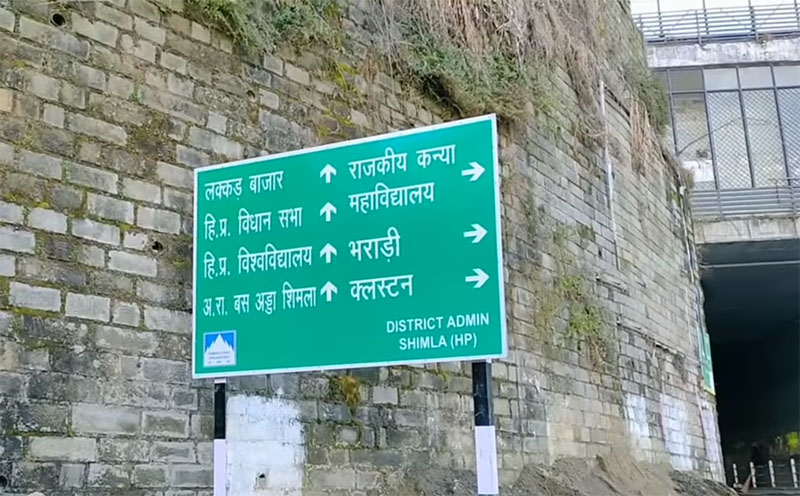 What to see in Shimla in One Day?
I agree that the list above is quite exhaustive and not everyone will have time to explore it all. If you were short on time then below is a list of places to visit in Shimla that you can cover in a single day.
Arrive in Shimla in the morning
Visit the Mall Road
See the Ridge
Spend some time at Jakhoo Hill
Visit the Christ Church
Explore the magnificent Viceroy Lodge
See the sunset from Scandal point
Also Read: Tirthan Valley – A Complete Travel Guide & Itinerary
Places to Visit in Shimla in 3 Days
If you however had some time in hand then below is 3 days itinerary for your visit. This will cover some must-visit places in and around Shimla for over a period of 3 days.
Arrive in Shimla, check into a hotel, and visit the Mall, Ridge, and Christ Church – Day 1
Head towards Kufri, see Jakhoo Hill, Chadwick Falls, and Scandal Point – Day 2
Hire a taxi and take a day-long drive to Narkanda. Have lunch there, see Hatu Peak, Satluj viewpoint and return to Shimla by evening – Day 3
Must Visit Places in Shimla
Of all the tourist attractions in and around Shimla, listed below are what can be considered as places you must visit in Shimla.
Mall Road
The Ridge
Jakhoo Hill
Christ Church
Viceroy Lodge
Scandal point
Chadwick Falls
How to Reach Shimla
By Air
Shimla has its own airport called Jubbarhatti airport which is 20 km away from the main city. However due to snow, this airport is not open throughout the year, so it is safer to choose Delhi or Chandigarh as base airports. From there you can hire a taxi or get on to a bus to reach Shimla.
By Train
Shimla has its own railway station on the narrow gauge. The nearest broad gauge railway station is Kalka, which is 89 km away. From here, you can either hire a taxi or hop on to the toy train and enjoy the scenic journey. Obviously, the toy train will take more time to reach Shimla because of its slow speed.
By Road
Shimla is very well connected to all the major cities by a very good road network. Daily state-run, as well as private Volvo bus services, are available from Delhi to Shimla, which is very comfortable.
Where to Stay in Shimla
Shimla has plenty of hotels and resorts, both state-run as well as private. There is a place to suit every budget and requirement.
Tourist Places in Shimla – Conclusion
I hope the information above on what to see in Shimla and other tourist activities was of help. If you have any questions; or need any other details; please feel free to ask in the comments section below, or at our Community Forum, and I will be glad to answer.