This post is in continuation with a previous one; and a part of my Spiti Valley Travelogue. We traveled from Delhi to Mud Village in first five days of the trip; while covering Narkanda, Chitkul, Kalpa and Nako on the way. On Day 6, we journeyed from Pin Valley to Kaza, and stayed there for the night before moving on to Chandratal the next day. Details of the journey and a few pictures are in the article below. To read the previous part of this travelogue; please click on the link below.
Journey So Far: Nako to Mud Village – The Beautiful Pin Valley
Continued:
Journey today was going to be the shortest of all; a drive of merely 50 kilometers to Kaza. This can easily be completed in 2 to 3 hours with sufficient breaks. At Kaza I was to stay at Hotel Spiti Valley and meet Jamaica. From there, we were to reach Chandratal with Jamaica and stay at his camps.
So the plan was pretty much set. This was a day to relax completely. Jamaica and I had last seen each other several years ago so yes, in a way this was also a day to meet some old friends.
Also Read: How to Plan a Trip to Spiti Valley – A Complete Travel Guide
Sunrise in Pin Valley
I don't know why it is this way but no matter how tired I am or how late I sleep; I always end up waking up early during trips. Same thing happened on this day as well. Early morning, even before sunrise, I was standing in the balcony in front of my room; waiting for the sun to come up which it did a little while later.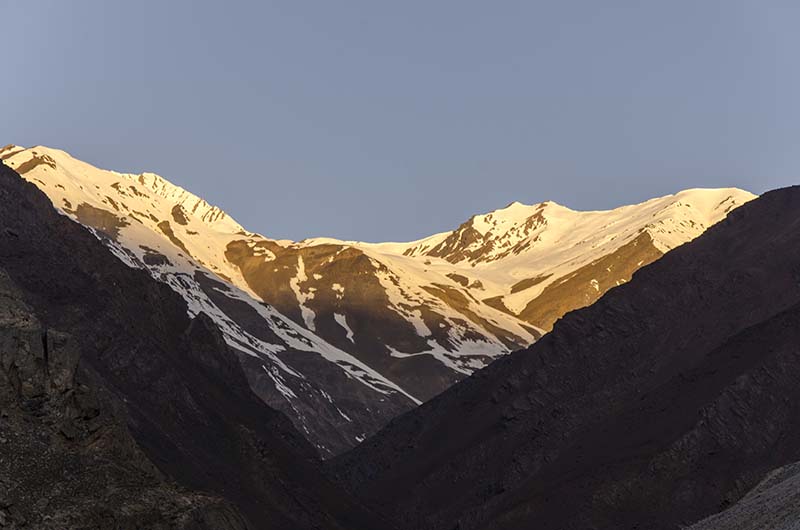 My friend was still fast asleep in her room and since we were anyways not going to be traveling for long today; I saw no point in waking her up early. I asked the hotel owner for a cup of tea and moved to the roof of the hotel to sit in the sun for a while.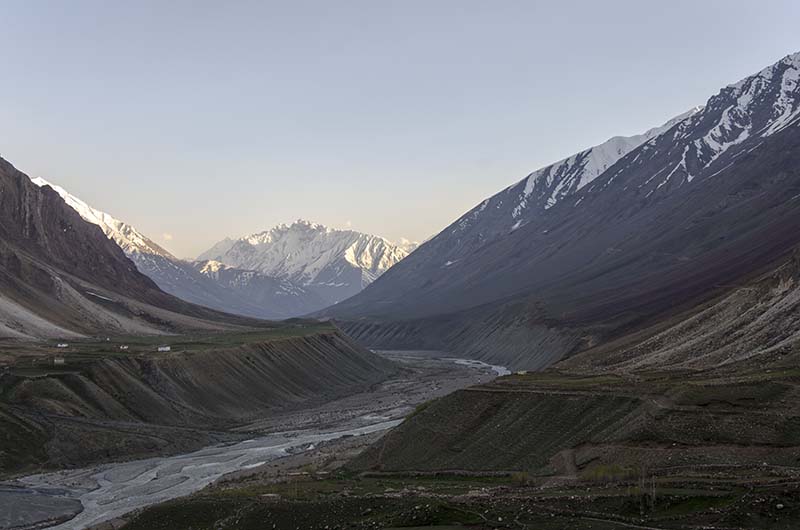 My friend woke up a little later and after a light breakfast, we were all packed up and ready to leave for Kaza.
Pin Valley to Kaza
The 35 kilometer long stretch from Attargo till Mud Village is all a broken dirt trail mostly. For the first few kilometers as you cross over from Attargo, it will be good but then it will just be a narrow dirt road all the way. Good part however is that it is not too badly broken and won't bother much as long as you are driving slow.
Also Read: Why you should travel to Spiti from Shimla
We started from Mud Village slightly past 8 AM, drove back to Attargo Bridge and arrived at Kaza at around 11 AM with plenty of breaks in between. It was a short drive that barely lasted a couple of hours.
A bridge in between.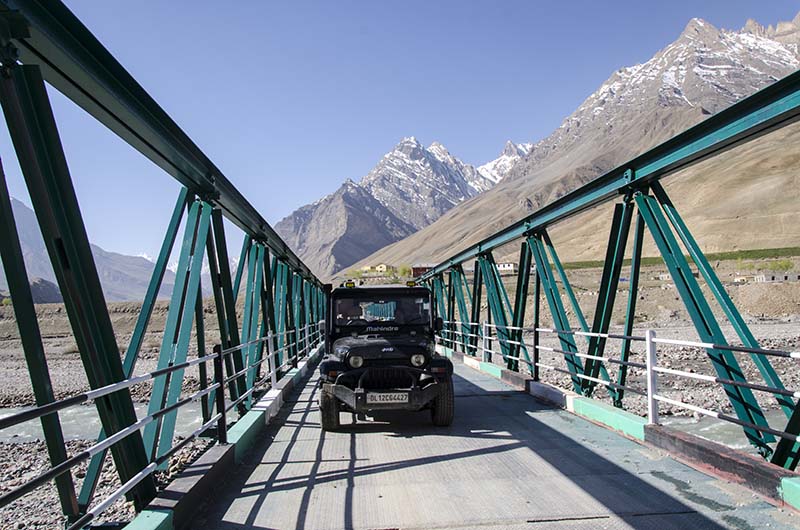 The focus of my camera was out of place and I was too engrossed in the vistas around to even notice it. The pictures did not come out right and don't really do justice to the actual scenic beauty of Pin Valley. I did not notice that my camera was out off-focus until we actually reached Chandratal. So all the pics of the entire trip actually got a bit ruined.
Kaza
We reached Kaza at 11 AM and went straight to Hotel Spiti Valley. It is located opposite Kaza Monastery, right there on the main road so we did not even have to drive in the Kaza town. I parked my car out of the hotel, went in and was hoping to meet Jamaica there. To my surprise though, I found out that Jamaica had left about an hour ago for Chandratal. Since we did not arrive at the hotel at Gulling the previous day, he was not sure where I was or when will I reach Kaza so he left for Chandratal alone.
Kaza Monastery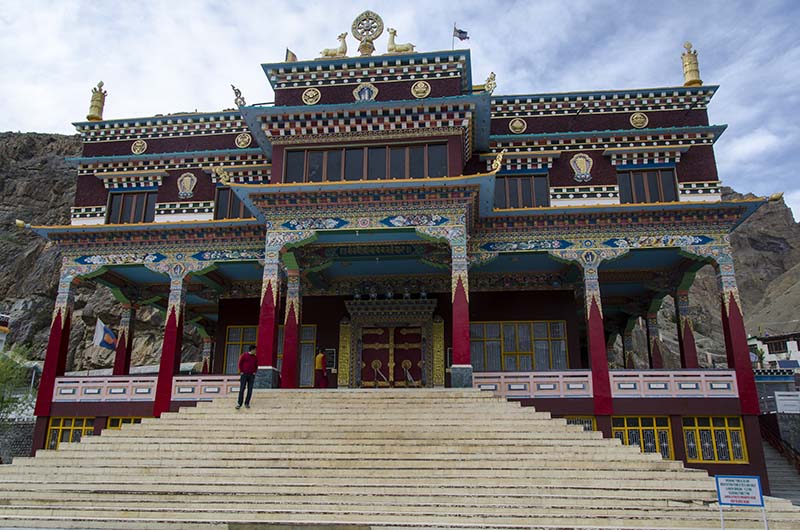 I spoke to him over the phone and told him that I will reach the camp site tomorrow. Khushboo was also staying at the same hotel and arrived at around 2 PM after visiting Kibber, Komik, Langza and Hikkim. Rest of the day was just spent in lazying around at the hotel and then we went for a short walk through the Kaza market.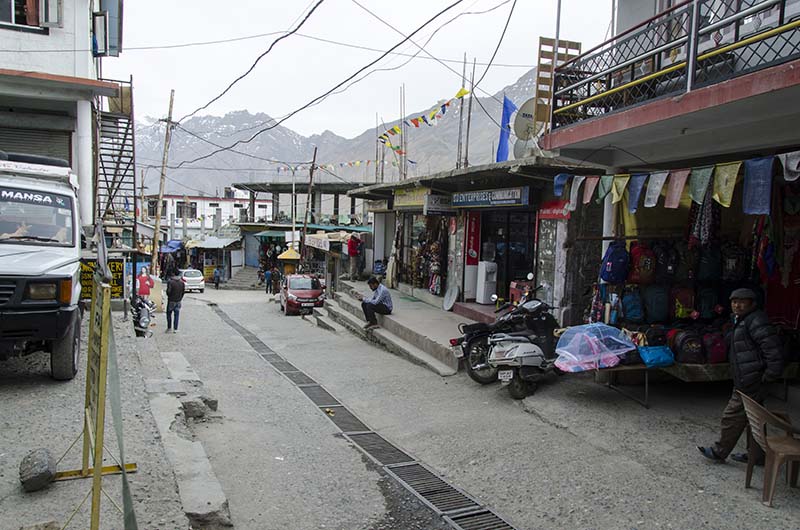 A Monster Called Shakshuka
At the market, I noticed a hotel serving Israeli dish called Shakshuka. Actually, all along the route, I noticed this dish on the menu of several restaurants and was curious about what it was. So we went into the hotel and I decided to try Shakshuka. Much to my disappointment, it turned out to be nothing more than a half fried omelette, some roasted bread and a lot of vegetable salad on the side. I however made a huge mistake having this dish here; something I realized later that night.
Also Read: Why you Should Travel to Spiti from Manali
We returned to the hotel just before it was about to get dark; had dinner at the hotel restaurant and all three of us then retired to our rooms. A little bit of late night TV and before I even knew it, I was fast asleep.
Hotel Spiti Valley
I will post some information above Hotel Spiti Valley as well and a few pictures in case you decide to stay here for your stay at Kaza.
Location is one of the greatest benefits in my opinion. For rest of the hotels, you may have to enter a little bit in Kaza through its narrow roads but not with Hotel Spiti valley. This place is right there on the main road that goes from one end of Kaza to other. It does not matter if you were arriving from Shimla side or Manali, you will pass from right in front of this hotel. So on the way, you can just stop your car or bike, check in and then be on your way the next day.
Kaza monastery too is right in front of this hotel. In fact, on side of the road is the hotel and the monastery at the other. You can just step out of your hotel, visit the monastery whenever you wish to and get back in.
Rooms
Rooms were all very spacious and well maintained. There was good furniture in there, properly painted walls and carpet on the floor which gives an overall stylish look to it. Bed was large enough for 2 people to sleep on it. The mattress was very comfortable and the blankets, pillows, bed-sheets provided were all very clean with no foul smell.
Also Read: Cost of Motorcycle Trip to Spiti Valley
Like the rooms, washrooms at this hotel too are large enough and very clean. Toilet, flush, shower etc was all working fine and there was no issue at all. There are geysers available so yes, there will be running hot water as well.
Food
I found the food here to be simple yet delicious. Even the most basic of their dishes tasted good and I really enjoy eating here. You can either ask them to serve you in the room or you can also eat at their central dining hall at the top floor. They have quite a comprehensive menu and food will not cost you too much. Do note though please that they do not serve lunch and only dinner.
Owner of this place is Tanzin Rabgay and is a very down to earth and simple fellow. He remains available at the hotel throughtout the day and will personally attend to your complaints if needed. He knows how to play a good host and does it very well. His number is 9418927312 in case you want to give him a call to book your stay.
Please click on the link below to read next part of this travelogue.
Journey Ahead: Kaza to Chandratal : The Lake of the Moon
Conclusion
I will post a summary of our journey today starting with the distance and time chart.
Pin Valley to Kaza
In order to reach Kaza from Pin Valley, you will first have to drive back about 30 kilometers to Attargo Bridge. There is no other alternate route and you must come back on Shimla – Kaza highway.
Mud Village to Kaza
The total distance between Mud Village and Kaza is about 50 to 55 kilometers that can be completed easily in 2 to 3 hours depending upon your speed and breaks. The 30 kilometers long road between Attargo and Mud is a badly broken dirt trail. The 15 kilometers long road between Attargo and Kaza is a mix of bad and average.
Kaza to Mud Village Bus
If you were traveling by public transport then there is a bus that goes from Kaza to Mud Village every evening at 4 PM. This same bus travels back to Kaza the next day in the morning which you too can board for reaching Kaza.
I hope the information above on traveling from Pin Valley to Kaza was of help. Please read Kaza to Chandratal : The Lake of the Moon to continue reading this travelogue further. If you have any other questions; or need any further details; please feel free to ask in the comments section below; or at our Community Forum; and I will be glad to answer.