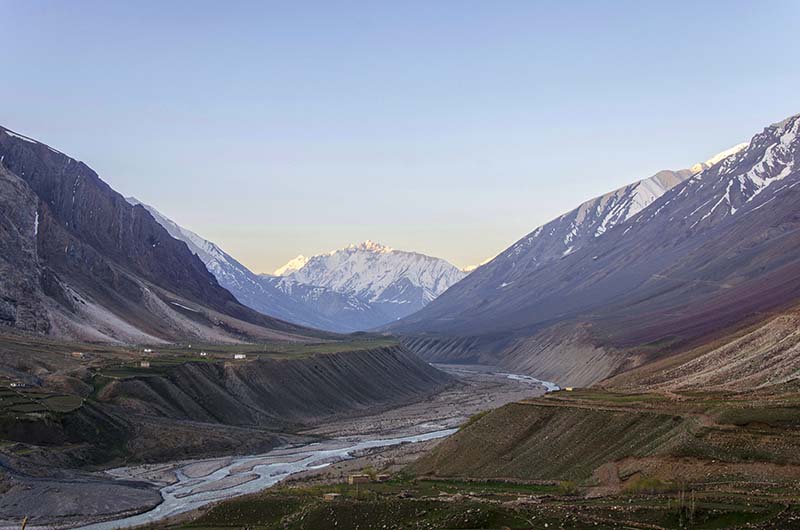 Spiti Circuit was necessarily a place for motorcycle enthusiasts and adventure junkies until a few years ago. A place for people who wanted to go and travel on nightmarish terrain on purpose. Why would they want to do that? The reason is simple.
Spiti Circuit was a mix of horrible roads (still is) and one of the remotest areas of our country. Because of this very reason, it was largely unexplored and highly scenic.
What has changed now? Well, the bad roads, remote and scenic part remains the same. But now you will find even families with children and elders traveling for vacations here. Tourism here is on an increase and thousands of people have started to visit Spiti valley; a name that was unknown to most of the people in India until some time ago.
If you too have a plan to journey on the Spiti circuit; then in this article I will provide information on how you can plan your trip this year. I will include information on the route that you will follow; road conditions, travel time, accommodation, and a few other details which will be of help.
For some pictures on current road conditions in Spiti valley and a more visual representation of the details provided in this article; please take a look at Return to Spiti Valley: Experiencing the Magic Once Again.
What is Spiti Circuit?
Spiti Circuit is the road taken to journey across the valleys of Kinnaur, Spiti, and Lahaul in a full circuit. Confused? Let me first clarify this first.
Chandigarh here becomes your center and starting point. You start from Chandigarh and reach Shimla. From there, you travel towards Rampur and Reckong Peo which is the Kinnaur Valley. After Kinnaur, you then cross Nako, Tabo, Dhankar, and reach Kaza which is the Spiti Valley.
After Kaza, you will then cross Kunzum Pass and Rohtang Pass to reach Manali. From Manali, you will then drive downhill via Mandi and arrive at Chandigarh, closing the loop. This entire journey from Chandigarh to Chandigarh via Kinnaur and Spiti is known as Spiti Circuit.
It can also be done the other way. You start from Chandigarh, go to Manali, and come back via Shimla.
Delhi to Spiti Circuit
For the sake of this article, I will assume that you are starting your journey from Delhi. This part however will only be relevant to the itinerary that I will suggest. If your starting city is different than Delhi, then only the journey for the first and last day will be different, the rest of the details will still apply.
There are two ways that Spiti Valley can be accessed. One route is from Shimla and the other one is via Manali. The more common and easier of these two is the road from Shimla to Kaza. This however is also the longer one.
Traveling via Shimla, it will take you at least 2 days to reach Spiti valley, and even then the journey will feel a little rushed.
If you want to travel at a comfortable pace, then you would have to do it in three days. If you want to travel leisurely, then you should give at least 4 days for this journey.
Also read: Why you should travel to Spiti via Shimla
The other route to reach Spiti is via Manali. This entire stretch is a non-stop run on extremely bad roads that will also see you crossing two high-altitude passes.
Traveling from Manali, you will be passing through the worst patch of road that you had ever been on. The plus point however is that this is the shorter of both the routes.
From Manali, you can reach Kaza in just a matter of 7-8 hours easily. For people looking forward to some off-roading and a bit of adventure, this entire stretch is a perfect treat.
Also read: Why you should travel to Spiti via Manali
Best Way to Reach Spiti Valley
So which route should you choose? Well, it will actually depend on which time of the year you are traveling in and how many days you have in hand. If you are short on time and want to spend some days in Spiti valley only, then you should reach Kaza via Manali.
But then you will also need to keep in mind that the road from Manali to Kaza is open only between June till September so that will be the only time when you can travel on it.
If you have about 8-9 days in hand then a recommended way for the journey will be to reach Kaza from Shimla and exit via Manali.
Also read: Opening and Closing Times of Roads in Spiti Valley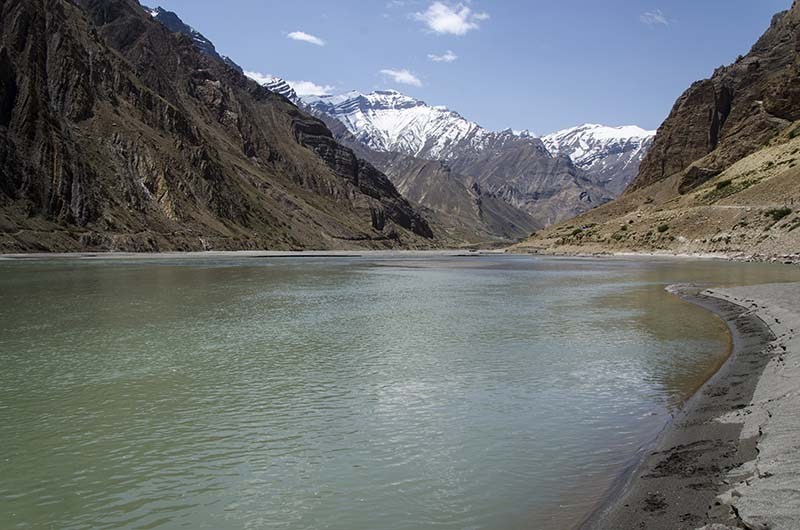 Spiti Valley Circuit
The route for traveling to Spiti valley is as mentioned below. I have included most of the tourist destinations that you will pass through while traveling. Depending on how many days you have in hand, you can decide to break your journey at any of the places.
Shimla – Kufri – Fagu – Narkanda [63 kms]
Narkanda – Kumarsain – Kingal – Rampur [65 kms]
Rampur – Jhakri – Jeori [24 kms]
Jeori – Sarahan [ 16 Kms]
Sarahan – Jeori – Wangtu – Tapri – Chooling – Karcham [67 kms]
Karcham – Sangla [18 Kms]
Sangla – Chitkul [ 22 Kms]
Chitkul – Sangla – Karcham – Powari – Reckong Peo [60 Kms]
Reckong Peo – Kalpa [10 Kms]
Kalpa – Reckong Peo – Pooh – Khab – Nako [110 Kms]
Nako – Malling Nullah – Sumdo – Hurling – Tabo [67 Kms]
Tabo – Dhankar [33 Kms]
Dhankar – Mud, Pin Valley [50 kms]
Mud – Kaza [50 Kms]
Kaza – Tashigong – Langza – Kaumik – Kaza [60 Kms]
Kaza – Losar [60 kms]
Losar – Kunzum Pass [ 25 Kms]
Kunzum Pass – Chandrataal [14 Kms]
Chandrataal – Batal – Gramphu [63 Kms]
Gramphu – Rohtang Pass – Marhi – Manali – [70 Kms]
I have explained it starting from Shimla but if you were starting from Manali, then just follow the exact route the other way around. The stretch from Shimla to Kaza mostly remains throughout the year unless weather turned extreme and it snowed heavily; causing a temporary roadblock.
Sometimes landslides caused by incessant rains too can block the road but in any situation, authorities act upon it immediately and open the road just as soon as they are able to.
On the other hand, Manali Kaza road remains accessible only between June till September or early October.
Also read: Which is the Best Motorcycle for Spiti Trip?
Shimla Spiti Manali Circuit
For a brief explanation, starting from Shimla, you will continue traveling uphill till Narkanda; after which, it is all downhill to the banks of Sutlej River. You will cross Rampur on the way and reach Jeori.
At Jeori, you will leave the main highway and take the small narrow uphill road to your right. It is a very steep 17 kilometers climb that will bring you to the small sleepy town of Sarahan.
The road pretty much ends at Sarahan. S,o in order to continue to Spiti, you will have to climb down to Jeori again and then continue to Karchham. At Karchham, you will once again leave the highway and take the diversion to your right towards Sangla.
There are a few boards there marking the road so you will have no problem finding it. It is about 45 kilometers long road that will take you through the towns of Sangla and Raksham before ending at Chitkul.
Here too, the road ends at Chitkul; so you will again have to travel back to Karchham. You will then continue towards Reckong Peo which too does not really fall along the way.
In order to get to Peo, you will again have to leave the highway and take the uphill road to your left. This same road will first reach Reckong Peo and then take you to the beautiful Kalpa town.
You will then again have to climb down from Kalpa to Peo and then back to the main highway. There is a petrol pump at Reckong Peo where you should tank up as there is no other fuel station until Kaza after this.
Reckong Peo to Kaza
After Peo, it is a straight run to Spiti Valley. You will pass through the small villages of Nako, Tabo, and Dhankar on the way. The small village of Giu, famous for the mummy of Spiti valley, too is not on the main road.
It is about 10 kilometers off the highway. You will notice a gate and a board there marking the diversion that goes to Giu village.
Similarly, the village of Dhankar too is about 8 kilometers off the main highway. For visiting both these places, you will leave the highway and then travel back to it.
I know what you are thinking but that is how it is. In order to visit any of the famous tourist places, you will continue leaving the highway every morning and then getting back to it every morning. Except for Kaza, there is really nothing that falls right on the highway.
Dhankar to Pin Valley
After Dhankar, you will reach Attargo where you will cross the bridge and take the road to Mud Village, if Pin Valley was on your itinerary. The bridge is clearly noticeable and is about 16 kilometers before Kaza.
For more details about how you can include Pin Valley in your itinerary, please read How to Plan a Trip to Pin Valley. If you did not plan a visit to Pin, then you can continue straight to Kaza without crossing the bridge.
For the hotel in Kaza, I would recommend staying at Hotel Spiti Valley. It is located right opposite Kaza Monastery and is along the main road. You will not have to get off the highway or enter the narrow streets of Kaza. The contact person is Tanzin and his number is 9418927312.
Sightseeing in Kaza
There is not really much to see in Kaza but the Kaza Monastery and nearby Kye Monastery are definitely worth a visit. At least one day of stay in Kaza is highly recommended which can be used to visit the nearby villages of Kibber, Komik, Chicham, Tashigong, Langza, and Hikkim.
For more details and a road map to these villages please read, How to plan a trip to Kibber, and How to Plan a trip to Komik / Langza / Hikkim.
Kaza to Manali
From Kaza, you will continue traveling to Losar and then climb up to the top of Kunzum Pass. After Kunzum, about 2 kilometers before Batal, you will notice a road to your right that goes all the way to Chandratal.
It is a narrow 14 kilometers long road and is barely wide enough for one car. There is a board there at the highway marking it as the road to Chandratal. After Batal, you will continue traveling to Gramphoo and then climb up to Rohtang Pass; and then finally reach Manali.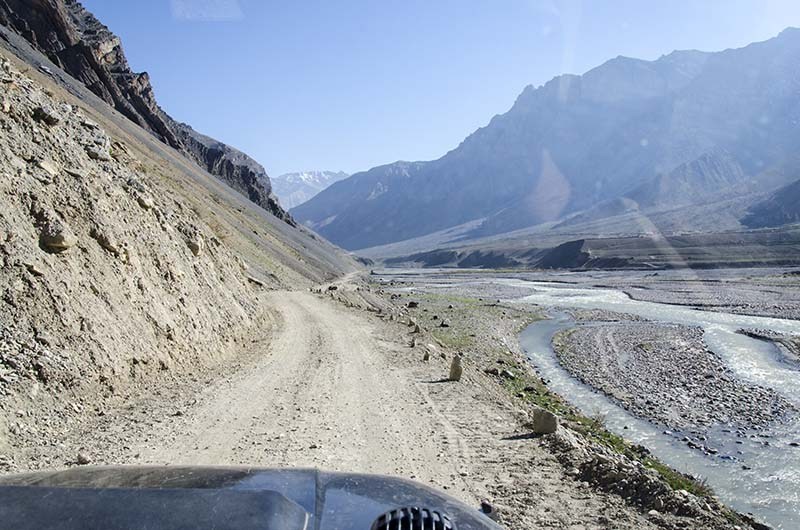 Spiti Manali Circuit

If you were starting from Manali, then you will follow the above-mentioned route the other way around. You will first reach Kaza via Rohtang, Kunzum, and Chandratal and then exit at Shimla while traveling through Kinnaur valley.
It is however better to start from Shimla rather than Manali for several reasons of which acute mountain sickness is the foremost one.
Kaza, Chandratal, and Kunzum Pass are the highest altitude places on the circuit and if you reached here from Manali, then the gain in altitude is all of a sudden, in a matter of few hours which will make you prone to suffering from altitude sickness.
On the other hand, if you went from Shimla, then the increase in altitude is gradual and spread over a few days. This way, once you arrive in Spiti valley, your body would already have acclimatized and you will be less likely to suffer from AMS.
If you are traveling with family, have children, or elders of the family accompanying you, then I strongly recommend that you go from Shimla and exit via Manali.
Spiti Valley Route from Delhi
Starting from Delhi, the route will again be the same that I explained above. The only difference however will be of the journey from Delhi to either Shimla or Manali; depending upon where you are starting the journey from. Shimla is at a distance of about 350 kilometers from Delhi and Manali is at approximately 550 kilometers.
So in a Spiti itinerary from Delhi, the travel time is high on the first and the last day when you travel from Delhi and then return to Delhi. For the rest of the days, for an itinerary of about 8 to 9 days, travel time is about 5-6 hours per day, covering a distance of about 100 to 150 kilometers daily.
Spiti Valley Circuit Map
Please refer to Lahaul and Spiti Valley Road Map for a complete Spiti circuit map.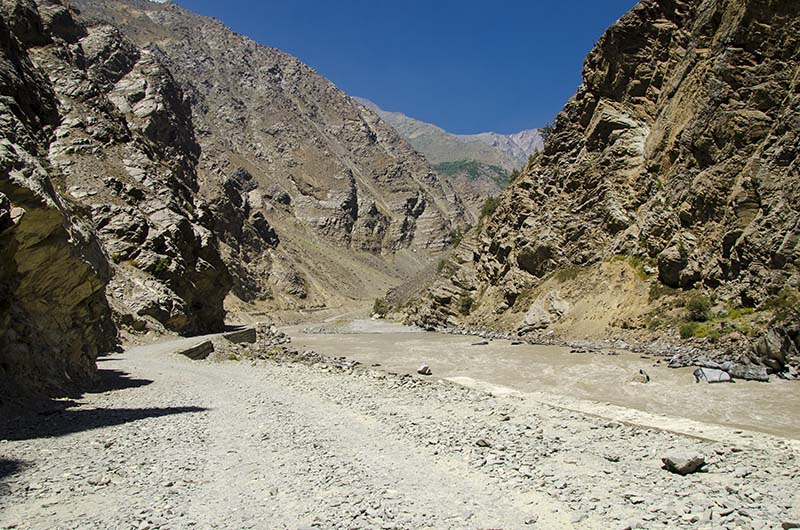 Spiti Circuit Road Conditions
Road conditions may really change a bit with each year but there are sections on the Spiti circuit where the roads remain bad always.
It has been several years since my first visit to Spiti and I have found the roads at these sections to be the same always. Depending on the conditions this year, starting from Delhi, let me break it down where the roads are bad and where it is smooth.
Delhi to Chandigarh: It is NH1 and is always in good condition. Travel time can be anywhere from 4 to 6 hours depending upon your speed and breaks.
Chandigarh to Shimla: Mostly this road is good but for the last couple of years, there is road widening work going on this entire stretch and it will take another few years before it gets completed. The road is a mix of good and bad. Earlier it won't take you more than 3 hours to cover this stretch but the travel time can be up to 5 hours.
Shimla to Narkanda: Good smooth road.  Travel time of about 2 hours.
Narkanda to Jeori: Road is mostly good with a few bad patches in between. Travel time of about 3 hours.
Kinnaur Valley
The regular road from Jeori to Sarahan is shut down right now due to a broken bridge. This road won't be functional at least until next year. As of now, there is a 5 kilometers long dirt road built a couple of kilometers after Jeori that you will have to take to get to Sarahan.
Travel time on this dirt road is about 90 minutes because it is in extremely bad condition. Once the regular road gets functional, it takes about 40 minutes to reach Sarahan from Jeori. Please note that the entire 12 kilometers climb from Jeori to Sarahan is quite steep and on a narrow road.
Jeori to Karcham: The road is a mix of average and good; travel time of about 90 minutes to 2 hours.
Karcham to Chitkul: This road is mostly always broken bad and travel time can be anywhere between 2.5 to 3 hours. As of this year, the road from Karcham to Sangla is good but from Sangla to Chitkul is really bad.
Karcham to Kalpa: Road is mostly good; travel time can be anywhere between 60 to 90 minutes.
Kalpa to Nako: This is where the road will turn really bad for the first time in your journey. There are stretches in between where it can turn even really ugly. Distance between Kalpa to Nako is slightly over 100 kilometers, but will easily take you about 5 to 6 hours to cover; can take even more.
Spiti Valley
Nako to Dhankar: It is a mix of good, bad, and ugly. Travel time can be anywhere between 2 to 3 hours depending upon your speed and breaks.
Dhankar to Pin Valley: The entire section of the road from Attargo bridge to Mudh village is a badly broken road. Distance is only about 35 kilometers but will easily take you about 2 hours to complete.
Dhankar to Kaza: The road here is mostly average. Travel time of about an hour to 90 minutes.
Kaza to Kibber / Komik / Chicham:  The bridge between Kibber and Chicham is now operational. This entire stretch from Kaza to Kibber, then Chicham is fresh tarmac. After Chicham, this road merges into the Kaza Manali highway near Kiato. It is recommended that you take this road at least until Kiato rather than traveling on the regular highway.
Kaza to Losar: The road is in very bad condition; terribly broken.
Losar to Kunzum Pass: Extremely bad
Chandratal Road
If you are in a car, then this 14 kilometers stretch will have your heart jumping to your mouth. The road is extremely narrow at several places and in a terrible state with a few water crossings in between. Please practice caution while driving on it.
While going to Chandratal, plan your travel in a way that you travel from Batal to Chandratal afternoon. While coming from Chandratal, start early in the morning.
This way, you will be able to avoid traffic coming from the other direction. This road is barely wide enough for one car and if you ran into a car coming from the opposite direction, it will be very tricky to cross.
Also read: How to Plan a Trip to Chandratal
Batal to Gramphoo: As always, it is a nightmare of a road. Severely broken and a non-stop series of water crossings. Travel time will be about 4 hours.
Gramphoo to Manali: The road across Rohtang is a mix of good and bad but the problem is the tourist traffic at the pass. Be prepared to be stuck in traffic jams at several places while climbing down to Manali.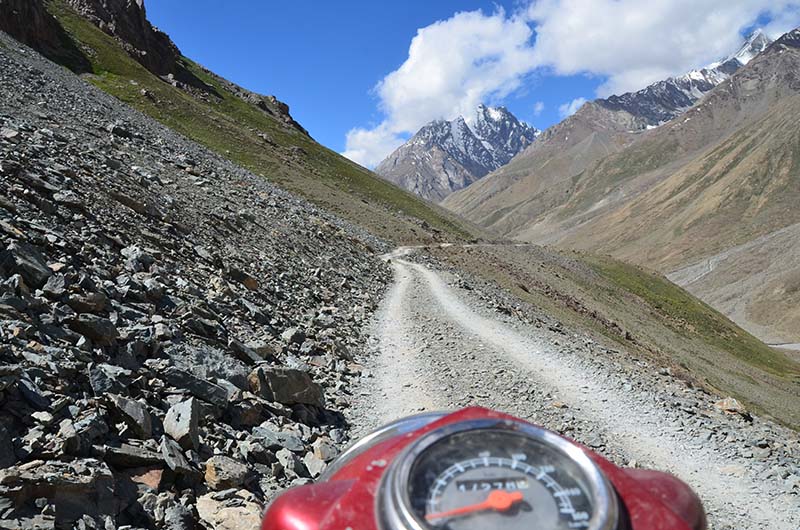 Best Vehicle for Spiti Valley
When traveling by car, the first thing required is good ground clearance, especially on the stretch between Manali to Kaza. The best vehicle then would definitely be an SUV. It does not have to be a 4×4 but good ground clearance is a must. If you were going by motorcycle, then the bigger the engine, the better it will be.
With that being said, a lot of people travel on the circuit in small hatchbacks as well. In this situation, your driving skills will then come to the test. You will have to be really good at the wheel to ensure that your car doesn't get stuck anywhere, especially at water crossings.
However, no matter how good you are, you will still have to be mentally prepared for the belly of your car hitting the ground at several places. There will also be instances when lose stones will be jumping up and hitting the car.
Also read: How to Prepare your Car for Spiti Valley
Sedans like Honda City or other cars with low ground clearance are a complete no if you have even the slightest amount of love for your car. If you are not in an SUV then please make sure that you are traveling as light as possible.
If you have 4-5 people in the car, then please ask the passengers to get down at water crossings so that the additional weight from the vehicle is removed and there is less chance of it getting stuck at the crossing.
Motorcycles
In terms of motorcycles, if you have a pillion rider, then a Royal Enfield 350CC or 500CC will be best. Apart from the pillion, you also need to consider that there will be additional luggage of two people, so a bigger engine will definitely be beneficial.
An Enfield will also be more convenient for your pillion to sit for long hours through some really bad roads.
If you are traveling on a smaller engine motorcycle, then please make sure that you are traveling solo and as light as possible. Do not bring along a pillion but if you did, then make sure there is not too much luggage and you had gotten your bike serviced; and prepared for the tough journey ahead.
Also read: How to Prepare your Motorcycle for Spiti Valley
Best time to attempt Spiti Full Circuit

This really is a topic open for debate. The best time to visit any place for that matter depends on what you are looking for. If you want to see how Spiti looks when it is covered under a thick sheet of snow; then February is the best time. For completing the journey on the entire circuit; anytime between June till September will be best.
If you want to complete the circuit but also need the roads to be at their best then go a bit early in the season; possibly by May end or early June when the water in Nallahs is not too much.
If you want to see lush green hills then August and September will be a good time. I have covered this topic in detail in a different article. Please read When is the Best time to Visit Spiti Valley?
Clothes for Spiti Valley
The weather of Spiti valley is actually very tricky and unpredictable. Tricky in terms of how it can fluctuate at different times and different places. Standing in the sun, you will feel hot.
The moment you move into the shade, you will start to feel cold. The wind here can rise anytime and when it is at its best, you would be looking for a blanket to crawl under. The moment the wind stops, it will be pleasant again.
So when you pack clothes for Spiti valley, you need to make sure that you are doing so in layers. What I mean by this is that pack clothes that you can wear on top of one another, in layers. Do not pack all cottons or light woolens but at the same time, do not bring all heavy clothes as well.
Your regular cottons, some light woolens, pair of thermals, and a heavy windproof jacket will be sufficient. Do not also forget to pack warm socks and good-quality gloves. When you buy a jacket, make sure it has a hoodie that can protect your head, ears, and neck.
Also read: Clothes for Spiti Trip – What to Pack?
Of course, if you were planning a trip to Spiti in winter, then you must pack all your heaviest woolens. This is the time when the temperature will be constantly under 0 degrees and you will have to stay prepared.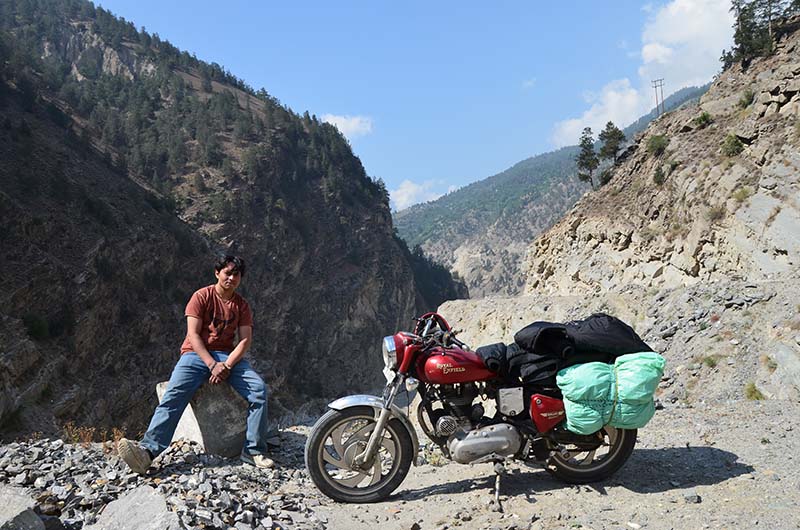 Minimum Time Required for Spiti Valley
Like the best time to visit, the minimum time required for the trip too will depend on how much you want to cover; where are you coming from, and what all places are on your itinerary.
On an overall basis, however, and to travel on the entire circuit; an 8 9 days trip will ensure that you traveled at a leisurely pace and were able to cover the majority of the tourist places en route.
Any lesser than this will mean that you will have to rush on certain days. Any more than this of course will mean that you will be able to visit more places and spend more time in the valley.
Spiti Circuit Itinerary
I quoted 8 to 9 days as the minimum time required assuming that you were either starting from Delhi or Chandigarh. If you were coming from an even farther place, then, of course, you would need more time for the trip. Keeping Delhi as the point of origin and for a 9 days trip, a sample itinerary followed can be as below.
Delhi to Shimla / Narkanda
Shimla / Narkanda to Sarahan
Sarahan to Chitkul
Chitkul to Nako / Tabo
Nako / Tabo to Kaza
Kaza to Kibber / Komik / Langza / Hikkim to Kaza
Kaza to Chandratal
Chandratal to Manali
Manali to Delhi
If you could add a day more to the trip, then you can easily cover Pin Valley as well on Day 5. However, if you were a bit short on time, you can remove Sarahan on Day 2 and head straight to Chitkul from Narkanda. If you had even lesser time, then it would be best to go via Manali and return the same way.
This of course is a sample itinerary that not everyone can follow to the last detail. But it will at least give you an idea of how you can plan your trip. If you need help planning your own itinerary, please feel free to comment and ask at the bottom of this page.
Places to See in Spiti Valley
This will really be a long list because there is plenty to see in Spiti valley. The natural beauty of the place will definitely be at the top of the list.
As you travel on the Spiti circuit, you will be amazed and mesmerized at every turn and corner. There are however several places or spots that can be termed as the prime attraction of Spiti valley.
I have consolidated a list of such places on a different page. Please read A List of All Tourist Attractions in Spiti Valley for more details.
Mobile Connectivity in Spiti Valley
BSNL or MTNL has the widest coverage in Spiti and will work almost everywhere. If you have a BSNL sim, then the only time you will lose connectivity will be at Chandratal; and the stretch between Batal and Gramphoo.
For the rest of the places, your phone will work just fine. Voice clarity can be bad depending on where you are, but you will at least remain connected and will be able to send text messages.
For other networks, starting from Delhi, until Jeori your phone will work fine no matter which network you are on. After Jeori, Vodafone and Idea will start to die but Jio and Airtel will remain alive until Sangla.
At Chitkul, none of the networks will work. At Reckong Peo and Kalpa, all networks will work. Once you cross Pooh, no matter which network you use, your phone will be as good as a dead paperweight until you reach Manali.
Also read: Mobile Phone and Data Connectivity in Spiti Valley
Airtel is putting up a tower in Kaza and it is expected that they will become operational in Kaza town in 2018. Connectivity however will still remain limited to Kaza and nowhere else in Spiti.
I was surprised by how strong the networks were for Jio Sim until we remained on the network. Their connectivity was actually better than Airtel, Vodafone, and Idea. Jio has already started working on setting up a tower in Kaza and by 2019, it is expected that they will have connectivity all over Spiti valley; just like BSNL.
Public Transport in Spiti Valley
Spiti valley is a very well populated region and there is regular bus service to almost all the areas here. There is a daily bus from Shimla to Kaza, Manali to Kaza, and then from Kaza to both these places.
There are other buses of course connecting places like Sarahan, Chitkul, Kalpa, etc to major towns like Shimla and Reckong Peo. Apart from buses, shared taxis run on a daily basis and if you missed the bus, you will easily be able to board a shared taxi.
How to journey in Spiti by Bus and the schedule of buses is a topic that is way too long to be added on this page. I have covered it in two different articles. Please read Bus Schedule in Spiti Valley and How to Plan a Trip to Spiti Valley by Public Transport Services.
Private Taxis in Spiti Valley
Apart from bus services and shared taxis, you can also rent a private taxi for the trip. While doing so, I will recommend that you rent a cab from either Chandigarh or Shimla. Taxi rates in Manali are daylight robbery and will give you a heart attack (unless you are filthy rich).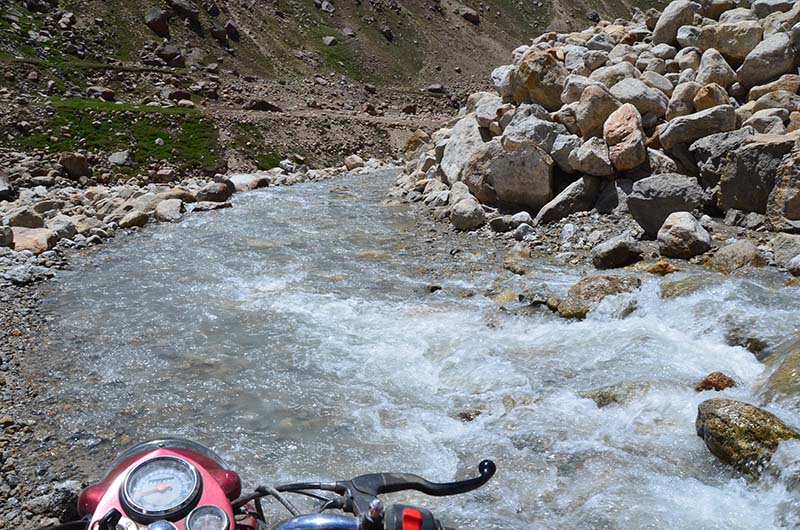 Acute Mountain Sickness in Spiti Valley
Will acute mountain sickness be a problem? In all probability, if you went via Shimla and planned the journey in a way that you reached Kaza in at least 3 days; then you will not face altitude sickness in Spiti. If however, you went via Manali, then chances are that you may suffer from symptoms of AMS at Kaza.
Avoid staying at Chandratal while coming from Manali and arrive straight at Kaza. You can cover Chandratal while on your way back to Manali.
This way, you will be at a lower altitude than Chandratal until you acclimatize; and if your condition got worse then you will have medical facilities available in Kaza. For more details on what AMS is and how to deal with it better, please read How to Handle Acute Mountain Sickness in Spiti Valley.
Accommodation in Spiti Valley
"Available in plenty" is what describes it the best. If you were traveling in the months from April till October, you will have no problem finding a hotel to stay.
From November till March, however, the majority of the hotels and guest houses here shut down due to extreme cold weather. At all the major tourist places en route, hotels are in ample amount and no matter what your budget is, you will be easily able to find a place to stay.
Also read:
Mechanics and Petrol Pumps in Spiti Valley
Until Reckong Peo, there are several petrol pumps and mechanics on the way. After Peo however, you will not find any gas station or mechanic until Kaza. After Kaza, the next major town is Manali and there is nothing else in between.
Please note though that all the mechanics on the route are small-town people who can do some small fixes but are not capable of handling something major.
At Reckong Peo and Kaza however, there are some authorized service stations where you can get major fixes done as well. It is advised though that you get your car serviced well before the trip and only go to these local mechanics when you cannot work without it.
Banks and ATMs in Spiti Valley
Like petrol pumps, Banks and ATMs also are at several places until Reckong Peo. After Peo, the next ATM is in Kaza and then at Manali.
Also read: Location of Petrol Pumps, Banks and ATMs in Spiti Valley
Minimum Budget for Spiti Valley
I have done this trip by both motorcycle and car. For a person traveling on a moderate enough budget, the cost of a Spiti trip by motorcycle will come out to be about Rs. 17000 to Rs.20,000 for a 9 – 10 days trip. If you had a pillion, then this cost will get divided and shared.
Traveling by Car, the total cost would be about Rs. 30,000 and will get divided if you had more people accompanying you in the same car. I have never been to Spiti by Bus but by public transport, you will easily be able to complete the journey in about Rs. 10,000 to Rs. 12,000 traveling by Bus and shared taxis.
When to go to Spiti valley from Shimla
Shimla should be your preferred starting point of the journey for the Spiti Circuit unless you are really short on time. If you are with family then you must start from Shimla only. If you are traveling between October till April, then start from Shimla and return the same way.
Shimla to Kaza in a Day
I get asked this question a lot so thought of adding it as a point here. It just cannot be done. You cannot complete the journey of Shimla to Kaza in a single day. At the least, it is a 2 days travel with a night stay at either Rampur, Reckong Peo, or Pooh.
When to go to Spiti from Manali
You should travel to Spiti valley from Manali only when you are short on time. Another reason could be that you do not want to cover Kinnaur valley or any other places en route and only want to visit Spiti. Except for these 2 reasons, it is recommended that you keep Shimla as the starting point.
Lahaul Spiti Circuit – Conclusion
I think this covers most of the information that is to know about traveling on the Spiti circuit. If you have any questions, please feel free to ask in the comments section below and I will be happy to answer. You can also follow me on Instagram and chat with me live there or subscribe to my YouTube channel and ask a question there.